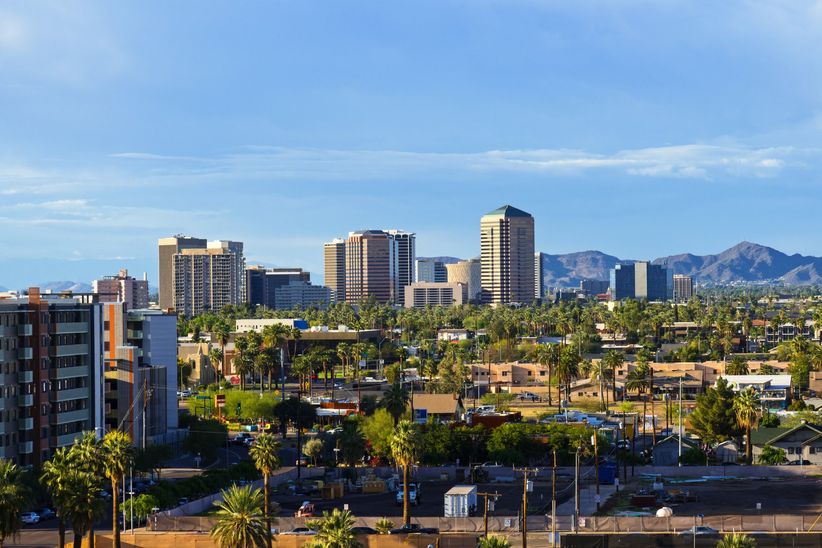 A Scottsdale bachelorette party has everything you could look for in a girls' celebratory weekend: great eats, scenic spots for grabbing drinks, tons of spas, shopping, and hiking on offer, and absolutely luxe places to stay. After all, there's a reason The New York Times called Scottsdale the "desert version of Miami's South Beach" and why it tops our list of the all-time best bachelorette party destinations.
No wonder it's also spotlighted on one of our favorite planning apps: BACH. This is great news for you, because it means you can browse local activities, run them by your crew, and book them straight from your phone. Download the app to build out your Scottsdale itinerary with the help of our insider tips below.
A Scottsdale bachelorette party is sure to be an incredible experience — here's how to start planning yours.
What to Do
From exploring the desert oasis to the best R&R available, a Scottsdale bachelorette party has plenty to keep your party entertained for a long weekend—or more. Start with the scenery. There are plenty of places you can explore, including the Desert Botanical Garden. This 140-acre garden showcases the best the desert has to offer, and may inspire your bride's centerpieces. If a typical tour isn't enough, visit at night for the Electric Desert experience, an amazing display of light, sound and nature.
Another way to see Scottsdale is from above. A hot air balloon ride, from vendors like Hot Air A Expeditions, is an ideal Scottsdale bachelorette party adventure that boasts stunning aerial views of the desert landscape. Book for a sunset tour to really see the most magical views Scottsdale has to offer.
Really loving your brush with nature? Get some more at Camelback Mountain, just 10 minutes from downtown Scottsdale. Hiking trails abound here, as well as stunning hotels with top-notch spas for massaging those worn out feet. Named one of Travel + Leisure's World's Best spas, The Sanctuary has enough services to satisfy everyone in your party, as well as outdoor treatment rooms that combine relaxation with stunning scenery, a Zen meditation garden, and soothing reflection pond. You can stay here, or just stop in for spa treatments.
Back in Old Town, where the majority of the action is happening, there's plenty of city life to enjoy. See the town and get your drink on via Scottsdale Party Bike, a group pedal tour and pub crawl through Old Town.
For a night out on the town during your Scottsdale bachelorette party, there are plenty of great spots to grab a drink, listen to live music, and enjoy the fabulous weather. Start at Dierk's Bentley's Whiskey Row. Along with the live music and dance floor, you'll find a self-serve beer station or the option to book your own table. A short walk away, the Rusty Spur has an old-school saloon vibe (think peanut shells on the floor), with live country music and Tex-Mex on the menu if you're in need of snacks. And to close out your night, visit the Wasted Grain, an open-air nightclub with three bars, a dance floor, and upscale lounge.
Where to Eat
From upscale spots to casual eats, there are plenty of brunch and dinner spots for the perfect Scottsdale bachelorette party weekend. Start your day with the epic Bloody Mary Bar (we're talking more than 40 topping options) at Hash Kitchen, where breakfast is the specialty. Enjoy your concoction with a plate of French Toast Bread Pudding or the bacon, egg, and onion jam breakfast sandwich.
Along the Scottsdale waterfront, you'll find Olive & Ivy, a nice Mediterranean spot with French Riviera vibes. Share small plates, like the Chef's Seasonal Board and Frito Misto with cocktails like the Blood Orange Paloma. Of course, there are plenty of amazing Mexican places to try in Scottsdale, including Diego Pops, where you should request patio seating. But you must get a reservation at The Mission, where Latin flavors from Spain, Mexico, Central America, and South America are combined in modern fusion dishes like grilled street corn, pork shoulder tacos in hand-pressed tortillas, and chorizo porchetta.
For a delicious Italian dinner, head to the Fat Ox, the perfect spot for a nice girl's night in a chic venue. There are more than a dozen handmade pastas to try here, and slow-roasted meats and fish to share with the table. At the Andaz Hotel, Weft Bar + Kitchen is an open-air spot for farm-to-table eats, like goat cheese dumplings and seared scallops. Make the night extra special and book the 10-seat chef's table where you can watch the kitchen in action.
For a more casual bite during your Scottsdale bachelorette party, head to Rehab Burger Therapy in Old Town. This laid back spot has much more than burgers on the menu, including chili con fritos and spa-baked clams. Once you've had your fill, save room for dessert at nearby Super Chunk, where you can bite into delicious morsels such as mesquite chocolate chip cookies, the best peanut butter cookie ever, and homemade blondies. Be sure to bring some back to the hotel for late night treats.
Where to Stay
If you want to be close to the action, book your Scottsdale bachelorette party in Old Town, walking distance to everything you want to see downtown. The uber colorful Saguaro hotel is a favorite, smack in the middle of the best shopping and restaurants, and includes an amazing pool to lounge around and a bachelorette package that includes a luxury pool float and bucket of beer for your pool day. Along with options like The Sanctuary in Camelback are other luxe hotels, including Royal Palms, named Conde Nast's Favorite Hotel in Arizona, offers chic western digs, a spa, and plenty of dining options.
Disclosure: This post contains affiliate links, some of which may be sponsored by paying vendors.