Your Guide to Planning the Ultimate New Orleans Bachelorette Party
Heading to NOLA for a weekend of fun, food, and smooth jazz? Check out our top recommendations for what to see and do during your bachelorette weekend.
We have included third party products to help you navigate and enjoy life's biggest moments. Purchases made through links on this page may earn us a commission.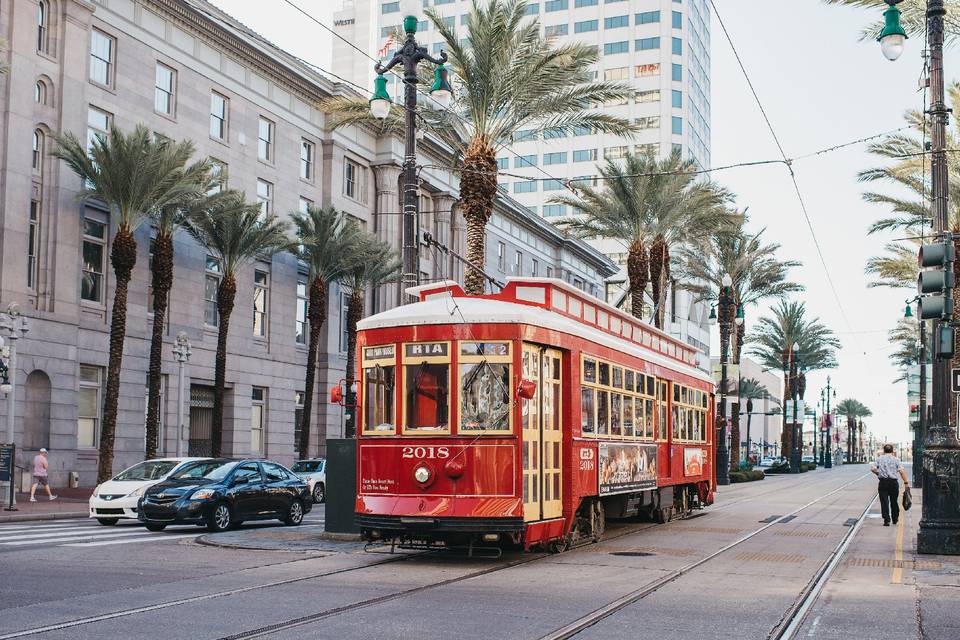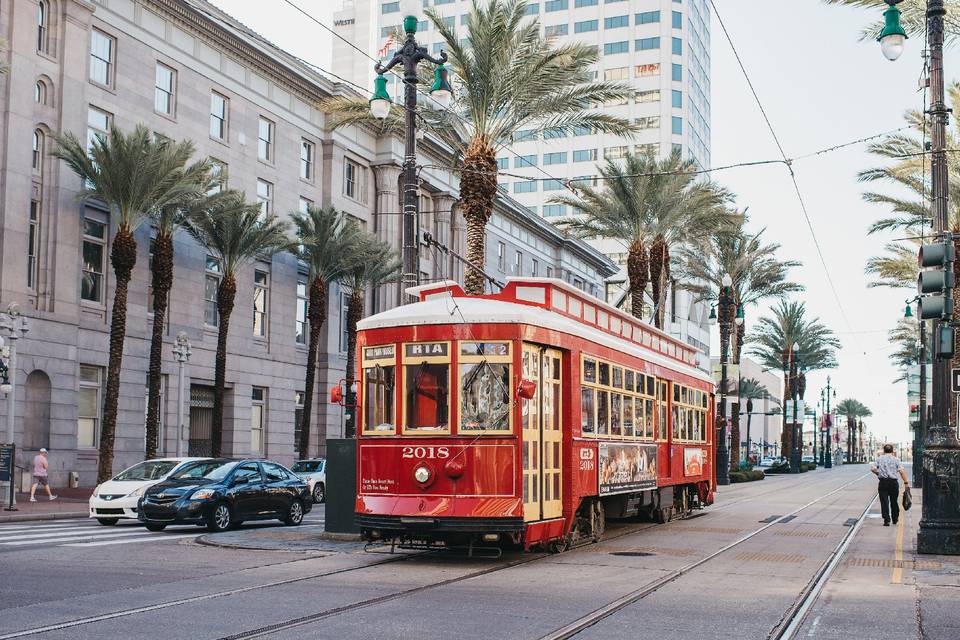 What better place to let loose with your besties than The Big Easy? Known for its laid-back vibe, this unique city has so much to offer—especially when it comes to bachelorette weekends. To help make planning a breeze, we're sharing our favorite New Orleans bachelorette party ideas. From hitting the bars on Bourbon Street to finding the very best Creole cuisine Louisiana has to offer, we've got the low-down on everything you need to do and see with your crew while you're in town.
Want help keeping track of the itinerary? Download our favorite bachelorette party-planning app: BACH. You can easily loop the squad in on what's happening, as well as create polls to find out which activities they're really down for.
Why have a bachelorette party in New Orleans?
We could spend all day listing the reasons why a bachelorette trip to New Orleans is pretty much the best idea you could have—but to make life easier, here are the top three:
The nightlife: If there's one place that defies New Orleans' relaxed vibe, it's Bourbon Street. This lively location is jam-packed with iconic bars and buzzing nightclubs.
The culture: NOLA's unique history and influences make it an eclectic city with a rich culture. Think: live jazz music, year-round festivals (hello, Mardi Gras), and fascinating folklore.
The cuisine: Gumbo, beignets, and oysters—oh, my! New Orleans has a marvelous foodie scene you've got to experience at least once in your life.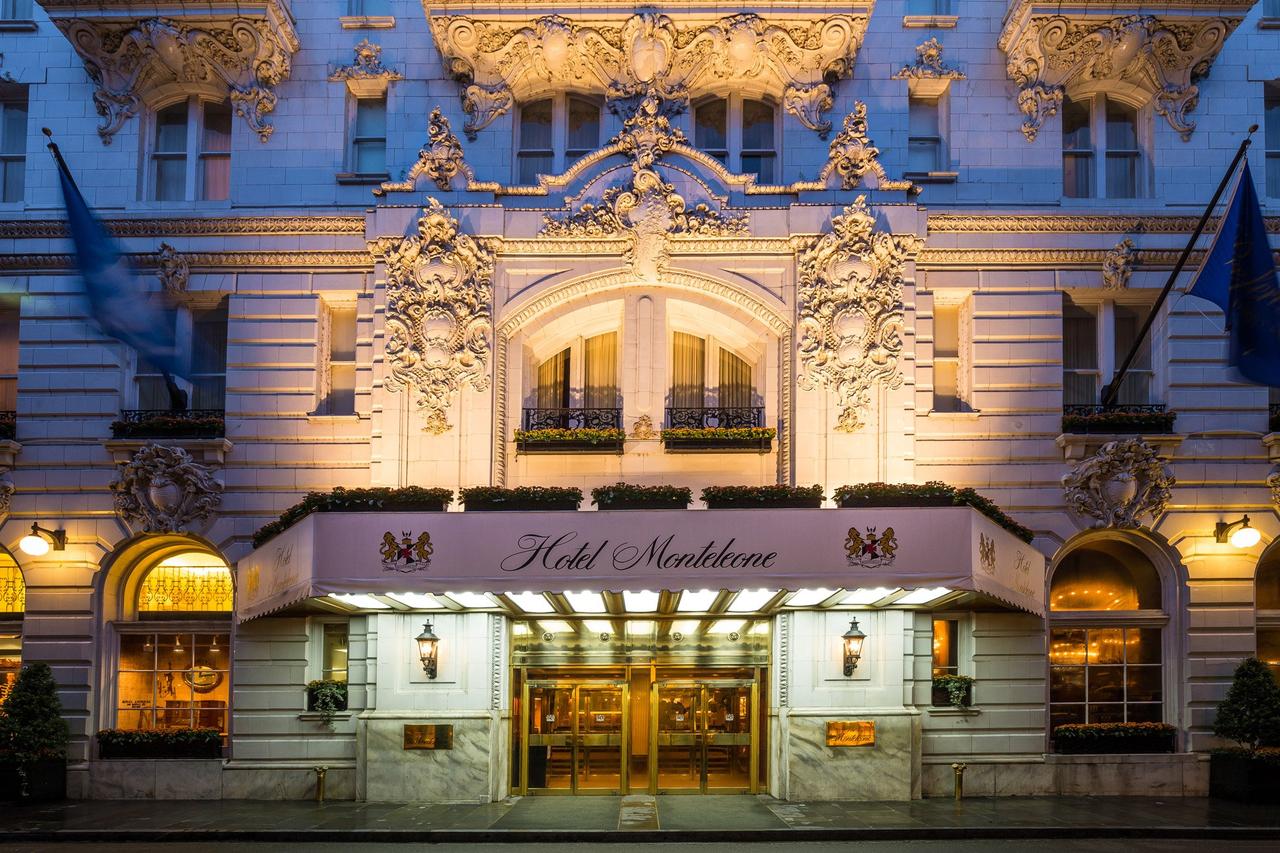 Where to Stay in New Orleans for a Bachelorette Party
Before you start planning the most impressive bach itinerary your crew has ever seen, there's just one little thing to organize first: your accommodations. Your squad will need a stylish base they can explore the city from. One of these hotels or rental properties will make for the perfect bachelorette party pad.
The best hotels in New Orleans for a bachelorette party
If it's luxury you're looking for, the historic Hotel Monteleone is the place to be. With traditional decor and a stately facade, this French Quarter gem is beautiful inside and out. Plus, the on-site Spa Aria offers a bachelorette party package complete with a 30-minute massage—score. Even if you're not staying here, no New Orleans bachelorette party is complete without a visit to Hotel Monteleone's Carousel Bar & Lounge.
On the hunt for something with a little more boutique charm? French Quarter Mansion is a conveniently located hotel with a choice of stunning suites and apartments. Each suite boasts a unique charm, from the old-world opulence of the Barracks to the Burgundy's chic, industrial-style interior.
Last but not least, Hotel Le Marais is easily one of the best places to stay for a bachelorette party in New Orleans. With its chic style, central French Quarter location, and outdoor heated saltwater pool, this spot totally hits the mark. And that's not to mention the delicious signature drinks at Vive!, the hotel's fancy cocktail bar.
The coolest rentals for bachelorette parties in the Big Easy
There are tons of great rental homes and apartments in Crescent City—all you have to do is check out the listings on rental sites like Vrbo, Sonder, or Marriott Homes & Villas. (One thing to note: Most rental properties don't allow parties or excessive noise, so please respect your host's and neighbors' wishes.) We love this fresh and modern four-bedroom apartment in the city's gorgeous Garden District. It's located right on Magazine Street—the perfect spot for shopping.
Here's another cool New Orleans bachelorette party rental home. The contemporary condo features four bedrooms, four bathrooms, and best of all: a snazzy rooftop deck. It's also conveniently located to a casino, if your crew is up for some fun with lady luck. Or, why not check your squad into a stylish Baronne Street apartment? This spacious rental also has its own private rooftop deck, perfect for sipping cocktails and soaking in views of the Central Business District.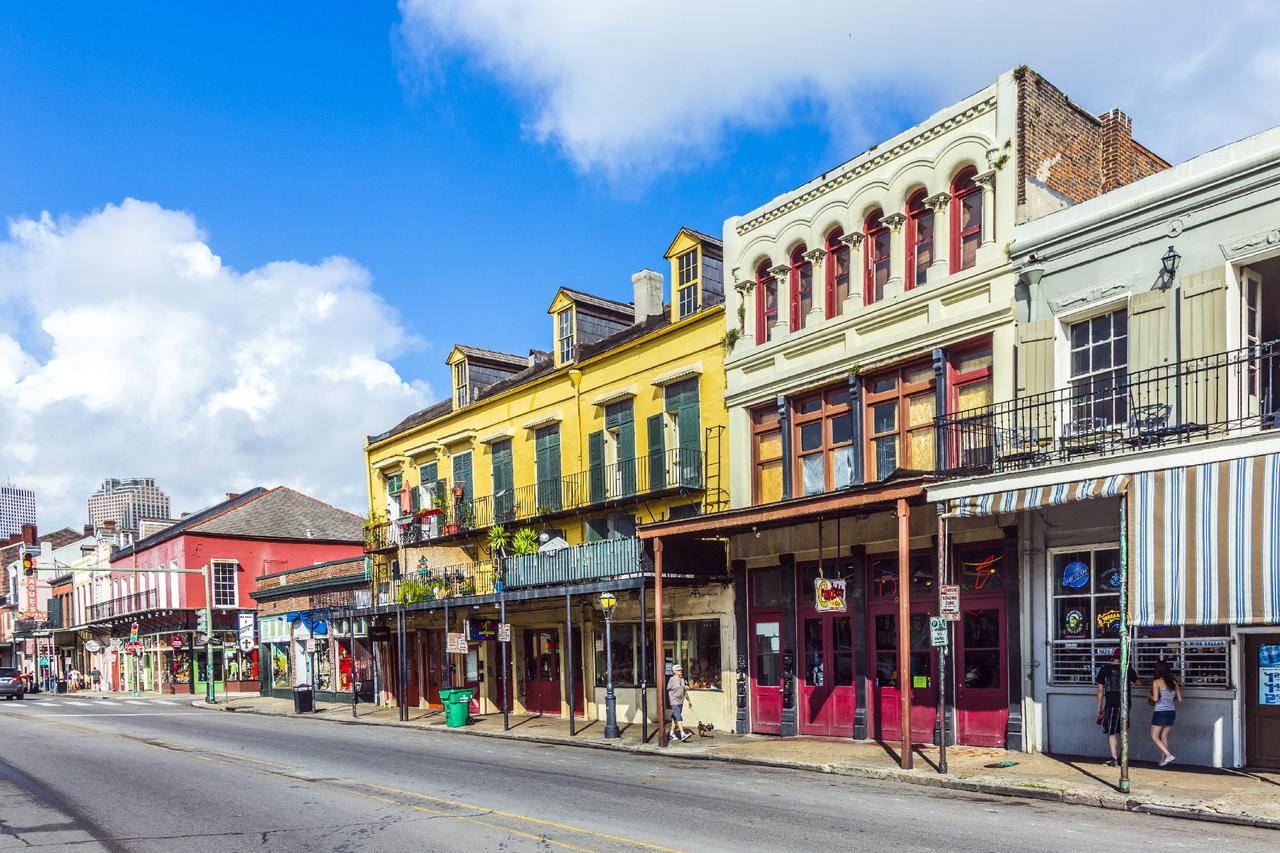 Things to Do in New Orleans for a Bachelorette Party
You're pretty much always in for an exciting bach weekend in New Orleans—after all, the city's motto is "let the good times roll." Wondering where to start? Find out everything you need to know about bachelorette party activities in New Orleans.
Take a tour of the Big Easy.
For starters, your crew will want to be able to find their way around the city. Good news: There are lots of unique and interesting walking tours that'll show you the best parts of New Orleans (without any of the boring stuff). Got a bride-to-be who loves Halloween? This voodoo, vampire, and ghost walking tour is the perfect opportunity to discover NOLA's spooky side. Rather do it with a drink in hand? Choose a tour that combines history, ghost-hunting, and bar-hopping. Or, how about a bachelorette scavenger hunt around New Orleans? There are so many ways to explore the city.
Sample the city's best food and drinks.
When it comes to food, there's a lot to experience in New Orleans—and we're not just talking about restaurants. Explore the local food scene by attending a cooking class with your crew demonstrating Louisiana delicacies like jambalaya, gumbo, and pralines. More interested in cocktails? New Orleans Drink Lab offers mixology classes covering NOLA classics (think: the original Hurricane). If cocktails aren't really the bride-to-be's thing, they also offer wine and whiskey tastings. Or, enjoy a relaxed brewery tour (with plenty of local beer samples along the way).
Hop on board a New Orleans streetcar.
When it comes to deciding what to do in New Orleans for a bachelorette party, don't forget the daytime activities. It can be all too easy to get caught up in planning club nights and bar crawls. Of course, that doesn't mean you need to have a rigid schedule. For an easy-breezy day out, hop aboard the New Orleans Streetcar, which runs three different lines of transport throughout the city. This storybook streetcar is the perfect mode of travel to the Garden District, which has some of the most impressive architecture the city has to offer. In this district, you'll also find the famous Lafayette Cemetery No. 1, scenic Audubon Park, and miles of boutique shopping on Magazine Street.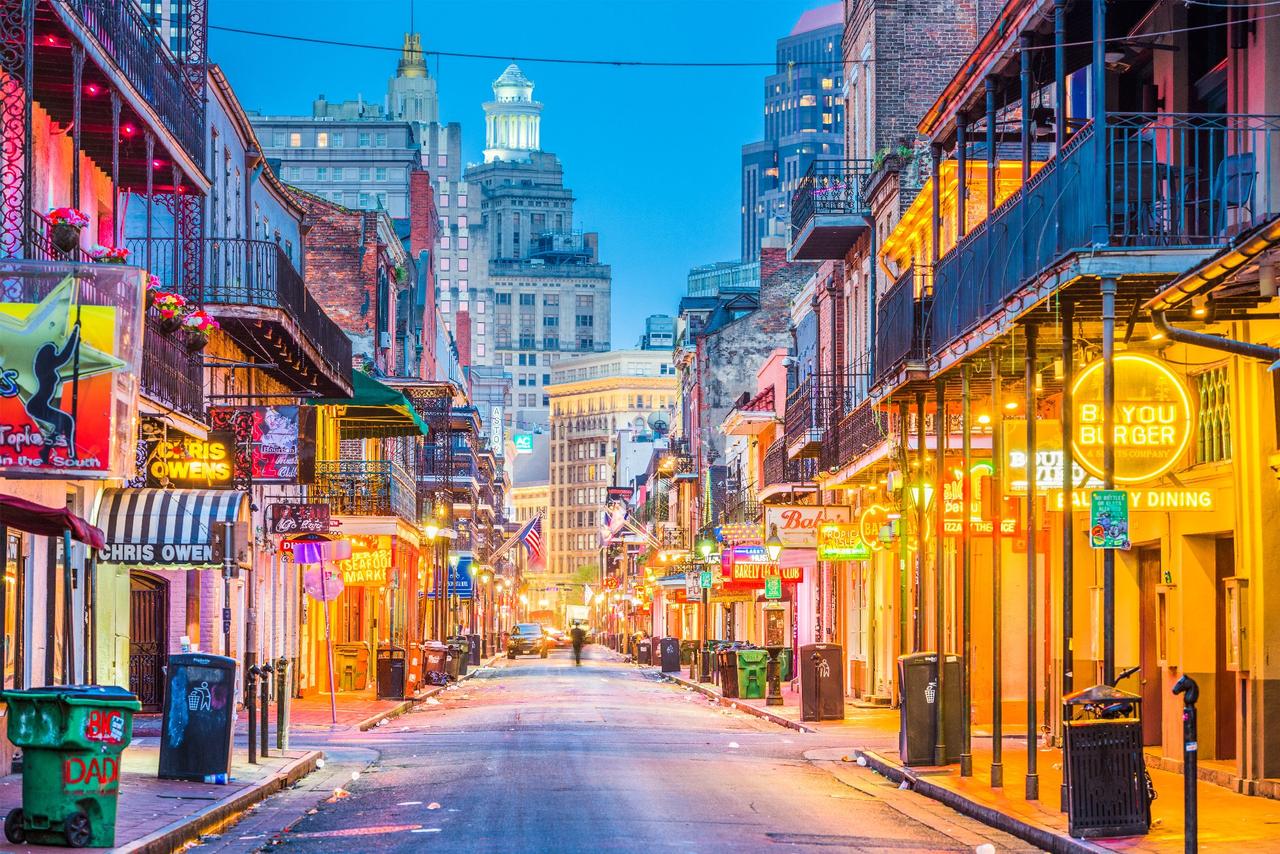 Go bar-hopping on Bourbon Street.
Bourbon Street has some of the best bars in New Orleans for bachelorette parties. Take a step back in time into Lafitte's Blacksmith Shop Bar, reputed as one of the oldest bars in the US. You won't want to miss out on the famed pirate pianist or the even more beloved "Purple Drink." Maison Bourbon is another iconic Bourbon Street bar not to miss out on. As one of the city's oldest live jazz clubs, you can expect great music, a lively atmosphere, and a cozy ambiance. Of course, if you'd rather expand your horizons beyond the historic bars of Bourbon Street, why not plan a New Orleans bachelorette bar and nightclub crawl instead?
Take to the water.
The Mississippi River doesn't just give New Orleans its "Crescent City" nickname, it also offers plenty of fun things for bachelorette parties to do. This sightseeing swamp tour explores the Mississippi's unique wildlife, Cajun culture, and age-old myths. Pick-up and drop-off from the French Quarter are included, so it couldn't be easier for your crew to attend. Up for something a little more challenging? Sign your squad up for some kayaking on the Bayou St. John. Or, if you'd rather sit back, relax, and drink up, a booze cruise on Lake Pontchartrain is right up your street. Bonus: shuttle transportation to and from your hotel can be arranged, or your crew can stay the night on site.
Check out the local jazz scene.
There's nowhere better to experience live jazz than the birthplace of jazz itself. While you'll find some great musicians in the many bars around Bourbon Street, the best part of the city for live music has to be Frenchmen Street. Excited crowds, neon lights, and lively jazz are the defining features of this famous spot. There you'll find The Maison and Snug Harbor Jazz Bistro—two of the best live music venues in the city. Or, if you'd rather give the stage a go yourselves, head back to Cat's Meow on Bourbon Street for some karaoke. The bar welcomes rowdy groups to the scene and offers special packages, covering everything from drink tickets to line passes. Trust us, your crew will be stoked to see this on the New Orleans bachelorette itinerary.
Enjoy some retail therapy.
It's not a girls getaway without at least a little bit of shopping. Stick around the French Quarter for a treasure trove of stores specializing in antiques, art, and one-of-a-kind gifts. If you want to fully embrace the NOLA spirit, a trip to Fleurty Girl is a must. This cutesy gift shop is a favorite with locals and tourists alike (and the perfect place to pick up some super-cool souvenirs). More interested in checking out the local artists? Head to Le Jardin on Royal for a selection of handmade goods. Another shopping destination that's certainly worth a visit? The French Market off North Peters Street. Enjoy six blocks of shopping along with a flea market, farmers market, and mix of restaurants and cafes.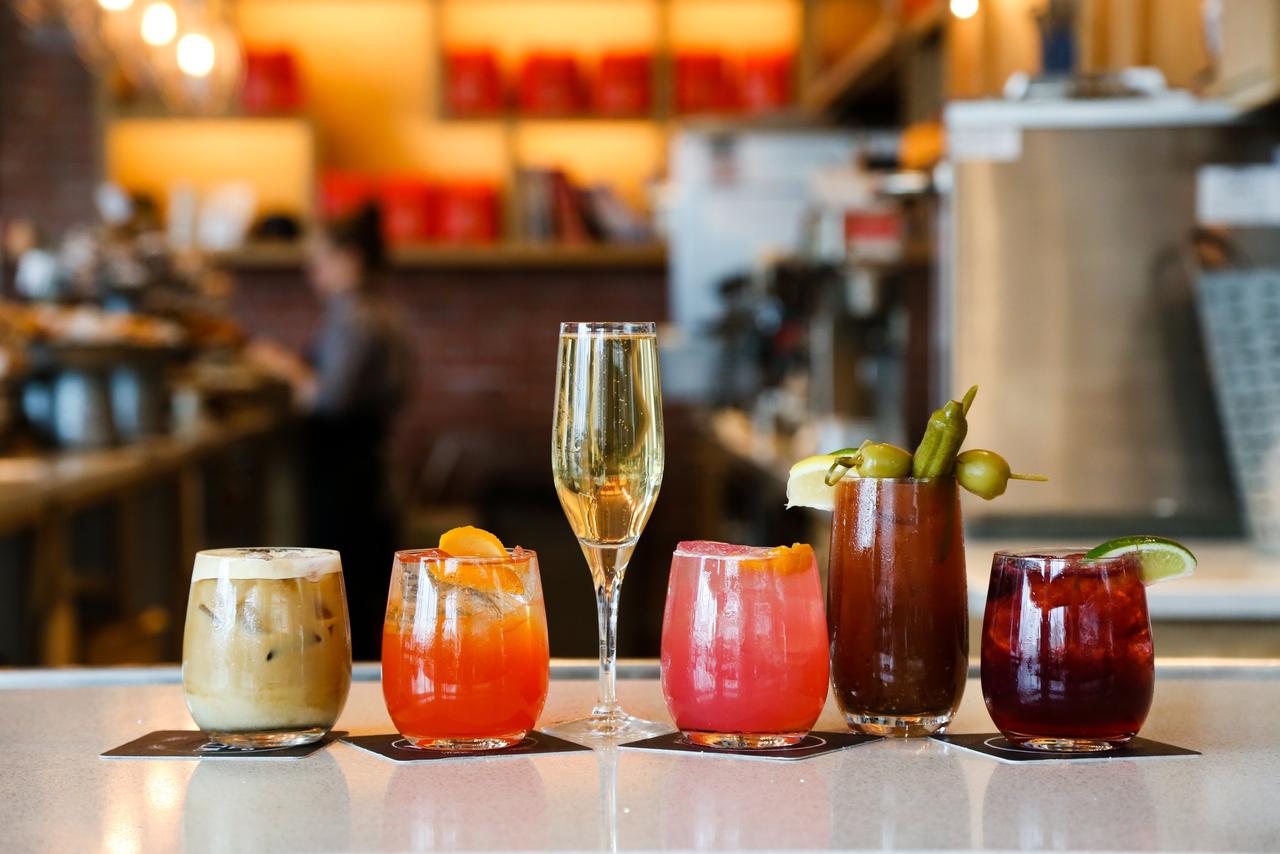 The Best Places to Eat for a Bachelorette Party in New Orleans
From boozy brunches to classy evening meals, you'll need some top-notch eateries up your sleeve to impress the squad during your stay. Luckily, we know all the best places to grab a bite for a bachelorette bash to remember. (Psst, check out OpenTable to browse even more restaurants and instantly book tables.)
Our favorite New Orleans' bachelorette brunch spots
Hit Bourbon Street a little too hard? Brunch at Willa Jean will have you right as rain. Fill up on biscuits and fried chicken, fresh cornbread, or a "Hangover Bowl" of short rib and potatoes. Or, if you're more of a hair-of-the-dog type, there are some delicious cocktails on the menu too. Finish on a high with something from the dessert menu—milk and cookies, anyone?
Café Amelie is another popular NOLA brunch destination. Enjoy Southern breakfast favorites—such as collards and eggs or bananas Foster waffles—in a relaxed courtyard setting with a mimosa in hand. In the mood for something a little more lively? You can't beat the jazz brunch at Arnaud's. Don't miss out on the restaurant's shrimp Arnaud for a taste of Louisiana's famous Gulf shrimp. Oh—and don't forget to toast the occasion with a signature French 75 cocktail.
The best places to try local delicacies
Beignets are kind of a big deal around New Orleans, and when you taste one, you'll know why. Take your squad to Café Du Monde for some of the best beignets the city has to offer (and some pretty decent coffee too). You can find the café on the Riverwalk next to the New Orleans Convention Center, or visit their French Market coffee stand instead. Loretta's Authentic Pralines is another amazing local business serving delicious New Orleans-inspired treats. The praline beignets are truly the best of both worlds.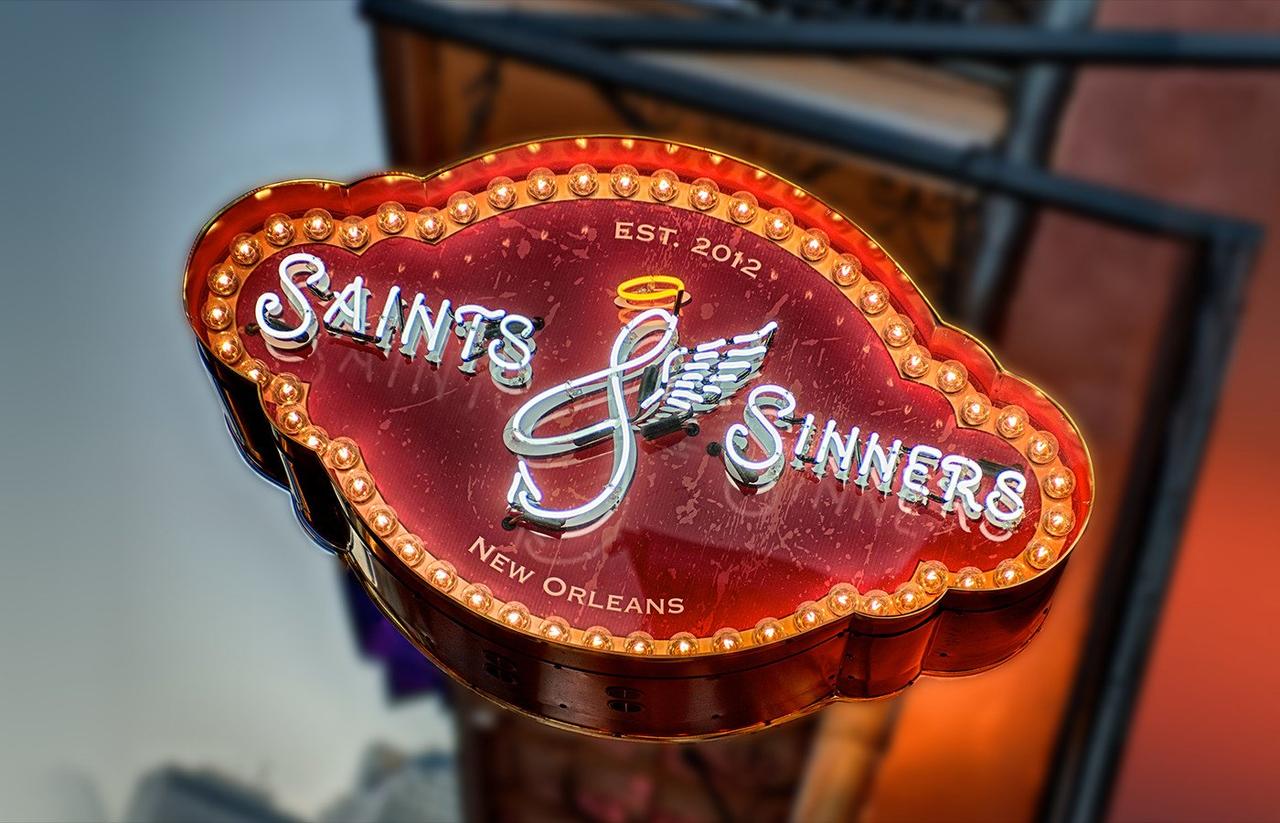 Where to plan a bachelorette party dinner in New Orleans
Looking for a good time? Channing Tatum's Saints & Sinners is the New Orleans bachelorette party restaurant for you. Swap out fine dining for fun dining at this one-of-a-kind establishment that serves every meal with a side of excitement. They offer bachelorette party packages complete with great food, amazing cocktails, and cheeky party bags. If your crew is more interested in sampling the local cuisine, Palace Café is a French Quarter foodie haven. The restaurant offers a contemporary spin on Creole favorites, including plenty of fresh seafood dishes. Order the bananas Foster for dessert (and a tableside show you won't regret).
On-Theme Bachelorette Party Supplies for New Orleans
Looking for ways to make your bach weekend feel extra special? Pick up a few supplies (think: bachelorette party decorations and gifts for attendees) that'll really elevate the atmosphere. Want to take it a step further? Come up with a catchy New Orleans-inspired bachelorette party hashtag to get your squad in the mood and encourage plenty of pics.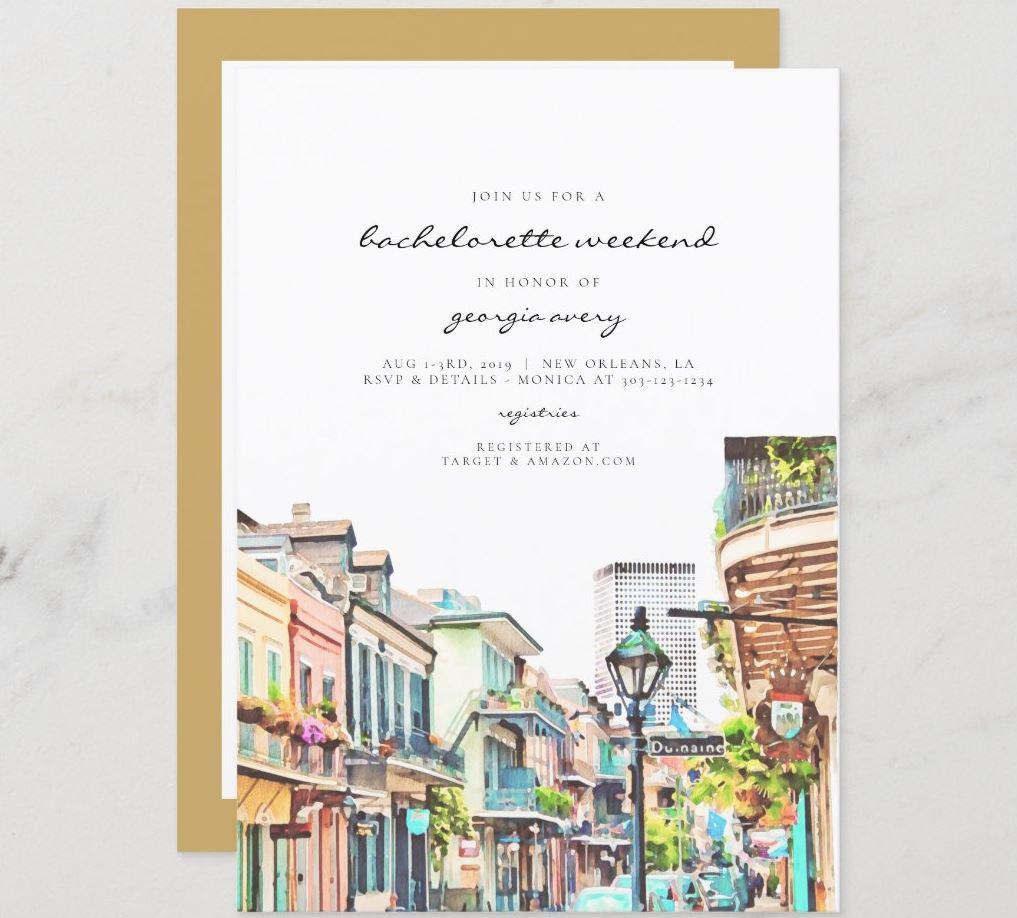 Illustrated invitations
These gorgeous New Orleans bachelorette party invitations are the perfect way to reveal your bach destination.
Unmeasured Event New Orleans Mardi bachelorette invitation, $3, Zazzle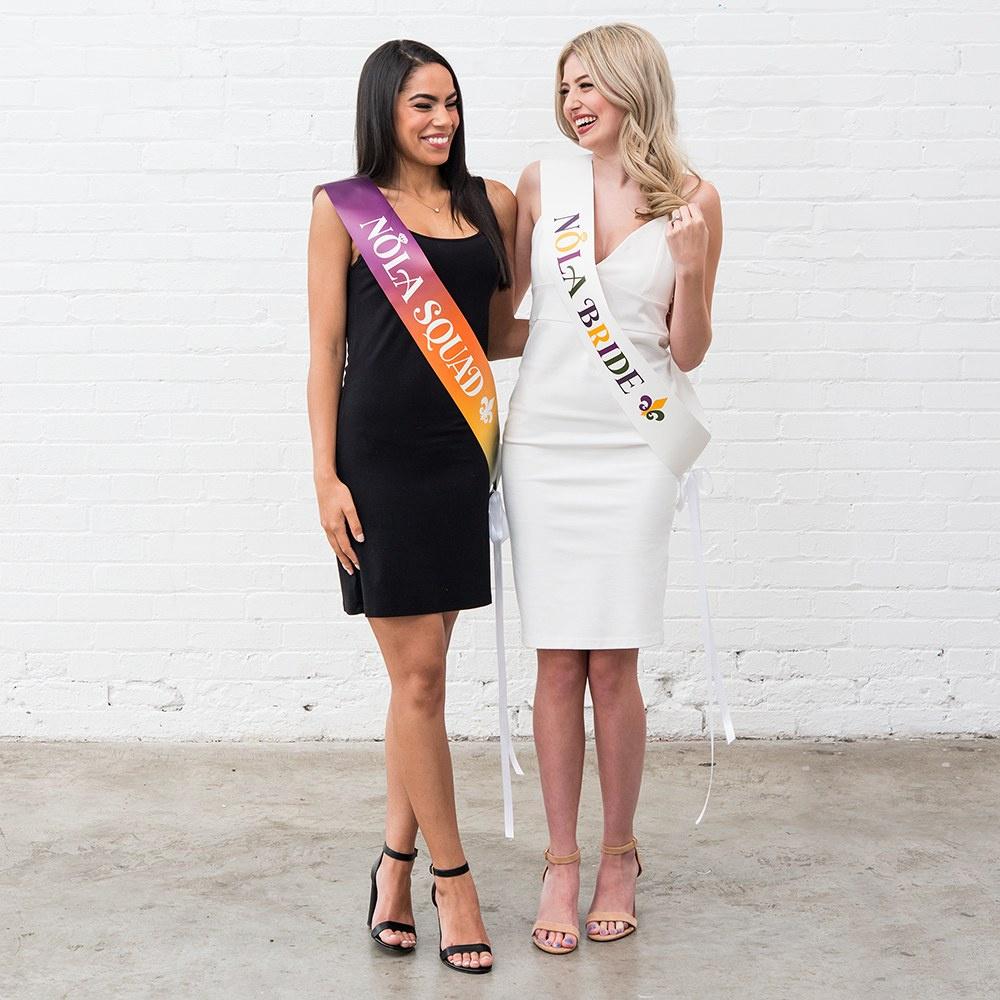 Bridal party sashes
Let everyone know why you're in town by handing out these on-theme sashes for everyone in your crew. There's a "NOLA Bride" one for the bride-to-be and "NOLA Squad" sashes for her besties.
WeddingWire Shop paper bachelorette party sash in New Orleans, $6 each, WeddingWire Shop
Hangover kit bags
Hangover kits make for great bachelorette party favors. Fill these New Orleans-themed bags with all the essentials, such as aspirin, mini bottled water, and mints.
Pressed New Orleans Is Always A Good Idea hangover kit bag, from $3, Etsy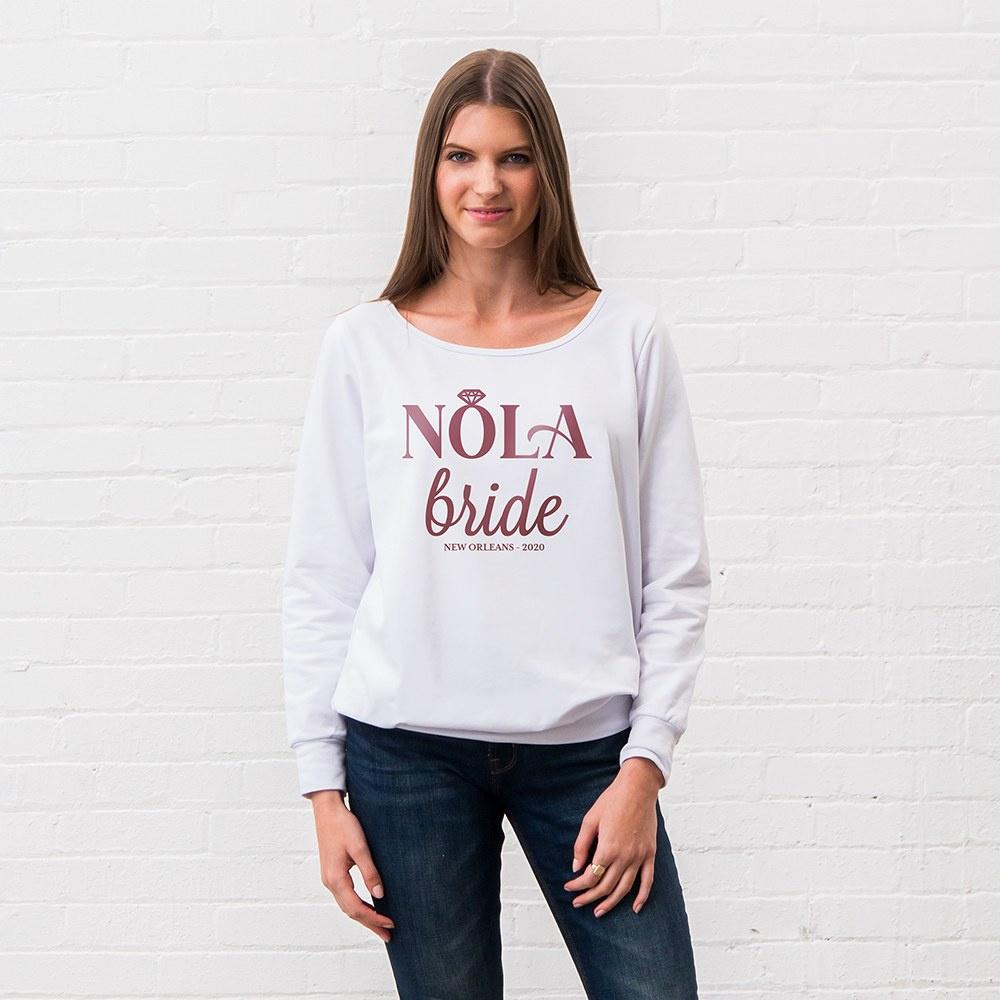 NOLA sweatshirt
Wondering what to wear to a bachelorette party in New Orleans? If you're the bride-to-be, this thematic NOLA bride sweatshirt is the perfect travel attire.
WeddingWire Shop personalized bridal party wedding sweatshirt in NOLA Bride, $22, WeddingWire Shop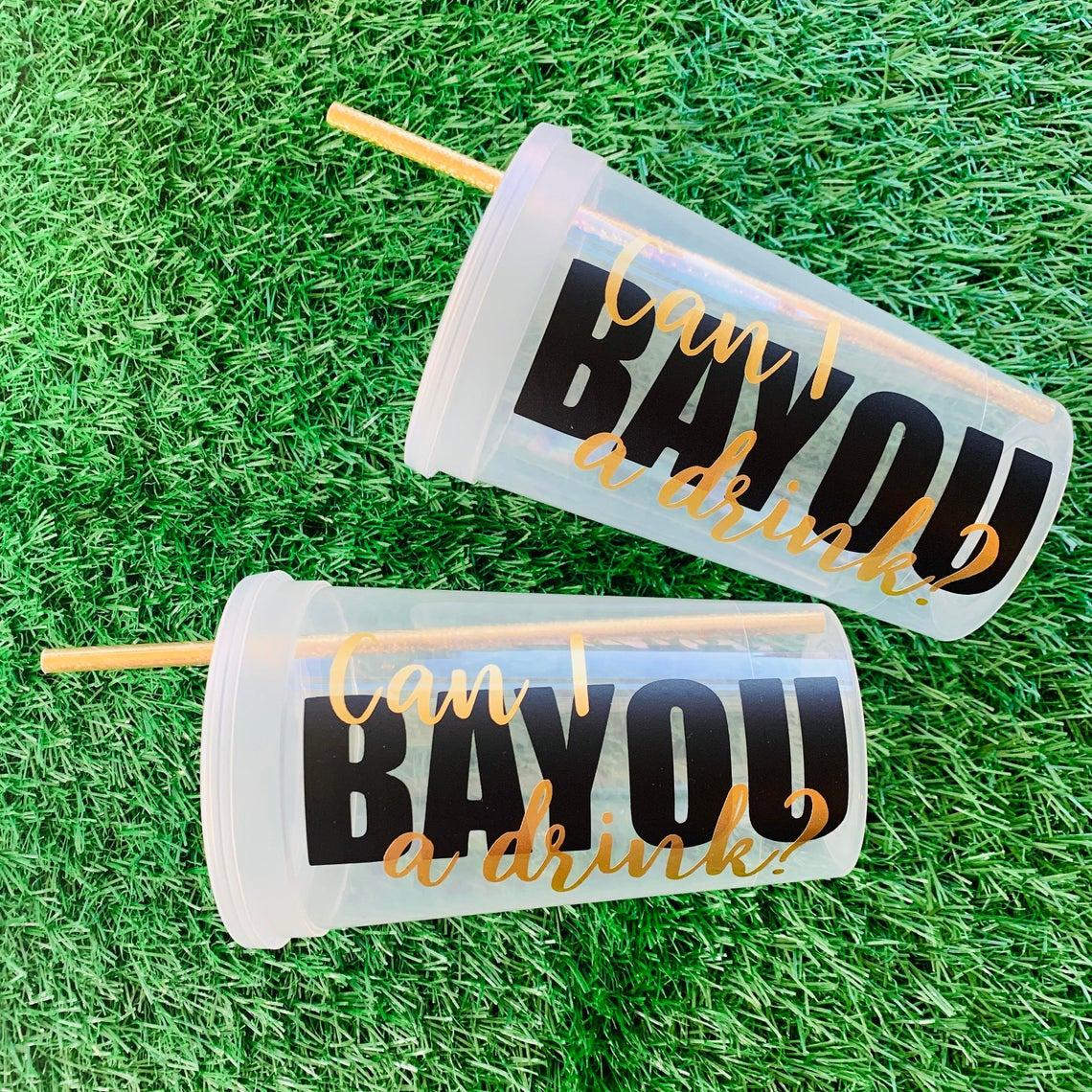 Party cups
Stadium cups are a great gift for bach party attendees. This New Orleans-inspired drinkware reads: "Can I bayou a drink?"
Al Murphy bachelorette Bayou New Orleans party cups, from $3 each, Etsy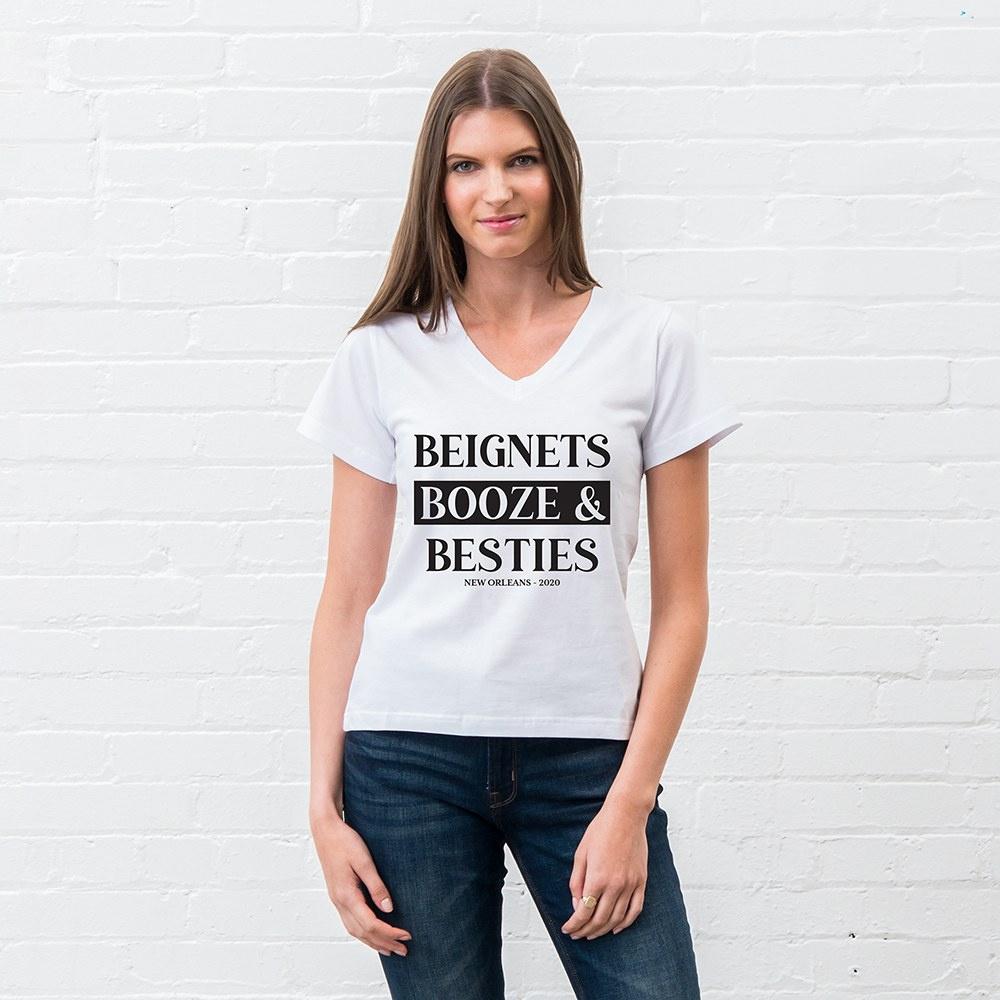 Bridal party shirts
These matching bachelorette party shirts feature a New Orleans-inspired slogan: "beignets, booze, and besties."
WeddingWire Shop personalized bridal party wedding T-shirt in Beignets, Booze & Besties, $13, WeddingWire Shop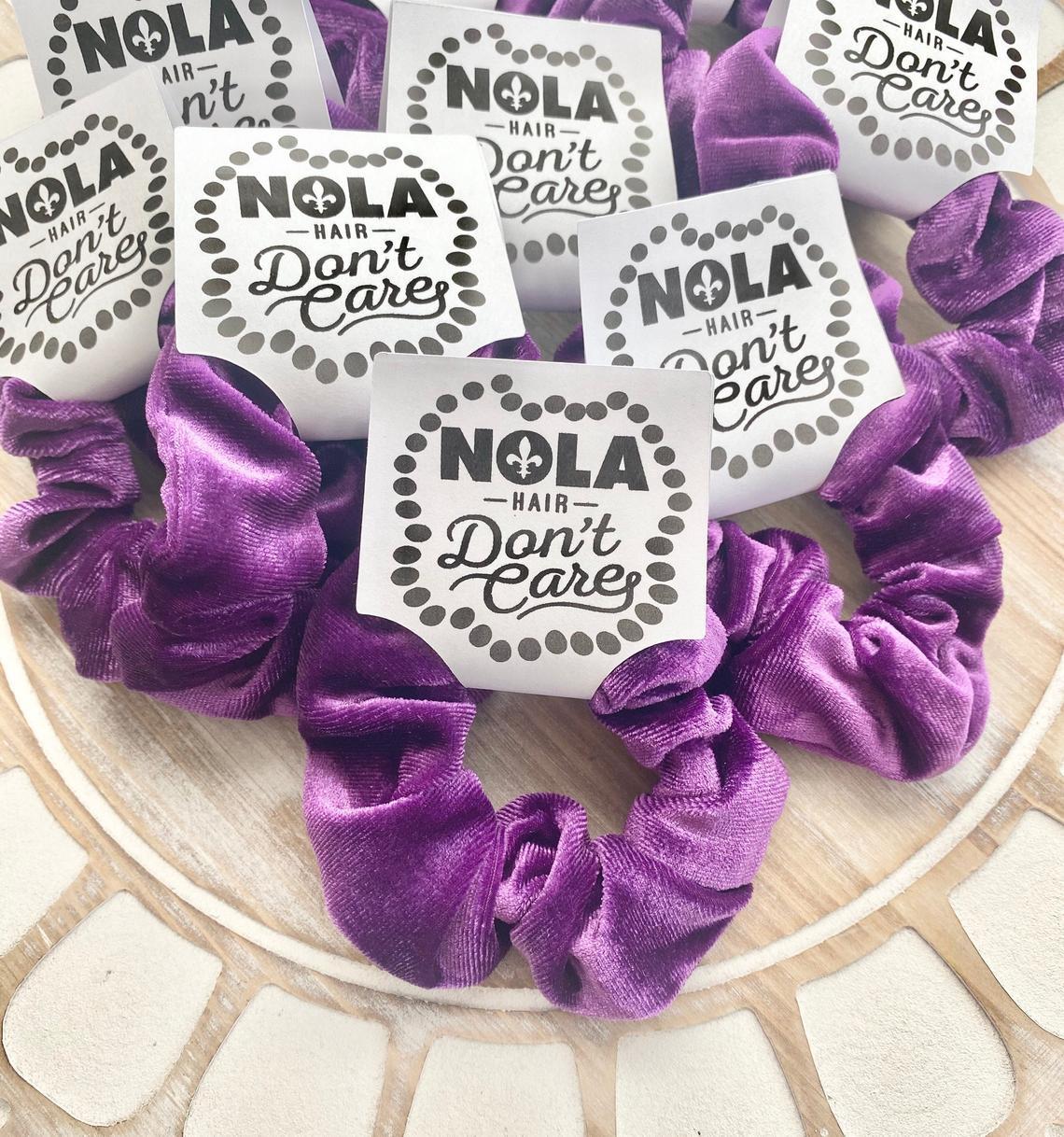 Scrunchie favors
Your squad will appreciate having something to tie their hair back with while you're exploring The Big Easy. These handy party favors come with cute packaging that reads: "NOLA hair don't care."
Blue Eyed Threads NOLA Hair Don't Care scrunchie, from $4 each, Etsy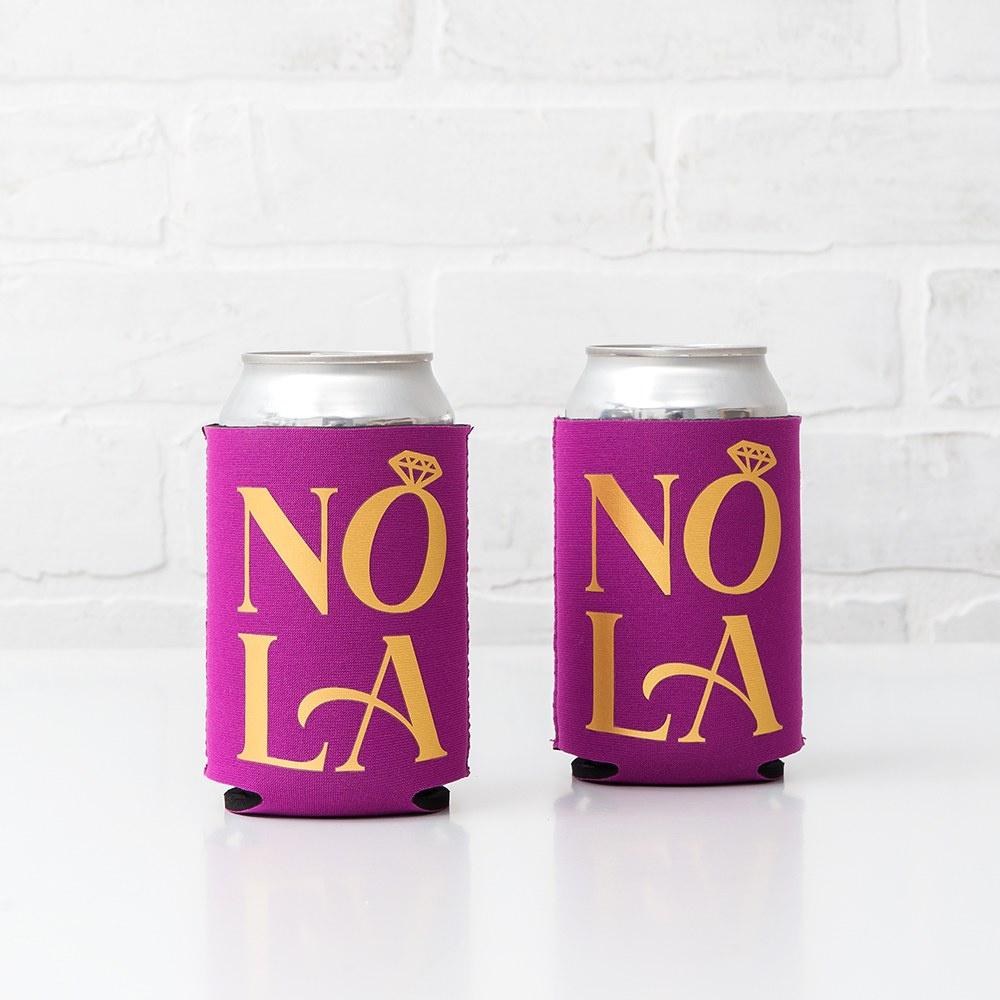 Drink koozies
These colorful NOLA drink koozies will be a nice keepsake for your crew after the getaway.
WeddingWire Shop neoprene foam drink holder in NOLA, $4 each, WeddingWire Shop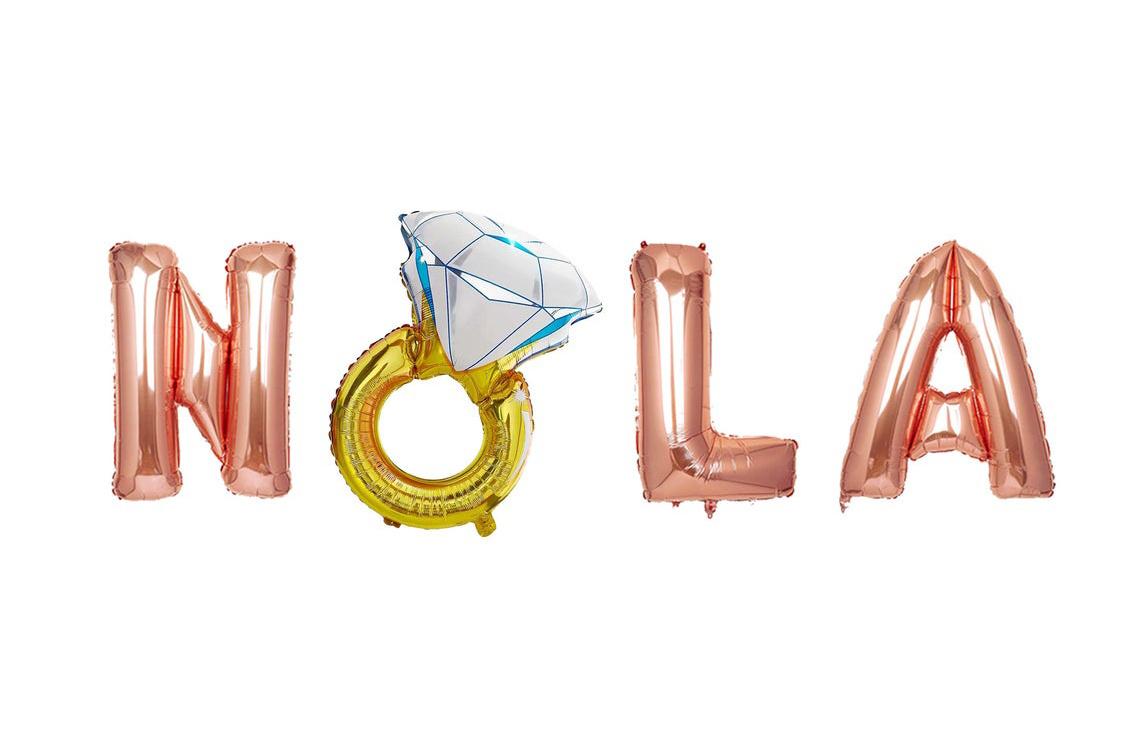 Foil balloons
NOLA bachelorette party decorations will add a fun touch to the bride-to-be's hotel room or your rental house. These balloons are the perfect background for a group Instagram photo.
Party Eight NOLA bachelorette theme balloons, $12, Etsy