How to Plan a Bachelorette Party Weekend, Start to Finish
Whether you're planning a hometown or destination event, knowing exactly how to plan a bachelorette party is essential. Here's a step-by-step guide to planning the party of a lifetime.
We have included third party products to help you navigate and enjoy life's biggest moments. Purchases made through links on this page may earn us a commission.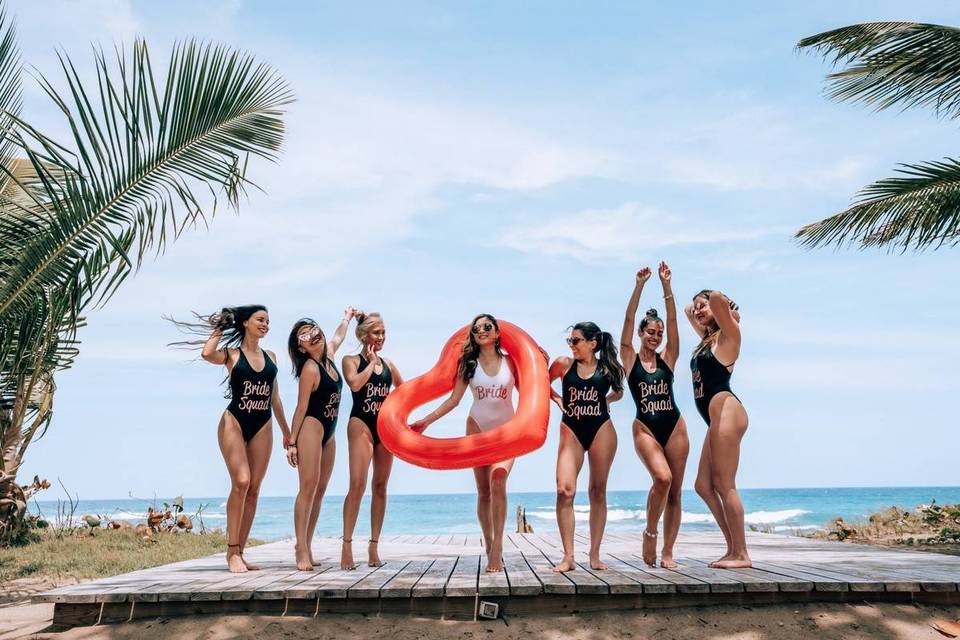 Whether you're a bride masterminding your own Bach Bash, or an MOH faced with the herculean task, you likely have no idea how to even begin to plan a bachelorette party, let alone how to do it efficiently. The good news? No matter how unique you want the weekend to be, there's a formula for planning the perfect bach party weekend—follow these steps and planning a bachelorette party will be both foolproof and fun.
So, what are you waiting for? Let's get the ball rolling, and work through how to plan a bachelorette party.
Step 1: Pre-plan.
If you're an MOH or bridesmaid, now's the time to pick the bride's brain about the bachelorette party weekend she's always dreamed of. If you are the bride, you'll need to grab coffee or tea with your MOH and/or planning committee and share all of these ideas and inspirations with them.
Big details like the bachelorette party location, theme, timeframe, and guest list plus smaller details like whether matching outfits will be required or what kind of excursions might be on the itinerary are essential to know before the planning process begins. Does the bride want a big part of planning, or does she want everything to be a surprise? Who's paying for what and how long do people need to save? Will people have to ask for time off from work? Play detective and gather all of these essential details ahead of time, so when the real planning begins, there are no essential unknowns.
Step 2: Get the girls (or guys!) on board.
Just like with wedding save the dates, bachelorette party weekend info should be sent out way ahead of time. This is important for two reasons: One, to lock in the guest list and make sure everyone has plenty of time to plan and save up, and two, so everyone can start pitching in with planning the bachelorette party. Invites don't have to be expensive (online invitations are fun, often free, and there's no risk of anyone losing the info!), and don't have to have all the details just yet—including the date, location, and your email for questions is enough for now!
Step 3: Nail down the big details.
Once you have a rough idea of who's on board for the bachelorette weekend, you can start zeroing in on the big details when it comes to how to plan the bachelorette party. Choose a hotel or Airbnb, find the right flights or rental car, and lock in any must-haves (like spa reservations) so you don't risk missing out. You don't have to pay yet (that should not be entirely your responsibility!) but once you (and/or the bride) nail these down, try not to change them—it's really important to commit to these to keep your planning smooth sailing, and to make sure you get everyone's money in time (see next step!).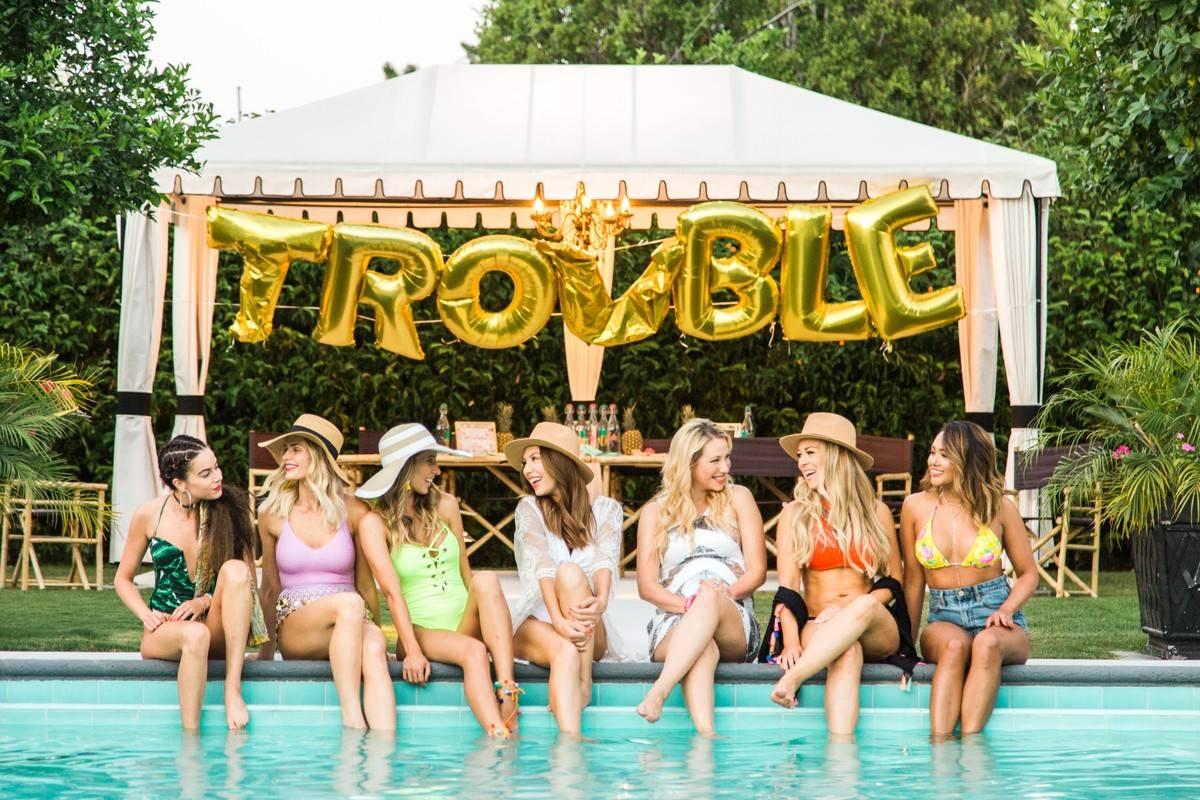 Step 4: Set all of the deadlines.
Now that you've got decisions made, you'll need to book ASAP—which means you'll need money from the people on the guest list. Set deadlines for booking and for guests to send their cash by, so you can lock everything in. Fronting your own cash and getting paid back later by guests is an option if you want to do it, but it can be avoided if you plan right, and are firm with payment deadlines. Venmo is a great app to use for money transfers, especially if your guest list is scattered all over the country. There's also an app called BACH you can use to track, evenly split, and request due dates for expenses. Once you receive the cash you need, get to booking! If guests are booking their own flights/transportation, set a deadline for them to do that, too.
Step 5: Plan the itinerary.
Now that the nuts and bolts like guest list, location, lodging, and transportation are locked are (hopefully) locked, it's time for the fun part: planning your day-to-day activities. This can be overwhelming for some planners, so give yourself plenty of time, ask for help, and don't overthink it—it's better to underplan for bachelorette parties (keeping in mind people may be tired and hungover at least half of every day, and others may simply wish to hang out together, relax, and save a little cash…) than to overplan and feel anxious about hitting every event.
So, instead of planning a dozen events every day, pick a few key events (with input from the bride) for each day and leave ample free time. The BACH app is handy for this, since it lets you browse, book, and poll guests about different local experiences straight from your phone. Another important thing to hash out? Where you'll eat! People loooove wasting time arguing about restaurants, so you can sidestep that altogether by researching and reserving tasty spots ahead of time—brunches and dinners are great to plan ahead, but you can leave breakfast and lunch free (unless there's a specific place you have in mind). Once you have everything hashed out, send the itinerary around to the crew so they can start getting excited! Yep, there's an app for that too.
Step 6: Order props, decor, and necessities.
Getting closer! Now it's time for the itty bitty details—make a list of everything you need (and want) to take the party from great to perfect. Silly or cute bachelorette party decorations, dining essentials like cups and plates, personal details (like a pic collage of your bride and her partner!), banners, custom sweats/PJs/swimsuits—you get the idea. When you're working on gathering these, remember, more isn't necessarily more—try not to go overboard (even if it's fun!), or you'll waste money. Ask for help from bridesmaids during this part of planning the bachelorette party, and find out if you can ship your orders directly to your hotel or homestay so you don't have to lug it in your carry on.
Step 7: Involve the fiancé(e).
This is a quick and easy step when it comes to how to plan a bachelorette party, but an important one. Now's the time to reach out to your bride's soon-to-be spouse and see how they wish to be involved. Do they want to send flowers to the hotel? Or pick up the bar tab one night? Or even show up to the party for a quick dance (they'd better hightail it out of there right after, though!). If you're the bride, task your MOH or a bridesmaid with this endeavor, so you can be surprised! And if you're an MOH or 'maid, do what you can to help.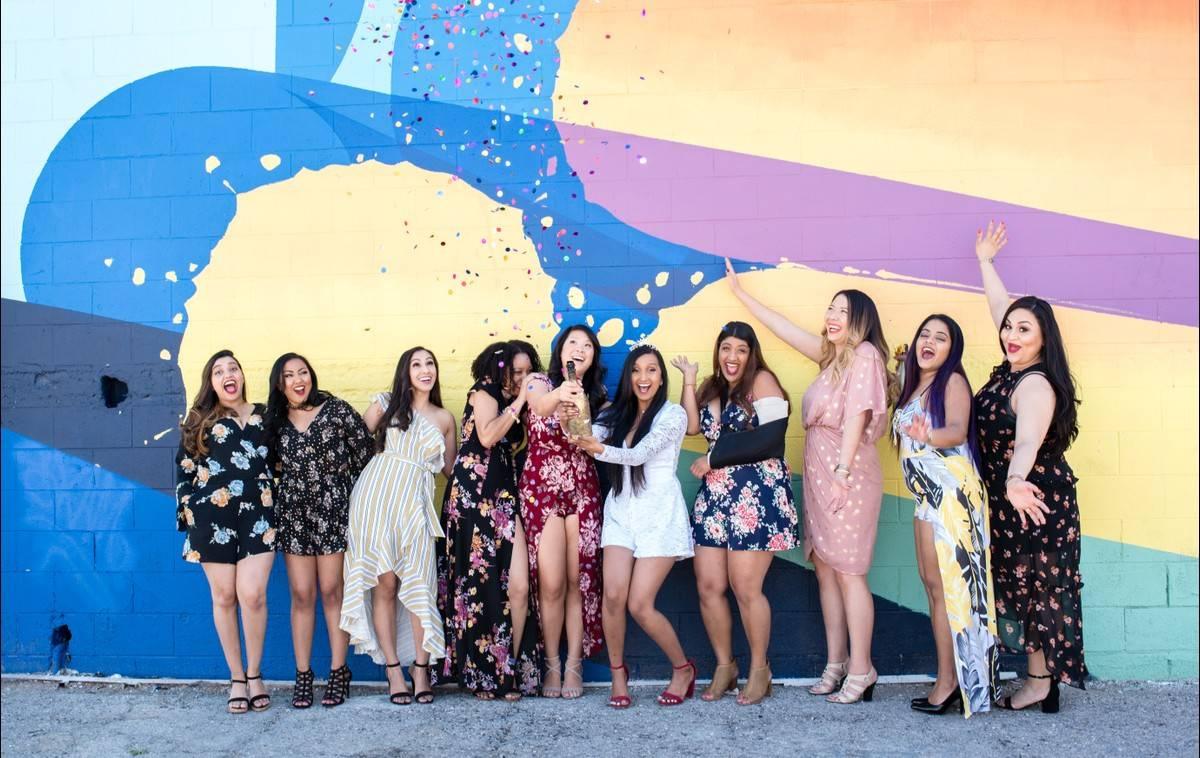 Step 8: Get there early.
If it's almost go-time for the bachelorette brigade, it's officially go-time for you, planner extraordinaire! Make plans to get to your location at least a half-day, if not full day, earlier than the bulk of the guests. Bring reinforcements with you if needed (the bride if she's interested, or a bridesmaid) and get everything out of the way ahead of time so you can enjoy the party with the rest of the crew once they get there. Not only is this extra time essential for ironing out all of the final details, but it's also essential for your sanity—you've likely been planning this event for months and you deserve a few hours of time to decompress and zen out before it's time to pull everything off! Also, if it's you and the bride (or you're the bride and you get there early with your MOH), those few extra hours of girl time can be so special.
Step 9: Stay on top of things but remember to go with the flow.
The guests have arrived, the champagne is pouring, the giggles are abundant—congrats, your party is in full swing (and you're totally pulling it off!). Now your only job is to stay on top of your itinerary and ensure you're making every engagement on time, safely, and with everyone in tow. If everyone's had their itineraries for a while, this shouldn't be too hard—but don't be shy to crack the whip a little if it feels like you're herding cats.
Hopefully the guests will see how much work you've put into this weekend and will make your job easy, but in the off chance things get complicated, it's also important to go with the flow and pick your battles. Missing a brunch reservation because everyone's super-exhausted from last night isn't a loss—and can be less stressful than making everyone attend when they (or you) don't feel up to it. Just go with the flow and remember all you've done to get to this point.
Step 10: Have fun and make memories!
It's happening, it's really happening! The party is going great. You pulled it off—and now it's time to check in and ask yourself, hey, am I having fun too? Getting caught up in figuring out how to plan a bachelorette party weekend and making sure your bride has the best time of her life can make it easy to put yourself at the bottom of the priority list, but remember, you're a guest, too, and you're your bride's bestie, and you deserve to kick back and have as much fun at this party as the next gal! So, if you're in the kitchen doing dishes while everyone else is playing a game, or if you're stressed to the max about the Thai delivery not showing up yet, ask yourself: Do I need to be doing this? Or should I be having fun and making memories, because this is a once-in-a-lifetime weekend and I'll be glad I did? Very likely, the answer is yes, so go for it, girl! Grab a drink and have some fun. You deserve it.

Disclosure: This post contains affiliate links, some of which may be sponsored by paying vendors.