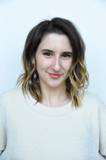 Lauren Rodrigue has been a freelance contributor to WeddingWire for over three years, writing on such topics as planning advice, etiquette, and trends. The Maine native attended college in Boston and lived in New York City, where she worked in advertising. She moved back to Maine in 2018, and currently lives in Portland with her husband Joe and rescue dog, Molly. She enjoys flower arranging, trying out the latest skincare trends, and yoga.
Experience
Writing has always been Lauren's passion, and after graduating from college, she decided that advertising was where she felt most at home. She freelanced for several publications, and started writing about weddings when she began planning her own nuptials in 2015. She wrote weekly wedding planning articles for Jezebel, and then started contributing to WeddingWire, as well as The Knot.
Lauren has worked on numerous accounts at several advertising and production agencies, including Digitas New York and her current job at The VIA Agency in Portland, Maine.
Education
Lauren graduated with a Bachelor of Science in Journalism from Boston University in 2011. At BU, Lauren served as Executive Editor at The Daily Free Press, the student-run newspaper. She interned at Stuff Magazine, a local arts monthly, and Grub Street, a creative writing workshop.
Articles published by Lauren Rodrigue