For the most glamorous day of your life, only the most glamorous setting will do. Enter: These Malibu, California wedding venues. This storied Los Angeles zip code, teeming with swaying palms, off-duty celebs and timeless Hollywood style, is located on nearly 30 miles of sparkling Pacific coastline, but has all the spoils of an urban center (read: five-star hotels and Michelin-starred restaurants) plus the sweeping vistas of not one but three local state parks. With sunny Southern California weather and an unbeatable cultural cachet, the question is not should you get married in Malibu, but where will you get married in Malibu? Peruse this guide to find your answer, grab your designer flip flops, and let's get you hitched, Malibu-style!
How much does a Malibu wedding venue cost?
According to the WeddingWire Cost Guide, pricing to rent a Malibu wedding venue ranges from $3,875 to $14,000, with an average cost of $8,600. Of course, there are a lot of factors that affect a venue's pricing, so be sure to carefully go through a venue's contract before signing on the dotted line.
The Malibu Garden Estate
It doesn't get much more Malibu than getting married in a celeb-worthy private manse. Live out your Selling Sunset dreams by hosting your wedding weekend at this luxurious, private, Spanish villa-style manor set amongst the breathtaking backdrop of Malibu's rocky hillsides. With capacity for up to 500, your crew will be spoiled with amenities when you give them the run of this expansive estate that features 9 acres of manicured land, a stunning sunken swimming pool, rooftop patio, indoor and outdoor kitchens, and entertaining space galore (you can even host your rehearsal dinner here!). The best part? Since you'll be renting the whole space, for the most part, anything you want, goes—which means way fewer pesky venue rules to answer to. It's your canvas to get creative—it just happens to be an incredibly well-appointed one that might not need much from you at all!
Learn more about the Malibu Garden Estate »
Malibu West Beach Club
We couldn't have a "Best Wedding Venues in Malibu" list without including a toes-in-the-sand beachfront venue. And the Malibu West Beach Club does it best, having hosted classic, coastal California weddings and events since the sixties. With indoor-outdoor spaces, premiere beachfront views and space for up to 250, this sun-drenched venue is about as Malibu as they come. Set your ceremony on the 1,500-square-foot elevated sundeck with 180-degree views of the Pacific Ocean, then head into the indoor event space with floor-to-ceiling windows and cool mid-century details for your wedding reception. And while the exclusive beachfront, a swath of sand located between Zuma Beach and Broad Beach, is off-limits for partying, it is all yours for portraits, meaning you can capture that iconic Cali coastline in your wedding pics for all of eternity. You'll also love the private getting-ready rooms, in-house gourmet kitchen, transportation shuttle and decor rental options, all of which make Malibu West Beach Club an all-inclusive venue in a once-in-a-lifetime locale.
Learn more about Malibu West Beach Club »
Saddlerock Ranch
Your California vineyard wedding dreams are realized at Saddlerock Ranch, a sprawling event space with your choice of dramatic backdrop: rolling hills and rocky mountains, perfectly lush lawns and gardens, vineyard trees with grazing horses, the list goes on and on! With 1,000 acres (yes, 1,000) to play with, there is no limit to what you can do at Saddlerock (and almost no limit to who you can invite, with space for up to 500!). Couples can select from a host of gorgeous "I do" and reception locales, from the expansive main lawn dotted with mature olive trees, to the more intimate vineyard area, with its custom fallen-tree archway (which is just about all you need for a highly photogenic wedding ceremony in this stunning setting). And while the setting may be serene and soaked in natural, unplugged beauty, there's a surprising amount of celebrity cachet associated with this venue, having proudly hosted such A-list weddings as that of Friends favorite Lisa Kudrow, rock star Don Henley, and more. But you, of course, will be the most famous person to ever get married here—because we're all celebs on our wedding day!
Learn more about Saddlerock Ranch »
The Vintage Rose
Fresh, bright, and the perfect balance of shabby and chic, The Vintage Rose is a stylish event center for those seeking a sweet and romantic spot for their wedding with everything—and we mean everything!—included. With five unique event spaces, including the Vintage Rose room with its high ceilings, loft-like exposed ductwork, barn doors and French countryside touches, and La Petite Rose, a farmhouse-style room for more intimate affairs, this space makes wedding planning easy with an exhaustive list of amenities included with your booking, from meals made in the onsite kitchen to an open bar with craft beer on tap to decor and rentals to one-of-a-kind accents like a built-in champagne wall. (Can you say photo op?) Even a DJ and photo booth come with your booking—among so many other details. And with such a bright, fresh and on-trend look and feel, you won't have to go crazy on decor—the gorgeous spaces speak for themselves! Thinking small? The Vintage Rose has a perfectly appointed microwedding package that offers just enough for your elopement.

Learn more about The Vintage Rose »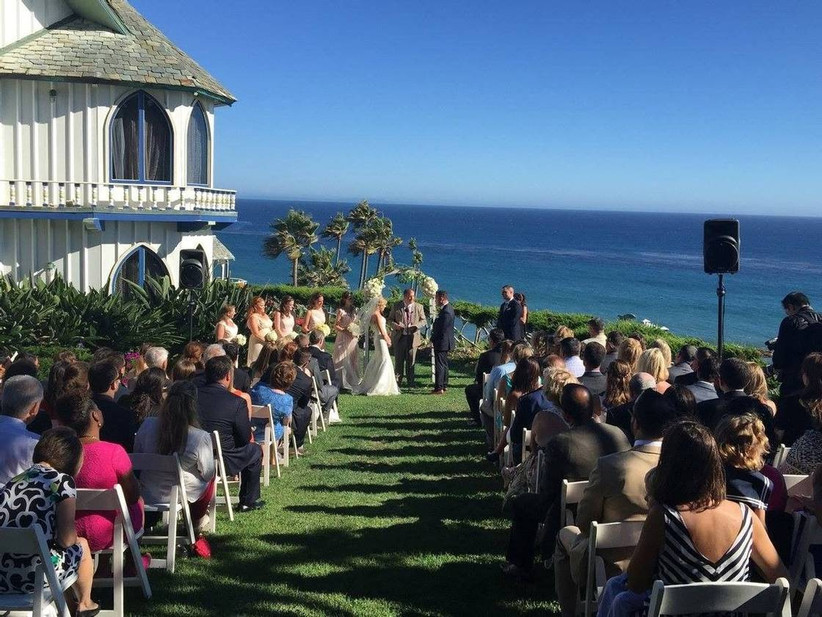 Cypress Sea Cove
A storied hideaway for Hollywood who's-whos for decades, this seaside Victorian estate is big on charm, views and reputation! Tucked away (behind its very own gated entrance!) in an exclusive Malibu neighborhood, this two-acre resort-like venue boasts a castle-like manse outfitted with unique gingerbread-esque architecture and sprawling decks, meticulously maintained grounds and panoramic views of the Pacific. The antique touches and nostalgic Hollywood past will be a hit for those looking for a wedding (or bridal shower or rehearsal dinner!) rooted in history—no glassy, modern Malibu vibes here! And if a freestyle wedding is your dream, this is your venue—you get your run of the place, with no required vendors to use, no corkage fees, and barely a cap on guests (this place can accommodate over 300!). Former couples rave about working alongside the property owners, who have a deep-seated love for Cypress Sea Cove that comes through each and every one of the weddings (and Hollywood film shoots!) hosted in this special spot.

Learn more about Cypress Sea Cove »
Calamigos Ranch
A wellness retreat by day, this favorite Malibu wedding venue will impart plenty of zen into your big day, thanks to its lush landscapes nestled in the Santa Monica mountains that are equal parts luxurious and wild. Set among 250 sprawling acres, this venue offers five unique areas for your celebration, from the intimate Birchwood Room, where you can say your vows under a 100-year-old weeping willow with the soundtrack of a limestone waterfall trickling nearby, to the expansive Pavilion at North Point, with space for up to 500 and your very own ferris wheel! The basics plus are included with your booking at Calamigos Ranch, including special touches like a white aisle runner for your ceremony and use of separate getting ready rooms for each member of the couple. Turn your party into a vacay for you and your guests by renting rooms at the Calamigos Guest Ranch, featuring country club-style amenities like a spa, beach club and Insta-worthy easy, breezy "ranch chic" accommodations.

Learn more about Calamigos Ranch »
The Malibu Dream Resort
So you've always imagined renting out an entire vacation resort for your wedding. Casual! Look no further than The Malibu Dream resort, a 50-acre utopia featuring a 10,000-square-foot mansion, tennis court, pool, and oceanfront views. Imagine your wedding weekend taking place at [Your Last Name Here] Resort, where guests have the run of this uber-luxurious compound and all of its tropical landscaping, luxurious amenities and celeb-worthy privacy (the estate is nestled in Malibu's iconic rocky hills). And don't be fooled by the fact that this is a private estate—it can still accommodate up to 500! The manse itself offers seven bedrooms, including a jaw-dropping master suite for the newlyweds, so VIPs can crash onsite for the Hollywood treatment all weekend. Visiting wedding guests will be just as accommodated with parking for up to 500 (and a valet option!). The only downside of hosting your wedding in this other-worldly-level luxury private enclave? When you ultimately have to leave. (But the epic lifelong memories, of course, get to come along with you!)

Learn more about the Malibu Dream Resort »
Duke's Malibu
We'd be silly not to include a fabulous restaurant in a list of wedding venues in a zip code known for its fabulous restaurants, which is why we're spotlighting the iconic Duke's Malibu. This waterfront restaurant is a perfect pick for the foodie couple who doesn't want to skimp on those million-dollar ocean views but also wants to prioritize an upscale, locally-souced menu and exquisite service during their big day. Duke's has all that, and more! This Cali-meets-Hawaii resto offers two beautiful event spaces—the spacious Ocean Room, built directly over the ocean with seating for up to 250 and an exclusive balcony for gazing at the aforementioned ocean, and the more intimate Board Room, perfect for mini affairs with seating for up to 35. The menu, a favorite of locals and tourists alike, is filled with Hawaiian flavors, and available in plated or buffet-style service—you choose! And as for aesthetics, as a stylish departure from the usual whitewashed Malibu look, Duke's boasts handsome wood paneling in both of its even spaces, offering a warm, beachy vibe to your beach wedding bash. Aloha!

Learn more about Duke's Malibu »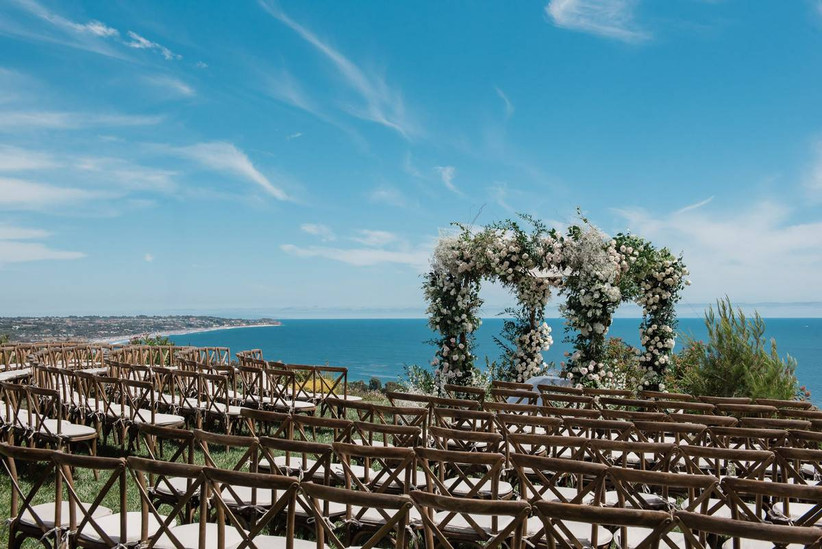 Malibu Sea View Estate
If you have grand designs for your wedding and are simply looking for a picture-perfect blank canvas where you can bring it all to life and then some, consider the Malibu Sea View Estate. This ultra-exclusive private estate boasts the largest swath of privately owned grass in all of Malibu, offering a stretch of 440 feet upon which to build the outdoor wedding of your dreams (that's longer than a football field!). Tucked above the Pacific Coast Highway, in the gentle peaks and valleys of the Santa Monica Mountains, this property offers 360-degree views of all things Malibu: highway, ocean, and hills. But don't let the middle-of-it-all location fool you—it's so private, it can't actually be seen by anyone—no cars driving by, no neighbors, nobody! Which means you can party in celeb-status privacy, crank your music as loud as you want, and forget about a curfew (and speaking of music, the property features speakers hidden in decorative rocks all throughout the grounds—what a perk for your playlist!). Beyond the free rein to design your ultimate wedding from scratch and party your heart out, you'll also love getting ready and posing for pics in the modern mansion, with its sweeping views and opulent amenities. It's all yours at the Malibu Sea View Estate—except for clean-up duty, which is managed by onsite staff. Nice.

Learn more about Malibu Sea View Estate »

Malibu Solstice Vineyards
For wine-loving and nature-buff couples alike, Malibu Solstice Vineyards is your go-to venue. This gorgeous spot outfitted with ocean and mountain views also features a Tuscan-style villa for all your indoor needs, from accommodating the couple of honor and up to eight of their VIPs (the master bath boasts a Jacuzzi tub—romantic!) to serving as the perfect getting-ready oasis and gourmet meal prep zone. Ceremonies and receptions are held on the lush grounds, with space for up to 200 and endless activities for a long weekend getaway for adventurous guests—like hiking and biking trails, horseback riding and vineyard tours (the venue grows its own Cab-Sauv grapes, the beautiful trees of which are visible from the celebration spots). But nothing tops the photo ops of the cliffside ceremony site, with its seemingly endless mountainous horizon, giving your stunning ceremony the effect of being 30,000 feet high—with no hiking gear required!
Learn more about Malibu Solstice Vineyards »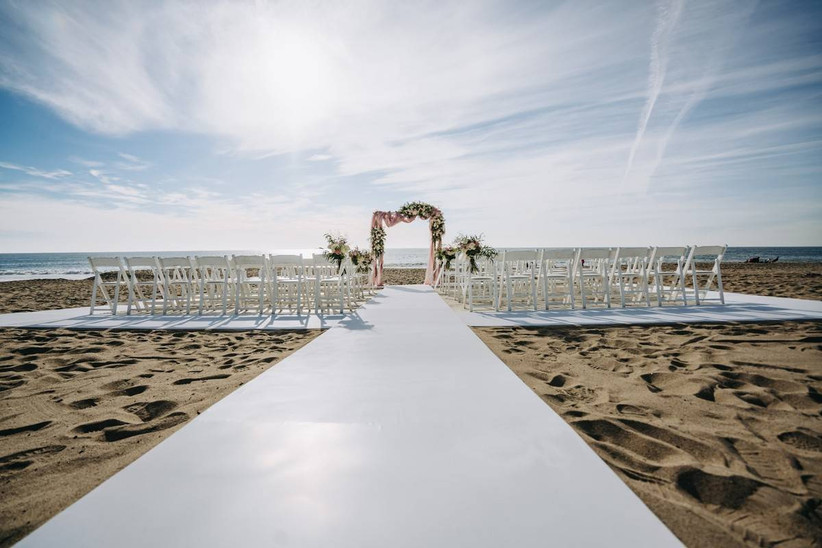 The Sunset Restaurant
Not just another sunset-themed California restaurant, the Sunset actually owns up to its name in a big way, with the claim of offering "the best sunset view in Malibu, 365 days a year." So ready your photog for those magic hour shots! Sunsets aside, this beautiful Modern American restaurant, housed in a two-story, beach-chic bungalow, is tucked on a slice of Zuma Beach right off the PCH, with its very own piece of beach and deck lounge for no-brainer toes-in-the-sand ceremonies that seat up to 150. There might be a lot of beach in Malibu, but Sunset's little stretch happens to be a big deal—this is one of the only Malibu wedding venues where couples can actually get married right on the sand! For the reception, choose the handsome banquet room with neutral decor and floor-to-ceiling windows, or toss up a tent outside for even more space (and even more salty air in your hair!). Packages include everything you could need and want, from permits for a beach celebration to chairs, tables and of course, impeccable cuisine that nails that fresh, seafood-forward coastal Cali vibe.

Learn more about The Sunset Restaurant »
Rancho del Cielo Malibu
There's plenty of high-glam in Malibu, but if that's less your vibe, take heart: there's also organic Malibu, with that laid back, rustic California style that pays homage to the region's inimitable natural vistas. And Rancho del Cielo is the epitome of that side of Malibu. Set high on the hills overlooking the glittering Pacific on one side and the Santa Monica Mountains on the other, the Cielo Farms wedding venue is woven into an olive grove, featuring stunning vegetation that's as wild as it is beautiful. The onsite cottage makes for the perfect getting ready space (and an equally lovely backdrop for wedding party portraits), but the real stunner of this site is the expansive outdoor event space, where decor can be sparing because the natural splendor is so magnificent. This venue is family-run, which means love and care goes into every thoughtful detail. And speaking of details, a wedding planner is provided with every booking, so you can focus more on those billion-dollar views and less on the nitty gritty.

Learn more about Rancho del Cielo Malibu »