Napa Valley is known as one of California's most beautiful and luxurious places, so it's no surprise that couples flock from all over the country — and the world — to get married in this elite region. Sonoma County, which has a rep for being slightly more laid-back than Napa, is home to equally lush hillsides and scenic pastoral views. With two stunning regions to choose from, narrowing down the best winery wedding venues in Napa and Sonoma is no small feat for anyone planning a vineyard wedding in Northern California. To help you make your final picks, we've narrowed down a list of our fave winery wedding venues in Napa, Sonoma, Geyserville, Healdsburg, and beyond.
Read more about the best winery wedding venues in Napa Valley and Sonoma County.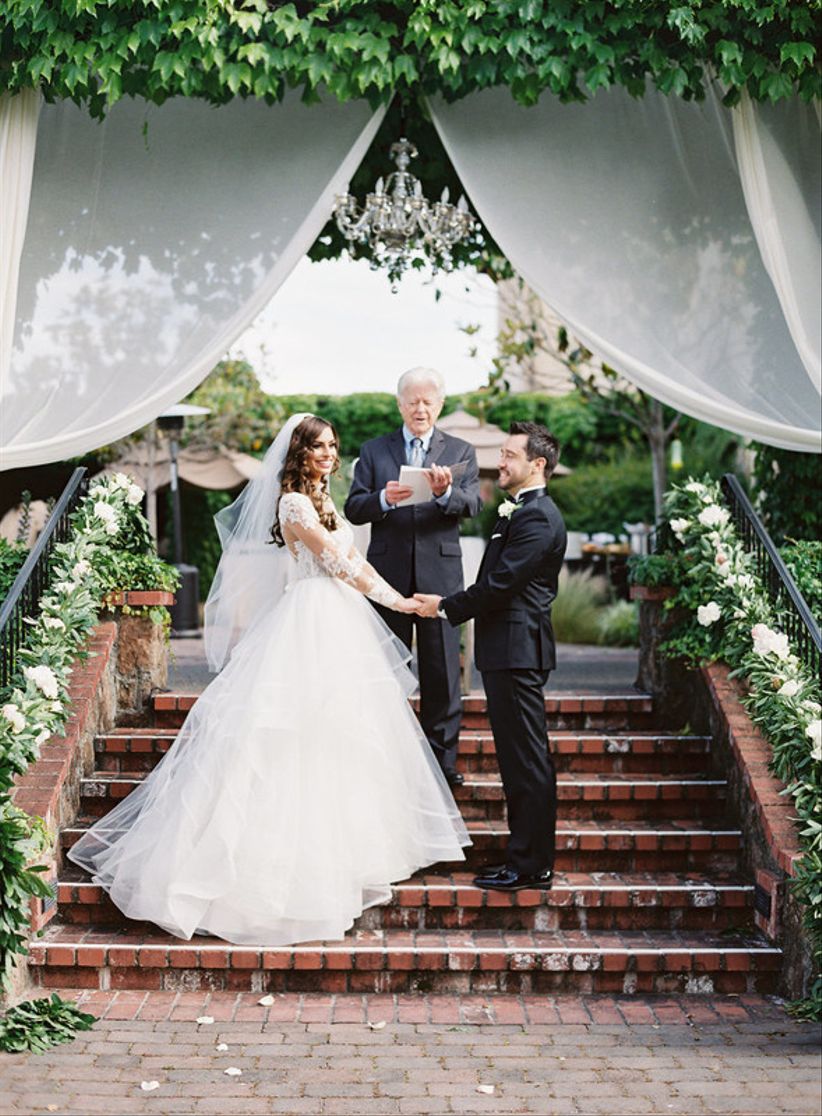 Fairmont Sonoma Mission Inn & Spa
Combine your dream vineyard wedding with a luxury resort at the Fairmont Sonoma Mission Inn & Spa. This breathtaking venue is situated in the heart of Sonoma and offers amazing views, along with top-notch resort amenities. Whether you're hosting a destination wedding and are looking to have all your guests in one place, or you want nothing less than five-star treatment leading up to your big day, Fairmont Sonoma Mission Inn & Spa has everything you need. In addition to its four event spaces, the resort has a full-service spa, a fitness center for any last-minute wedding workouts, a golf course, swimming pools, and a Michelin rated restaurant. Fairmont Sonoma Mission Inn & Spa can host weddings for up to 250 guests and offers various event packages.
Learn more about Fairmont Sonoma Mission Inn & Spa »
Foley Sonoma
Host your big day with unobstructed mountain views at Foley Sonoma in Geyserville. Like many Sonoma winery wedding venues, this property is surrounded by the Mayacama Mountains, providing you with a gorgeous backdrop of both vineyard and hillside vistas. Foley Sonoma is one of the best vineyard wedding venues for wine-loving couples, annually producing up to 6,000 cases from 10 different varietals, including Bordeaux and Cabernet. For weddings, the venue has five event spaces (both indoor and outdoor options) and a maximum capacity of 125 guests.
Learn more about Foley Sonoma »
Vintners Inn
Exchange your vows overlooking 200 acres of picturesque Sauvignon Blanc vineyards at Vintners Inn. At the outdoor ceremony space, a 14-by-14-foot trellis stands at the altar and can be personalized with your own decor (see the latest wedding decor trends here). The lawn area is surrounded by manicured gardens and seats up to 300 people, making it one of the best winery wedding venues in Sonoma if you have a larger guest list. For your reception or an indoor ceremony, Vintners Inn has more than a dozen event spaces to choose from, including a chapel with stone walls, various ballrooms, and several restaurants/dining rooms. The entire venue has an elegant rustic vibe — think Tuscan-inspired architecture, brown stucco walls, iron chandeliers, fountains, and inviting indoor-outdoor spaces.
Learn more about Vintners Inn »
Soda Rock Winery
Founded more than 150 years ago, Soda Rock is one of the oldest winery wedding venues in Sonoma County. The property was the original site of a winery and the Alexander Valley general store in the late 19th century. Today, the historical venue is being restored to its full glory with sustainable and reclaimed materials, giving it plenty of charm and character for your special day! This family-owned venue hosts weddings year-round for up to 250 people and has several picturesque event spaces, including a barn that's ideal for rustic weddings, a hillside courtyard, fountain area, tasting room, and ballroom. If you don't live nearby (or even if you do), you can eliminate travel time and leave more room for relaxation by staying onsite in one of the venue's suites or at a nearby inn for a discounted rate.
Learn more about Soda Rock Winery »
Gloria Ferrer Winery
Gloria Ferrer Winery offers the unique opportunity to get married inside the winery caves, which are perfect for hosting a romantic ceremony or intimate reception. This wedding venue can host events for up to 120 people and offers packages that include wedding coordination, setup/cleanup, bartending, tables, and chairs. Gloria Ferrer Winery also has several outdoor spaces, including a terrace and grapevine-covered arbor.
Learn more about Gloria Ferrer Winery »
Viansa Sonoma
Get married at Viansa Sonoma and you might just believe you've been transported to the south of France or the Tuscan countryside. This spectacular venue sits on a hilltop overlooking Sonoma's wine country, providing unbeatable views that will bring your dream wedding to life. Viansa Sonoma is one of the region's best winery wedding venues, with hundreds of rave reviews from previous couples who praise the venue's coordination staff, scenery, catering, and event facilities. The venue has a capacity of 220 guests and offers a variety of indoor and outdoor spaces for your big day.
Learn more about Viansa Sonoma »
deLorimier Winery
This stunning location is one of our top picks for an intimate winery wedding in Sonoma County. deLorimier Winery has several event spaces and a capacity of 150 guests, but its wisteria-covered arbor and indoor tasting room are the most ideal setting for smaller parties. Standard rental fees include five hours of venue use, tables, chairs, tasting room access, and an event manager. Extend your wedding by staying overnight in the venue's guest house, which can also be rented out for dressing rooms and pre-wedding prep.
Learn more about deLorimier Winery »
B.R. Cohn
This winery wedding venue has an irresistible vineyard-meets-backyard feel. The estate's tasting room — an inviting white rancher surrounded by neatly trimmed hedges and mature trees — sits just off the main event space, which overlooks rows of vineyards and olive groves. A major selling point for this venue is the all-day rental time frame, which spans from 10 a.m. to 11:30 p.m. on your wedding day (a rarity among most vineyard wedding venues in the area). Standard rental fees also include wedding coordination, getting-ready suites, lighting, tables, chairs, heaters, and a VIP wine tasting. B.R. Cohn is located in Glen Ellen, about an hour west of Napa Valley. The 90-acre property can accommodate up to 250 guests.