24 Colorado Mountain Wedding Venues with the Most Amazing Views
Find the perfect view for your big day at these scenic and amazing mountain wedding venues in Colorado.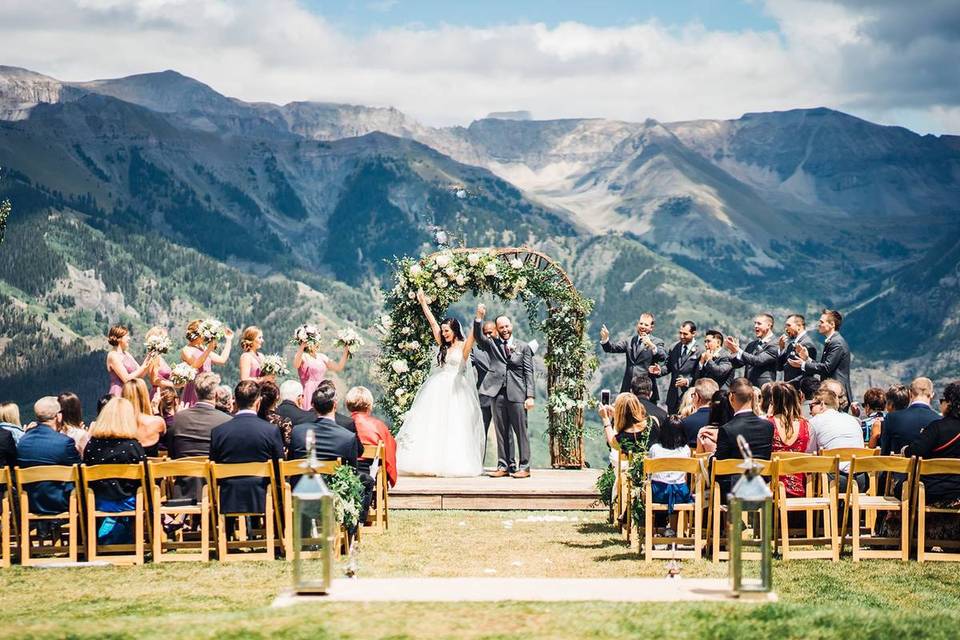 If you're in the market for Colorado mountain wedding venues, a breathtaking view is probably at the top of your "must have" list. After all, the Rockies are some of the most scenic mountains in the country, whether you're tying the knot at the top of a stunning peak or sipping cocktails with mountain ranges on the horizon. From rolling fields to black tie ballrooms, these mountain wedding venues in Colorado have something for everyone. Head to the hills for a rustic celebration at high altitude, or celebrate in the city at one of the many beautiful Denver wedding venues. Here are 24 outdoor Colorado mountain wedding venues you won't want to miss.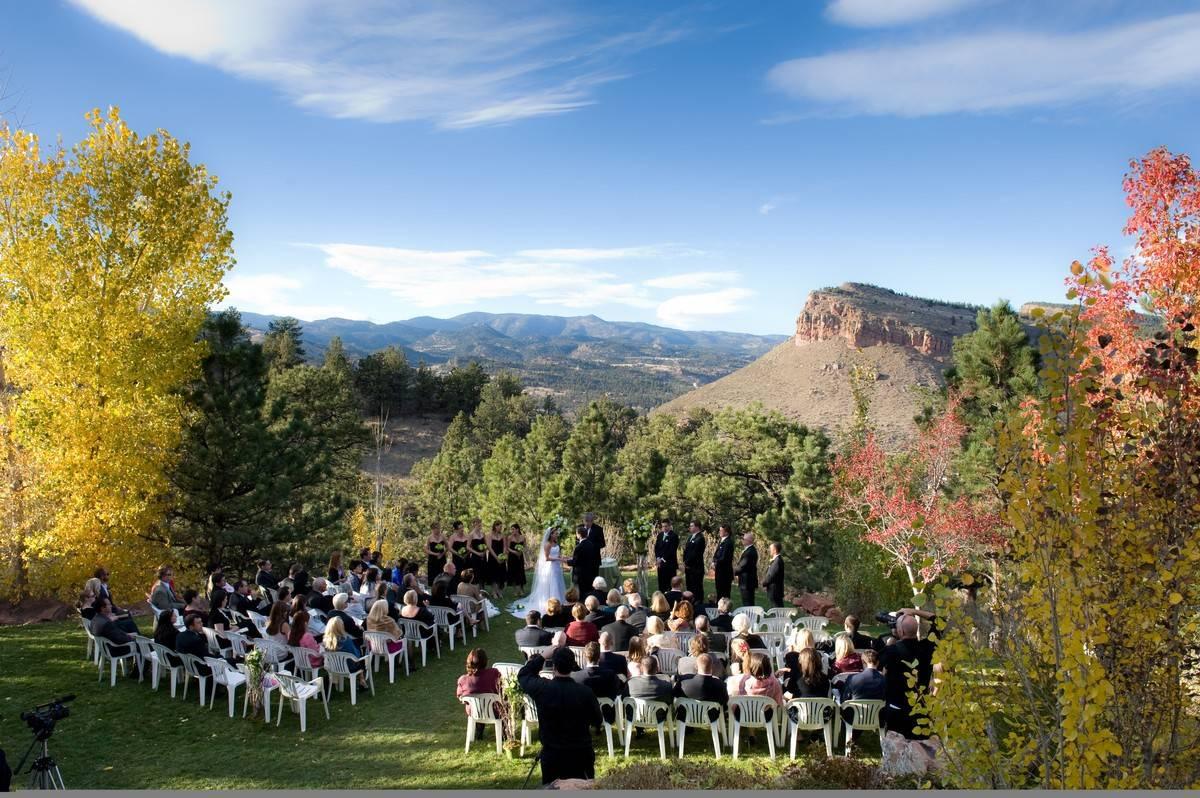 Lionscrest Manor
30 minutes north of Boulder lies Lionscrest Manor, a picturesque Victorian estate that offers vintage elegance alongside 360-degree views your guests will never forget. Whether indoors or out, you're never far from a view of Steamboat Mountain, Mt. Meeker, or the nearby sandstone cliffs. Trees along the manicured lawns frame the dramatic horizon for an open-air wedding ceremony. Stairs lead guests up to the Skyline Deck, where they can enjoy cocktails in the famed Colorado sunshine. For dinner and dancing, head indoors to the Grand Ballroom, where floor-to-ceiling windows offer a front-row seat for the sunset - and space to seat up to 250 guests
Learn more about Lionscrest Manor »
Evergreen Lake House
Why just look at mountains on your wedding day when you can be completely surrounded by them - only 30 minutes outside of Denver? This sprawling log cabin lodge features a great room with a stone fireplace and space for up to 200 guests, plus a deck overlooking Evergreen Lake and nearby Bear Mountain. Available year-round, you'll have your choice of snow-capped peaks, colorful wildflowers, or autumn's golden aspen trees as a picturesque backdrop.
Learn more about Evergreen Lake House »

Windsong Estate
This contemporary, family-owned venue offers some of the best views in Northern Colorado. Perched above Fort Collins and facing west toward the Front Range, the garden is perfect for an open-air ceremony. Inside, the sleek reception hall has towering windows that frame the Rockies, whether for a seated dinner or an indoor ceremony. The flexible space can be transformed for an intimate celebration or a 300-person crowd. On-site VIP suites give the entire wedding party a comfortable place to get ready that's right in the action, with spacious makeup stations in the bridal suite and video games in the groom's retreat.
Learn more about Windsong Estate »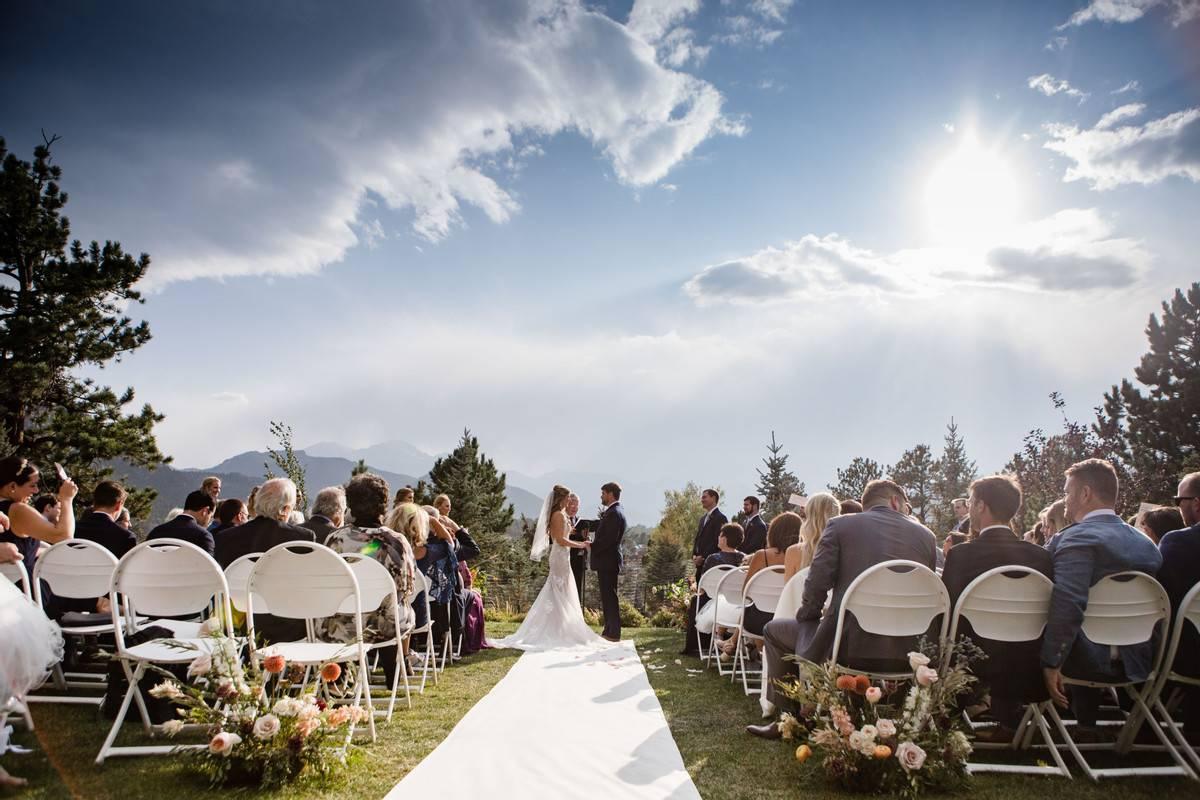 The Stanley Hotel
This historic Estes Park property has not one, not two, but nine options for wedding venues, from the small and intimate to the sweeping and grand, all offering windows, verandas, and mountain views. The hotel's manicured front lawn offers breathtaking views of Longs Peak and Lake Estes, while the newly built Pavilion has a 250-seat auditorium with a dramatic glass wall that opens to wrap-around patio and a fresh and sunny event space with views of Rocky Mountain National Park. Invite guests to join you in the hotel's cozy rooms, sip cocktails at the Whiskey Bar, or learn about the hotel's, ahem, other-worldly guests Night Spirit Tour.
Learn more about The Stanley Hotel »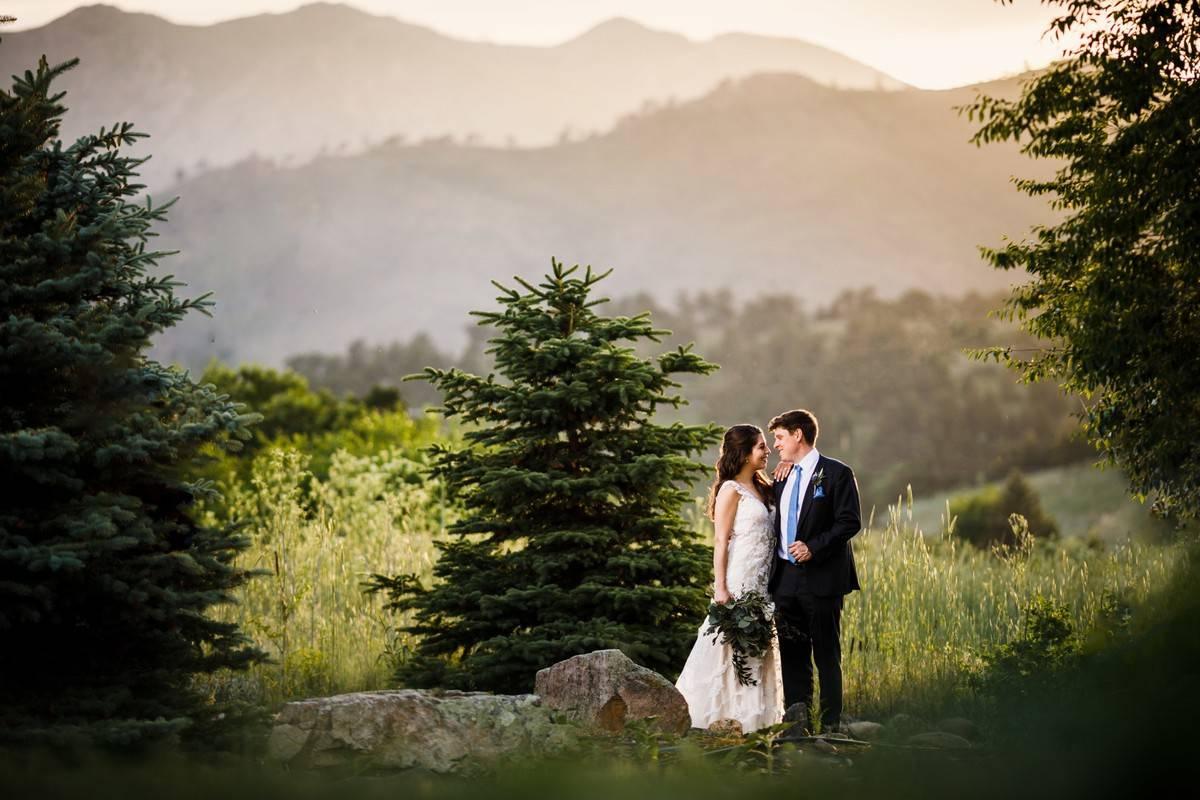 The Greenbriar Inn
Built in the late 1800s, the Greenbriar Inn is a 50-year-old restaurant set on 20 pristine acres. Italian hand-painted chandeliers and a stone fireplace light the Upstairs Dining Room, with French doors that lead to a mountainside balcony. The property has three gardens, where the team grows vegetables and herbs that are featured in mouthwatering seasonal menus. The highlight, though, is the Cabin Lawn, where outdoor ceremonies are set amongst 14 acres sprawling fields and woodlands, with Left Hand Canyon in the background.
Learn more about The Greenbriar Inn »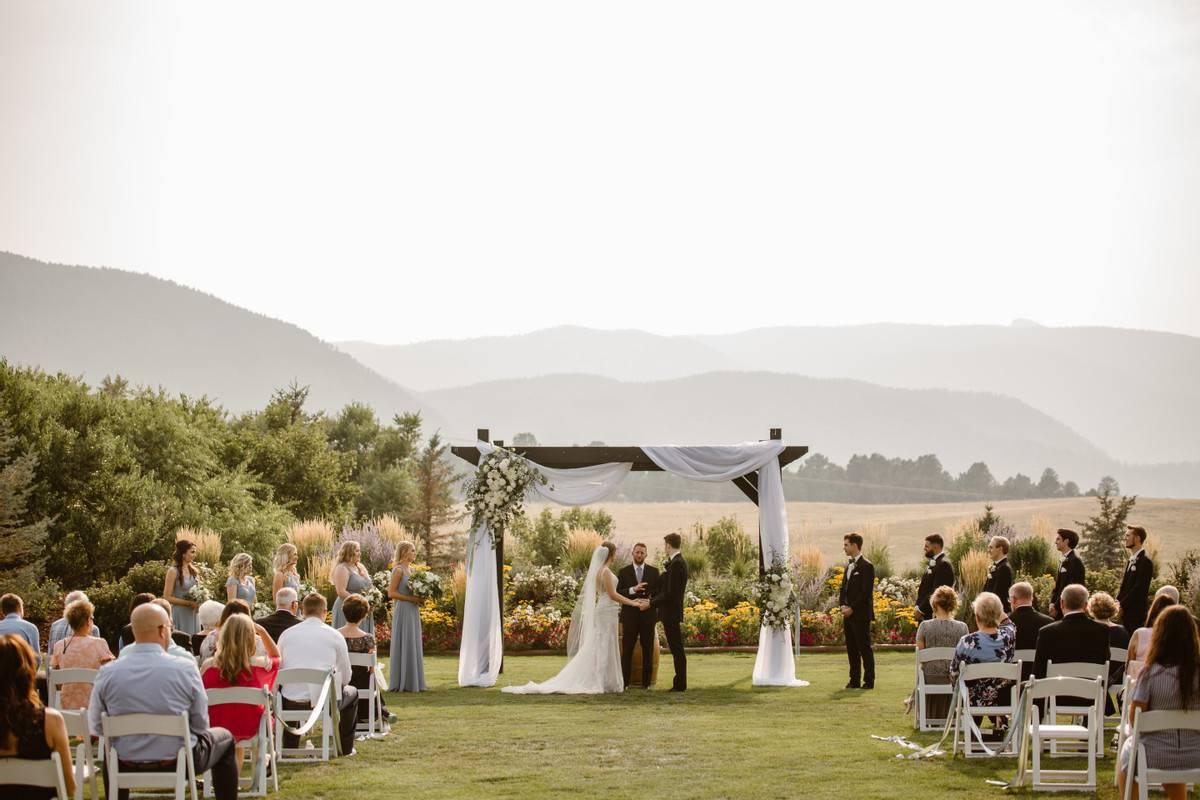 The Venue at Crooked Willow Farms
Just 30 minutes south of Denver, this 90-acre property mixes mountain elegance with bucolic charm. The manicured Events Lawn is set alongside the pristine red and white Carriage House, overlooking rolling fields as the Rockies rise in the background. The Carriage House Ballroom features white pine walls, towering ceilings, and floor-to-ceiling barn doors that open to reveal nearby peaks and let in the mountain breeze. Or follow the stairs up the turret to Lola's Loft, where wagon wheel chandeliers light red oak floors, and loft doors open for stargazing and unobstructed Rocky Mountain views.
Learn more about The Venue at Crooked Willow Farms »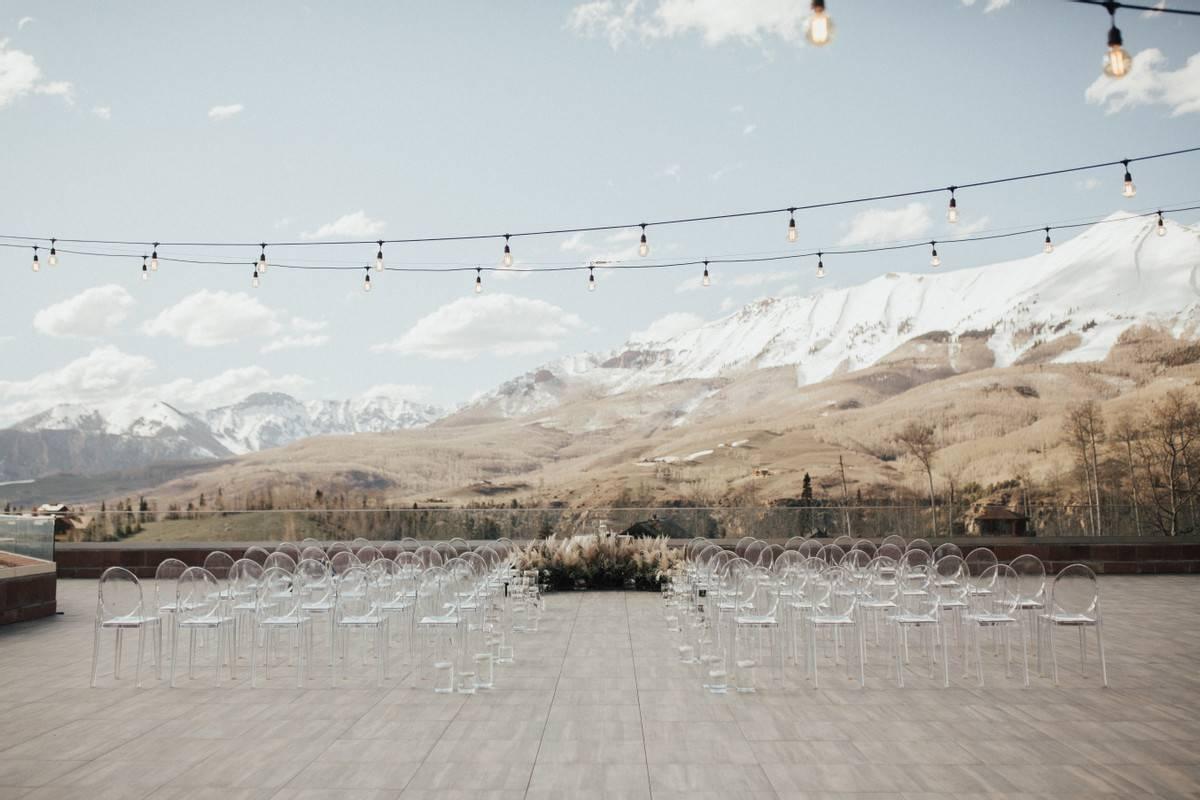 Telluride Ski Resort
There's no better way to have mountain views at your wedding than to say "I do" at over 10,000 feet. All of Colorado's resorts offer beautiful on-mountain wedding venues, but Telluride's are not to be missed. Board the gondola for a scenic trip to Allred's or San Sophia Overlook, where aspen trees make way for towering fourteeners. At Allred's, enjoy acclaimed American cuisine in a gorgeous stone-and-wood space with uninterrupted mountain views. At San Sophia Overlook, exchange vows in a natural grass amphitheater - literally on a ski run! - before heading back to town for your reception. Perched at mid-mountain is Gorrono Ranch, where multi-level decks are perfect for a casual cocktail hour or late-night s'mores around the fire pit. If the snow is falling, you can even make your getaway as newlyweds on a snowcat through the spruce forest!
Learn more about Telluride Ski Resort »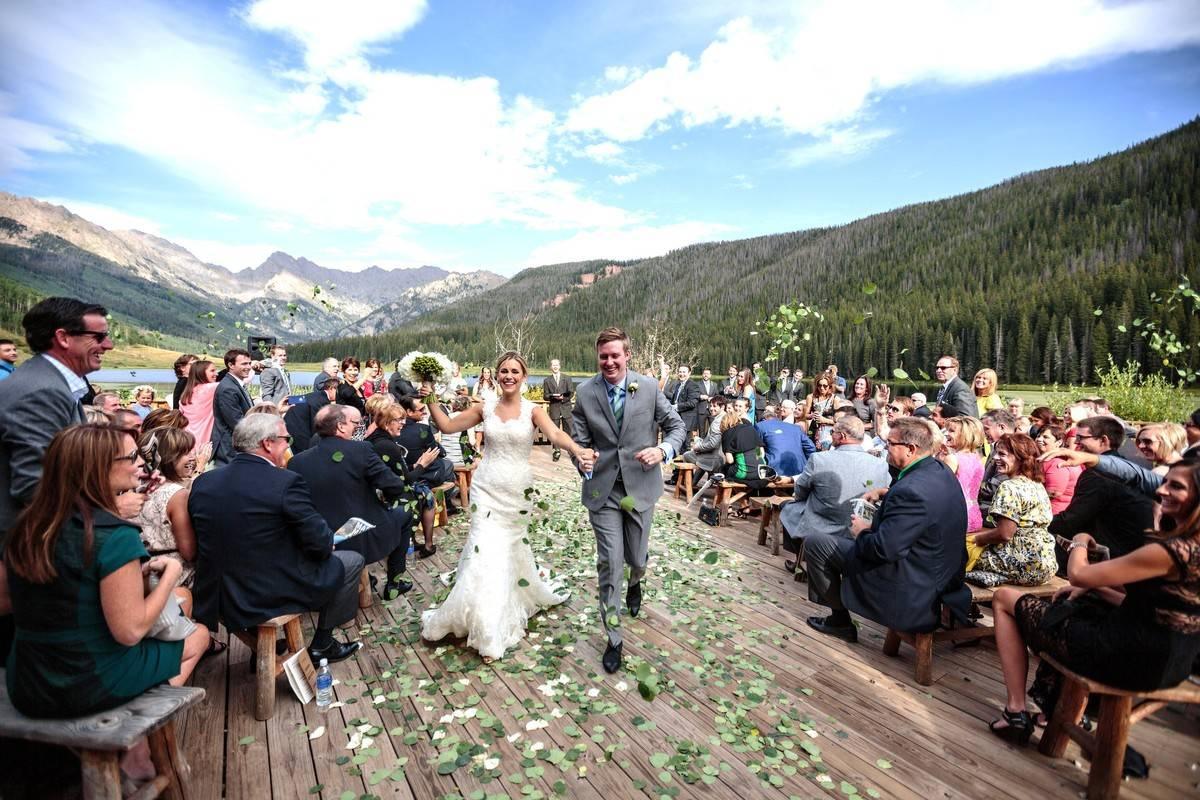 Piney River Ranch
As you head west from Denver, it seems like you're surrounded by Colorado mountain wedding venues. Piney River Ranch puts you right in the heart of it all, 12 miles north of Vail. This log ranch-style venue is set alongside a crystal lake, all tucked beneath the Gore Range. The spacious pavilions offer Western charm (think whiskey barrel cocktail tables and vintage skis on the walls), whether you opt for an open-air reception or a cozy indoor celebration. Four cabins, a yurt, and three glamping tents are perfect for camping out before and after your wedding day. "Ranch-style" dining includes dishes like house-smoked trout and Colorado beef brisket. As your guests look out over Piney Lake, making s'mores around the fire, they will be blown away by the way the mountain tops glow as the sun sets.
Learn more about Piney River Ranch »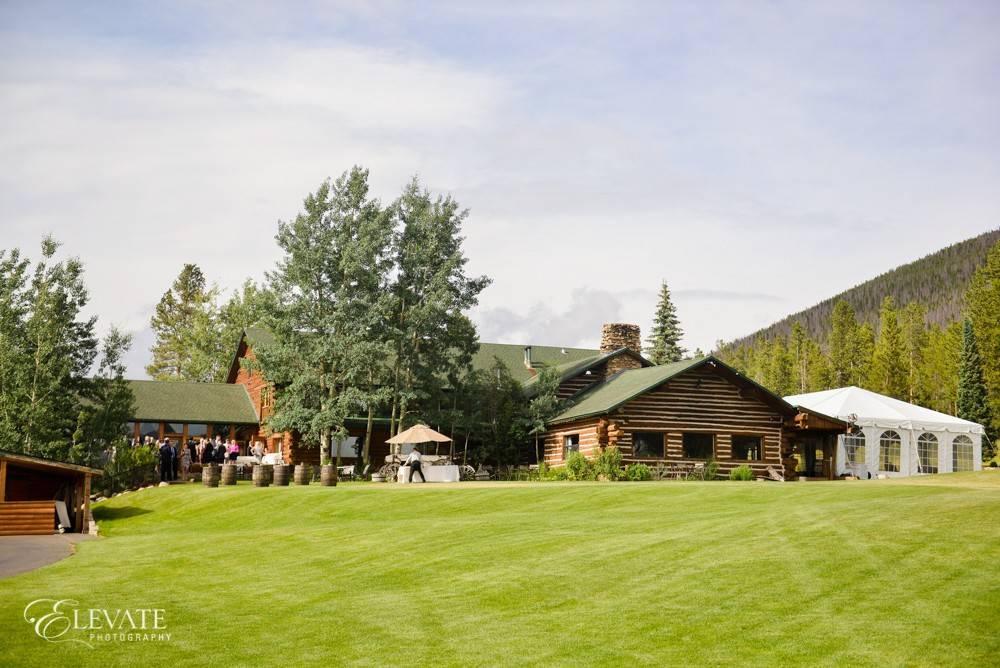 Keystone Ranch
Give your guests a taste of the frontier as they gaze up at one of the state's most beloved ski resorts at your Colorado wedding. This 1930s homestead has been transformed, pairing a manicured golf course with award-winning fine dining. The cabin-style venue can accommodate 120 guests in the winter as you exchange vows in front of the floor-to-ceiling stone fireplace, and up to 180 in the summer with ample room for outdoor ceremonies before you come inside for dinner and dancing. Treat your guests to an indulgent meal focused on sustainable practices and locally-sourced products (paired with a killer wine list!), and don't forget to wander amongst the historic cabins and out-buildings scattered across the golf course for photos!
Learn more about Keystone Ranch »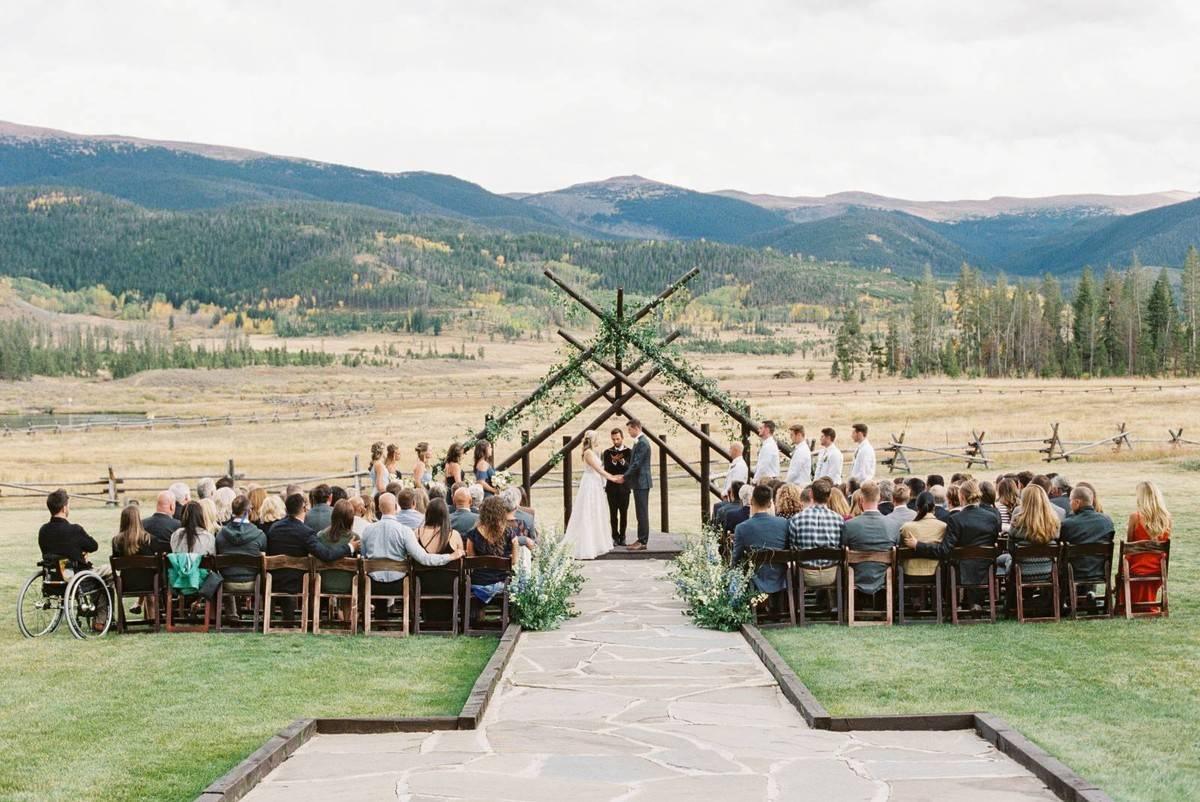 Devil's Thumb Ranch
Want to get married in a Civil War-era barn overlooking the Continental Divide? Devil's Thumb Ranch has you covered. This 6,000 acre ranch (surrounded by untamed wilderness) is a true taste of the Old West - with a few modern amenities thrown in. The Broad Axe Barn is a 2,900 square foot reception space that can fit up to 160 guests. Or, take over High Lonesome Lodge's 31 guest rooms and reception space for up to 350, including a wall of windows overlooking the mountains and grazing horses. For a smaller group, the Timber House has 240-degree views, an expansive wedding deck, and space for 40. And don't miss the Ranch's iconic ceremony site, a log-and-rope arch overlooking the fields.
Learn more about Devil's Thumb Ranch »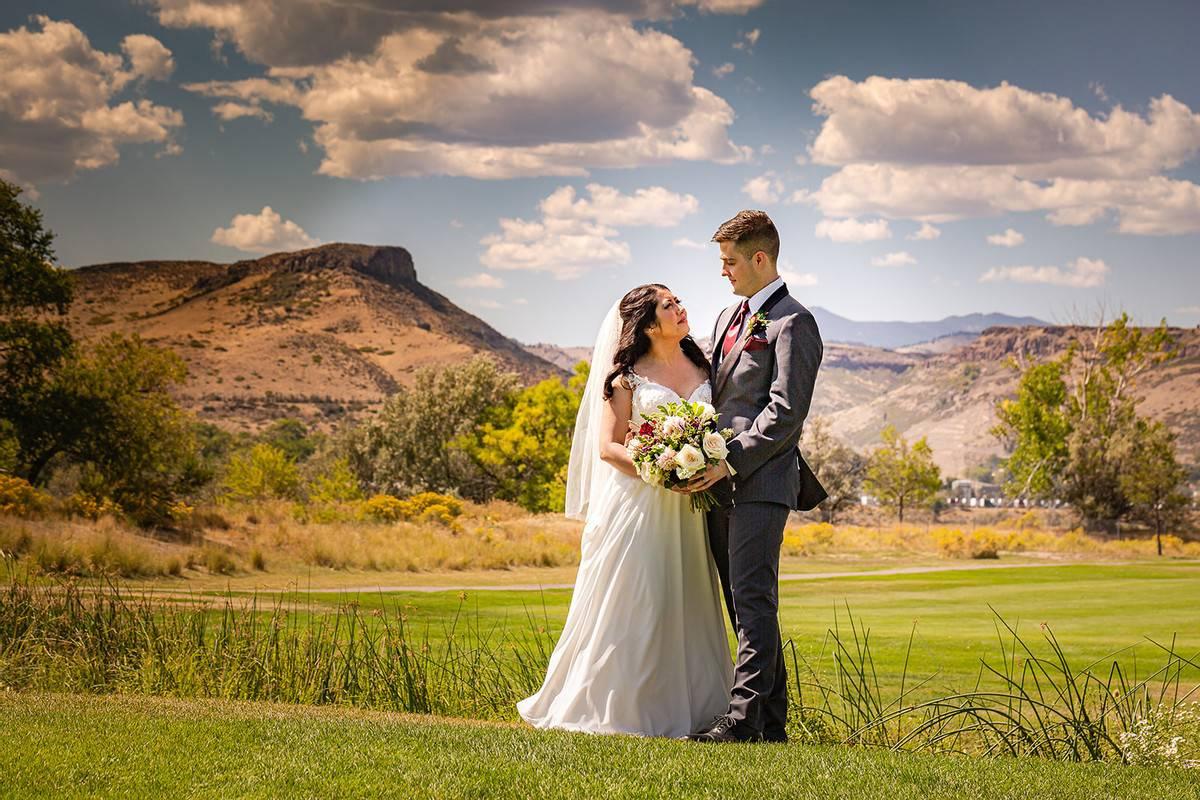 The Vista at Applewood Golf Course
Located in the foothills of Golden, this venue features stunning views of the mountains, both indoor and outdoor venues, an on-site planner, and extensive rental services. There are three wedding spaces to choose from, including the Ceremony Garden which can accommodate 240 guests for both a ceremony and standing wedding reception. The Vista Room boasts floor-to-ceiling windows with banquet and ceremony seating for 240 guests.
Learn more about The Vista at Applewood Golf Course »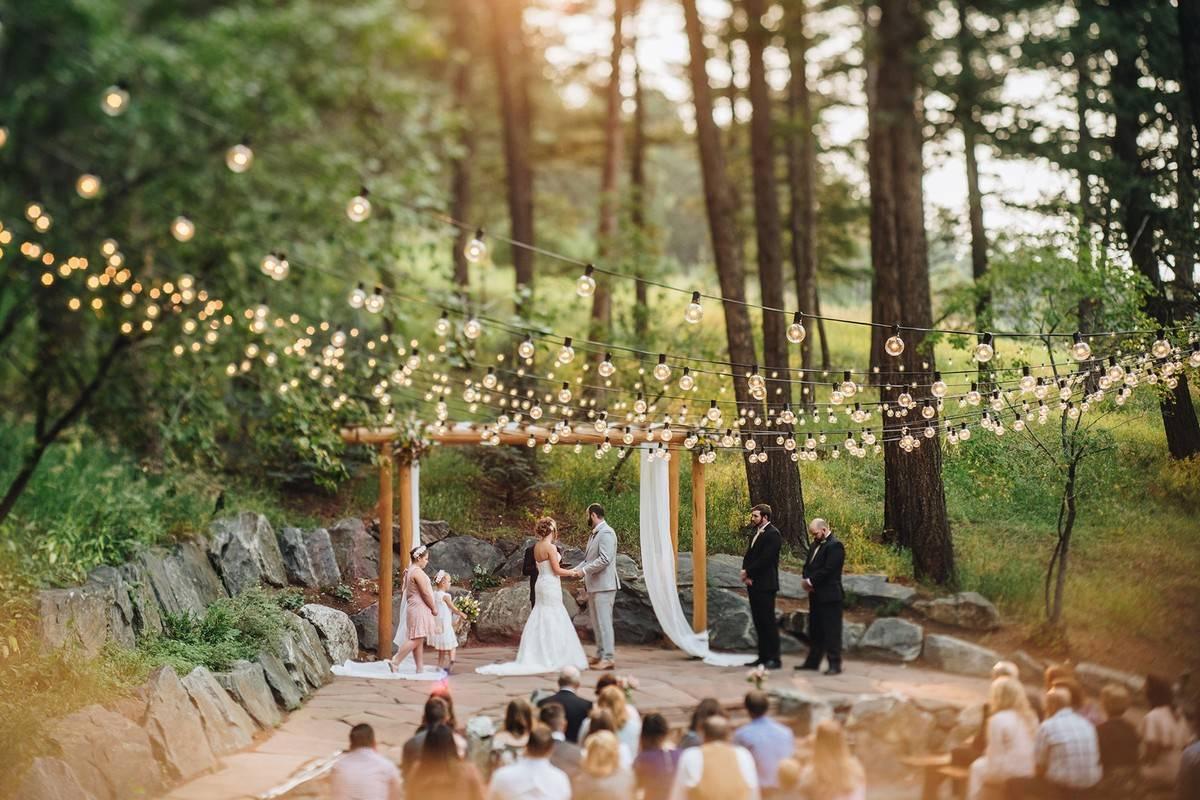 The Pines at Genesee
If "surrounded by trees" describes your ideal wedding, you're in luck. The aptly named Pines at Genesee is located 18 miles west of Denver in Golden, Colorado. Voted one of our favorite venues for nature lovers, The Pines is a massive 12,000 square feet with two floors and outdoor space create the perfect atmosphere, full of natural beauty, for your wedding.
Learn more about The Pines at Genesee »

T-Lazy-7 Ranch
The Maroon Bells are an iconic part of any visit to Aspen, and T-Lazy-7 Ranch puts you right in the center of all that beauty. This historic property (it has been in the Deane family since the 1930s!) has it all, with three mountain wedding venues to choose from: A sprawling meadow beneath the peaks, the elegant T-Lazy-7 Event Lodge, or the perfectly rustic Chuckwagon Grounds. Walk down an aisle surrounded by wildflowers, or ride into your reception on horseback. Don't forget to invite your guests to the ranch for a summer trail ride or a winter snowmobile tour!
Learn more about T-Lazy-7 Ranch »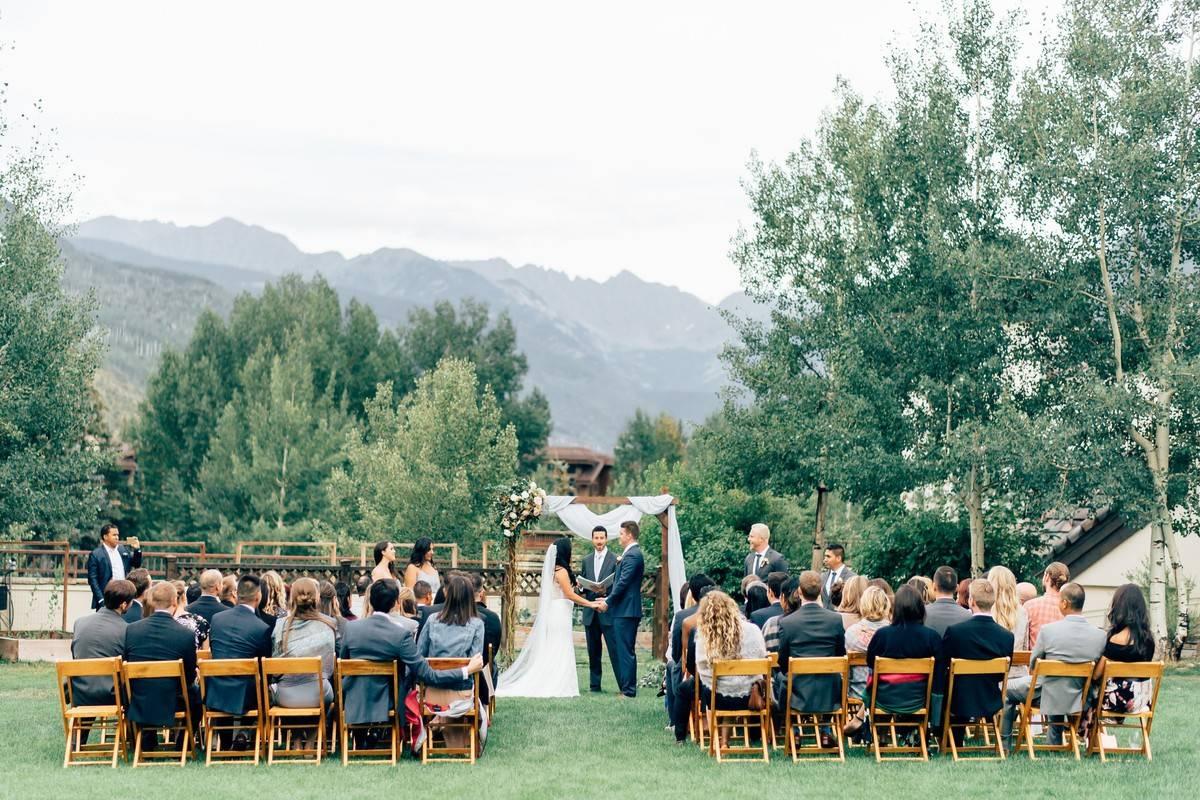 Larkspur Events & Dining
The can't-miss mountain town of Vail is home to world-class dining, and what more could a couple ask for when it comes to their wedding dinner? If food is at the top of your wedding-planning priority list, look no further than Larkspur. The restaurant has been feeding tourists and Vail locals alike for over 20 years, and their wedding lawn pairs incredible Gore Range views with impeccable hospitality. Dine al fresco in the summer, dance all night beneath their clear-top tent, or cozy up on a winter evening to celebrate as the snow falls outside.
Learn more about Larkspur Events & Dining »

Surf Hotel & Chateau
Engaged couples with a sense of adventure will love the Surf Hotel, located in the heart of Buena Vista. From rafting and biking to hikes in the surrounding 14-ers (those are peaks clocking in at over 14,000 feet for non-locals), it's an outdoor enthusiast's paradise. For a bit of indulgence and Old World charm on your wedding day to contrast all that extracurricular activity, the Surf Hotel offers an elegant, boutique experience that doesn't skimp on eye-catching design and incredible views. The Ivy Ballroom overlooks the Arkansas River's roaring rapids, the restaurant features locally sourced produce, and your guests can choose between the fresh and modern feel of the Surf Hotel and a more traditional (but equally design-driven) feel at the adjacent Surf Chateau.
Learn more about Surf Hotel & Chateau »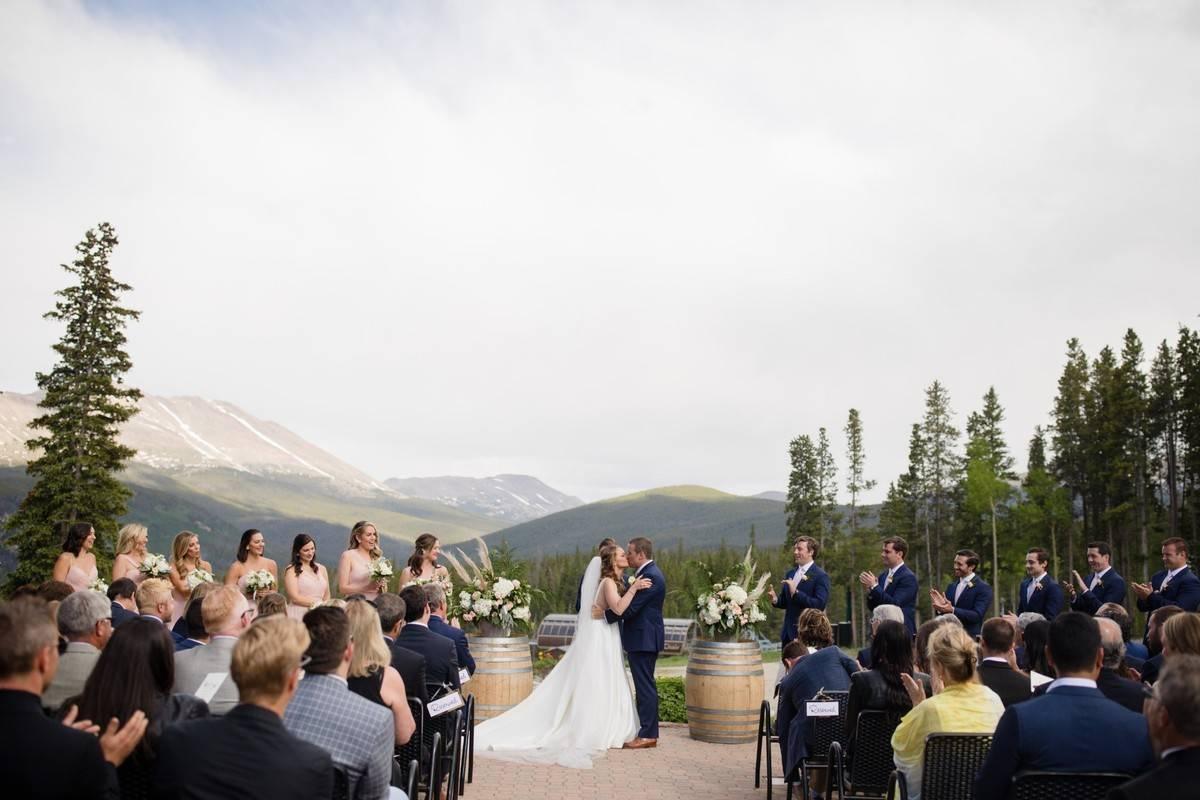 Breckenridge Resort
If you're looking for your choice of Colorado mountain wedding venues all in one place, head to Breckenridge Resort. From an intimate elopement to a celebration with over 200 guests, there's a venue to fit your vision. Couples looking for on-mountain romance flock to TenMile Station, a charming western-style venue with panoramic ceremony views. Or gaze up at the TenMile Range from the patio at The Maggie, with all of Breckenridge's charm just a stone's throw from where you'll say "I do." Dreaming of a mountain modern wedding? Let the Continental Divide do the decorating at a wedding at Sevens. No matter what you choose, the views will take your guests' breath away!
Learn more about Breckenridge Resort »

Flying Diamond Ranch
Surrounded by 3,500 acres of aspen forests, towering mountains, and flower-laden fields, Flying Diamond Ranch has views for days. The Mountain View ceremony site is exactly that: The perfect place to tie the knot with views of Steamboat Ski Resort. Once you're hitched, head to the Aspen Grove, where you can celebrate amongst the aspen trees or arrange a dramatic celebration inside the ranch's permanent event tent. The entire property is yours, so you can truly take in the view uninterrupted. As gorgeous as it is when the sun is up, just wait until night falls and the sky is lit with millions of stars as far as the eye can see.
Learn more about Flying Diamond Ranch »
C Lazy U Ranch
No matter the season, C Lazy U Ranch in Granby is one of couples' favorite mountain wedding venues in Colorado. This sprawling dude ranch has been in operation for over 100 years, and on your special day the entire 8,500 acre property is yours. Taking the changing colors of the aspen trees surrounding Willow Creek Reservoir from the Woodsie Overlook, take a horse-drawn sleigh to the Hay Meadow as the snow softly falls, or sip cocktails around the fire pit at the Patio House. Don't forget to book a few nights in the honeymoon cabin and head out on a trail ride or a hike with guests staying at the mountain lodge and surrounding cabins.
Learn more about C Lazy U Ranch »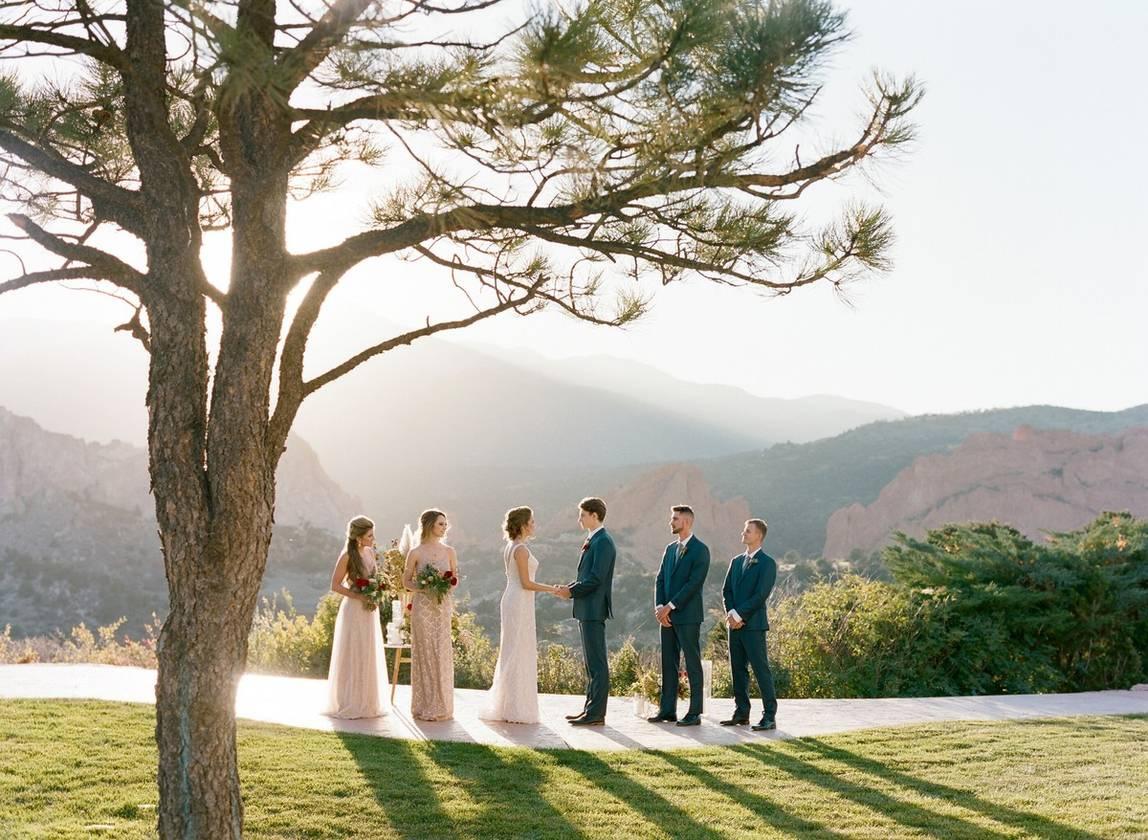 Garden of the Gods Resort and Club
If immense red rock formations are your ideal wedding backdrop, Garden of the Gods Resort and Club is the Colorado mountain wedding venue you've been dreaming of. The resort overlooks Garden of the Gods Park, where 300-foot sandstone formations rise from hills outside of Colorado Springs. Breathtaking and iconic views abound, from the Reflection Pool (with views of Pike's Peak) to the patio of The View at Kissing Camels. Settle in at the salon with your wedding party to get ready for the big day, then check into a casita for a few relaxing days after you've said "I do." Your guests will love the resort's local, seasonal cuisine almost as much as the views!
Learn more about Garden of the Gods Resort and Club »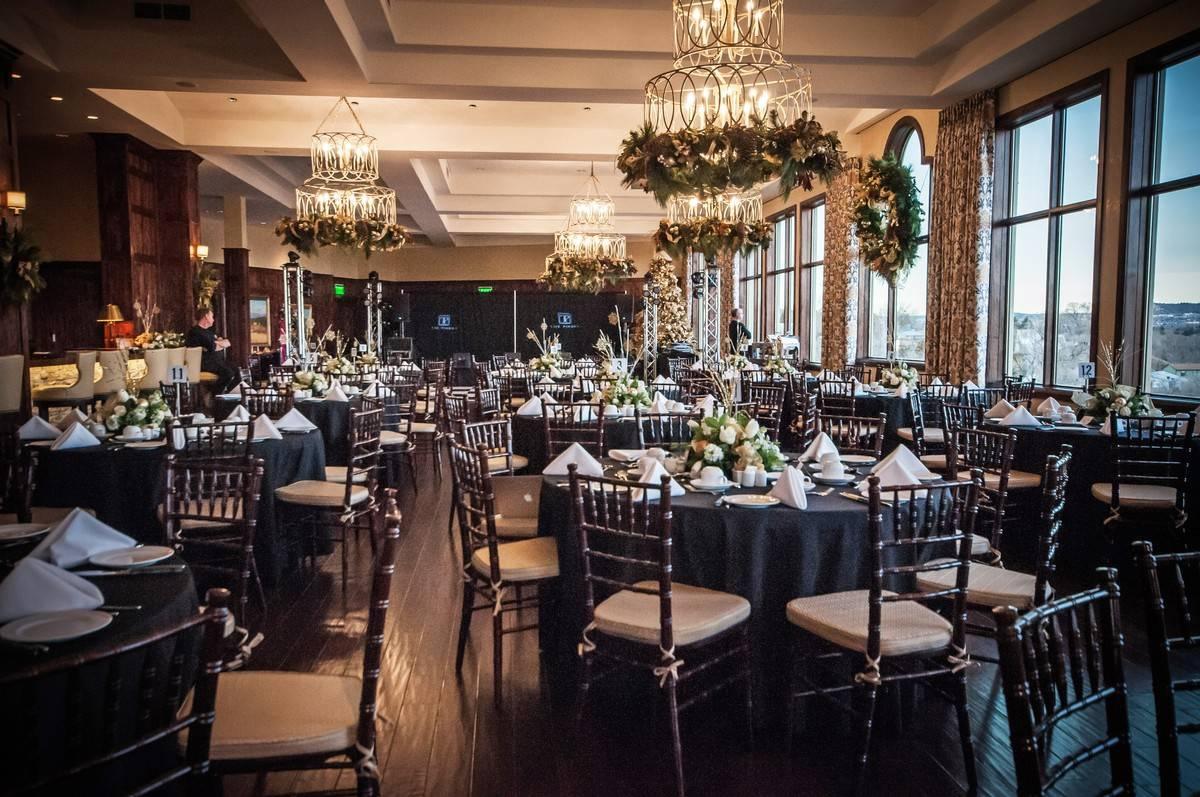 The Pinery at The Hill
Can't decide between mountain views and an elegant ballroom setting? The Pinery at The Hill is the best of both worlds. This Tuscan-inspired venue has space for up to 200 guests, a bright and airy bridal suite with floor-to-ceiling windows, and two ballrooms with panoramic views of the Colorado Springs skyline. All-inclusive packages make planning your wedding a breeze, so you can focus on celebrating with your loved ones.
Learn more about The Pinery at The Hill »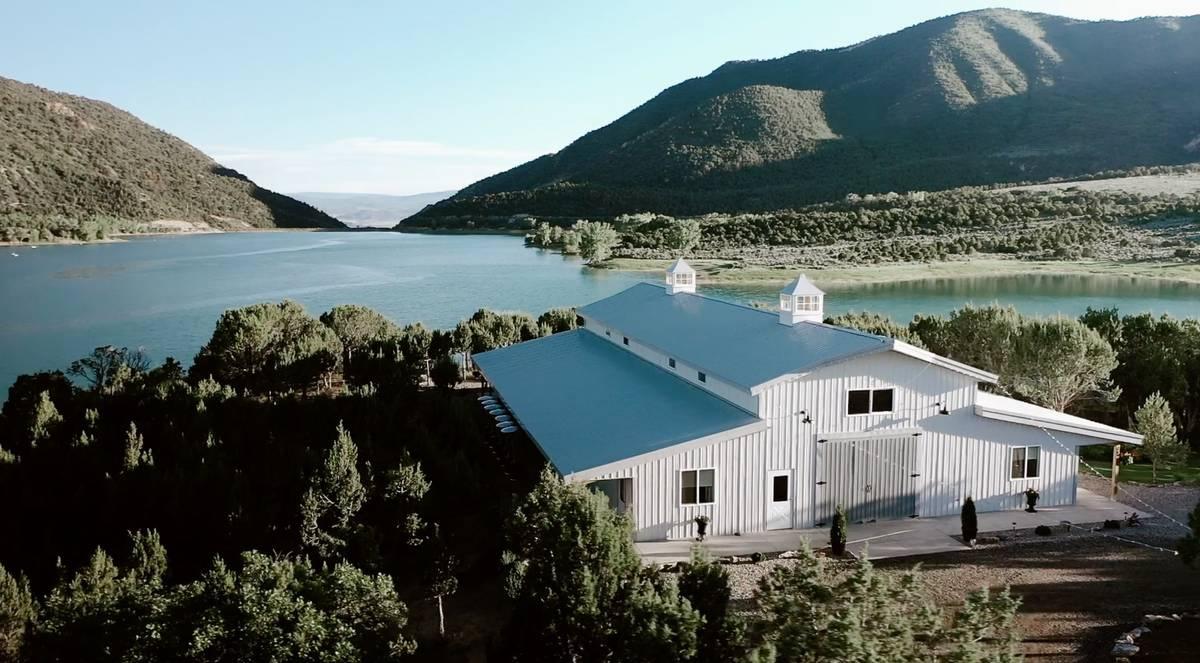 Vista View Events at Open Heart Ranch
The western part of the state is home to some of the most beautiful Colorado wedding venues, where rocky peaks tower dramatically over river basins, canyons and rolling fields. Vista View Events at Open Heart Ranch makes the most of the stunning setting, offering couples a private ranch all to themselves on their wedding day. Whether you're exchanging vows on the stone patio, taking sunset photos in the fields, or dancing the night away in the modern barn, this perfectly rustic setting is a gorgeous backdrop for any celebration. The Vista View Events team is there to help every step of the way, from a list of recommended vendors to a day-of coordinator who will execute your vision with aplomb.
Learn more about Vista View Events at Open Heart Ranch »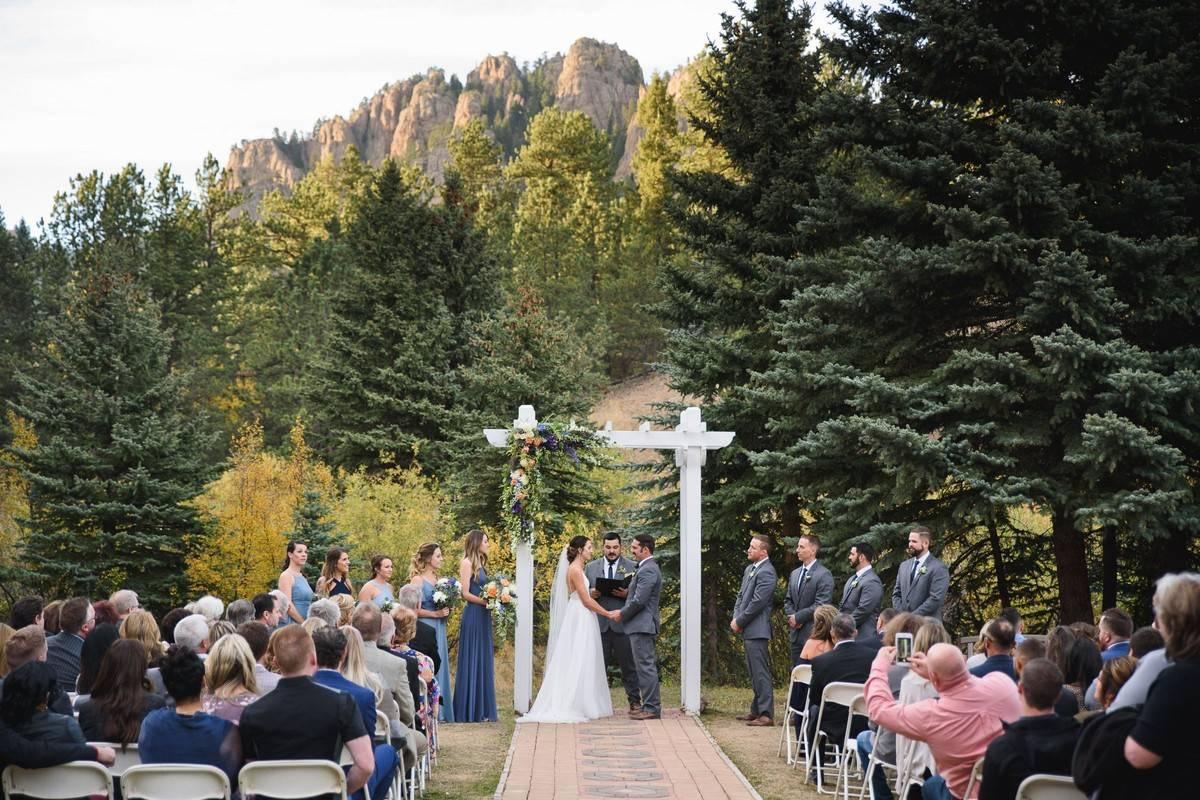 Mountain View Ranch by Wedgewood Weddings
As one of our top picks for wedding venues in Colorado, the Mountain View Ranch in Pine features some truly spectacular scenery, and several event spaces and wedding packages to choose from. There are two ceremony sites, both with gorgeous views, and two lodge-style ballrooms for receptions. All told, this venue can host weddings and events of up to 200 guests. And with flexible catering packages, your wedding planning process is sure to be a breeze.
Learn more about Mountain View Ranch by Wedgewood Weddings »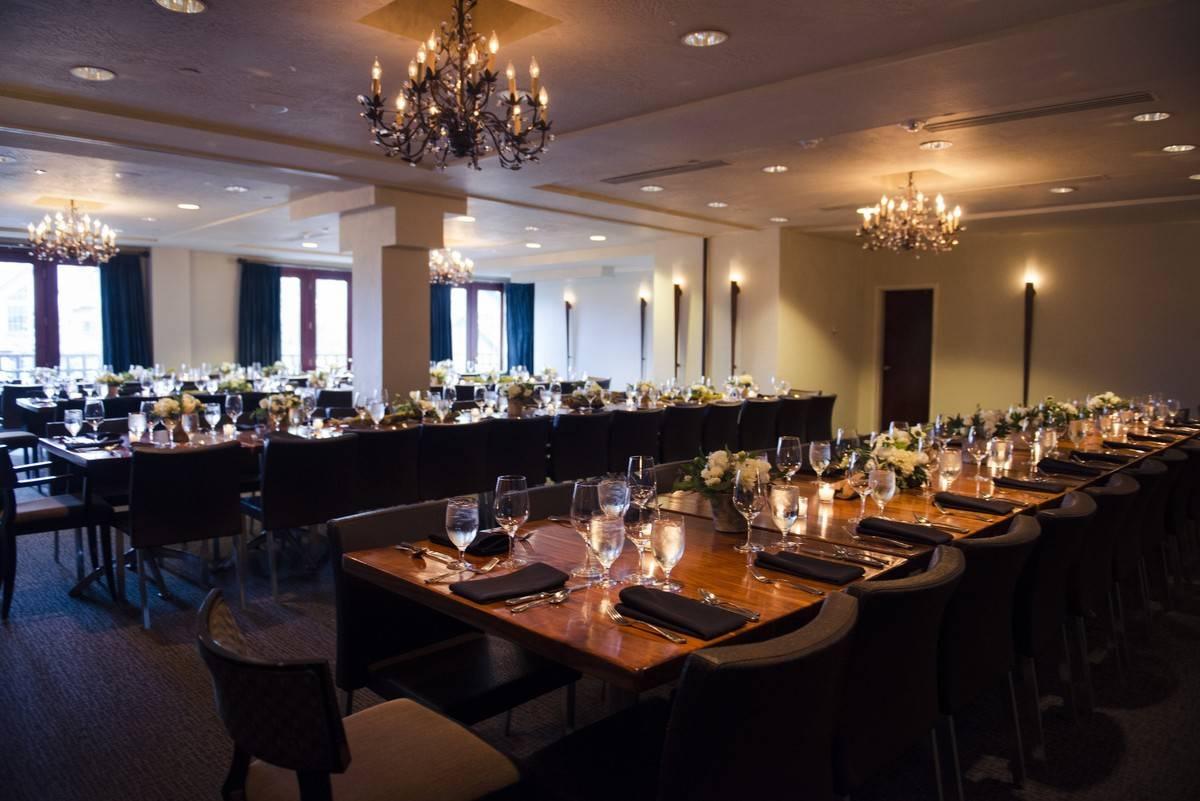 Beaver Creek Lodge
If you're looking to host a more intimate destination wedding in Avon, Colorado, where your guests can stay at the same location as your ceremony and reception, the Beaver Creek Lodge is a great option—you can host your rehearsal dinner, post-wedding brunch, and more here, too. With over 70 guest rooms, your crew can stay onsite and enjoy all the activities the area has to offer. As for your big day, there are 9 event rooms to choose with a capacity of 150 guests—though this is also a great venue for a much smaller micro wedding, if you prefer.
Learn more about the Beaver Creek Lodge »


Viceroy Snowmass
One of our favorite Colorado mountain wedding venues, Viceroy in Snowmass can host weddings and events from 10 to 280 guests. You'll love the Rocky Mountain views and your guests will adore the luxurious accommodations. Each couple gets a dedicated wedding specialist to walk you through the planning process, and you can customize your event by choosing from several spaces, including the Grand Ballroom, the Terrace, the Vista Lawn, and more. And, if you host your big day here, you'll get a complimentary 3-night honeymoon stay at any Viceroy Hotel around the world—major bonus!
Learn more about the Viceroy Snowmass »


Crested Butte Mountain Resort
This mountain wedding venue in Colorado actually is three venues in one: The Umbrella Bar & Ten Peaks, Uley's Cabin, and the Mountaineer Square Ballroom. The new Umbrella Bar & Ten Peaks offers 360-degree views of the mountains and tiered amphitheater-style ceremony space—plus a dining tent amid the Elk Mountains for your reception. Alternatively, Uley's Cabin is right on the mountain—you and your guests ride a chairlift to the rustic space. For a more classic event, the Mountaineer Square Ballroom is a 5,000 square foot space that can host up to 300 guests.