14 Microwedding Ideas That Are Big on Style
Getting married with only your nearest and dearest in attendance has a lot of perks. Here's how to plan a microwedding and our favorite ideas for smaller celebrations.
We have included third party products to help you navigate and enjoy life's biggest moments. Purchases made through links on this page may earn us a commission.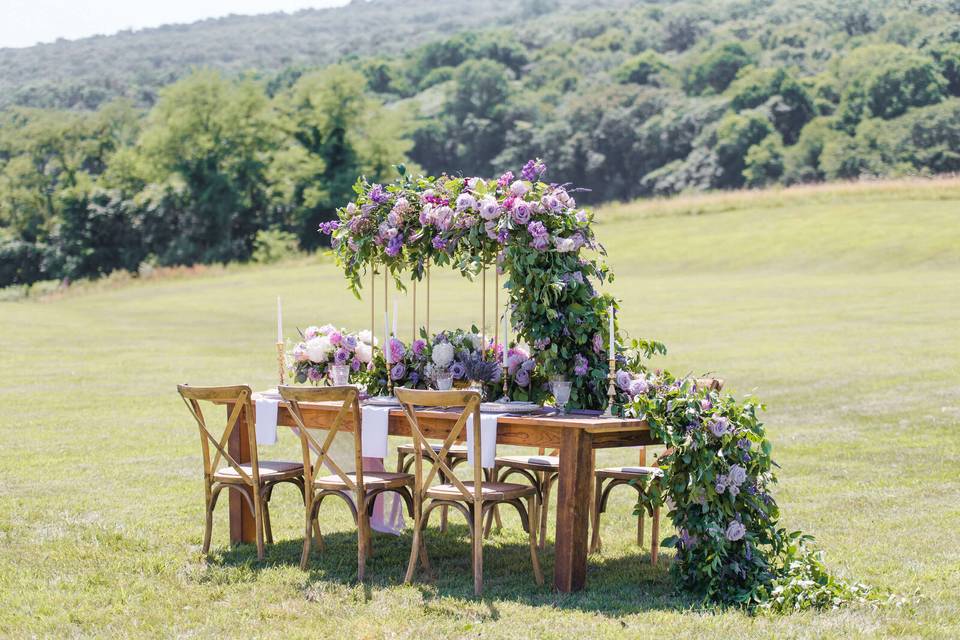 You might have heard the term "microwedding" floating around a lot recently—this type of wedding has become hugely popular during COVID, but determining exactly what the heck a microwedding is can feel like a bit of a gray area. If you're wondering how to plan a microwedding or trying to decide if it's the right type of celebration for you, we've got everything you need to know. Our guess? Microweddings are here to stay for the long haul, so keep reading for the basic rundown—and to check out some of the microwedding ideas we're loving right now.
What is a microwedding?
You can think of a microwedding as a miniature, scaled-down version of any regular-sized wedding. The main difference is the guest count: microweddings generally have 30 or fewer guests (often closer to 10 or 20), while the average guest count for other weddings is 131 people, according to a WeddingWire study. Everything else is pretty much the same—you still have a complete vendor team, get dressed up for the occasion, and incorporate basic wedding traditions, such as speeches and a sit-down meal.
It's important to note that microweddings and elopements are two very different things, even though they're generally lumped together, especially since both have increased in popularity during the pandemic. An elopement is much more impromptu—there are usually only a couple of guests in attendance (if any), and there isn't as much emphasis on decor or wedding formalities.
Should I have a microwedding?
If you want an intimate and personal celebration but don't want to miss out on the excitement of choosing wedding colors, flowers, menus, etc., then you should definitely consider a microwedding. Microweddings are understandably very popular at the moment, with most states and wedding venues limiting the number of guests that couples are allowed to host. This type of celebration gives you the best of both worlds: a smaller guest count that will follow local safety regulations with all the bells and whistles of a larger wedding. They're also a great compromise if you want a highly styled wedding on a smaller budget—with a microwedding, your money will go a lot further, which means you can splurge on things like fancy dinner plates, rental chairs, invitations, and table linens, since you'll only need a handful of them.
Microwedding Ideas
Because this type of smaller celebration is fairly new, the possibilities are endless (and always changing) when it comes to microwedding decor and ideas. The general concept: opt for statement-making details, like oversized ceremony backdrops, hanging flower installations, grand centerpieces, and anything else your guests likely haven't seen at larger weddings. Here are some ideas to spark your creativity.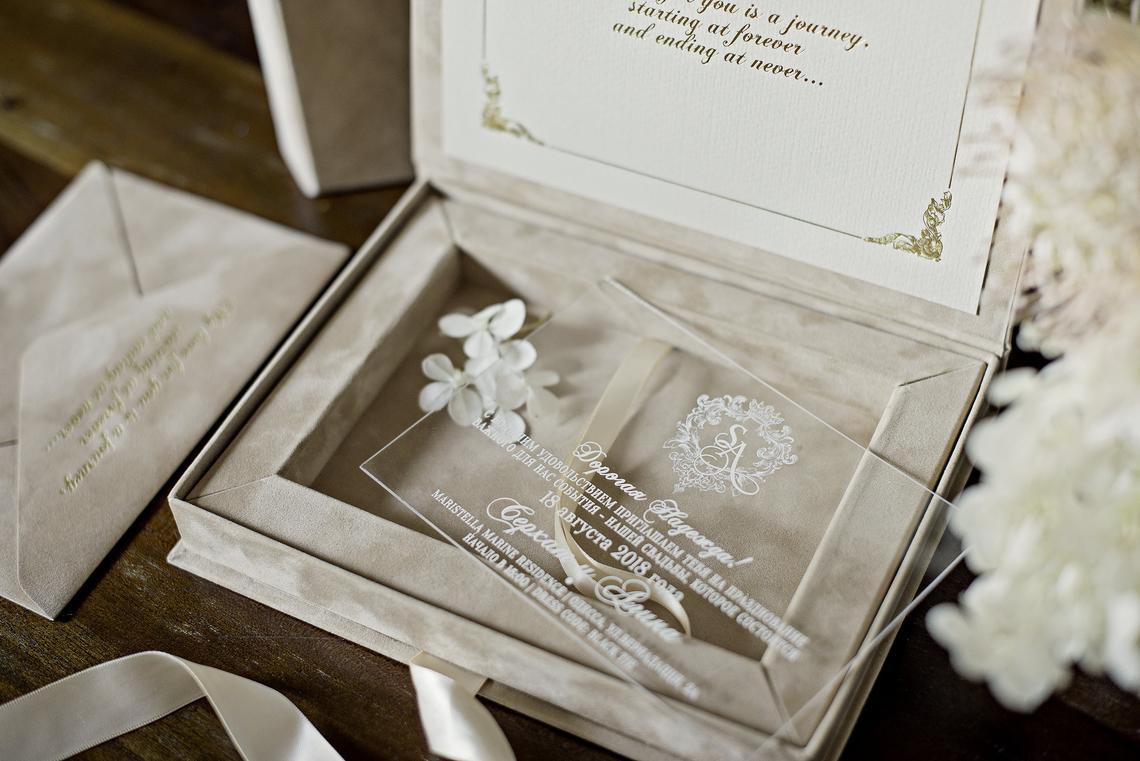 Boxed wedding invitations
The cost for elaborate invitations like these boxed acrylic designs can quickly add up, but if you're only inviting a dozen or so people, it's much more doable. Customized velvet boxes will make your wedding invitations feel like total keepsake pieces.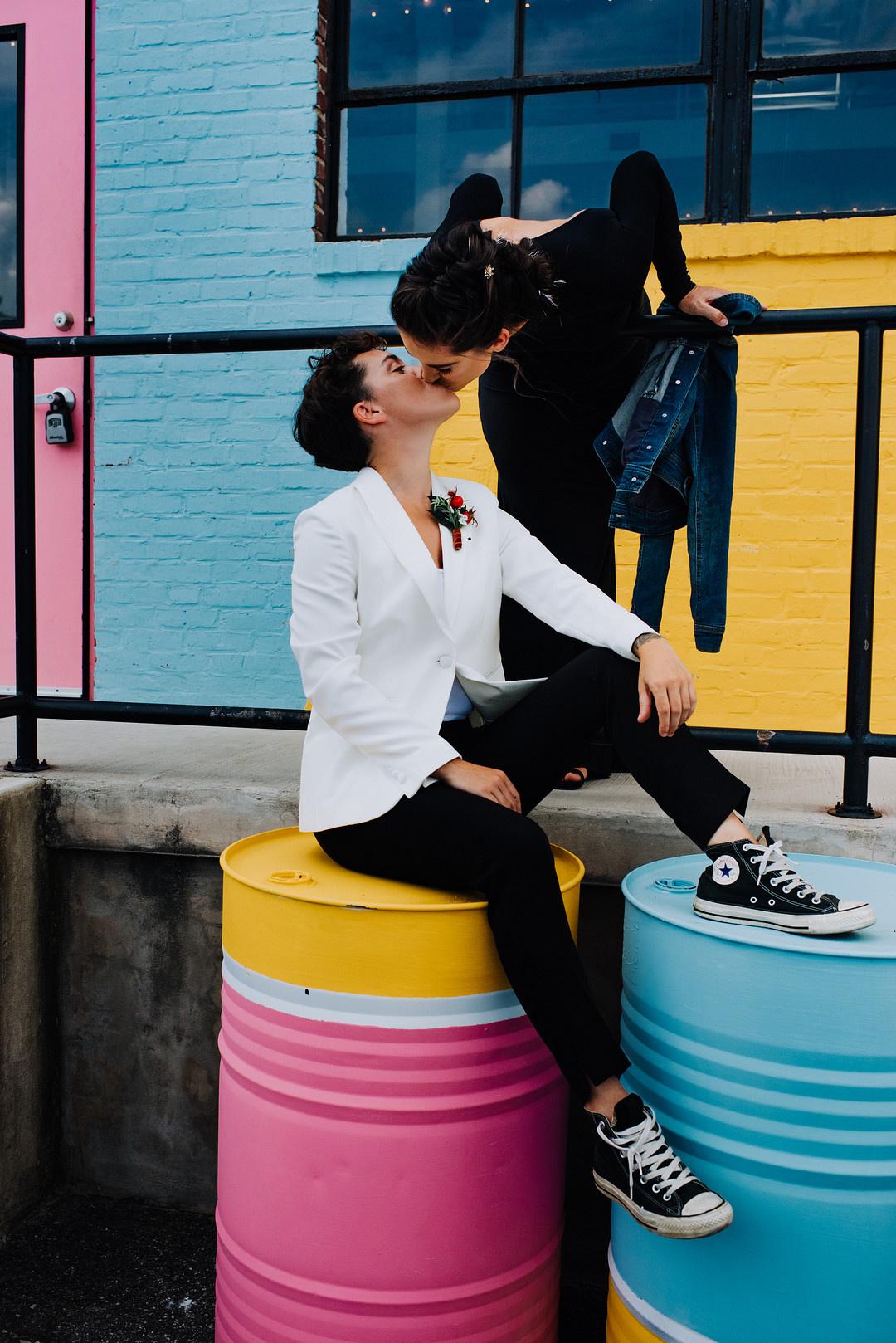 Alternative attire
Planning a microwedding is a fun opportunity to branch out with your wedding attire, whether that means wearing a colored wedding dress, leather jacket, or even your well-loved sneakers. Don't feel limited to a "traditional" wedding outfit if that's not your style!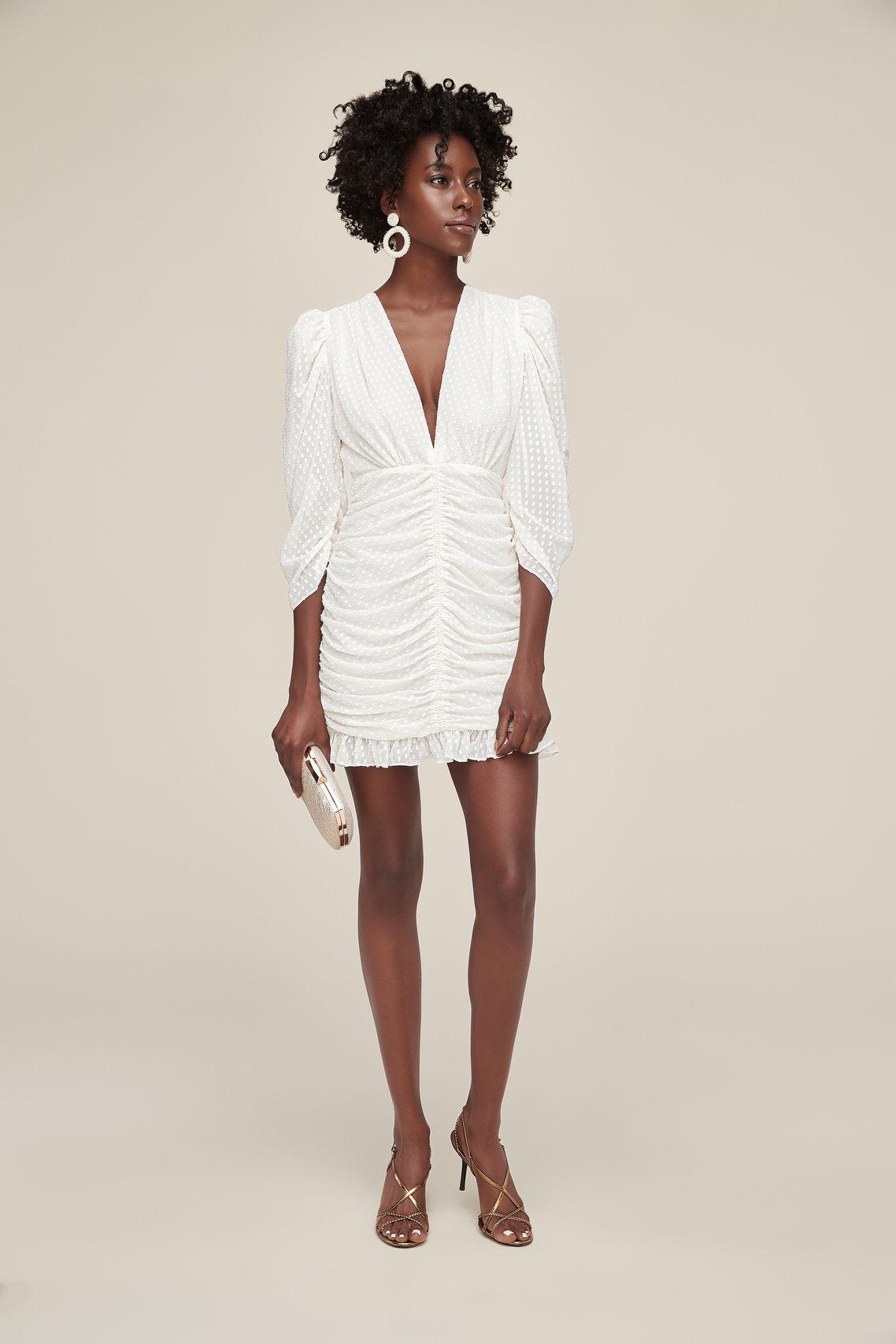 Dress by Anne Barge/Little White Dress
Short wedding dresses
Short wedding dresses are another popular microwedding idea, since they're much more casual and playful. A shorter style is ideal if you're planning your microwedding in an unconventional location, like a field or a mountaintop.
Elaborate ceremony backdrops
Statement ceremony backdrops are nothing new, but for microweddings, they're not only a trend, they're a must. This is especially true if you're livestreaming the event to a larger group of people, since the backdrop is what will frame you on screen.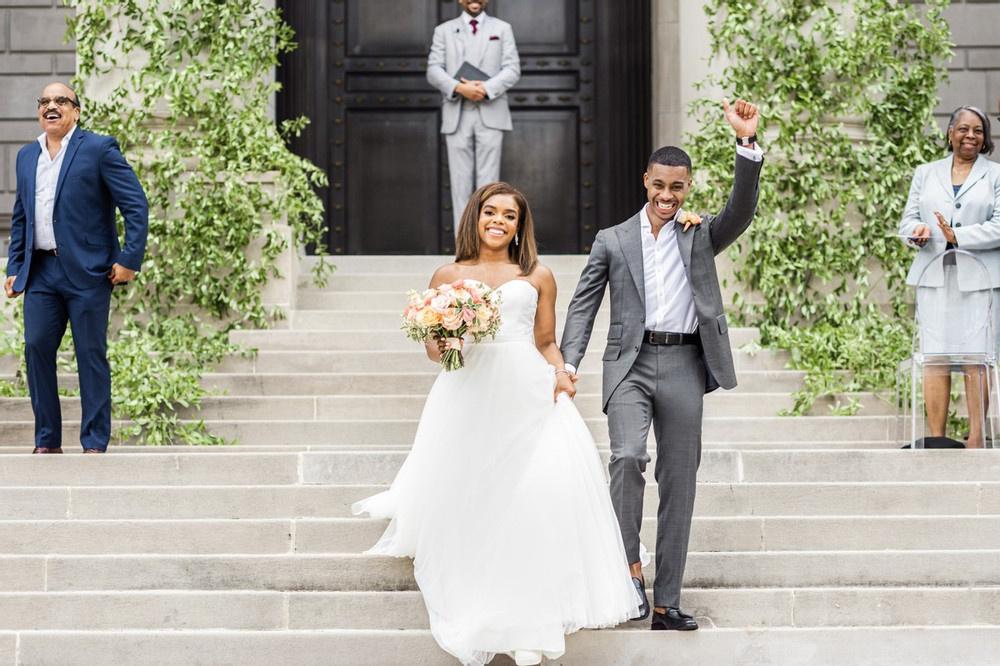 Standing ceremony
Microwedding ceremonies are shorter than most other wedding ceremonies (think 15-20 minutes tops), which means you can have your guests standing instead of seated. Not only does this open up the possibility of hosting your ceremony in a unique spot, like the steps of a beautiful church, but it's easier and safer for social distancing purposes.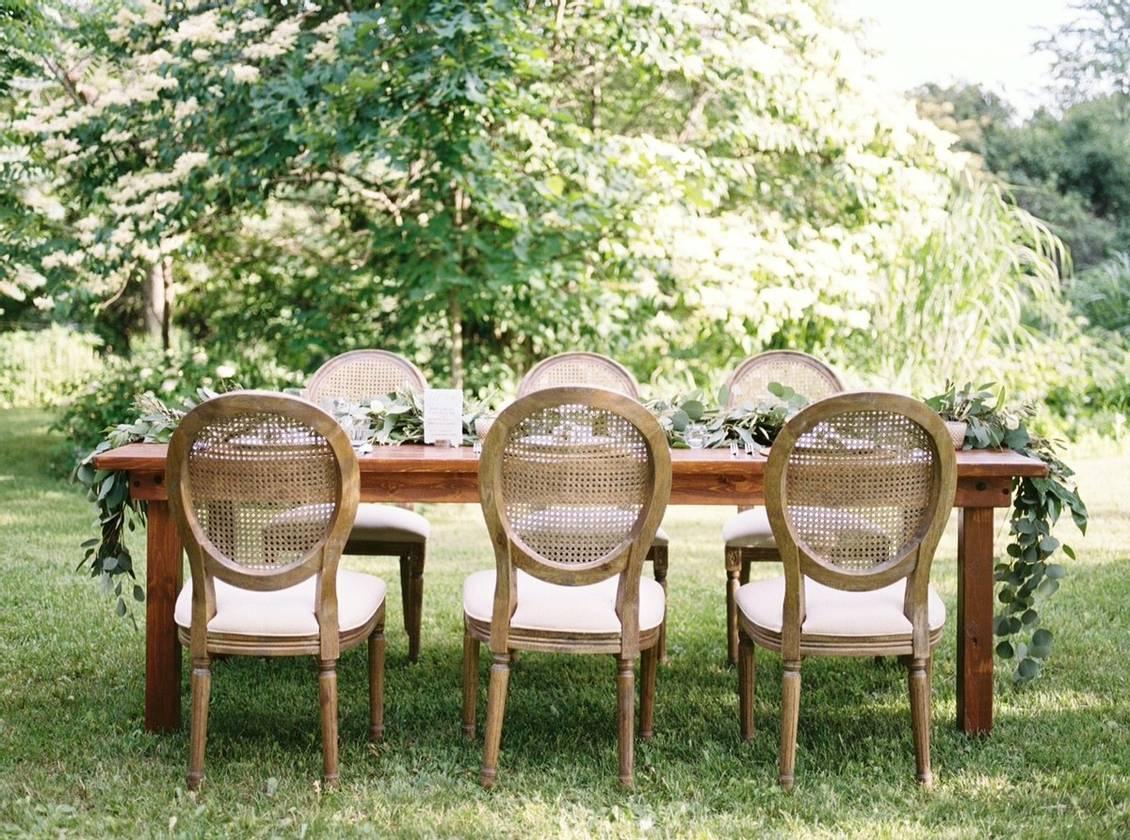 Decorative rental chairs
Depending on your reception venue, standard chairs might already be included in your rental cost, but we love the idea of upgrading to a decorative wedding chair style that truly reflects your aesthetic. Choose elegant cane back chairs for a vintage theme, or splurge on luxurious upholstered armchairs to really wow your guests.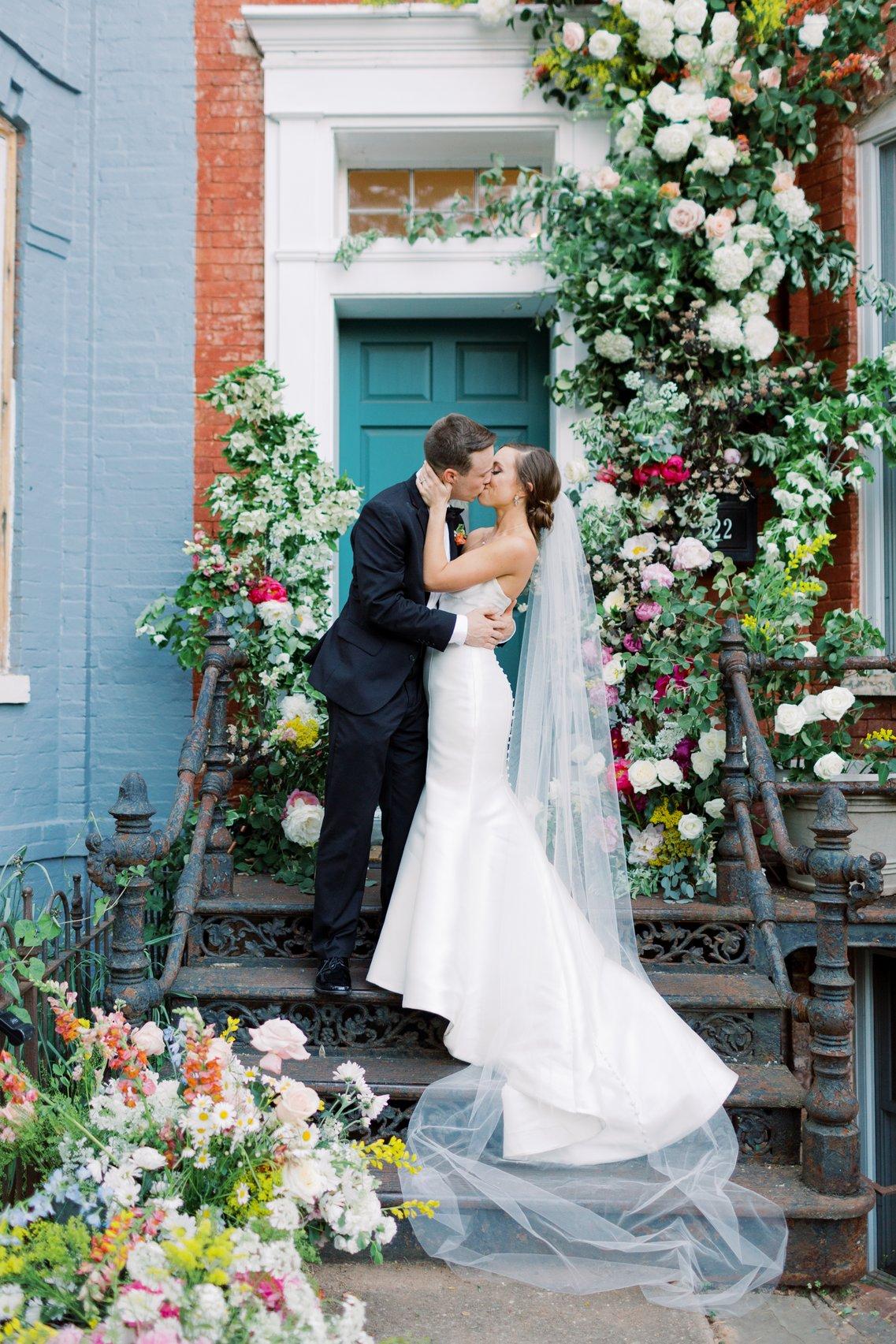 Unique photo backdrops for the 'gram
Just like statement ceremony backdrops, guest photo backdrops are a big component of microwedding style (you might even be able to repurpose your ceremony backdrop for the reception with the help of your florist and other vendors). Overgrown and abstract floral installations are always gorgeous—especially for the stoop wedding ceremony trend—but you could also use a collection of rattan lanterns, a greenery wall, or decorative folding screens.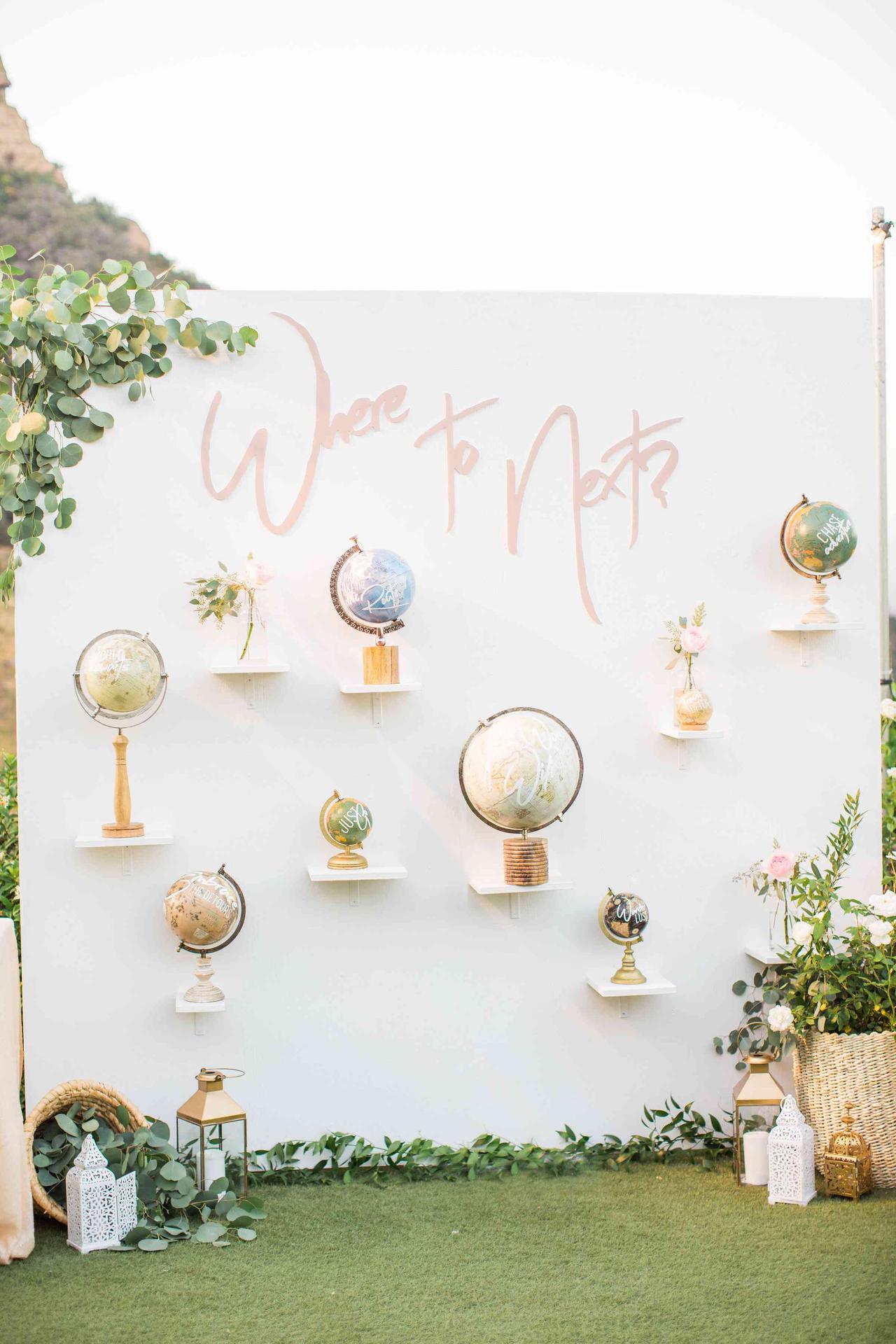 Creative wedding seating charts
Fewer guests means more options for your reception seating chart or wedding escort cards. Get creative and write your table assignments on something unexpected, like seashells, glass vases, flower pots—anything that speaks to you!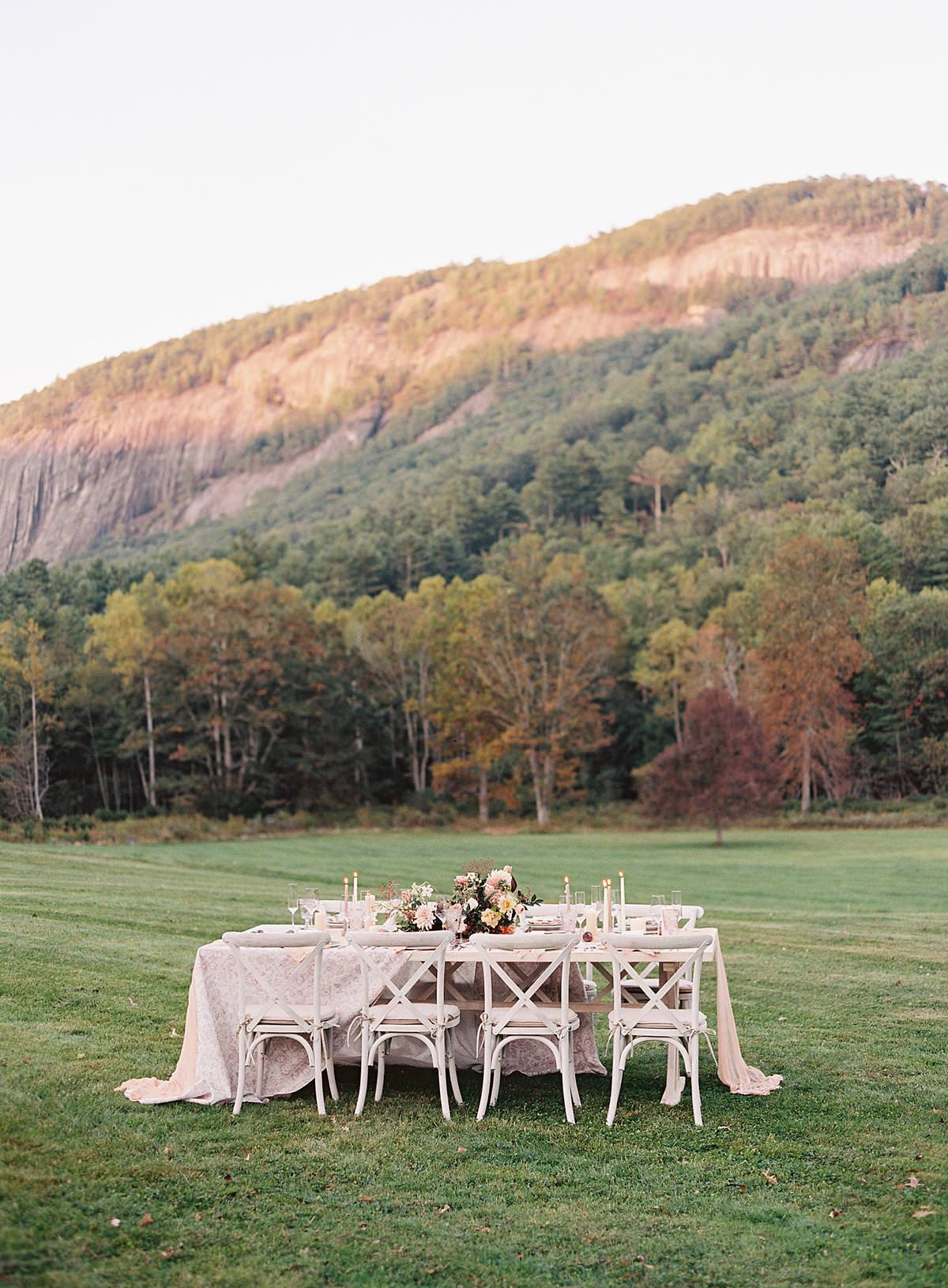 Dinner with a view
If you'll only have one or two guest tables at the reception, prioritize choosing a venue with a killer view, like this clearing at the base of the mountains. This will take your microwedding experience to the next level, and it's an opportunity to celebrate in a way that you wouldn't be able to with a larger group.
Private reception cabanas
Private dinner cabanas are another microwedding idea that feels extra fancy. Seat your group under one cozy cabana, or spread everyone out with multiple cabanas if you're trying to social distance by household.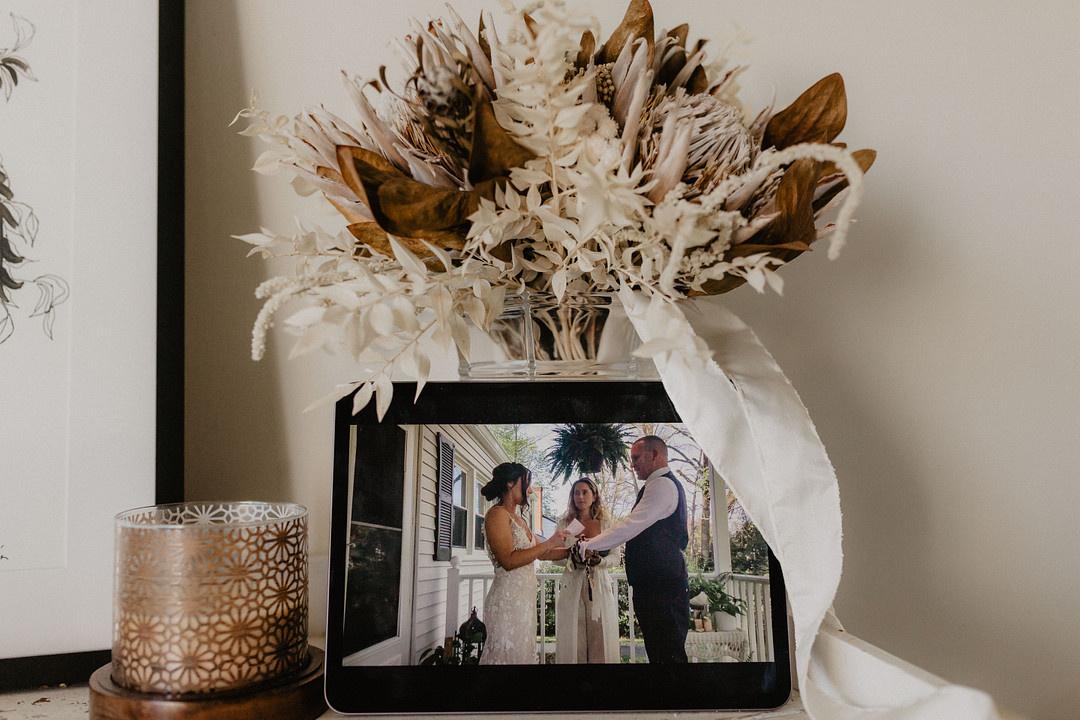 Event livestreams
Livestreams and Zoom ceremonies are another big component of microweddings right now, and probably will be for the foreseeable future. Guests who aren't invited to or are unable to attend the in-person celebration will still appreciate the opportunity to join from a safe distance. You can make the experience go smoothly for everyone by planning ahead and providing all of the details in advance on your wedding website or invitations.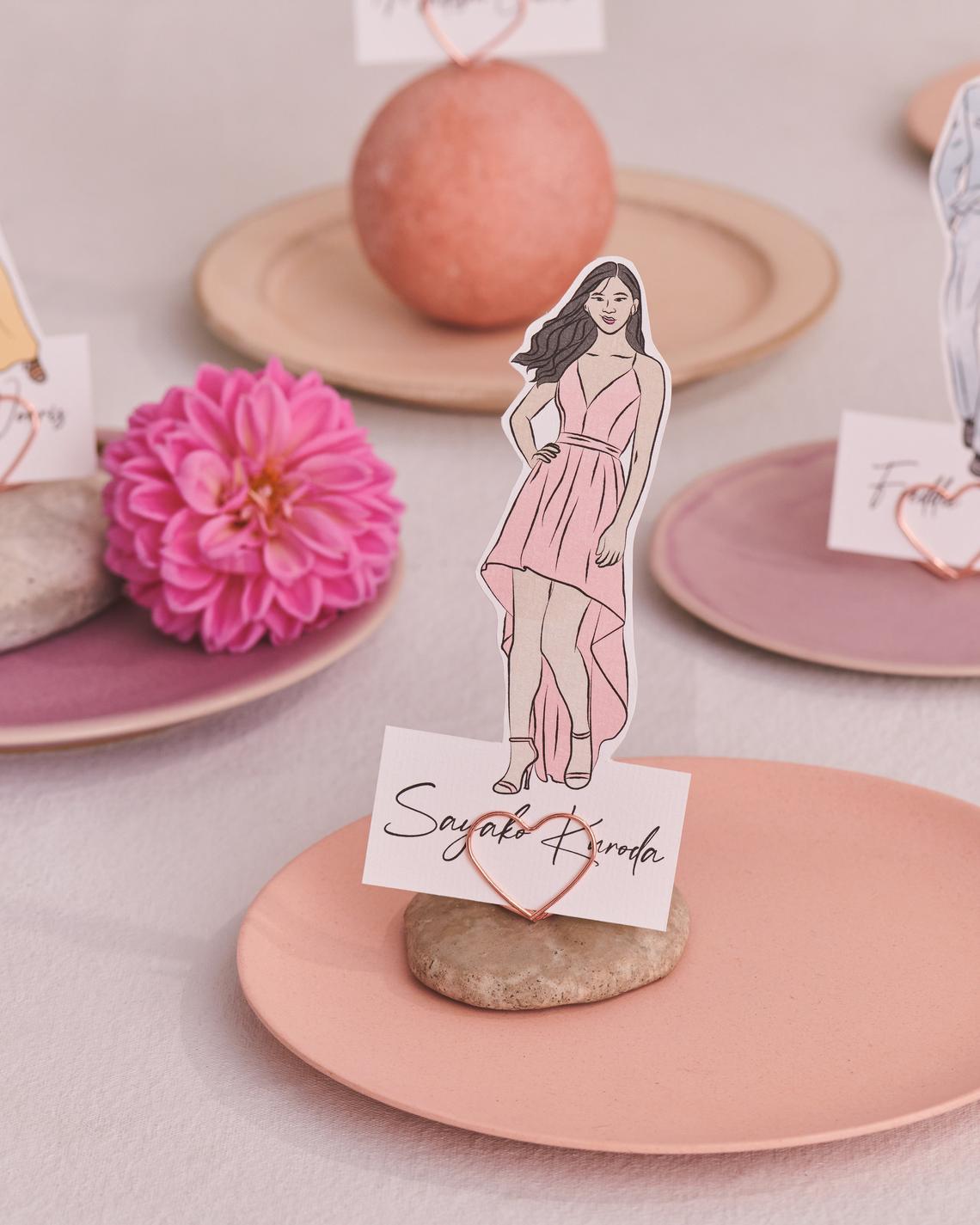 Illustrated place cards
Surprise your guests by adding individual portraits of each person to their respective place setting. This microwedding idea is much easier to pull off if you're only inviting a dozen or so people to your reception, and it's a thoughtful memento that your guests can take home to remember your special day.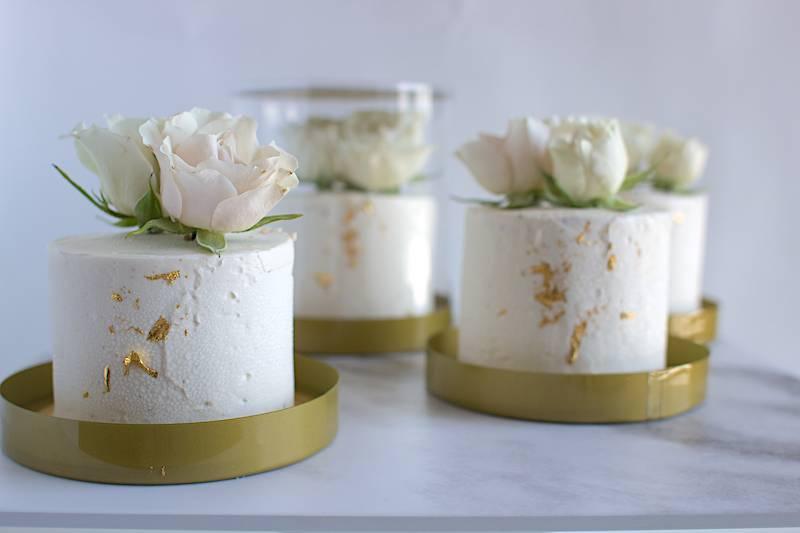 Individual wedding cakes
This wedding cake trend started as a way to keep guests safe amid COVID, but we love it for anyone who's planning a microwedding. Instead of cutting slices from one large cake, treat each guest to their own mini cake. For the most impact, make these personal desserts larger than cupcakes and decorate them like miniature versions of a wedding cake.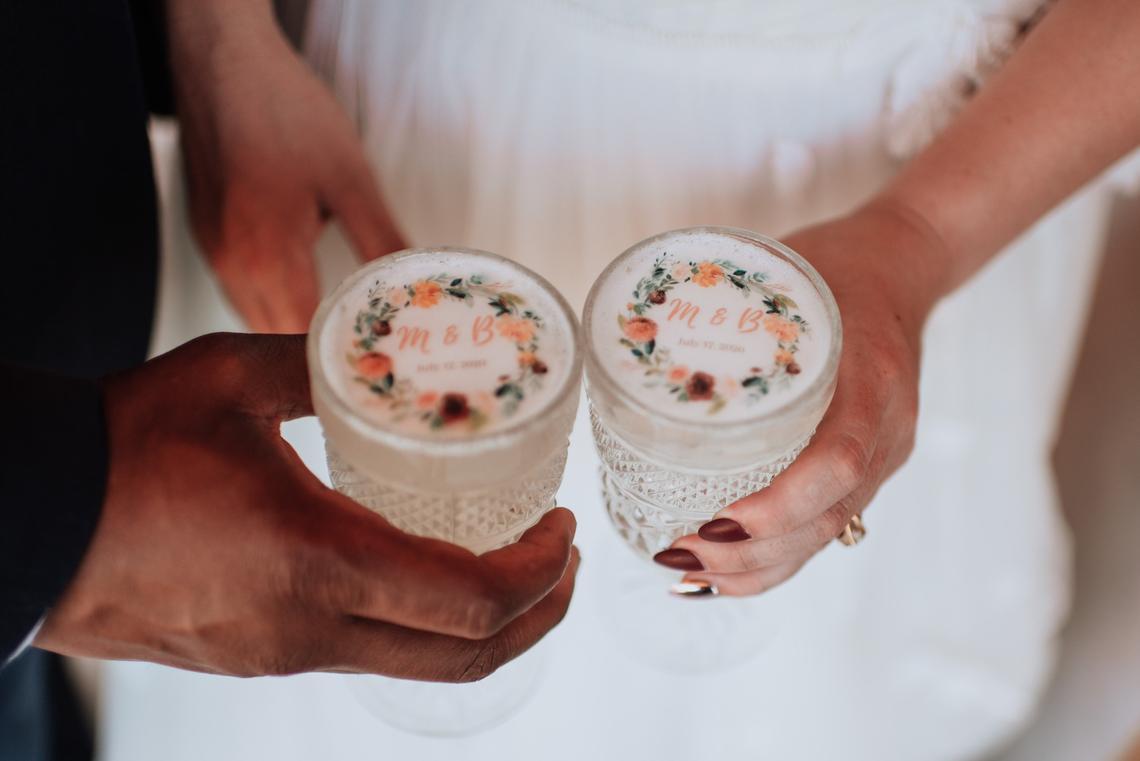 Edible drink toppers
Top off your signature wedding cocktail with a bit of personalization. These edible drink toppers can be customized with your initials, wedding date, or any other design—whatever you choose, we know they'll wow your guests!