Photo: Katie Slater Photography
These days, it seems like beautiful, Pinterest-worthy weddings are a dime (er, several hundred grand) a dozen. And while you can't go wrong with lush florals, a showstopping dress and an unforgettable menu, those aren't exactly unique wedding ideas — and going with what's in won't necessarily set your wedding apart from the pack.
If making a statement is important to you, you're gonna have to dial up the unique wedding ideas and get extra!
One (or Many!) Wardrobe Changes
Have you heard that oft-quoted study saying how humans develop flavor fatigue while eating and become bored of a meal, even a really delicious one, after only a few bites in? It's not so different with bridal looks—all brides are spectacular, but to keep the excitement alive in your guests' eyes long after that walk down the aisle, an outfit change is a definite do. Keep 'em guessing with a switch from your ceremony look to something shorter, sexier, or—go nuts!—a jumpsuit, and take it to the next-Extra level by throwing in an after-party change, too. Ask your stylist for an updo that can easily morph its way down and you'll excite guests all over again. They'll be like, Is this a wedding or a fashion show? And you'll be like: Both, because I'm crazy like that! Wink, hair flip, air kiss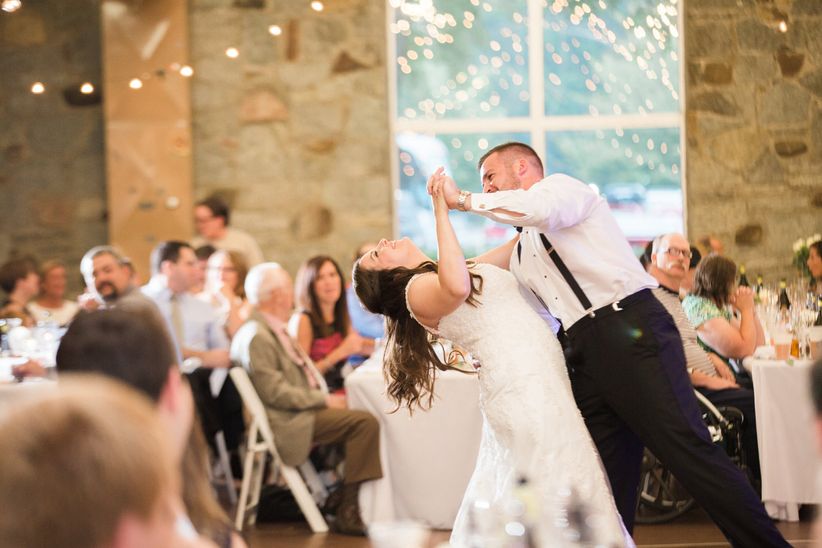 Photo: Rockhill Studio
A Choreographed First Dance
It's YouTube gold, and nothing screams Extra like a wedding video seen by 14 million eyeballs globally. And I don't just mean the two of you take ballroom dancing together—I mean an eight-count-based, Making the Band-circa 2005, Step Up-2 inspired routine that makes everyone at the wedding stop what they're doing and crowd around the dance floor and wonder when your new husband learned to do that with his back. After all, first dances are always sort of a low point of weddings for guests (no offense; very big moment for you the couple, sure, but as a guest how many times can you watch two people sway quietly to "A Thousand Years" in one lifetime?). Spice up that lull in wedding entertainment with an exciting hip hop dance, or maybe an Irish step dance, and give guests a dose of Extra they won't be able to resist uploading to their Instagram story.

A Logo
An Extra Couple isn't just a couple, they're a brand. They're the creative force behind such iconic statements as The Cool Apartment, The Great Parties and, forthcoming, The Amazing Babies. If this sounds like you and your boo, why would you not go for one of the more unique wedding ideas: your very own logo? To go for it, sit with your stationer or hire a full-on graphic designer to come up with a few options for you. Once you've selected one, feel free to go whole hog on plastering it everywhere at your wedding, bachelorette/bachelor parties, showers, you name it. I'm talking napkins, koozies, table runners, envelopes, photo backdrops, programs… make an ice sculpture out of it if you dare! The idea is to remind every guest in an attractively and oh-so-of-the-moment Extra way: Yup, we did this.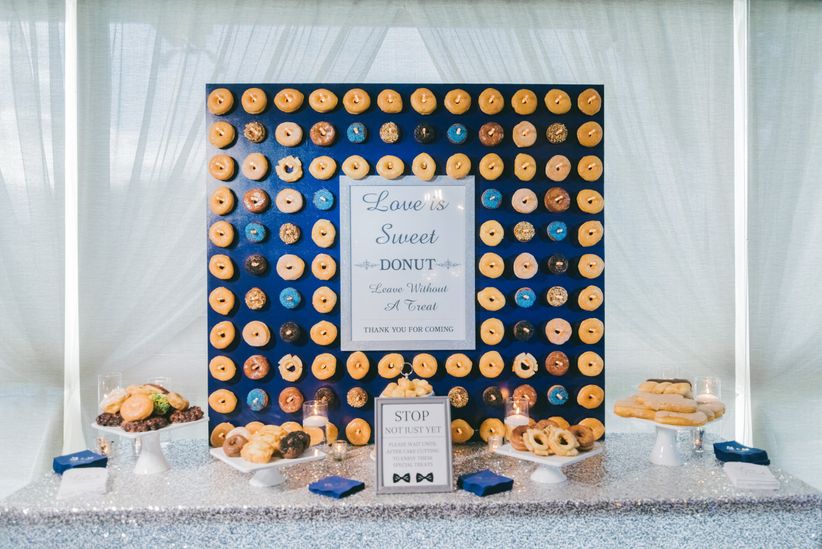 Photo: Hitched Photo
Food Served on a Wall
If you scrolled past a donut wall on Instagram during the past year or so and dismissed it as kitsch rather than one of the most unique wedding ideas, I've got news for you: Walls of food, food served on a wall, food walls—whatever—they're not going anywhere (because they're nailed to the floor). Except maybe ceilings. I see food ceilings becoming a thing by 2020. Anyway, whether you go sweet (donuts are the obvious choice, because they readily hang from pegboards, but you could do cookie or s'more shelves!) or savory (oyster wall!), a wall o' snacks is a surefire way to escalate your wedding to extra territory. Because what could be more extra than offering your guests way too much of something? The answer is: Offering it vertically, directly in front of them, so they can just walk right into it with their mouths open and enjoy.

Animals Wearing Flowers
Consider a trio of pygmy goats adorned with ranunculus crowns. Ask yourself, "At what time in my life would I be able to have these goats in my attendance and not be questioned for it?" Answer yourself: "My wedding, and only my wedding." Don't miss this Extra opportunity: Hire the animals. Goats, llamas, elephants, alpacas (which are not llamas)—all of these have been present, along with their own floral concepts, at this year's most over-the-top nuptials. They make a kick-ass photo op for guests, and some of them are even ride-able, which is an exemplary extra way to get down the aisle. Thinking your dog will do the trick? It's possible, but who hasn't seen a Maltese in a bowtie? Keep in mind: the more exotic, the better. (White tigers being, of course, The Best.) Hire the animals—but check with your venue first.

Someone Objecting
WARNING, FOR PEOPLE WITH ADVANCED EXTRA ASPIRATIONS ONLY! If you really want to go above and beyond in the drama territory, and you're not sure your rendition of the dance from "Single Ladies" is going to score you enough points, stage an objection! The wedding objection is a massively underused function of the ceremony and just so you know it's still totally in play—as long as the objector is doing so for legal reasons, not reasons of the heart. So go ahead, have your college friend or landlord or whatever leap out of their seats and scream, "I CANNOT HOLD MY PEACE FOREVER! I OBJECT!" and race out of the room. See what happens. I honestly don't know? Probably nothing—I looked it up and there's really almost no real reason anyone can legally object to a wedding these days. But still! How Extra! People would literally never stop talking about how your wedding was so Extra, it almost never happened.