How Do I Downsize My Guest List if I've Postponed My Wedding?
Have to cut your guest list (by, like a lot) to make your new post-coronavirus wedding plan work? Here's how to do it without burning any bridges.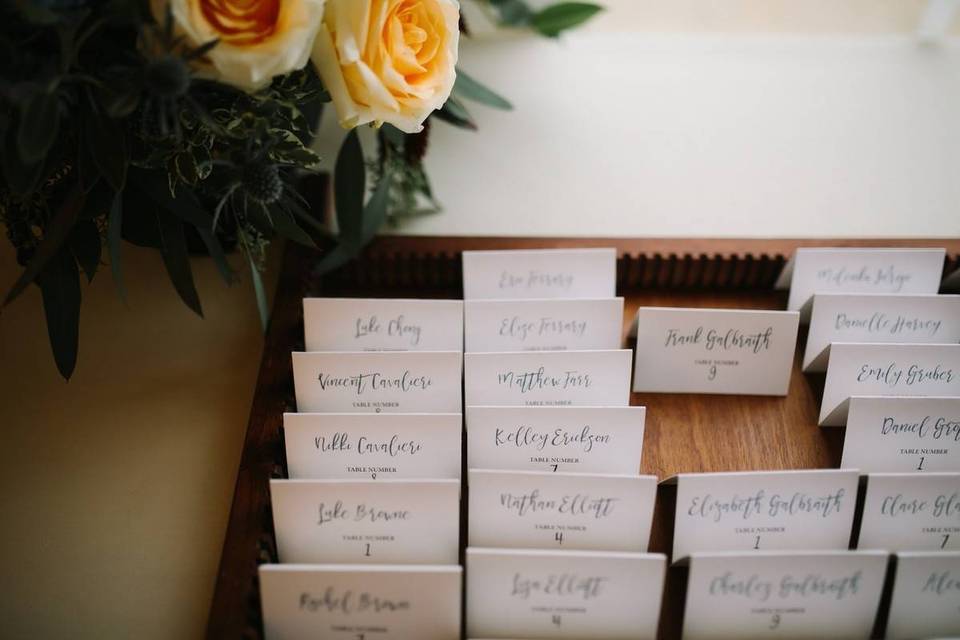 If you've postponed your wedding due to the coronavirus pandemic, you're likely being faced with some tough decisions. One of the most difficult may be figuring out how to cut your wedding guest list to accommodate a new venue, new budget, or for safety reasons. You likely spent a great deal of time and effort creating your initial guest list, so downsizing it—say from 250 people to just 50—may seem near impossible. However, it's absolutely doable—and if you handle the situation tactfully, you won't hurt any feelings in the process.
Need to know how to cut your wedding guest list to accommodate a new post-coronavirus plan? Here's exactly how to do it.
First, decide if you really need to cut your wedding guest list—and by how much.
Your primary goal should be to maintain as much of your previously-scheduled wedding as possible—the same venue, vendors, guest list, and more. However, you may have to switch venues or cut your budget due to financial constraints. If you must downsize your guest list, figure out exactly how many people you can accommodate in your new plan. Having a firm number will be helpful so there's no guesswork involved.
Make sure your VIPs are included, then see how many slots are left.
Instead of worrying about who you should cut from your wedding guest list, think about who must be included. Start with your parents and immediate families, then your wedding party members (plus spouses and significant others!). Now, how many spots are left? If you're able to accommodate your closest relatives and friends, add them. Build on this initial list, adding loved ones until you've hit the max number of guests you can accommodate. If you and your partner having trouble making decisions, ask your parents or siblings for help.
Don't count on guests RSVPing "no".
Many couples invite more guests than they're able to accommodate, expecting that many will RSVP no. If you have a strict guest limit, we don't recommend going this route. Given the circumstances of your postponement, your loved ones will likely make every effort to attend your wedding—so you might end up with more yeses than you planned.
Communicate honestly and politely.
Once you've decided who makes the final cut, you'll need to share the news with your previously-invited guests. If possible, we recommend reaching out to your guests by phone for these potentially-difficult conversations (if calling all of your guests feels overwhelming, your parents or in-laws can help). Be honest and polite, saying something like: "We were so excited to celebrate with you, but due to unforeseen circumstances, we have had to change our wedding plans pretty significantly. Unfortunately, we can only host a few guests now, and we've had to alter our guest list to only include our immediate family and wedding party." You can be as specific as you want to about the reasons behind the downsize—but try to keep the conversation as brief as possible. Your guests will likely be pretty understanding, given the difficulty of the situation—it's doubtful you'll receive pushback or rude comments.
Don't focus on the gifts.
If you've had to significantly cut your wedding guest list, you might be wondering what to do about the wedding gifts you've already received—keep or return? In most cases, keep them. Your guests likely want to celebrate you in any way possible, and will be happy for you to keep their gifts (don't forget to send a prompt thank-you note, though!). And if a friend or family member is no longer on the guest list, you shouldn't expect to receive a gift—though they may choose to send one to show support anyway.
Find ways to include your initial guest list.
Think of creative ways to include your original guest list in your new event. Perhaps you can livestream your ceremony, or send each of your guests a handwritten thank-you note for their support. If you're comfortable with it, ask invited guests to share photos and videos on social media (using your wedding hashtag, of course!) so that loved ones can follow along with the event as it happens.