How to Write Wedding Thank-You Cards
Check out these simple and stress-free tips for how to write wedding thank-you cards without losing your mind.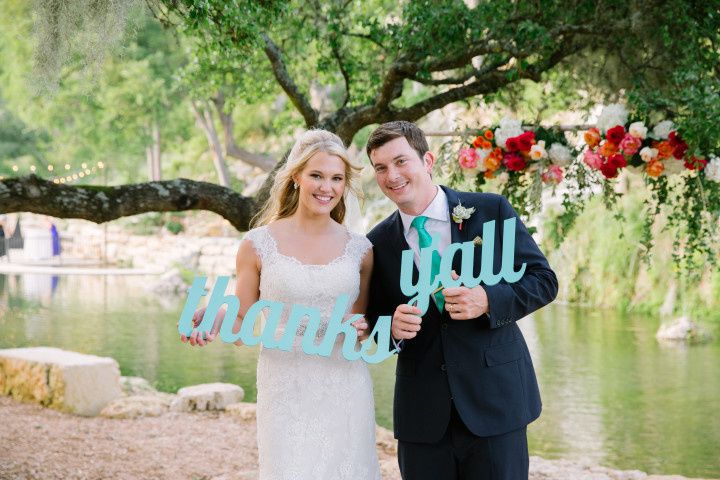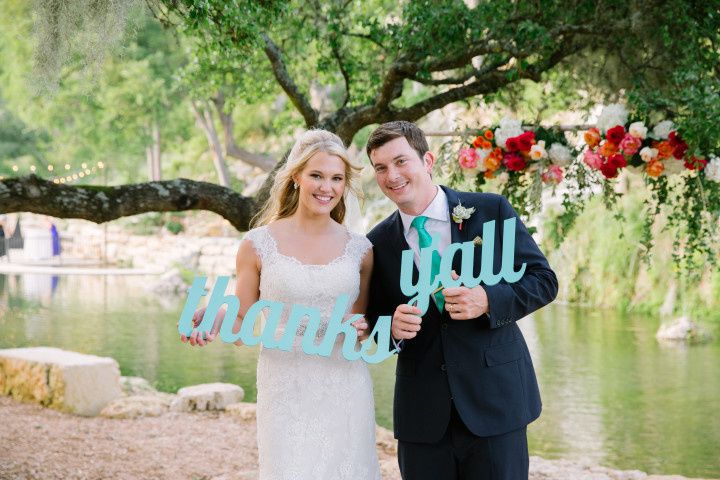 We get it: There are a million things you'd rather be doing right now than thinking about how to write wedding thank-you cards. But the process doesn't have to be painful. In fact, by making writing thank-you notes part of your everyday routine both before and after your wedding, you'll likely find them pretty easy—and maybe even kind of fun (okay, maybe that's a slight exaggeration, but we can hope!).
Wondering how to write wedding thank-you cards? Check out these etiquette tips for writing easy (and thoughtful!) thank-you notes.
Why do I have to write wedding thank-you cards in the first place?
Your guests are likely shelling out a good chunk of cash to pay for your wedding gift—on average, over $100. A wedding thank-you card is a tangible way to show your appreciation—not only for the gift itself, but also for your guests' attendance to your wedding or pre-wedding event. It may seem like a dated tradition, but it's actually quite important.
How soon after receiving a gift should I write thank-you notes?
Thank-you notes should be written as soon as possible. If a gift is received before the wedding, you have two to three weeks to send the note. For gifts received at or after the wedding, up to three months is acceptable but try not to wait that long! Be sure you have your guests' mailing addresses on hand to make the process go even more smoothly.
Do I have to handwrite thank-you notes? Is email okay?
We've already talked about why thank-you notes are necessary, now we'll dive into how to write wedding thank-you cards. Yes, you must handwrite these thank-you notes. Email may be okay for sending out casual communication, but tradition rules when it comes to wedding thank-yous. Be sure to purchase some thank-you note stationery soon after you get engaged so you'll have something pretty to write on right from the start. You don't want to get behind because you don't have notecards yet!
From engagement parties to showers to the actual wedding, I'm going to receive multiple gifts from many guests. Do I have to write a separate thank-you note for each gift?
Each and every gift deserves its own thank-you card—yes, even if you're not a fan of the present itself. So, if someone gets you both a shower and wedding gift, you have to write two notes. That's why it's so important to stay on schedule with writing thank-you notes—you want to make sure that each gift is recognized in a timely fashion so you won't get too backlogged.
Are there any ways to make writing thank-you notes less painful?
If you're wondering how to write thank-you cards with your busy schedule, try writing a few notes each day to make it part of your routine. You can even keep a few notecards in your purse so that you can write 'em during your downtime. And remember—when it comes to how to write wedding thank-you cards, this is a task you should share with your spouse. If you're really having trouble keeping up, there are services like Postable which can help you "hand write" cards online.
I'm having thank-you note writer's block. Any suggestions on figuring out what to say?
If you're struggling to figure out how to write wedding thank-you cards, remember the following formula when it comes to content of the note: Thank the recipient for the gift + Say something specific about the gift and how you'll use it + Thank them again for coming to the wedding (or event, if it's a shower or engagement party gift) or express regret if they couldn't make it. To make things even easier, check out these fill-in-the-blank thank-you note templates.