Do You Have to Include Family in Your Wedding Party?
Traditional etiquette suggests that you should include close family members in your wedding party—but what if you'd prefer to go a different route? Experts share their best advice.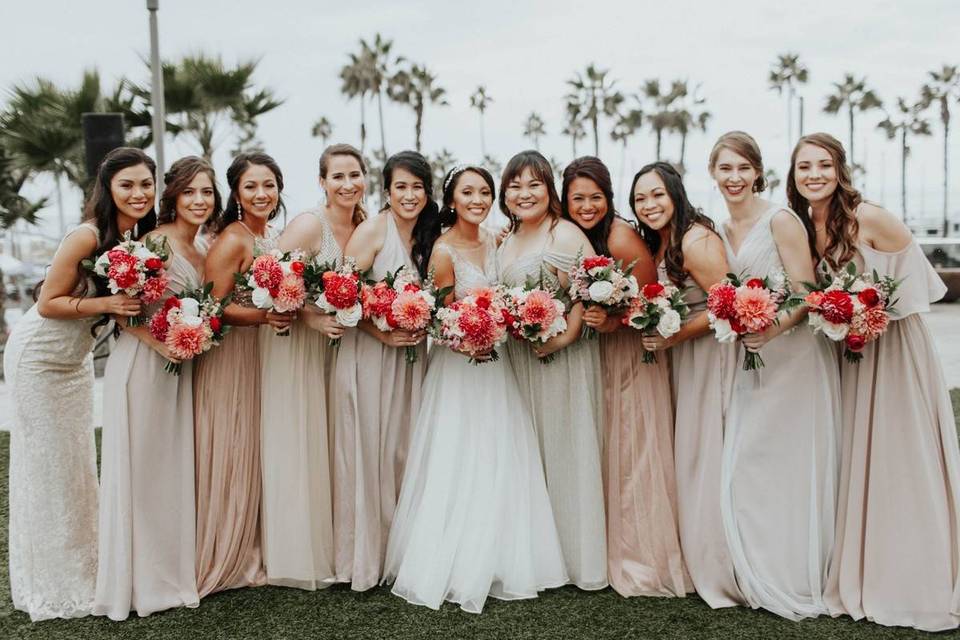 If you're in the throes of wedding planning, you've probably already come to realize that it requires quite a lot of important decision making on your part. It might seem like every day you have a laundry list of items to check off your list and give a thumbs up or thumbs down to. One of the most important decisions that you'll make in the early stages of wedding planning that will have a lasting impact that extends far beyond your big day is who to include in your wedding party.
The wedding party typically includes the bridesmaids, groomsmen, bridesmen, groomswomen, maid of honor, best man, and anyone else accompanying the wedded couple down the aisle, such as parents, a flower girl and a ring bearer. This group of people is usually involved in a handful of more intimate activities that regular wedding guests are not, such as the rehearsal dinner and any pre-ceremony wedding day festivities. They also tend to take on additional responsibilities such as planning the wedding shower. "Most times, the entire wedding party is asked, or told, to wear certain clothing that fits with the couple's color scheme and feeling of the day, while wedding guests only follow the wedding attire requested on the invitation, such as 'black tie,'" says Amanda Hudes, event planner at Smiling Through Chaos in Scotch Plains, New Jersey, and author of Smiling Through the Chaos of Wedding Planning.
Seeing as the wedding party often includes those closest to the engaged couple, family is usually a part of the mix—siblings, cousins, in-laws, etc. "For instance, a bride typically will choose her sister to be her maid of honor, and the groom tends to select his brother as his best man," says Danielle Rothweiler, a wedding planner and owner of Rothweiler Event Design in Verona, New Jersey. "If the groom has a sister, the bride sometimes chooses her to be a bridesmaid, and the bride's brother is sometimes asked to be a groomsman."
But what if you don't feel close enough to family members to have them as part of your wedding party? Do you have to include them just because they're family?
Don't feel pressured—but be aware of the consequences.
According to Jove Meyer, owner of Jove Meyer Events in New York City, to-be-weds should feel no pressure to include their family in their wedding parties. "If you make decisions in your wedding planning process that are not authentic to your heart, it will not be a joyful experience, but rather a performance," he says. "Your wedding party should be filled with those you love most, those that know you most, and those that will make it joyful, period, which may or may not include family members."
In that same vein, Hudes points out the importance of considering the potential consequences of not having certain members of your family in your wedding party. "If you feel it will jeopardize your relationship with a family member by not having them in your wedding party, it might be worth it to add them into it," she says. "If you are having a very small wedding and thus either no wedding party at all or only a couple of close friends, family members may be more understanding of not being included—or, if you're having one or two people standing with you, you can just make that your best friend(s)."
Another way Hudes recommends getting out of having family members included who you really don't want is to have a wedding party of only college friends or only high school friends. "This allows for any other group or individual to not feel as slighted as they would if friends or friends and family from all different parts of your life were all included," she says.
Give family members other roles.
There are other ways to include family members in your wedding than having them as part of the wedding party. Meyer suggests honoring a family member with a reading during the ceremony or allowing them to do a speech at the rehearsal dinner or reception.
At the end of the day, it's important to keep in mind that this day is about you and your soon-to-be life partner. All of your wedding guests—family included—are there to celebrate you and support you in the best way they can. If their hearts are in the right place, they will overlook a situation in which they may have liked to be a part of the wedding party where you did not choose them. "If there is family drama, for instance, this would be a good circumstance to not include a person and if you know adding that person will cause undue stress, then don't add them," says wedding planner Jaclyn Watson of Jaclyn Watson Events in Stowe, Vermont. "You want to pick people that you know will support and help you along the way."