Do You Have to Buy a Bridal Shower Gift AND a Wedding Gift?
What is the difference between a bridal shower and a wedding gift? Find out how much you should spend and check out these fantastic gift options.
We have included third party products to help you navigate and enjoy life's biggest moments. Purchases made through links on this page may earn us a commission.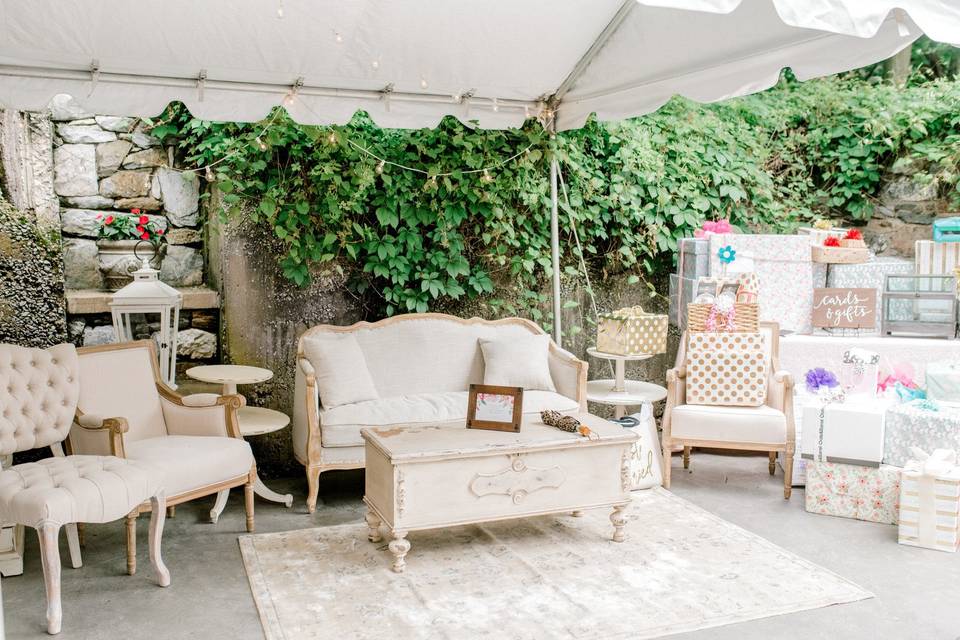 Bridal shower gift etiquette can be tricky. The pre-wedding event is just a teaser for the big day, so what do you do about a bridal shower gift vs. wedding gift? Do you really need to bring a present to both the pre-wedding events and the nuptials? The answer is yes, but we've got some proper wedding gift etiquette tips to help you along the way.
Bridal shower gift vs. wedding shower gift? Here's how to navigate that tricky bridal shower gift etiquette.
Do I have to buy a bridal shower gift and a wedding gift?
Short answer: Yes. Long answer: Proper wedding gift etiquette states you need to bring a gift to both affairs, but that doesn't mean the two gifts have to be equal in value. In fact, when it comes to bridal shower gift vs. wedding gift, the bridal shower gift should be smaller. It all comes down to breaking down your wedding present budget.
Follow the 20-20-60 Rule.
Here's the key to bridal shower gift etiquette: Think of the 20-20-60 rule. Start by creating an overall gift budget to celebrate the happy couple. Let's use $200 as an example. Sixty percent of that budget ($120) should be reserved for the wedding gift — a check, that set of China they registered for, or a kitchen appliance. Then, twenty percent ($40) — a set of champagne flutes, a beautiful picture frame—should be reserved for the engagement party and the other twenty percent ($40) — their coffee mugs, the cake servers they want to use on the big day—for the shower. If you are only invited to one pre-wedding event, divide that extra twenty percent between the shower ($50) and the wedding ($130). See: Proper wedding gift etiquette really comes down to math!
Do I have to buy off the registry?
There are differing opinions on this when it comes to bridal shower gift vs. wedding gift, but by standard etiquette, bridal shower gifts should typically come from the registry. Of course, if you are super close to the bride or groom, a small, highly personalized gift, like a gift card to their favorite restaurant or a family recipe book you create, can be just as appropriate for a shower. By the time you get to the wedding, sometimes the registry is already bought up. If that's the case, it's okay to go off registry, just look at what they did add to their wishlist and try to match their style and taste. If you really can't think of something to buy, it's absolutely okay to give money as a wedding gift — or to buy them a fun experience, like a date night at a new hip restaurant, or a night at their honeymoon hotel. Some couples even create honeymoon funds, cash funds, or a combination of traditional and experiential registries on sites like WeddingWire Registry.
How much should I spend on a bridal shower gift and a wedding gift?
Keeping the 20-20-60 Rule in mind, a bridal shower gift should be about one-third the price of your wedding gift. However, what you spend comes down to your relationship with the bride or groom, and your budget. Typically, shower gifts should be between $25 to $75. If you are closer to the person of honor, consider the higher end of the registry.
Wedding gift etiquette says a guest should spend about $50-$150 on a wedding if they're going solo. Again, it comes down to relationship and budget—and what you've allocated in the 20-20-60 rule. If you're going to a wedding with a date, expect to spend $75-$200 on the gift. And keep in mind, while there is no maximum on a gift, don't spend less than $50.
Can I give one big gift for a bridal shower and a wedding?
While it's uncommon to show up to a shower empty handed, or to forgo a gift on the big day, some guests like to give the happy couple one big-ticket gift for all the celebrating, rather than break the gifts into pieces. That's totally okay — but make sure the couple knows. If you're waiting for the big day to give them their larger gift, at a minimum bring a card to the bridal shower, with a note that a gift is on the way. If you want to get it over with, ship the couple the gift before the shower, and mention both events, in a simple way — "Can't wait to shower you with love and celebrate your big day" — on the card.
Is it better to ship the gift or bring it to the shower?
Opening gifts is a traditional activity at most bridal showers and so we recommend bringing the gift to the shower—unless the invitation specifies otherwise. If the gift is particularly cumbersome or it would be difficult for you to bring the gift to the shower yourself, talk to the shower's hosts to see if there's way for you to ship it in advance.
How much should I spend on a bridal shower gift if I'm not attending?
If you're not attending a bridal shower, you technically don't have to give a gift. However, if you're particularly close with the bride (especially if you're in the wedding party), you might consider sending a gift that costs between $25 and $75 anyway. We also love the idea of sending the bride flowers (in lieu of a traditional gift) to arrive on the day of the shower to show that you're thinking of her on the special day.
Are bridal shower gifts for the bride or for the couple?
You can really go either way. If you want to give a gift specifically for the bride, the bridal shower is your opportunity to do so—wedding gifts are traditionally for the couple as a unit. The easiest way to find a gift for either the bridal shower or the wedding is to look at the couple's registry. Off-registry gifts are usually best suited for the bridal shower.
What is an appropriate gift for a bridal shower?
A bridal shower gift is usually relatively small, and can be for the bride or for the couple. We recommend purchasing a gift from the couple's registry, but if you find something you think the bride would really like that's off-registry, go for it. The shower is your best opportunity to be a bit creative with your gift-giving. Check out some of our favorite bridal shower gifts.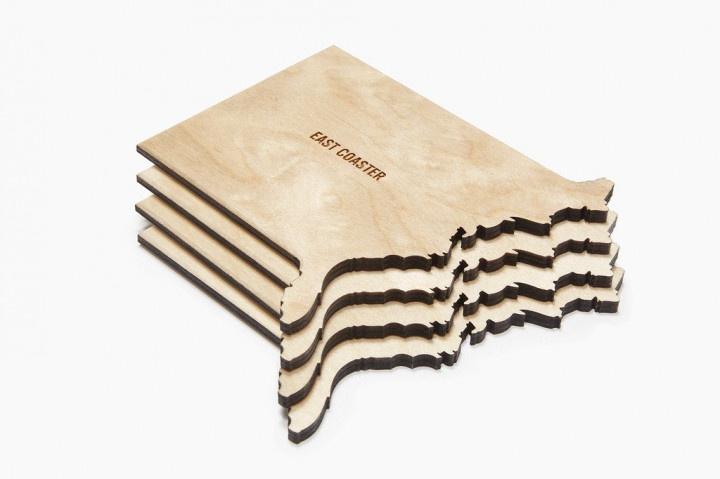 Coasters
Every newlywed home can use some water ring protection. Make a nod to the couple's history—their hometown, where they met, or where they live—with state or coastal shaped coasters.
Reed Wilson Design East Coaster, $37 for 4, Amazon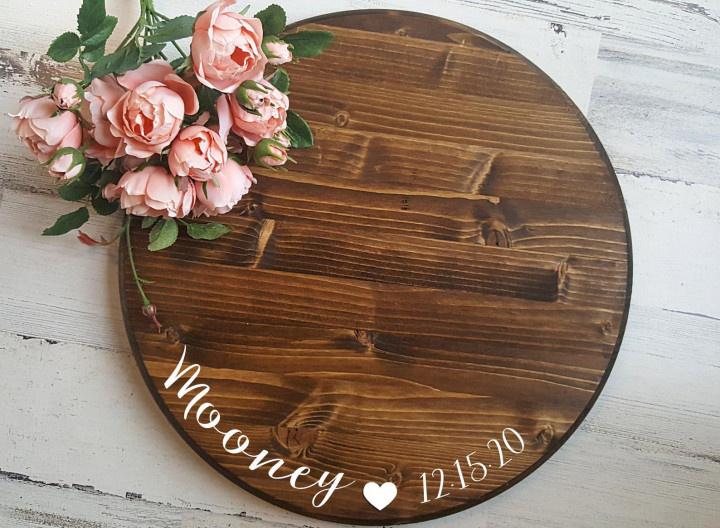 Custom Cake Stand
Here's a gift the couple can use on their big day—and beyond. A cake stand can hold their tiers and create a perfect photo opp, and come in handy for entertaining down the road.
Olde120GritShoppe rustic wedding cake stand, $36, Etsy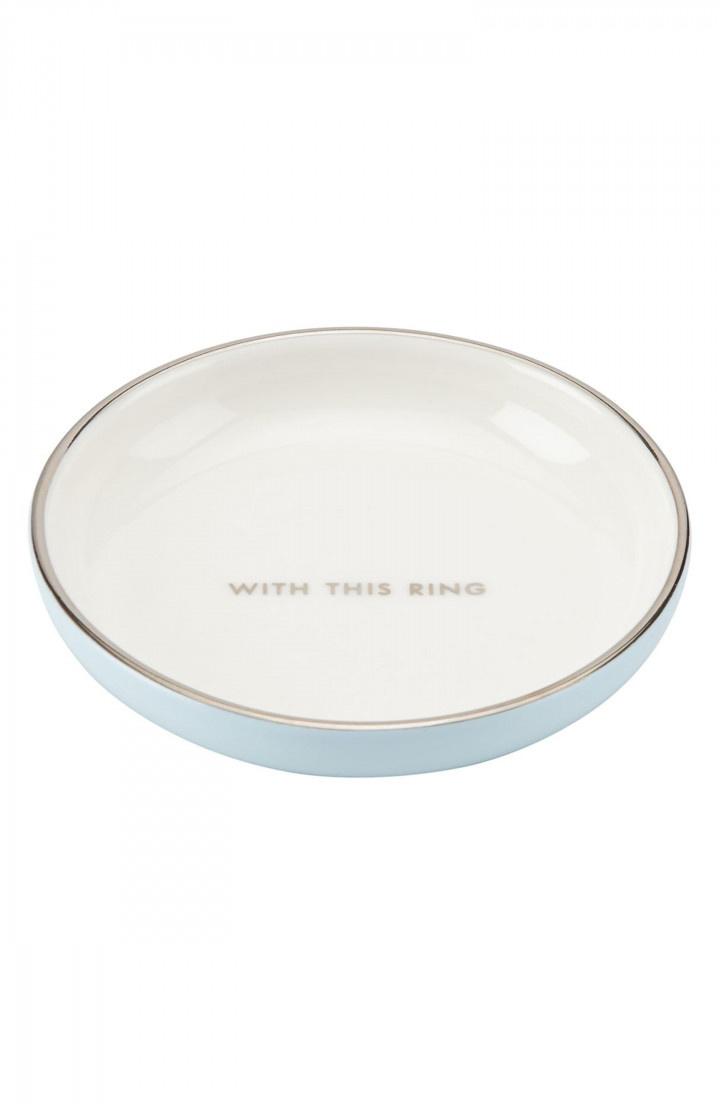 Ring Dish
The bridal shower is all about the bride, so give her something just for her. A ring holder is the perfect way to keep her new bling safe—and she can never have too many, she'll need them for the bathroom, the kitchen, the nightstand, and beyond.
Kate Spade Take the Cake ring dish, $30, Nordstrom
Slate Cheese Board
Everyone loves a good cheese board, so give them something to serve their favorite gouda on. A slate cheese board and knife set offers a perfect serving dish, and chalk to label what they're offering.
VonShef 9 Slatte cheese board server plate tray and dipping set with brushed gold serving utensil set, $25, Amazon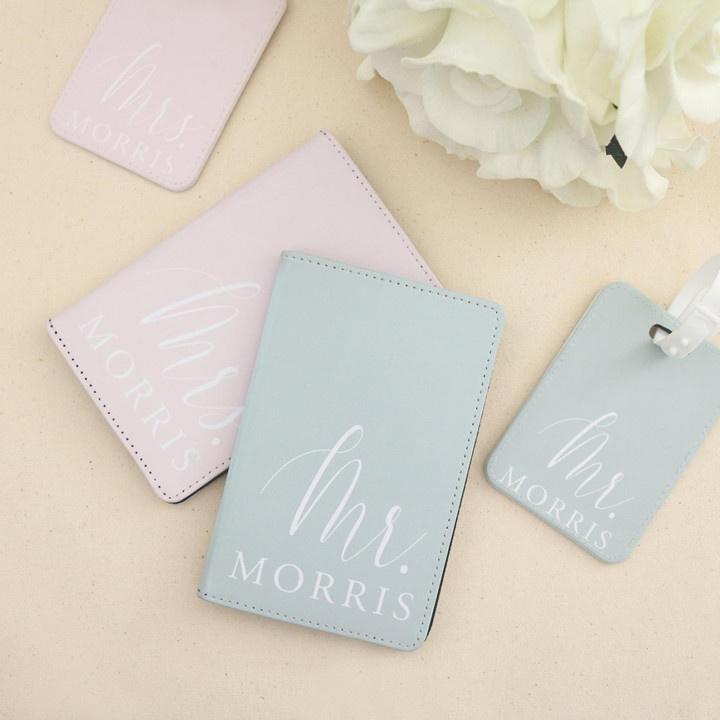 Personalized Passport Holders and Luggage Tags
Does the happy couple have an epic honeymoon planned? If so, set them up for easy traveling with a custom set of passport holders and luggage tags that will make them appear to be the ultimate jetsetters.
ThreeTwo1 personalized passport and luggage tag, $10 each, Etsy
What do I get for a wedding gift?
Wedding gifts are typically larger items for the couple's home, and are most often chosen from the couple's wedding registry. It's best to have the wedding gift shipped to the couple's home before or shortly after the wedding. Of course, if you'd prefer, cash is also a much-appreciated wedding gift that can be given on the wedding day.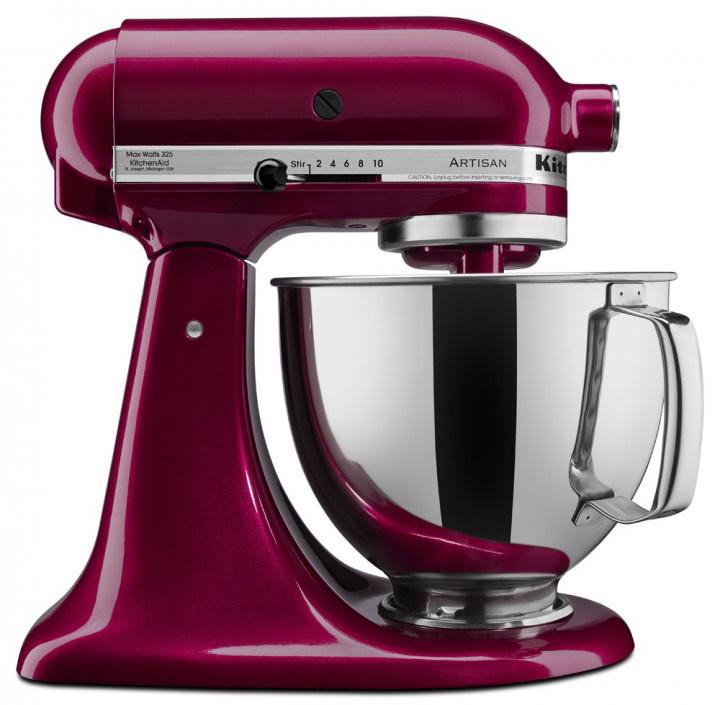 Stand Mixer
There's a reason this multipurpose mixer is a must-have registry item. Cross it off their list and get a stand mixer in the couple's favorite couple—especially if they love to bake!
KitchenAid Artisan Series 5-quart stand mixing with pouring shield, $280, Amazon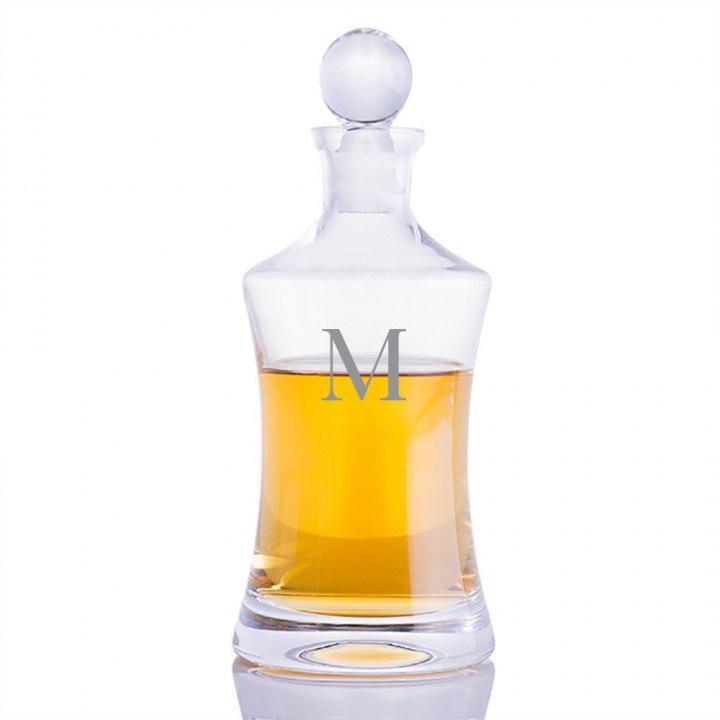 Decanter
For the entertainers, add a custom decanter to their bar cart. A monogrammed glass whiskey decanter is luxe enough to fit the bill for a wedding gift, but won't break the bank.
Crystalize Waterford Vintage engraved and monogrammed liquor and whiskey decanter, $110, Amazon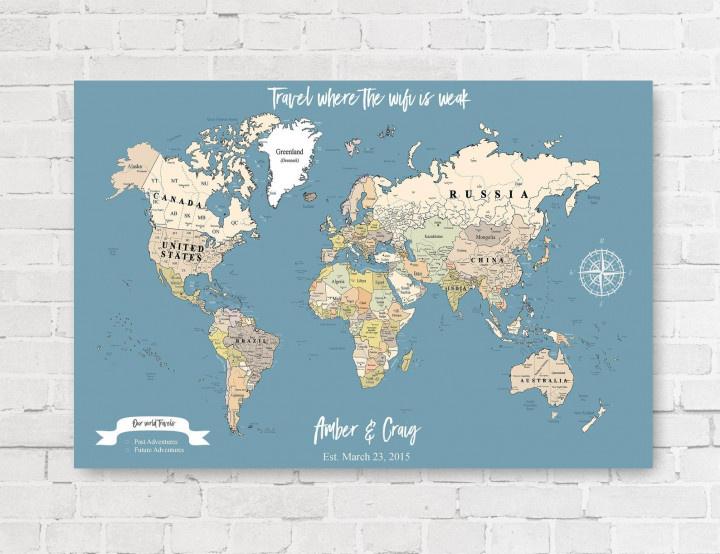 Pushpin Map
Their honeymoon is just the start of the adventures ahead. Help them track their world travels with a personalized pushpin map that will serve as a memento and wall art all in one.
AmberMcDowellFineArt blue personalized pushpin map, $129, Etsy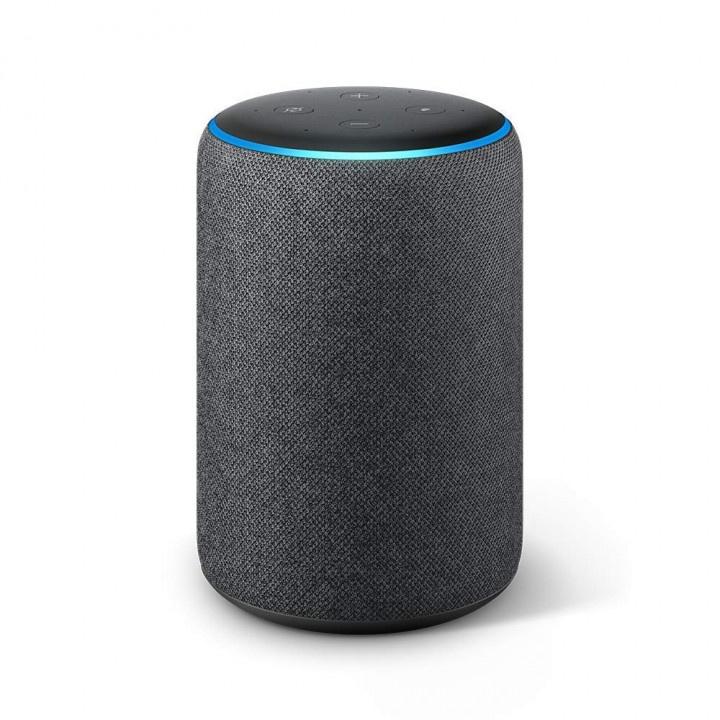 Smart Speaker
Whether they're music lovers or tech geeks—or both—they will love a smart speaker that can play their tunes and help run their household.
Amazon Echo Plus (2nd Gen), $150, Amazon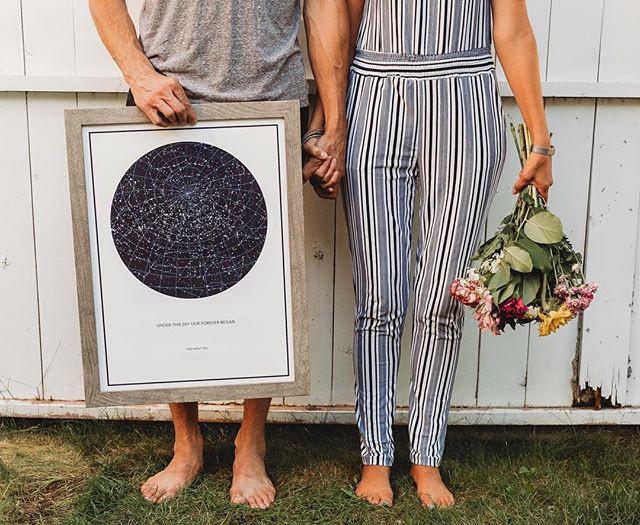 Custom Art
Naming a star is a gift of the past, instead give them the stars. This artwork maps the constellations as they appeared at a specific location, date, and time—make one for their wedding night.
The Night Sky Star Map, $60, TheNightSky
Gifts for Both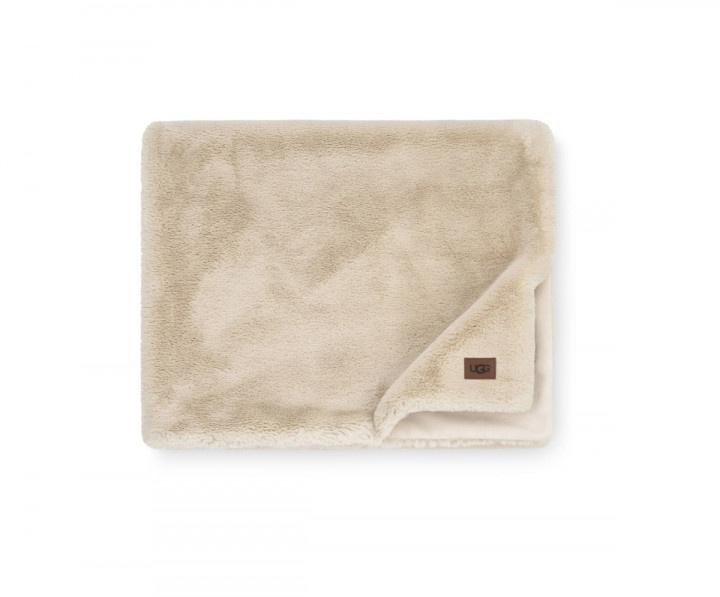 Cozy Throw
Help keep the romance alive with a warm and fuzzy blanket they can snuggle under. This flannel and plush version will keep them warm and cozy.
Ugg Coastline Plus throw, $98, Nordstrom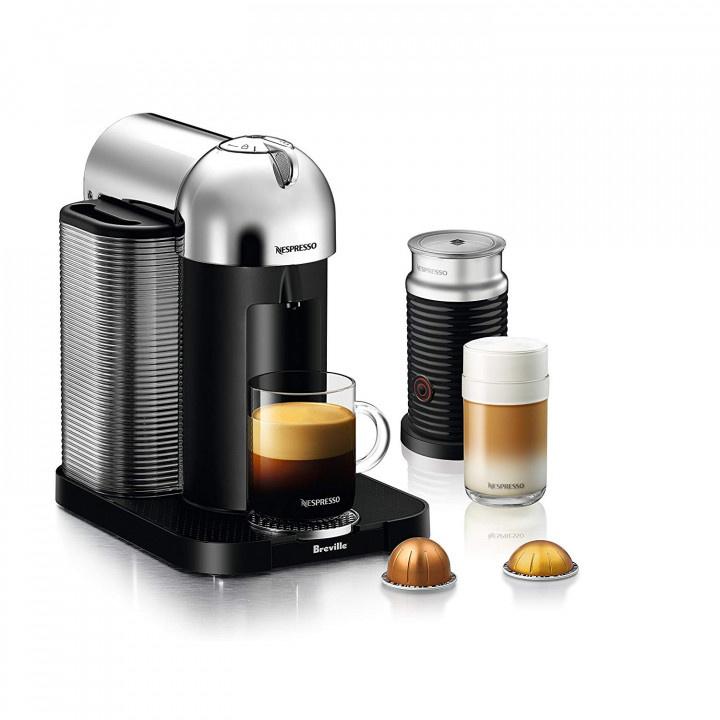 Coffee Maker
Once the wedding adrenaline wears off, they're going to need something to keep the buzz going—and get back to work. A coffee maker is the right item to do the job, and tackle both a shower and wedding gift.
Breville Nespresso coffee and espresso machine bundle with Aeroccino milk frother, $150, Amazon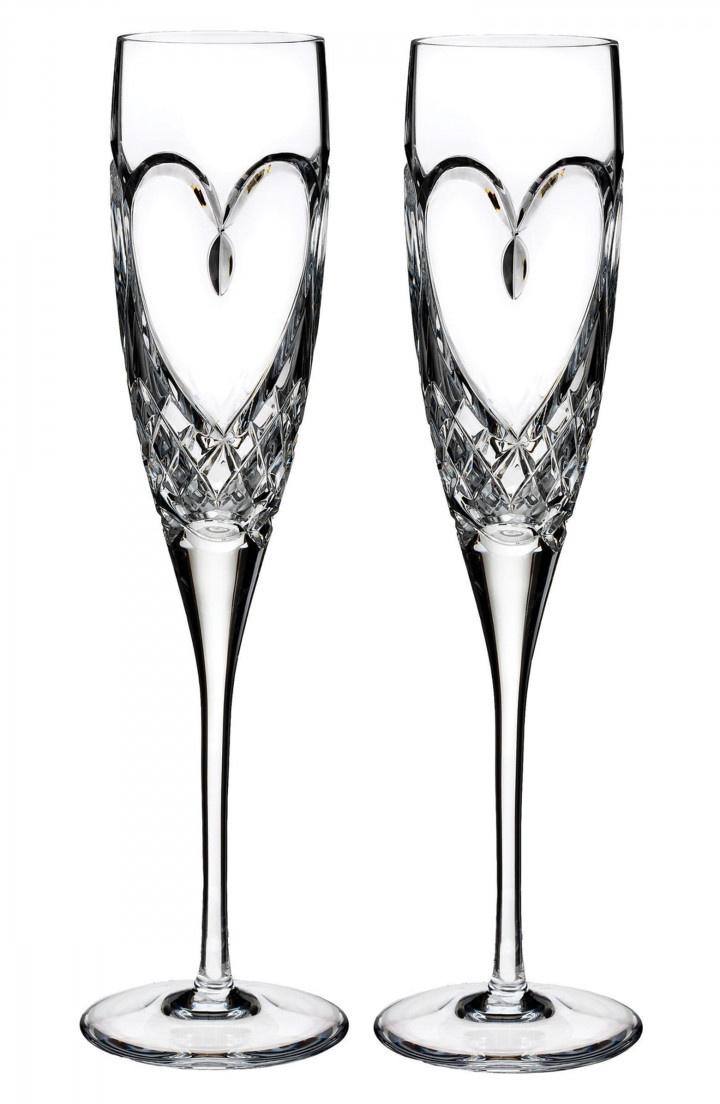 Champagne Flutes
Toast the happy couple with a pair of champagne flutes they can use on the wedding night and every anniversary thereafter. Handcrafted, quality crystal flutes make this gift special enough to give for both the shower and wedding.
Waterford True Love Lead crystal champagne flutes, $135, Nordstrom
Serving Set
Help them step up their hosting game with a stunning serving piece. A wooden appetizer set with tray and bowls is the perfect double-duty gift.
Juliska Sotnewood Stripe 5-piece appetizer set, $295, Nordstrom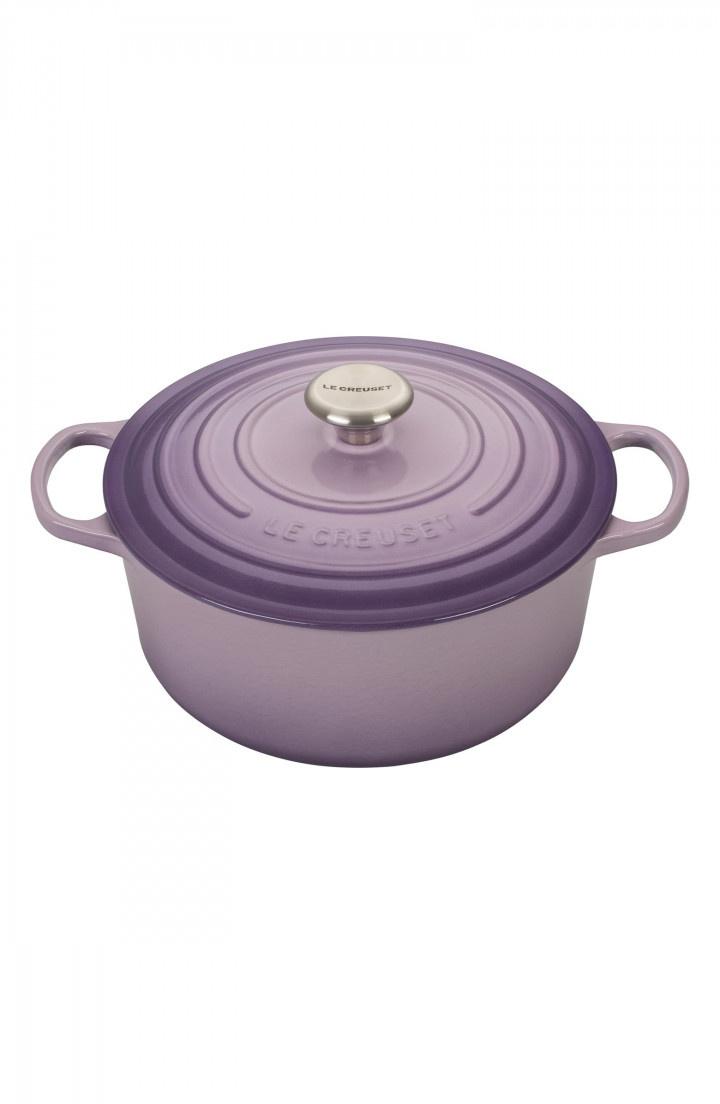 Cast Iron Dutch Oven
If the happy couple love to cook, a Dutch oven is a needed addition to their kitchen. Meant for everything from roasting whole chickens to whipping up chili, it's the all-purpose cooking vessel.
Le Creuset Signature 5-1/2 quart round enamel cast iron French/Dutch Oven, $438, Nordstrom
Disclosure: This post contains affiliate links, some of which may be sponsored by paying vendors.