23 Travel Gifts for Couples Who Are Always Planning Their Next Getaway
Help the travel lovers in your life prep for their upcoming trips with these practical gift ideas.
We have included third party products to help you navigate and enjoy life's biggest moments. Purchases made through links on this page may earn us a commission.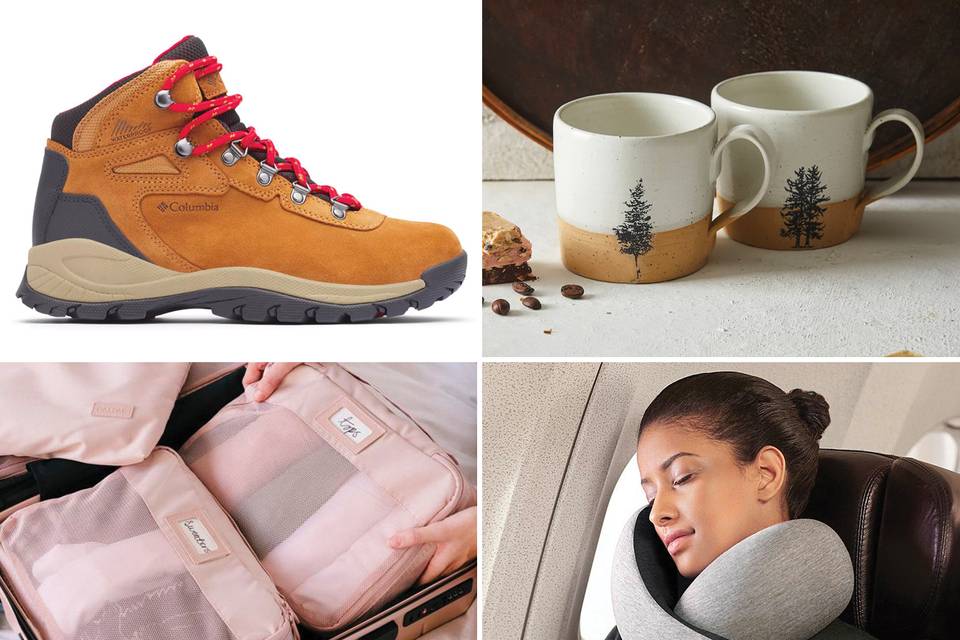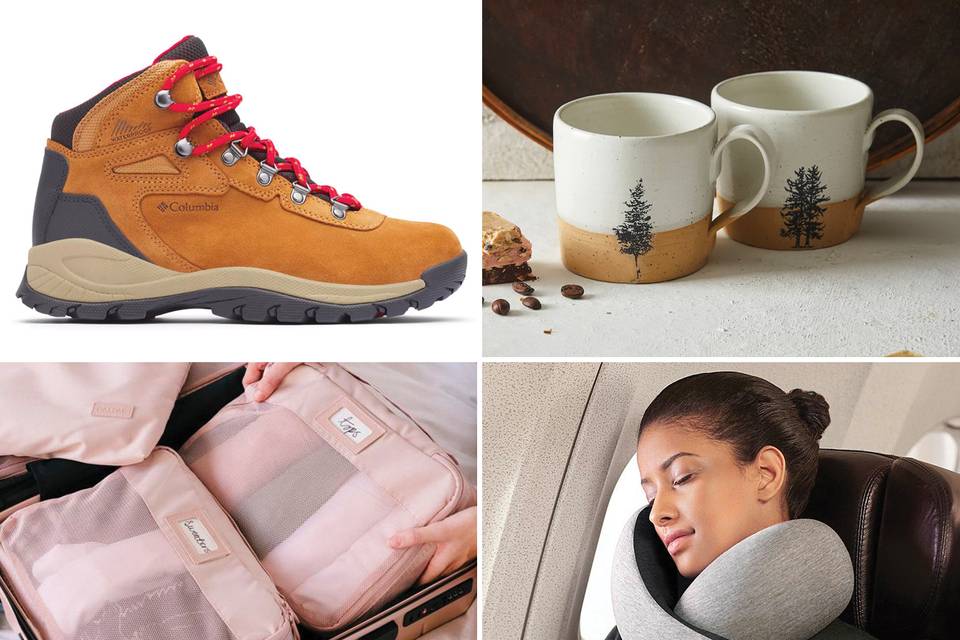 If there's one jet-setting couple that you always turn to when brainstorming your next vacation, this gift guide is for you. We've hand-picked the best gifts for couples who travel, whether you're shopping for their anniversary, a wedding gift, or something to surprise the newlyweds just because. It can sometimes be tricky to shop for a duo of jet setters, especially if they're known to travel light with just a carry-on suitcase that doesn't leave room for much else. But you can still celebrate your favorite travel lovers and their wanderlust with these thoughtful (and practical) gifts they'll use all the time. From luggage tags and passport holders to nomadic journals and books, here are the best travel gifts for couples.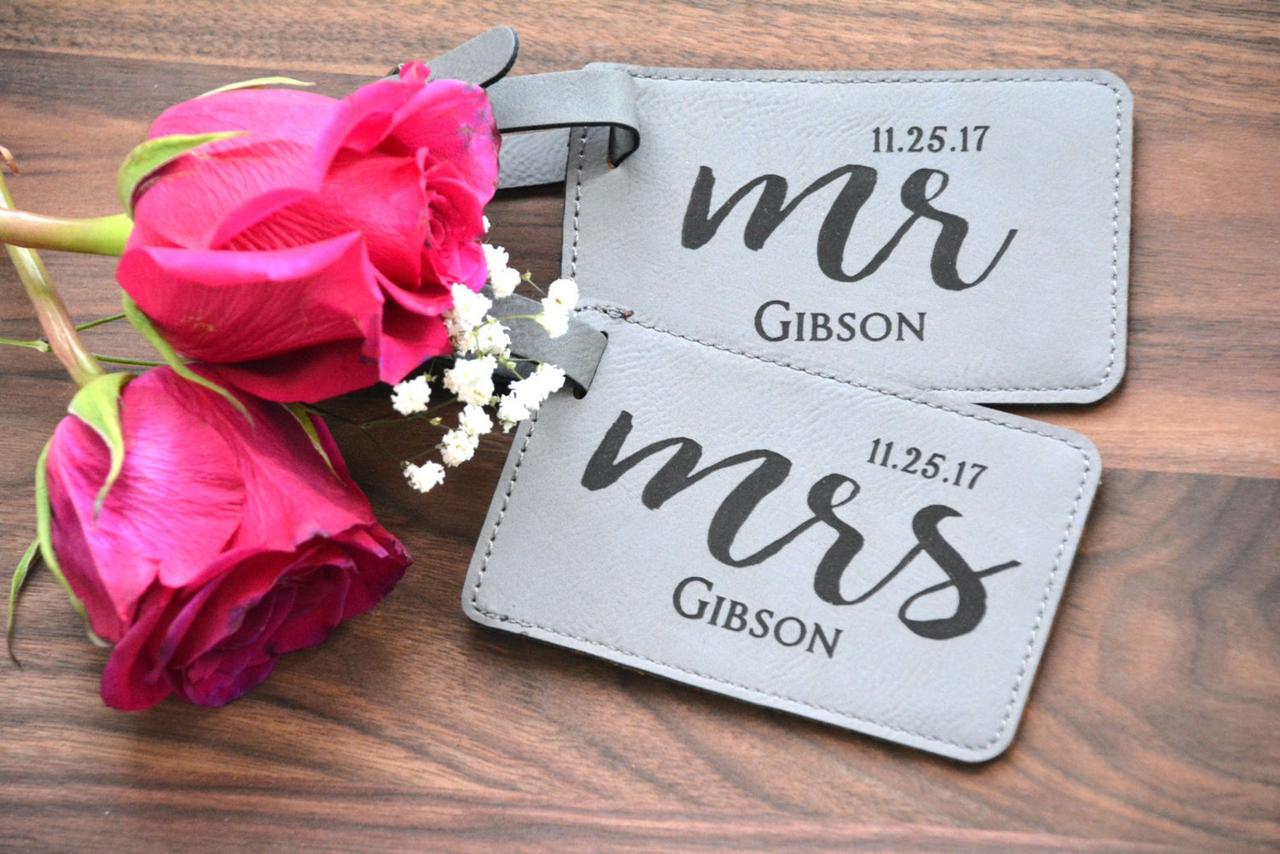 Cute Matching Luggage Tags
If they usually book extended trips that require them to check their luggage, this gift idea will be much appreciated. Luggage tags ensure that they'll be contacted directly in the event of a mishap, and they also make it easier to identify suitcases from a crowded baggage claim. While reasonably standard, matching luggage tags don't have to be boring! This leather set comes in a variety of colors, and you can personalize them with anything you desire—try their names and wedding date, for starters.
Shop Giftables pair of personalized Mr. & Mrs. luggage tags, $24, Etsy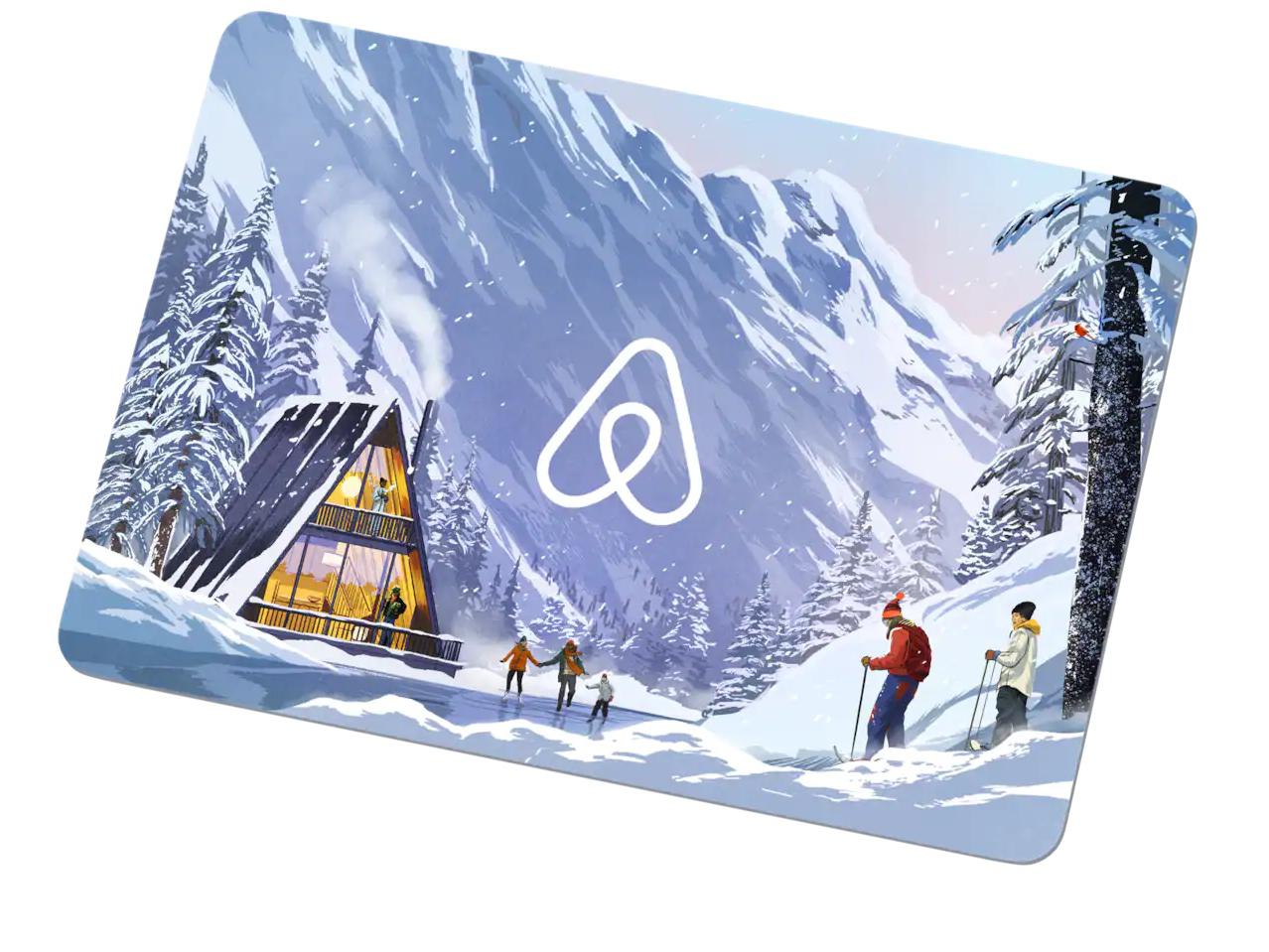 A Gift Card for a Romantic Getaway
The last time you had a double date, they discussed their upcoming trip plans. And instead of a hotel, they talked about the option of renting a home away from home. Enter the perfect gift idea: an Airbnb gift card. Whether they decide to rent a chateau in the south of France, a bungalow on the beach in Tulum, or a cozy cabin in Colorado, they'll have you to thank for their next romantic excursion.
Airbnb gift card, from $25, Airbnb

Personalized Passport Covers
Of all of their prized possessions, their passports are likely pretty high on the list. After all, this legal document is their ticket to see the wonders of the world, so keeping it safe is a must. Personalized passport holders are thoughtful and helpful gifts for couples who travel. This option features a map of the world in gold or silver foil, along with their name and the phrase, "Let the adventure begin."
Luxury Luxury world map passport holder, from $25, Zazzle

Stylish Carry-On Suitcase
Hopping flights, trains, and buses will inevitably do a number on their luggage. Scratches and damages are part of the game, which is the perfect reason to surprise them with a brand-new carry-on. This hard suitcase features 360-degree spinnable wheels and comes in nine colors, including navy, olive, and seafoam.
Away Travel The Carry-On, from $275, Away Travel

An Action-Worthy Camera
One of the best things about traveling isn't just the experience itself, but also the stories we get to tell once we return home. Your traveling couple friends love raving about their scuba diving adventure in Hawaii or how they hiked Table Mountain in Cape Town, South Africa. But what's better than telling? Showing and telling, of course! A GoPro camera is the perfect gift idea for thrill-seekers. It's waterproof, stores thousands of videos and photos, and it even allows your pals to livestream their adventures.
GoPro HERO10 digital camcorder, $288, Walmart

World Map Decor
When you walk into their home, it's full of knick-knacks and souvenirs they've collected from every corner of the globe. This clever scratch-off world map is another way for them to remember some of their favorite trips and past itineraries. As they collect one passport stamp after another, they can return home and check the country off their bucket list (or scratch it off the map, in this case).
Uncommon Goods scratch map, from $26, Uncommon Goods

A Cozy Travel Hammock
There's nothing quite as dreamy as snuggling up to your one-and-only, especially if you're under the tapestry of stars somewhere in the mountains or waking up with the sun on a tropical beach. This two-person hammock is a thoughtful gift for couples who travel, since it's something they can use together. The hammock comes in seven different colors and is made of high-strength nylon, which holds up to 400 pounds. It packs down to the size of a grapefruit, so it's easy for them to bring along almost anywhere.
ENO DoubleNest print hammock, $85, DICK's Sporting Goods

Practical Packing Cubes
Sure, packing cubes might not be the most exciting gift ever. But for frequent fliers who hop from one hotel to another, they're absolutely necessary to prevent an unorganized, messy suitcase. Luckily, unpacking and re-packing is a little more fun with these design-forward options from CALPAK. We love the floral print, but there are a range of colors you can choose from based on their personal style.
CALPAK packing cubes set, $68, CALPAK

Portable Chargers
When you cross an ocean (or two!), jet lag is a real struggle. You're adjusting to a new timezone, making it through airport customs, finding your luggage, and navigating to your lodging. One thing that your travel-loving friends won't want to deal with is finding a place to charge their phones. This portable charger is something they'll use all the time. It charges two devices at once and stores hours of battery power to keep them topped up for days.
Anker PowerCore Select 20,000 power bank, $40, Walmart

Soft Eye Masks
Sleep is one of the hardest parts about constant travel—attempting to catch some z's on a red-eye or trying to fall asleep in a new place doesn't always go to plan. Make their R&R a little more comfortable by surprising your pals with luxury silk eye masks. This buttery-soft style comes in nine colors and blocks out light to ensure maximum rest.
Brooklinen mulberry silk eye mask, $35, Brooklinen

A Headphone Splitter
Enduring red-eye flights is a necessary evil when it comes to visiting lands far and wide. Luckily, snuggling up to your travel partner and tuning into a movie can help pass the time. A headphone splitter helps them connect to one device or airplane screen with two sets of headphones.
CuWire headphone splitter, $6, Walmart

Guide Book to National Parks
Do your traveling friends have plans to skip their usual flights for an RV road trip instead? The United States has so many national parks to explore, and this book from National Geographic is an essential visitor's guide. For each park, it outlines the best season to visit, essential details to know ahead of the trip, and more valuable insight. Plus, it doubles as a gorgeous coffee table book.
National Geographic Atlas of the National Parks, $65, Barnes & Noble

A Travel Backpack
For shorter jaunts, daytime hikes, and quick getaways, a travel backpack is a great travel gift. Seasoned travelers covet this highly-rated backpack from Everlane, and for good reason: Its sleek design and beautiful, muted colors are met with smart interior organization and other features (like a special strap that attaches to rolling luggage) that make it an essential part of journeying.
Everlane The ReNew transit backpack, $95, Everlane

Weatherproof Hiking Boots
Get your loved ones ready for their next adventure in the great outdoors with the help of brand-new hiking boots. These lightweight boots make a perfect gift for couples who travel, since they feature a waterproof leather exterior and comfort foam padding to endure whatever Mother Nature has to offer.
Columbia women's Newton Ridge Plus waterproof amped hiking boot, $100, Zappos.com

A Multi-Year Travel Journal
Instagram and Facebook are cool ways to share your travels with others, but keeping some experiences to yourself is just as memorable. We love this hardcover five-year journal set that makes it easy for your jet-setting loved ones to record how their life and travels change over time. From their romantic destination during their honeymoon, to the moment that they eventually welcome their littlest traveler, it's a keepsake they'll treasure for generations to come.
Rifle Paper Co. five year keepsake journal set, $60, Rifle Paper Co.

Matching Mugs
Believe it or not, sometimes the traveling couple likes to stay home! When they're in between trips, this set of handmade matching mugs is a great gift they can use while enjoying their morning coffee (brewed from beans they hand-picked in Colombia, perhaps?).
Clay by Dannah white ceramic mugs, $79 for a set, Etsy

An Easy-to-Pack Device
As every traveler knows, some flights have Wi-Fi, others don't—some airlines have screens at every seat for entertainment, and many don't. An ultra-slim laptop is an excellent gift for couples who travel to ensure they always have a way to stay connected and entertained on-the-fly (no pun intended). This one features a touch screen, eight hours of battery life, and Bluetooth capabilities.
Gateway 11.6" ultra slim notebook, $199, Walmart

Weekend Getaway Inspiration
Their next trip doesn't have to be a journey to the other side of the world in order to be memorable. In fact, traveling couples have mastered the art of the long romantic weekend getaway, but sometimes, they could use a little inspiration on where in the world to go. This gorgeous hardcover book has 1,000 (yep, 1,000!) weekend trip ideas they can do in under 72 hours. Think: sailing in the Bahamas, camping with horses in Maryland, driving through Italy's chocolate valley, going ice skating in Ottawa, and more.
National Geographic 1,000 Perfect Weekends: Great Getaways Around the Globe, $40, Barnes & Noble

Gourmet Coffee Sampler
The best mornings start with a jolt of caffeine, especially when you're fighting jet lag and exhaustion. Luckily, coffee lovers have the opportunity to try a variety of beans and drinks from across the world when they aren't on the go. This gift box includes 16 coffees in whole-bean or freshly ground varieties, plus tasting notes and brewing tips.
Bean Box world coffee box, $94, Bean Box

A Cozy Travel Blanket
The issue with most travel blankets is that they're not cozy. And when you're sleeping somewhere new or shivering in a tent while camping, you want the indulgence of your comforter at home. Give your favorite travel-loving couple the feel of their own bed with this down-fill travel blanket that mimics a duvet. It's easy to pack (it rolls up into its own case) yet oversized when unraveled, making it a must-have for their next adventure.
Rumpl down puffy blanket in Baja Fade, $275, REI

A Neck Pillow For Flights
It may not seem like the most unique gift ever, but trust us, their aches and pains will thank you. A neck pillow is a traveler's best pal for flights, train rides, and even bumpy bus excursions. We love how this one wraps fully around to provide optimal support. Might we suggest buying two so you won't cause a lover's spat?
Uncommon Goods compact packable travel neck pillow, $60, Uncommon Goods
Shutterstock / Song_about_summer
A Travel Photography Session
When you're traveling as a couple, it can be difficult to get a photo of just the two of you. Often, couples will resort to selfies, self-timer shots, or they'll work up the courage to ask a nice passerby to capture the moment for them. The downside? These images aren't always frame-worthy quality. An easy way to help them remember their experience is a gift card for Flytographer, where they can book a professional photography session with a local. Ready, set, smile!
Flytographer gift card, from $285, Flytographer
Shutterstock / jannoon028
A Tripadvisor Plus Membership
Frequent travelers often know about all of the credit cards and loyalty programs to sign up for, but saving a penny is always worth researching. If your travel-loving friends haven't considered subscribing to Tripadvisor's new plus membership program, gift it to them! It provides exclusive deals on hotel stays, experiences, and more.
Tripadvisor Plus membership, $99 per year, Tripadvisor