Wedding Registry Gifts for the Couple That Loves to Cook
Whether you love to get your hands dirty in the kitchen or simply love a good Top Chef marathon, these registry gifts are ideal for the aspiring chef.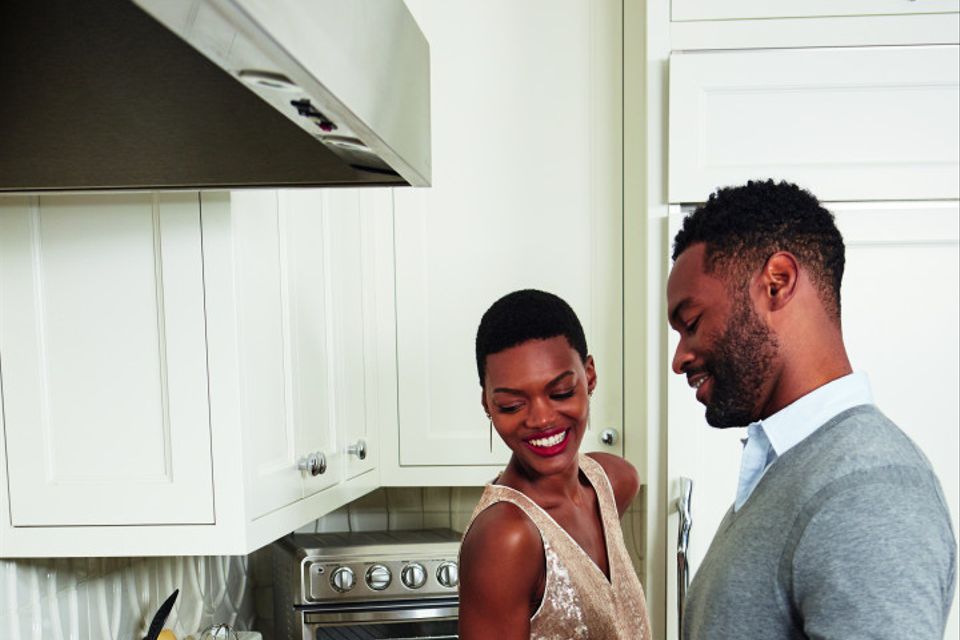 Sponsored by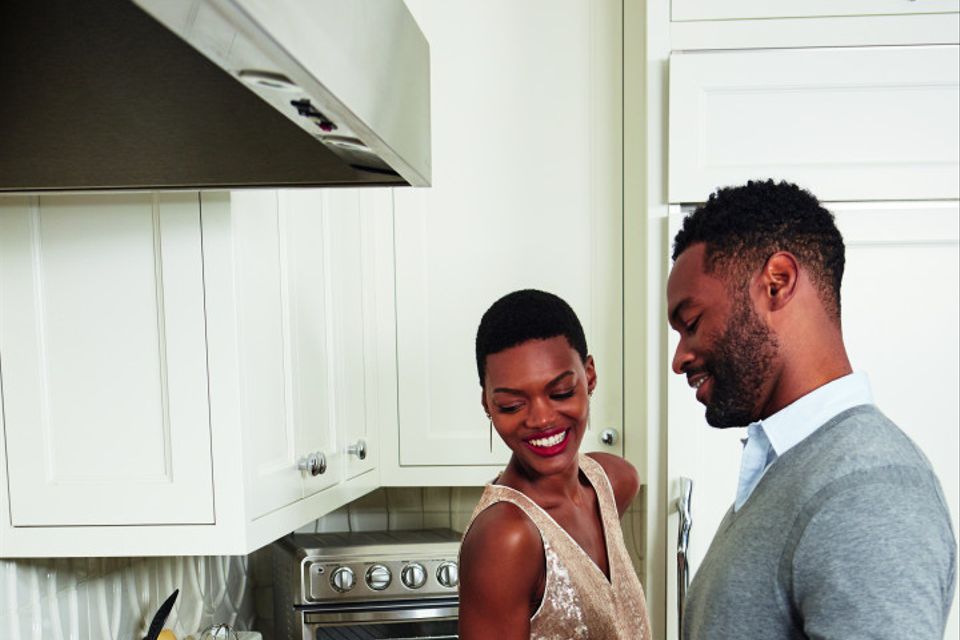 There's no better way to a man or woman's heart than through their stomachs. But since you're already tying the knot, you've probably figured that out for yourselves. If you and your future spouse share a love for all things gourmet, Macy's has top registry items for you to stock up your kitchen, from a stand mixer to whip up mouthwatering pastries, a kitchen counter herb garden for fresh flavors, and an Instant Pot for dinners on the fly.
Here are the ultimate foodie registry gifts for the couple who loves to cook together.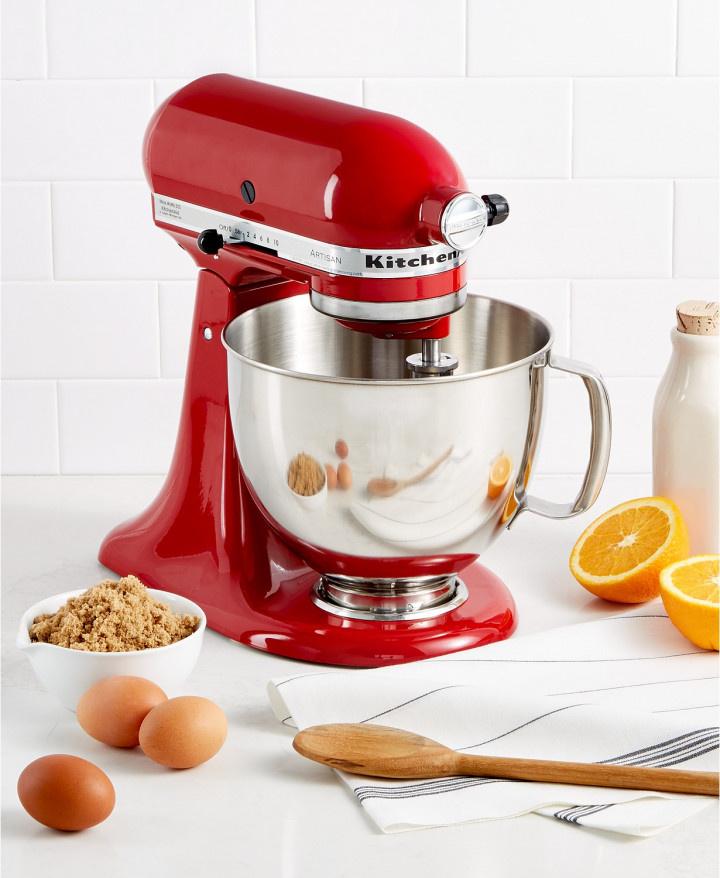 Stand Mixer
There's a reason this classic registry item comes up again and again. This stand mixer is a must-have for any couple who likes to bake together. With a stylish design that makes this countertop friendly, the stand mixer can quickly tackle doughs, batters, and more (we're even talking shredding chicken).
KitchenAid Artisan 5-quart stand mixer, Macy's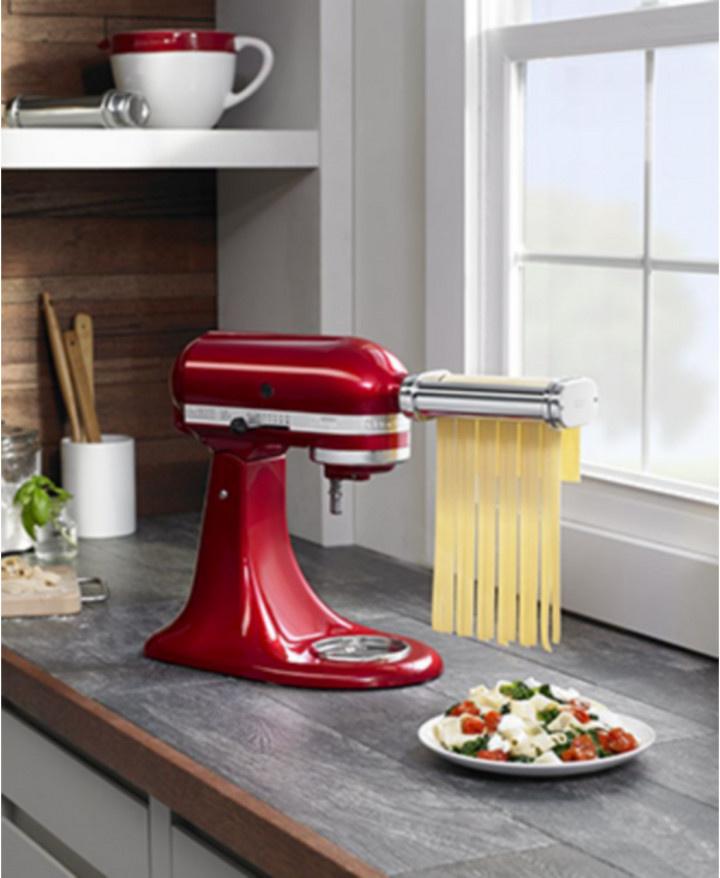 Pasta Maker
There are plenty of attachments to add to your stand mixer, but the must-have for any real foodie couple is a pasta maker. This easy-to-use tool makes it quick and simple to whip up your own fresh spaghetti and fettuccine, so you can really show off your cooking chops with your next dinner guests.
KitchenAid pasta roller and cutter set, Macy's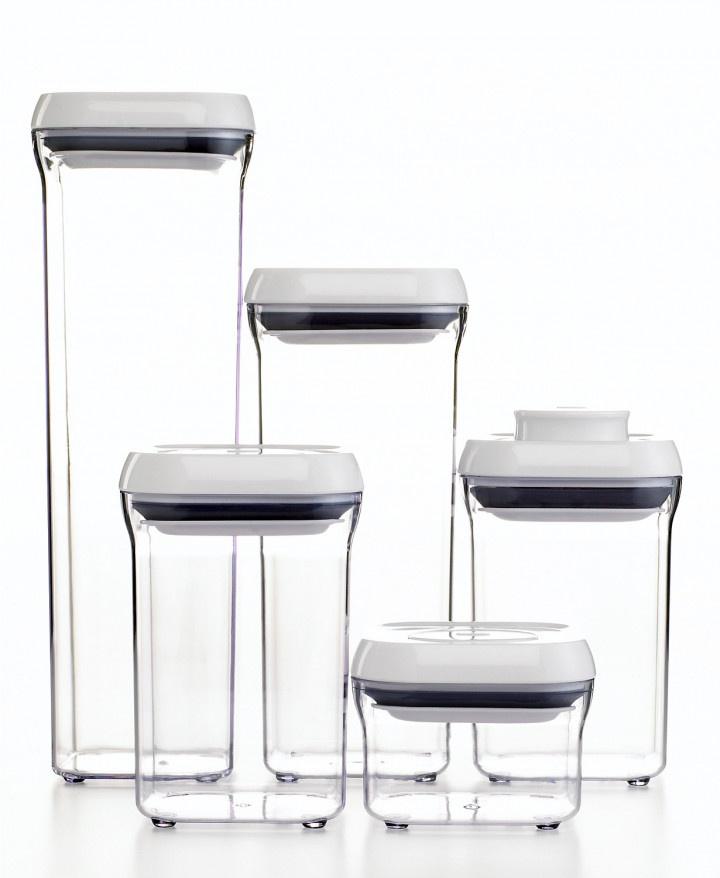 Container Set
A well-stocked kitchen also means a well-stocked pantry. Make sure yours is so by registering for a container set. Its airtight storage system seals and protects food with the push of a button. The stacking containers are great for organizing pasta, flour, sugar, cereal, and more in your newlywed pantry.
OXO 5-piece Pop container set, Macy's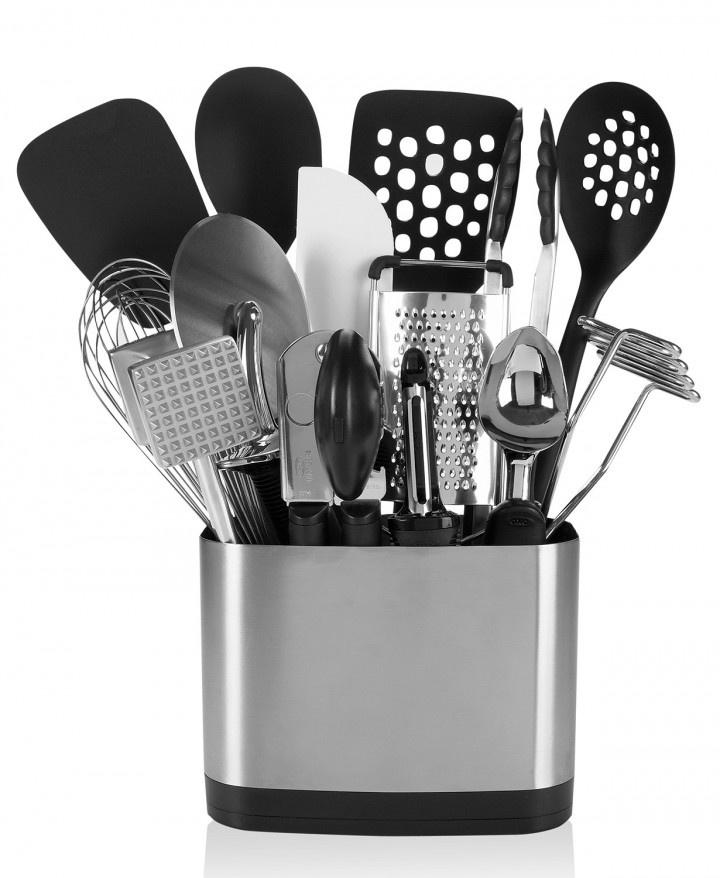 Utensil Set
What's a cook without their tools? Don't give your future spouse a chance to find out, instead register for a complete kitchen tool set. With everything you need to whip up the perfect date night meal—potato masher, can opener, whisk, meat tenderizer, pizza cutter, ice cream scoop, and more—you'll never have to worry about a misstep in the kitchen again.
OXO 15-piece kitchen utensil set, Macy's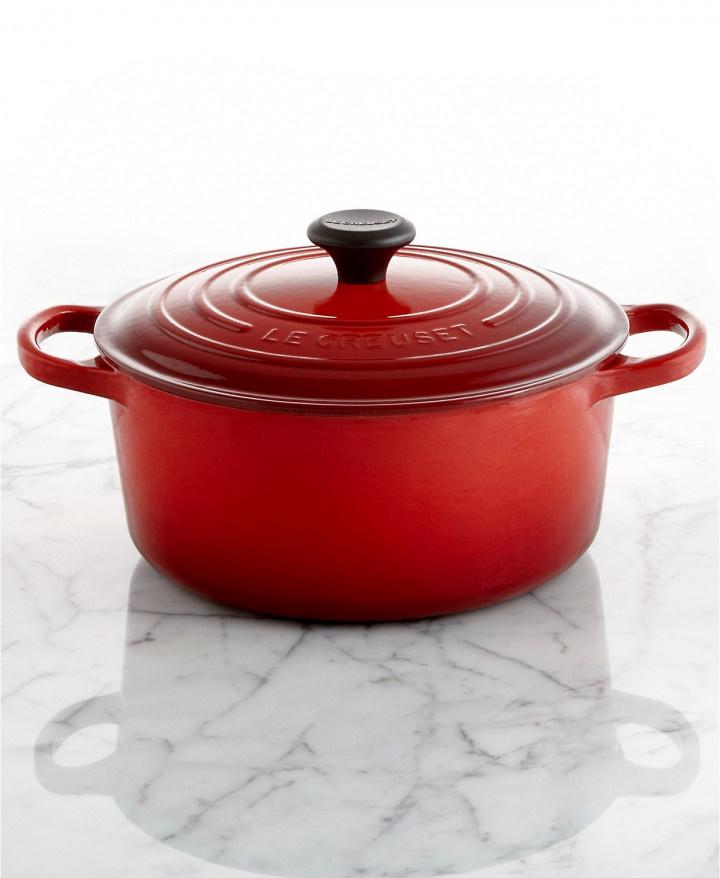 Cast Iron Pot
A cast-iron French oven is a must-have registry item for any serious home cooks. The stove and oven friendly dish can make loads of impressive dishes including pot roasts, whole chickens, stews, soups, and chili. Designed to evenly distribute and retain heat, it is also beautiful enough (available in 5 colors) to go straight from oven to table.
Le Creuset Signature cast iron round French oven, Macy's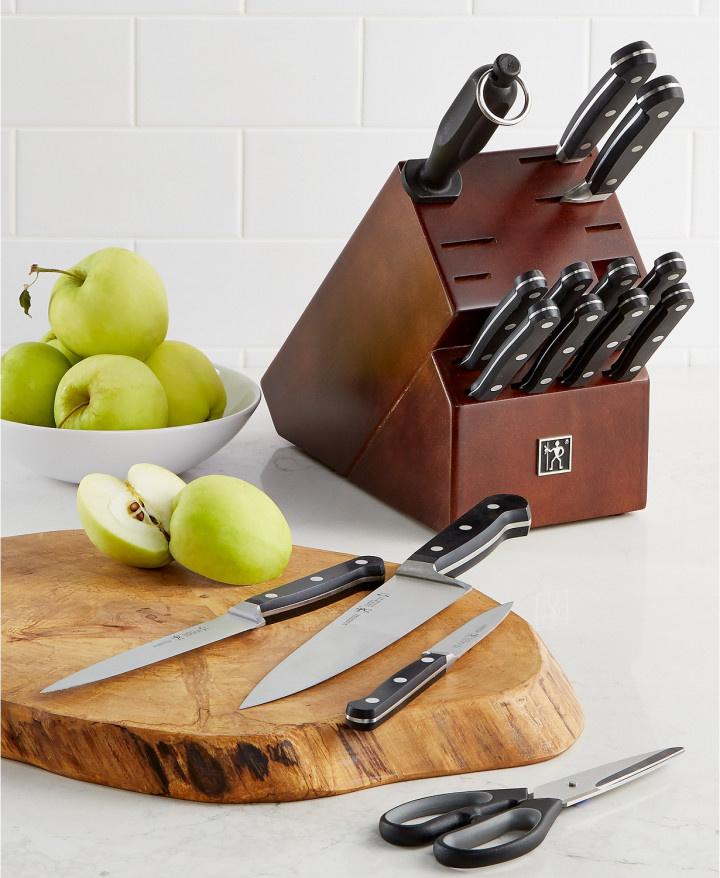 Knife Set
A good set of knives goes a long way in the kitchen. Register for this knife set to keep your kitchen sharp. The set includes a chef's knife, bread knife, utility knife, paring knife, kitchen shears, and steak knives—everything you need to never look for the right blade again.
J.A. Henckels Classic 16-piece knife and block set, Macy's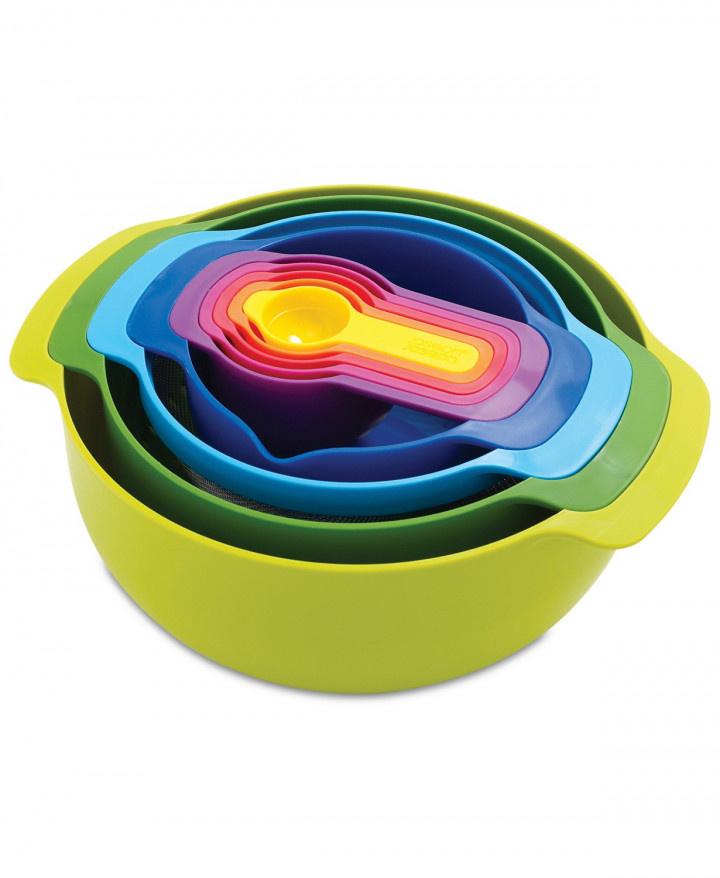 Measuring and Mixing Bowl Set
Everything you need to make a great dish comes in one package with this mixing bowl set. The stacking set includes 5 measures, from a teaspoon to a cup, tucked inside a set of slip-resistant mixing bowls, and a colander. In its compact package, this is the ultimate kitchen space-saver.
Joseph Joseph Nest Plus 9-piece set, Macy's
Nonstick Cookware
There are a lot of options when it comes to pots and pans, but a good non-stick set is the best registry item for couples who cook together every night. This cookware set stacks for easy storage in even the smallest kitchens, while providing two sizes of fry pans and sauce pans, a saute pan, and Dutch oven.
Calphalon Premier 10-piece space-saving hard anodized nonstick cookware set, Macy's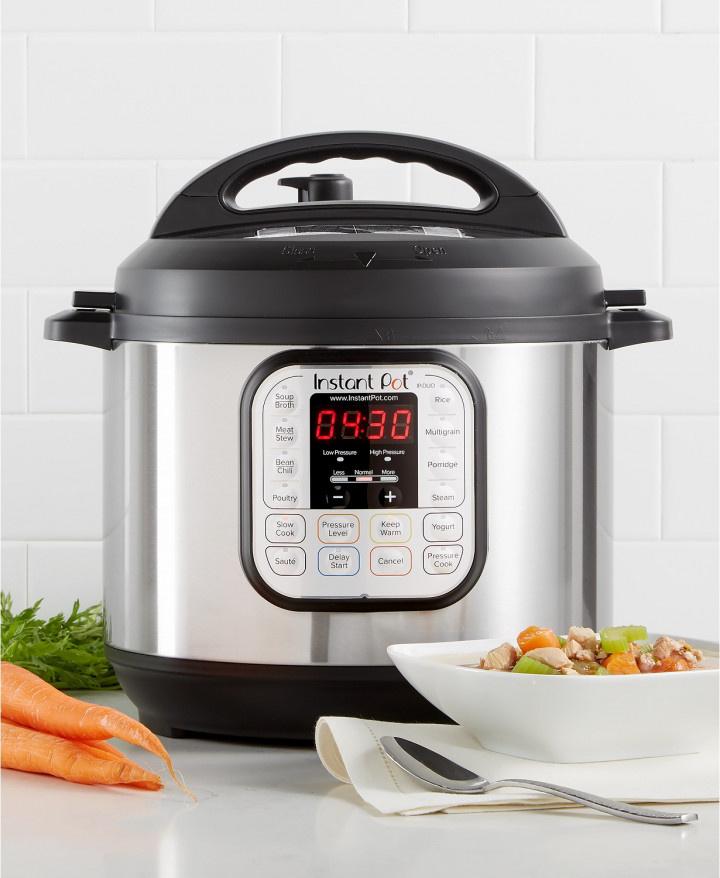 Instant Pot
This trendy registry item is popular for a reason: The Instant Pot is a godsend when it comes to making dinner in a hurry—it can tackle what your slow cooker does in a full day of cooking in just 45 minutes. Want more? It's also usable as a steamer, rice cooker, and yogurt maker.
Instant Pot 7-in-1 programmable pressure cooker, Macy's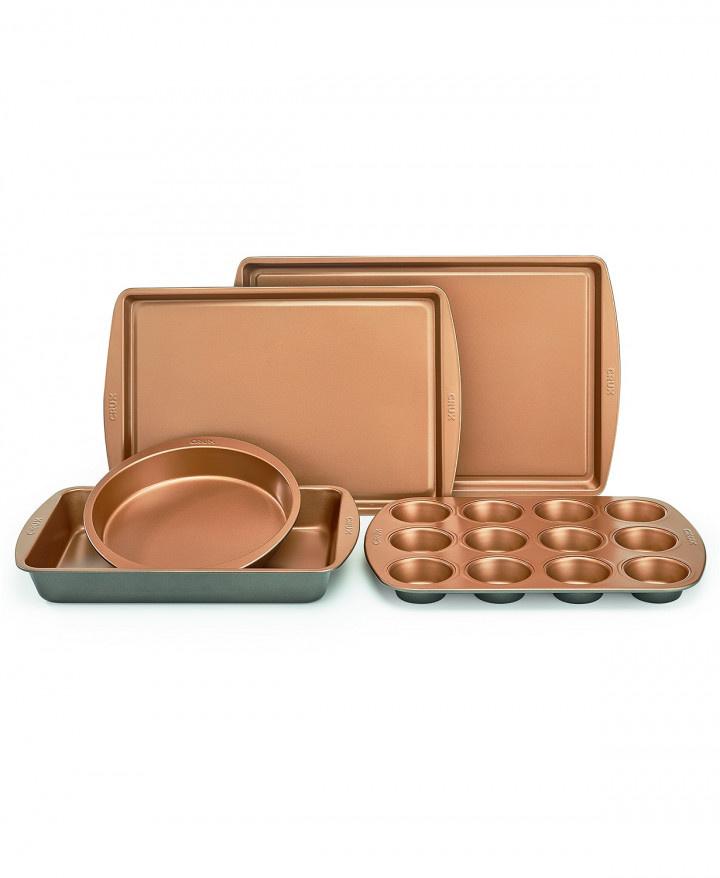 Bakeware Set
Every baker's kitchen needs the proper bakeware set. This set is just that, with its stylish copper coating that helps even the stickiest desserts slide out. The set includes two baking sheets, a cake pan, a muffin cup pan, and a round cake pan, so you can satisfy your sweeties sweet tooth with a whole variety of treats.
Crux nonstick copper 5-piece bakeware set, Macy's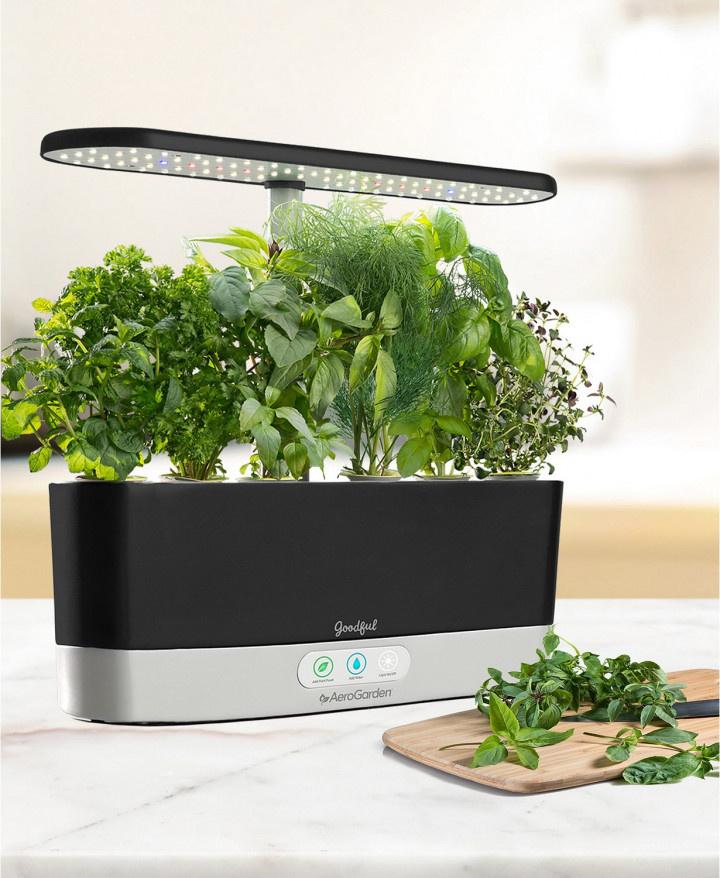 Herb Garden
If you and your partner are still apartment living—or just don't have the right outdoor space—but crave the farm-to-table life, an herb garden is just the thing to register for. The counter-sized greenhouse uses LED lights to grow fresh herbs year-round and has a smart system that reminds you when it's time to feed and water your plants. The garden comes with Genovese basil, curly parsley, dill, mint, thyme, and Thai basil to get your fresh flavors started.
Goodful by AeroGarden Harvest countertop garden & gourmet herbs seed kit, Macy's