Hit the Highway on a Honeymoon Road Trip
The pandemic has made these honeymoon road trips even more appealing. Check out some of our favorite romantic (and fun!) honeymoon road trip ideas.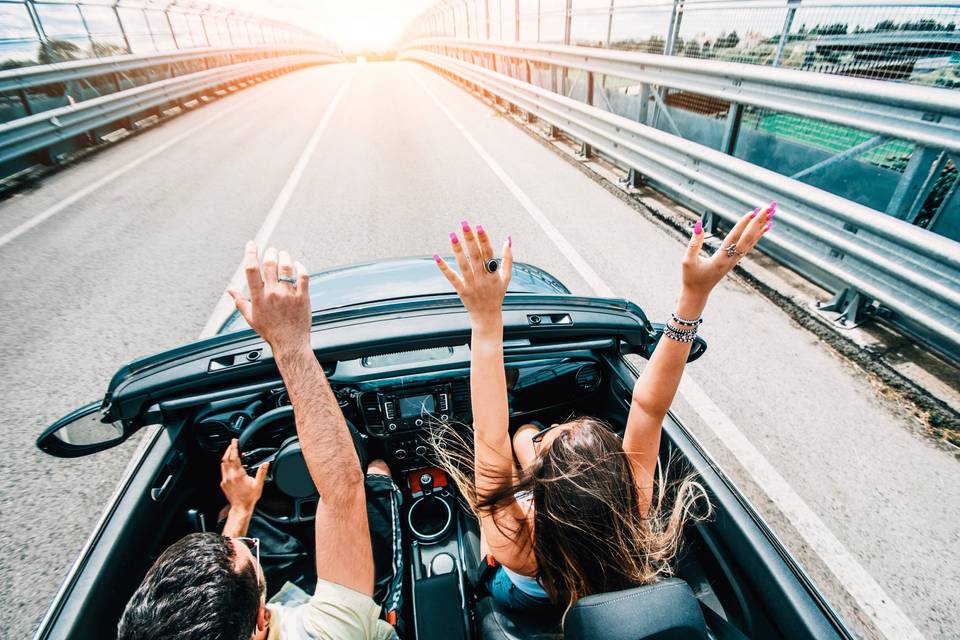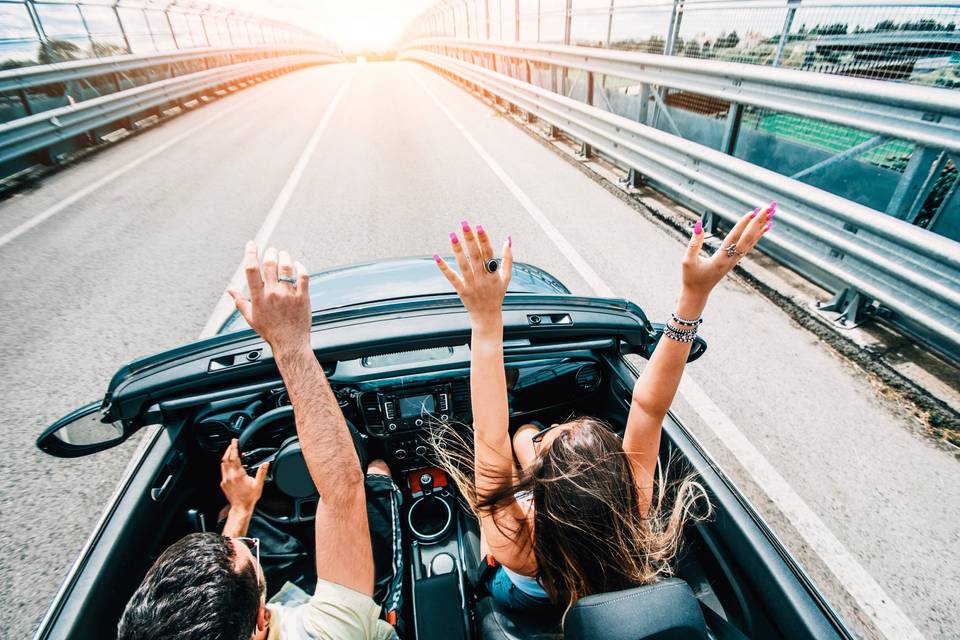 While compared to 2020, international travel is slightly more accessible in 2021—but different countries have various entry rules, including vaccinations, negative COVID-19 tests, and restrictions on who can and can't enter foreign soil. As an alternative, many couples are thinking differently about their post-wedding getaway. Rather than worrying about all of the details, many are choosing to go on a honeymoon road trip. In fact, wedding planner JoAnn Gregoli of Elegant Occasions by JoAnn Gregoli in New York, says hitting the open road is becoming the new normal. "Honeymooners are opting for a less traditional trip in favor of a COVID-friendly experience, like renting an RV or driving to explore their favorite state, a national park, or local monuments and beaches. It's now about safety and creating memories within the United States," she shares.
If you and your new spouse are looking for an exciting twist on the traditional romantic honeymoon, here's what you need to know about planning a safe (and super-fun!) road trip adventure:
Choose your path.
The first step in planning a honeymoon road trip is much like the first step for any vacation: choosing where you're going to go and how long you can spend (will this be a minimoon or a longer honeymoon?). With a unique and diverse ecosystem, the United States has various regions, mountains and areas that all offer a little something different for travelers. You can map hundreds of paths out, from East Coast to West Coast and everywhere in between. However, some top recommendations for the best honeymoon destinations include:
Great Smoky Mountains
As Gregoli explains, this trip will follow the ridge of the Smoky Mountains along the border of North Carolina and Tennessee. They get their name from the thick, white fog that sets in the evening and morning, resembling smoke. As you take your time road-tripping, you'll see everything from quaint backcountry to waterfalls, hills, impressive peaks, and wildlife. If you can take it super-slow, consider driving the scenic route of the Blue Ridge Parkway in Virginia and North Carolina, with 470 miles of 30 to 40 mph winding roads.
"After a few days in the foggy, heavily forested park, you must visit Mammoth Cave National Park. The Kentucky cave system contains more than 400 explored miles—the longest in the world—and ranger-led tours," Gregoli recommends.
Route 66
There's a song, there's a brand, there are movies all about this cross-country trip from Chicago to Los Angeles, spanning California, Arizona, New Mexico, Texas, Oklahoma, Kansas, Missouri, and Illinois. Gregoli says this honeymoon road trip route is ideal for couples who want to experience the best nostalgia America has to offer. In addition to beautiful scenery, many of the classic motels along the way have been transformed into boutique hotels to appeal to the modern traveler. "You should map out your plan, take in the local sites, and experience the cuisine on this trip," she continues. "I recommend a real map and mapping out the trip with research on the highlights of the area. You will see Cadillac Ranch in Amarillo and Petrified Forest National Park in Arizona on this route. Take lots of pictures!"
Highway 1 and Pacific Coast Highway
Some newlyweds want to drive-drive-drive, while others want to drive a little and wine a lot. If you're the latter group, California will make your wine country dreams come true. Whether you start your journey in San Diego and head north, or begin in the Napa/San Francisco area in Northern California, you can spend part of the trip admiring the rugged, cliff-side views of the ocean, and then the rest wine tasting. "You experience some of the best wines that our country has to offer, and most wineries offer complimentary tours and tastings," Gregoli says. "It's an alternative to the Italy wineries, and it keeps you in the United States. One memorable way to experience them is aboard the Napa Valley Wine Train, which consists of restored Pullman rail cars from the early 1900s and offers day trips along a 36-mile route and a gourmet Romance on the Rails dinner." Oh, and don't forget to spend a day or two exploring the majestic redwoods in beautiful Big Sur!
Choose your wheels.
If you're going to rent a car for your trip, there are two camps to choose from: super-practical or super-fun. For those who need to be mindful of budget (we feel ya!), research your potential vehicle's miles per gallon, suggest Matt Campbell, wedding pro and the founder of My Wedding Songs in Las Vegas. Also, if you intend to stay at campgrounds, you'll want to have a car or SUV that can pull a trailer and/or make it through various weather conditions. You could also run the numbers to see if an RV rental would be more cost-effective.
If you are driving in the summer and you are looking for a snazzy experience, go for something unexpected you wouldn't usually drive, recommends Laura Maddox, of Magnolia Celebrates in Atlanta, Georgia. You could rent a convertible for an oceanside adventure or a Jeep to go off-roading in the mountains. "The idea is to have something that both fits the area and makes even the travel a fun and memorable part of your experience," she adds.
Consider B&B as well as hotels.
For a more intimate and local experience, find picturesque beds and breakfasts along the way. Natives of the area typically own these and add a bit more charm and romance to your honeymoon road trip. Plus, it can also save money! "The great benefit of having them provide such a huge breakfast also means that you can often skip lunch for a small snack instead, saving you time and money so you can spend both doing more sightseeing," Maddox says.
Map your points-of-interest along the way.
The goal of a honeymoon road trip is to take it slow. So while you might want to see dozens of fun things along the way, Campbell recommends giving yourself extra time to see attractions and small towns that interest you most. For example, he says you can visit tourist sites like The House on the Rock in Wisconsin or the Field of Dreams movie site in Iowa. "If you have more time, plan to visit national parks like Glacier, Yellowstone, Zion, Arches, Grand Canyon, and so many more," he says. "If tours are your thing, plan a hop-on-hop-off bus tour to see historical sites, a horseback riding or biking tour for a more active experience, or a food tour to taste local treats. Plan extra time in your trip for stops that interest both of the newlyweds."
Try local everywhere.
When planning your honeymoon road trip, Bri Marbais of The Bridal Finery in Winter Park, Florida, wedding expert and bridal stylist says couples should definitely do their research before the journey on which local dives are a must. "Consider a different type of cuisine for each city and where the locals dine. Use tools such as Instagram when searching for the best spots to stop by using specific hashtags for that location," she adds.
Bring an extra suitcase.
A unique and fascinating way to style your new home as a married couple? With treasures you found on your honeymoon road trip! That's why Marbais suggest bringing an empty suitcase so you can comfortably pack any new souvenirs picked up along the way. "Couples should take advantage of the local shopping on the road trip as the cities may have things you cannot find at home. Pick one item that you plan to take away from every city visited," she continues. "When stopping through each new place, alternate partners and picking out the special item."