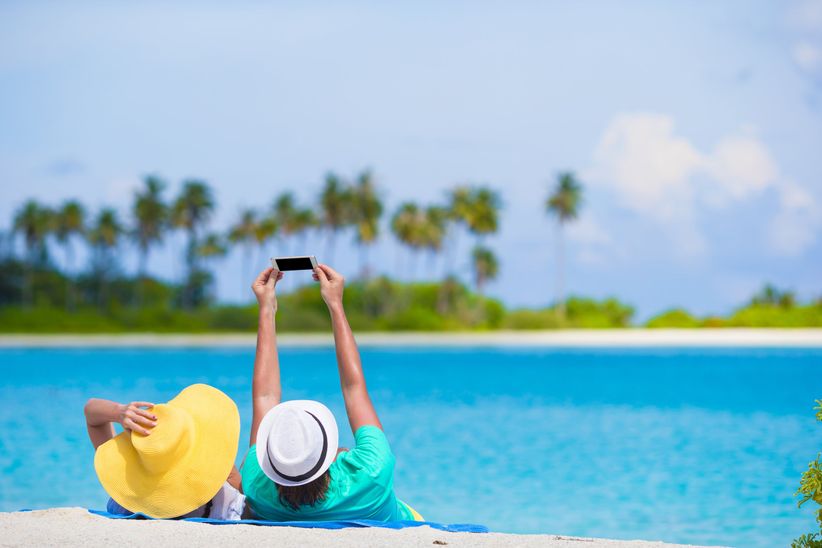 If you don't post your romantic honeymoon photos on Instagram—did you even really go to Fiji? Or Italy? Or anywhere? Like it or not, we're in an age where couples are excited to share their newlywed adventures with their friends and followers, and when friends look forward to double-tapping your love. While there will always be images that are only meant for you and your partner to enjoy, if you want to share your travels with those near and far, getting the right shot is important. Especially if you're not exactly an influencer, deciding which candid (or posed) moment to post can be tricky, but with our guide, you don't have to think twice.
Here, recommended Instagram-worthy romantic honeymoon moments that'll have you and your spouse center stage.
Farewell at the airport
If there's any time you can get away with being mushy-gushy at the airport, it's when you're newly married. Megan Velez of DestinationWeddings.com says before you ever set sail on your getaway, snapping a selfie or asking a fellow passenger or airline worker to take it for you. "Show off your 'just married' t-shirts as you get dropped off at the airport and bid the single life farewell," she continues. "We recommend posing with your luggage at the airline. This is the moment it really hits you that you're leaving for your honeymoon! Capture the excitement right as you are about to leave."
Name change
Plenty of things change when you get married, and for those who choose to do so, switching your last name is a big moment. Keith Phillips of Classic Photographers in Boston, Massachusetts suggests capturing the first time you see it in writing. "It's always exciting to see your 'new name' for the first time—be it on a dinner reservation or when you check into the hotel," he notes. "Be sure to capture this momentous occasion and share!"
Rings with passport
Since plenty of millennial couples would rather spend their hard-earned, side hustlin' dough on experiences rather than items, it's likely you'll be leaving the country for your honeymoon. With so much of a world to see and such little time to witness its wonders, Velez says every modern-day romantic honeymoon Instagram includes holding hands on the plane with your passports and those shiny new wedding bands. "Who doesn't love a chance to show off their sparkler? Add an extra oomph of at-home jealousy by including a cocktail in the photo," she adds.
Iconic landmarks
You are on vacation, after all! While your followers are excited for your marriage, they also want to see the beauty of the world you're trekking through. Phillips recommends couples take every advantage of their honeymoon by asking (trustworthy) travelers to capture them smooching or standing in front of iconic landmarks. Not only will this be interesting to those who follow along but you'll be glad you have these timeless treasures in the years—and decades—to come.
Honeymoon suite décor
Even if you spent the better part of your early 20s saving money by staying in hostels or cheap Airbnbs, your honeymoon gives you full permission to splurge—big time. Especially if you end up in a luxury or high-end hotel, Velez says showing off the interior of your just-the-two-of-us abode can make for a dreamy post. "Whether it's a 'Happy Honeymoon' sign on your door or rose petals on your bed in the shape of a heart, showing off these extra touches is totally Instagram-worthy," she explains.
Sweet surprises
Pro tip: when you're booking everything for your romantic honeymoon, make sure to add a note of the purpose of your trip. As Phillips says, couples shouldn't be surprised if the proverbial red carpet is rolled out for them. "Oftentimes, restaurants will include extra small touches to celebrate your new married life," he explains. "So if the server brings out a congratulatory dessert with two spoons, grab your phone and take a picture."
Champagne boomerang
Don't forget about your Instagram stories! You probably don't want to clog your feed with endless posts, but there's nothing wrong with going ham with your Instagram stories. Velez suggests getting your romantic honeymoon kicked off on the right foot with a champagne boomerang. "There's no better way to start your honeymoon than with a toast to your love," she continues. "Sometimes balconies can have bad lighting/shadows—especially if you're not on the top floor—so take a few test shots before the 'real thing' happens."
Breakfast for two
Is there anything as romantic as putting up the "do not disturb" sign and spending endless hours together at the start of your honeymoon? When you need the extra, um, energy in the morning, order some breakfast in bed and take the morning slow. After all, Phillips says there's nothing like finally settling at your destination, and relaxing after months of planning and the subsequent celebrating. "Your first breakfast together gives you the chance to relax and take in everything," he explains. "It's officially the turning point when you can set aside your to do list and simply enjoy each other. So take a snap of that well deserved cup of coffee and scones."