How to Take Advantage of Honeymoon Perks
When you're on your honeymoon, you magically have access to some truly special treatment. Here's how to get those honeymoon perks.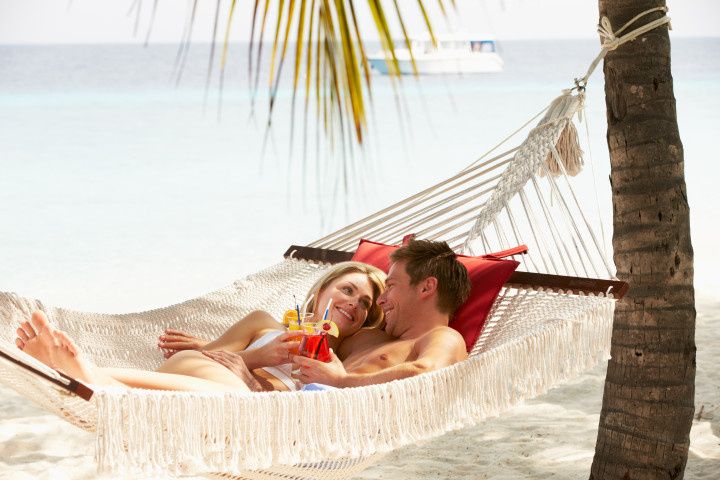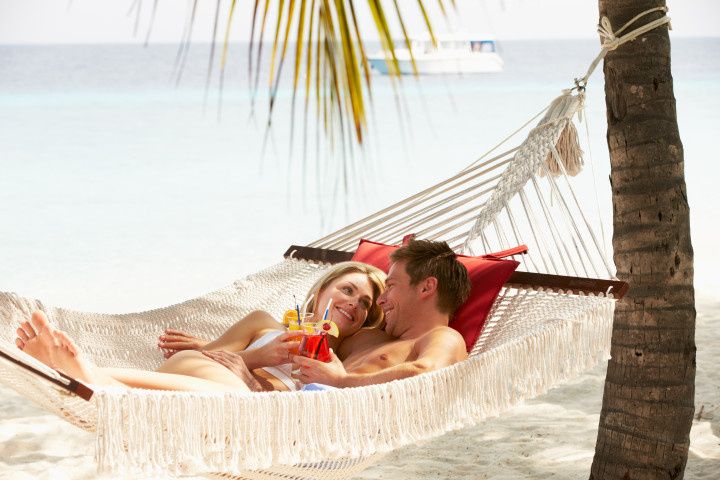 Unless you were born into a royal family (congratulations on your good fortune!), there's a good chance you'll never get to feel like royalty. The one exception to this is on your honeymoon. When you're on your post-wedding vacation, you have access to certain honeymoon perks. People will bend over backwards to make sure you're having the time of your life. Since this only happens – hopefully – once, you might as well do everything you can to maximize the experience. Free drinks, hotel suite upgrades, special gifts – these can all be yours if you know how to play your cards right and take advantage of your honeymoon status.
Here are the best ways to take advantage of honeymoon perks.
Tell the flight crew as soon as possible.
Before you even board your flight, be bold. Go to the check-in counter and let them know that this is your honeymoon and you wanted to see if there were any upgrades available. You'd be surprised to see how generous airlines can be when they can make your honeymoon a little more special. If that doesn't work, mention the special occasion to the cabin crew as soon as you can. Flight attendants work flight after flight without knowing much about their passengers beyond their drink orders. If they know that you're there for a once-in-a-lifetime flight, they'll go out of their way to make it memorable with some honeymoon perks. When my wife and I flew back from Japan, the cabin crew was so excited that they gave us a tiny model airplane that said "Happy Honeymoon" along with a special note signed by all of the flight attendants. It was an incredibly sweet gesture and made the whole experience even better.
Call the hotel.
Your honeymoon hotel (or hotels) will be your home away from home while you're honeymooning. Letting them know that it's your honeymoon will only benefit you, be it via upgrades to suites or bottles of the champagne in the room or even just kind wishes upon arrival. You can usually add a note to a reservation when making the booking online, so that's a great place to mention your honeymoon status. Another good option is to call the hotel's reservation line or loyalty program and ask them to place a code on your reservation to signify the occasion. We ended up with mind-blowing suites every night at the St. Regis Osaka and it took our stay to a whole new level.
Mention it casually in restaurants.
Now there's a difference between being obnoxious about your honeymoon and mentioning it tastefully. If you're the type to wear a big, loud shirt that says "Honeymooners!" then you're more on the obnoxious side of things. If you're looking for special treatment at restaurants like free drinks, appetizers, or desserts, then you're best served by casually mentioning it to your server. "This is the best restaurant we've gone to on our honeymoon" or "We're so excited to spend our honeymoon with you!" are both good ways of casually slipping the magic word into conversation. If you're lucky, a few Mai Tais will magically appear at your table in no time.
Use social media to your advantage.
There's nothing wrong with sending a tweet or commenting on an Instagram post of a place you'll be visiting on your honeymoon. Even asking a question about your upcoming experience can lead to some honeymoon magic. Keep in mind that most of the places we're talking about (hotels, restaurants, etc.) are in the hospitality business. When you're celebrating a special occasion, they want to be at their best. That's why letting them know you're coming ahead of time via social media could put you on their radar for some royal treatment and honeymoon perks.
The bottom line is that you have a super power, or, more accurately, a secret password. Dropping the word "honeymoon" is like a VIP pass to the special treatment that seems reserved for celebrity and the ultra-rich. It may seem a little gauche to drop "honeymoon" everywhere you go, but the reality is that it's really just a keyword for happiness. You get some special honeymoon perks and the people giving them to you feel good that they helped you celebrate the first days of your marriage. Everybody wins, so don't be afraid to drop the H-word as often as you can.