The 4 Disney World Honeymoon Secrets You Need to Know
Here, specialized travel agents reveal their best tricks, tips and insider advice on how to make your Disney World honeymoon the envy of all your Instagram followers: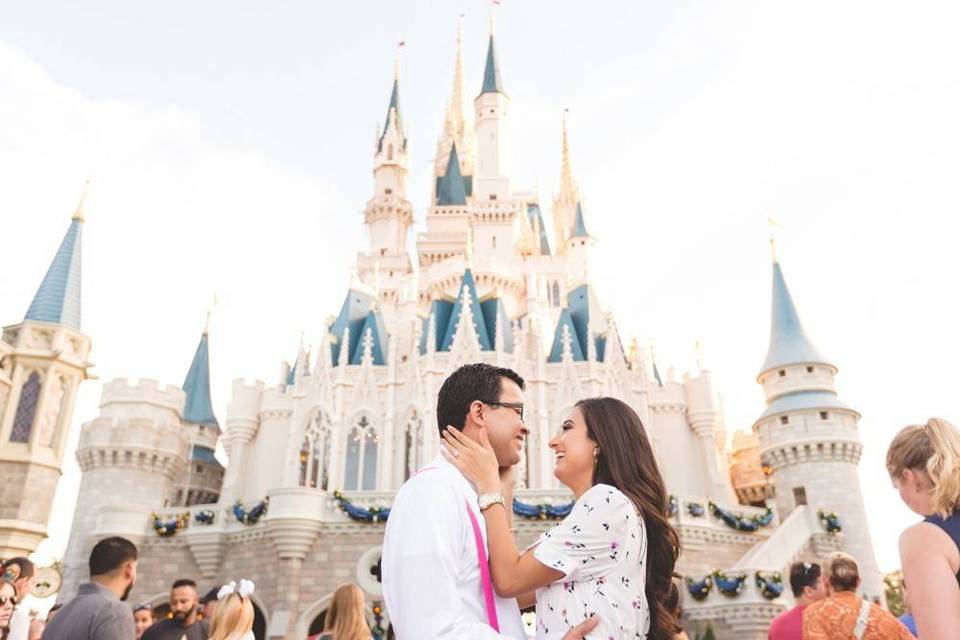 For the young at heart, the lifelong imagineers, and those who first dreamt about their weddings after watching The Little Mermaid or Cinderella, Disney isn't just for kids. A Disney World honeymoon or mini-moon is a dream come true for many fans. Especially its location in the Sunshine State, you not only have the opportunity to meet-and-greet your favorite characters, take a whirl on numerous rides, sample food from all over the world (hello, Epcot!), but you'll come back sun-kissed and relaxed from all of the magical vibes and vitamin D.

According to Whitney Littlejohn, an agent at MickeyTravels, an authorized Disney Travel Agency, more than 1,200 couples host Disney weddings and plan Disney honeymoons each year. "Disney World is a spectacular place to spend your honeymoon. Whether you and your true love are excited about having a trip full of adventure or just relaxing in your room or by your pool, Disney affords many options to make your honeymoon memorable. Here are just a few options Disney has to offer," she says.

If you select a Disney honeymoon, you may already know how to navigate the park as an adult. But what about the lesser-known experiences that will take your first romantic trip as a married duo to the next level?
Here, specialized travel agents reveal their best tricks, tips and insider advice on how to make your Disney World honeymoon the envy of all your Instagram followers.
Add your Disney World honeymoon to your registry.
While you might have (lovingly) bickered over your guest list or the flavor of cake you'd nibble on at your reception, you and your partner knew Disney World was your top pick for your honeymoon from the get-go. Since you're Mickey Mouse swooners, Disney travel agent Katey Varanelli suggests adding your trip to your registry. Disney Floral and Gifts offers the option for your parents, your pals from college or your bridal party to have special treats sent to your on-site Disney resort room. "Whether it's a simple few balloons, wine and cheese, or a multi-day romantic in-room celebration with rose petals and champagne, they will make your Disney World honeymoon an occasion to remember. All of their packages can be delivered straight to your Disney resort room at a date and time specified by the gift sender," she explains.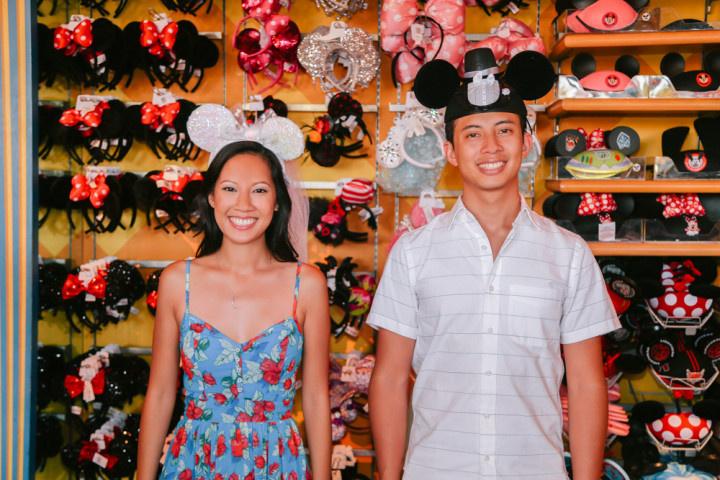 'Happily ever after' badges get you more perks.
Make sure you let WDW in on the secret that you're celebrating your new married couple status - and not just by sporting those wedding bands. When you arrive, Disney will gift you with 'Happily Ever After' buttons to pin to your shirt, letting crew, staff members, characters and operators know you're on a Disney honeymoon. "You will get more congratulatory wishes from cast members and guests alike than you likely did at even your wedding reception! Disney as a company empowers cast members to go above and beyond to celebrate, so where better to go to really feel special after your big day," Varanelli says. This accessory could grant you access to special areas of the park, get you a better seat at lunch, certain freebies and other surprise upgrades as you tour around the kingdoms.
You can book a private yacht - with a butler.
If there is ever a time when you want to spend a tad more than you usually would, there's no better YOLO excuse than your Disney World honeymoon. That's why Varanelli recommends a luxury boating experience to ring in the exciting start of this chapter of your life. Specifically, the Grand 1 Yacht is a 52-foot Sea Ray Sedan Bridge Yacht that takes you around Bay Lake and the Seven Seas Lagoon. Once you board, you won't have to worry about lifting a finger (except for a selfie, of course). On board, you'll have a private dinner and a butler who will tend to whatever needs or wishes you may dream up. The evening will end with views of the Magic Kingdom fireworks spectacular, complete with live music.
...or book an AAA Five Diamond dining experience.
While you might not first think of candlelight and generous pours of wine when you first imagine a Disney World honeymoon, Littlejohn says dining at the park can be incredibly rose-colored and starry-eyed for honeymooners. "Stunning views, incredible culinary creations, outstanding drink pairings and the opportunity to celebrate at meals with a pixie dust covered table and newlywed place cards at your seat amps up any meal," she explains.

Her top recommendation is booking a table-for-two at the Victoria & Albert's at the Grand Floridian. As an AAA Five-Diamond dining experience that's adults-only, you will enjoy several course of a fine dining menu, along with wine pairings and a swoon-worthy ambiance to set the tone.