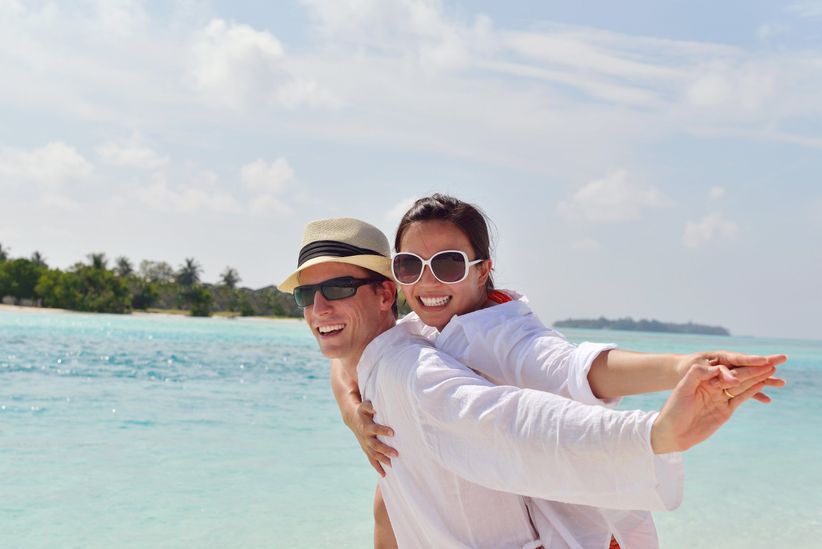 No matter how big or small, some time away with your new spouse after the wedding day is always a good idea. But due to budget restrictions and work schedules, an extravagant honeymoon isn't always possible… which is where mini-moon ideas come in. Often a shorter getaway that's relatively close to home, many couples find a mini-moon is the perfect happy medium to "get away from it all" without adding stress to an often chaotic time.
If keeping things low-key immediately after the wedding sounds ideal, we've got mini-moon ideas to help you plan an escape that's all about rest, relaxation, and of course, a whole lot of romance.
Keep things simple.
The whole idea behind a mini-moon is to simply transition between the wedding and real life so don't feel pressure to find a "bucket list" travel destination. Instead, focus on destinations that are within a reasonable driving distance or can be reached by a short direct flight. The last thing you want after a busy wedding weekend is a stress-inducing travel itinerary, so keep things simple with less time on the road and more time soaking in that newlywed bliss.
Consider your travel styles.
On any given long weekend, what type of trips do both you and your partner like to take? Are you the outdoorsy couple who loves a cozy cabin in the woods, do you opt for the fun and excitement of a big city, or are you happiest at a small town B&B with tons of historic charm? Remember, there's no "right" location for a mini-moon but it's important you find a setting both you and your partner can enjoy.
Set a realistic budget.
It's no secret how expensive weddings can be, so make sure to stick with mini-moon ideas that are easy on the wallet. You can always save up for the honeymoon of a lifetime further down the line, but this time away is meant to be primarily a low-key and budget-friendly experience. Most importantly, keep the lines of communication with your fiancé open and discuss how much you'd like to spend so there are zero surprises when the credit card bills come in.
Don't overschedule.
Following one of the most exciting, action-packed days of your life—your wedding day, of course!—do yourselves a favor and really limit the number of booked activities or excursions during your mini-moon. The primary focus should be to spend downtime with the love of your life and decompress after all the festivities. This is not the time for a detailed itinerary of sightseeing, so forget the tourist mode and ditch any unnecessary "to-dos."
Plan to unplug.
Even though you might not be far from home, make sure there isn't an expectation to be working while you're away. No newlywed wants to be hopping on conference calls or answering emails from their boss in the midst of a romantic getaway, so make the proper arrangements ahead of time to unplug from the office. Similarly, make sure your well-meaning family knows that you won't be taking long phone calls to rehash the wedding weekend. You'll have plenty of time to catch up with everyone once you're back in the rhythms of everyday life.
Remember the romance.
If there were ever a time to book that candlelight dinner or couples massage, it's on this getaway with the forever love of your life. Spend some time researching mini-moon ideas to make your getaway truly special and don't be afraid to ask the professionals at your accommodations for help. In fact, some hotels and resorts will even offer complimentary champagne or bed tossed rose petals if you simply mention your newlywed status. Remember, while a mini-moon may be considered more low-key, it can still be a wildly romantic adventure.