5 Unique Honeymoon Ideas That Are Actually Amazing
If lounging on a beach isn't your idea of a good time, here are some unique honeymoon ideas you're sure to love.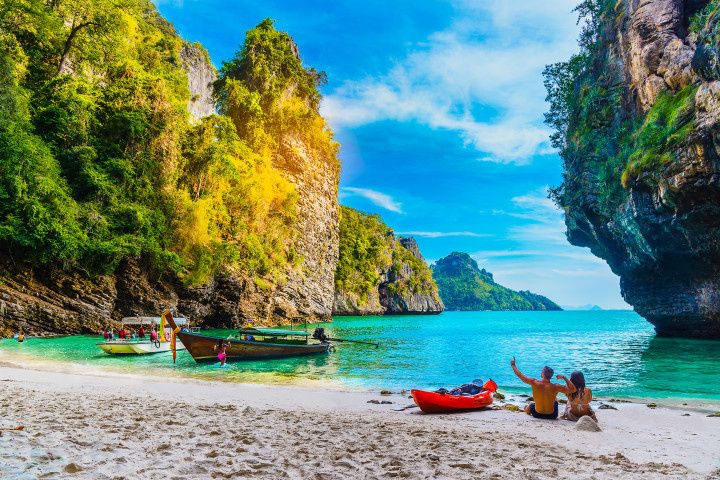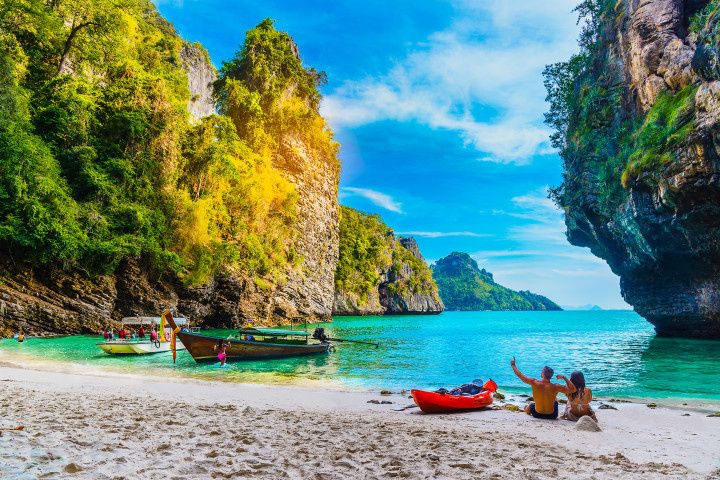 If the word "honeymoon" conjures images of mile-long buffets at all-inclusive chain resorts packed to the gills with smooching Spring Breakers, relax: That so isn't how it has to be! (Which isn't to say there aren't some great tropical all-inclusives out there, by the way. Totally acceptable.) If you're in the market for some unique honeymoon ideas to help kick off your marriage, nowadays you've got more out-of-the-box honeymoon ideas and destinations than ever.
Browse these unique honeymoon ideas, pack a bag, and get going already! (We all know the honeymoon is the best part of the wedding, anyway.)
Try a surprise destination.
Not for the control freaks among us, a new crop of surprise travel agencies have emerged recently, offering expertly curated getaways to destinations that remain a secret until you step off the plane (or into the car to start driving there, if you choose the road trip route). From far-flung international escapes to domestic jaunts to mystery cities you'd probably never think of going to yourselves (food tour of Milwaukee, anyone?), these agencies hook you up with unique honeymoon ideas, everything from flights to Uber credits to hotel stays, and even throw in itineraries and restaurant recos. This is a super-exciting option for any couples who can't nail down a place to honeymoon, are exhausted from planning a wedding and ready to plan nothing else ever again, or just simply looking to start their marriage with the ultimate adventure.
Opt for a staycation.
Whether money is tight from the wedding, or you guys are just too burnt out to think about hopping on a plane for an around-the-world jaunt, a staycation could make for a tempting honeymoon option. Think about it: When's the last time you took time off and just relaxed at home? Netflix binges, delivery from all your favorite restaurants, time to just linger in bed a little longer without the usual interruptions of everyday life… that's the stuff of honeymoon dreams! Spice things up with little extra honeymoon ideas you wouldn't normally do like bubble baths, home-cooking delivery kits, or at-home massages. Or, for a little more cash, pack up and stay at a hotel in town—you'll get that "we're on vacay!" vibe without the huge price tag or time commitment. Try out restaurants you never go to, drive out to the country, whatever! It's not about where you go, it's about spending time together and kicking back. Honeymoons are a state of mind, people.
Volunteer while you vacation.
Honeymoons can be a great time to focus on yourselves as a couple—but they don't have to be all about you. Today, there are a few different travel agency options that hook you up with life-changing opportunities to give back during your honeymoon in faraway locations. From safely breeding endangered lions in Zimbabwe to reaching out to underserved children in Belize, these unique honeymoon ideas will give you the chance to explore an exotic locale and make a world of difference at the same time—all side by side with your new spouse. Talk about an unforgettable bonding experience to set the tone for your new life together (and amazing memories that are only slightly cooler than something from an all-inclusive gift shop).
Take a buddymoon.
If you and your partner are the "more the merrier" types, consider a buddymoon, in which your squad joins you on your getaway! Sure, it's not for everyone, but for some, an epic trip together just wouldn't be complete without a gang of besties in tow. Think of it like an extension of your wedding reception—an after-the-after party. One rule to keep in mind? Make sure you and your new spouse get some of your own space and alone time—it's still your honeymoon, after all! Even better—plan half a buddymoon. That is, have your pals meet up with you after you've enjoyed a true honeymoon, just the two of you, for a few days.
Go off the grid.
It's not all about resorts and lavish hotels when it comes to honeymoons. You and your spouse also have the option of simply getting lost—one of our favorite unique honeymoon ideas. Camping–or glamping, if you want to kick it up a notch—is a budget-friendly, eco-conscious option for those looking for a unique honeymoon free of distractions (like WiFi). Think of it like: If we can survive in the wild together, we can survive anything marriage throws at us! If you don't have your own supplies, startups like Getaway House offer amenity-packed tiny cabins in enchanted forest locations where you can disappear for a few days with your one true love. Just don't forget bug spray!