8 Staycation Ideas If You Can't Go on Your Honeymoon
Looking for honeymoon ideas during quarantine? These creative staycation ideas will help keep you and your partner busy while you're at home.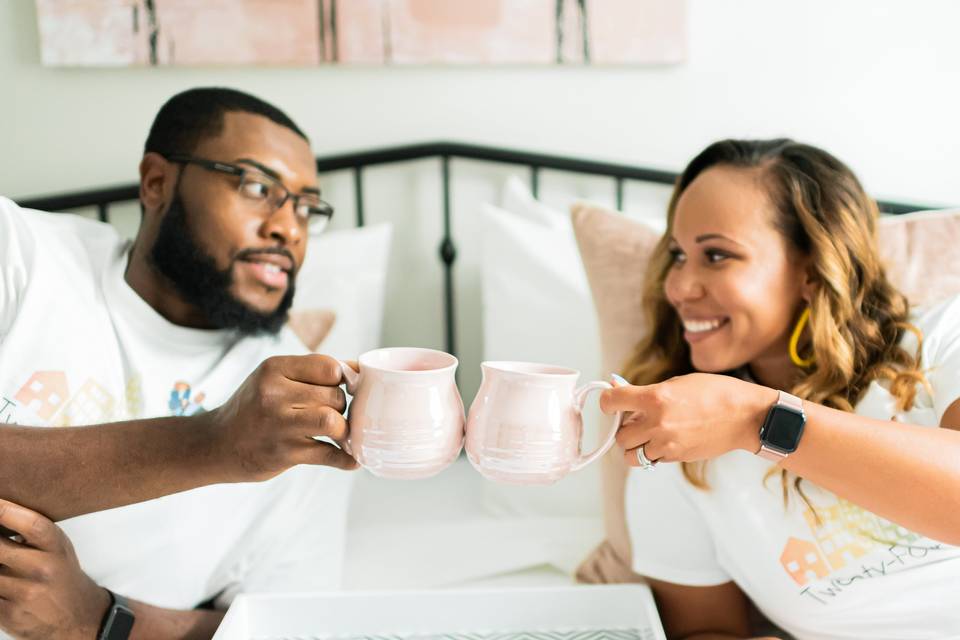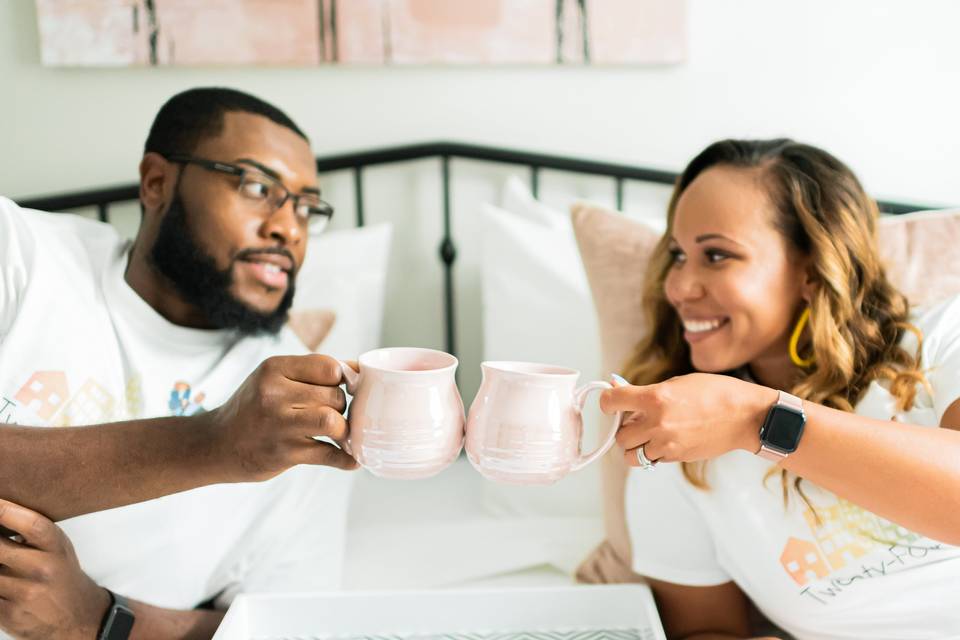 Many of us have felt the halt of our normal routines with the outbreak of the COVID-19 virus. Couples have had to postpone their weddings, while others have had honeymoon plans dashed by travel plans. Though being healthy and safe is the greatest blessing, it's also totally normal to be bummed about missing out on these important, exciting milestones. In an effort to turn some lemonade out of those lemons, and to at the very least, help you connect with your partner, we asked wedding wedding experts to offer some staycation ideas and honeymoon ideas during quarantine. See their suggestions below!
Sightsee from home.
While, unfortunately, travel to Europe is unlikely for quite some time, there are ways to explore the wonders of this continent and all of its various cultures without leaving your bed. As event planner and designer Kristine Cooke of Simply Charming Socials in Atlanta explains, many legendary museums and cities are offering virtual tours—a fun staycation idea. "Supposed to go to Paris? Check out the Musée d'Orsay or Eiffel Tower online. You may even discover different sights that weren't originally on the list," she explains. Wherever you intended to go, try to spend time researching what's available digitally, so you don't lose your wanderlust. When it's safe to plan again, you'll be armed with (even more) information.
Take turns setting the scene for romance.
Though you had many restaurant reservations, tours booked and other adventures planned, the virus threw a wrench in quite-literally, everything. What it can't stop though, is romance. If you are both feeling fine and at home together, wedding designer and planner Carrie Darling of Carrie Darling Events in Naples, Florida suggests taking turns planning a romantic evening for one another. The goal is to set a sweet ambiance and provide the space you need to connect to one another. "Dress your table differently than you normally would, with a nice linen that you might have hidden away for the holidays or even a sheet," she continues. "Decorate the tabletop with soft touches. Don't forget candles! These always add to a romantic meal, and everything feels different when it is presented in a different way."
Have a theme night.
You had your sights set—and bags packed—for Spain. Rather than buying paella from a local joint in Barcelona, make it at home. In fact, go all out, says Cooke, with the meal, the booze and the dessert. Especially right now, some of the world's most renowned chefs are feeling generous and offering—free!—cooking classes online, like Michelin-starred Mossimo Bottura from Italy. To inspire your recipes, consider watching a few episodes of Chef's Table on Netflix—and then get to it. "Light a few candles, open a bottle of wine, and toast to the two of you," she continues. "Don't forget about the cocktails! Missing the beaches of Maui? Make some frozen daiquiris or mai tais. Play bartender and mix up some drinks for each other." Wanna go the extra mile? Dress the part, too! And finish the evening 'laying in the sand' in bathing suits, learning the tango or even smooching while listening to French ballads.
Have an at-home wine tasting.
A big part of many weddings is the party. Full of great food and wine, this is a time when your loved ones come together to honor—and celebrate—the start of your marriage. The pours keep on coming on honeymoons too, especially for vino-loving twosomes. Jennifer Feldstein of The Last Minute Bride in Vacaville, California says one of her favorite staycation ideas is nightly at-home wine tastings. "Select a different wine to sip and savor each night. Find printable tasting notes and guidelines online to print out in advance," she recommends. As a bonus, buying wine from various regions—from France and California to Italy and Australia—from a local wine store supports your community's economy, and may help your neighborhood shop stay in business. With this approach, Feldstein says you'll feel 'whisked away' nightly. "You'll have a week of romantic dinners and wonderful stories to share of the good and bad wines you've enjoyed and tasted from around the world," she adds.
Indulge in some R&R.
If you already had some vacation days squared-away for your honeymoon, it might be better to not cancel all of them. As Cooke explains, just because you're not away from it all, that doesn't mean you cannot help each other relax and disconnect — one of our personal favorite honeymoon ideas during quarantine. "If lounging on the beach together with a book in hand was top of your honeymoon wishlist, download some new reading material, sit on your patio, and get as close as you can to it," she recommends. "Instead of camping out, camp in! Set up a fort or tent in your living room, pack some snacks, and play cards or board games."
Make interactive dinners.
When most couples go on their honeymoon, they choose a destination they've never been before that will offer excitement, intrigue, and a change of pace. You can recreate that same energy by doing something interactive and engaging, like a hands-on dinner. Darling suggests having a cheese or chocolate fondue evening, a night where you tackle sushi rolls, or other active creations. "People are always looking for new experiences, and while we may have had these things at our favorite local restaurants, we don't often put in the effort at home," she explains. In addition to focusing on the task at hand, rather than feeling anxious over the news, you may come out of the quarantine with some new tricks up your sleeve.
Recreate a spa day at home.
For those couples who want to detox from the chaos of wedding planning, a spa day is a must honeymoon idea during quarantine. In fact, Feldstein says it's usually high on most duo's list of activities. Though it's not as high-end or luxury, there are ways to make an at-home spa day feel special—and romantic. "Start or end your day with a bath bomb and a glass of champagne for two. Try your skills at being a masseuse with neck and shoulder massages, scalp/hair massages," she suggests. "Assign a different body part to the numbers on a dice, and roll the dice to see who massages what part for five to ten minutes. Make your own cucumber lemon water to sip on while wearing face masks or giving each other a mani-pedi."
Buy one another a surprise gift.
Considering many small businesses are hurting right now, one staycation idea to keep your beloved artisans, food shops and local hangs in business is to purchase something from them. Feldstein suggests giving one another a gift to illustrate your appreciation and continuous love for each other, even during this unexpected period. First, set a budget and then set a night when you can open these gifts together. Because shipping times are massively delayed right now, set for at least a week in the future. If you have the funds, don't be afraid to spend a little. "Splurge on something that will bring a smile to your partner's face and then check your mail daily to see what surprises will be delivered in the weeks to come," she notes.