You've Decided to Postpone Your Wedding. Now What?
You've made the call to postpone your wedding. Now it's time to take a deep breath and move forward.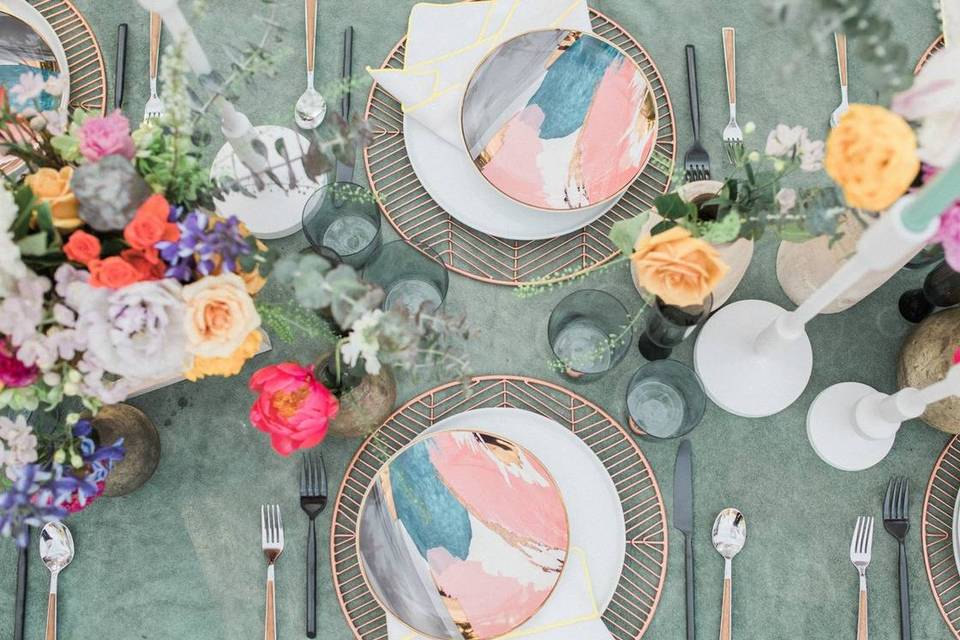 Making the decision to postpone your wedding isn't an easy one, especially in the current COVID-19 situation. Once you've made the call to postpone, you may need some time to take a breath. It's okay to feel sad (or mad!) about your changing plans, but at some point, it's time to dust yourself off and start moving forward. Of course, it can feel overwhelming to start from scratch, but remember that your original vendors (and the WeddingWire hotline at 833-998-2865) are valuable resources that can provide assistance during this tough situation. Here's how to postpone your wedding, one step at a time.
1. Start with an open mind.
One of the most valuable pieces of advice we've heard comes from an unexpected place. As Elsa in Frozen belted, just "let it go." Let go of all of your preconceived notions of what your wedding "should" be. Your wedding doesn't have to take place on a Saturday, doesn't have to occur during a certain month, doesn't have to have the "right" color scheme, doesn't have to have a perfectly seasonal menu to be amazing. If you're too closed-minded about your wedding looking a certain way, you'll probably end up more than stressed than successful. Focus on the bigger picture, not the little details.
2. Strategize.
If you have a wedding planner, work together to come up with a postponement strategy. Think about certain months or dates that you would prefer for your new date, but again, it's important to be flexible. Your wedding planner can help you better understand your vendors' contracts and learn more about their cancellation policies, as well as reach out to pros to start putting your plans in motion. If you don't have a wedding planner and are feeling overwhelmed, you might want to enlist one to help you during this tricky time if your budget allows.
3. Reach out to your venue.
Your wedding venue serves as the "hub" of your wedding (and among your biggest expenses), and you'll want to begin your postponement planning there. Find out which dates your venue still has available this year, and don't let weekdays scare you off (hello, Monday weddings!). Work with your future spouse and your families to find a workable date given the circumstances, and book it as soon as you can.
4. Enlist your other vendors for help.
Head to the new WeddingWire Rescheduler to contact the rest of your vendors at once and compare their availability for your preferred date—or give them options, if possible. Wedding pros may have different policies about switching dates or cancellations, and there may be some difficult conversations ahead. Be honest with your vendors and tell them that you still want to work together, and that you understand that they have a business to run. Hopefully, your vendors will all be available on your new date, but unfortunately, you may end up having to find new pros (and potentially lose deposits, as well).
5. Communicate with your guests.
Keep an open line of communication with your guests. Once you've decided to postpone your wedding, email is the best form of communication, letting your guests know that you're working on a new date and will keep them posted as soon as you have a new plan. After your new date has been booked, reach out again digitally, and be sure to update your wedding website (particularly with updated travel information, if necessary). You can also send out "change the date" cards or postponement announcements, but since those might take a while to print, it's best to prioritize email and wedding website communication. If you've already sent out invitations, you will likely want to print new ones, but there's no need to rush that process if you've already sent out an email.
6. Don't sweat the small stuff.
Now that you've changed your date, enlisted your vendors, and communicated with your guests, you might start thinking about the minutiae of wedding planning. Our advice: Keep as much of your original wedding intact as possible. Yes, your now-fall wedding can have a color scheme that feels more spring-appropriate (your guests won't know the difference). Yes, you can give out the favors or programs you ordered with your original date printed on them (people will just be happy to celebrate with you). Try to avoid spending extra time and money to change things if they're not completely necessary.
7. Let the hosts take the lead on your pre-wedding events.
From bachelor to bachelorette parties, showers, and more, there may be pre-wedding events that need to be switched around as well. The hosts of these events (your wedding party members, most likely), will have to shoulder the burden of replanning these parties, unfortunately. Try to focus on adjusting your wedding plans, and trust your loved ones to adjust pre-party arrangements appropriately—knowing that some of these events may have to be canceled. However, if you feel that your wedding party members are pushing plans that seem unsafe or against government recommendations, don't be afraid to speak up.