11 Ways to Support Your Wedding Vendors During the COVID-19 Pandemic
If your wedding plans were changed due to the COVID-19 pandemic, you're probably going through a pretty tough time. So are your vendors. Here are some ways to support them.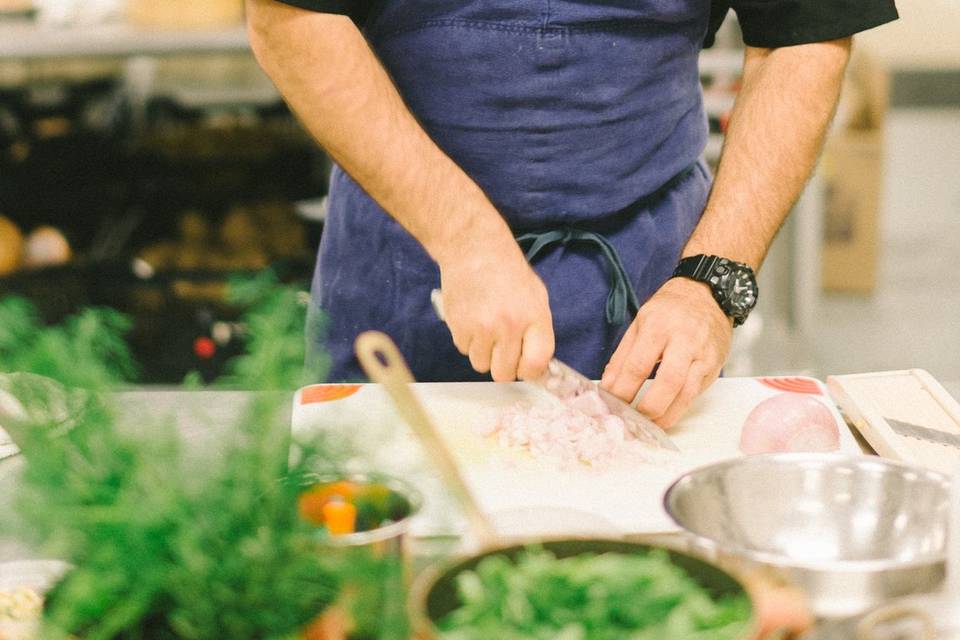 If you're planning a wedding during the uncertainty of the COVID-19 pandemic, you're probably experiencing a range of emotions. Your wedding vendors are right there with you—not only assisting you through your plans, but also keeping their business afloat during this difficult time. Wedding vendors rely on events taking place to earn money, and with many of last year's weddings being postponed, vendors and their small businesses took a direct hit. While you might have a lot to deal with right now, take a moment to think about your wedding vendors and small ways that you can support them during this time, should your own financial situation allow. Here are a few ways to support wedding-related small businesses during the COVID-19 pandemic.
Book your wedding vendors early.
If you've set a date, book your vendor team ASAP. With so many couples having postponed their 2020 weddings and a new crop of engaged couples planning 2021 and 2022 weddings, dates are filling up fast. And of course, booking a wedding vendor for your big day is the best way to support them right now. Follow our vendor booking timeline to ensure you book all the pros you need in the right order.
If you already had a minimony, don't forget the reception.
Some couples opted to host small ceremonies or elopements in 2020. When it's safe to do so, hosting an anniversary reception or celebration of your marriage, will help support wedding vendors who rely on these larger celebrations for their businesses.
Write reviews.
One of the best ways to say thank-you to your wedding vendors is to write them a review on a site like WeddingWire. And, for some of your vendors, you can actually write reviews before your big day. Think of writing these reviews as a form of free marketing for your pros, helping other engaged couples connect with (and hopefully hire) your team.
Support your pros in non-wedding ways.
During the COVID-19 pandemic, many vendors have pivoted to provide non-wedding-related products and services. If your wedding isn't happening for a while, you can support your pros through their other services. Here are a few examples:
Florists
Many wedding florists are still making deliveries, even if events have been on hold. If you have a loved one who needs a pick-me-up, a floral arrangement might be a welcome treat (and yes, it's okay to send a delivery to yourself to brighten up your home). Another idea: Buy a gift card for a floral delivery at another time.
Photographers
Gift certificates for photo sessions make great gifts! If you have a loved one with a special milestone coming up, why not gift them with a photo session to take place at another time? You can also schedule your own family photo session to show your continuing support for your photographer's business.
DJs
With the postponement of many of last year's weddings and events, DJ businesses will need your support more than ever. Promote your DJ on social media, either by sharing a song playlist he or she created, hyping up their podcast, or just spreading the word about your amazing vendor by recommending him or her to family members or friends who have events coming up. Your marketing might help your DJ earn some extra business.
Planners
A planner can be a major source of assistance, especially during these confusing times—helping you understand health and safety guidelines, communicate with guests and vendors, and more. Whether you're planning a postponed wedding or starting fresh, enlisting a wedding planner to help will likely be the best decision you'll make.
Cake Bakers
You can still celebrate your original wedding date—by ordering a cake from your cake baker! If your baker is still operating, purchase a small cake from him or her and pick it up to share with your soon-to-be spouse. Enjoying a sweet treat during these tough times can be a major mood booster.
Venues
Wedding venues often host other events, such as birthday parties, showers, and more. You might consider recommending your venue to family and friends to host a smaller event, like a birthday party or shower, for another time.
Caterers
Some caterers are shifting to selling takeout and delivery meals since many large events are on hold. If you can support your caterer by purchasing takeout or delivery, it will certainly be appreciated. You can also send meal deliveries to friends or family members need a break from meal prep.