What Is an Anniversary Reception? All Your Questions, Answered!
So you're married and want to celebrate with your loved ones. Sounds like you need to plan an anniversary reception. Here's everything you need to know about this special celebration.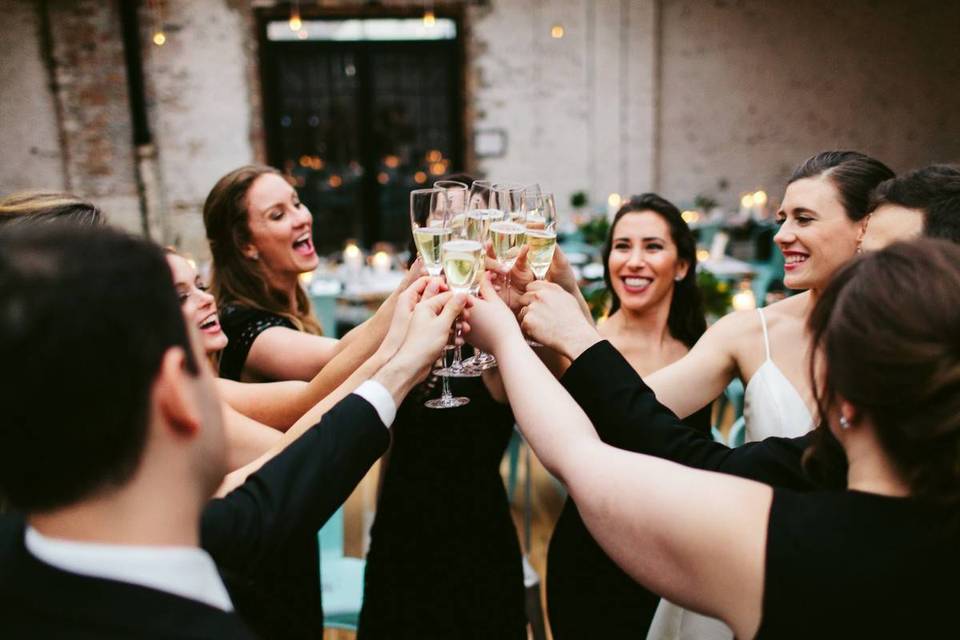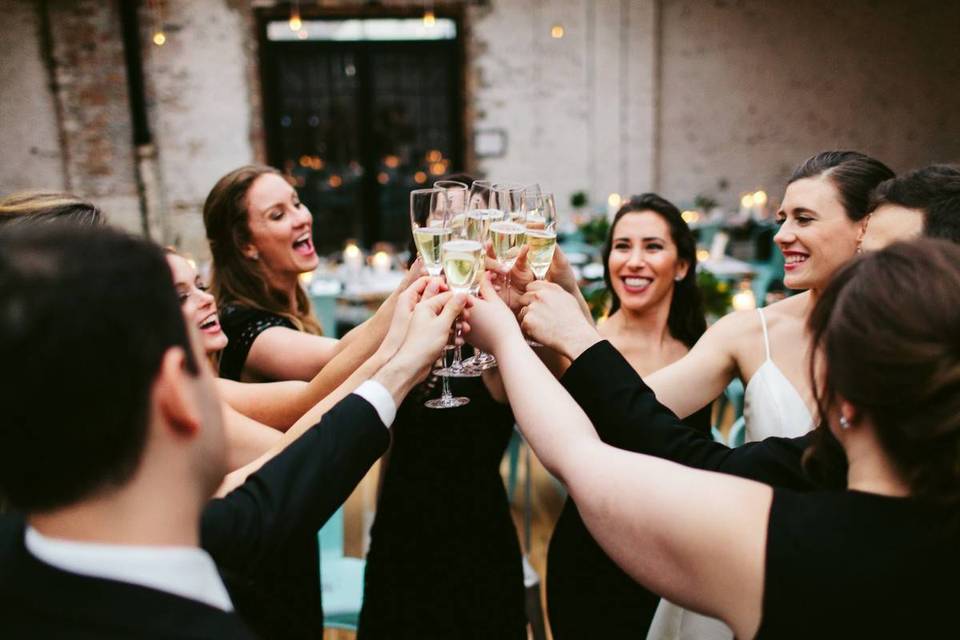 In the wedding world, 2020 was the year of the minimony—an intimate, ceremony-focused event invented in the wake of the COVID-19 pandemic. Since big in-person weddings weren't possible for much of the year, couples (and their vendors!) pivoted and invested their energy in the ceremonial aspect of wedding, saving the party for a later date. We anticipate an influx of these newly-termed anniversary receptions, allowing couples and a larger group of their loved ones to celebrate their marriage—in person—when it's safe to do so. Read on to learn more about this new type of wedding event—and how to start planning your own!
What is an anniversary reception?
For couples who held a simple courthouse ceremony, minimony, elopement, or any other type of ceremony-only wedding, an anniversary reception provides the opportunity to celebrate with loved ones. Think of it as a wedding without the ceremony. These anniversary receptions will look strikingly similar to a traditional wedding reception, including cocktail hour, dancing, entertainment, cake cutting, toasts, sendoff, and more. It's your chance to host a big party for all of your friends and family members, without the stress of walking down the aisle or exchanging vows!
When should an anniversary reception take place?
Technically, an anniversary reception would take place about a year after you and your spouse officially married—so a year after your ceremony, minimony, or elopement. However, you don't have to be so precise about your anniversary reception's timing. It can take place six months, a year, 18 months, two years, or really any amount of time after your initial ceremony—as long as it's occurs at a time when it's safe to host larger, in-person events. Many couples are waiting to set a date for their anniversary reception as the COVID-19 vaccine rollout begins and the pandemic hopefully slows down in the coming months.
Who pays for an anniversary reception?
This really depends on your specific circumstances. It's worth having a conversation with your parents and/or in-laws about your plans to hold an anniversary reception. If they contributed financially to your minimony, they might not be willing or able to contribute to your anniversary reception. On the other hand, they may be so excited to be part of a large party, they'll be thrilled to chip in! Remember, though, that anyone who financially contributes to your event gets a say in the planning process (including the guest list, vendors, and more). If you'd prefer to take the lead on planning your anniversary reception and can afford to foot the bill, go for it.
Should I hire vendors for my anniversary reception?
By all means, yes! If you held a minimony, elopement, or small ceremony, you may not have been able to hire all the vendors you would have if you'd hosted a full-sized wedding. This is a great opportunity to support those wedding pros, including but certainly not limited to a planner, caterer, florist, photographer, videographer, hair and makeup pros, DJ, band, and more. Check out WeddingWire's vendor directory to find the top pros in your area. You may already have a team in place from your original wedding plans—if so, you're ahead of the game!
Where should an anniversary reception take place?
Since you'll likely be hosting a large group, we recommend browsing WeddingWire's venue directory to find a space that can comfortably accommodate your party. And if you were planning a 2020 wedding that was canceled due to COVID, an anniversary reception is a great way to use a deposit for your original venue.
Can I include a ceremony in my anniversary reception?
Technically you're already married, so no ceremony is necessary here. However, if you'd like to host a faith-based or symbolic ceremony before your party, go for it—you'll then be hosting what's been dubbed a "sequel wedding"(similar to Joe Jonas and Sophie Turner) as opposed to an anniversary reception. Another option is to host a short vow renewal before your reception so that your family members and friends can bear witness to your love story.
Who's invited to an anniversary reception?
You can approach the guest list in a few different ways. If you and your spouse are hosting (read: paying for) your anniversary reception, you can focus the event on your friends and make it more of a raucous, go-all-out bash. However, if your parents are contributing financially and involved in the planning, they'll get a say in who's invited. This means that your anniversary reception guest list will look like a traditional wedding guest list—family members (immediate and extended), friends, family friends, and more. Since your goal here is to throw a big party (again, provided it's safe and legal to do so), the more, the merrier.
Do I have to send out invitations for an anniversary reception?
When it comes to inviting loved ones to your anniversary reception, printed invitations (rather than email) are your best bet. This is a huge event, and your invitations should match the importance of this celebration. If desired (and you have enough time), you can even send save-the-dates so your loved ones can be sure to mark their calendars for the big day.
When it comes to wording your anniversary reception invitations, you can use similar wording as you would for informal wedding invitations—simply replace the word "wedding" for "anniversary reception" and skipping any language referring to a ceremony.
What should I wear to my anniversary reception?
The choice is yours! You can certainly glam things up and host a black-tie anniversary reception, or keep things more low-key. If there was certain attire that you were planning to wear to your original wedding and didn't have the opportunity to wear it to your minimony, your anniversary reception is a great opportunity to rock it. Or alternatively, you could rewear attire you wore to your minimony—adding a fun accessory to mix things up. Another option is to choose more a fashion-forward look (hello, jumpsuit) for your anniversary reception. Just make sure whatever you choose makes you feel comfortable, confident, and totally ready to party!