The 6 Questions to Ask Yourself When Determining Your Wedding Theme
Classic or rustic? Bohemian or beach? Here's exactly how to pick a wedding theme in just six questions.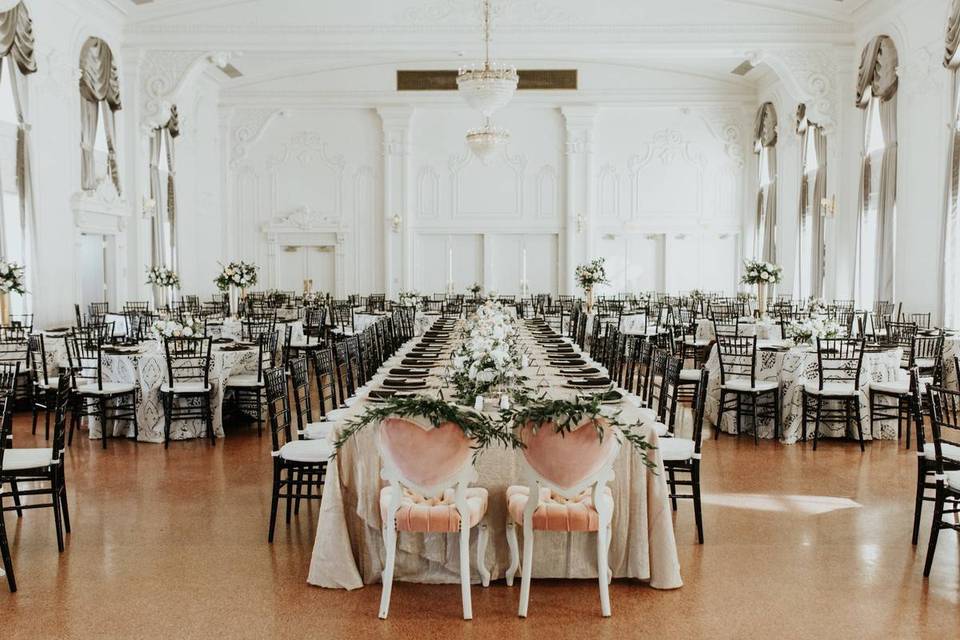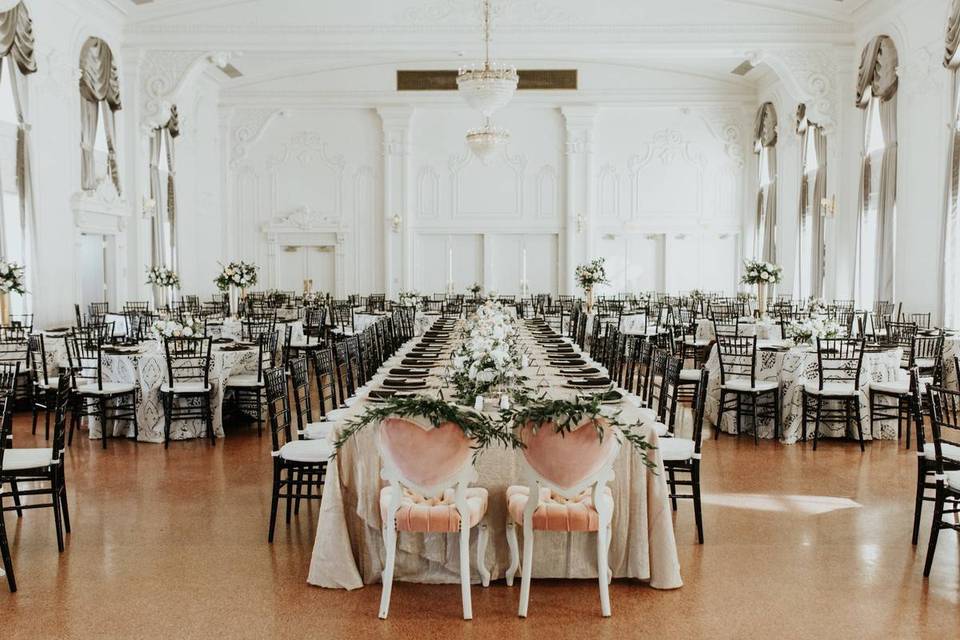 After the congratulatory wishes have been received, it's time for a couple—and likely a small army of family members—to plan the wedding of their dreams. Between social media hashtags, Pinterest boards, and reality television shows like Say Yes to The Dress, a couple can feel overwhelmed in a sea of options or paralyzed by pressure to make it perfect. Although planning can be stressful, it is also the time to let your imagination run free and dream up a day that celebrates you and the love of your life. Here are the six questions to ask yourself, and your partner, when figuring out how to pick a wedding theme and narrowing down the details.
What does a wedding represent to you?
While we all understand a wedding to be a ceremony celebrating two people's union, it's a safe assessment that many see the cultural tradition as a sacred moment in time. For some couples, a wedding is the symbol of two families blending. Others see it as a party and joyous celebration of everlasting commitment. And to many, it's a formality and step toward legitimizing a union in the eyes of the law.
When you define your wedding's representation, you're more empowered to eliminate the wrong options and zero-in on the types of venues that are best for you. For example, a couple who wants their wedding to be as romantic as their love story may opt for a ceremony that feels more celestial, magical, and sweet, ultimately picking a softer color palette and hosting their wedding at a venue that is unique to their love story. Another couple who sees a wedding as a familial blending may cling to the idea of a traditional, classic style and venue. And the couple who loves easy, breezy is headed straight for the all-inclusive beach event.
How do you want to feel on the day of your wedding?
Sure, there are some emotions that every couple hopes to feel: happy, excited, and confident. But beyond feelings of affirmation, a couple usually has an idea of how they want to feel related to their attire and appearance, which can help determine the wedding's theme.
Do you want to feel natural and comfortable in your skin? Or perhaps you have hopes of feeling like a glamorous Hollywood star. Whether your answer is "fashion forward," or "elegant and beautiful," this will help influence many of the smaller details like table decor—as well as some of the most significant decisions such as your wedding-day ensemble.
Which details do you hope come to mind when you reminiscence about this day years from now?
Couples will likely receive the good advice early into the planning process, "no one will remember the small details except you." Often, couples will feel a tremendous pressure to select the menu, floral arrangements, and location based on public perception. But for better or for worse, years from now, few will remember if they had salmon or chicken, but they will recall if the day felt inviting and welcoming, over-the-top and otherworldly, sweet and unassuming.
A helpful exercise to do with your partner: sit down and close your eyes together. Allow each partner to speak about their vision of what a "perfect day" looks like and what kind of memories they hope to cherish for years to come. Partners who previously thought they wanted the classic limousine and ballroom venue may come to realize their greatest hope would be to honor their affinity for the outdoors and originality, instead opting for a camping trip with mountainside nuptials. (Because a memory of drinking moonshine and making s'mores does sound pretty awesome.) This question should liberate couples from the pressure to overspend in the areas that they are more apathetic. Similarly, it could inspire an entirely new vision that feels more authentic to the couple overall.
Has my style and wedding vision changed over the years?
Some newlyweds-to-be have had an idea of their dream venue with their dream color scheme since the dating stage; however, other couples may be trendy and into a new fad every few months. If the former, lean into your style in the decor. Should you be the latter, consider a more classic, clean, and streamlined style that you'll appreciate no matter what you're loving in the years to come—or go bold and tap the trends with abandon.
What is the smallest and largest number of people you want to attend your wedding?
Logistics play a crucial part too. How many guests, if any, do you want at your wedding? This not only affects your budget, venue options, and seating charts, it also will affect aspects like the sequence of events such as the dances, cocktail hour, and speeches.
A smaller wedding size may opt-out of the more traditional wedding ceremony items and instead choose a more intimate setting and subsequent details. A 500-person wedding may not have a beach ceremony option and pick a wedding theme that better fits their final venue choice.
What is your budget?
Of course, it's hard to truly plan much without a budget. Do not worry about having a smaller budget; some of the most beautiful weddings are modern and minimalist. A limited budget allows you to indulge your creativity and invest in the wedding aspects that matter most to you. And may your budget be a bit larger, you can play with the idea of grand floral accents, theatrical elements for entertainment, or paying homage to your favorite era in history.
No matter your answers and how you pick your wedding theme, it's important to stay honest about who you are as a couple and never lose sight of what truly matters, the bond and love you share with your partner.