After the roller coaster ride that was 2020, we're all looking forward to a brighter 2021. Whether your wedding was rescheduled due to the coronavirus pandemic or you've been planning a 2021 wedding all along, you'll find that 2021 wedding trends reflect major changes in the industry as a whole—combining a visually beautiful experience with keeping guests safe. When it comes to 2021 wedding trends, the major headline is "smaller but bigger." Couples are going to be much more deliberate with their guest list (hello, micro weddings!). That said, weddings are going big with visuals as well as the guest experience—bolder colors, bigger flower arrangements, varied entertainment, and luxe food and beverages.
"Hosting weddings with smaller guest counts means being able to allocate more money from the budget to aesthetics," says Victoria Lartey-Williams of Victorious Events NYC in New York City. "The Pinterest inspiration that seemed impossible before, could actually become reality. I predict oversized floral and lighting installations, custom personalized stationery, interactive culinary experiences, and over-the- top wedding attire to trend in 2021."
Here's the full scoop on 2021 wedding trends, to help get you psyched about what's to come in the year ahead.
Wedding Trend #1: Creative Guest List Solutions That Utilize Technology
Yes, guest lists are getting smaller, but a micro wedding isn't your only option. Couples are planning multiple celebrations and shift weddings (where guests arrive at staggered times). A livestream isn't just a nice-to-have extra, but an important part of every wedding—and guests are having their own "watch parties"! "My clients are using live broadcasting websites and hiring professionals to monitor and shoot the livestream," says Erica Gordon of Elite Eventz in Houston, Texas. "Couples are creating private Facebook groups and websites where guests can interact with one another before and during the ceremony. We're even pre-shipping out swag boxes for guests to enjoy the watch party!"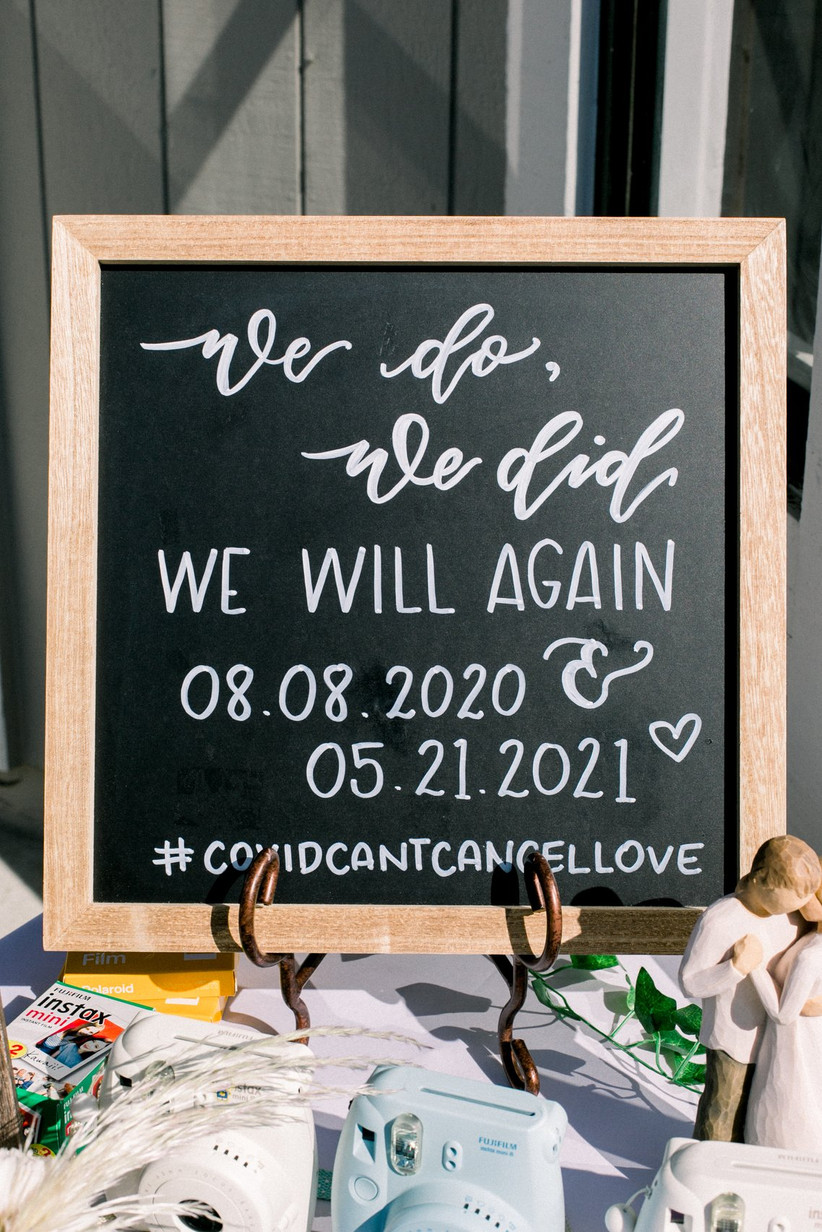 Wedding Trend #2: Weekday Weddings
Among the top 2021 wedding trends: weekday weddings! "Many engaged couples had to postpone their weddings for 2021 from 2020, so weekday weddings are totally the new normal now," says Brigett Webster of B-Golden Weddings & Events in Nashville Tennessee. Adds Lartey-Williams: "Hosting a wedding on a non-peak day of the week can save lots of money. The pricing for most venues will be significantly reduced on a Monday versus a Saturday."
Wedding Trend #3: Personalized Service Instead of Crowding
Waiting in line or clustered together, whether to order at the bar, grab a slice of cake or a favor, or find an escort card, has been a mainstay of weddings pretty much forever. However, with social distancing now firmly ingrained in our culture, we'll see a decline in these "crowding moments" in favor of more personalized service. Examples include bento boxes of hors d'oeuvres or individual charcuterie boards to replace crowding around a server or food station, servers taking drink orders at tables, a rise in plated meals, and boxes with ceremony programs, favors, and other details handed out to each guest. Not only does this personalized service make for a more luxe-feeling experience, it's also a solid safety measure.
Wedding Trend #4: Big and Bold Decor
Just because a wedding has a small guest count doesn't mean it can't make a statement. Some of our favorite 2021 wedding trends are all about going over-the-top when it comes to decor. We're seeing color schemes that range from light and airy blues and lavenders to '60s-inspired hues like chartreuse and peach, and '90s rainbow-inspired color schemes, as well. Oversized floral installations, like dramatic ceremony backdrops or floral chandeliers, make a major statement, and garner plenty of likes on the 'gram. Expect to see lighting play a bigger role than ever before, whether it's to make a larger space seem cozier to better accommodate a smaller guest count, or to highlight the unique decor even further.
Wedding Trend #5: Unique Reliance on Music and Entertainment
Because dancing may be somewhat limited, couples are finding unique ways to entertain guests. A live band or DJ is a must, not just to play music and facilitate special dances, but to serve as an emcee for the evening. From stand-up comedians to celebrity impersonators, couples are thinking out of the box, so that guests can be entertained while seated at their tables. "Incorporating a live activation or live entertainment into the wedding reception creates a memorable experience that goes beyond just having a DJ for music or having standard reception elements," says Jamésa S. Adams of Jayne Heir Weddings in Temple Hills, Maryland. "Including a 360-degree photobooth, costumed dancers, a confetti cannon, a live band, eclectic musicians, or a live painter are just a few ideas that can create a huge impact in the overall atmosphere of the wedding." And you'll see more (short!) guest toasts incorporated throughout the reception, beyond the usual maid of honor and father-of-the-bride speeches.
Wedding Trend #6: Restaurant-Style Menus and Seating
With the rise of plated dinners and live entertainment, weddings may start to feel like dining at a fine restaurant. Reception tables will come in a variety of shapes and sizes, and seating assignments will be based on family or living situations, rather than disparate groups of people placed together. Table assignments may be discussed and sent to guests in advance to minimize confusion upon arrival.
Wedding Trend #7: Fun and Functional Favors and Giveaways
According to Angela Garcia of Perfectly Bubbly Events in Fremont, California, mask and mini hand sanitizer favors are a big 2021 wedding trend. Adds Adams: "Couples are investing in customized masks and sanitizing stations that are aligned with the overall design of their wedding." The presentation of these giveaways is also important, as many couples are opting to have these favors presented to guests in individual boxes, rather than offered in a communal basket or set out on a table. Favors may also be sent in advance as part of beautifully-curated welcome baskets.
Wedding Trend #8: Nostalgic Details
One of our favorite 2021 wedding trends is an emphasis on nostalgia, whether it's looking back on couples' parents' generation or to their own childhoods. A mod aesthetic inspired by the 1960s and 1970s is coming back in a big way, from color schemes to attire (yes, we're as obsessed with Lily Allen's Dior mini as you are). We're also seeing couples look back to their own '90s childhood with throwback food and beverage options, including adult Capri-Suns, Pop Tarts, Dunkaroos, and more.
Looking for more 2021 wedding trends? See the rest of our expert trends and predictions for the year ahead: