11 Sweet Wedding Cake Trends That Will Make a Statement in 2022
Weddings are back—and so are delicious wedding cakes. Get inspired by these 2022 wedding cake trends for a dessert that looks as good as it tastes.
We have included third party products to help you navigate and enjoy life's biggest moments. Purchases made through links on this page may earn us a commission.
The sweetest moment of a wedding is the kiss that seals the start of the marriage. But the second sweetest part is the wedding cake! With every new year, couples and bakers challenge their imagination to dream up fantastical designs for their celebratory treat. While the pandemic has impacted the wedding industry, talented pastry chefs and planners are pushing forward, creating creative solutions that create masterpieces. Here, we spoke with experts to discuss what's trending in wedding cakes in 2022: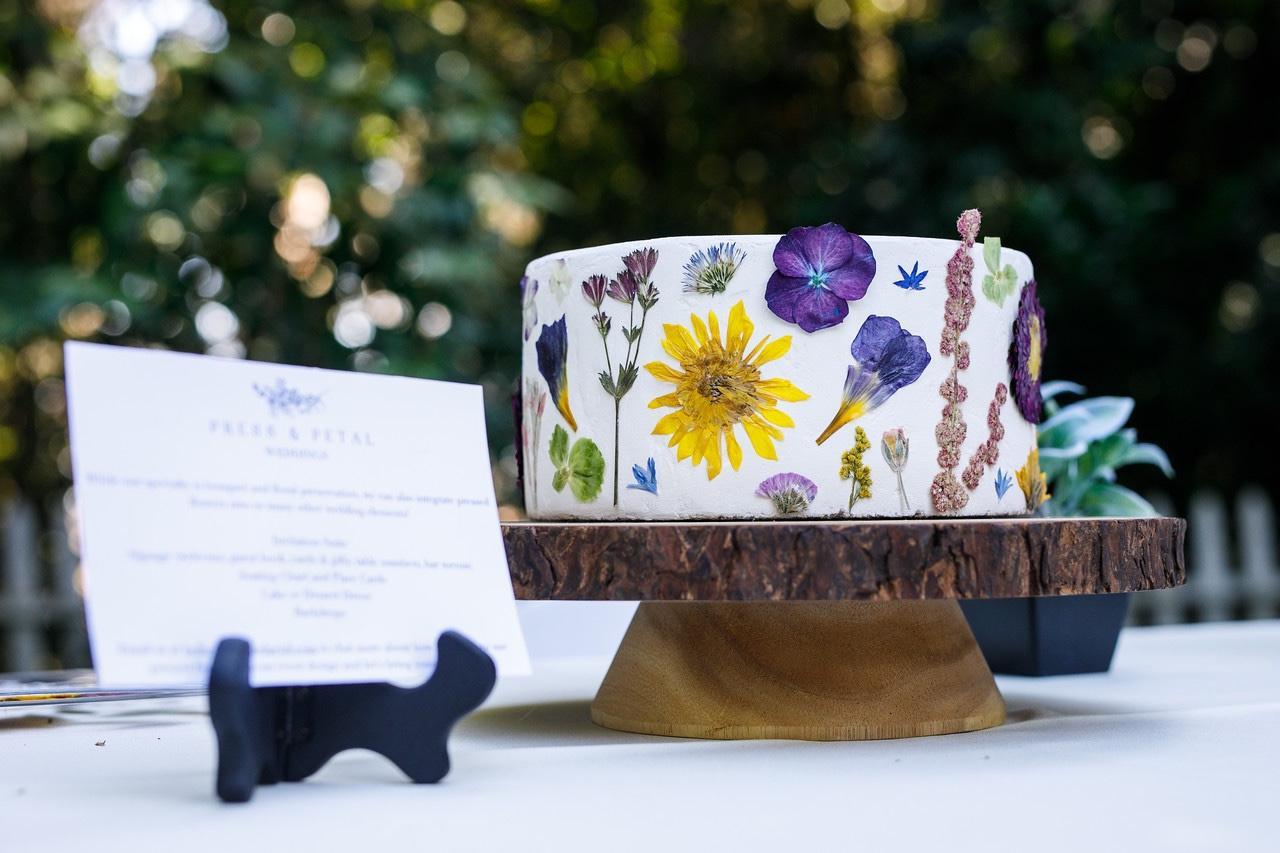 Pressed Florals
Due to the floral shortage from COVID shutdowns, couples will use pressed flowers as an alternative to place on either buttercream or fondant cakes, predicts Alexis Pascual, the owner of Rolling in Dough Bakery in Las Vegas, Nevada. Not only does this give the design a delicate simplicity, it also adds a little bit of color. "They are great for weddings held any time of the year because your florist can help you pick buds and blooms that reflect certain seasons and select them way in advance," she recommends. "Ask your local florist to share whom they recommend pressing flowers for you. Like always, remember that some flowers are not recommended to be added to food items."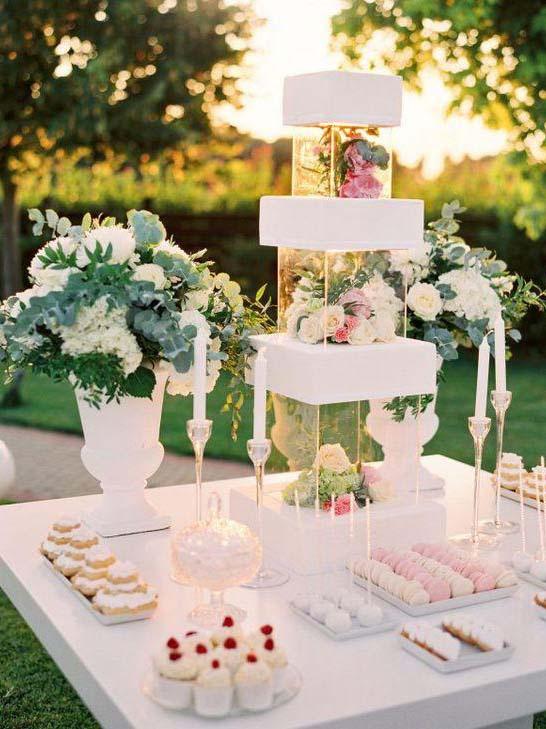 Separated Tiers
Though we may be two years into the 2020s, we may see some nods to the trends of the early 1900s, according to Sarah Blessinger, the owner and lead planner at Kindred Weddings and Events in North Hollywood, California. Specifically, in wedding cakes, she says more creations will have separated tiers vs. hiding the tiers with frosting. "These cakes have visible pillars supporting the next layer, which create an even taller and more ostentatious cake tower," she says. "Some couples may leave this blank space as is, while others may fill it with fresh fruit or seasonal blooms to match a bouquet or centerpiece."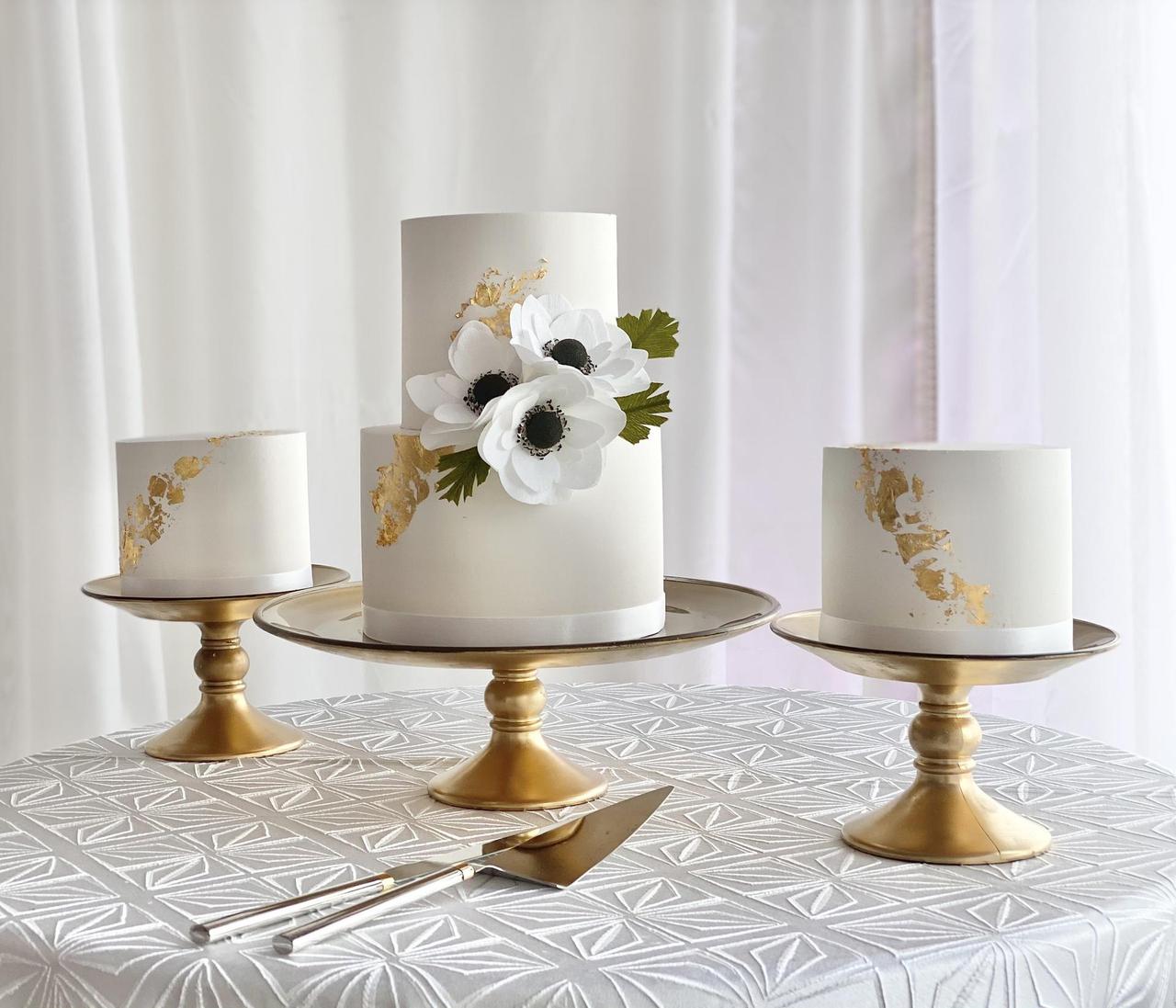 Deconstructed Cakes
While vaccination rates do continue to rise, there is still much unknown about when we will get relief from COVID-19. Because of this, couples are choosing smaller celebrations in intimate or private settings. Pascual says this means many will opt for trio cakes for practicality and versatility in the cake world. "These cakes are easier for couples who have limited home refrigeration space or have transport concerns," she says. "These cakes are only single tier and are easy enough to pick up and store in the kitchen. Another plus is our couples can have three designs incorporated in one wedding cake."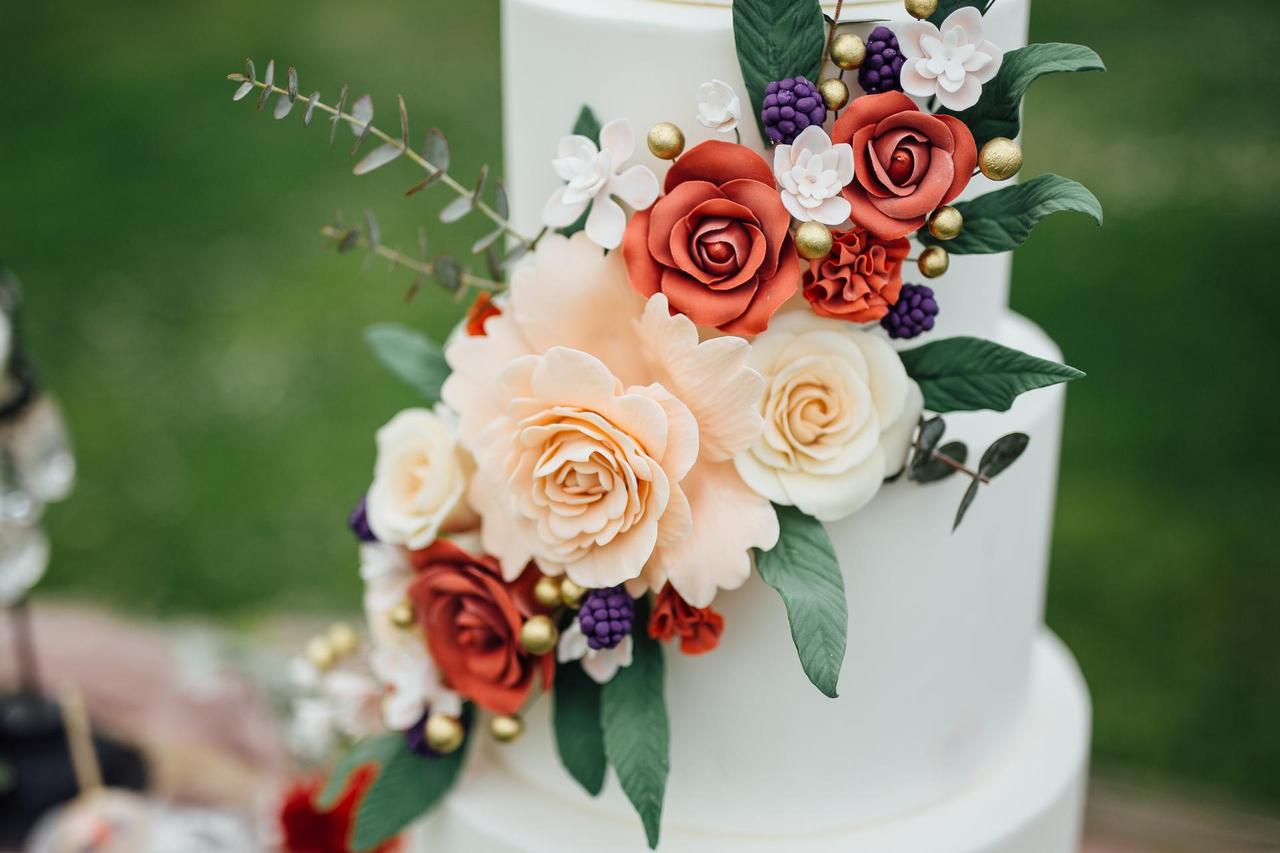 Sugar Flowers
For a while, couples leaned toward a more subtle style or even naked cakes, but now sugar flowers are returning as preferred decor, says Leah Steinberger, the executive pastry chef at Hotel Du Pont in Wilmington, Delaware. "We're seeing the return of sugar flowers to adorn cakes, mimicking the neutral or monochrome palettes that are trending in floral arrangements," she continues. "Texture is king, and arranging dried, and fresh flowers with handmade sugar botanicals adds elegance to a rustic style. Sugar flowers, which take on a freeform, wildflower look, are very much in demand."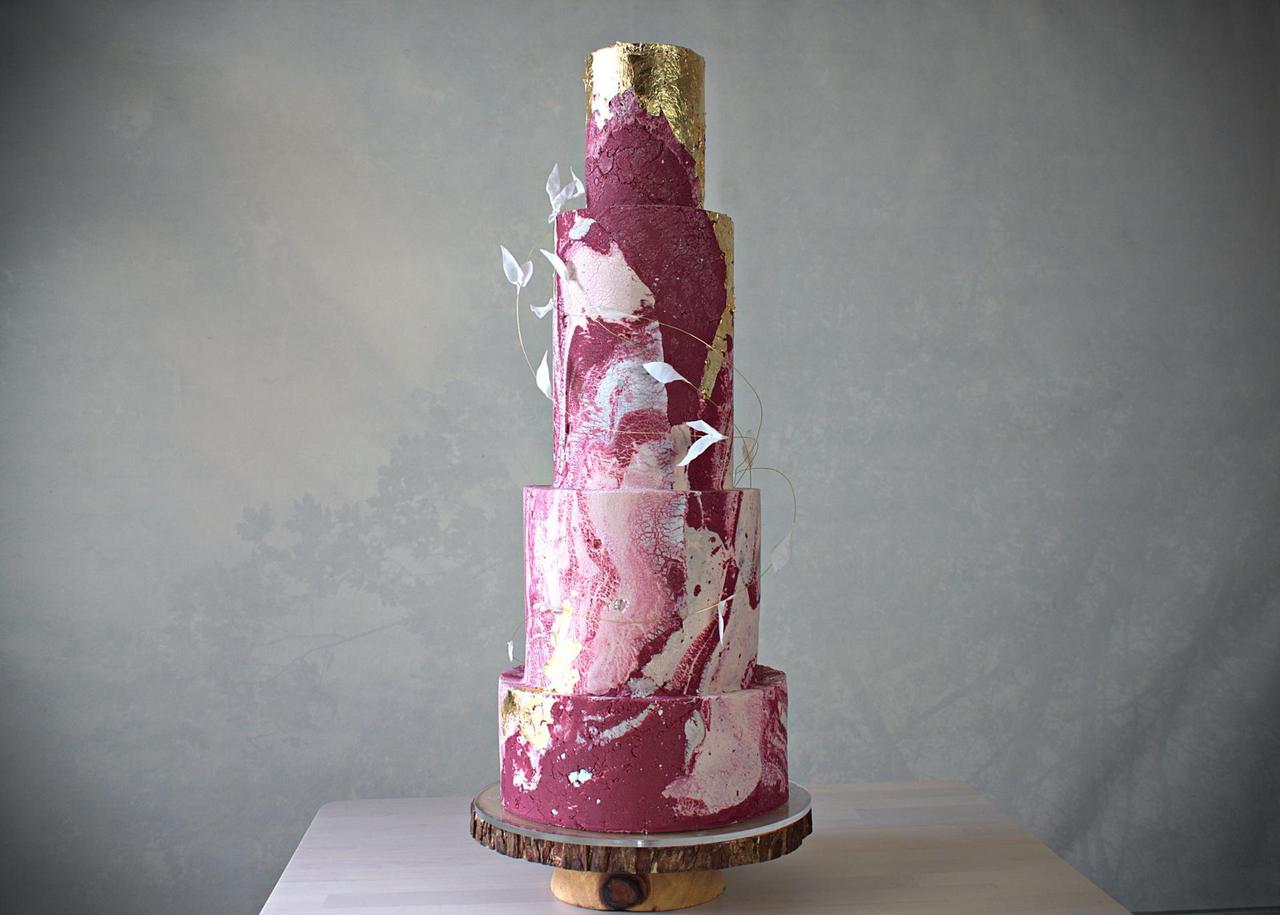 Bold Statements
Gone are the days when the wedding cake was simple and blended in with beige walls. Now, Pascual says couples are in the market for cakes that make your guests do a double-take. "We see rich colors, uneven tier heights, alternative textures, messy buttercream, mid-tier pedestals, and metallic colors rocking the scene," she says. "Whatever you choose, select something that reflects you as a couple."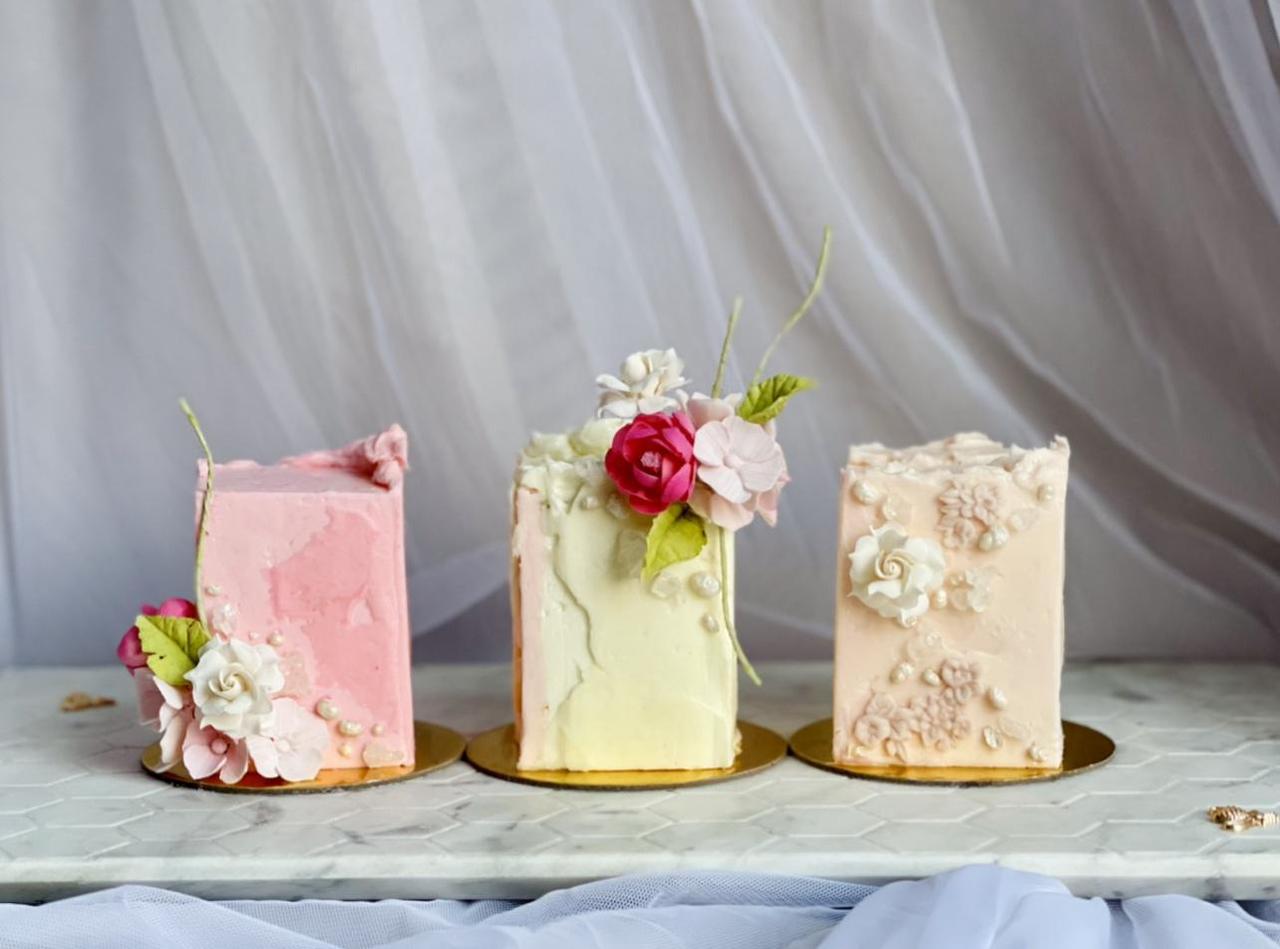 Individual Mini Cakes
Whether it's a pint-sized cake or a cupcake, Steinberger says individual servings continue to be trendy going into 2022. Not only is this safer for guests, but it allows couples to play with a variety of flavors instead of settling on one for a traditional four-tier cake. "Plus, since there's no need to take the cake back to the kitchen to cut, the couple can enjoy their first slice together at the same time the guests get to dig into their own," she adds.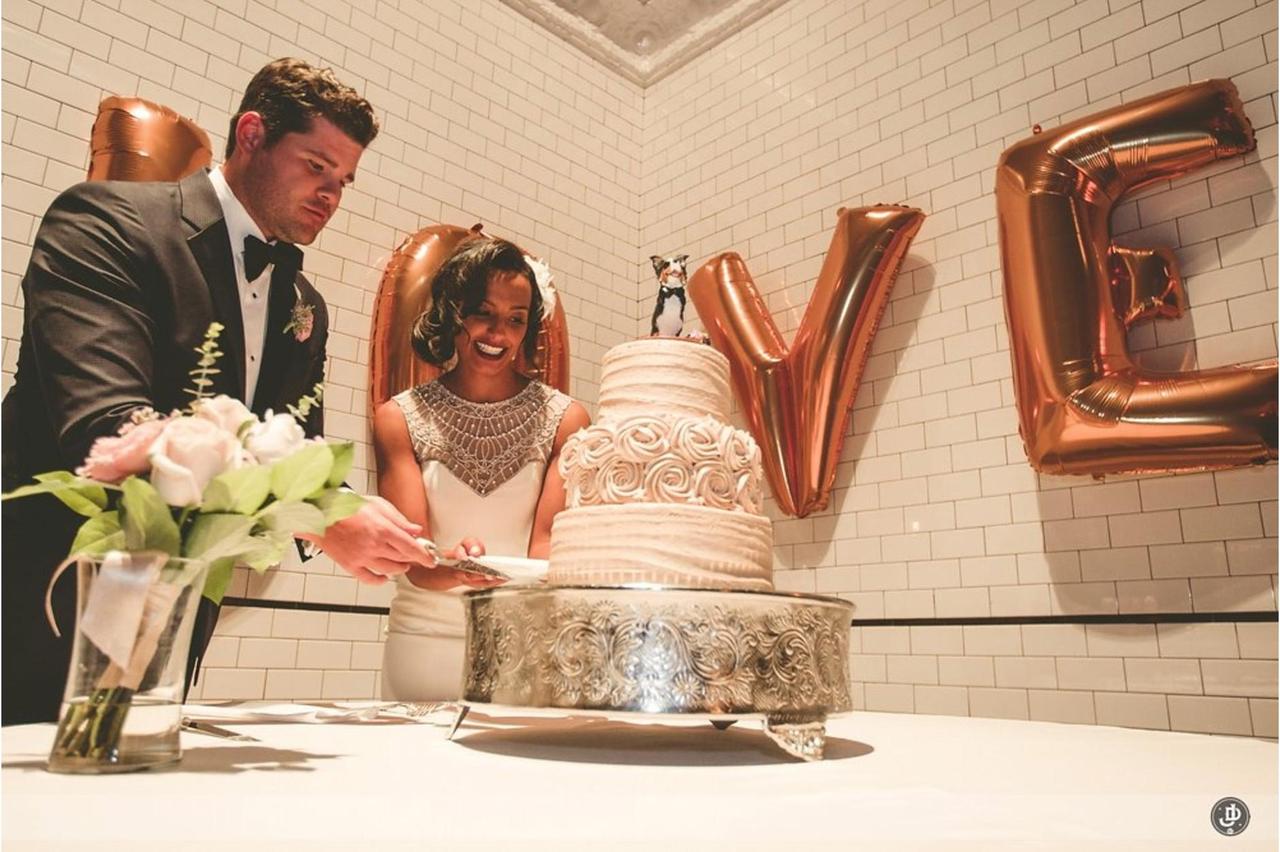 Fur Family Toppers
In 2021, Pascual says many couples incorporated their fur babies into their weddings. "They have made 3D prints of their pets and have asked us to place this either with the classic couple cake toppers or on one of the tiers with the little guy eating a piece of cake. All these are usually bought in Etsy shops," she says. Though it's a fun idea, it does require more leg work, so if this is your ideal cake, Pascual says to give your baker a head's notice so they can find the proper dowel support.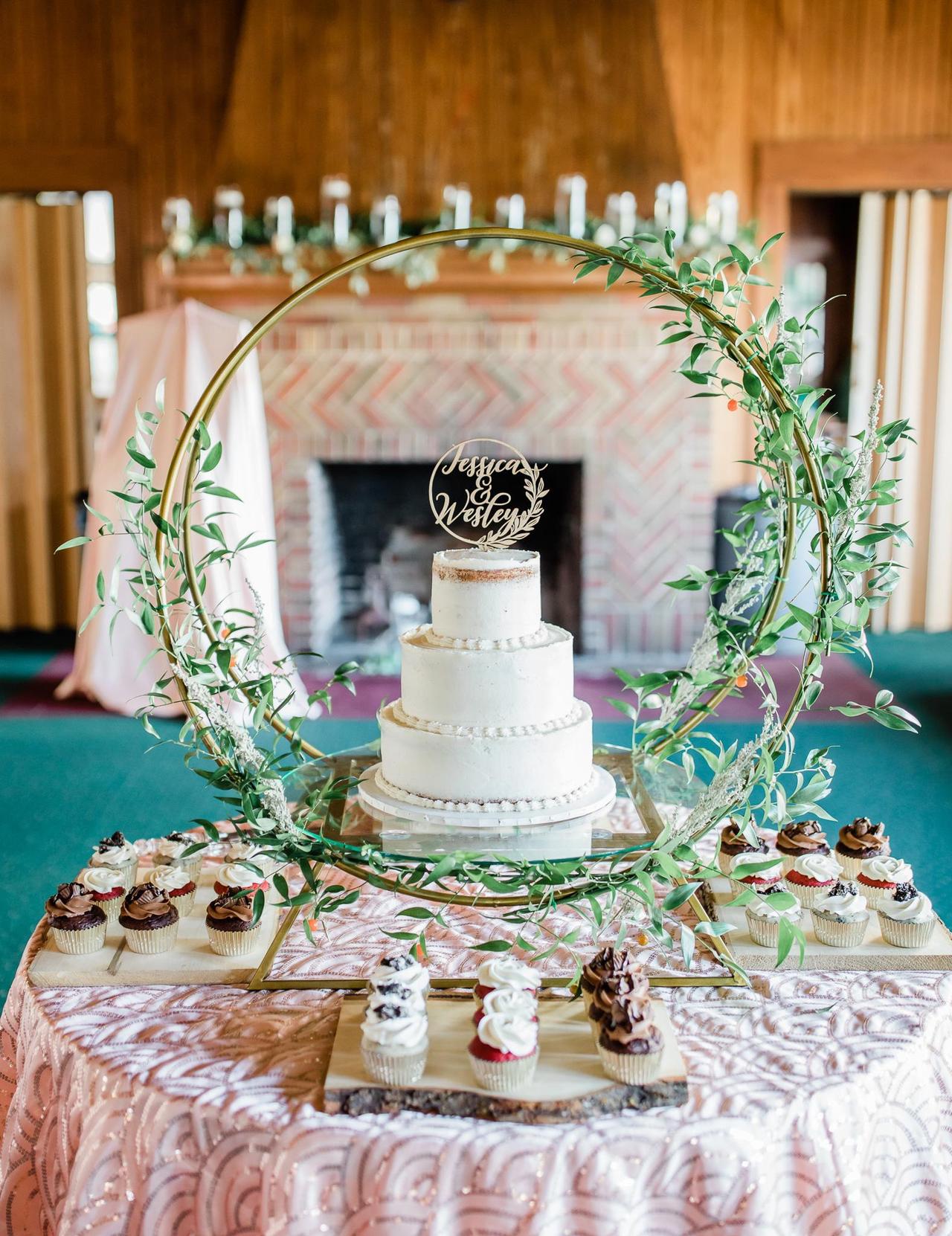 Cake Hoops
Steinberger says cake hoops and nontraditional wedding cake stands are gaining popularity. "With more unique and customized pieces available through sites like Etsy, couples are looking to make their cake a centerpiece of their style," she says. "Wooden hoops decorated with pastel petals or gold geometric shapes sporting lush greenery are standout ways of giving a smaller wedding cake a much larger presence."

Personalized Wedding Cookies
Whether you use them as wedding favors or in place of a wedding cake, cookies are expected to continue to be one of the biggest wedding cake trends in 2021. "We've seen a 13% increase in searches on Etsy for custom or personalized cookies in the last three months [compared to the same time last year]," says Dayna Isom Johnson, trend expert at Etsy (and judge on the NBC series Making It). "Many couples are choosing other sweets and treats over traditional wedding cakes. And with small gatherings, many are looking to add a personal touch." Mailing custom cookies is also an excellent way to send your wedding to your guests if you're not gathering in person but still want to share the experience with loved ones.

Alternative Wedding Dessert Tables
"Our clients are opting for alternative dessert displays instead of elaborate cakes," says Valerie Falvey, founder of Kirkbrides Wedding Planning & Design in Cleveland, Ohio. "We've had bundt cake displays, dessert displays, brownie sundae stations, beautiful pie displays on decorative rented furniture, and the list goes on." This 2021 wedding cake trend is a great alternative if you and your spouse aren't the biggest cake lovers—or if you can't choose just one type of dessert. If you're worried about spreading germs with elaborate dessert tables, you can serve pre-boxed sweet treats and provide hand sanitizer for guests to use before grabbing dessert to go.
Cake by Earth and Sugar
Impressionist Details
Abstract painterly details will be one of the prettiest ways to decorate your wedding cake in 2021. Your cake baker can use frosting and other sugar adornments to "paint" your cake with delicate florals and brushstrokes to achieve a three-dimensional, one-of-a-kind look. The end result is reminiscent of Impressionist painters, like Claude Monet and Edgar Degas, and it's especially beautiful for a classic-themed or garden wedding.