They say that a party (ahem, or wedding, in this case) without cake is just a meeting. And for the most part, we'd have to agree! No matter your style or budget, your wedding cake is a prime opportunity to tap into your creative side, enhance your wedding decor, and most importantly, delight your guests with a sweet treat at the end of the celebration. If you're getting married in the next year, you'll want to check out these wedding cake trends that we're expecting to see everywhere in 2020. From bold patterns and colors, to delicate artist-inspired details and even edible flowers, these wedding cake trends offer something for every season, theme, and dessert table.
Find out which one of these 2020 wedding cake trends is a fit for your big day.
Deckle edges
This type of cake is intentionally left a little rough around the edges, and the result is undeniably sweet. Deckle edge cakes give the illusion of ruffles (or even flower petals) encircling your cake, making this trend a fabulous choice for a romantic or classic wedding theme. The term "deckle" is actually borrowed from stationery—you've probably seen wedding invitation suites and escort cards with torn or raw edges that create a vintage, antique look. Go all out with this wedding cake trend by opting for multiple layers of deckle edges (add gold detailing for an ultra-glam look), or take a more minimalistic approach by choosing a smooth fondant cake accented with one deckle edged tier.
Edible flowers
Edible flowers (yes, really!) are on track to be a major wedding cake trend in 2020. We've seen couples accent their wedding cakes with elaborate cascading flowers, fresh greenery, and floral cake toppers, but this trend is a totally unexpected way to incorporate botanical elements into your dessert tables. It's also highly sustainable (another buzz-worthy wedding trend for 2020), since you won't be tossing the flowers into the trash after cutting the cake. The idea of edible flowers can be traced back to the Victorian era, when fresh blooms were often used to garnish desserts and other meals. Pansies, carnations, marigolds, violets, and even some types of roses are all edible—who knew? Try using individual petals from these flowers, rather than the whole flowers themselves, to decorate a buttercream cake and make it easier for your guests to get on board with the idea.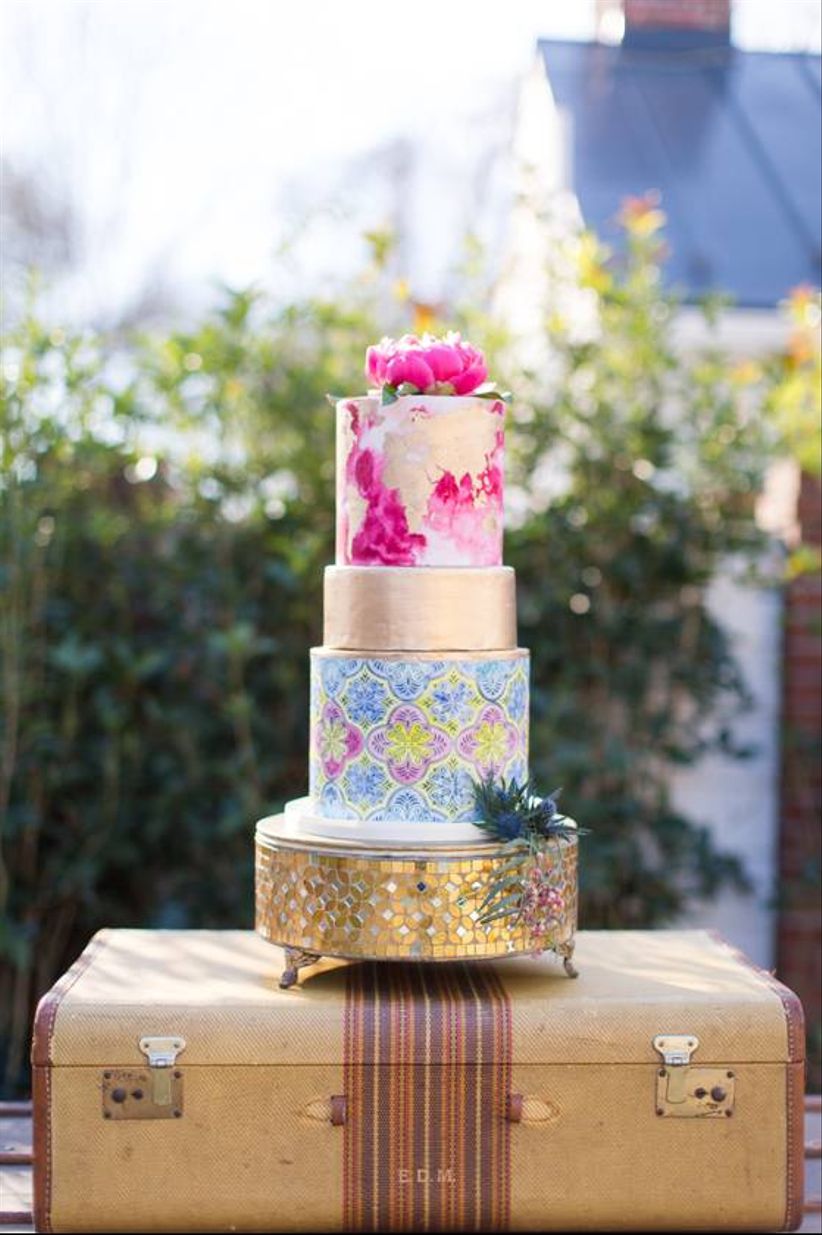 Tile prints
From terrazzo to chinoiserie and Moroccan-inspired patterns, tile prints are one of the boldest wedding cake trends for 2020. Couples who want to make a statement with their wedding cake will love this trend, especially since it goes well with other eye-catching elements, like metallic foils, bright colors, and geometric accents. Already have a tile design you love? Using edible ink and special printing technology, some wedding cake bakers can create an exact replica of the pattern. Others will achieve the look by hand-piping or painting designs onto fondant icing. Our tip? Look around your wedding venue to see if you can spot any cool tile details to use as inspiration.
Cake by Earth and Sugar
Impressionist details
If you love the works of Impressionist artists like Claude Monet, Henri Matisse, and Edgar Degas, this is the wedding cake trend for you. Abstract painterly details (think of a painter's palette) will be one of the prettiest ways to decorate your wedding cake in 2020, whether you choose soft brushstrokes, delicate florals, or whimsical swirling patterns. The end result is, unsurprisingly, a one-of-a-kind work of art.
Alternative cakes
Wedding cake not your thing? No problem! If you're not a fan of traditional cake, there are still plenty of other options for your dessert table. One of them is alternative wedding cakes—think crepe stacks, pancake stacks, donut towers, cheese wheel cakes, macaron cakes...the list goes on. This option gives you the same wow factor that you'd have with a wedding cake (plus the photo op of slicing into something, if that's on your list!), but it also gives you the freedom to serve a dessert that you truly love.