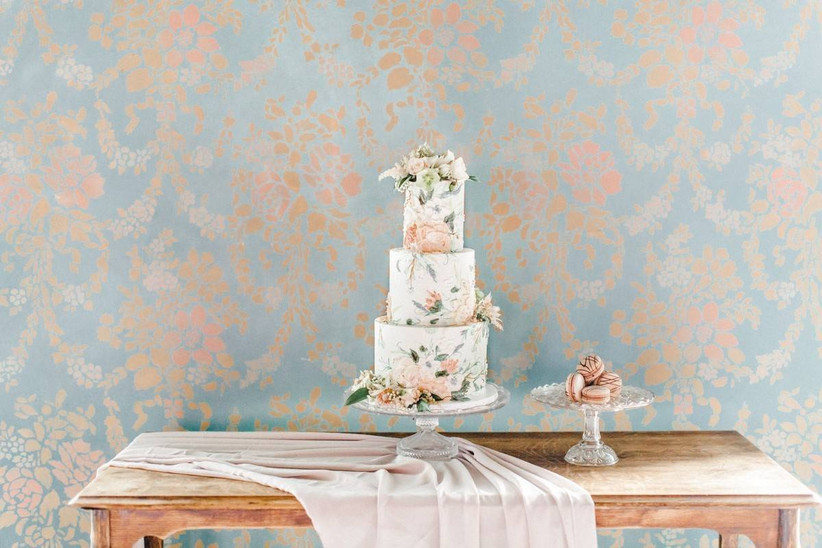 They say that a party (or wedding, in this case) without cake is just a meeting—and we'd have to agree. From the design to the way it tastes, your wedding cake is likely to be one of the most memorable details of the day for both you and your guests, so you might as well make it count. If you're planning a wedding, these 2021 wedding cake trends will give you plenty of inspiration prior to meeting with your cake baker to get your creative wheels turning. And even though weddings these days are looking a little bit different, the cake is just as important (maybe now more than ever!), so get ready to bookmark your favorite idea.
From socially distant options to treat-filled dessert bars, these are the 2021 wedding cake trends to know.

Individual and miniature wedding cakes
For many couples and wedding vendors, COVID-19 safety is still top of mind, even when it comes to the food and dessert. But there are ways to take precautions while still creating a stylish, curated experience for your guests—and that's where miniature cakes come in. "A trend for 2021 will be that of mini cakes, which aids the efforts of throwing a safer event while also making an impactful design decision," says Claire Durán, owner and creative director of Claire Durán Events in Silver Spring, Maryland.
You can incorporate this unique 2021 wedding cake trend in a couple of different ways. One option is to give each reception table its own cake, so guests who are already seated together (and reside in the same household) can share without worrying about exposure to germs. The other option is to have your cake baker create a miniature cake for every guest and display them at each place setting. Keep in mind that miniature cakes are larger and more decorative than your average cupcake—they should resemble an actual wedding cake, just on a smaller scale.

One- and two-tier wedding cakes
Even if you don't go the route of serving miniature wedding cakes, downsizing will still be an overall wedding cake trend in 2021. "The sizing of most cakes will decrease due to smaller-sized gatherings," says Meg Skill, owner and creative director of Nutmeg Cake Design in Philadelphia, Pennsylvania. "Above all else, I think that is the overwhelming trend. Two-tier cakes are certainly having a moment!" With large gatherings generally prohibited across the U.S. until further notice, microweddings and elopements are growing in popularity—and eliminating the need for huge, multi-tier wedding cakes. One- and two-tier cakes will be enough for many couples, and they're just the right size for adding an extra dose of personalization to your reception decor.

Minimalistic buttercream and fondant wedding cakes
Going back to the basics is another wedding cake trend on track to gain popularity in 2021. "We're still seeing a lot of the naked/sheer, simple white textured buttercream and marbled fondant requests," says Skill. But skipping the elaborate, colorful decorations doesn't mean your wedding cake has to be boring—there are actually plenty of different ways to personalize a white wedding cake to make it your own, whether it's with fresh flowers, metallic edible foils, or textured frosting.

Personalized wedding cookies
Whether you use them as wedding favors or in place of a wedding cake, cookies are expected to continue to be one of the biggest wedding cake trends in 2021. "We've seen a 13% increase in searches on Etsy for custom or personalized cookies in the last three months [compared to the same time last year]," says Dayna Isom Johnson, trend expert at Etsy (and judge on the NBC series Making It). "Many couples are choosing other sweets and treats over traditional wedding cakes. And with small gatherings, many are looking to add a personal touch." Mailing custom cookies is also an excellent way to send your wedding to your guests if you're not gathering in person but still want to share the experience with loved ones.

Alternative wedding dessert tables
"Our clients are opting for alternative dessert displays instead of elaborate cakes," says Valerie Falvey, founder of Kirkbrides Wedding Planning & Design in Cleveland, Ohio. "We've had bundt cake displays, dessert displays, brownie sundae stations, beautiful pie displays on decorative rented furniture, and the list goes on." This 2021 wedding cake trend is a great alternative if you and your spouse aren't the biggest cake lovers—or if you can't choose just one type of dessert. If you're worried about spreading germs with elaborate dessert tables, you can serve pre-boxed sweet treats and provide hand sanitizer for guests to use before grabbing dessert to go.
Wedding cakes with edible and pressed flowers
Edible flowers will continue to stand out as a major wedding cake trend in 2021. This trend creates less waste, since you won't be tossing the flowers into the trash after cutting the cake, and it fits the stylish but laid-back look that many couples are gravitating toward with the rise in smaller weddings. The idea of edible flowers can be traced back to the Victorian era, when fresh blooms were often used to garnish desserts and other meals. Pansies, carnations, marigolds, violets, lavender, nasturtium, and even some types of roses are all edible—who knew? To give this trend a try at your wedding, use individual petals from these flowers or infuse them into the batter for an all-natural wedding cake flavor.
Cake by Earth and Sugar
Impressionist details
Abstract painterly details will be one of the prettiest ways to decorate your wedding cake in 2021. Your cake baker can use frosting and other sugar adornments to "paint" your cake with delicate florals and brushstrokes to achieve a three-dimensional, one-of-a-kind look. The end result is reminiscent of Impressionist painters, like Claude Monet and Edgar Degas, and it's especially beautiful for a classic-themed or garden wedding.