9 Creative Ways to Send Your (Virtual) Wedding to Your Guests
Instead of bringing your guests to your wedding, bring your wedding to your guests! These creative ideas will make your guests feel like they're celebrating in person while staying safe at home.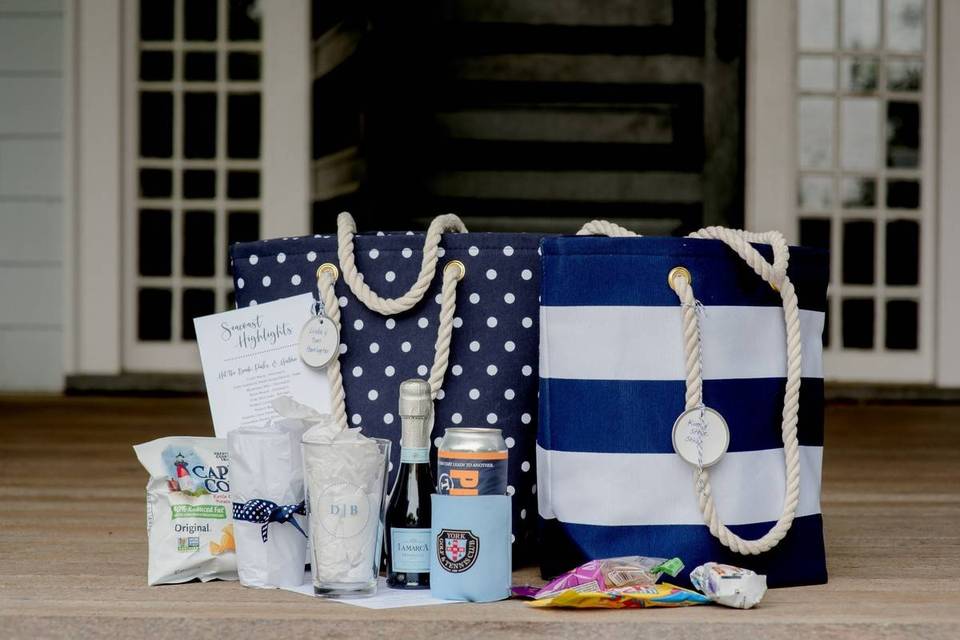 Amid the COVID pandemic, many couples are opting to add a virtual component to their wedding day, so that guests can watch the proceedings while staying safe at home. "Attending" a wedding via Zoom or other live streaming service is probably a new experience for most of your guests, but there are ways to create a celebratory atmosphere for them so they'll (almost) feel like they're physically with you. With a bit of planning, you can send several components from your wedding right to your guests' doors, whether they live around the corner or across the country. Not only will these creative surprises bring a smile to your loved ones' faces, they'll also create a sense of community among your family members and friends.
Check out these 9 ways to send your wedding to your guests, while they celebrate at home.
Amp up the welcome bags.
Traditionally, welcome bags are given to out-of-town guests and include a variety of locally-themed snacks, drinks, and keepsakes. As an alternative, why not ship welcome bags to guests who will be attending virtually? These giveaways can be treated like traditional welcome bags, with local treats, or you can include items to help them celebrate on your wedding day—a small bottle of champagne, fun decorations, a cute favor, a jarred dessert—let your imagination run wild! There are even companies that can create these welcome bags for you to make the process even easier. Make sure to send these care packages well before your wedding day so that your guests can enjoy the contents during or after your virtual event.
Create a customized Zoom background.
Before your virtual wedding, send your guests a Zoom background they can use on the big day. Your guests won't have to worry about straightening up their house before your event, and the backdrop will add a sense of unity and community among your guests who may be watching from around the world.
Send flowers to your VIPs.
If you have close loved ones who live nearby but are attending your wedding virtually (elderly relatives, for example), we love the idea of having your florist create a corsage or boutonniere for them. These floral arrangements can be delivered to your loved ones' homes on the morning of the virtual event so they can wear them while attending the livestream. So sweet!
Share your signature cocktail recipe.
Many couples create a signature wedding cocktail to add a personal touch to their wedding day. Before your wedding day, share your signature drink's recipe (your caterer can provide this) with your virtual guests so they can mix it up themselves before the event. If possible, you can even send mini bottles of ingredients and mixers as part of your welcome bag care package.
Design a digital ceremony program.
Ceremony programs aren't just pretty booklets—they give your guests a ton of valuable information! You don't have to forgo the ceremony programs just because your wedding is going virtual. Work with a stationery designer to create a ceremony program in digital form that you can send to your virtual guests before the ceremony. The digital program can include all of the same information as a printed program—the order of the proceedings, names of your VIPs, and thank you and dedications.
Set the mood with music.
Music really sets the mood and tone for any wedding, and perhaps even more so at a virtual wedding. There are a few ways you can incorporate music into your virtual wedding. Your DJ or music pro can play some joyful tunes after the ceremony so that your guests can let loose and dance in the comfort of their own homes. You can also send your loved ones a playlist of your and your partner's favorite songs that your guests can listen to before or after the event.
Present a photo slideshow.
At many weddings, a slideshow featuring photos from the couple's childhoods and relationship set to music is a highlight of the reception. This can be a fun addition to a virtual wedding, as it's easy to share a photo montage with loved ones on Zoom during the event, or send them a link to the slideshow afterwards. A videographer can help make your photo montage even more professional-looking.
Offer a virtual guestbook.
Forget about those long lines at the guestbook table! A virtual guestbook is a guestbook specifically for an online wedding celebration, which allows guests to share well wishes, photos, and videos that are then are compiled into a digital memory of the day. You can create your own virtual guestbook (just have guests email you their messages), or use one of the virtual guestbook services available, like from Miss Design Berry.
Enlist your photographer and videographer.
There are many creative ways to use photo and video to bring your wedding to your guests. Of course, your photographer and videographer can share sneak peek photos and videos shortly after your event. If you have loved ones who live nearby but are unable to attend the event in person, you can stage mini photo shoots with them—socially distanced, of course.