Who Wears a Corsage at a Wedding?
If you're getting ready to order your wedding floral arrangements, you may be asking: Who wears a corsage at a wedding? Here's a list of the VIPs who get to wear these badges of honor.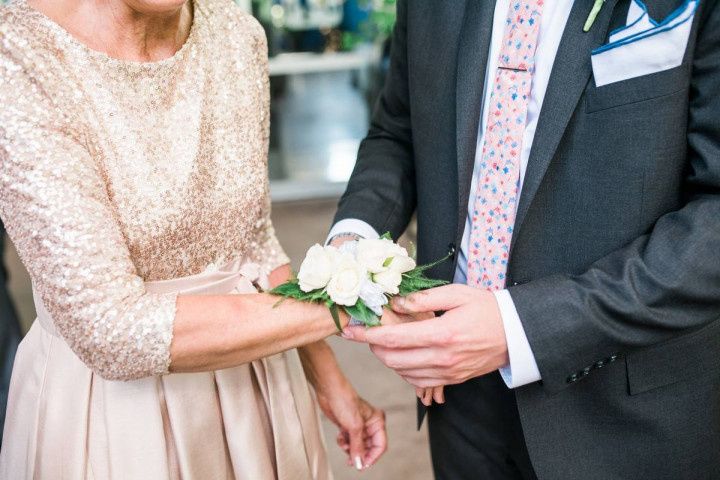 Corsages aren't just for proms. In fact, these petite floral arrangements, which are either worn on the wrist (usually tied on with a ribbon, like a bracelet) or pinned on the wearer's attire, are often seen at weddings. But who wears a corsage at a wedding? While the bride and her bridesmaids typically carry bouquets, other female family members and close friends may be given corsages to wear. Before ordering your corsages from your florist, it's important to ask the wearers if they'd prefer a pinned-on corsage or one worn on the wrist. Some people might find a wrist corsage to be uncomfortable, while others don't want to pin anything onto their attire (pin-on corsages are not ideal for those wearing strapless dresses, for example).
So, who wears a corsage at a wedding? Here's a list of who should receive one of these special accessories.
Mothers and Stepmothers
Mothers of the bride and groom, as well as stepmothers, should receive corsages to wear. If possible, the moms should provide the florist with the color and fabric of their attire (even better: fabric swatches!) well in advance of the wedding so that the corsages can be made to match or complement their wedding-day ensembles. The groom or bride should give his or her mom her corsage in person, which makes a lovely, emotional photo opportunity. Be sure to practice tying or pinning a corsage in advance so that you can help your mom or stepmom with this task without stress.
Grandmothers
When thinking about who wears a corsage at a wedding, Grandma should be at the top of the list. If you are fortunate enough to have a grandmother or grandmothers present at your wedding, you should be sure that she receives a floral corsage to wear to show how grateful you are for her presence. Again, the corsage should be made to match Grandma's attire, and she should be able to select a pin-on or wrist corsage to fit her preference.
Female Attendants
While your bridesmaids will likely carry bouquets, some brides may opt for their 'maids to wear corsages or floral bracelets instead. Corsages may also be worn by other female attendants who deserve a badge of honor, such as ushers (yes, women can be ushers, too!), ceremony readers, house party members, and other women who may have a role in the wedding ceremony or reception. Not only is it a nice gesture to give these attendants corsages (and they sure are pretty!), it also distinguishes them as point people in case your guests have questions during your event.
Officiant
Your officiant might not be the first person you think of when deciding who wears a corsage to your wedding, but if your officiant is female, it's nice to give her the option of wearing a corsage for your ceremony. Note that certain religious officiants wearing traditional dress may not be able to wear a corsage, so be sure to ask your officiant directly if she'd like one.
Other Family Members and VIPs
There are really no hard and fast rules about who wears a corsage to a wedding, so you can feel free to give any female loved ones a corsage to wear if you so desire. Perhaps a cousin who is not a bridesmaid but helped you a bunch with wedding planning. Or maybe the mother of your flower girl who isn't technically in the wedding party, but deserves a shout out. Or even your beloved great aunt who traveled a long distance to attend your big day. We've even seen weddings with "make your own corsage" bars where every guest can create her own corsage (or boutonniere for the guys). Remember, though, the cost of corsages can add up quickly so be mindful of your budget as you're deciding who will wear a corsage at your wedding.