How to Help Mom Find the Perfect Mother-of-the-Bride Dress
Wondering what the mother of the bride should wear on your big day? You want your mom or future mother-in-law to look and feel her best, so help her find the perfect dress with these shopping tips.
We have included third party products to help you navigate and enjoy life's biggest moments. Purchases made through links on this page may earn us a commission.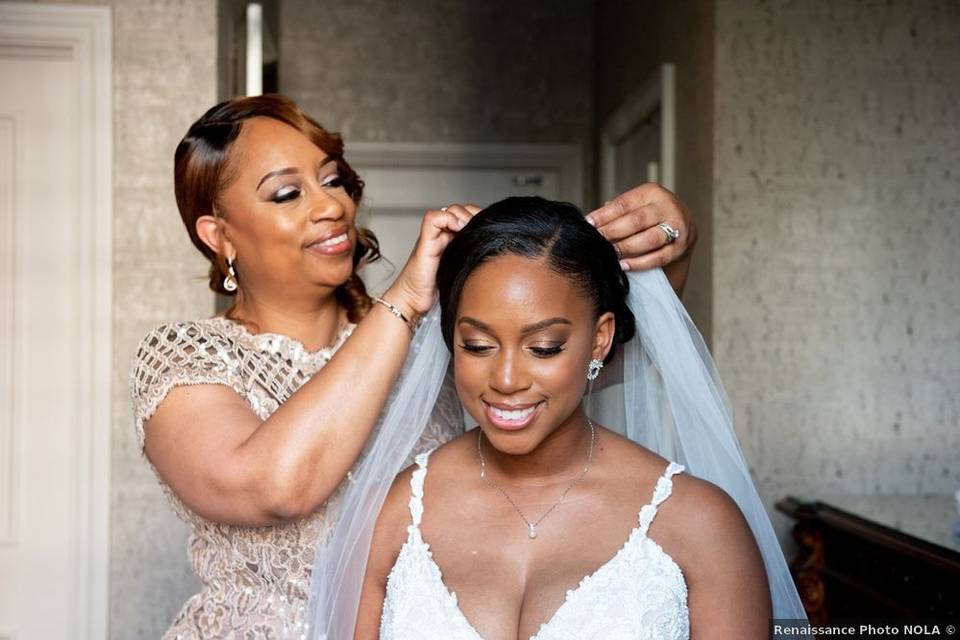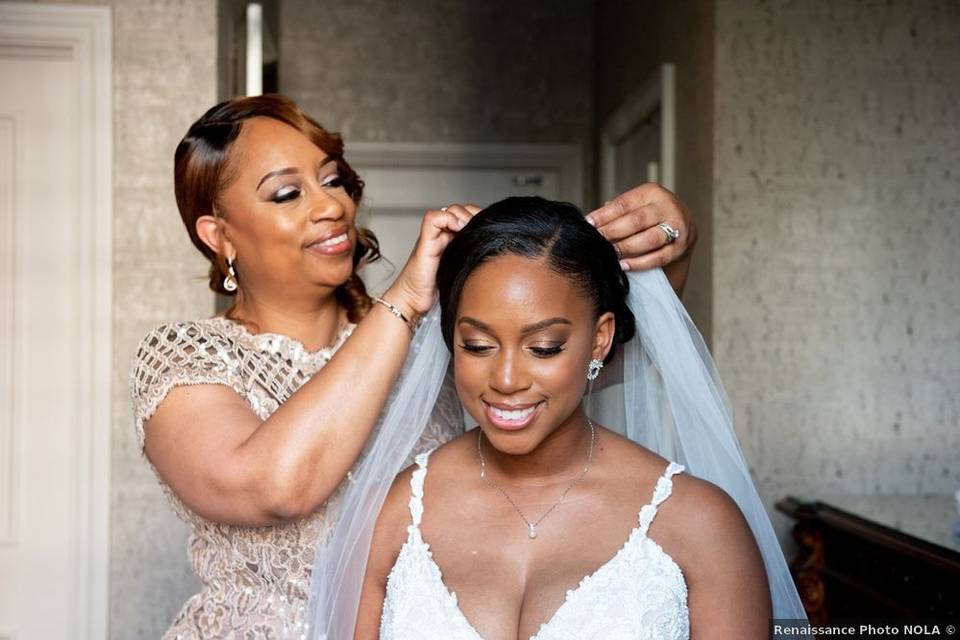 When it comes to figuring out what a mother of the bride should wear, you definitely want your mom to feel just as comfortable and confident as you do on your wedding day. Take the time to assist her in finding a mother-of-the-bride dress or outfit that best suits her taste—and your wedding style. Some moms may love the first ensemble they try on, others may take more time to find the right look. Whatever the case may be, follow these tips to ensure an enjoyable (and even fun!) shopping experience.
Trying to figure out what the mother of the bride should wear and how to find the perfect ensemble for her? Here are 11 things to keep in mind.
Have a pre-shopping chat.
If you're wondering how to find the perfect mother-of-the-bride dress, remember that it should be a joint effort between you and your mama. Before you hit the stores, have an open and honest conversation with your mom about how she wants to look on your wedding day. Take a look at evening dresses online to see if there are styles that she gravitates toward. You might also look at her own closet—if there are dress styles that she wears most often (she loves v-necks, for example) you might want to consider those types of outfits to ensure her comfort.
Provide guidelines, but not too many.
Of course, your mom should wear something that makes her feel great—but she will also look to you to provide her with some instructions to help narrow things down. You should be able to discuss the formality of your wedding, the time of year, the venue (is it outdoors or indoors?), and your color scheme before your mom starts shopping—these details will greatly affect her attire. A gown for a formal indoor winter wedding is very different than a mother-of-the-bride dress for a casual summer outdoor wedding.
Give yourself enough time.
Be sure to start shopping for a mother-of-the-bride dress at least six months before your wedding day. Remember that like wedding dresses, mother-of-the-bride dresses may need to be specially ordered and tailored to ensure a perfect fit. Rushing the process will make it that much more stressful for both you and Mom.
Remember: She's not a bridesmaid (or the bride!).
Your mother of the bride will probably ask you about what color she should wear. Think about your wedding color scheme, of course, but also about the color of your bridesmaid dresses, if you're having them. Your mom shouldn't blend in with the 'maids, so try to avoid dressing her in a similar hue. For example, if you color scheme is blue, purple, and gray, and your bridesmaids are wearing gray, try to steer your mom toward something in the blue or purple family. Also, mothers of the groom or bride should avoid wearing white, though colors in the champagne or gold family can look gorgeous on moms.
Talk to your future mother-in-law.
Be sure to also coordinate with your future spouse's mother as well. Provide the same guidelines that you did to your own mother, and if you're able and comfortable with this, offer to assist her with her own shopping. If your two moms get along swimmingly, then they may even want to go shopping for dresses together, but it's more likely that they'll shop separately. You'll want to make sure that the two moms don't wear the same dresses—or even dresses in the exact same colors, so discuss accordingly (but politely!).
Think about the store or salon.
When considering how to find the perfect mother-of-the-bride dress, take the time to research stores before visiting. Many bridal salons, like David's Bridal, have a wide array of mother-of-the-bride dresses so that might be a good place to start. You can also check out department stores like Nordstrom, Saks Fifth Avenue, Macy's, or Bloomingdale's, or even online dress rental companies like Rent the Runway. You can order a few dresses from an online retailer with a generous return policy if Mom would prefer to try ensembles on in the privacy of her home.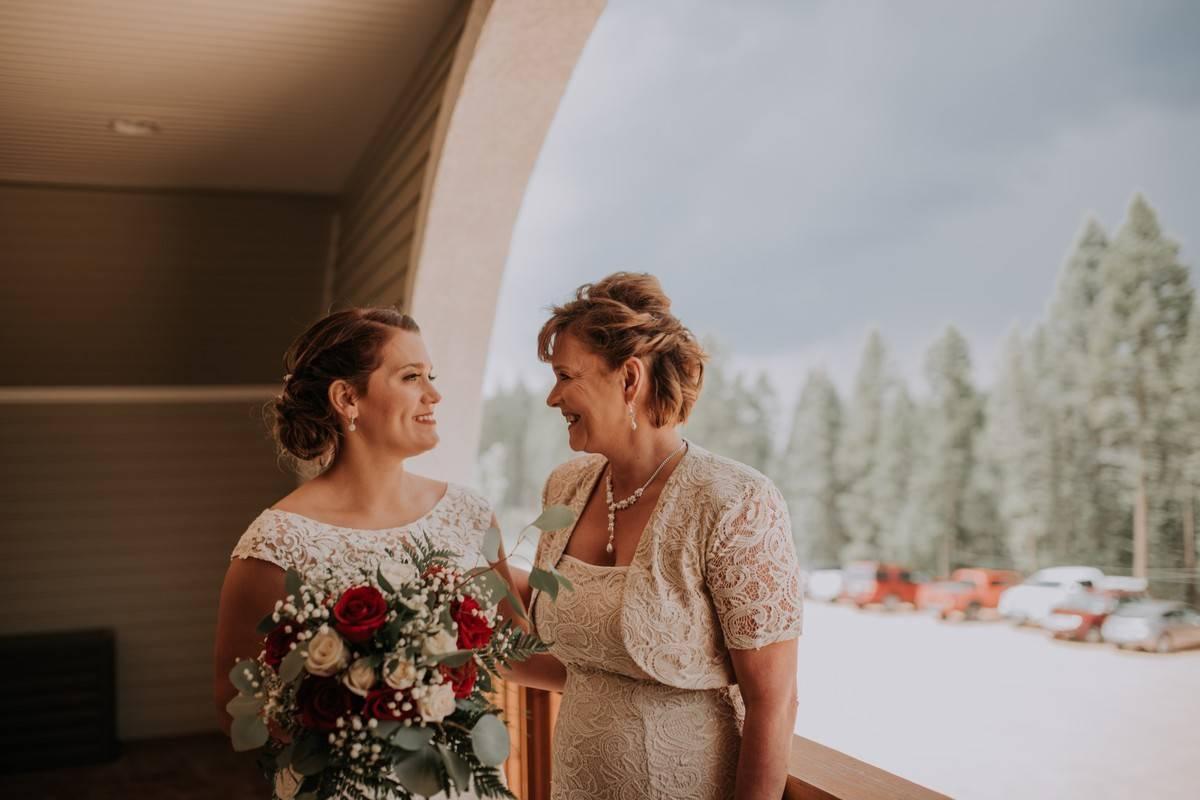 Make it fun.
It's a nice idea to be there in person to help your mom shop for her attire. She'll feel more comfortable making a decision with you there, and you'll be able to guide her in the right direction. Schedule a few appointments at salons or hit up a few department stores, and don't forget to leave time for a leisurely lunch to keep things relaxed and enjoyable. And just like shopping for your wedding-day attire, we recommend keeping the shopping participants to a minimum. We're thinking just you and Mom is ideal, but if there is a sibling, close relative or friend who wants to join, that's okay, too—just keep it to four people or fewer.
Be supportive, not critical.
When your mom is trying on dresses, remember to keep the mood positive. When Mom tries something on, let her be the first to give her opinion, then you can chime in (don't make faces as soon as she walks out of the dressing room!). Even if there is a mother-of-the-bride dress that you don't like, focus on what you do like about it, and then say "I think we can find something even better." Of course, there is something that you love, feel free to heap on the praise. Your positive reaction will make her feel even more confident and gorgeous!
Get creative with coverage.
Some moms are comfortable showing a little skin, but for many MOBs, the most flattering mother-of-the-bride dresses include an element of coverage for the shoulders and arms. However, she shouldn't exclude dresses just because they don't have sleeves. It may actually be more comfortable for her to wear a sleeveless or short-sleeved ensemble and then add a blazer, bolero, or wrap to provide removable coverage—especially if you're getting married in a warmer month.
Accessorize!
Carefully-chosen jewelry, shoes, shawls, and purses can really amp up a mother-of-the-bride (or groom)'s look and provide a great way for your mom to show off her own sense of style. If your mom is feeling so-so about a particular dress, remind her about what a pair of dramatic earrings, a fun sash, or a great pair of heels could do to really make the look her own. These suggestions may help seal the deal.
We can't agree—now what?
It's quite a common occurrence as you figure out how to find the perfect mother-of-the-bride dress—you hate the ensemble your mom loves. If the mother-of-the-bride dress she wants fits the general style of your wedding and the color scheme that you picked out, you may want to leave it alone. However, if you really think it won't work, talk to her about why she loves that particular dress. Is it the neckline? The length? The fabric? Try to steer her toward flattering mother-of-the-bride dresses with similar features, but that perhaps fit the style of your wedding a bit better.
Disclosure: This post contains affiliate links, some of which may be sponsored by paying vendors.