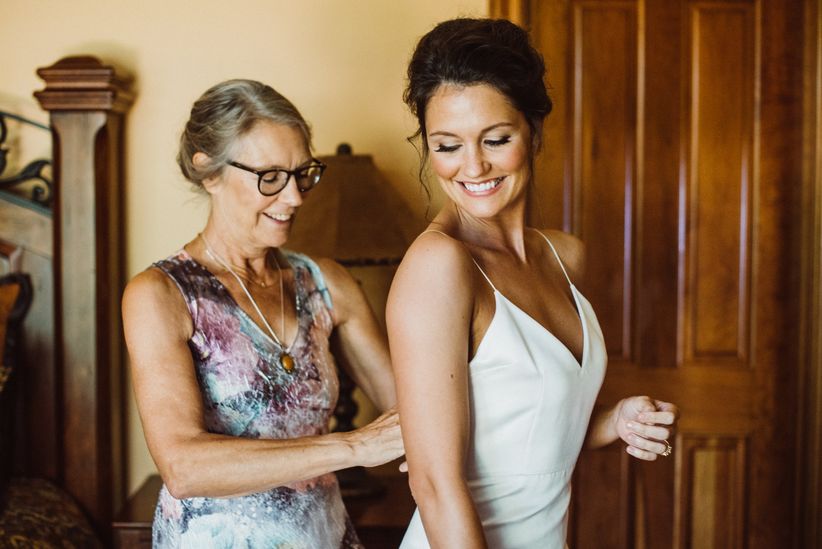 Photo: Aster & Olive Photography
When it comes to wedding planning, you'll probably have lots of questions. Sure, sometimes you can reach out to your wedding planner to answer them, but for some, we know just the person to ask - your mom! From figuring out who that family friend is on your guest list to choosing mother-of-the bride dress styles, you're bound to pick up the phone to ask your mom for help. No matter how old you get, sometimes mothers just know best.
Do you think I should get married over Memorial Day weekend? - On the fence about picking a wedding date? Ask your mom if she has any feedback when choosing a season or weekend that will work for everyone—she'll likely know if a particular date will conflict with your favorite uncle's work conference or your cousin's college graduation.

Do you like my dress? - Your mom has probably helped you with a majority of your important outfit choices, from junior prom to college formals, and she knows what looks best on you. She's a great shopping buddy, so bring her to the salon with you—she'll be 100 percent honest.

Can you tour this venue with me? - Need a second opinion about a wedding venue? Get your mom to come with you to see if the venue is "the one." She also can help ask any questions you may have forgot to put on your list, too.

Can I put Cousin Cathy next to Uncle Bob during the reception? - From Thanksgiving dinners to any other family dinner party your mom may have hosted, she can easily help you create your wedding seating chart.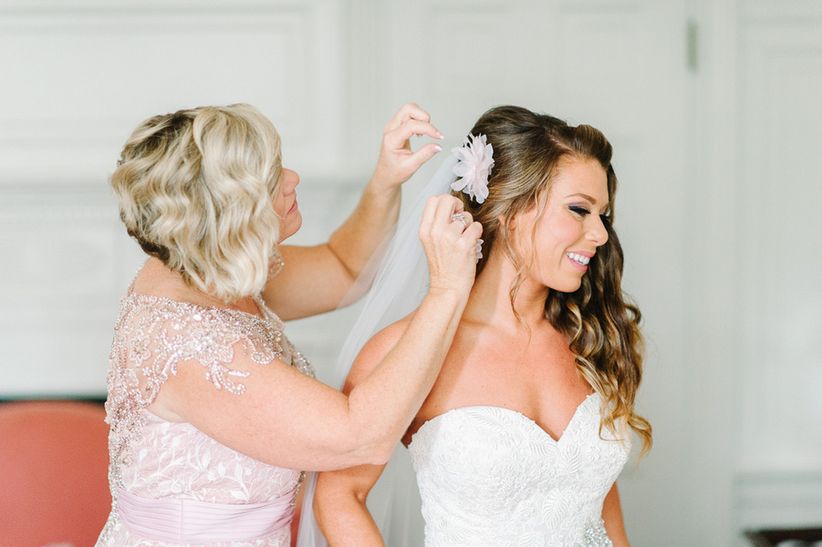 Photo: Pasha Belman Photography
Do you think my engagement is too long? Or is it too short? - Freaking out about not having enough time to plan everything? Or, are you worried that you chose a date that's too far away? Your mom will be there to calm you down.

Should I wear my hair up or down? - We know you'll be sending selfies after your hair and makeup trial and we know one of those selfies will go to your mom. From figuring out if a dramatic updo or natural waves are right for you, your mom will be weighing in with her advice.

Can I borrow your [insert family heirloom here] to wear? - Whether it be your grandmother's ring or earrings that have been passed down from several generations, you'll want to ask your mom if you can borrow them. It can double as your "something borrowed" too!

Can you read over my invitations? - It's always a good idea to have an extra pair of eyes to help proofread your invites before you send them out. So, why not get your mom involved with planning by giving her this task!

Do you know what you're wearing yet? - Not only will your mom's input be helpful for finding your dream dress, but you too can help her find a dress to wear, as well. From the many different mother-of-the-bride dress styles to choose from you'll want to make sure she has your help.

Why is our family's dentist on our guest list? - Depending on who is footing the bill for your big day, your parents are going to try to add some of their friends to your guest list. Make sure to ask who they really want to attend your wedding and come to a compromise.