"13 Things I Learned from Having a Minimony Before My Big Wedding"
A small wedding ceremony meant big learnings for this bride, who is hosting her larger celebration next year.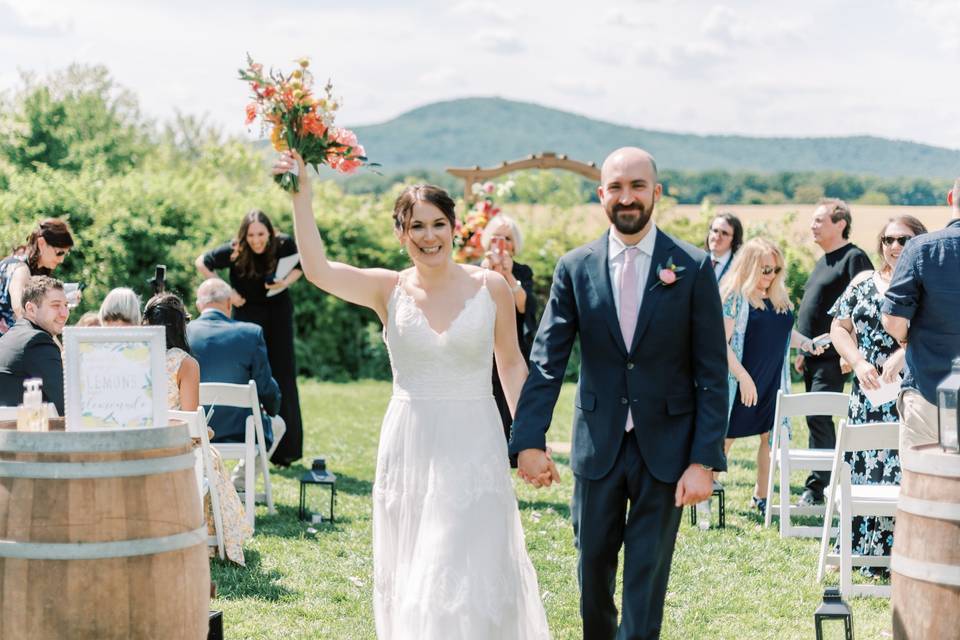 After planning my original (pre-COVID) wedding three times, my fiance and I were torn with what we should do. Hold off yet another year for attempt #4 of the big bash of our dreams or celebrate with a minimony in the meantime?
Although I felt like an expert wedding planner by this point, the thought of trying to organize another "wedding" — no matter how small — didn't seem entirely appealing. But after marrying the love of my life surrounded by 30 close family and friends, I can wholeheartedly say it was completely worth it. Plus, having that mini-ceremony first didn't take away from what will be our large celebration next year, it is actually going to be an even better event because of it. That's because of all that I learned during this "wedding part one" that I'm taking with me for our larger nuptials to come.
1. A day-of coordinator really matters.
I thought I had this entire wedding planning thing under control so for my original wedding, I didn't hire a wedding planner, just a weekend coordinator that I wasn't convinced I needed. So when my minimony rolled around, I definitely didn't think I needed help — how hard can a party be for 25 adults and 5 kids? Luckily, my venue knew better than I did and had an incredible coordinator step in and touch base with me over the weeks leading up to our wedding. And even though I had every intention of doing it all myself the day of, Melody magically swooped in like the wedding fairy goddess that she is and handled everything. Looking back, there was absolutely no way I could have done it without her and I would have destroyed any semblance of enjoying the day trying to do it solo. So if you have the budget, invest in a wedding planner, weekend-of coordinator, or a venue that has someone onsite — it's worth it.
2. Pad your timeline — and then pad it again.
I admit it: I'm not the best with time and feel like I'm always running late. So I was determined to give myself plenty of extra wiggle room for getting ready, pictures, and set up so that I wouldn't feel like a frazzled mess. I wanted to be able to intentionally pause and enjoy the little moments. Well, I was wrong. Despite what I thought was plenty of time between hair, makeup, and the rest of the day, everything was much more of a rush than I would've liked. And this chaos likely would have upset me or stressed me out more if I didn't simply look at it as a learning experience for the next time and just rolled with the flow.
3. Invest in photos and videography.
For our minimony, we didn't have a large photography budget and were not able to hire a videographer. I assumed this would be okay, that we'd have time (in the timeline that I greatly underestimated...) to snap some brief photos. And we had been on the fence as far as a videographer for our big wedding anyways, so we certainly didn't need it for this. Again, I was wrong. The day goes by in such a blur and not only will you miss those tiny details you agonized over but also those priceless moments with loved ones. So I'm definitely investing in photography and videography for my big celebration.
4. Skip the shapewear.
I understand the desire to "look your best" on your wedding but I also now know how much that can cost you on the actual day. Let's just say that the combination of breaking my wedding diet for the first time, a nervous stomach, bubbly champagne, and compression shapewear that seemed fine when wearing it for fittings, ended up feeling completely different during the hours of our reception and it simply wasn't worth it. I want to be able to be comfortable on our big wedding day and actually eat without worrying that bloating is going to make it feel like my circulation is being cut off!
5. Sunscreen is essential for any time spent outdoors.
I admit it, I completely dropped the ball on this one too. Since we had limited time for photos with the photographer and were only doing a quick outdoor ceremony, I never thought about sunscreen. And honestly, even if I had, I likely would have skipped it in favor of not taking a chance of smelling like sunscreen or looking greasy in the photos. However, what I completely underestimated is how sensitive my skin was coming out of both quarantine and winter — and how a little bit of red looks so much worse when you're wearing all white. No, the straps of my dress weren't irritating my shoulders, I just learned that the sun doesn't care if you're the bride — you need to protect your skin.
6. Tune out the background noise when you can.
While getting ready, I was hoping for a low-key morning. But despite only having a few friends and family in the bridal suite as a hair and makeup artist worked their magic, things started to feel chaotic and a bit overwhelming. At the same time, one of the lovely professionals flipped my chair to face the window (most likely for the best lighting) but that meant putting my back to the room and everything that was going on behind me. This subtle change forced me to focus on myself and get in the mindset of what was coming instead of worrying whether everyone was fed and happy or what time it was.
7. Don't neglect your bouquet.
The biggest flower mistake I made was not putting my bouquet back in water. I don't know if it was that I'd picked fragile blooms or that it was a warmer day, but my stunning bouquet was delicate and did not hold up for photos as well as it could have if I had realized that it needed some hydration sooner.
8. Comfortable shoes are more important than anything else.
Besides from my groom, my shoe choice was one of the best wedding decisions I made. Instead of struggling on grass, being uncomfortable while I danced, or worrying about destroying footwear that cost more than my rent, I put comfort first and have zero regrets. Yes, I liked the way my shoes looked but I loved how they felt. And after the pain my shapewear subjected me to all night, I can say my shoes at least tried to make up for it and my feet were very grateful for that.
9. You can't make everyone happy and that's completely ok.
Whether someone didn't like their seating assignment to how the steak was cooked, I'm sure our minimony wasn't an exceptional affair to everyone. And although I put so much stress into trying to make everyone happy leading up to it, I won't do that again with our big wedding because it's impossible — and a waste of my time physically, emotionally, and financially. I've since learned that not only is it impossible to please everyone but also on this day, we simply just don't have to.
10. Take a beat before the honeymoon.
We went on a lovely trip right after our wedding but in an attempt to maximize time, we had to leave for the airport by 7:00 a.m. the next morning. Not only did this make for a more logistically stressful wedding night but also it made me go into our honeymoon still wound up from wedding stress. If we had taken a day or even a week in between our wedding and leaving for our honeymoon, I think I would've gone into our trip much more relaxed from the start and therefore able to get more out of the first few days.
11. Prioritize the honeymoon.
Don't get me wrong, I adore a well-thought-out accent as much as the next detail-oriented person but I can also now put the cost and time into perspective. I now know first-hand how easy it is to completely miss those hand-painted details and perfectly curated table settings I worked so hard on. So I can only imagine how much worse that will be during our larger celebration. However, the time you spend during your honeymoon is very valuable, in my opinion, so I will be reallocating my budget differently this time around and cutting some of our original "must haves" from the list because I've seen from my past experience we were wrong about some of our original priorities.
12. Size doesn't matter.
Before COVID hit, I secretly stressed about the guest count for our wedding. Since it was a destination wedding, I knew that less people would be attending but would the guest list end up being too short? Would our wedding not be as special or meaningful because we weren't having a grand reception with 200 people? Now, I won't be getting upset over any "no" RSVPs (although I will miss whoever can't attend!). But the difference is I've now seen just how incredible an intimate wedding can be and it's not the number of guests that make it special but the love that's present.
13. When things go wrong, it really just doesn't matter.
Before getting married, everyone tells you that things will go wrong and not to get upset about it. But as a couple who has worked so hard on their upcoming nuptials, that feels like it would be impossible. So, I did what I do best and stressed about everything ahead of time. But now after seeing that not only did my non-stop prep not prevent hiccups but also how little I ended up caring when the day was finally here, I now understand what everyone was trying to tell me. And it's this understanding that will help me be a much more relaxed bride a year from now. Plus, we've seen that some of the best moments came from the "imperfect" ones (like my 3-year-old niece somehow managing to crash our first look out of sheer excitement to finally see and hug her new uncle!).