27 Gifts to Give the Father of the Bride in Honor of Your Wedding
On the hunt for something special to give your or your S.O.'s dad? These thoughtful gifts for the father of the bride are just as sweet as he is.
We have included third party products to help you navigate and enjoy life's biggest moments. Purchases made through links on this page may earn us a commission.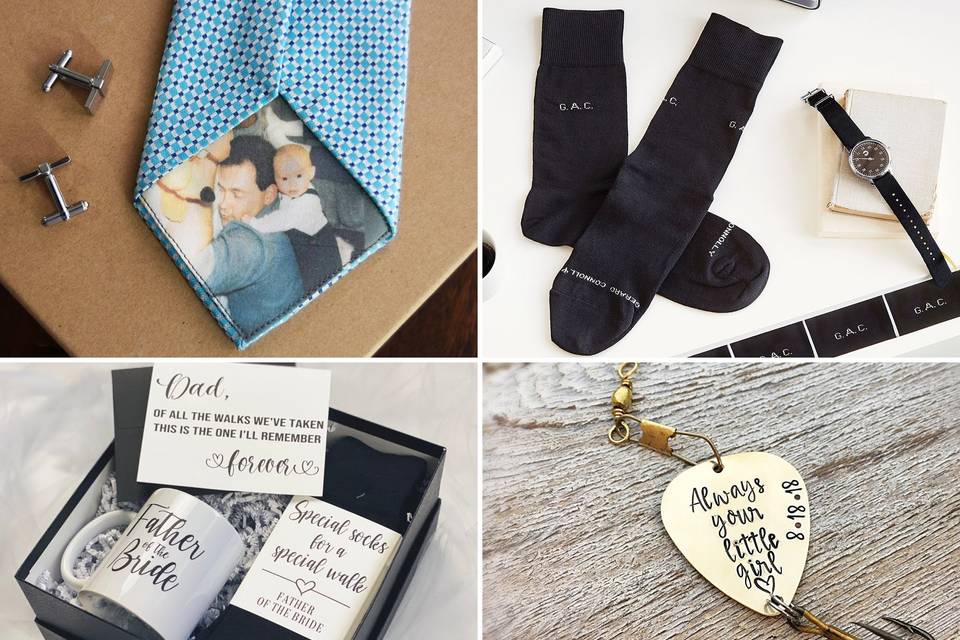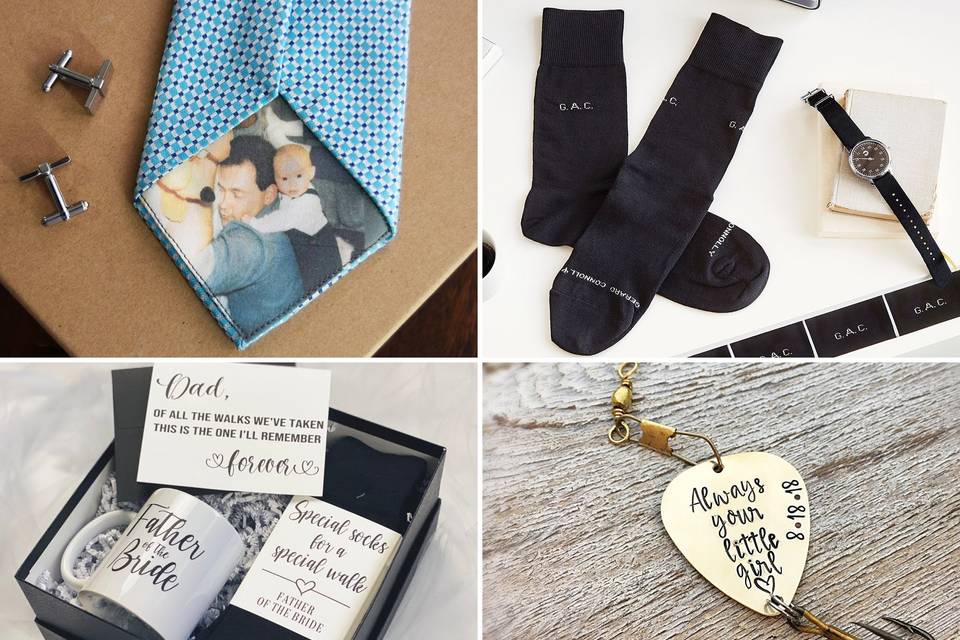 Your wedding day is first and foremost a celebration of your relationship with your partner, but that's not to say you shouldn't take this opportunity to honor the other meaningful relationships in your life. Want to show your dad some hard-earned appreciation? A father of the bride gift is a lovely gesture that'll let him know just how much you treasure your relationship. Not only that, but it's also a sweet reminder of this incredibly special time in your lives. It's customary to buy gifts for both the father of the bride and groom, but if you're stuck for ideas, don't worry. These thoughtful presents are sure to give Dad all the feels (or impress your future father-in-law!).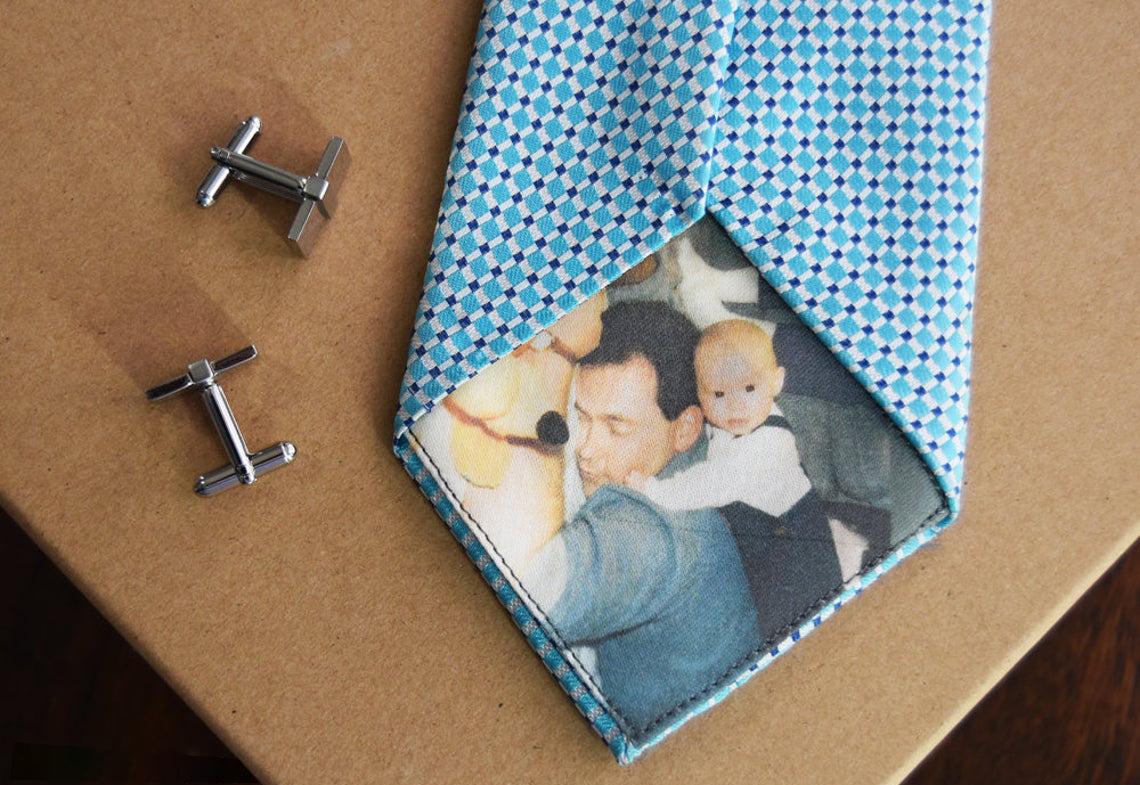 Hidden Photo Tie
Etsy has some of our favorite gift ideas for fathers of the bride, including lots of meaningful personalized gifts he can hold onto forever. This Etsy seller can transform a photo of you and your dad into a custom tie patch. We suggest buying the patch on its own if he already has a favorite tie to add it to. If not, you can have it sewn onto a new one.
Love & Lace Hankies custom photo tie patch, from $21, Etsy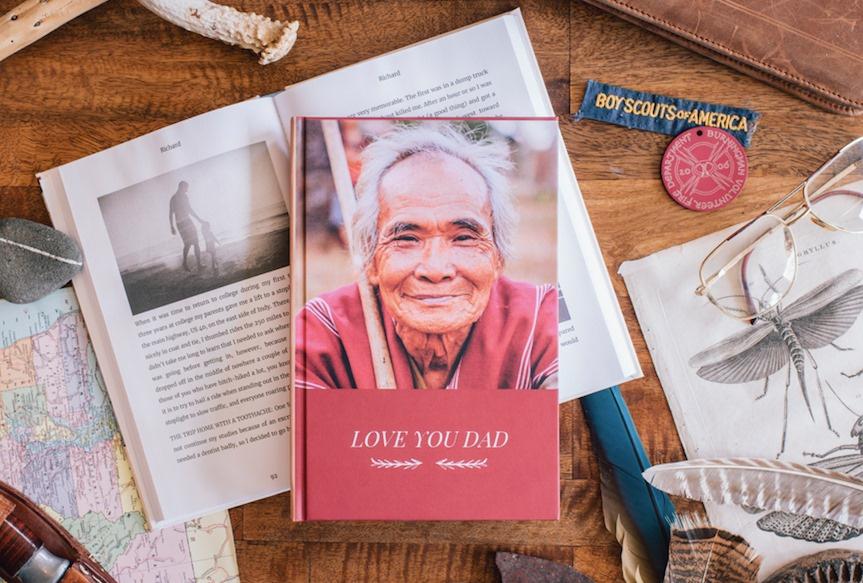 Personal Story Book
StoryWorth is a truly unique present that collects stories from your dad's life by emailing him a question or prompt every week for a year. Once the year is up, everything is put together in a keepsake book for your family to enjoy. If you're looking for an heirloom-worthy gift, this is it.
StoryWorth gift subscription, from $99, StoryWorth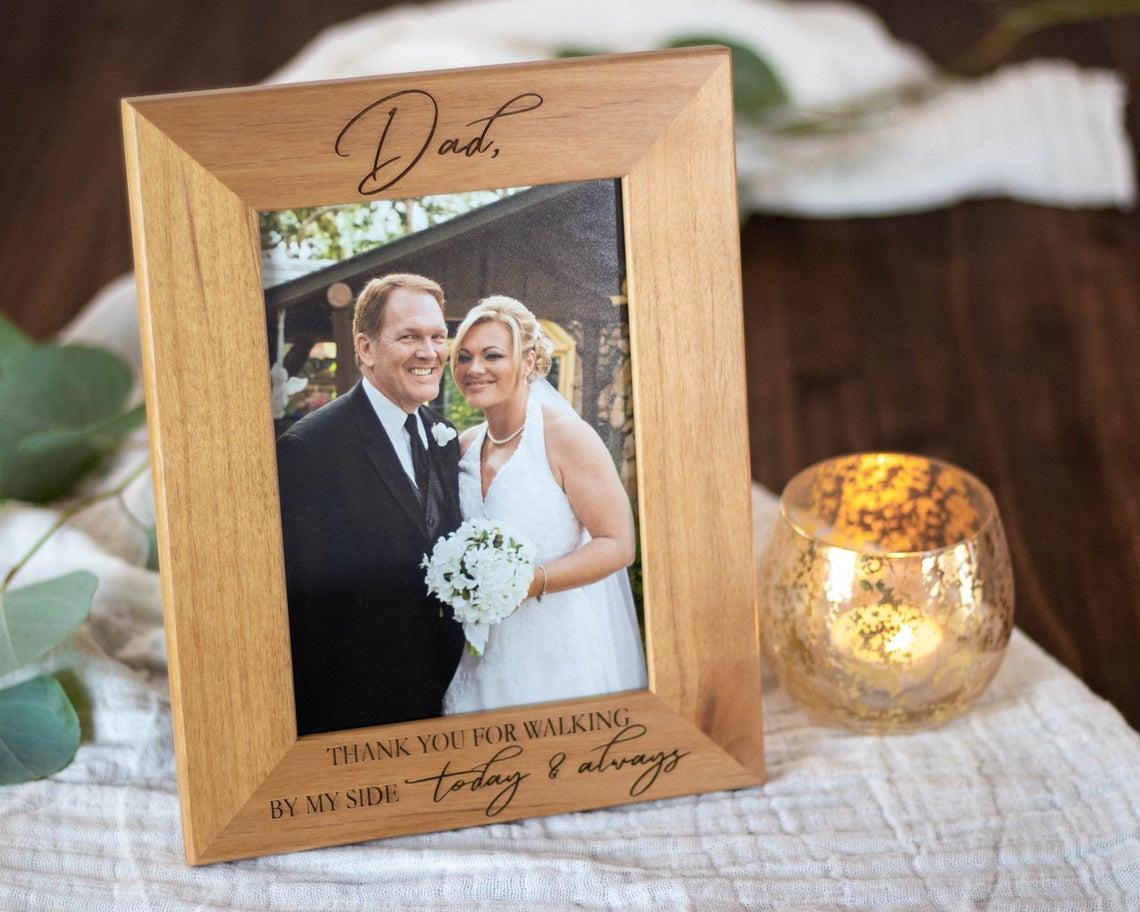 Engraved Photo Frame
Picture frames are always a sweet wedding gift for the father of the bride. This wooden frame is engraved with the phrase: "Thank you for walking by my side today and always." Fill it with an adorable picture of you and your dad when you were younger. Once you get your wedding photos back, he'll have the option to swap it out.
The Painted Hedge father of the bride gift from bride, $30, Etsy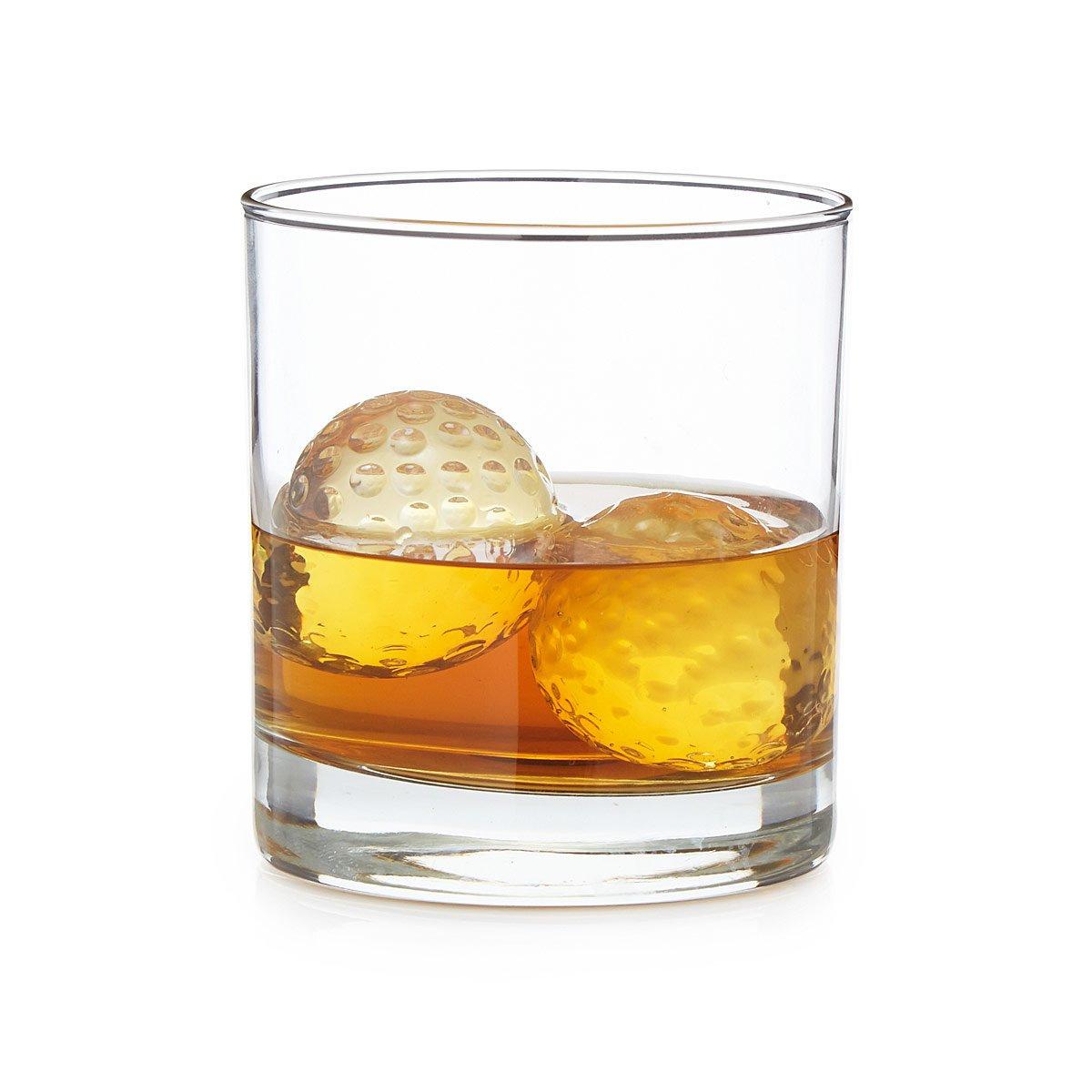 Golf-Themed Whiskey Chillers
Looking for father of the bride gifts from the groom or the other bride? If you don't feel close enough with your soon-to-be in-laws to choose a gift with emotional significance, that's totally fine. Instead, use the father of the bride's hobbies and interests for inspiration. Any golf-obsessed guy will appreciate these golf ball-shaped whiskey chillers.
Uncommon Goods golf ball whiskey chillers, $30 for a set of 2, Uncommon Goods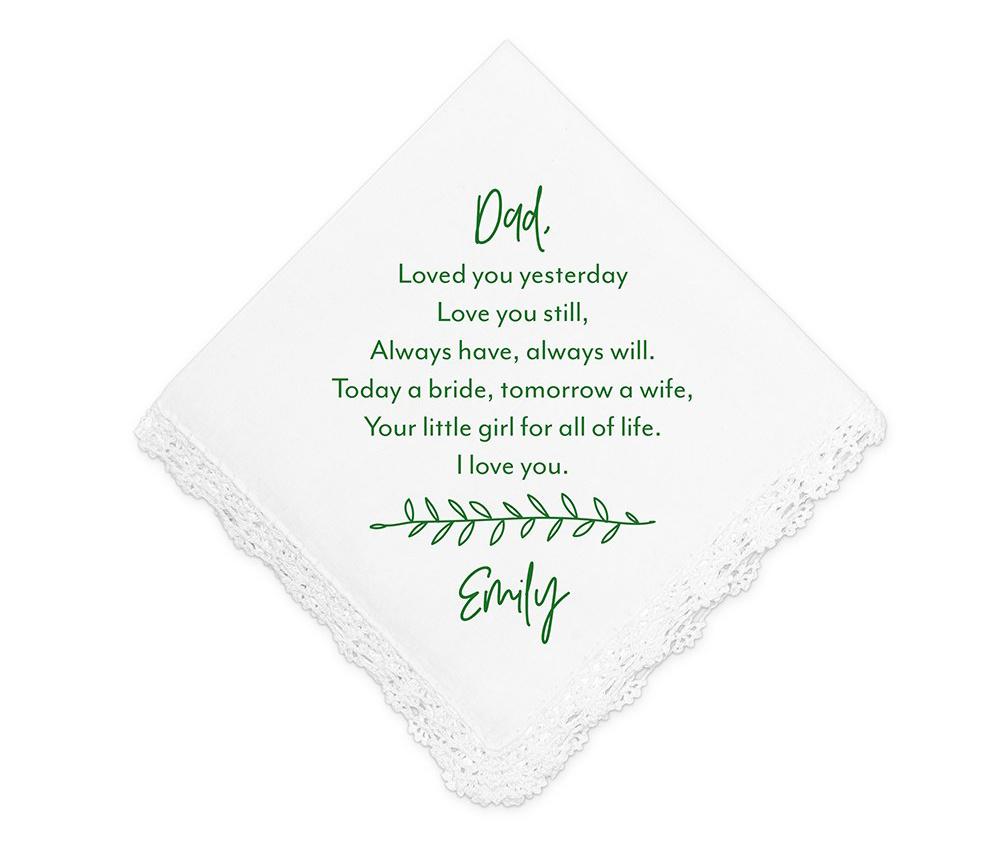 Sweet Handkerchief Message
On the flipside, if you're looking for gifts for the father of the bride from his loving daughter, don't be afraid to get as sentimental as you like. Hand him this special handkerchief on the morning of the big day. It's adorned with a lovely message about growing up that ends with "I love you." He might just need to use it right away.
WeddingWire Shop personalized white pocket handkerchief, $17, WeddingWire Shop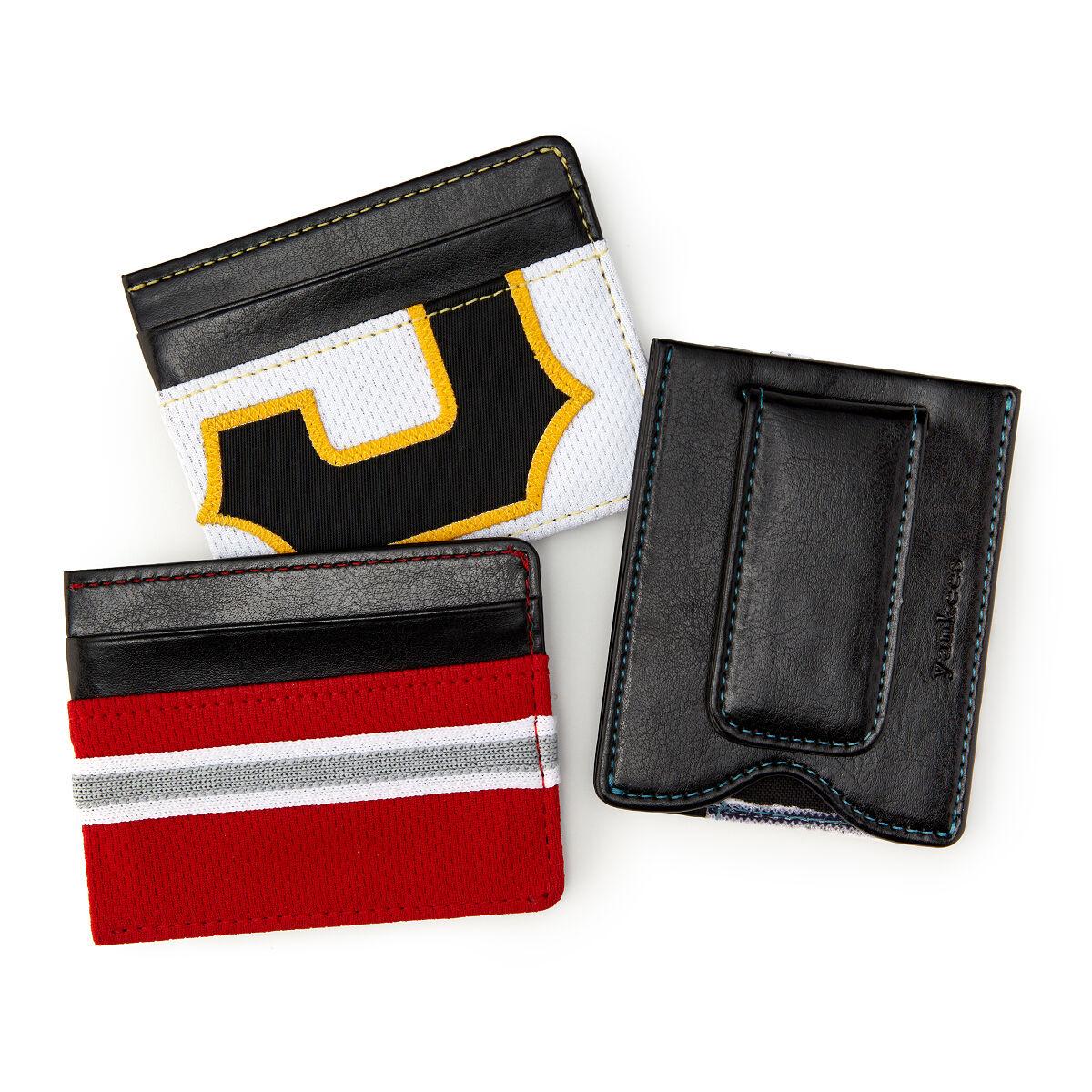 Baseball Memorabilia Wallet
Shopping for a baseball fan? We've found a cool and creative gift to give the father of the bride for any upcoming occasion, whether it's his birthday, the holidays, or Father's Day. These awesome money clip wallets are made from real MLB uniforms used in games. It'll be a talking point every time he pulls it out of his back pocket.
Ward Wallau MLB uniform money clip wallet, from $135, Uncommon Goods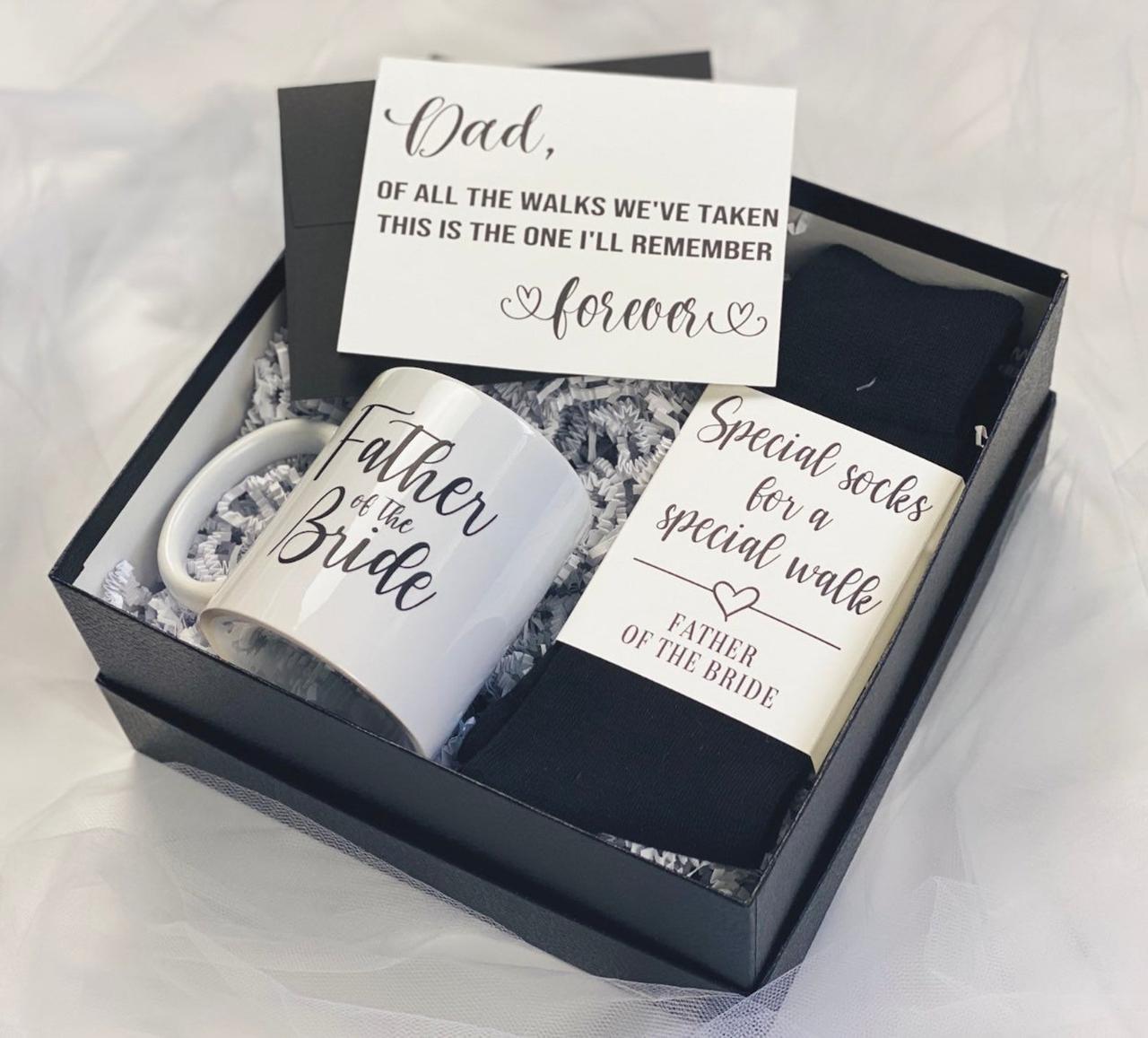 Thoughtful Gift Box
Put together a gift bag or box for the father of the groom filled with on-theme goodies like a coffee mug with his wedding title and socks for walking down the aisle. This one also includes a note that reads: "Dad, of all the walks we've taken, this is the one I'll remember forever."
The Wood Shack Gift Co father of the bride gift box, $42, Etsy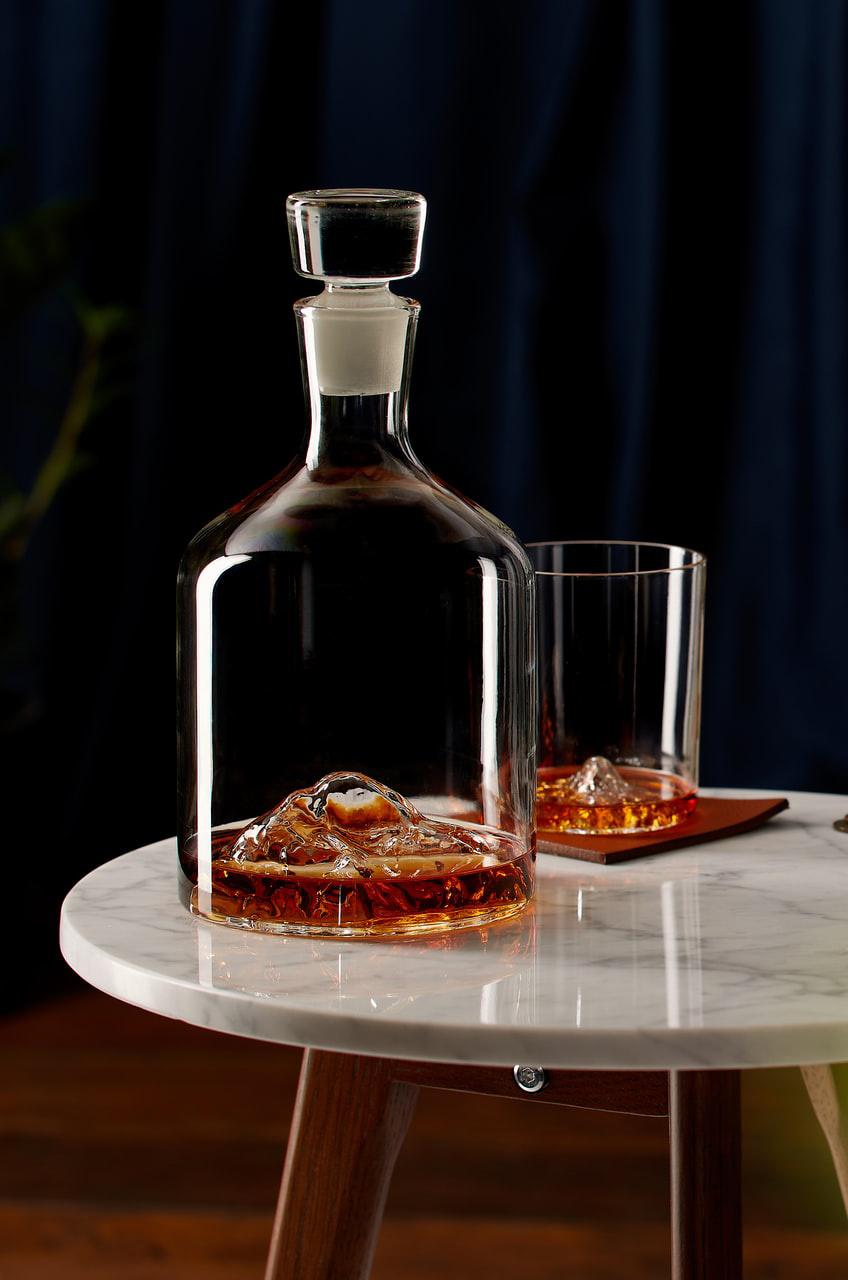 Cool Decanter Set
Love bonding with your future dad-in-law over a glass of bourbon or scotch? This decanter and set of rocks glasses will be a meaningful nod to your ever-strengthening relationship. This unusual glassware is hand blown to feature an intricately sculpted mountain peak.
Whiskey Peaks mountain decanter and half dome set of 2 whiskey glasses, $95, Huckberry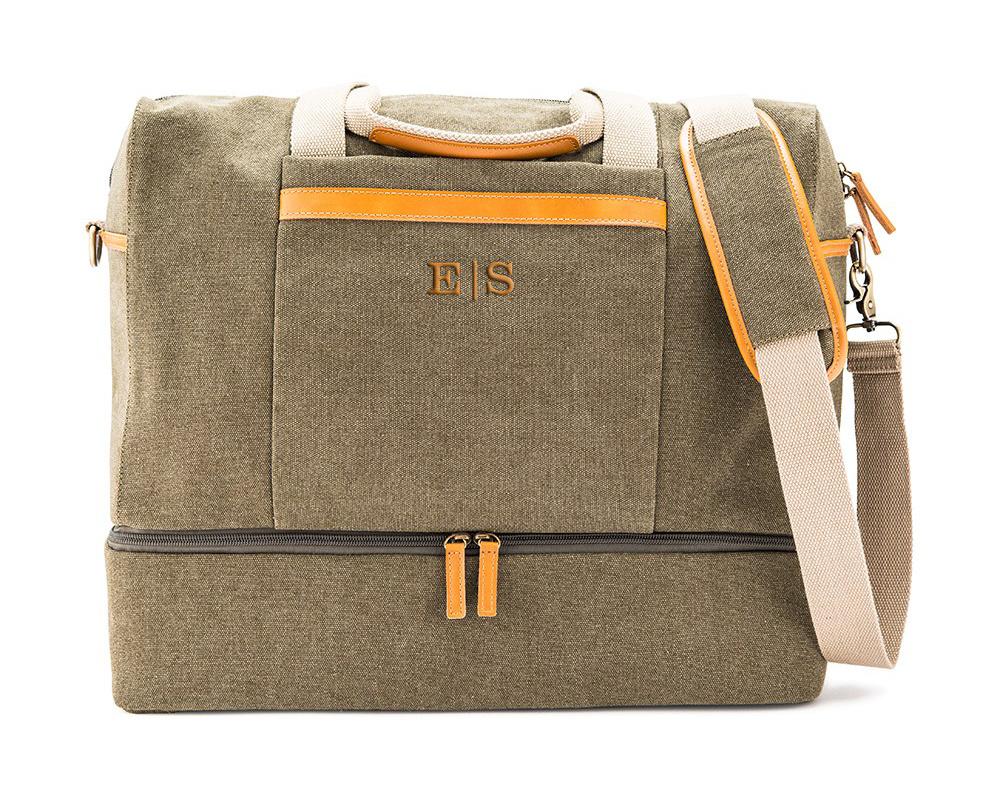 Monogrammed Weekend Bag
A stylish leather and canvas weekend bag such as this will make it easy for Dad to come and visit more often. Have it embroidered with his monogram for an extra-personal touch.
WeddingWire Shop genuine leather and canvas weekend carry-on bag, $44, WeddingWire Shop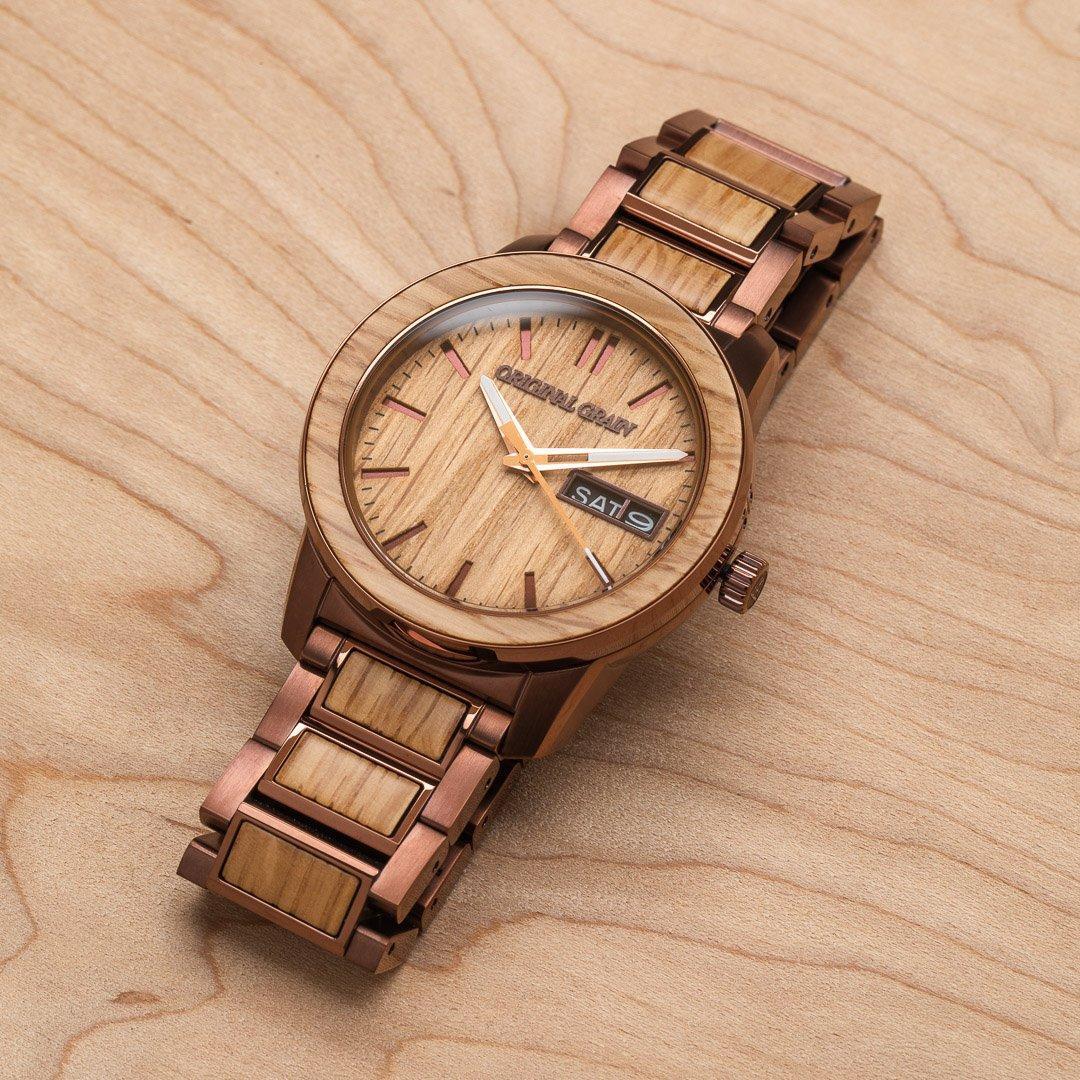 Sleek Wooden Watch
A nice watch is one of the top wedding gift ideas for any father of the bride. We especially love the wooden timepieces from Original Grain because they're so unique and become instant conversation pieces. You can pretty much guarantee he doesn't have anything like this stunning watch made with reclaimed wood from whiskey barrels.
Original Grain whiskey barrel 42mm watch in Whiskey Espresso, $299, Original Grain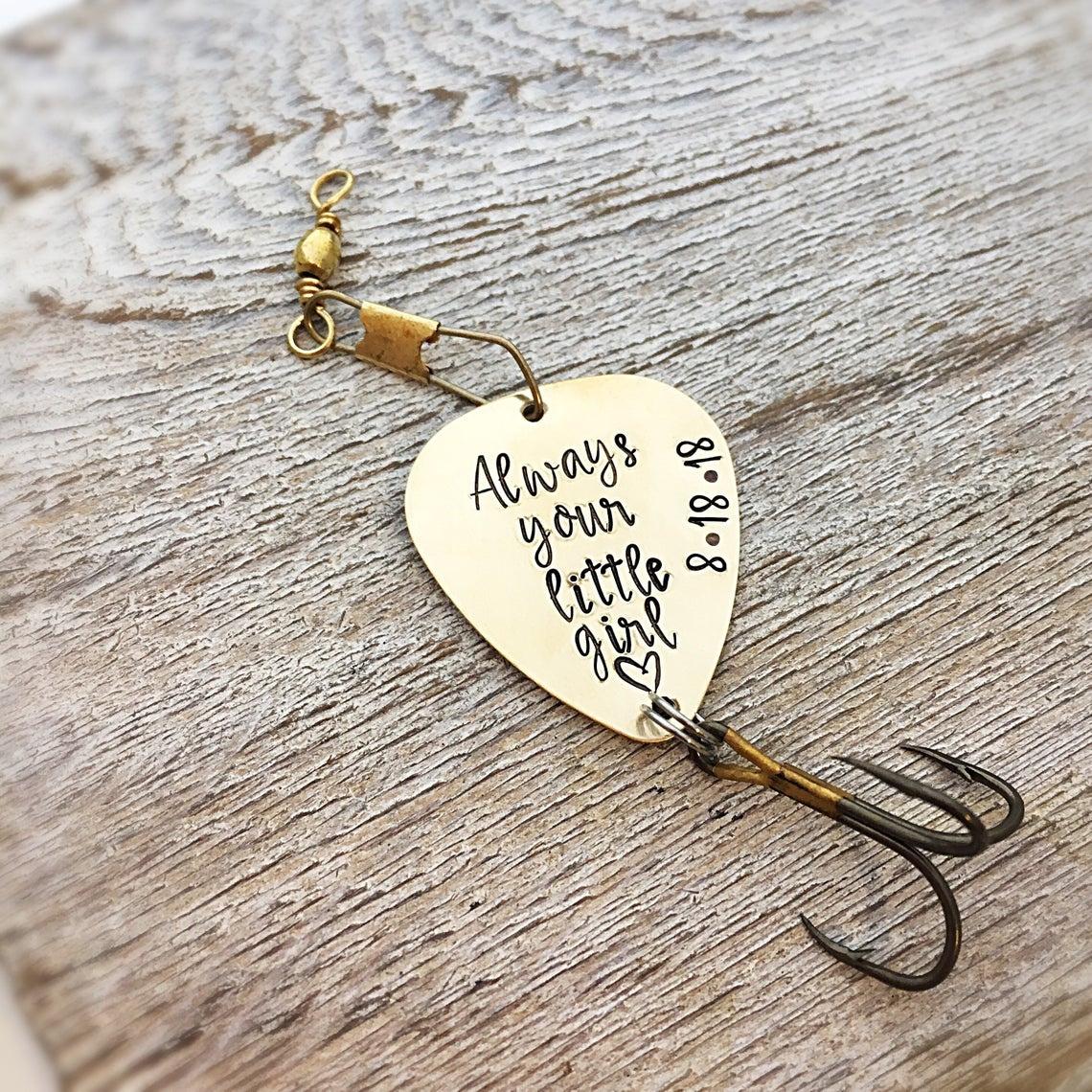 Keepsake Fishing Lure
On the hunt for a sentimental gift for the father of the bride who loves fishing? This brass lure can be personalized with the date of your special day alongside the words: "Always your little girl." (Awwh!)
J Lynn Creations father of the bride personalized fishing lure gift, $20, Etsy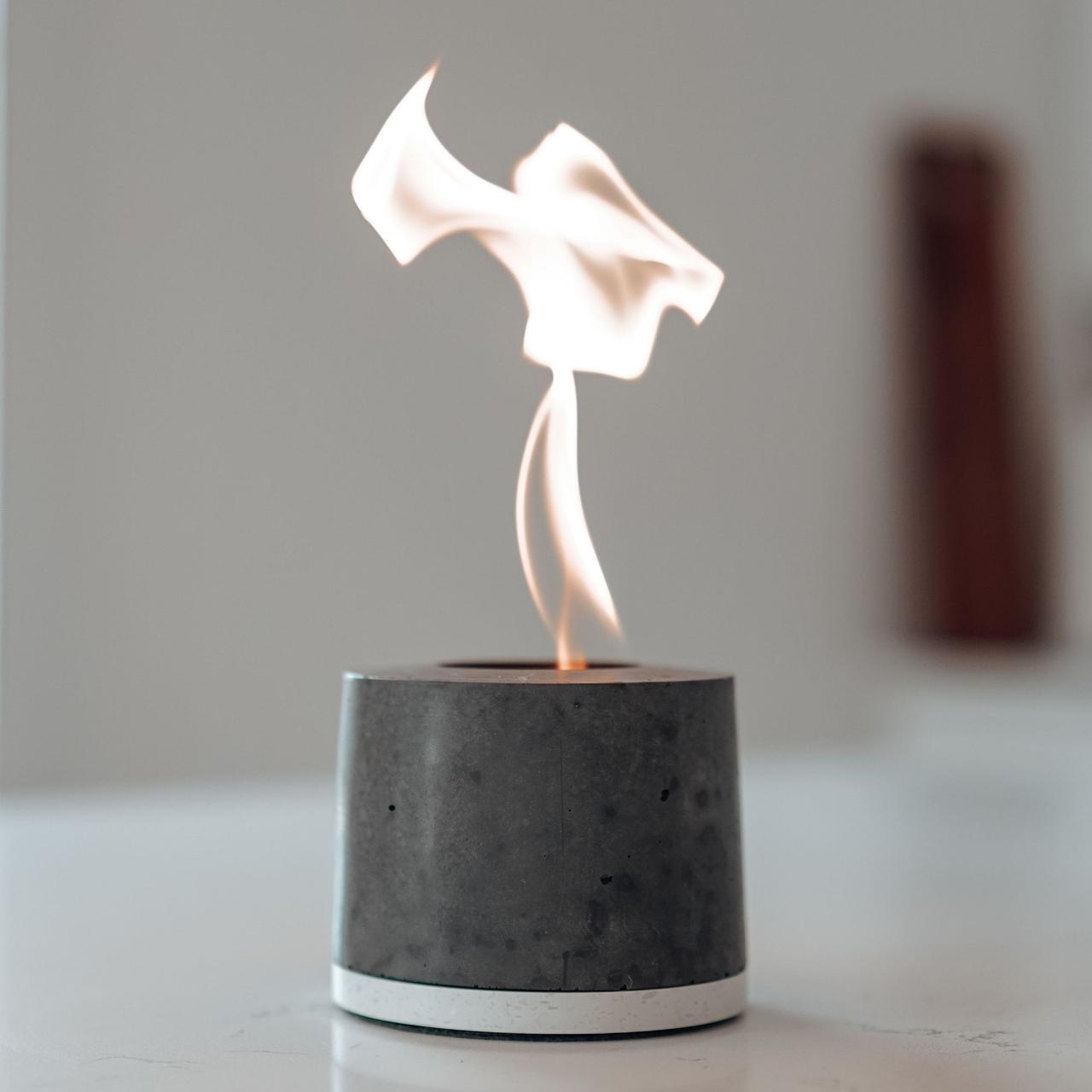 Mini Fire Pit
Again, you don't have to go down the sentimental gift route if that doesn't reflect your relationship. This miniature concrete fire pit is a must for anyone who likes to keep up with the latest gadgets (or anyone who just really likes s'mores). It's a super-cool gift idea from the bride or groom to their spouse's dad.
FLȊKR Fire personal concrete fireplace, $95, Food52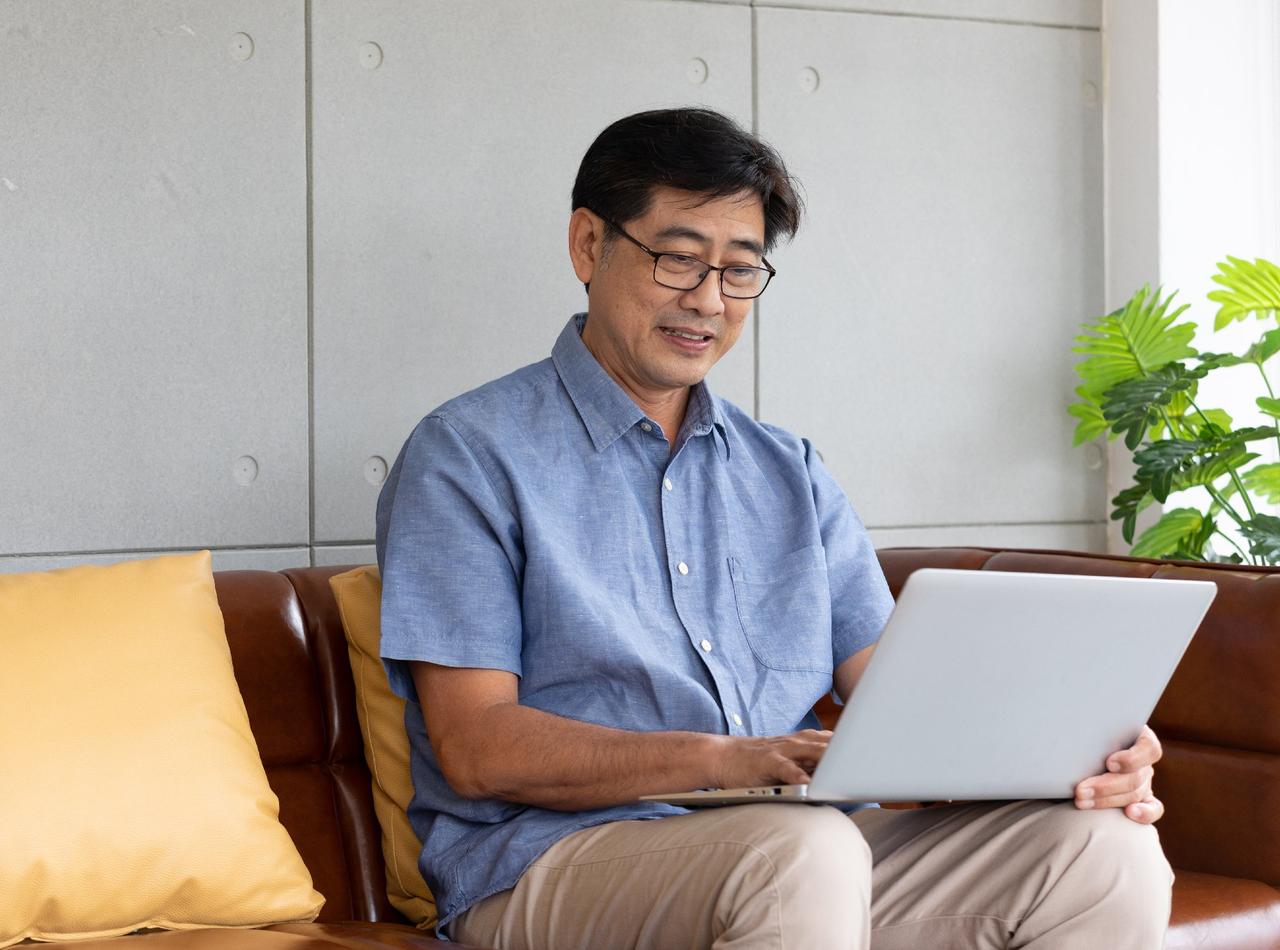 Virtual Video Montage
Use Tribute's online tools to put together a heartfelt video montage for your dad with input from all his closest friends and family. Simply invite loved ones to take part via email and they'll receive prompts to help record a special message for the father of the bride. Once everyone has submitted their videos and you've put them all together, the final montage can be stored on a keepsake bamboo USB or sleek LCD video card.
Tribute collaborative video montage, from $25, Tribute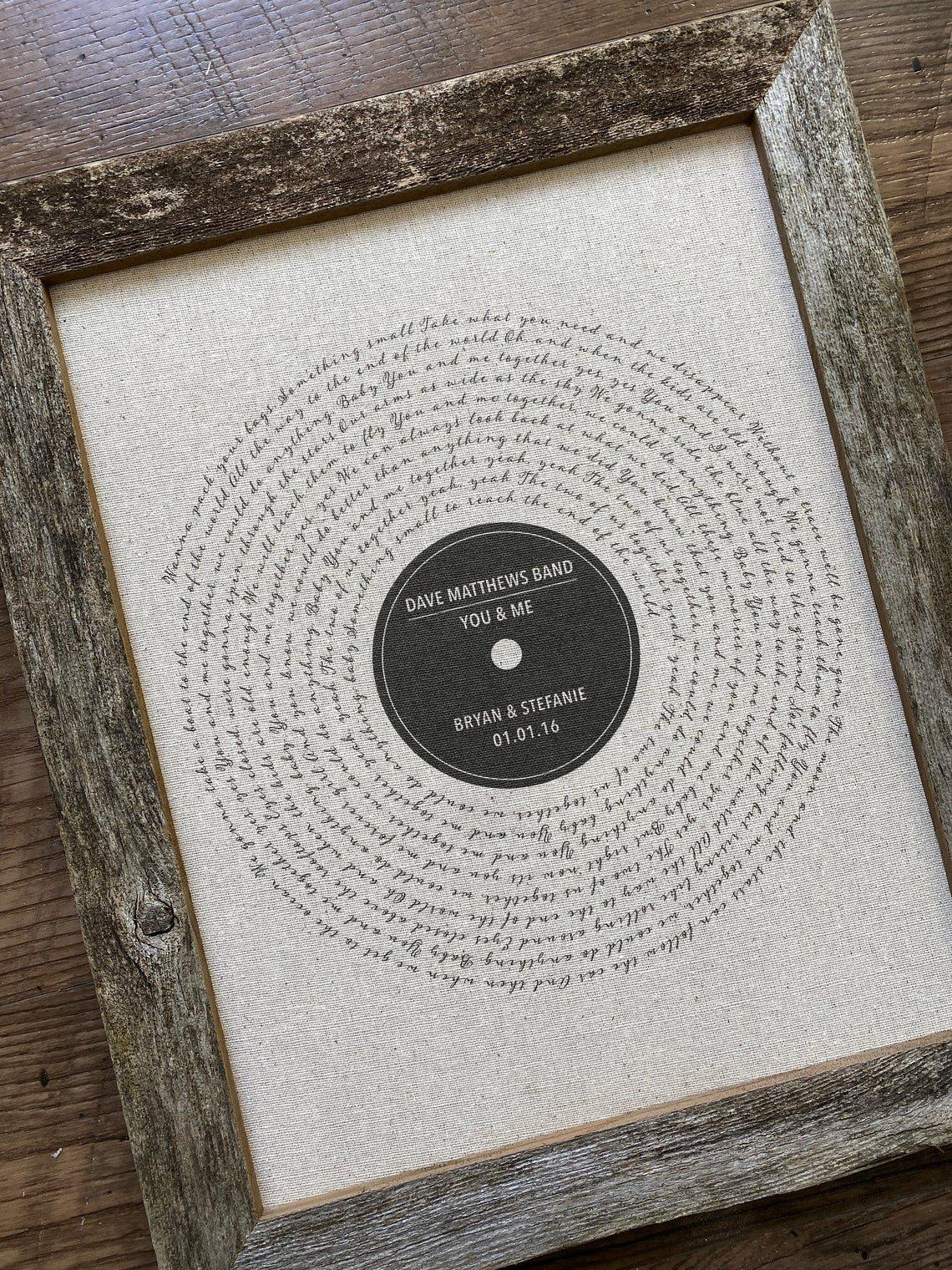 Framed Song Lyrics
Got a favorite song you and your dad always jammed to in the car or the kitchen? Show him how much you treasure those memories by having the lyrics printed and framed.
Bella Grey Vintage song lyrics print, from $50, Etsy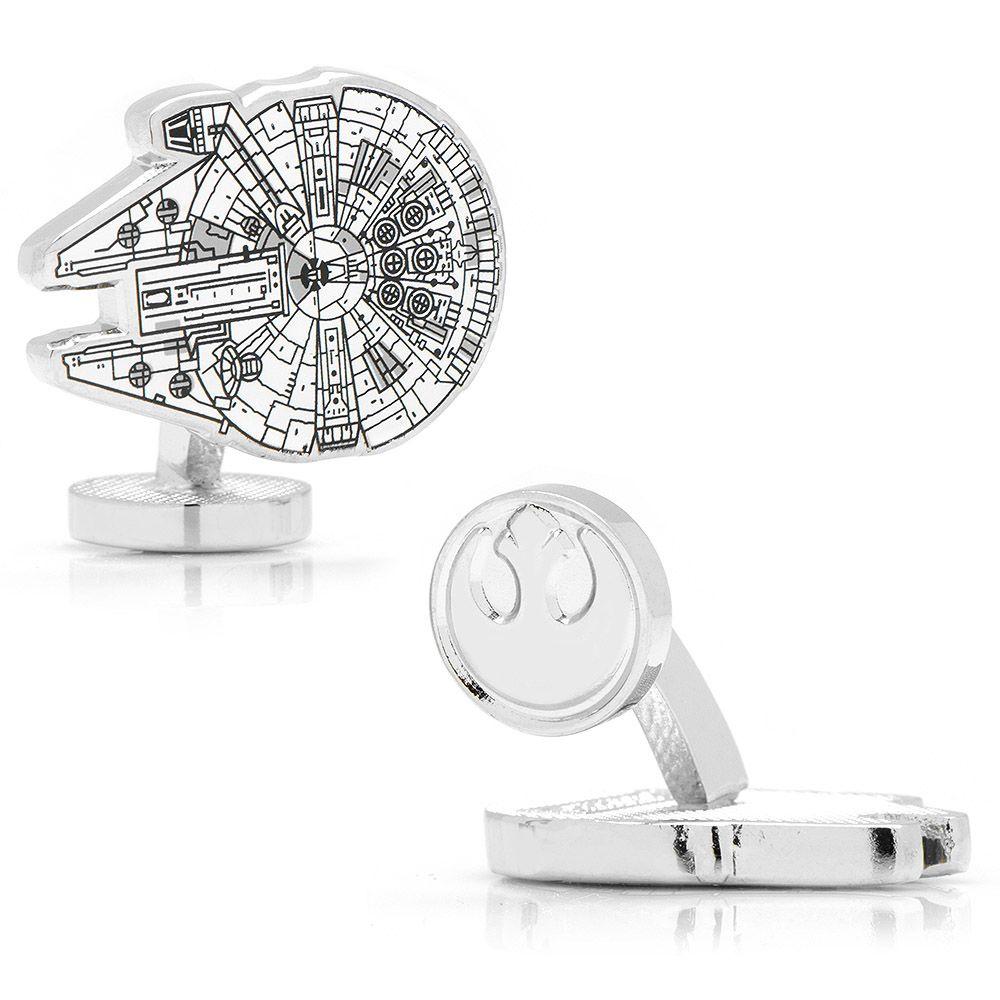 Pop Culture Cuff Links
Who said cuff links had to be boring? Pick out a pair that reflects the father of the bride's interests or personality. If he's a big Star Wars fan, we suggest these awesome Millennium Falcon cuff links. (And if he's not big into the film franchise, there are lots of other themed cuff links to browse on the site.)
Star Wars Millennium Falcon blueprint cuff links, $70, Cufflinks.com
Comfy Pajama Set
These pajamas are a luxury gift for the father of the bride to wear on the morning of the wedding before getting suited up. They're made with 100% cotton, meaning they're equal parts soft and breathable. Plus, he can wear them long after the morning of the wedding.
Tie Bar khaki stripe pajama set, $50, Tie Bar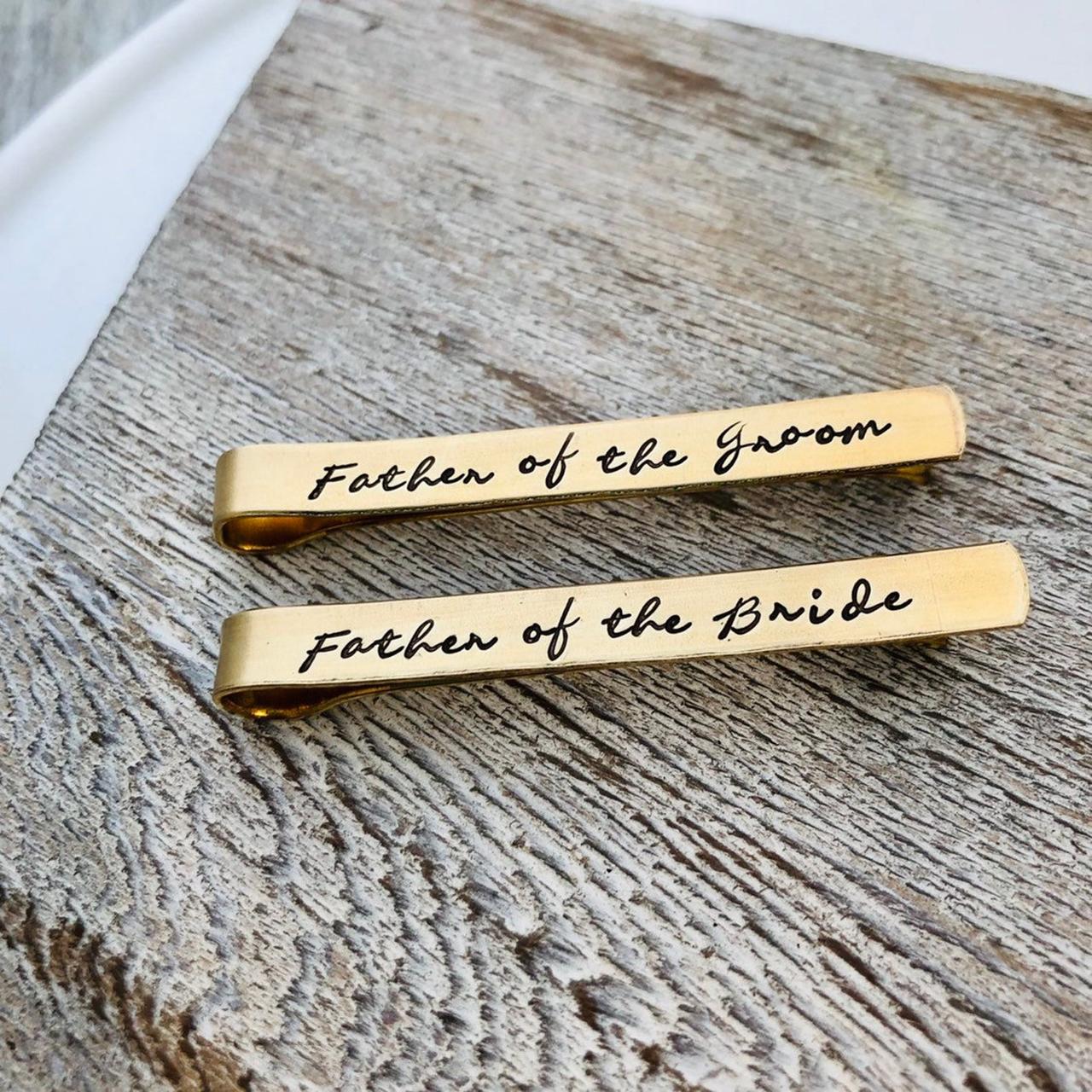 Wedding Tie Bar
Suit accessories are some of the best gift ideas for fathers of the bride and groom. This sleek tie bar is an affordable keepsake they can wear on the wedding day and cherish long afterward.
J Lynn Creations gold Father of the Bride tie bar, from $13, Etsy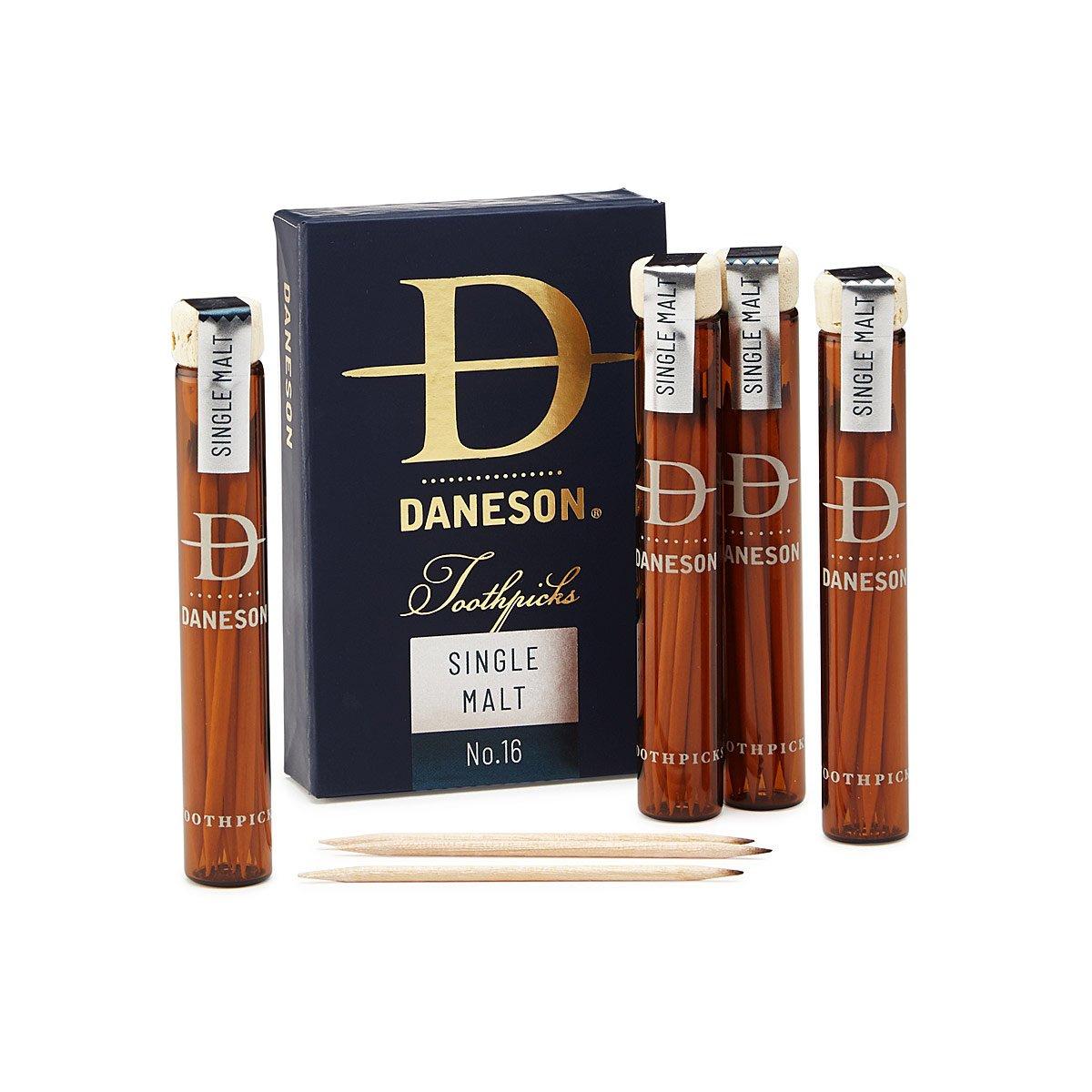 Whiskey-Infused Toothpicks
Here's another great gift idea for the self-proclaimed whiskey connoisseur. These gift-worthy toothpicks are infused with fine single malt scotch, instantly elevating his experience. Bonus: The toothpicks are made from sustainably forested wood.
Uncommon Goods scotch-infused toothpicks gift set, $36, Uncommon Goods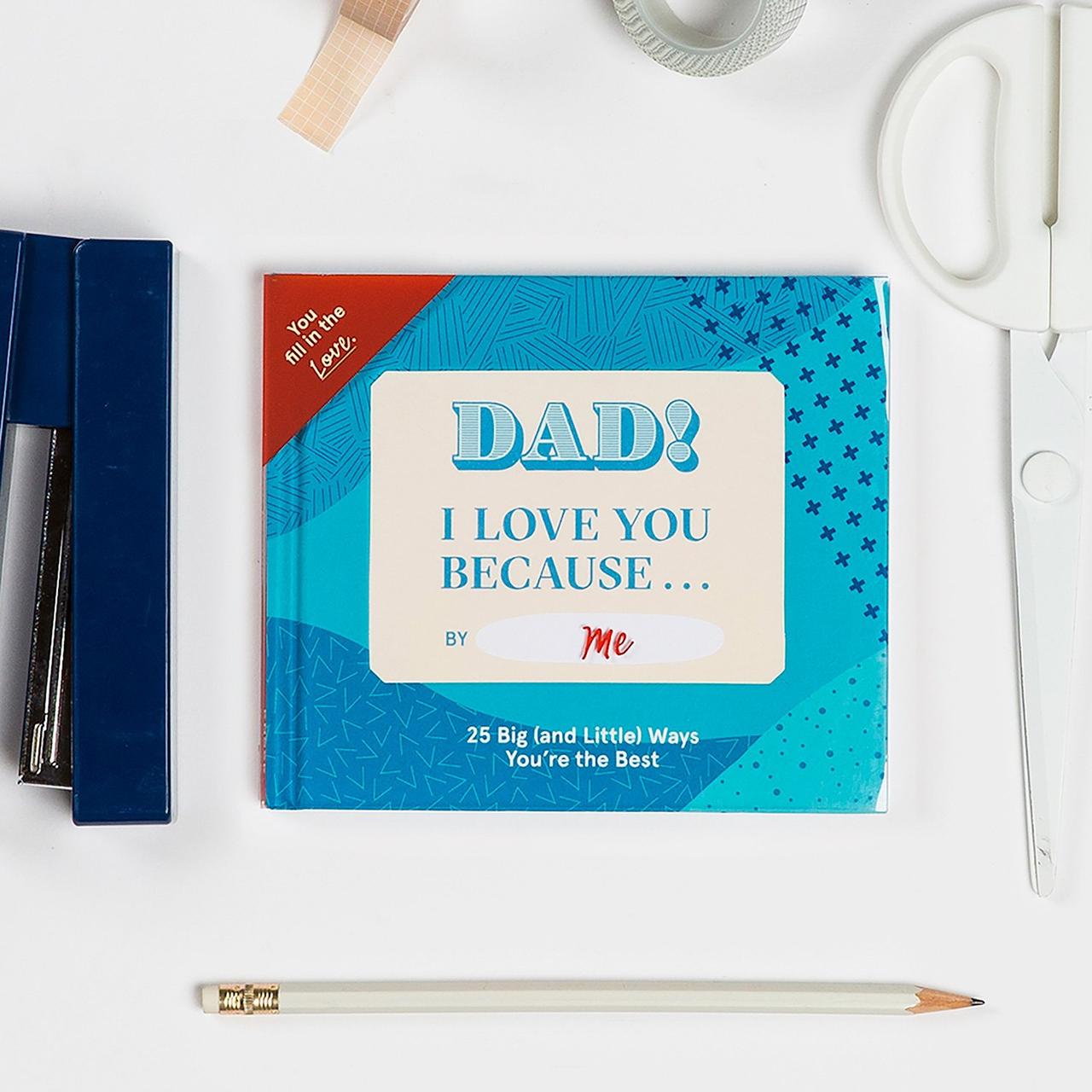 Cute Fill-in-the-Blanks Book
Some of the best gifts for the dad of the bride are actually super affordable. This simple (but pretty genius) fill-in-the-blanks book provides specific prompts to tell your dad exactly what you love the most about him. It's a heartfelt way to express your feelings that's straight to the point.
Knock Knock Dad, I Love You Because… Fill in the Love book, $11, Knock Knock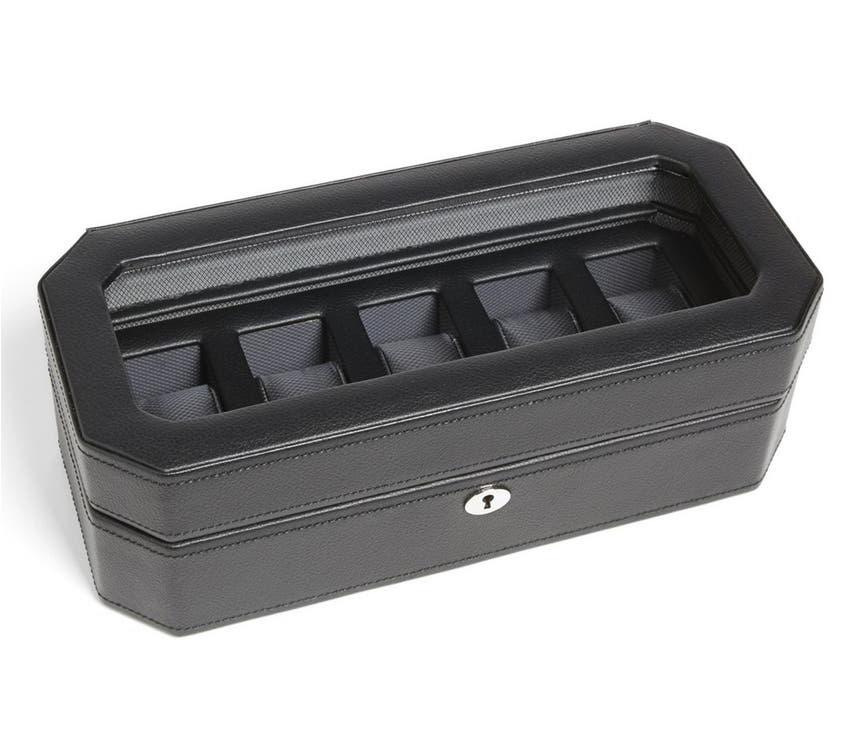 Sophisticated Watch Case
If your (or your S.O.'s) dad just isn't the sentimental type, this practical (and totally non-cheesy) father of the bride gift is a safe bet. This chic leather case has room for five of his favorite watches. It's also a great gift for the guy who has yet to expand his timepiece collection, especially if you hand it over with a shiny new watch.
WOLF Windsor watch case, $159, Nordstrom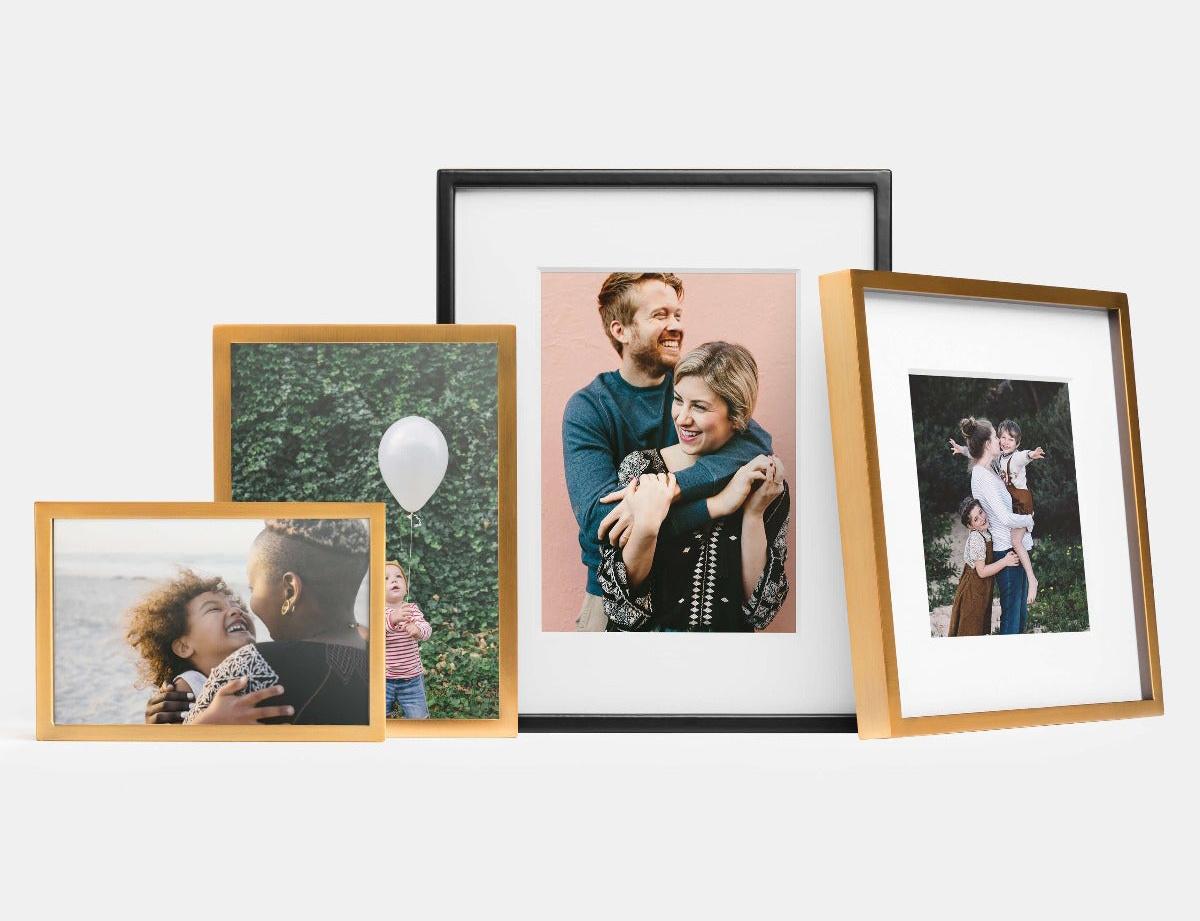 Desk Picture Frame
The only people who will be dying to put your wedding photos on display more than you and your partner? Your parents! These tabletop frames can be hung on the wall or placed on a desk or end table. While usual etiquette dictates giving the father of the bride his gift either before or right after the wedding, this one will be worth the wait. Just let him know there's something special on the way (and write a nice handwritten thank-you note in the meantime).
Artifact Uprising metal tabletop frame, from $52, Artifact Uprising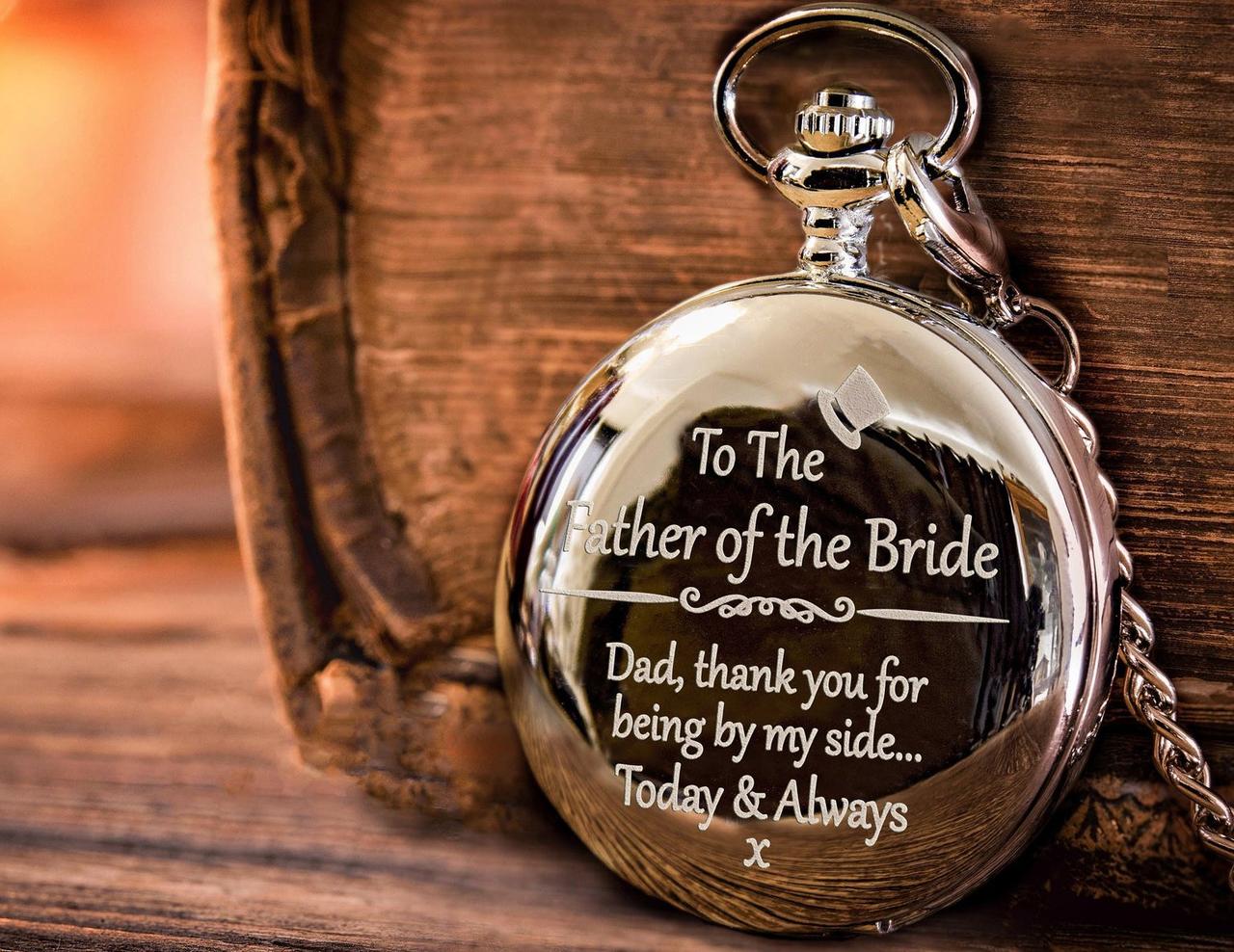 Special Pocket Watch
A fancy timepiece for your dad doesn't have to cost an arm and a leg. This budget-friendly pocket watch is engraved with a meaningful message to the father of the bride (and it's only $30!). Give it to your dad at the rehearsal dinner so he can wear it with his wedding suit the following day. (Psst, you can also nab matching ones as groomsmen gifts.)
Frederick James Gifts father of the bride pocket watch, $30, Etsy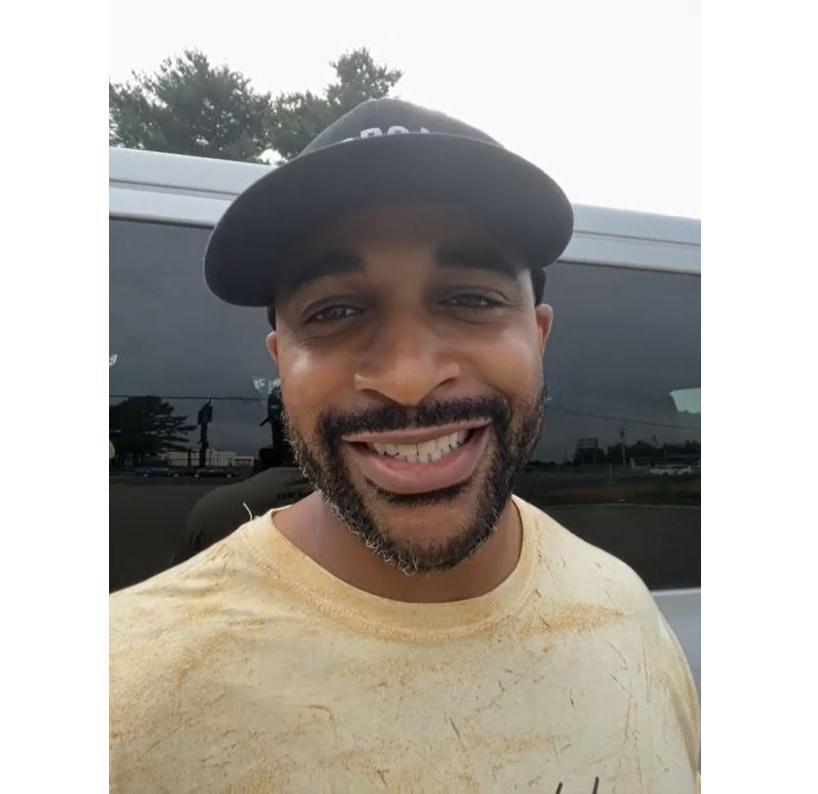 Personal Celebrity Cameo
Your dad is one of your biggest heroes, but who is his? Check if any of his favorite athletes, actors, or musicians are on Cameo so you can commission a personal message just for him. (And if you're looking for a last-minute gift for the father of the bride, lots of celebs offer a 24-hour turnaround.)
Cameo celebrity video message, rates vary, Cameo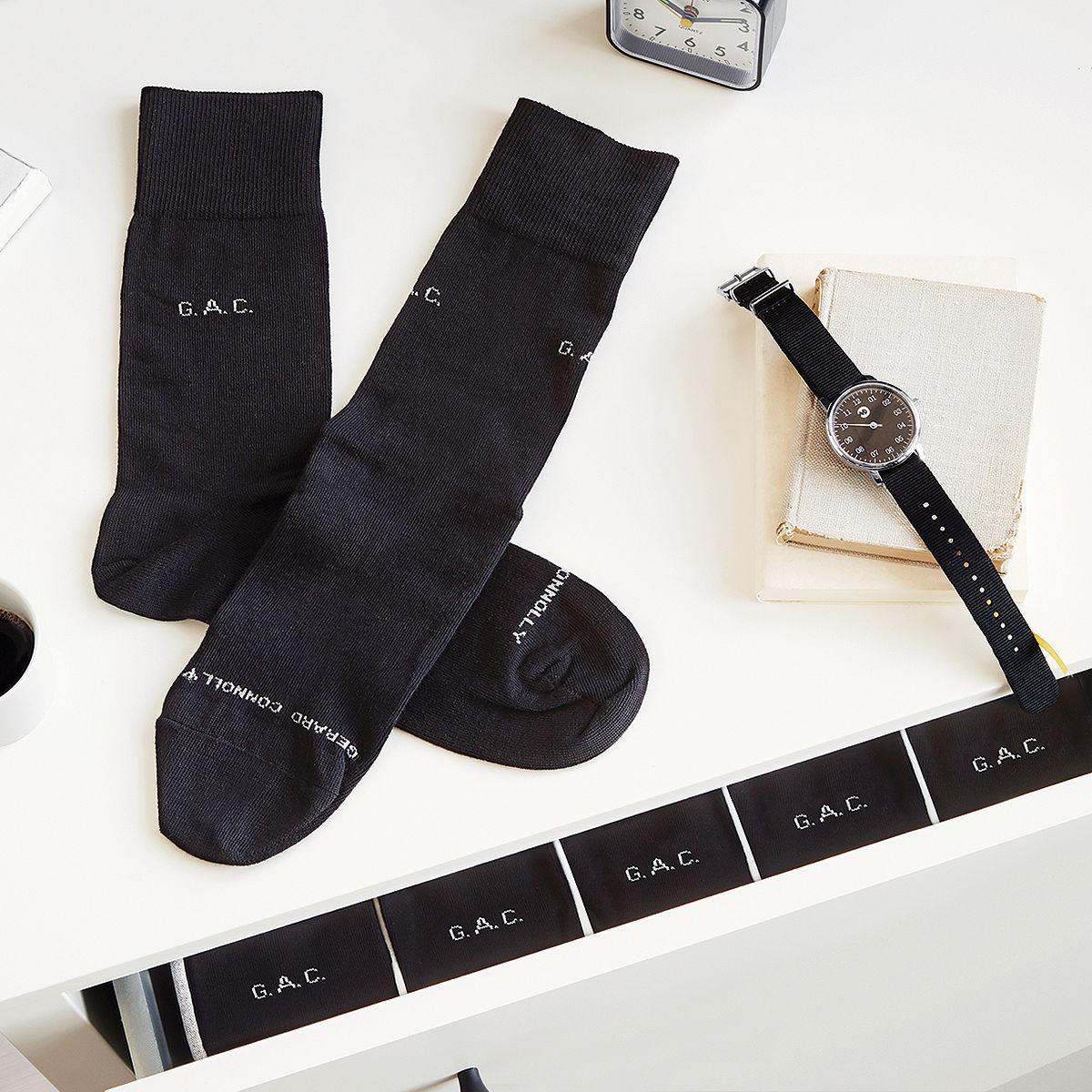 Personalized Cotton Socks
Have these super-soft pima cotton socks custom knit with his name and initials so even his feet can feel dapper. They're a lovely gift for the father of the bride, step-father of the bride, or whoever is walking you down the aisle.
Uncommon Goods personalized socks, $50 for 5 pairs, Uncommon Goods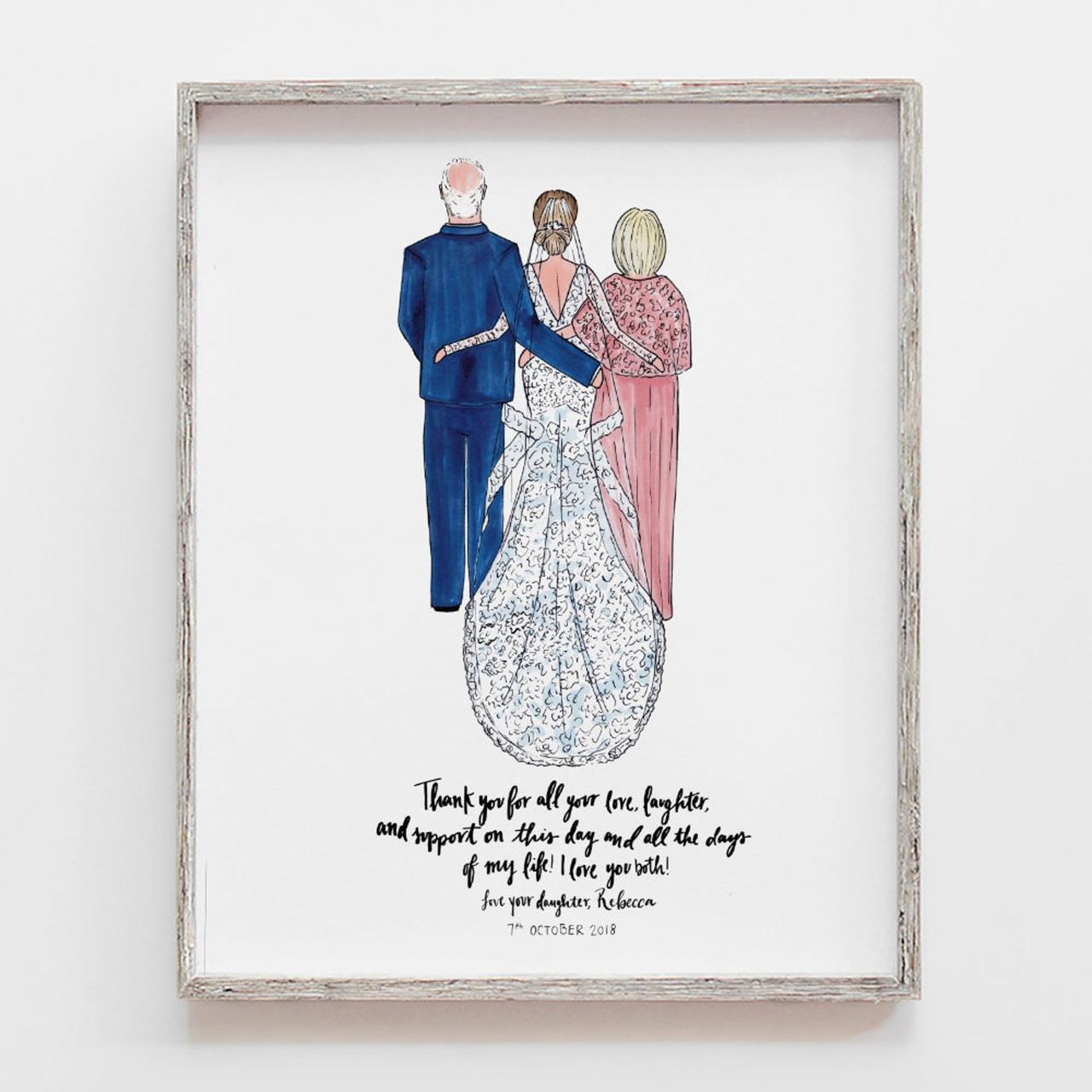 Illustrated Wedding Portrait
It's okay to buy a joint wedding gift for the father and mother of the bride if you see something they'll both love. This Etsy seller can create a custom illustrated portrait of the three of you together on your wedding day. It's up to you whether you want to include a message underneath or not.
Jes Married custom family wedding gift from bride, from $119, Etsy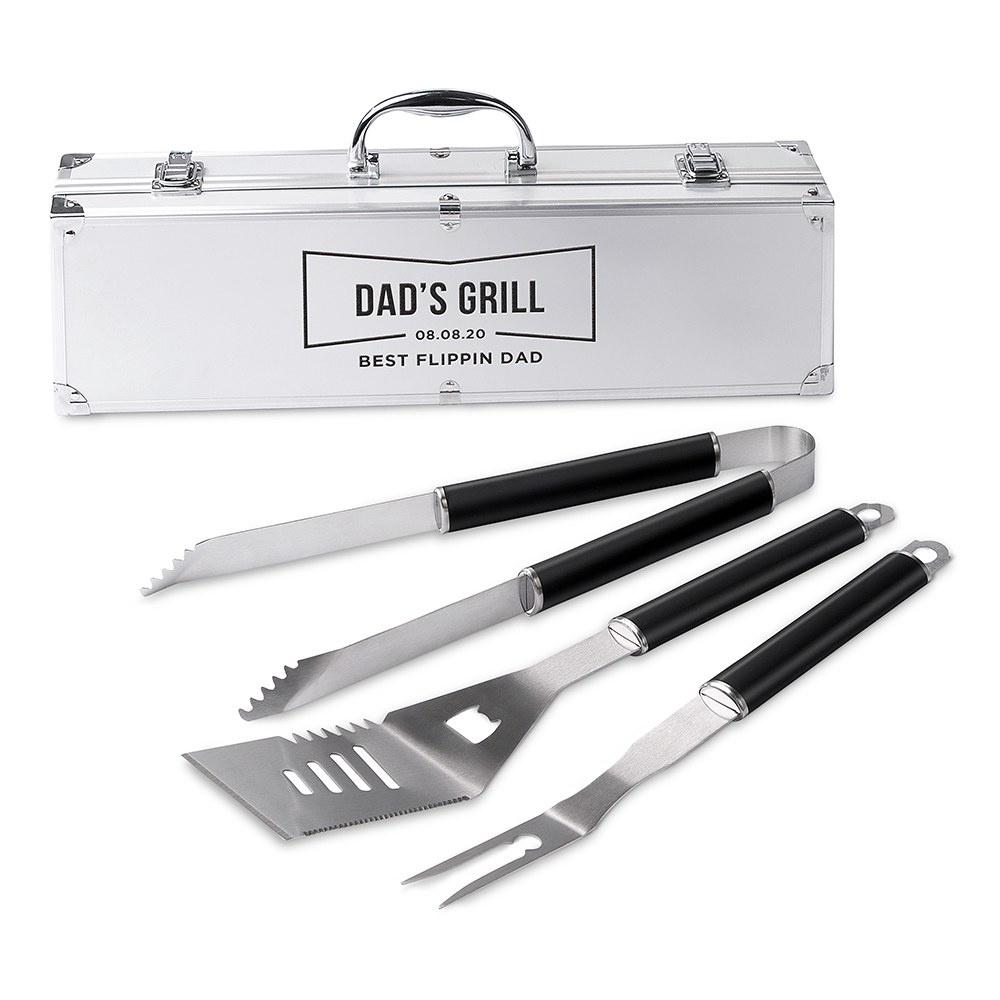 Useful Barbecue Tools
If you always find him in the backyard flipping burgers, a set of sleek barbecue tools in a keepsake case is the perfect gift. Finish it off by personalizing the case with a funny phrase like "Best flippin' dad."
WeddingWire Shop custom stainless steel BBQ tools grill set, $33, WeddingWire Shop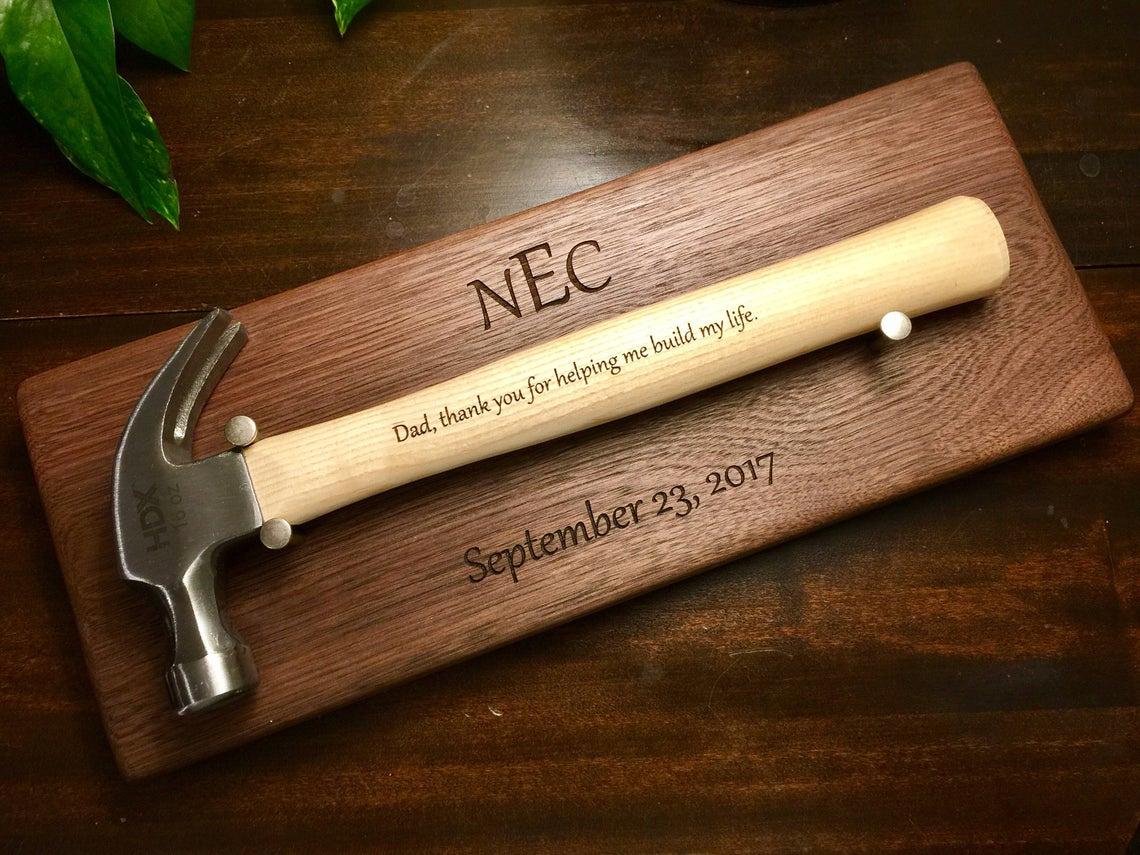 Sentimental Hammer Display
This unique gift for the father of the bride might not be the most traditional, but it's easily one of the sweetest presents on our list for a handyman or someone who's crafty. The wooden plaque (personalized with his initials and a special date) is mounted with a hammer that reads: "Dad, thank you for helping me build my life." It'll show him that your father-daughter bond is as strong as ever.
Carolina High Cotton father of the bride hammer display wall plaque, $80, Etsy