When you get married, it's less like 'when two become one' and more like 'when two become a dozen.' Joining together your lives also means you are combining your families, and for many couples, you suddenly have an extra set of parents. Or a new mother or father-in-law. Though your big day is just that — yours — it's also a sweet gesture to think about wedding gift ideas for your parents and parents-in-law. These special humans are responsible for raising your perfect person and starting off this lifelong relationship with them is important. After all, they'll be there through all of your upcoming milestones, whether you like it or not, and for better or for worse.
Here, the best wedding gift ideas for your parents and parents-in-law to consider for your upcoming celebration.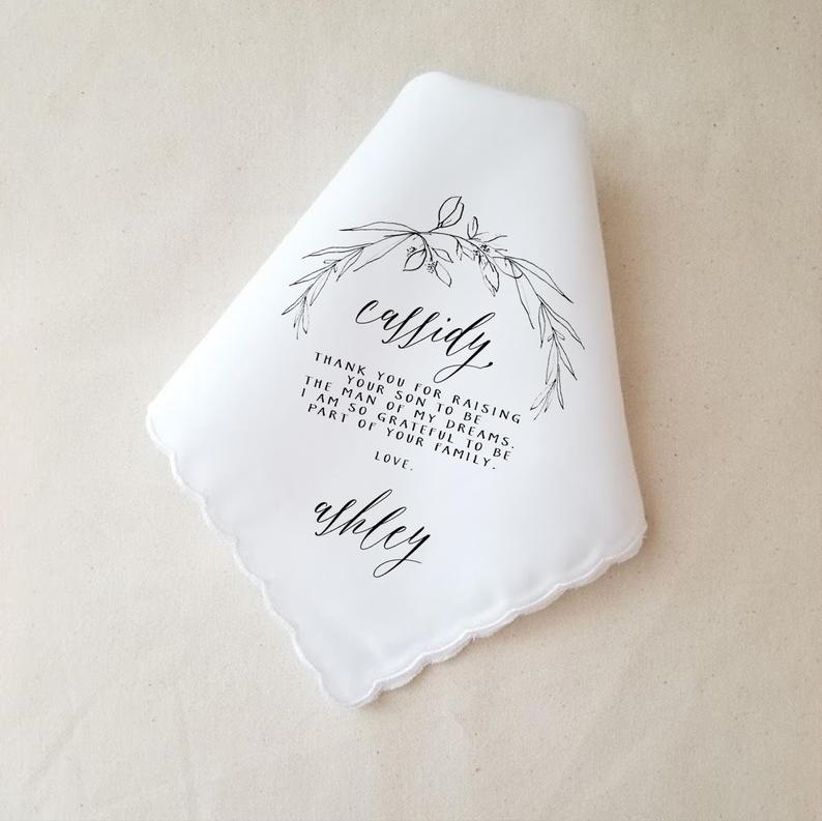 Embroidered Handkerchief
You already know you won't be able to hold back the waterworks when you profess your vows to your number one — but trust us, you won't be the only one crying. Anticipate the happy flood of tears from your mother-in-law and your mom by gifting these handkerchiefs. This is definitely a wedding gift idea for your parents that they'll keep for generations to come.
ThePolkaDottedBee wedding handkerchief, $18, Etsy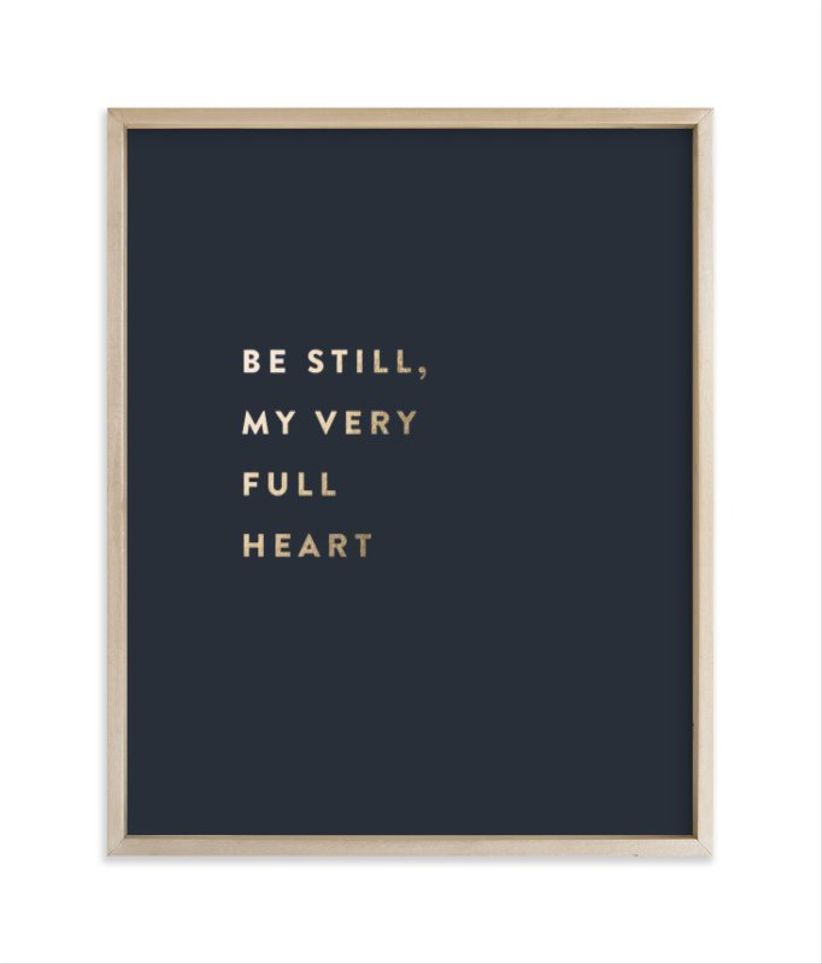 Quote Print
Throughout your life, your mom had an undeniable way of always knowing what to say. Whether it was a kick in the butt when you needed it, or an inspirational quote that pushed you through the tough times, there's no one else you trust more. (That is, except your now soon-to-be spouse!) Thank her for her endless wisdom on your big day with this custom quote print. Don't forget to add the date so she remembers the occasion!
Minted custom quote foil print, $128, Minted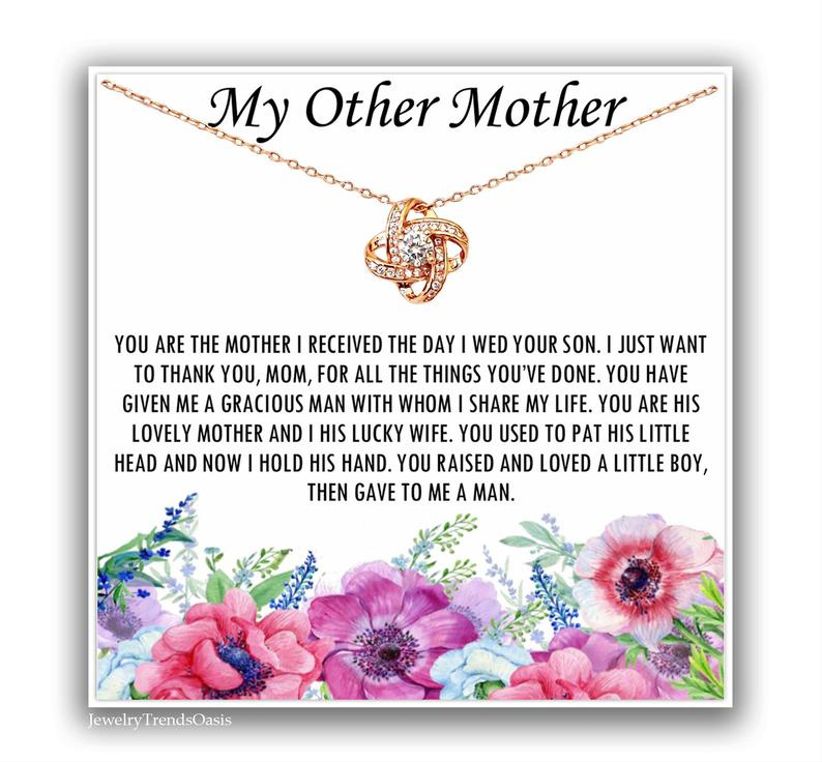 Knot Necklace
You were worried about the first time you met your spouse-to-be's mother. After all, she's had a major impact on his life — and you know her opinion matters. Luckily, the two of you were instant friends and have been ever since. Express how much she means to you with this beautiful knotted necklace that she'll blush over.
JewelryTrendsOasis mother-in-law knot necklace, $27, Etsy
Money Clip
For your pops and your dad-in-law, these stainless steel clips say enough — without too much. The day before you exchange vows, pull 'em aside and give these tokens of appreciation. They'll love the thoughtfulness of this wedding gift idea for your parents and probably won't even mind if a tear or two slips out — just don't tell anyone.
LParkin stainless steel money clip, $16, Amazon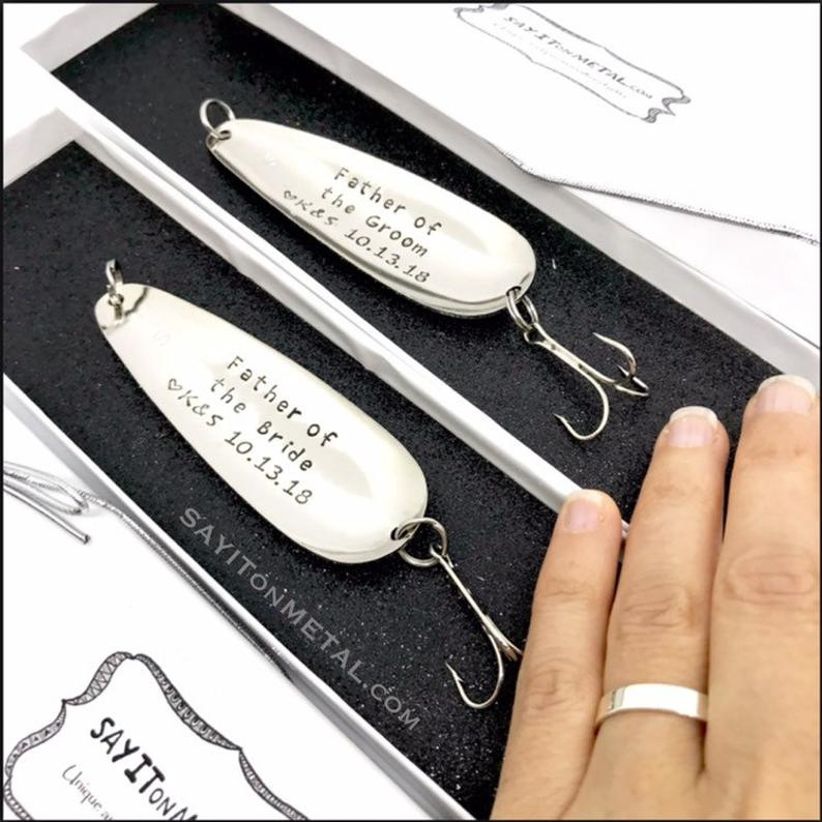 Personalized Lure
Before your partner could be that magical human who made all of your dreams come true, they had to work through the tough times. From the turbulent teenage years to the aftermath of their first real heartbreak, their old man was there to lend a listening year. Your dad was equally supportive of you. That's why this lure is super sweet, super thoughtful — and well, useful! Maybe the two will go on a fishing trip together, eh?
EstysCreations hand-stamped lure, $30, Etsy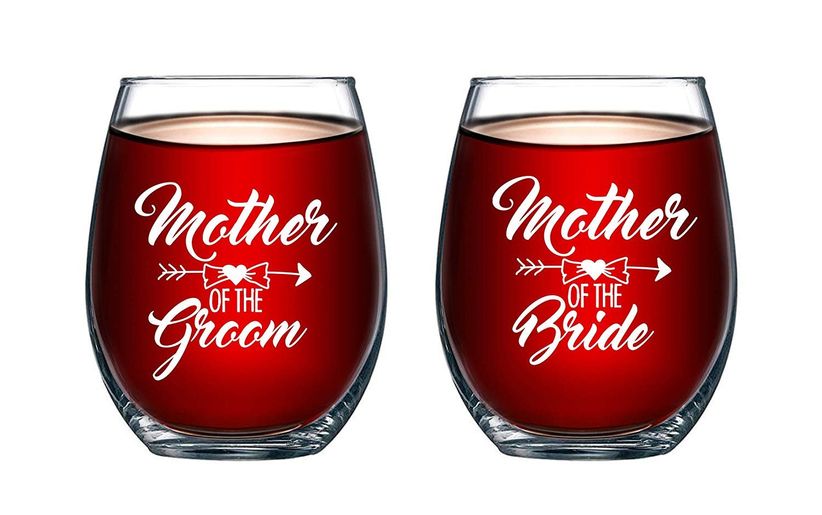 Wine Glasses
After you and your partner dated for a year or so, you decided it was time to introduce the parents. You weren't too worried, since hey, you already talked about your fam endlessly to one another. What you didn't expect was how well your mothers would get along — and how quickly they can bottom out a bottle of wine. Celebrate their special connection with this joint wedding gift idea for your parents or parents-in-law.
Gelid stemless wine glasses, $20, Amazon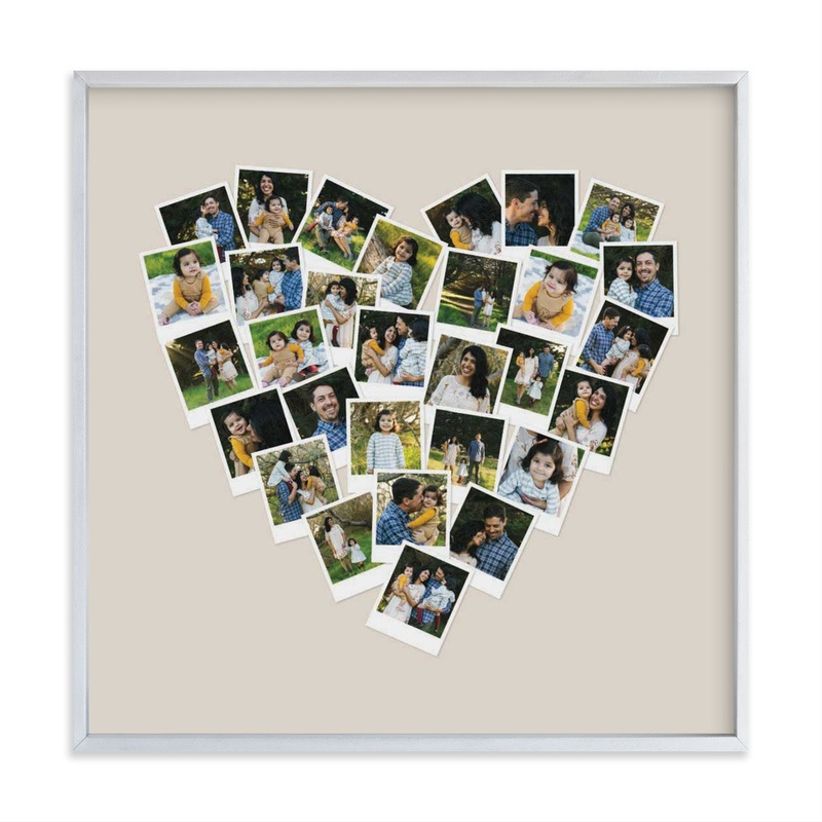 Photo Art
Though you are marrying their child — to them, he or she will always be their baby. As a thoughtful gesture to the many milestones of their family, collect images from past and present to create this heart-shaped collage. Don't forget to add one of you and the whole gang — and to present the gift with a sweet card.
Minted Heart Snapshot Mix photo art $101, Minted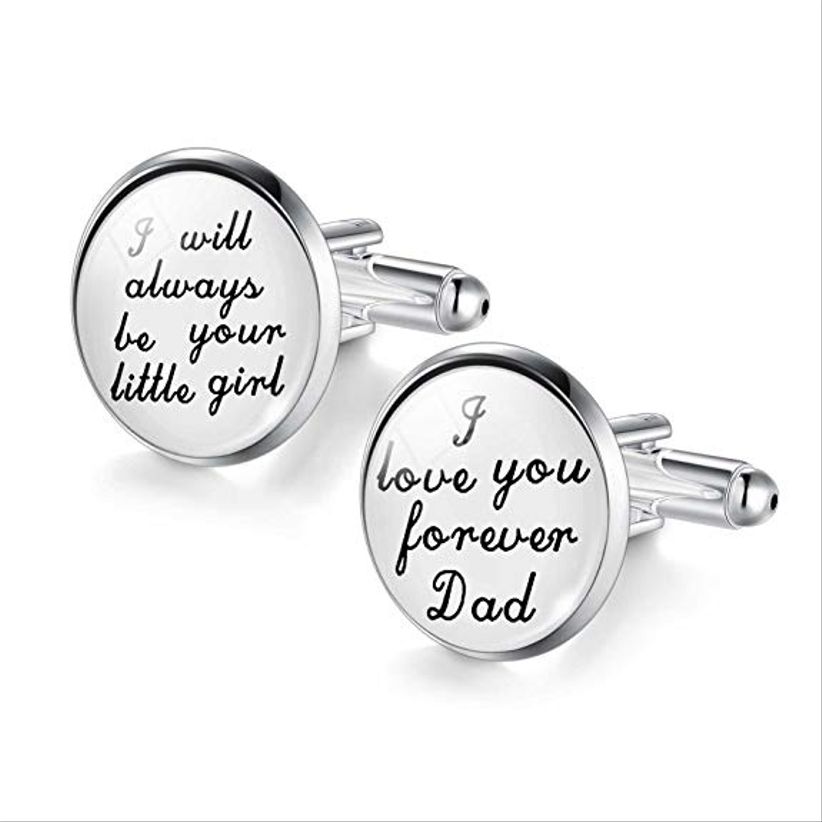 Cufflinks
Before you were swept off your feet by your partner, you stood on your dad's toes and he twirled you across the kitchen. Remind him that no matter how far away you roam, and whether you're married or not, you'll always cherish those special moments. These cufflinks get the message just right.
Jiayiqi Cufflinks Bride Forever, $10, Amazon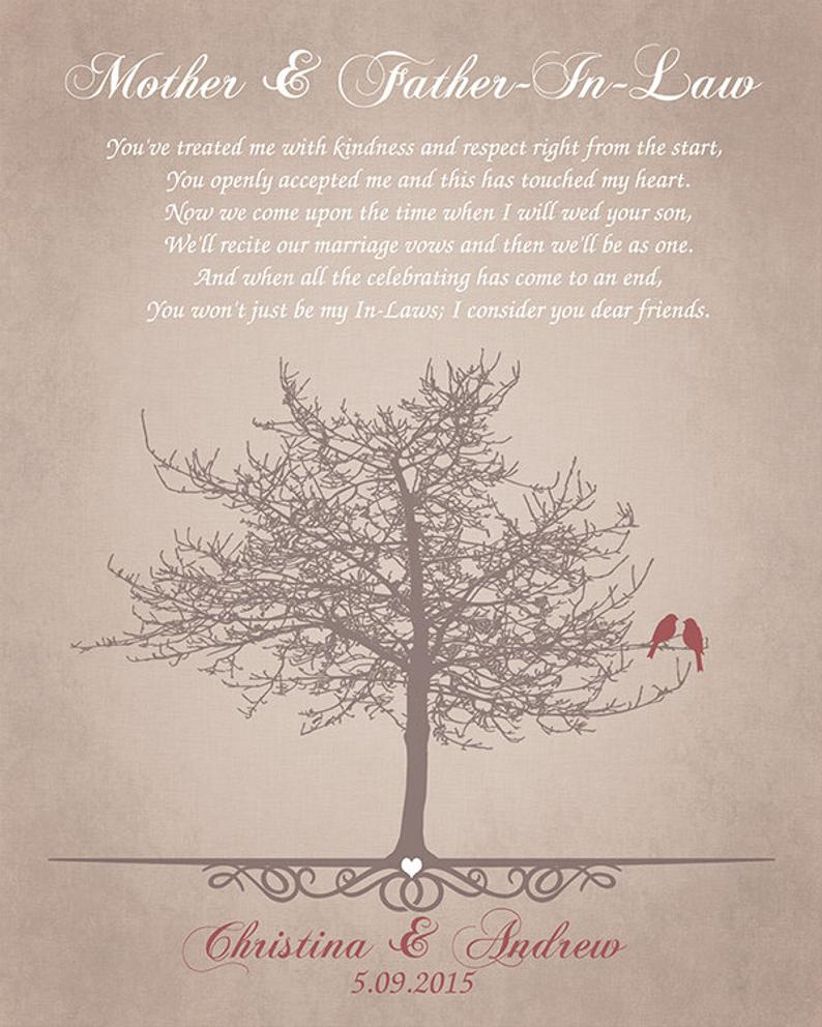 Framed Message
If you really want to wow your new in-laws, order this personalized print, complete with a custom message from you. It's a personalized way of illustrating how much their child means to you — and how you want them to play a part in your life together moving forward. For bonus points, get it framed.
GoldHousePrints personalized wedding gift for parents-in-law, $20, Etsy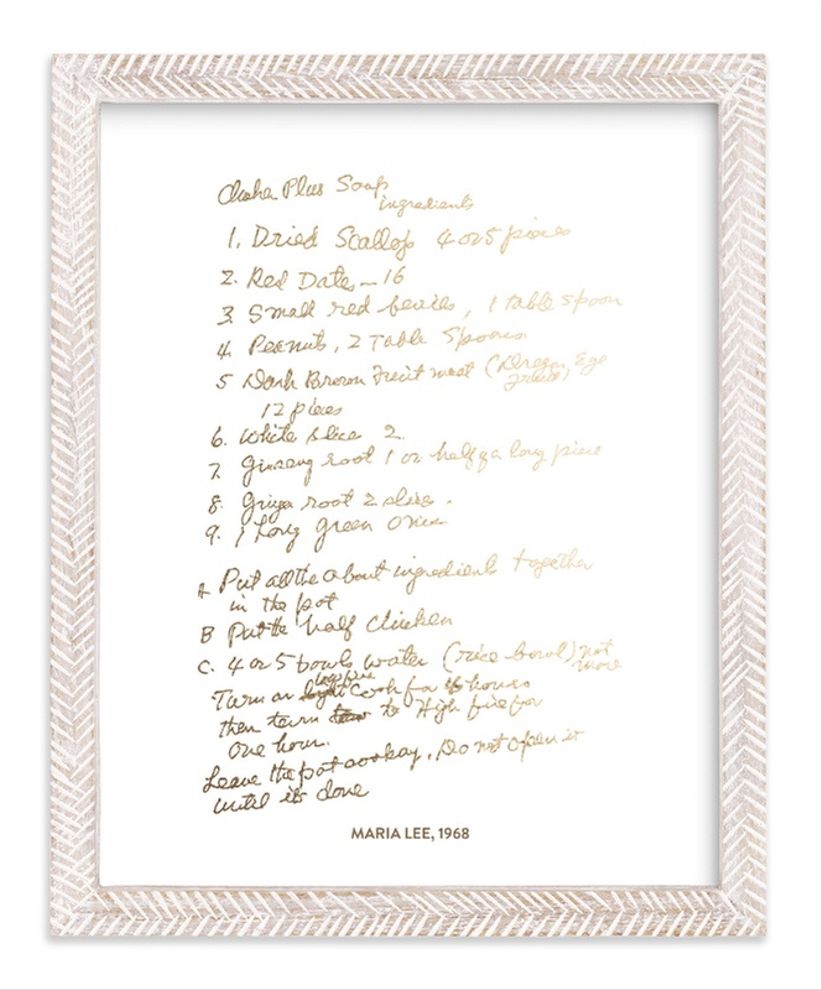 Recipe Print
Your mother-in-law is an incredible chef — and she's always excited to share the family's 'secret' recipes with you. Surprise her with a hidden gem of your own: a recipe from your history. We love this custom foil print that details how to make your very favorite dish. She'll appreciate the sentiment of this wedding gift idea for parents— and then whip it up that beloved recipe for you the first chance she gets!
Minted Your Recipe As Foil art print, $201, Minted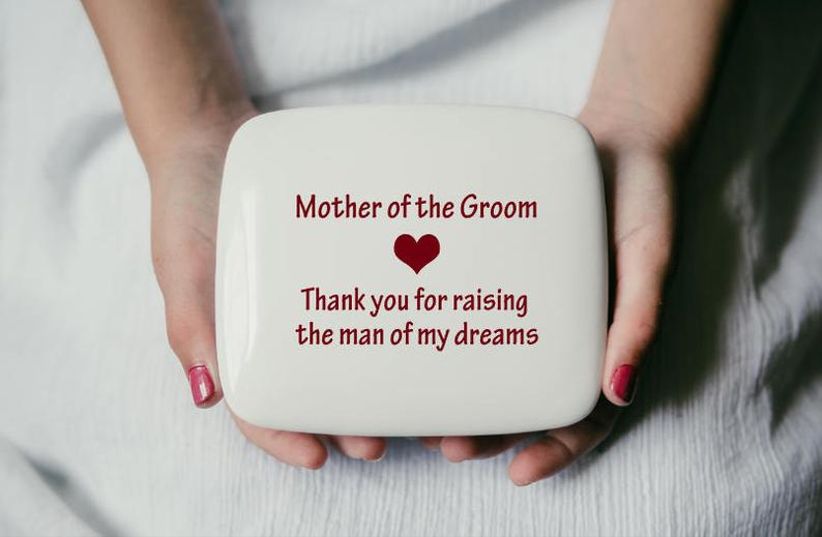 Keepsake Box
The greatest gift you ever received was the love of your soon-to-be-spouse. And you couldn't have met him or her without their mother. That's partly why this keepsake box is such an amazing wedding gift for a parent. It expresses how you feel simply, and allows her to hold all of her little treasures.
CreativityHappens mother-of-the-groom keepsake box, $30, Etsy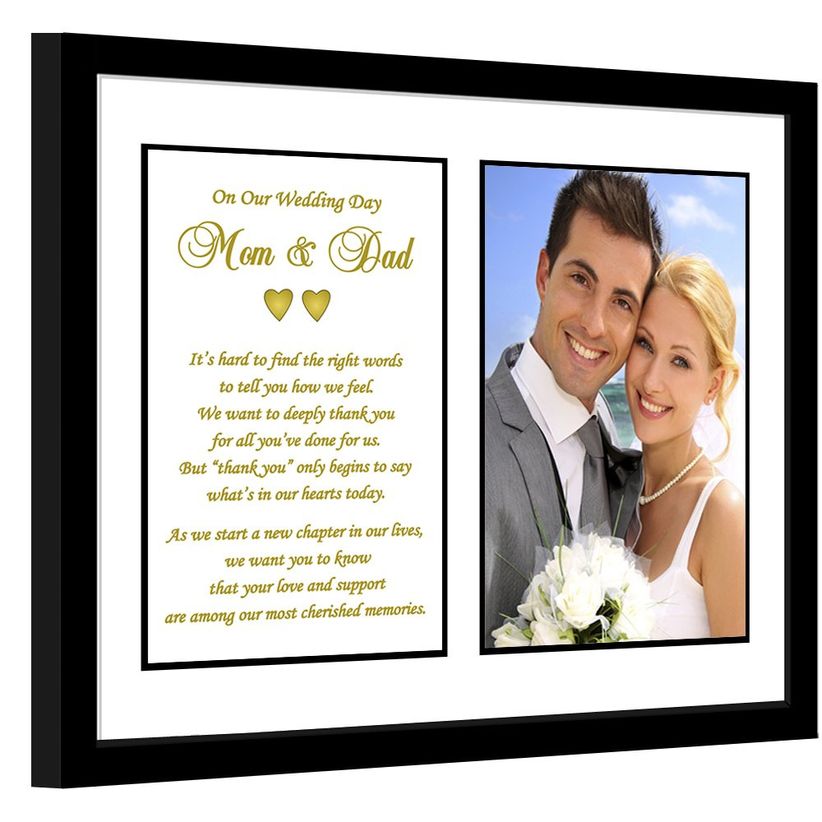 Framed Photo and Poem
Your parents — and his parents! — have gone above and beyond to make your wedding day everything you dreamt of, and more. Get two sets of this sweet poem and photo frame that allows you to express how grateful you are for their support and kindness. What a sweet wedding gift idea for your parents or your partner's parents.
Poetry Gifts thank you poem frame, $38, Amazon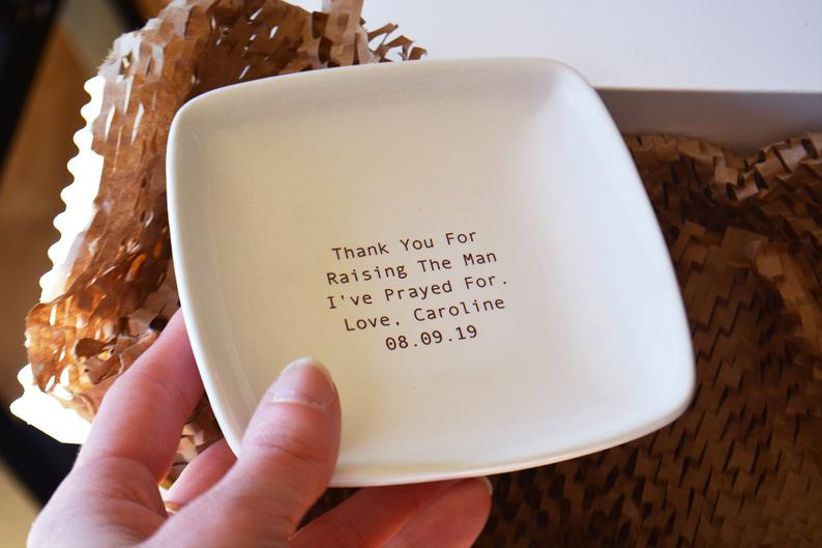 Personalized Tray
Your mother-in-law used to text her son every morning, and now, she's figured out a group chat on WhatsApp and messages you both. It's a routine she's developed sitting at her vanity, so add this small tray for her A.M. routine, just from you. It's sweet and simple — but says everything you need it to.
HalleSophiaGifts mother-in-law tray, $29, Etsy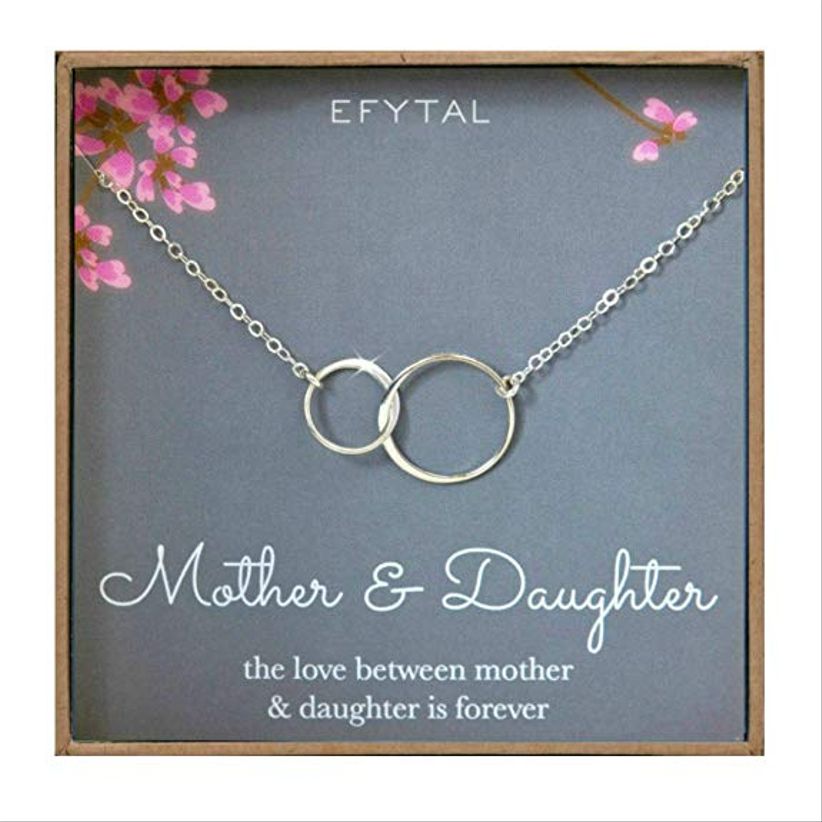 Mother-Daughter Necklace
Sure, you now have a spouse. But your best friend? That prized position will forever be your mom. There's no bond quite like a mother and daughter, and this gorgeous necklace reminds her that she's not losing her girl, but gaining a son. Trust us, she'll wear it every single day.
EFYTAL mother-daughter necklace, $45, Amazon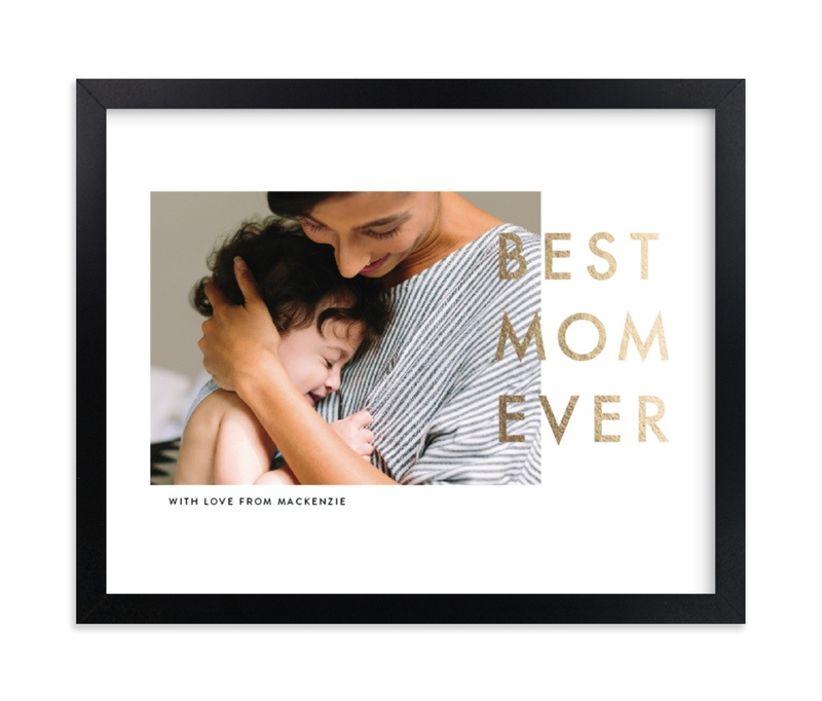 Photo Print
Find the cutest photo ever of you and your mom. Then, convince your partner to do the same. Blow them up and print them with this service, expressing what an important role they each play in your lives. For a fun photo-worthy moment, gift them at the same time and capture their smiles!
Seulghi Best Mom Ever photo print, $65, Minted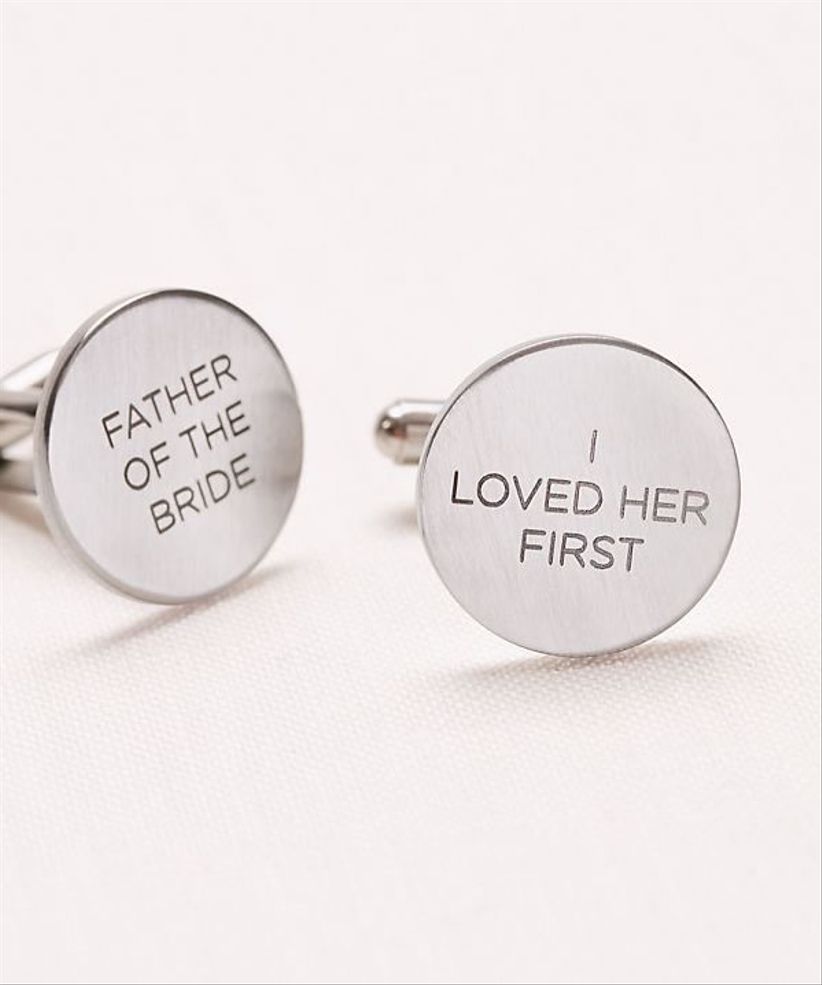 Engraved Cufflinks
He says it all the time — and yeah, you roll your eyes — but you appreciate his gush. After all, you were his little girl long before you became someone's bride, and these cufflinks remind him that you've been listening all of these years. Just make sure you have a napkin handy for when he inevitably cries. It's okay, Pops, you love him too!
David's Bridal father-of-the-bride cufflinks, $24, David's Bridal
Mother-of-the-Bride Bracelet
You have your something old, your something new, your something borrowed, and your something blue. But most importantly, you have your mom, so gift her this sweet bracelet and message that will have her grinning from ear to ear. Just be careful to give it before she puts on her makeup, or you'll be in trouble — even on your wedding day!
PinkCarnationDesigns mother-of-the-bride bracelet, $36, Etsy
Family Tree
If you'd rather not go the overly sentimental route, we like this as a wedding gift for parent idea. The concept is there — a family tree! — but without being too sappy or sweet. Consider gifting one to each set of parents, so they can both proudly display this wooden masterpiece in their homes.
LifeSong Milestones family tree, $60, Amazon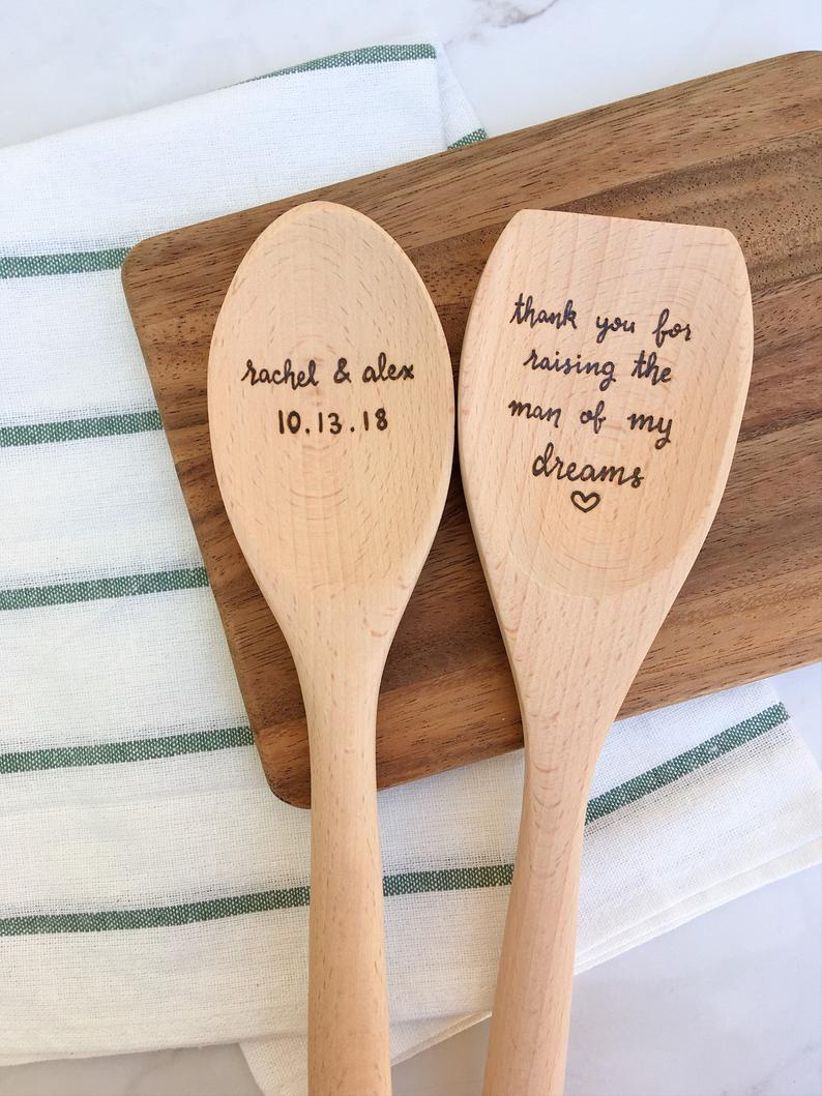 Engraved Wooden Spoons
Growing up, you have so many memories of your mom in the kitchen. Whipping up breakfast, making cookies, making your grandma's pasta sauce. You and your partner can give your respective mother-in-laws these spoons as a token of thanks, and a nod to nostalgia.
BlessingFalls personalized wooden spoons, $24, Etsy
Home Portrait
Now that you're #married, you'll be building your own home with your new partner. But that doesn't mean you've forgotten about the street where you learned to ride a bike, stayed out until dusk catching fireflies and waited for your parents to come home from work. This custom art print is a sweet wedding gift idea for your parents, and away to remind your folks just how much they've meant to you over the years — even if you're now out of the house, for good.
Minted custom house letterpress portrait art, $82, Minted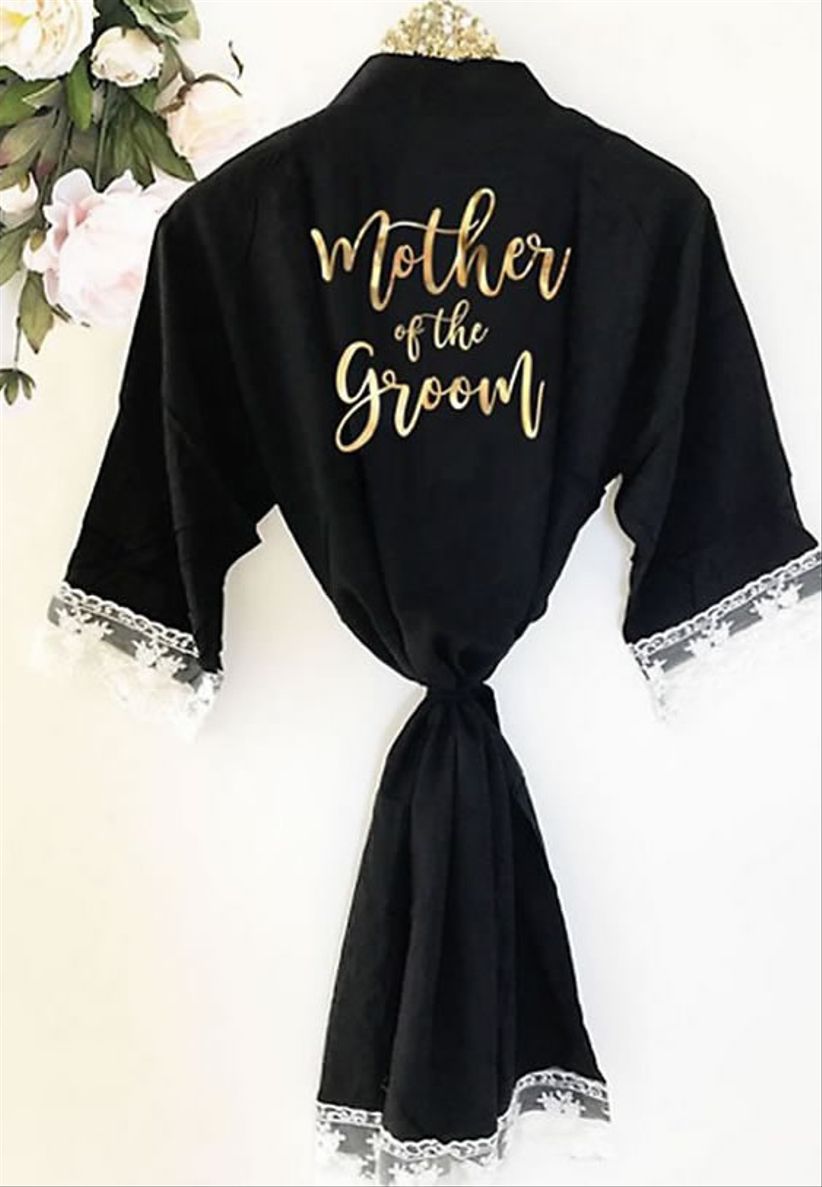 Personalized Robe
What you love the most about your mother-in-law is her style. She's always dressed to impress with lipstick and powder on hand. Show her how much you appreciate her class and understand her glamour with this custom robe. She can wear it as she joins you and the rest of the girl party on the big day.
David's Bridal cotton robe with lace trim, $40, David's Bridal
Disclosure: This post contains affiliate links, some of which may be sponsored by paying vendors.