21 Truly Sweet Wedding Thank-You Gifts for Parents or Parents-in-Law
Giving a gift to your parents on your wedding day is a lovely gesture. Here are some of our favorite wedding gift ideas for the parents of the newlyweds.
We have included third party products to help you navigate and enjoy life's biggest moments. Purchases made through links on this page may earn us a commission.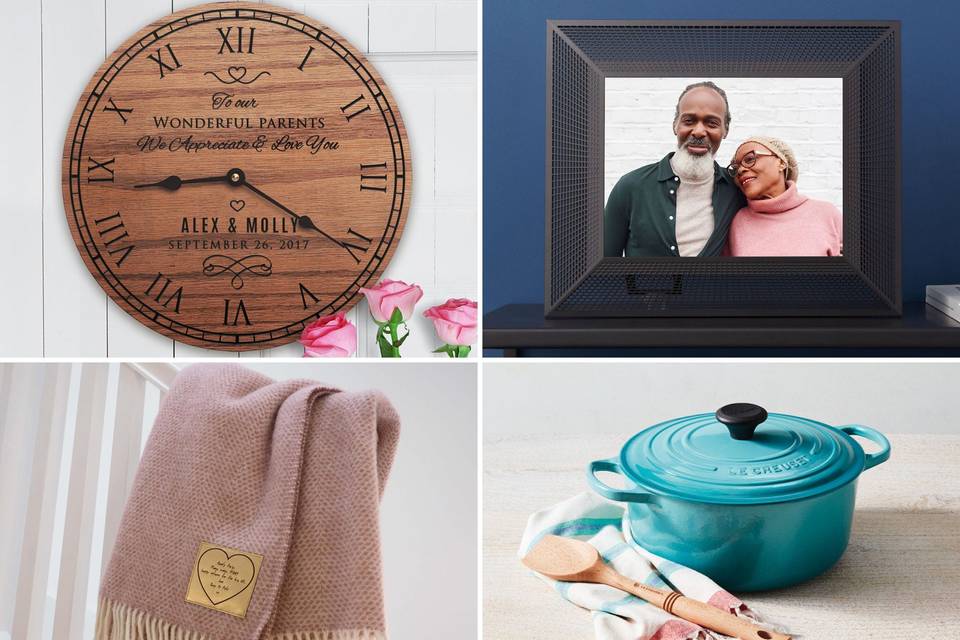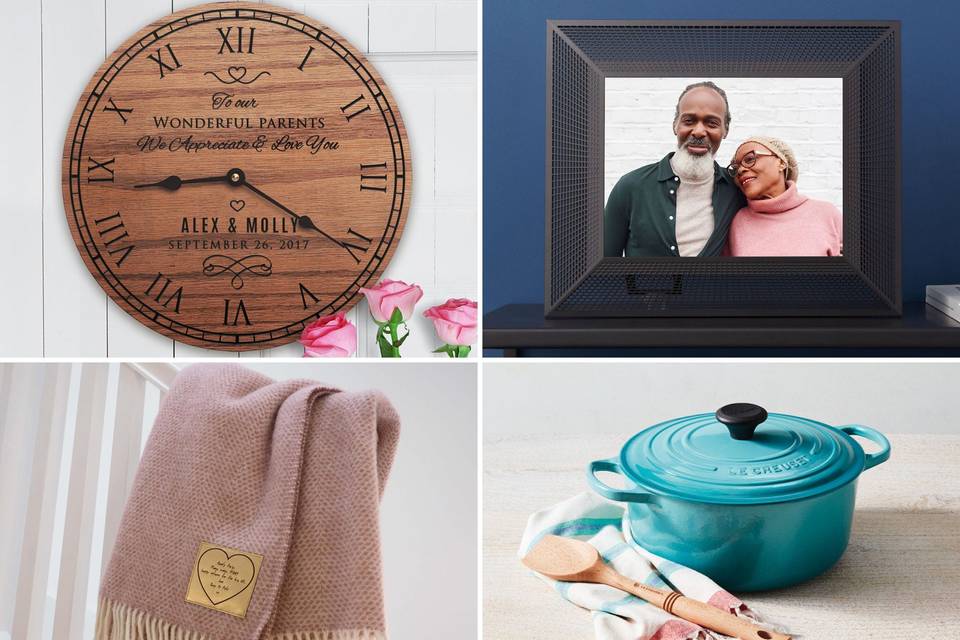 Through every important milestone, your parents have been right there with you. They've wiped away tears, shared in your laughter, and offered invaluable wisdom every step of the way. Now, they're going to show the same love and support on your special day. Choosing thoughtful wedding gifts for your parents and new in-laws is a sweet way of saying thank you for everything they've done. After all, these special humans are responsible for making you and your S.O. the people you each fell in love with. To help you show your appreciation (and impress those new in-laws!), we've gathered some of our favorite gift ideas they're sure to love.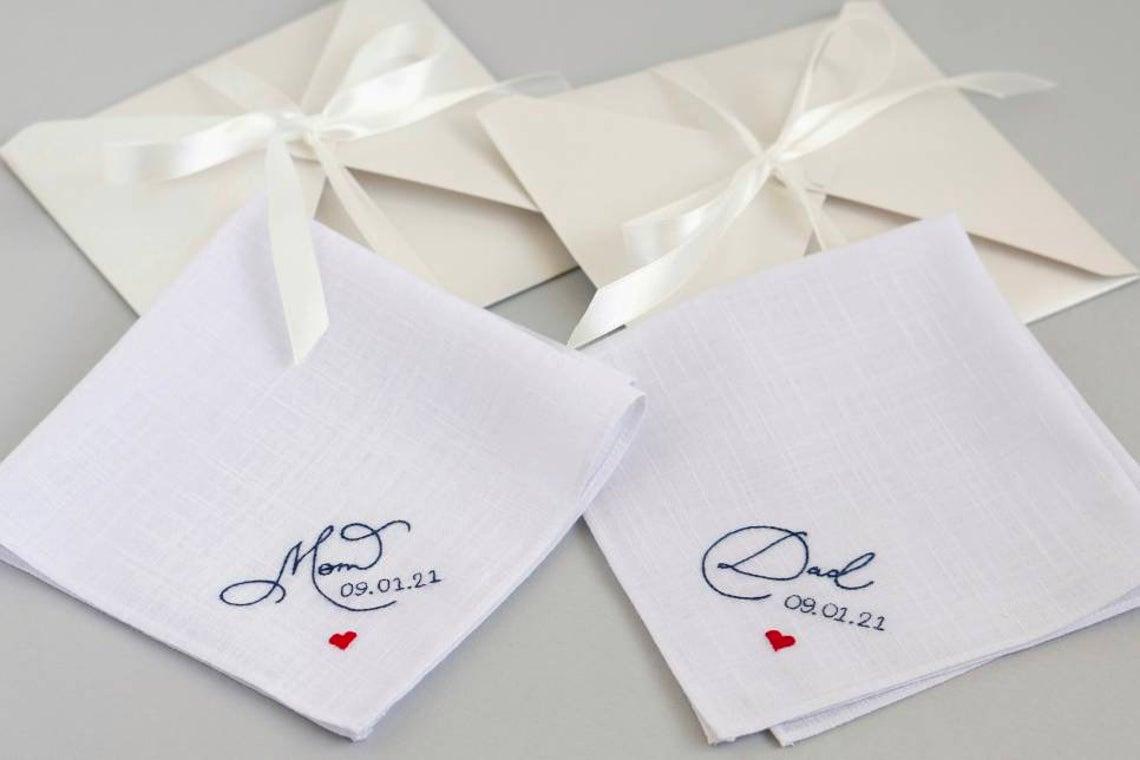 1. Embroidered Handkerchiefs
You already know you won't be able to hold back the waterworks when you recite your vows—but trust us, you won't be the only one crying. Anticipate a few happy tears from the people who raised you too. These adorable "Mom" and "Dad" embroidered handkerchiefs will come in handy on the wedding day and make for sweet keepsakes afterward.
My Hanky Ua mother and father wedding handkerchiefs, from $20 each, Etsy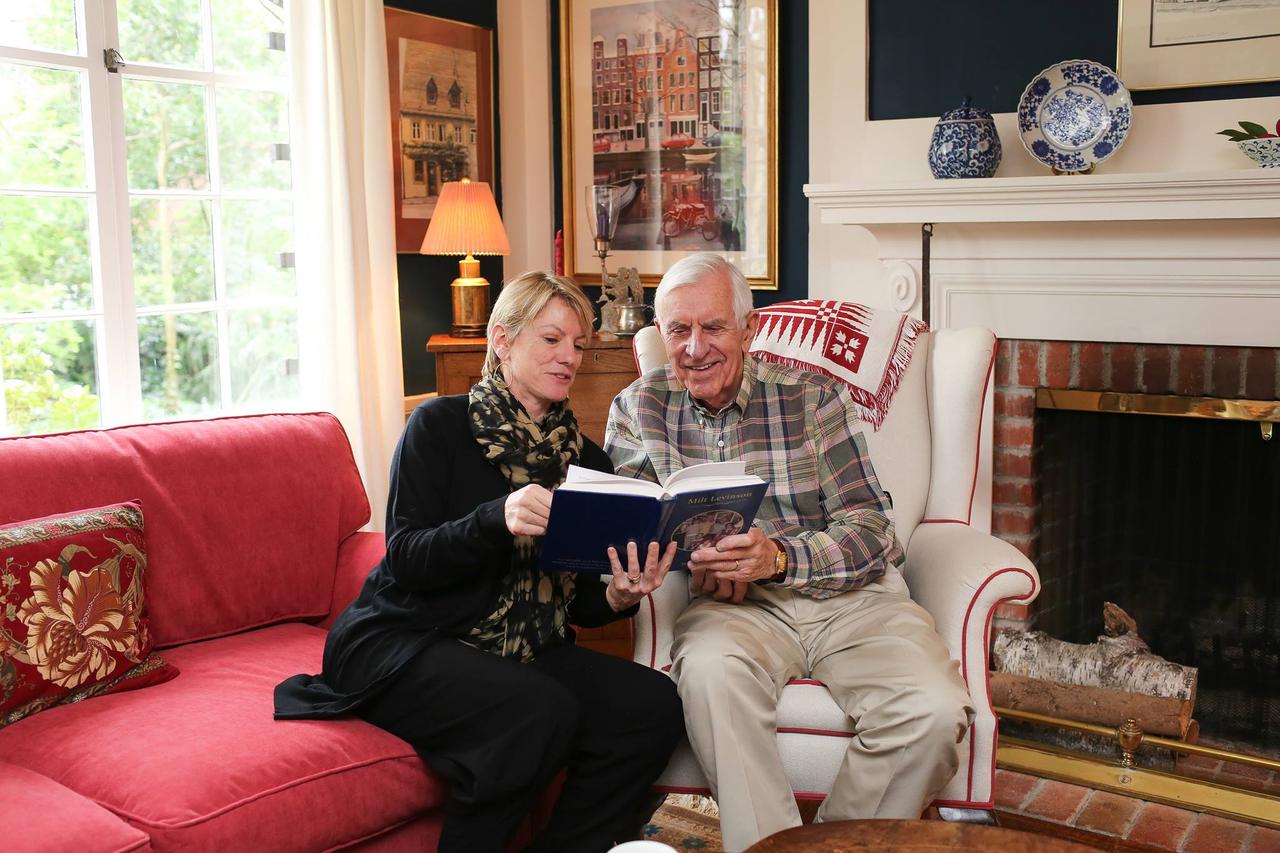 2. Family Memory Book
When it comes to meaningful gifts for the parents of the bride or groom, StoryWorth is a sure winner. Each week, they'll receive a question they can answer with a personal story. After a year of gathering your parents' amazing life experiences, it's all put together in a custom keepsake book. Reading it will be a great way to get to know your in-laws or learn a little more about your own parents.
StoryWorth gift book, from $99, StoryWorth.com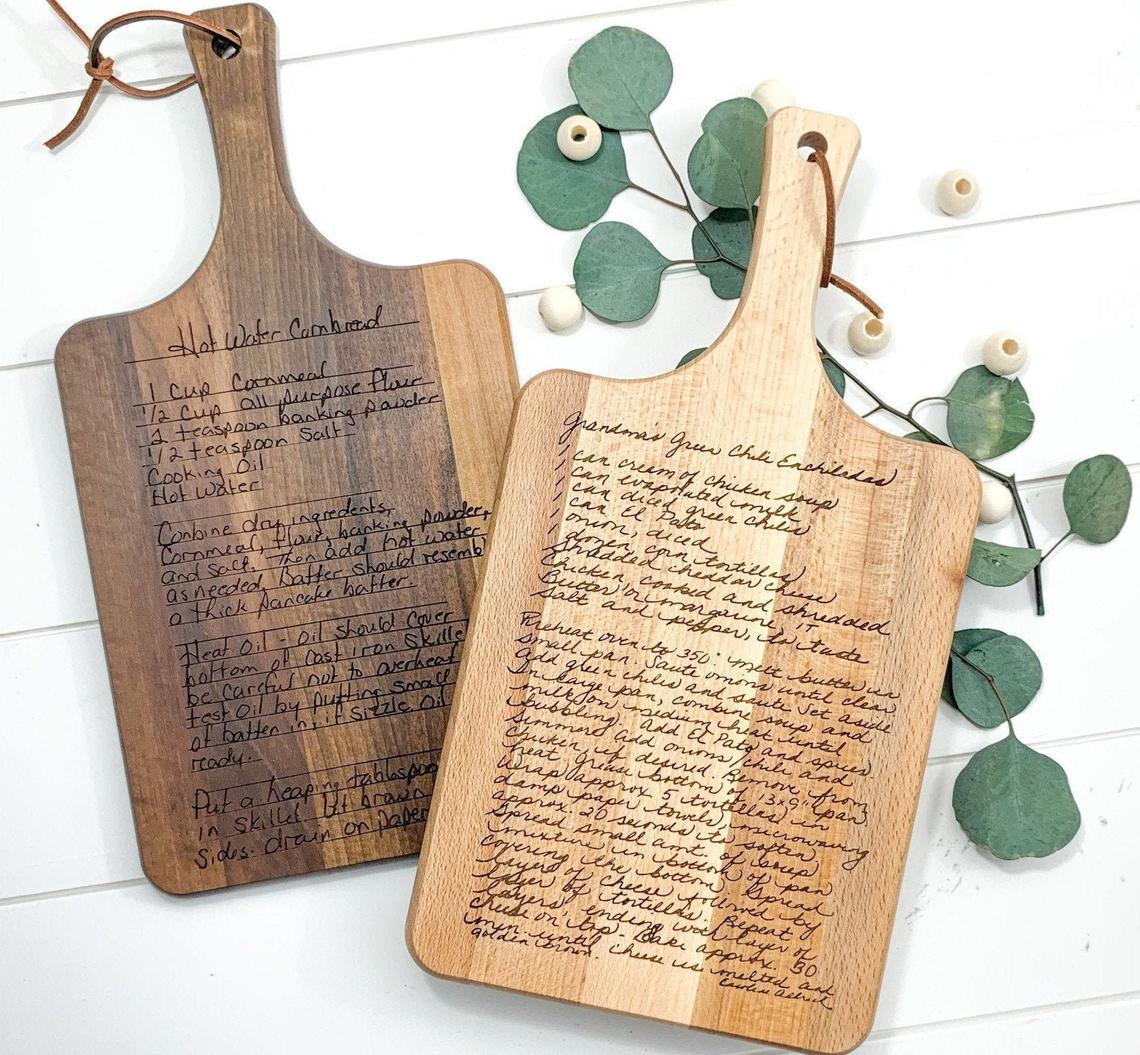 3. Recipe Cutting Board
There's nothing like the taste of your mom or dad's home cooking. Let them know you'll still be coming over for dinner on the regular by giving them a custom cutting and serving board engraved with one of your favorite family recipes. Talk about creative wedding gift ideas for your parents!
Morning Joy Co. recipe cutting board, from $69, Etsy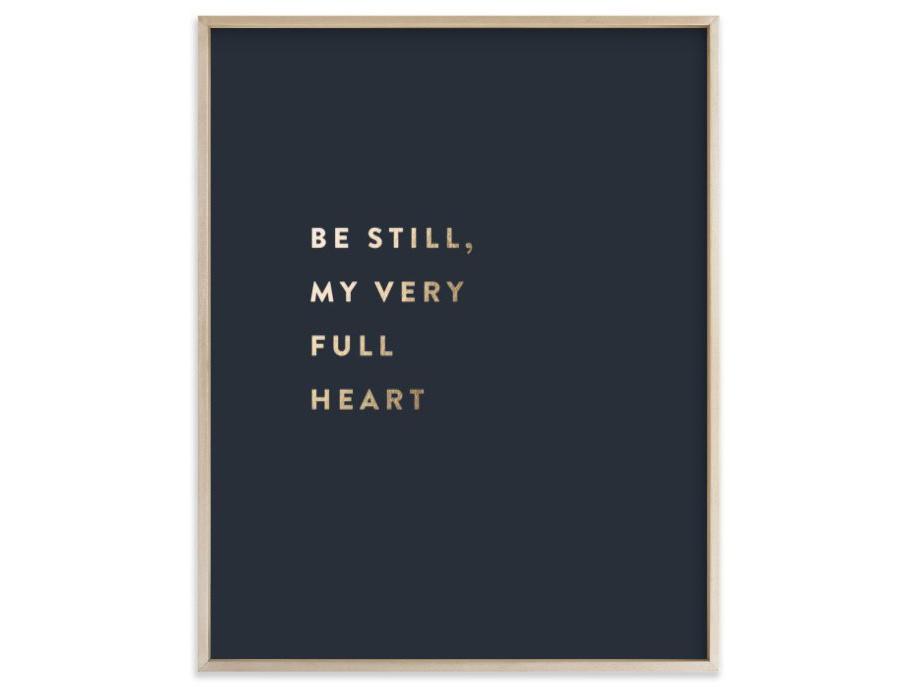 4. Quote Print
Parents have an undeniable way of always knowing what to say. Thank them for their endless wisdom over the years with a custom print of a meaningful quote. You can even add the date to help mark the occasion.
Minted custom quote foil print, from $198 unframed, Minted
5. Keepsake Plate
Add another unique item to their display cabinet in the form of this hand-painted plate commemorating your wedding day. This sentimental gift will work for parents of a groom or bride.
Brush Stroke Plates wedding plate gift for parents, from $68, Etsy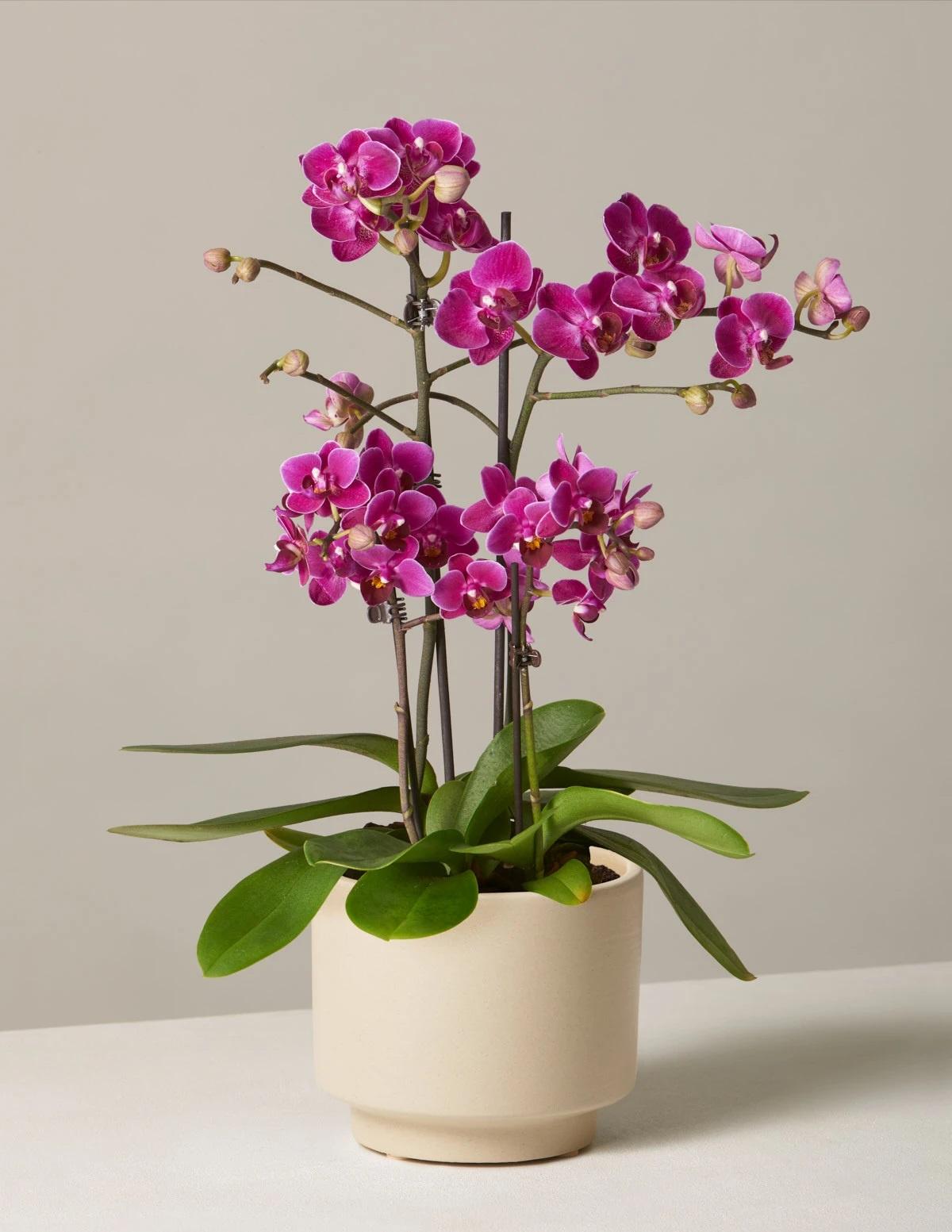 6. Ornamental Orchid
A pretty new house plant is a fitting wedding gift idea for the parents who helped you grow into the person you are today.
The Sill purple orchid, $98, The Sill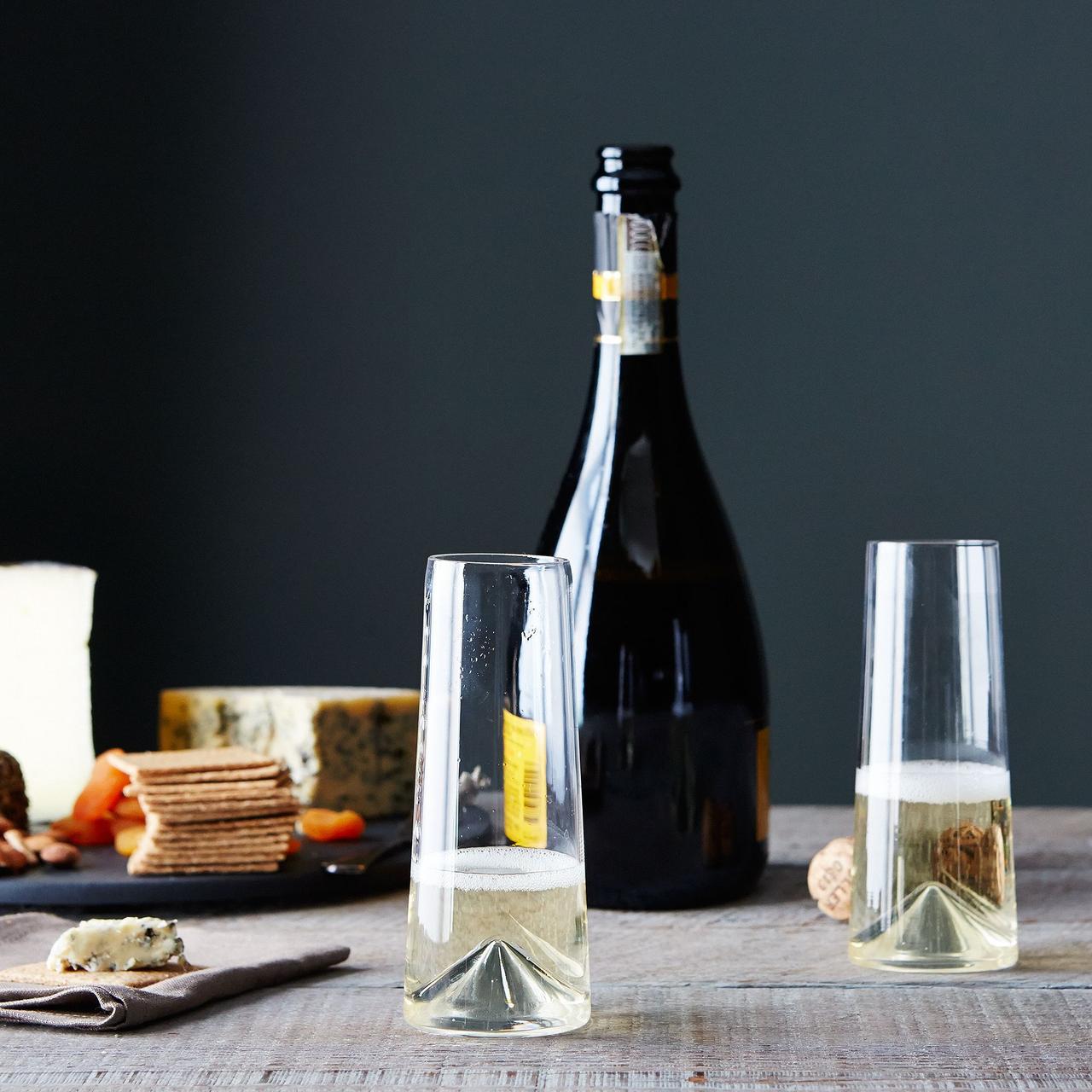 7. Champagne Flutes
No one will want to toast more to your union than your parents. Make their bubbly all the more enjoyable with a pair of sleek champagne glasses. These flutes were designed to enhance effervescence 'til the very last drop.
Sempli Monti champagne flutes, $50 for a set of 2, Food52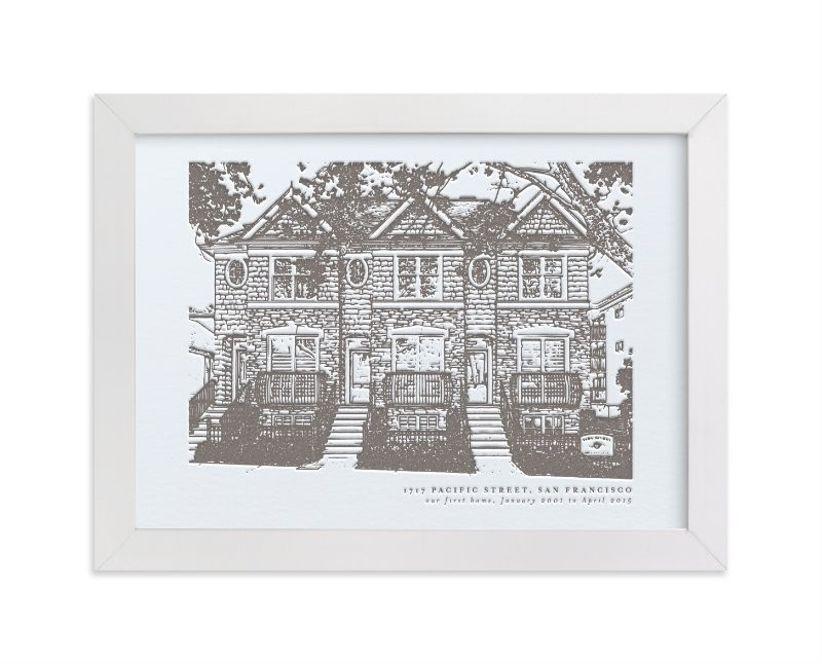 8. Home Portrait
Now that you're all grown up and getting married, you're probably living a little further away from home. But that doesn't mean you've forgotten about the street where you learned to ride a bike, stayed out until dusk catching fireflies, and waited for your parents to come home from work. This custom art print is a sweet wedding thank-you gift idea for your parents, and a way to remind your folks just how much you cherish those memories.
Minted custom house letterpress portrait art, from $128 unframed, Minted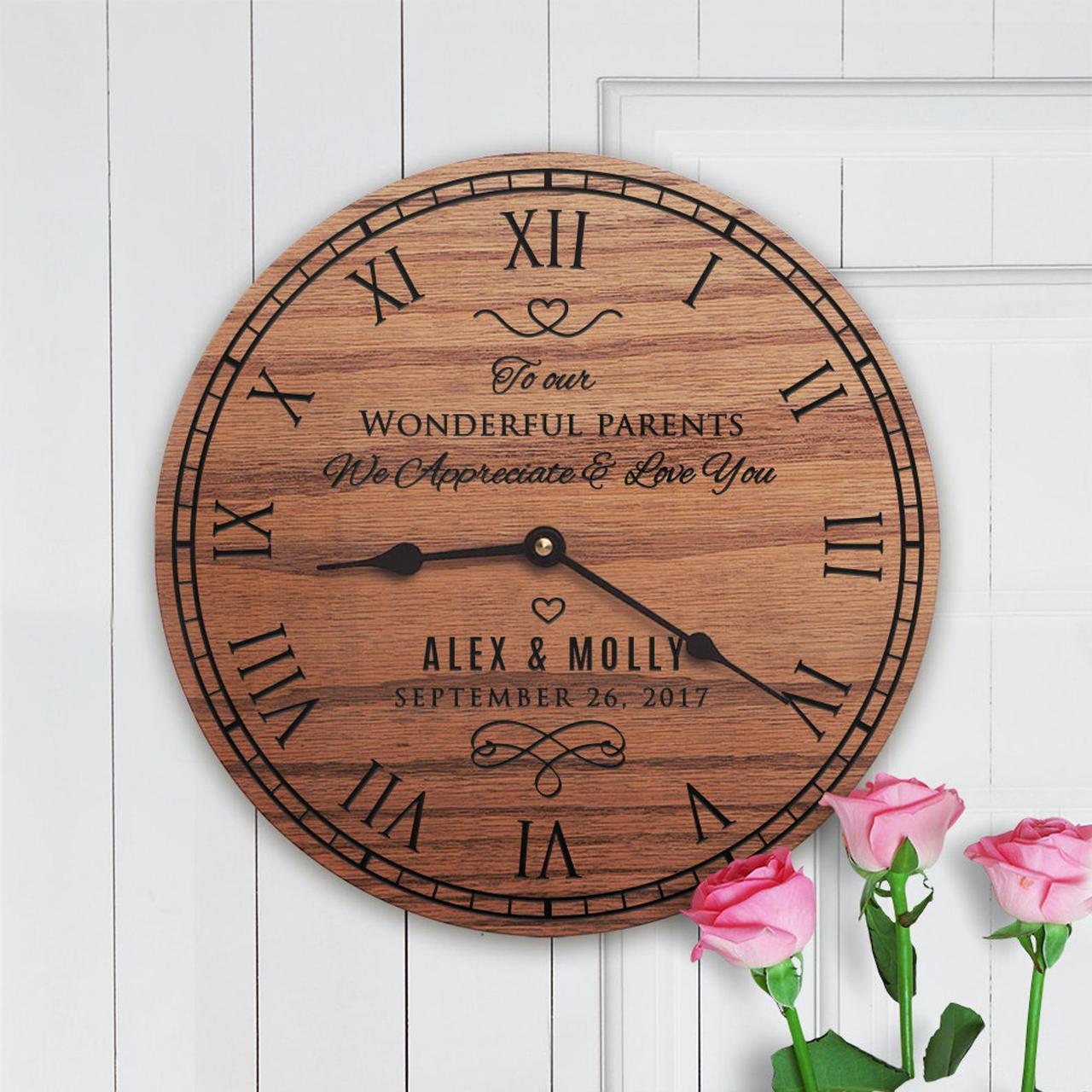 9. Commemorative Clock
Not sure exactly how to express your gratitude? Don't worry, this elegant handmade clock says it all: "To our wonderful parents, we appreciate and love you." It's one of our favorite wedding thank-you gifts for parents.
Story Cabin personalized wedding gift for parents, from $54, Etsy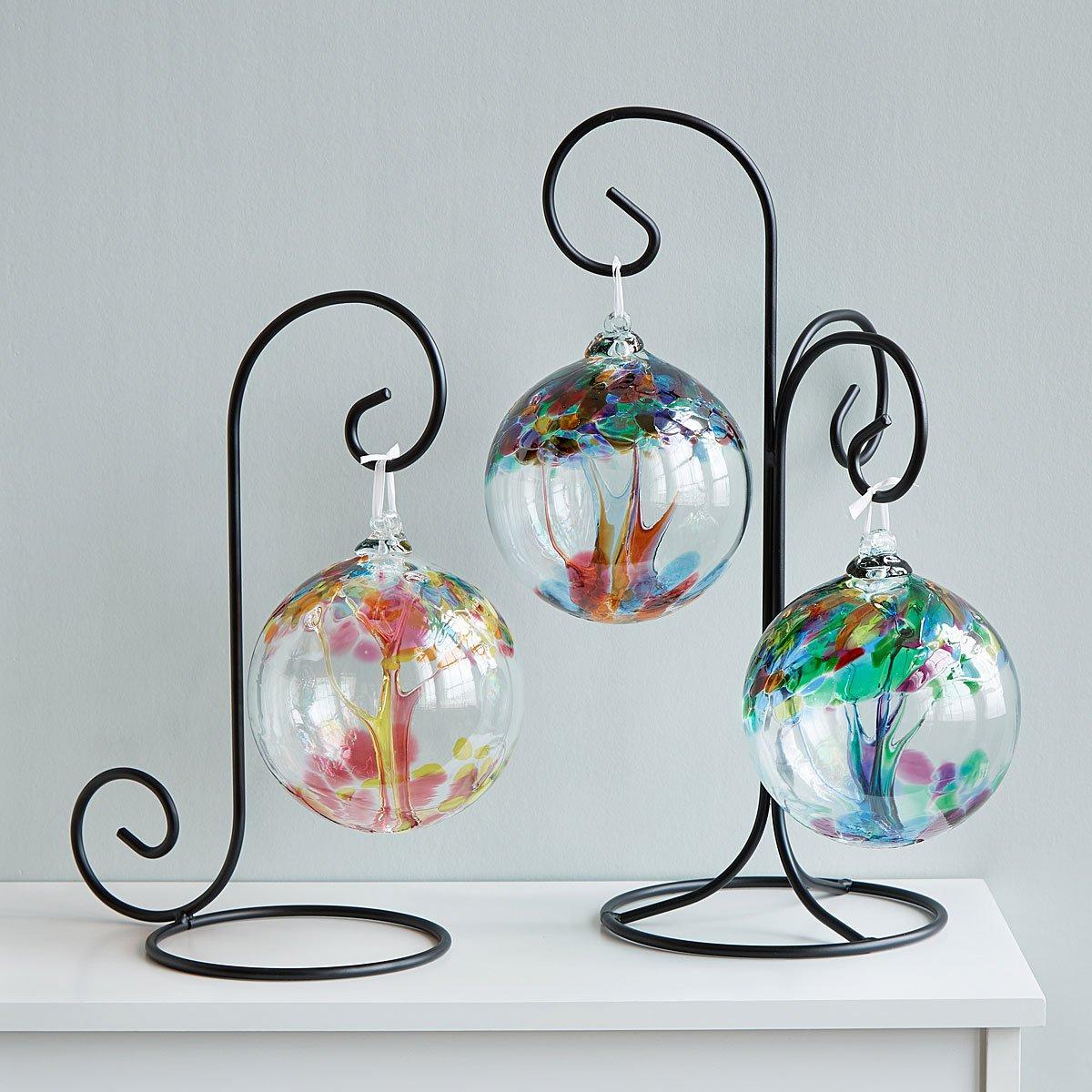 10. Meaningful Ornament
If you're not the type for long and heartfelt exchanges, we've got you. There are lots of different ways to approach finding thoughtful wedding gifts for your parents. This stunning glass ornament offers all of the sentiment without the wordiness.
Stephen Kitras Relationships recycled glass tree globes, $49 each, Uncommon Goods
11. Secret-Message Throw
What's better than a cozy throw? A cozy throw with a sweet, personal message stitched on! Your parents will be reminded of how much you love them every time they see it.
Stabo wool throw personalized with a message, $136, Etsy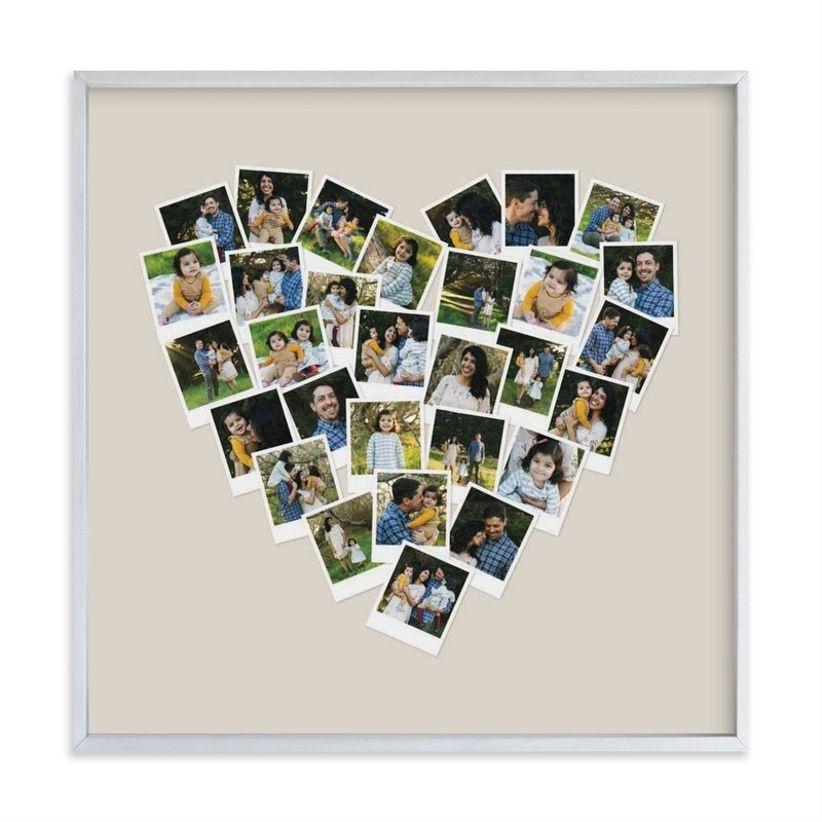 12. Photo Art
To your in-laws, your soon-to-be spouse will always be their baby. That's why a heart-shaped collage of family photos is a thoughtful gift for your S.O.'s parents on the wedding day.
Minted Heart Snapshot Mix Hues photo art, from $29 unframed, Minted
13. Wine Chiller
If sentimental gifts aren't really your family's style, pick out wedding presents for your parents they can actually use. Who wouldn't appreciate a sleek and sophisticated wine chiller? It'll keep their favorite vino cold for up to four hours and it looks good on the dinner table.
Vinglacé wine bottle chiller, $90, Food52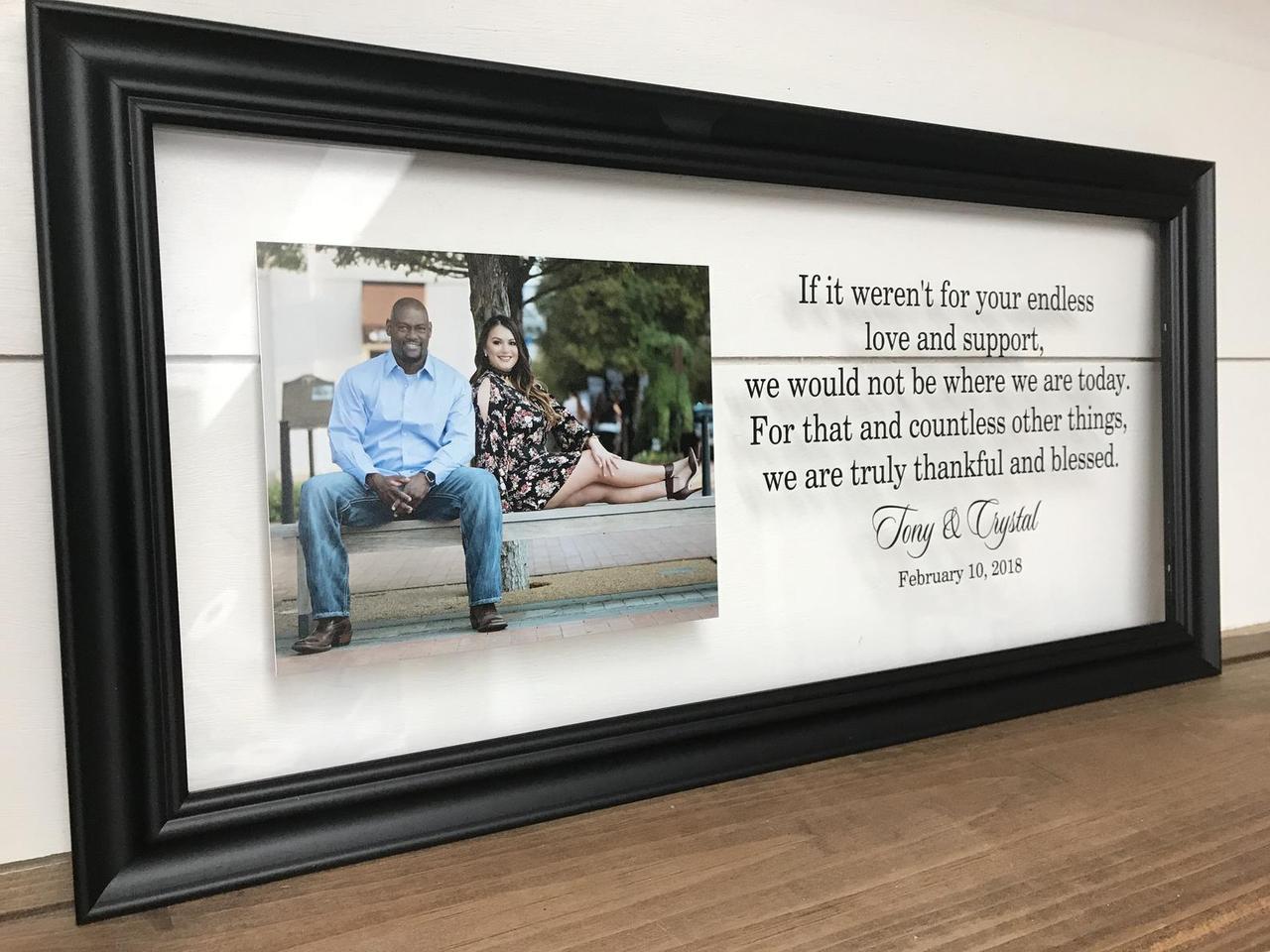 14. Framed Message and Photo
Both of your parents have gone above and beyond to make your wedding day everything you dreamt of and more. Get two of these sweet, personalized photo frames to express just how grateful you are for their support and kindness.
Shen Doah parents of the bride or groom gift, from $78, Etsy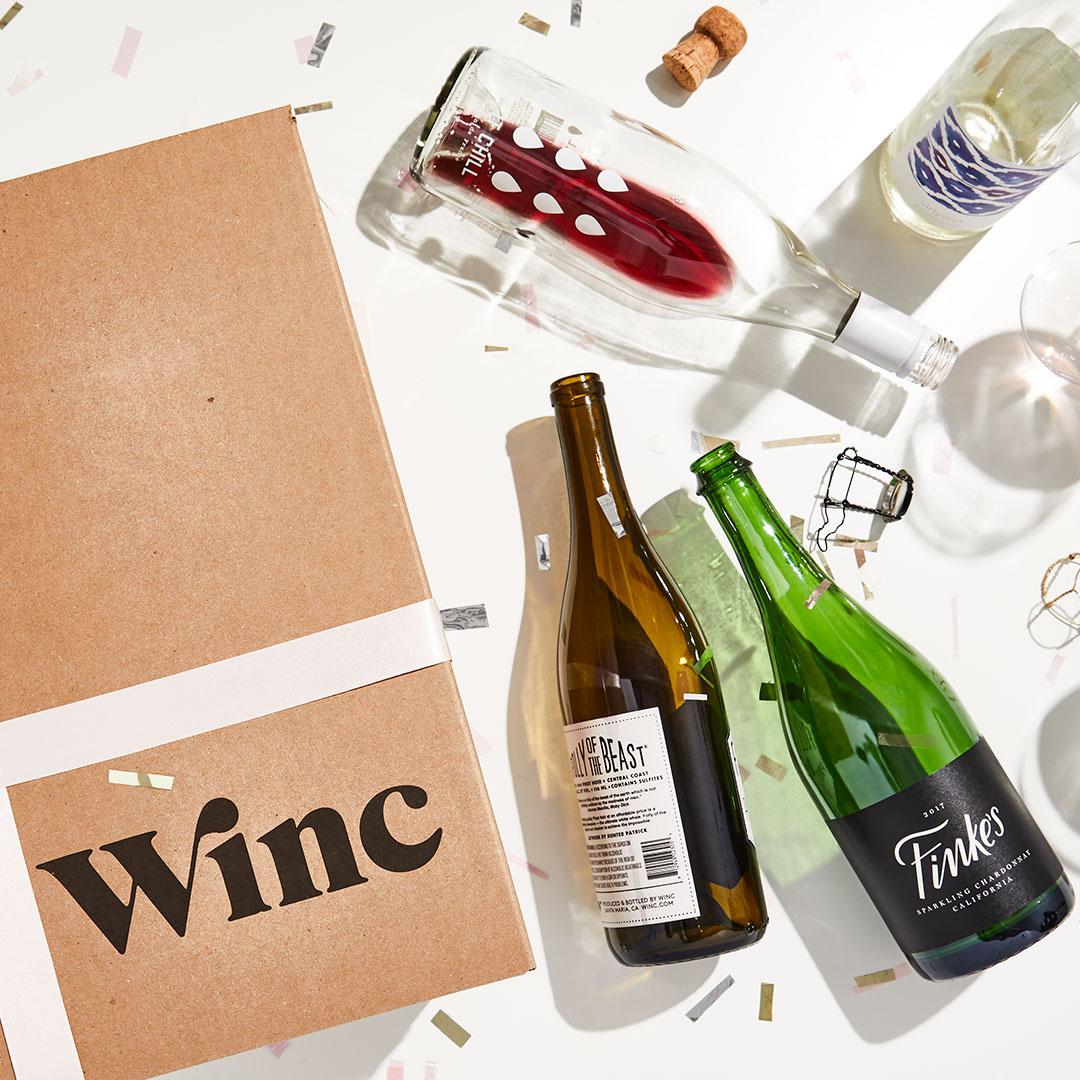 15. Wine Subscription
Celebrating a child's wedding doesn't happen every day. Keep the drinks flowing by treating your parents to a one-, two-, or three-month wine subscription.
Winc gift card, from $60, Winc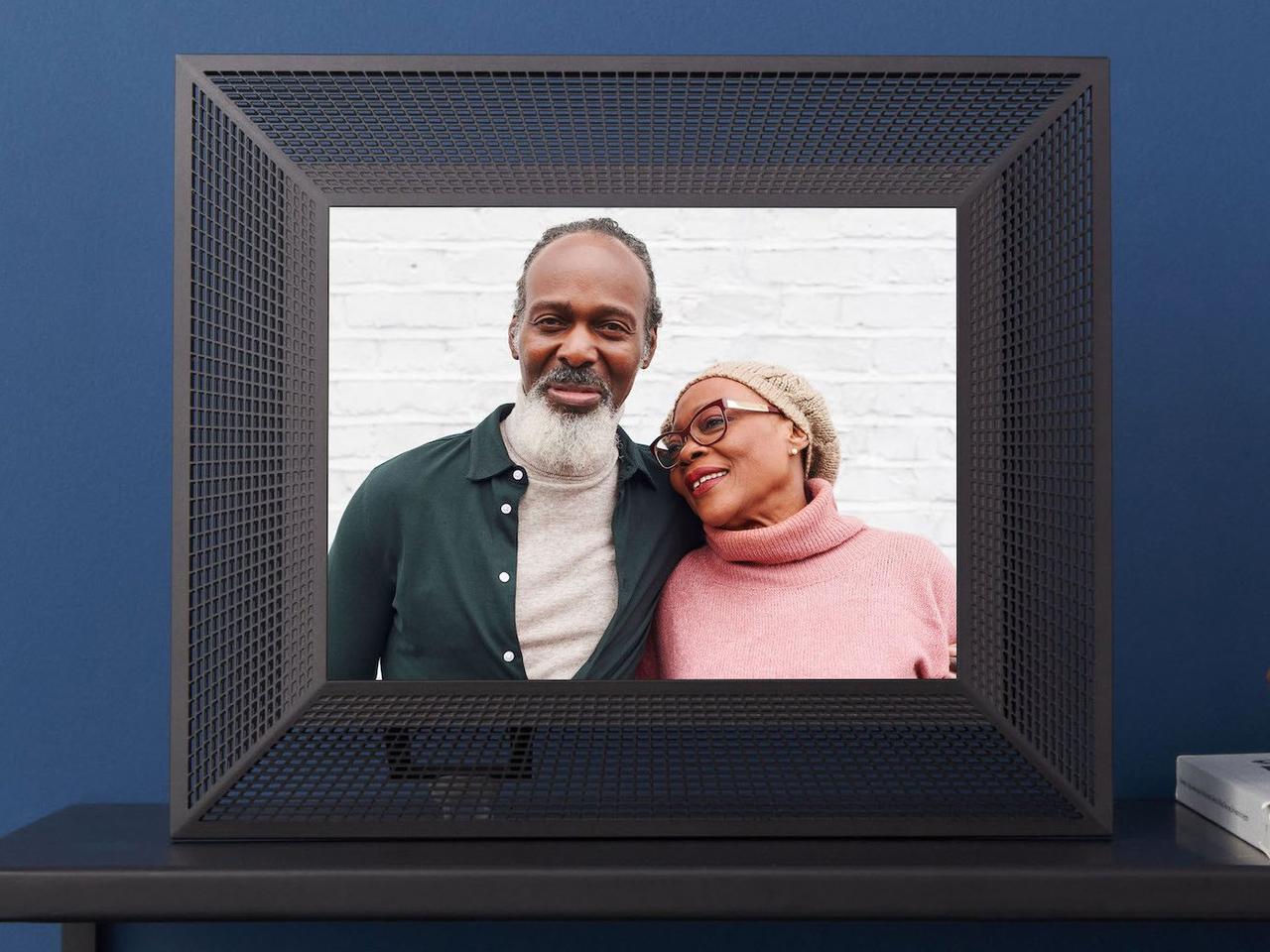 16. Digital Photo Frame
If you can't tell, we're big fans of photo gifts for parents of the bride and groom. With a digital picture frame, you can easily upload your latest snapshots (think: wedding photos) for your parents to appreciate. It's even possible to set it up on their WiFi network before handing it over.
Aura Frames Smith digital photo frame, $399, Aura Frames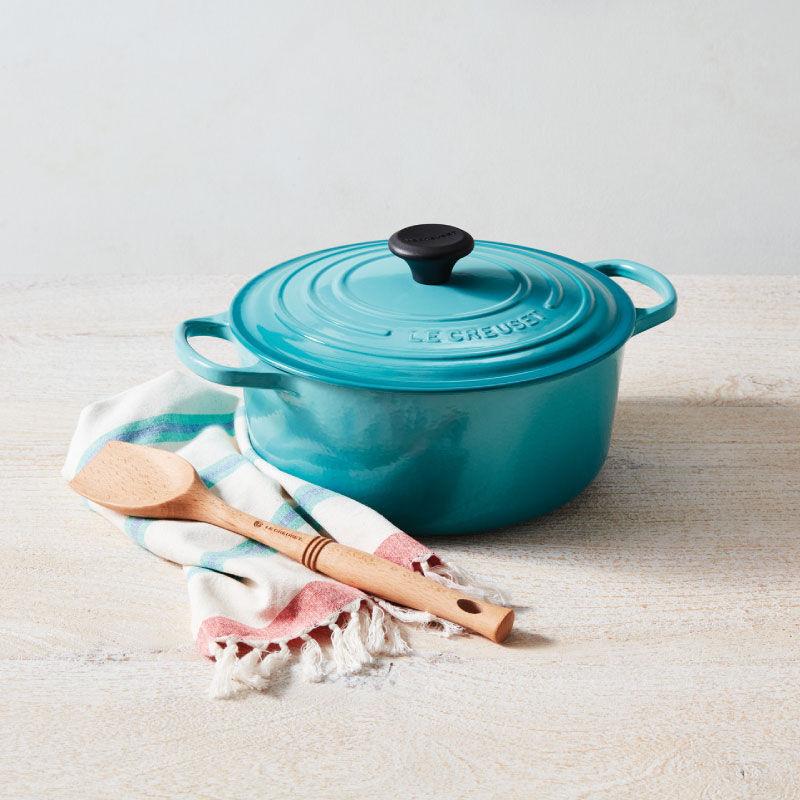 17. Fancy Cookware
Your parents deserve some shiny new pots and pans too. Plus, an heirloom-quality Dutch oven will go a long way with the in-laws.
Le Creuset round Dutch oven, from $155, Le Creuset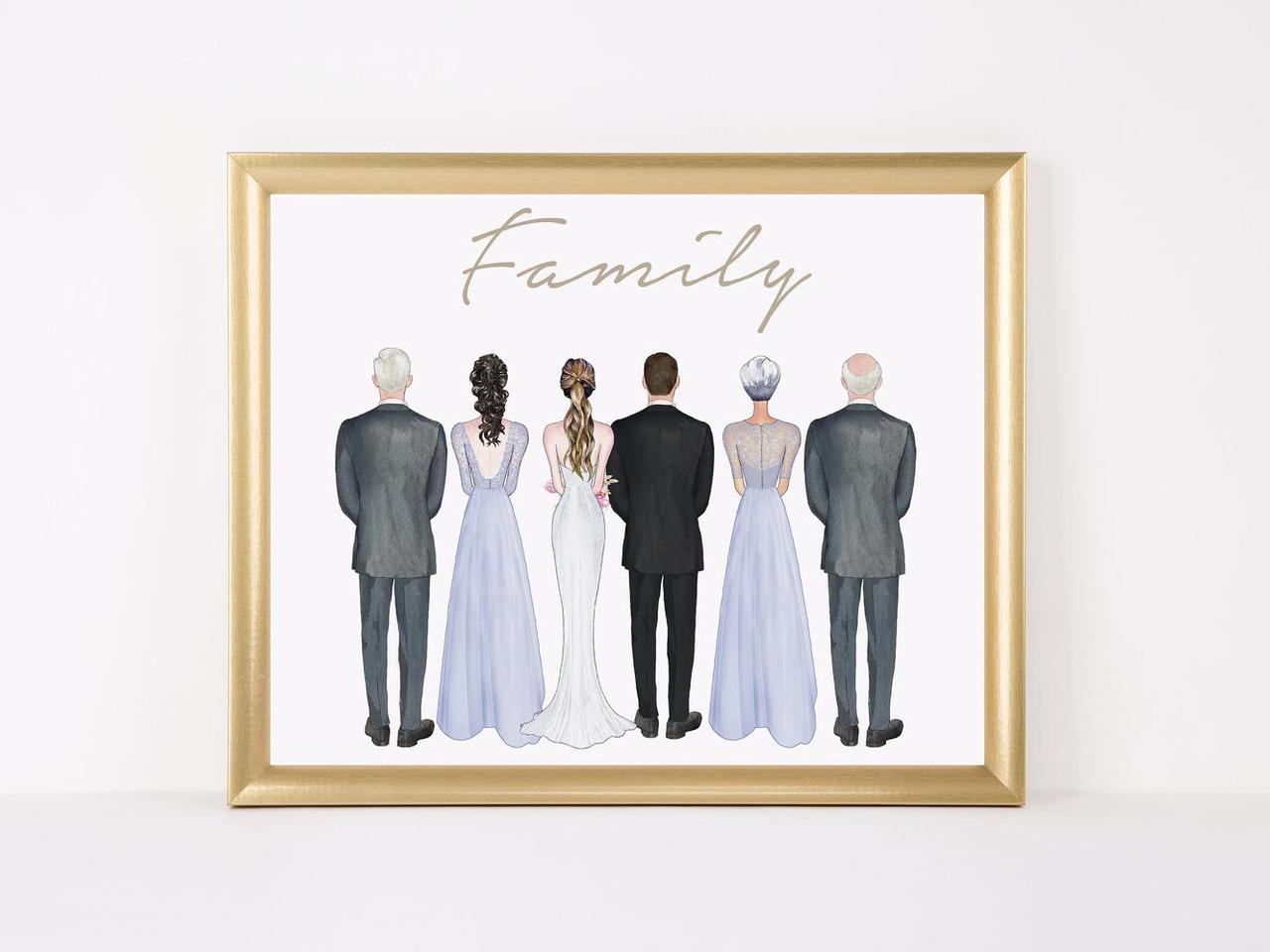 18. Wedding Illustration
An illustration of you, your new spouse, and your parents is sure to make an impression on everyone. It's a unique spin on traditional wedding photo gifts for parents.
The Spoonful wedding parent print, from $29, Etsy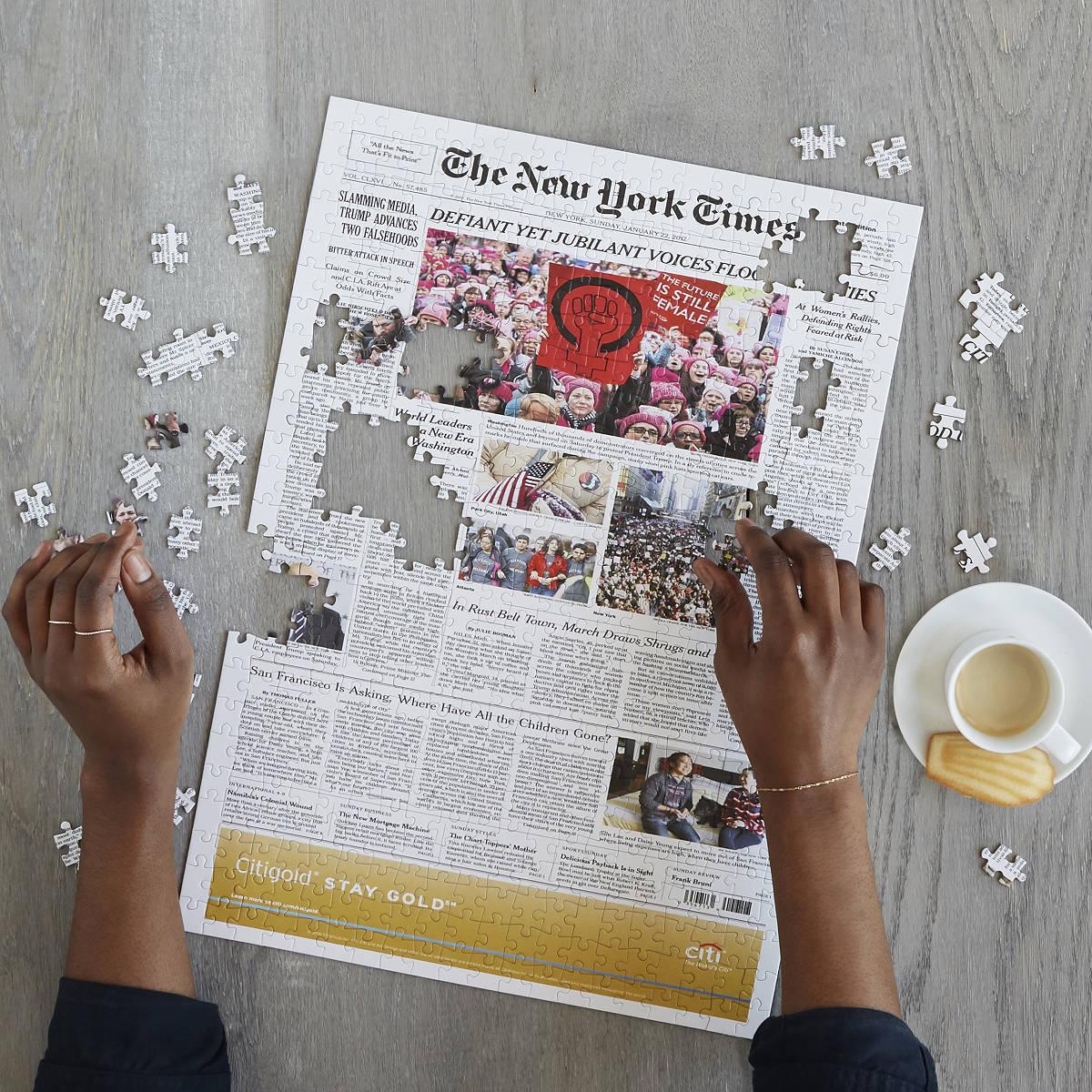 19. Front Page Puzzle
If your parents religiously pick up a copy of The New York Times, they'll appreciate this fun and unique memento—a puzzle of the front page from your wedding day. The only catch is that you'll have to wait until after the wedding to present it.
Uncommon Goods The New York Times custom front page puzzle, $50, Uncommon Goods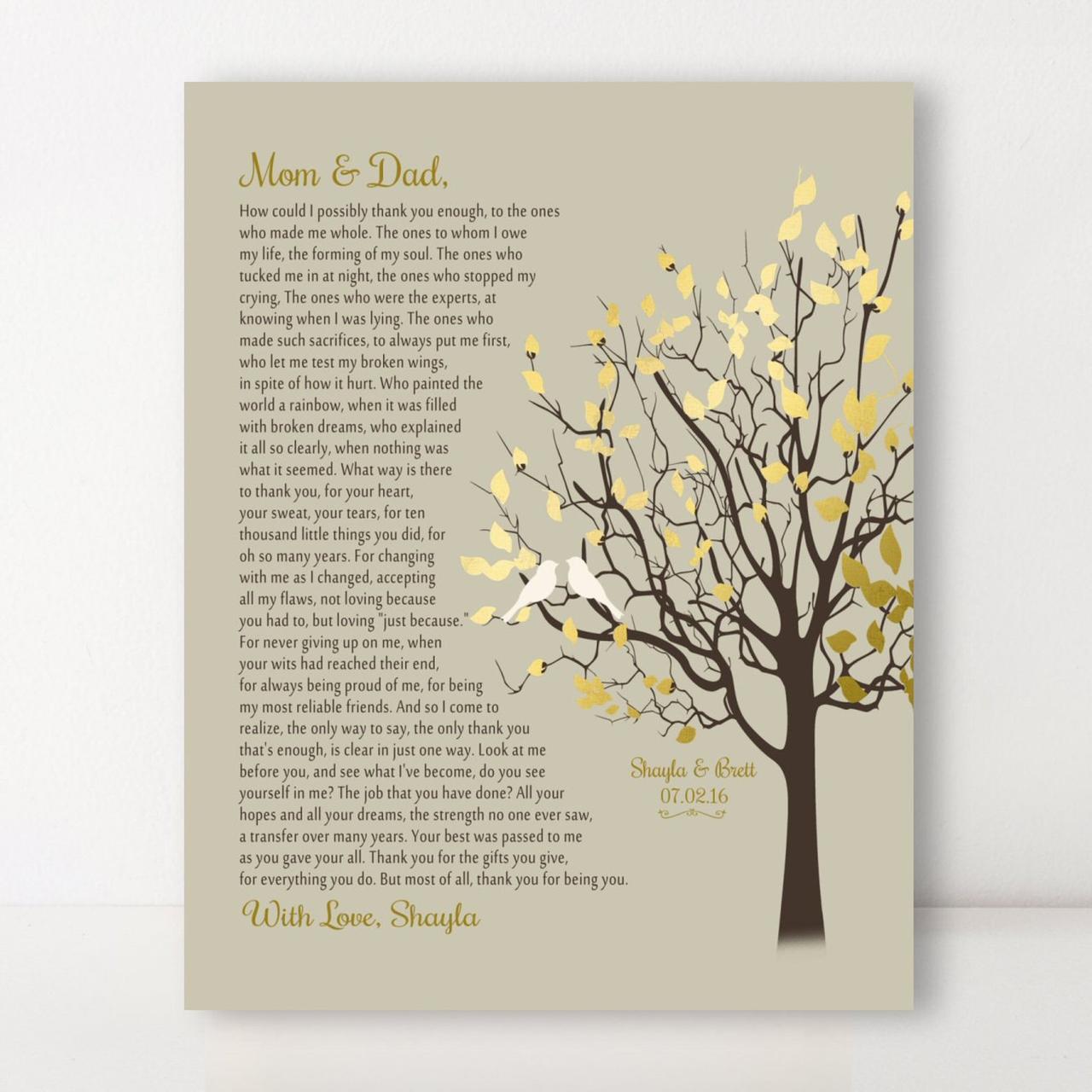 20. Meaningful Message
Your wedding day isn't just an opportunity to thank your parents for helping out with the nuptials. It's a chance to let them know just how much you appreciate everything they've done for you before that. This sweet poem spells it out sincerely. For bonus points, order it on canvas so it's ready to display.
Prints by Christine canvas print gift for parents on your wedding day, from $15, Etsy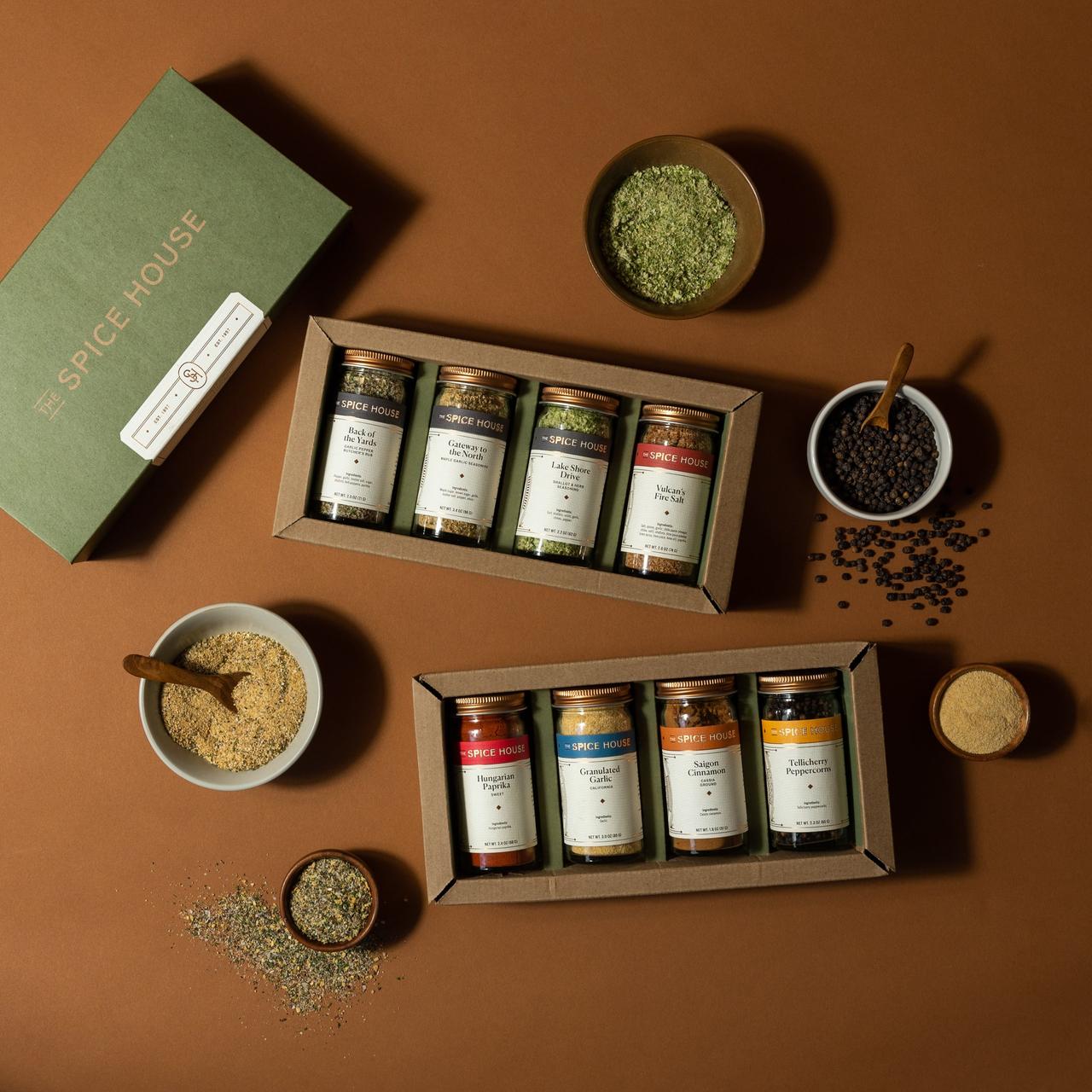 21. Spice Collection
Whether you have fond memories of helping your parents in the kitchen or you're eager to learn some of your new in-laws' amazing recipes, a versatile selection of spices is the perfect way to let them know. This gourmet set will make for an excellent wedding gift for your parents.
The Spice House best sellers deluxe collection, $68, The Spice House