The 7 Times You'll Probably Cry at Your Wedding
Even if you haven't cried since you were a kid, you may shed a few (or many!) tears on your wedding day. Here are the moments when you may cry at your wedding.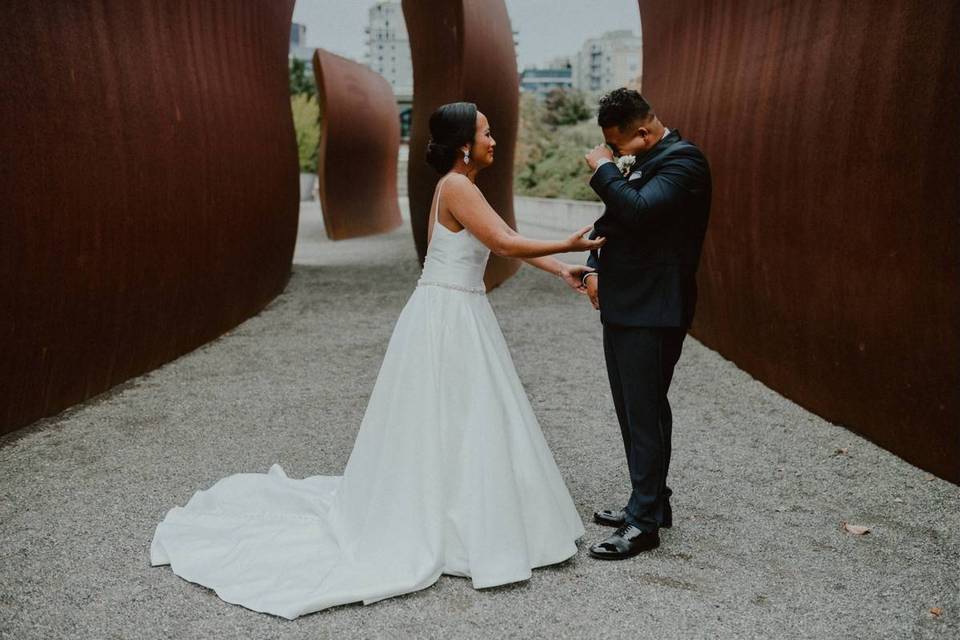 Whether you bawl at the drop of a hat or can't even shed a tear during This is Us, there's a good chance that crying at your wedding is in your future. Even though crying at your wedding might feel a bit embarrassing (and if you're wearing makeup, you certainly don't want to ruin it!), shedding a few tears just shows that you understand how important this milestone really is. You're dedicating your life to someone else, expressing your love in front of your dearest loved ones, and celebrating your relationship—that can certainly get tears to flow in even the most hardened personality! Bottom line, don't be afraid to show emotion during your wedding, whether a few tears roll down your cheeks or you're full out sobbing.
To help prepare you for this emotional event, here are the seven times you're most likely to experience some crying at your wedding.
Getting Ready
There are several moments during the getting ready process that could cause your eyes to start welling up. If you're prepping for the big day with wedding party members and close family members, just seeing them might make you realize the magnitude of this event—all of your favorite people in one place!—and cause you to shed some tears. Many couples exchange love notes or gifts on the morning of their weddings, and opening these can cause the crying at your wedding to begin. And of course, seeing yourself in your wedding attire all dolled up (and your loved ones' reactions to seeing you!) may be the thing that causes you to start weeping.
The First Look
Some couples choose to have a first look before their wedding ceremony because they know it will be a cryfest—and they want to share it privately. If you and your partner are the emotional types, you might choose to have your first look to get the crying out of the way—at least during the early part of your wedding day. Pro tip: Ask your photographer to carry some tissues during your first look photo session so you can freshen up afterwards.
The Processional
Whether you've chosen to have a first look or not, the ceremony processional is a major moment (just ask Meghan Markle!). Admittedly, there's a lot going on during the processional—the music, the people, the décor, the…not tripping—so you may end up feeling more overwhelmed than emotional. Our recommendation? Keep your eyes squarely focused on your partner, whether he or she is walking down the aisle or waiting at the altar. You'll realize that you're walking toward your future, and that in itself can cause the tears to flow.
The Vows
Especially if you and your partner have written your own vows, this portion of the ceremony may cause you (and pretty much everyone in attendance!) to cry at your wedding. A vow is a promise, and this exchange is all about promising to love and support your partner through good times and bad—so it's bound to get pretty weepy when you're reading your vows or listening to your partner's. If you're worried about tripping over your words in between sobs, remember that it's okay to get emotional—it means that your words are honest and heartfelt. Also, the more you practice your vows the easier reading them will be, even if you do start crying. Be sure to have a hard copy of your vows on hand—there's nothing worse than forgetting the words and crying at the same time!
The First Dance
First dances can go one of two ways—fun or sappy. If you're in the former camp, pick an upbeat song with a faster pace. For the latter, a slow, super-romantic song with meaningful lyrics may get the tears flowing. If you'd prefer not to cry during this moment, we recommend taking dance lessons before your big day. That way, you'll focus more on your moves than the tears!
The Toasts
Like your first dance, wedding toasts tend to be either funny or emotional, sometimes a mix of both. You probably already know which of your speech-givers are most likely to infuse humor into their toasts and which ones will be on the sappier side. It can be overwhelming to listen to those you love most talk about your relationship, so be sure to have some tissues (or napkins!) ready before the toasts begin.
The Last Dance and Send-Off
Your big day has come to an end—and that can have even the most stoic of brides and grooms shedding a few tears. But remember, this isn't really the end—it's the beginning of the fabulous life you and your new spouse will share. Just don't be surprised if the thought of wedding withdrawal sends a few tears down your cheeks during that last dance song or sparkler send-off.