How to Cry at Your Wedding But Still Look Hot
If you think you'll shed a few (or more than a few!) tears on your big day, check out this expert advice on how to avoid those dreaded raccoon eyes.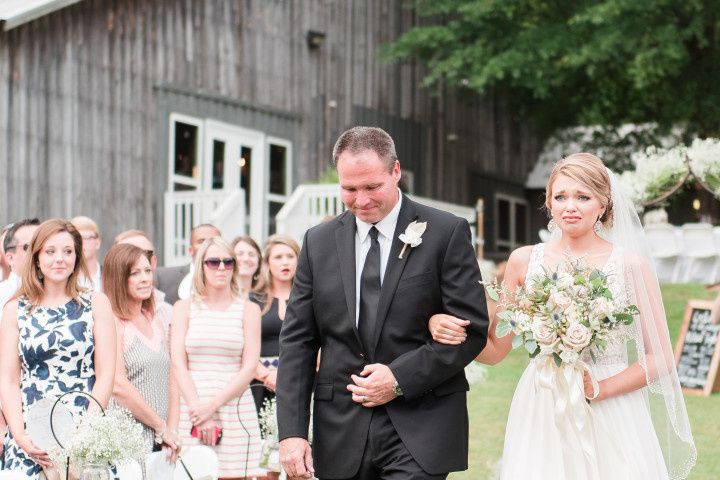 Whether you bawl at the drop of a hat or haven't even shed a tear while watching This is Us (seriously, who ARE you?), there's a good chance that you'll cry on your wedding day. That's why ensuring that you hire a professional makeup artist is key—they'll use cry proof wedding makeup and other insider tricks to make sure that your face still looks absolutely flawless, even if you're a blubbering mess the minute you take that first step down the aisle.
Here are some words of wisdom from top makeup artists on cry proof wedding makeup and other ways to avoid those dreaded raccoon eyes on your big day.
Hire a Professional
First things first, hiring a pro makeup artist is pretty much a must for your wedding day—for a variety of reasons. "We use professional products and cry proof wedding makeup that have more staying power than what you purchase at the drugstore," says Victoria DiPietro of Bella Angel in Cherry Hill, New Jersey. That means, you'll look just as amazing at the beginning of your big day as at the end.
According to Maryelle O'Rourke of Maryelle Artistry in Boston, Massachusetts, professional makeup artists also know the difference between makeup that looks great in person and makeup that looks great on camera—and on your wedding day, you'll actually need a combination of both. "We want brides to look both camera-ready as well as beautiful in person," Maryelle says.
Bottom line: With makeup properly applied by a professional, you'll look amazing for your entire wedding day—whether you shed a tear or not.
Prep Your Skin
We know, you're going to be pretty busy in the days and weeks before your wedding, but makeup pros highly recommended taking excellent care of your skin as you approach your big day. "Start by drinking lots and lots of water at least two weeks before your wedding to make sure your skin is well-hydrated," says Donna Sousa of Makeover Artistry by Donna Sousa in Warwick, Rhode Island. "Also, be sure to use a scrub and exfoliate to ensure that dry skin is removed from your face—it's much harder to cover up imperfections on dry skin." You'll also want to make sure you handle any stray facial hair to create a smooth palette for your makeup artist to work with.
Also, be mindful of your alcohol intake in the days before your wedding (hello, rehearsal dinner!). Alcohol can make your skin look bloated—not a great look for your big day.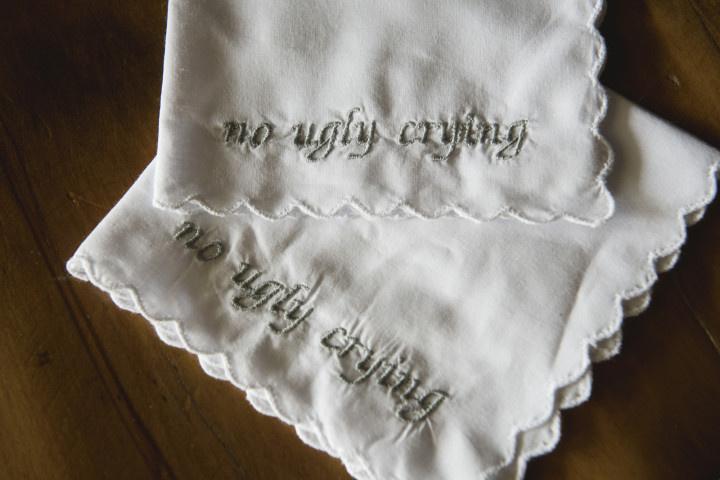 Use the Right Makeup
Of course, waterproof and cry proof wedding makeup is a must for your big day, but different makeup artists use their own mix of products and techniques to ensure that you'll stay gorgeous from first look to the last dance. That's why it's so important to have a makeup trial before your wedding day so that your beauty pro can find the right products for your skin. Maryelle recommends using gel-based products which helps makeup stay in place better. Airbrush makeup is also very popular, as it provides a flawless complexion. Janis Cohen of Beautiful Faces in Waltham, Massachusetts recommends using waterproof mascara applied with an eyeliner brush, as opposed to a mascara brush which can cause clumping. "I also seal the bottom lashes when dried with clear water-resistant mascara."
A finishing spray is also important. "It's like hairspray for the face and provides a moisture barrier," says Donna.
Be Prepared
You're standing at the altar during those ever-so-emotional vows. You feel the tears start to well up. Don't panic! First, be sure to bring tissues with you to the altar—you can have your maid of honor keep them in her bouquet. Once you feel the crying coming on, "wrap your index finger in the tissue and tap gently underneath the lash line—catch those tears as they come," recommends Maryelle. Never rub or wipe the eye, always blot and tap.
If you don't catch the tears in time, that's totally okay. Maryelle recommends putting a bit of moisturizer where the tear came down your cheek and blend it back in—after the ceremony, of course. "Less is more," she recommends.
If you've been crying a lot and notice that your eyes are looking a bit red and puffy, there are a few ways to calm things down. According to Janis, placing a green tea bag on the eye area can help control puffiness—just be sure to put some concealer on after the fact. Maryelle recommends eye drops like Visine to constrict the blood vessels. Ice cubes in a plastic bag can also do the trick. "Using a tapping motion, move the ice from the inner corner of the eye to the outer corner—then re-apply your concealer."