10 Questions to Ask a Wedding Makeup Artist
Makeup trends come and go, but a bridal glow is always en vogue. And if you're dreaming of being a blushing bride, it's important to find the right wedding makeup artist.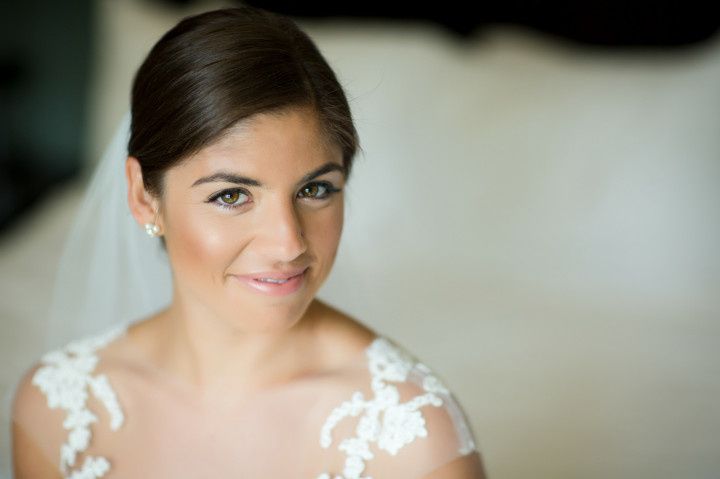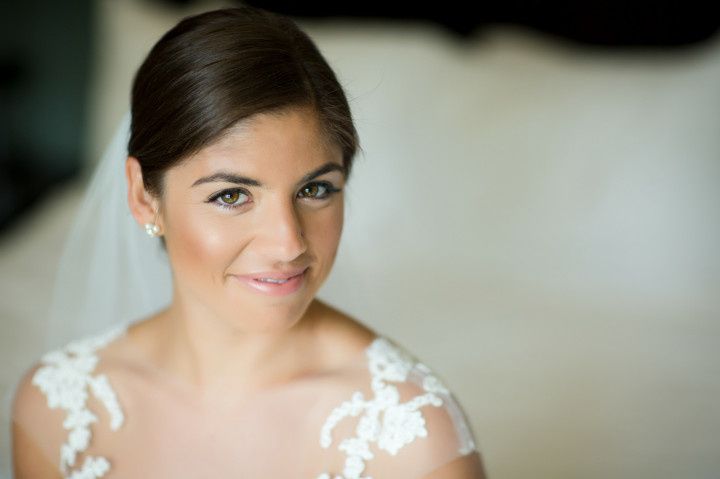 Photo: Kristen Jane Photography
Makeup trends come and go, but a bridal glow is always en vogue. And if you're dreaming of being a blushing bride (literally), it's important to find the right wedding makeup artist to bring out your best features.


Before you sign any contracts or book your new beauty bestie in haste, make sure you ask any potential makeup artists these ten questions. They could save you some mascara tears down the road!
Are you free on [insert your wedding date]?

The most important detail? Making sure your makeup artist is available on your wedding day. This is quite possibly the most essential question to ask, so don't forget it! You also want to know how long you'll have your makeup artist for that day, so be clear about the schedule you envision.


What's your rate and what does that include?

First things first, you want to know what this is going to cost you, right? Even if makeup artists advertise prices on their websites, it's always best to confirm with them since their sites may be out of date or they might have special event costs. You also want to know what you're getting for your money, of course! Does the bottom line include a trial run or is that extra? Does your makeup artist have any hidden fees? Now's the time to talk dollars and cents and make sure the makeup artist fits in your wedding budget.


Are you available to travel?

Whether you're having a destination wedding overseas or are just traveling to the next state over, making sure your potential wedding makeup artist is open to following you is key. After all, you don't want to find out a week before the wedding that they only take clients in their studio or have a fear of flying, do you? Many couples opt for a local makeup artist when they're traveling for their wedding, but some would rather find a well-known talent or have someone in mind already. So this is your chance to get down to the nitty gritty and find out just how much more traveling will cost you.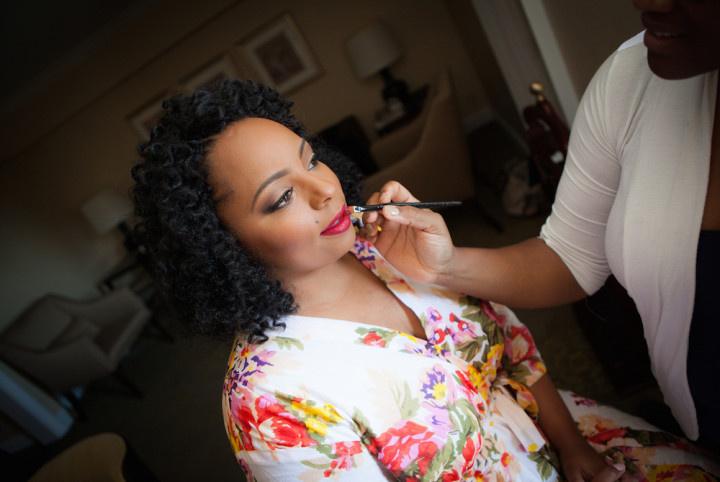 Photo: Exclamation Imagery
Can we do a makeup trial?

Practice makes perfect, right? Doing a trial run of your wedding makeup before the big day is equally as important for you as it is for your makeup artist because it's a chance for you two to get on the same page. This is the time to communicate your color preferences and let your makeup artist know how light or heavy handed they should be with the mascara and foundation!


Do you have photos of your previous wedding makeup work?

You wouldn't trust just anybody to do your makeup on the most important day of your life, would you? Make sure anyone you're about to book has experience and actual proof in the form of client testimonials, photos, etc. so you can see if they're worth your time. You'll also be able to get a sense of their style and whether you see yourself really working with them.


What kinds of products do you use?

Does the wedding makeup artist of your dreams exclusively use a brand that made your skin freak out that one time? Are you into natural products but this makeup artist only uses brands with preservatives? These are deal breakers for some brides, so don't be afraid to ask the makeup artist to open up their tool case and show you the goods before committing to anything! The products a makeup artist uses are the key to making your face glow on your wedding day, so you want to get a sneak peek of what you're paying for before signing on the dotted line.


What will you do to make my makeup last and look great in photos?

Weddings seem to go by in the blink of an eye, but the actual day itself can be a long (and emotional) one, and you want your makeup to last as long as you do. It doesn't hurt to ask your makeup artist what techniques he or she uses to ensure a long-lasting look that'll stand up through tears and heat (for outdoor brides), and how he or she plans to make your features stand out in those all-important wedding album photos. That way, you'll have one less thing to worry about knowing you're in capable hands.


Are you free to do my bridesmaids' or family members' makeup too?

It's your big day, but you've also got a crew of bridesmaids behind you who also want to look their best, and they might want to get their makeup professionally done too. Some brides require their 'maids to get their makeup done together and some just offer it as a courtesy, but either way, you should ask your makeup artist what your options are so your maids know well in advance. And if your mom or mother-in-law would like her makeup done as well, be sure to ask your makeup artist if he or she can accommodate them.


What kind of a bridal look would you suggest for me?

Asking this can reveal a lot, actually. You can find out a makeup artist's communication style, how well the two of you would work together, and a bit about their knowledge base with this simple little question. And if the two of you don't end up working out, at least you got some professional advice out of it! And if you still need assistance picking your wedding makeup style, take this quiz.


Can I see a copy of your standard contract?

If there are any other details you think you're leaving out or any questions you're afraid you left unasked, this question just about covers it all and ensures that you see each clause and everything you're signing up for.