The 5 Wedding Makeup Mistakes All Brides Make
Working with a makeup artist for your big day might feel a little intimidating. Make sure you're prepared to look your best by avoiding these common wedding makeup mistakes.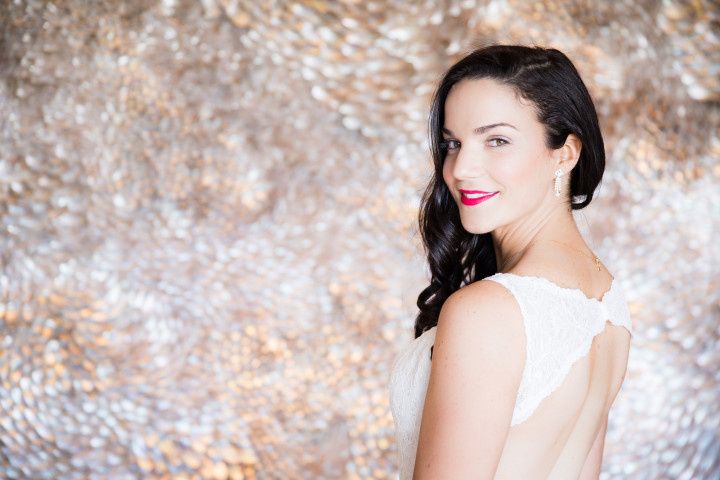 I've never consulted the Census on this particular matter, but I'm anecdotally positive that brides-to-be can be divided cleanly into two camps when it comes to their wedding makeup: those who leave it as a total afterthought, considering their dress and hair to be of far higher importance, and those who totally obsess over it, because makeup, to many of us, is a ninja-like skill that's shrouded in mystery, something that could go horribly wrong with just the flick of a wrist.
Of course, the ideal place to be is somewhere in the middle—you should take your wedding makeup as seriously as your hair and wardrobe, because even though it seems less noticeable, hello, it's your face! But you also shouldn't overthink it, because, with the right makeup artist, your final look will be flawless and natural, with just a hint of color in all the right places—as in, not super noticeable at all, in the best possible way.
Still, since most of us mere mortals have never had our makeup professionally done (except maybe a decade ago for prom…), working with a makeup artist for your wedding look might feel a little intimidating and strange at first. And it might seem like you're speaking a foreign language when you try to ask for something specific.
So how do you ensure you get the wedding beauty look that you want without going too minimal or too over-the-top? It helps to follow your instincts—and these tips:
Don't book a makeup artist without consulting a portfolio
This may be a bold statement, but I think consulting a makeup artist's portfolio before booking is almost more important than doing so for a hair stylist. That's because when it comes to flowy bridal updos, there are only so many ways to do 'em—and not many ways for them to come out wrong (this is not a blanket statement: there are some richly bad bridal updos out there, I'm aware!). But what constitutes a "full face" of makeup is so different for everyone—and every makeup artist. For example, some artists specialize in pageants, so if you hire them, you'll likely get a much more done-up look. Others may specialize in a more natural, no-makeup makeup look, so if you want full glam, you wouldn't necessarily be able to get that from them. Some may always use false eyelashes on brides, some may never use them and even feel uncomfortable applying them.
The point is: You have to look before you book. Peruse their online reviews and WeddingWire storefronts for a portfolio—and make sure you're looking specifically at brides they've styled, because again, wedding makeup is a highly specific art form. And if you're not finding enough on their site, check out their Facebook or Instagram pages, where they may upload more recent client looks. Book based on a portfolio that shows the look you want for your day—not just someone who looks like they could be good at makeup, even if it's makeup you'd never want to wear yourself. You want to see proof that they can deliver the look you're after.
Don't fall hard for fads
I'm as mesmerized by those makeup geniuses on Instagram as you are—the ones who post 30-second, hyper-speed videos of themselves contouring with bra inserts and highlighting so hard they can be seen from outer space—but let's be real here: That's not exactly the look you want for your wedding day. The harsh contour lines and disco ball shine that are so hot in 2017 are, in the not so distant future, going to look mighty similar to the magenta blush swipes and blocky brows we now make fun of (ok… and sometime attempt to emulate) from the 80s. So, instead of asking your makeup artist to give you a full Kylie, request subtler versions of the trends that are just as flattering but not so intense—like a swipe of bronzer under your cheekbones for definition, and a few dots of pearlescent (not sparkly) highlighter in the places on your face where the light hits most—including your brow bones, cupid's bow, and around your temples.
Don't wear more makeup than you're comfortable wearing
We all have our own idea of what "glam" means. If you're someone who wears nothing more than a few coats of mascara and a smile every day, a full face of professional makeup might make you downright unrecognizable to yourself (and others). As with everything from the type of dress you choose and your hairstyle, you want to look like you on your wedding day—not some uncanny valley, bridal magazine's body double version of you. So, don't feel pressured—by friends, family, or your makeup artist—into going full-glam if your everyday look errs on the side of au nautrale. Be confident in asking for a toned-down look that lets the real you (and your freckles, if you got 'em!) shine through.
Take note: This doesn't mean you're wasting money by hiring a makeup artist (more on that later). Some simple tweaks that your pro might make to give you a look that's less done-up and more you-but-even-better: Lots of carefully applied mascara in place of false lashes, perfect skin thanks to airbrush foundation in place of lots of color, and a nude lip balm instead of an opaque pink or red. Just because it's your wedding doesn't mean you have to go nuts!
Don't skip the trial
You'd never forgo your hair trial, so why act like the makeup trial is NBD? Especially since makeup looks are such a hard thing to find inspiration for (most makeup looks the same in photos unless you get super technical about it), having a trial session with your pro is the only time you'll have to work together and craft the perfect recipe for your look. You'll also have an advanced chance to see how your final look carries itself in sunlight, in twilight, and in photos—something you won't get to test if you wing it on your wedding day. Plus, doing an advanced trial will give your makeup artist time before your wedding to pick up new products she may not have that you realize you want or need during the trial (like a specific color of lipstick, or shorter falsies that better fit your face). If you can, book your hair and makeup trials on the same day so you can see the total package come together at once.
Don't DIY
Yes, most of us have been wearing makeup for a decade or more. Yes, watching enough YouTube tutorials can make us all feel like we deserve our own beauty column in Cosmo. Yes, on the grand scheme of things, makeup seems way less visible and way less specialized than things like your flowers or the hemline of your dress, and therefore like a total DIY opportunity. But let me remind you one more time: This is your face we're talking about. Not only will people be lovingly staring at it all day (no pressure!), but you'll be looking back on it for decades to come in your wedding photos. And poorly applied makeup could leave you looking like a faint blur (or worse—like a clown?) in those several-thousand-dollar pictures you're so excited to see. So, splurge on the pro.
To make it work in your budget, book early, do plenty of research, see if you can get a deal by booking it through your hair stylist (it's a thing!) and leave your maids out of it (or gently say they won't be forced to get professional makeup done, but if they want it, they'll need to pay for themselves). You'll feel so much calmer on the morning of your wedding day knowing that your hair and makeup are taken care of, you've had trial sessions for both so you know exactly what to expect, and you're about to face the day with your loveliest, well, face.
Feeling overwhelmed? Remember the most important rule there is: Don't overthink it. Follow your gut like you have with everything else wedding-related, and you'll end up with a makeup look you love. Don't let anyone (or any blog…) talk you out of wearing your signature cat eye, a little sparkle on your eyes, or that classic red lip you're crazy about—and if anything goes wrong? Don't forget have your MOH pack a couple makeup wipes. There's nothing they can't solve!