20 Expert Wedding Eye Makeup Tips Every Bride Needs to Know
Choosing your wedding eye makeup color can be tricky — that's why we tapped these wedding professionals to find their swear-by tips and tricks.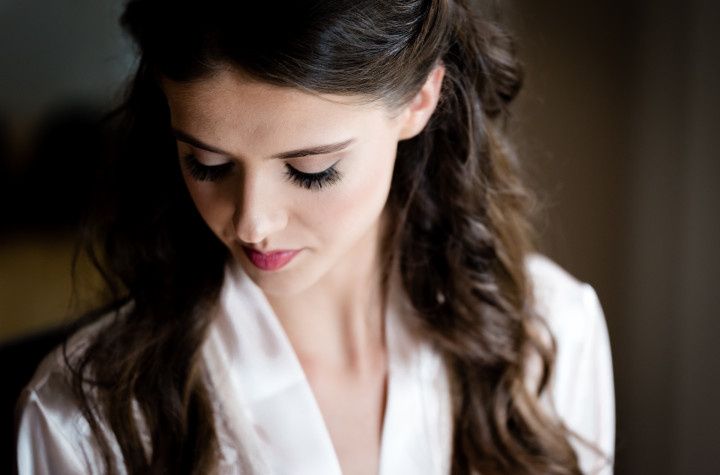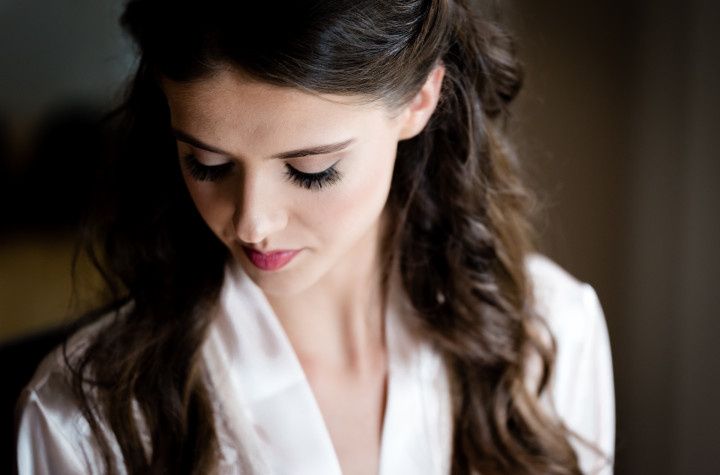 Photo: Viktoriya Chuprov Photography
Nailing down your wedding beauty look — especially your wedding eye makeup — can be tricky, to say the least. From lashes and eye shadow to brows and liner, there are seemingly endless beauty options when it comes to your wedding eye makeup. You want your wedding beauty look to feel personalized and unique, but also be complementary of your skintone and a style that will make your eye color pop. So we decided to go right to the beauty experts with our burning makeup questions to find out exactly what wedding makeup works best for different eye colors. Check out their swear-by advice below to be ultra-prepared for your wedding makeup trial — and the big day!


Here are the beauty experts' secrets for choosing a bride's wedding eye makeup.
What factors do you take into account when picking out eye shadow for a bride?

"The first thing I do is look at her skin's natural undertones to see which hues and textures will work best and complement her complexion."
"Eye shapes, color placement, and lash placement are as if not more important than the colors used. Understanding a bride's face, and more importantly her eye shape is key to her happiness in achieving her desired look."
"The vibe and style of the wedding. We like to take the color palette into consideration, as well as the eye color."
"There are a lot of factors — age, eye shape, eye color, skin tone, the theme of the wedding, the personality of the bride — asking questions and then interpreting their answers to create a custom wedding look is key."
See More: The 5 Wedding Makeup Mistakes All Brides Make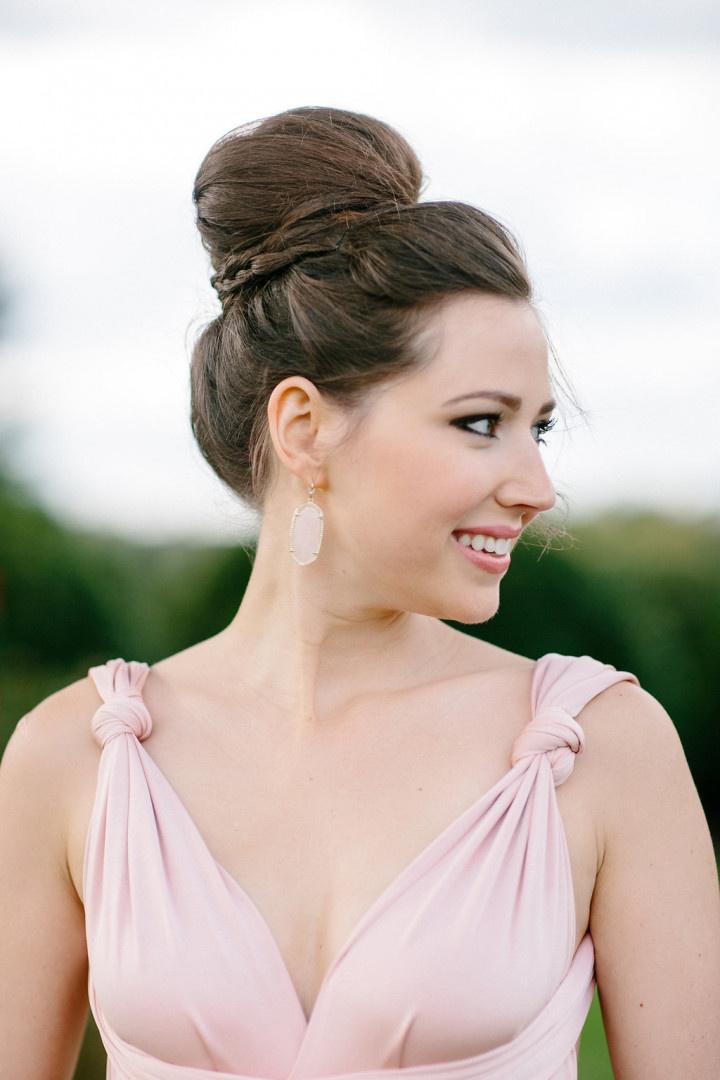 Photo: Sera Petras Photography
What colors and shades work well in photographs?

"Neutrals and soft pale tones combined work best for eye shadow in both black and white photography and color, especially if it's being shot outside in natural daylight as lighting can drastically change how colors are shown and appear to the eye."
"More neutral tones, and softer shades of stronger colors, tend to look more effortless in photos and help keep the look more cohesive."

What colors and shades don't work well in photographs?

"A white shimmer under the brow bone tends to look unnatural and dated in a photograph."
"Lots of shimmer or glitter doesn't work great with the harsh HD cameras and flash most professional photographers use."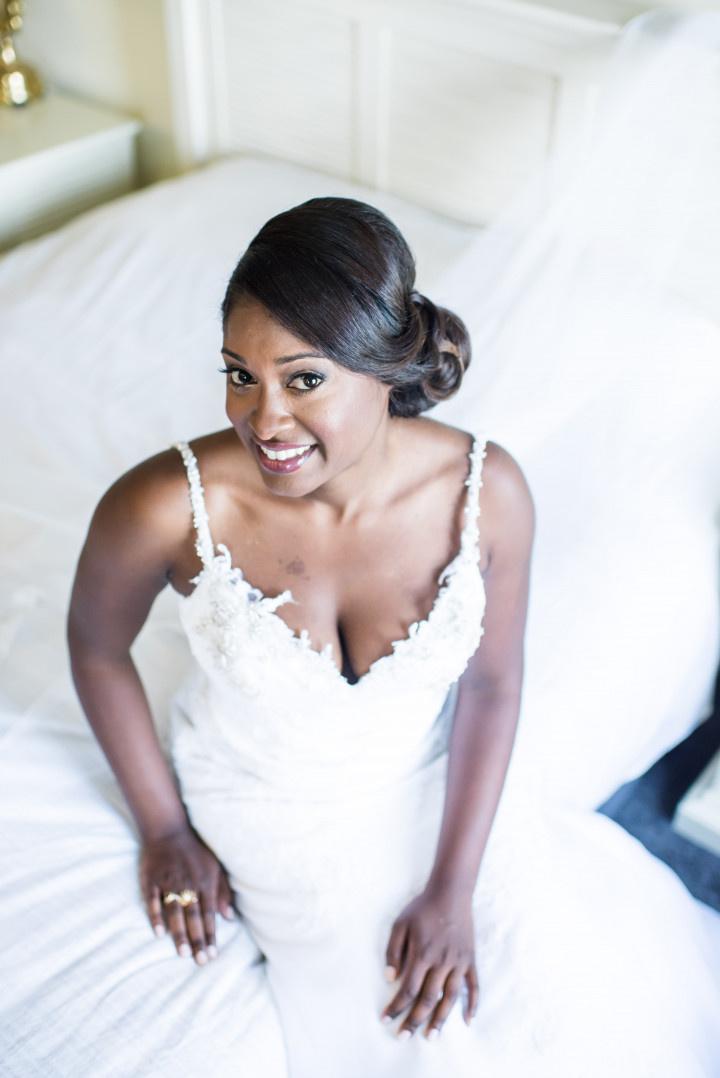 Photo: Upasana Mainali Photography
What wedding eye makeup works best for someone with blue eyes?

"Blue eyes are enhanced by coppers, golds, and warm browns!"
"A warmer toned liner, like a deep chocolate brown, will help define your eyes while still looking natural."
"The best colors to make blue eyes pop would be golds and bronzes. If you prefer something different a gray or purple-gray smokey eye can be a great choice as well."

What wedding eye makeup works best for someone with brown eyes?

"Brown eyes can virtually wear any color. I prefer purples, golds, and metallic neutrals to help brown eyes POP!"
"For brown eyes; golds, bronzes and purples work nicely. These colors help to pick up the different tones within the iris, especially for those who have very dark brown eyes."
"Tones that look best on brown eyes are rich pigmented colors such as midnight blues, teals, chocolates and golds. These shades make brown eyes come to life!"

What wedding eye makeup works best for someone with green eyes?

"Mauve, merlot, soft pinks and berry colors are the most flattering and natural."
"To give the eye a bit more pop, go with slate greys, rose, and mauve hues defined by a rich chocolate liner instead of black. This will create a warmer contrast and turn the eyes into a vibrant green."
"To make green eyes more intense, pinks, blushes, rose golds, and pinker based purple shades would be the best option."

What wedding eye makeup works best for someone with hazel eyes?

"I enjoy emphasizing hazel eyes with metallic golds and purples or metallic silvers and champagnes."
"Hazel eyes have the awesome benefit of often being 'between' eye colors. In different lights, the eyes can appear to look different colors. If you'd like your eyes to look more on the green side, utilizing those purple tones will be most beneficial. Want to pump up the brown? Try a navy liner. Forest green also looks nice on hazel eyes as it is a color neighbor to the more yellow undertone hazel eyes."
"Hazel eyes can wear just about any color and look great in them since the eye color changes depending on the light and what they wear."