Wondering What Wedding Makeup Look You Should Rock? Here's How to Decide.
Choosing the perfect bridal makeup look can be challenging. Follow these simple steps to select the wedding makeup look option that suits you the most.
We have included third party products to help you navigate and enjoy life's biggest moments. Purchases made through links on this page may earn us a commission.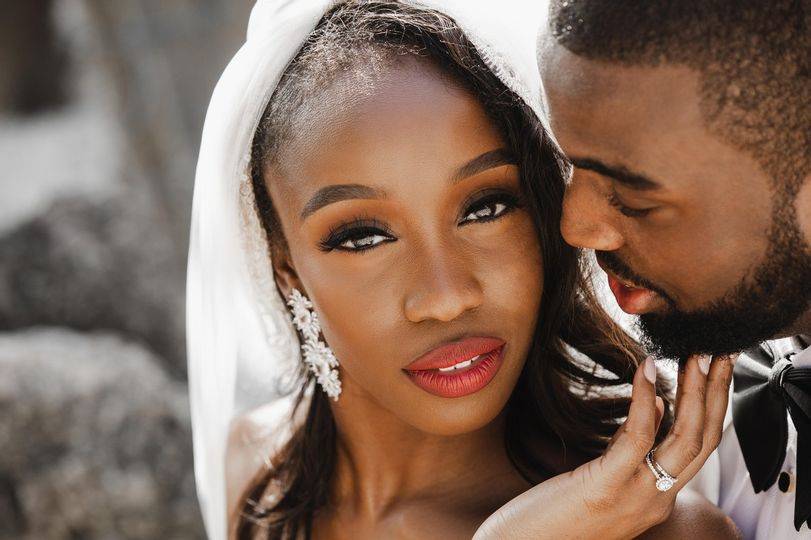 If you're planning on wearing makeup for your nuptials, it's best to select your look beforehand. But where do you even begin your search? We tapped pros to find out how to choose the perfect wedding makeup look (plus the biggest mistakes they see when it comes to selecting your wedding day glam). If you're feeling overwhelmed by all of the options available, we have good news. There are several factors you can take into consideration to narrow your search. The weather forecast and your wedding day outfit, for example, can influence what kind of makeup look you rock on the big day.
Due to the coronavirus pandemic, many couples have reimagined their weddings into minimonies and elopements. As such, to-be-weds have done their own glam for their initial celebrations. If you're in a similar situation, we got professional advice on how to achieve your dream wedding makeup look on your own at home. If you want more support, many professional makeup artists will offer a virtual tutorial to walk you through the look or even come for a masked makeup application.
Ready to get going on your glam? Find out how to choose your wedding makeup look, below.
How to Choose Your Wedding Makeup Look
You don't have to spend hours scrolling through pictures online to find your wedding makeup look. Pros suggest drawing inspiration from the plans you've already made. Of course, you can rock whatever wedding makeup look you want. But if you're having trouble making a decision, these tips might help.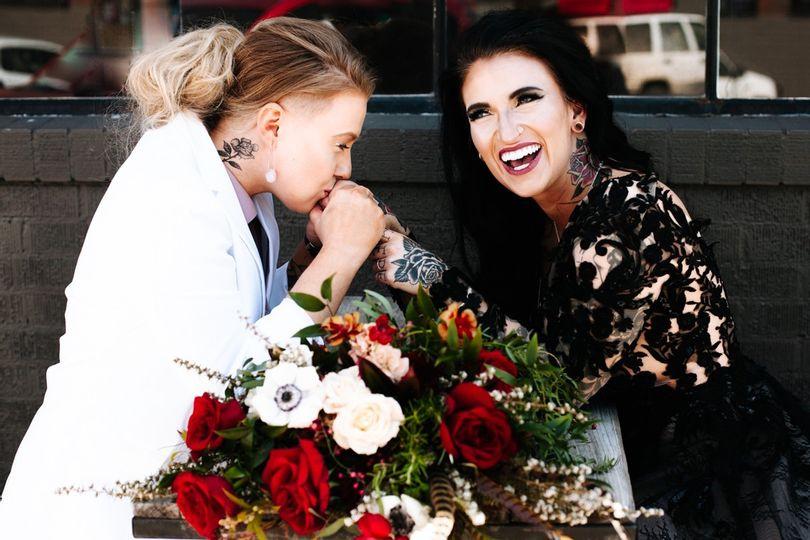 Summarize your wedding day in three words.
Melissa Mangrum, Richmond-based professional makeup artist and VaultBeauty ambassador, says the first thing she asks her clients to do is describe their wedding in three words. "If you're going for tranquil-relaxed-beach vibes, you don't want your makeup to be too formal," she explains. Instead, you'd likely want breezy, natural-looking makeup to match the setting. "The same goes if your three words are formal-classic-black tie—you want your makeup to reflect that." So, narrow down your vision to three words and visualize from there. It'll help you hone in on your dream wedding makeup look quickly.
Pull inspiration from celebrities.
New York City-based celebrity makeup artist Clarissa Luna advises her clients to send a few pictures of celebrities' makeup that they admire. "This is an easy way to narrow down makeup looks that would match not only their dress or venue, but one that best suits their personality," she explains. "The goal is for the [to-be-wed] to feel beautiful and comfortable in [their] own skin, so knowing what they think is beautiful to them is most important." Round up some of your favorite red carpet moments and look for similarities. Are you attracted to their neutral smokey eyeshadow? Their stunning red lipstick? Once you figure out what you like about their looks, then you can personalize it to suit you.
Take your wedding day outfit into consideration.
Your wedding day attire can influence your wedding makeup look. New York City-based celebrity makeup artist Robert Sesnek says that he normally asks clients to draw inspiration from their outfit. That way, there's a theme to the entire look. For example, a glamorous ball gown pairs well with a classic cat eye and red lip, while a breezy jumpsuit might go better with a barely-there makeup look.
Check the weather forecast.
It may seem silly, but checking the weather forecast can help you decide on a wedding makeup look. "If you're in a really warm climate, I would focus on lighter makeup and all waterproof products," Sesnek says. If you're exchanging vows on a cold wintery day, you might want to use products that hydrate the skin to keep your day-of glow going. Once you check the weather forecast for your wedding day, consult a professional makeup artist to get their expert opinion on what kind of products you should be using.
Ask your loved ones for their opinions.
If you truly can't decide on a wedding makeup look, Luna recommends leaning on people you trust. "Your close family and friends will always give it to you straight and will never steer you wrong." Gather your favorite looks and go through them with your loved ones (Luna suggests creating "yay" and "nay" piles to narrow down your options). "If you have more than one favorite, pick your favorite feature of each and modify the overall look to fit your personality."
Go with something classic.
All the pros agree you can't go wrong with a classic wedding makeup look (think: Dorothy Dandrige or Audrey Hepburn). "Old-school Hollywood glam was simple and highlighted one facial feature," Luna explains. Meaning, the focus was either the eyes or the lips (never both), which resulted in an understated, timeless look. "If you have no clue where to start, go back in time—these looks will never go out of style!"
Be intentional with your selections.
Ijeoma Chimezie, owner of Ijeoma Ezinne Beauty in New Jersey, says Pinterest and Instagram are great sources of inspiration. However, she has a tip on how to narrow down your choices in an endless sea of images. "I encourage [to-be-weds] to make sure they select makeup looks on women with similar skin tones and/or features," she says. That way you'll have a better idea of how the glam will look on you.
Prioritize your preferences.
These are all suggestions if you're feeling lost. Your wedding makeup look doesn't have to match your outfit—these are simply tips to help with your search. If you want to rock neon eyeshadow, a dark purple lip or a sparkly glowing complexion, that's exactly what you should do. "At the end of the day, your opinion is the one that matters, so wear whatever makeup makes you feel like you," Luna advises.
Wedding Makeup Mistakes to Avoid
As you're selecting your wedding makeup look, there are a few blunders you'll want to avoid. The pros share all of the biggest wedding makeup mistakes they've seen throughout their careers.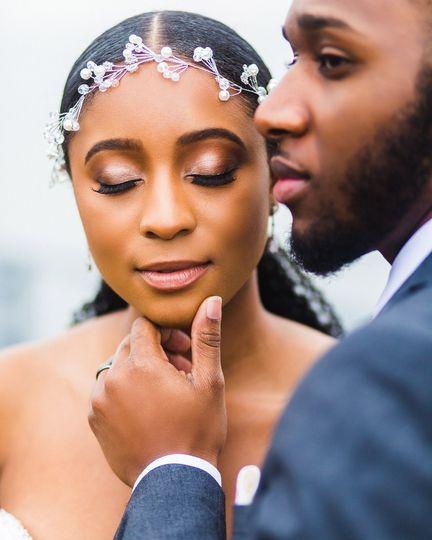 Ignoring Your Gut
Picture this: You say you've always dreamed of rocking a classic red lip at your nuptials and your friend says she doesn't like the way that look. Those kinds of offhand comments may cause you to question your own preferences. But Mangrum says ignoring your gut is a huge mistake. "The best thing you can do is to do what's most comfortable for you," she says. " If you're not into makeup, it may not be wise to start with a full face, smokey-eye look with bold lips and lashes." Trust your instincts and select a makeup look that makes you feel confident and beautiful.
Skipping Your Wedding Makeup Trial
"If you're having your makeup professionally done, a makeup trial beforehand is mandatory," Sesnek says. "By having a makeup trial, you can specify exactly what you want to look like and you can rule out any looks or concepts you're not comfortable with." A makeup run-through also allows you to test out the longevity of your wedding makeup look. You'll be able to see if the mascara you've chosen is actually waterproof or if the foundation you used looks good in photographs. Plus, it's a great opportunity to bond with your wedding makeup artist before the actual day.
Assuming Someone Else's Wedding Makeup Look Will Look the Same on You
Have you ever brought a picture of a celebrity's haircut to the salon only to realize it looks totally different on you? The same goes for your wedding makeup look. Luna says it's a mistake to believe a celebrity's makeup will look the same on you as it does on them. For instance, "a dramatic, smokey eye that a [to-be-wed] spotted on a celebrity's night out is probably not going to look the same on a [to-be-wed] having a beach wedding," she explains. Everything from your bone structure to your skin type to your setting can change the way the makeup looks. But that's where hiring a professional comes in handy. "A makeup artist can always come up with a look inspired by the celebrity look and tailor it to flatter your overall look."
Not Prioritizing Your Skin Care Routine
Great makeup starts with a great base, which is why Chimezie says it's a mistake to overlook your skin care routine. "Having an effective skincare routine that addresses your specific skincare needs and glows is essential for that radiant glow every [to-be-wed] deserves," she explains. "I think wedding prep is a great opportunity to get a routine together, and the earlier you start, the better because it will take your [wedding] glow to the next level."
Using Regular Makeup Products
A wedding is a long, emotional event—which means your products have a lot of work to do. Sesnek says it's best to use long-lasting, waterproof makeup products so touch-ups are kept to a minimum. Waterproof eyeshadow, eyeliner and mascara are key for your wedding day, as they'll stay put through any tears you might shed. Sesnek also recommends locking it all in with a long-lasting setting spray (he recommends Catrice HD Active Performance Freezing Spray).
Expert Tips For Doing Your Own Makeup
While we recommend hiring a professional makeup artist for the big day to achieve your wedding makeup look, many people choose to DIY their own beauty for the rehearsal dinner, wedding shower or other pre-wedding events. Here's what to know, according to experts.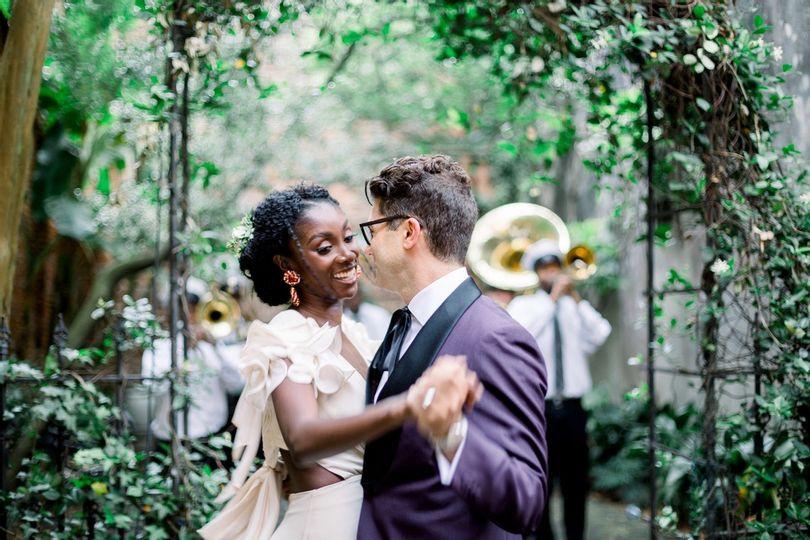 Invest in the right tools.
Set yourself up for success by investing in brushes and sponges to help apply your products. "Brushes are such a great investment because with proper care they last forever, and I couldn't do my eye makeup looks without them," Sesnek says. (He says he's had some of the makeup brushes in his collection for over 10 years!) Plus, you'll have those tools after your wedding day for any other special events you'll attend in the future. Chimezie recommends picking up a BeautyBlender sponge, as it'll help you achieve a flawless finish. "Here's a pro-tip: Be sure to wet the BeautyBlender until it's moist and 'bouncy' before apply your foundation. This will help give you that radiant flawless finish every time."
Nail down your skin care routine.
Your complexion is the canvas for your wedding makeup, which is why Sesnek says it's worth investing in your skin care. "It's the first step in beautiful skin and long-lasting makeup." Now is not the time to be experimenting with a million different products. Instead, scale back to the basics and get your skin on a consistent routine. If you need extra help, consult a board-certified dermatologist.
Keep it simple.
"There's one rule to doing your own wedding makeup: Keep it simple," Luna says. "With so many things to think about on a wedding day, the last thing you need is added stress." Use multi-tasking products to keep your makeup bag (and your mind) clutter-free. She says a monochromatic look is on-trend and easier to achieve if you're doing DIY wedding makeup. Multisticks (like the Huestick by Live Tinted, Luna's favorite) are the star of the show here. They can be used on the lips, eyes and face—and they can be tossed in your bag for quick and easy touch-ups. "You don't have to be a professional makeup artist to use these."
Find (or bring) your light.
Not all lights are created equal. In fact, certain kinds of light alter the way your makeup looks, which can cause you to use the incorrect colors. Luna says natural lighting is ideal, as it gives you the best idea of what your wedding makeup looks like. However, not all getting-ready rooms have great access to natural light, so she suggests investing in good lighting. "Thanks to the internet, you can find some inexpensive portable ring lights and tripods," she says. "A luminated vanity mirror is also a great thing to have."
Focus on one feature of your face.
This tip has several benefits. First, highlighting one feature of your face will look balanced and timeless. "I think classic and elegant makeup—whether it's a focus on the eyes or lips—looks best, especially when you look back on your wedding photos," Sesnek says. But this advice also ensures a simpler (read: easier) look for you to create. Rather than worrying about every part of your visage, you can simply focus on part of your face. "If you're doing your own makeup for your wedding day, focus on one part of the face to enhance, be it eyes, lips, or cheeks...and perfect the heck out of that one feature," Mangrum says. This approach also provides an opportunity to practice some self-love before your event. Spending extra time on your gorgeous eyes or lovely smile will boost your confidence in a matter of seconds.
Tap a pro.
While you may be left to your own devices for certain wedding events, you can still get the help of a professional makeup artist. Many pros like Chimezie offer virtual consultations where they'll walk you through everything from what kinds of products to buy to how to apply them expertly. After learning the ropes, you'll be able to apply your wedding makeup look confidently.
Practice, practice, practice.
If you're nervous about doing your own makeup for your pre-wedding events, practice is key. Once you've figured out how to achieve your wedding makeup look, Sesnek suggests paying close attention to how it wears throughout the day and how you feel in it. "Practice your look several times beforehand and see how long it lasts," he says. "Did the eyeshadow disappear after a few hours? How did the foundation hold up?" Make adjustments wherever necessary so by the time the event happens, you know exactly what products to use and how to use them.