Throwing Two Weddings Because of COVID? Here's What to Do When
Two weddings can be better than just one! Here's your guide to planning a smaller minimony or elopement during COVID, with a larger celebration to follow.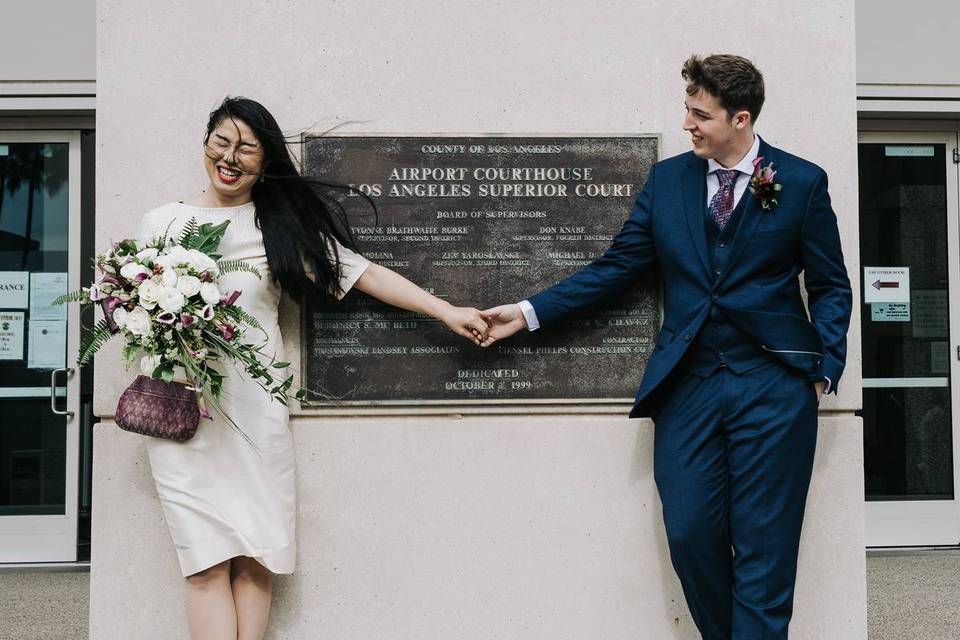 Hosting two wedding ceremonies isn't anything new. Many couples, including celebs like Joe Jonas and Sophie Turner, George and Amal Clooney, and Zoë Kravitz and Karl Glusman, have opted to marry twice—a small civil ceremony, followed by a larger event with a reception. And now, with COVID upending many couples' wedding plans, the idea of two ceremonies may sound pretty appealing—get (legally) married now in a small ceremony, celebrate later, when larger events will hopefully be safer. If you're going the two ceremonies route, it's important to create two distinctly different events. This may sound a bit daunting (isn't planning one wedding enough?), but with a little planning, it's totally doable.
Here's how to create two wedding ceremonies that are each unique and memorable.
Create a separate budget for each event.
As you get started planning your weddings (yes, plural!), take a step back and create budgets for each event. It's understandable to want both events to be special, but you don't want the costs to spin out of control. Come up with a total amount you can spend for both events, and then divide accordingly. While the exact split will depend on exactly what you're planning for each event, you might end up spending 25 percent of your total budget on the legal ceremony and 75 percent on the larger celebration. Yes, this means you'll have to make sacrifices, but you'll be glad you planned ahead.
Keep the guest lists separate, too.
The guest list for your legal wedding ceremony should be kept as small as possible, particularly if you're marrying during the COVID pandemic. Some couples are opting to elope or have a private City Hall wedding, while others are inviting immediate family members to a minimony, and including a virtual component to include more loved ones. There's typically no wedding party at this first ceremony. The guest list can be expanded for your second ceremony, and can include a wedding party. If you are having guests at your legal ceremony, there may be some overlap between the two events—and that's totally okay.
Get legally married, then get creative and celebrate.
If you're hosting two ceremonies, the goal of the first wedding is to get you married ASAP. It's essential to research your state's laws and obtain a marriage license. You can have a secular or religious officiant perform this first ceremony, provided that they're legally authorized to marry you and your partner, though many couples opt to go the secular route. You'll exchange vows and rings, sign your marriage license, and be pronounced officially married.
Your second ceremony is really more of a symbolic event. It can include religious elements, if desired, or can also function more as a vow renewal if ample time has passed between the first and second events. Your officiant can provide more insight into how to differentiate between these two ceremonies. You can also skip having a second ceremony and focus squarely on the celebration.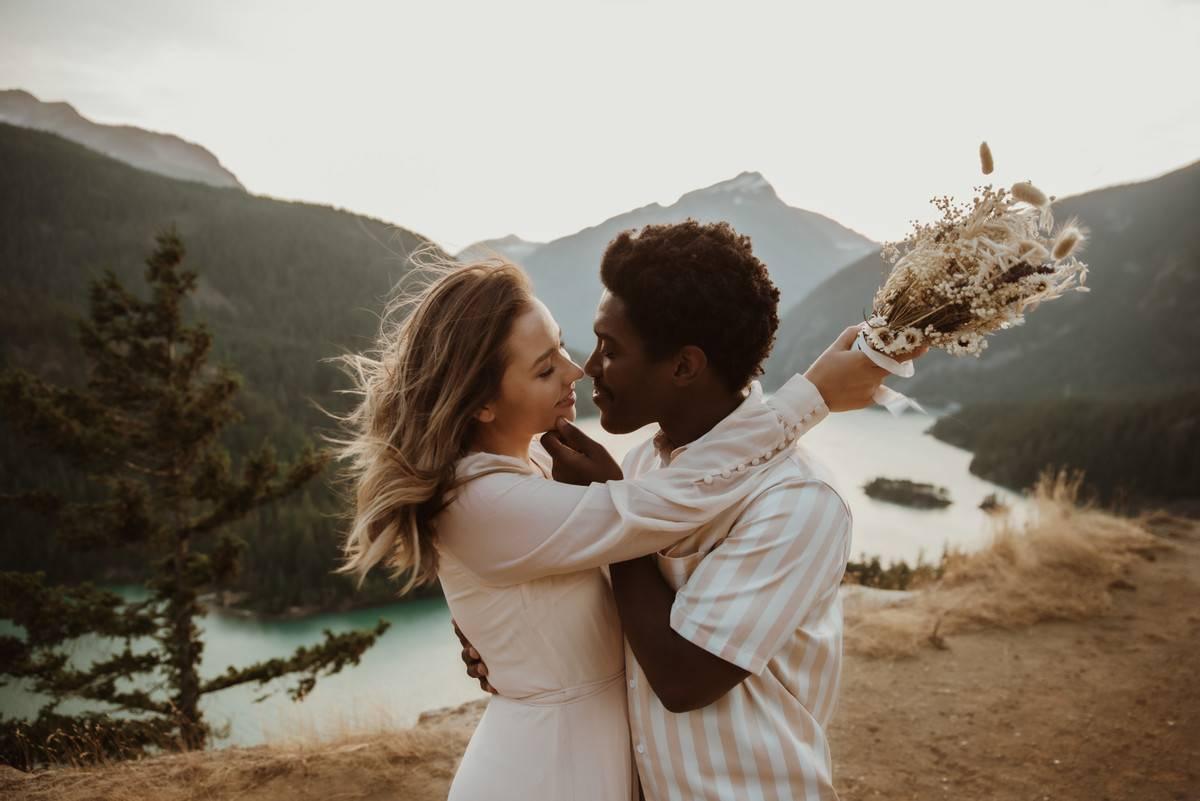 Choose your venue(s).
When it comes to choosing a wedding location for your small legal ceremony, we recommend keeping it simple. This can mean heading to City Hall, hosting the event in your backyard, eloping at a scenic outdoor location, marrying at a house of worship, or booking a small venue. The larger ceremony and celebration will typically take place at a more traditional wedding venue, or separate locations for the ceremony and reception.
Differentiate the decor.
Even if you're hosting a small elopement or minimony, flowers and decor can play an important role. While you don't have to go full out with the decorations for your intimate event, we love the idea of featuring a visual focal point, such as a gorgeous ceremony arch or show-stopping bouquet. For your larger ceremony and celebration, you can amp up the decor with table centerpieces, personal flowers, and much more. You can go with the same decor style for both events, or switch it up—same goes for color schemes. Your wedding florist can be a great resource when it comes to differentiating the decor for both weddings.
Don't be afraid to go fashion-forward for your civil ceremony.
One of the best parts of hosting two weddings is the opportunity to wear two unique outfits. If you're hosting an elopement or courthouse wedding, you might choose to wear less formal attire or use the opportunity to try a more daring ensemble, like a jumpsuit, minidress, or brightly-colored suit. You would then wear more classic wedding attire for your larger celebration. However, if you've already purchased a wedding dress or tux and don't want to spend additional funds on new outfits, you can absolutely wear your ensemble to both weddings. We love the idea of adding a unique accessory like a sash, jacket, or statement jewelry to give your attire a different feel for each event.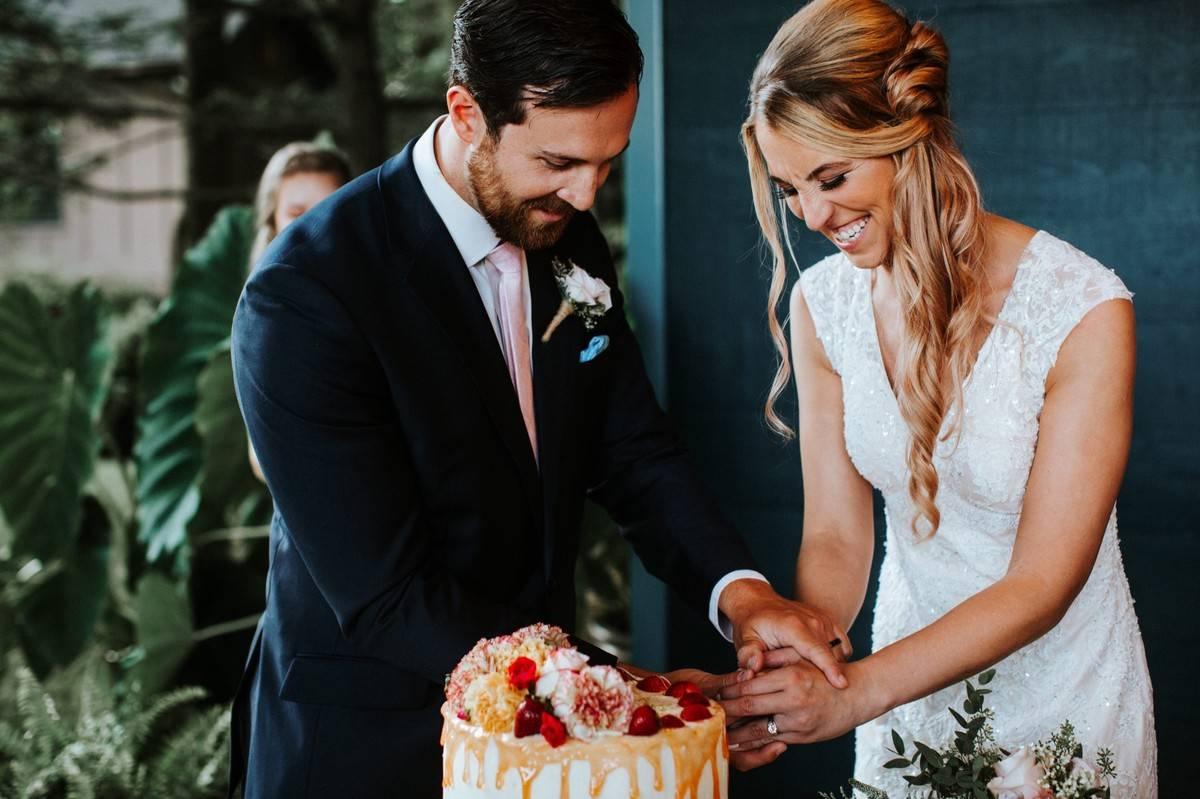 Photo and video pros are essential.
Professional photography and videography are not areas you can skimp on when it comes to planning two wedding ceremonies. Both of your weddings are important, life-changing events and deserve to be documented accordingly. In particular, you'll want professionals to capture your small legal ceremony so you can share the gorgeous imagery with your loved ones who couldn't be there in person. And of course, when your entire crew comes together for your big celebration, that's definitely an event worth documenting for posterity.
Music sets the tone.
Depending on what your smaller ceremony looks like, adding live or prerecorded music can really add ambiance to the occasion. You might include a solo musician, like a harpist or guitarist, in your minimony, or ask a DJ to provide tunes to entertain your nearest and dearest. For your second, larger event, you can hire live musicians for the ceremony and a DJ or band as your reception entertainment.
Don't forget the food!
Food has an important role to play in both of your two wedding ceremonies. For your larger celebration, you'll likely serve a full meal (with cake!), but for your smaller ceremony, there are a few options. If you're having a few guests present, you can serve a light meal after vows are exchanged. And we love the idea of cutting and serving a mini wedding cake and champagne for a celebratory touch.