6 Ways COVID Changed Weddings Forever
According to a brand-new WeddingWire study, 2020 represented a shift in the wedding industry—and some of the changes are here to stay.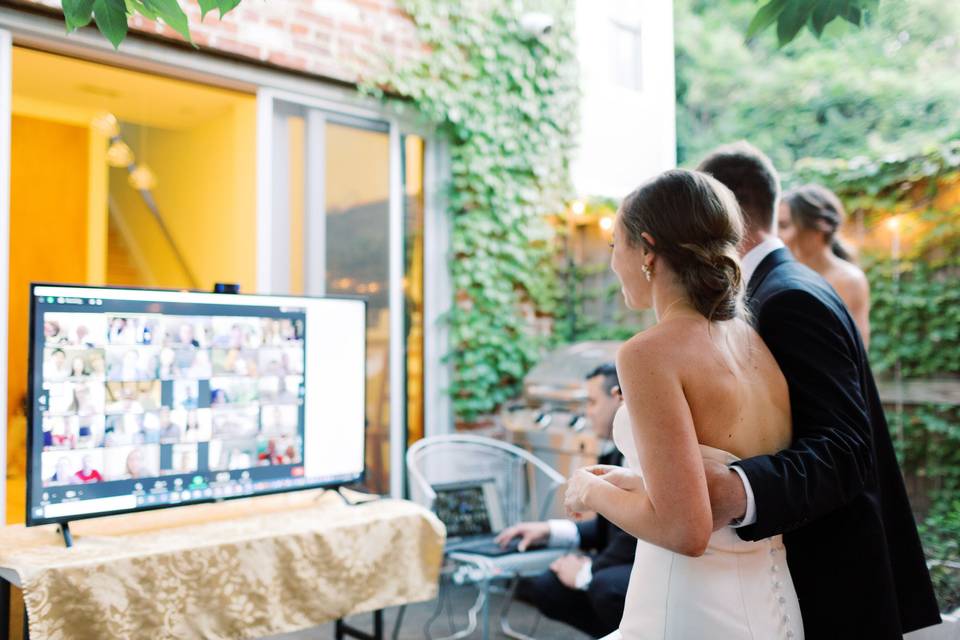 If there was a theme for the 2020 wedding season, "embracing change" might be it. The COVID pandemic forced most, if not all, couples with 2020 wedding dates to shift their plans—whether that meant cutting their guest list, hosting a minimony, enforcing social distancing and mask-wearing during their wedding, or postponing the event partially or completely. According to the just-released WeddingWire Newlywed Report, many of these changes came at the last minute, as 35% of couples had all of their plans finalized, while another 53% had almost everything planned when they had to make modifications to their 2020 wedding. Indeed, the wedding industry as a whole was forever changed by the events of 2020, and some of these changes further enhanced celebrations.
In fact, while we do foresee larger weddings returning in full force once the virus is under control (expect a busy social calendar later in 2021!), many of the changes that emerged in 2020, from the inclusion of virtual elements to a renewed focus on the guest experience, will likely become mainstays at weddings for the long term.
Virtual is the new reality of wedding planning and guest attendance.
If you weren't using Zoom pre-COVID, it probably quickly became a part of your daily life in 2020. And when it comes to weddings, couples are relying on virtual meeting platforms like Zoom during both the planning process and the actual events. According to the Newlywed Report, one-third of couples chatted online with their vendors in the lead up to their wedding day, and 32% scheduled virtual meetings (up 15% since 2019). In fact, 1 in 10 couples met entirely virtually with their vendors—never meeting them in person before the wedding. While there are certain planning tasks couples will likely prefer to do in person when the situation allows (menu tastings, for example), we anticipate virtual vendor meetings will remain a convenient option for couples and pros alike.
When it comes to the wedding itself, 43% of couples provided a live streaming option, the majority (77%) focused on streaming the ceremony only. By incorporating this technology into their wedding, couples were able to include more loved ones than just those who were invited to physically attend. Pre-COVID, live-streaming was seen as a "nice to have" feature at weddings, perhaps FaceTiming Grandma who couldn't attend a destination event. Now, expect to see live-streaming at many, if not most, weddings—and the rise of ways to make guests attending virtually feel even more included in the day, from hiring professionals to handle the live stream to sending pre-wedding care packages to those celebrating from home.
Couples are leaning on vendors for their expertise.
There are many reasons why we (constantly) recommend hiring experienced professionals to turn your wedding dreams into reality—and 2020 made the importance of wedding pros abundantly clear. In 2020, couples relied on their vendors in new ways, to interpret safety guidelines and make changes to their original plans. According to the Newlywed Report, couples hired an average of 12 wedding vendors. Many vendors were tasked with adjusting their scope of work to follow safety guidelines—for example, caterers changing how food is served and venues changing seating arrangements. Of the nearly half of couples who had to make changes to their vendor team, 1 in 5 hired more vendors than initially anticipated to help make these modifications.
Professional photography is more vital than ever.
Photography has always been an important part of the wedding experience, but perhaps even more so in 2020. Because weddings were kept smaller due to safety regulations, couples used photography and video to share their wedding day with loved ones who couldn't attend in person (and of course, for the 'gram). In fact, couples were most likely to hire a photographer than any other wedding pro in 2020, with 94% of couples doing so. We'll continue to see an emphasis on quality photography as we move into 2021 and beyond.
There's a renewed focus on the guest experience.
For a long time, weddings were primarily focused on the couple—the phrase "it's your day" was an oft-used planning mantra. And while it's still "your" day, weddings have become more focused on the guest experience—providing your loved ones with an event that's memorable and personal. Though weddings were smaller in 2020, couples still placed a major emphasis on the guest experience.
When it comes to food and beverage, couples and vendors worked to balance an elevated guest experience with safety guidelines—and some of the outcomes will likely remain on trend even after COVID restrictions are lifted. For example, who wouldn't love a mini charcuterie board or bottle service? We may also see fewer buffets in favor of plated meals.
Entertainment is another area that saw vast changes in 2020. To avoid crowded dance floors, couples opted for other forms of entertainment, from featuring different live musicians around their venue, to hiring stand-up comedians, dancers, and other performers to entertain seated guests. We expect unique entertainment to remain a wedding mainstay, while DJs and bands still have vital roles to play in creating a soundtrack for the day.
Guest communication is key.
There was a time when a wedding invitation was the sole form of communication between couple and guest—obviously things have changed quite drastically (hello, wedding websites!), and 2020 represented even more changes to the flow of couple-guest communication. As couples' wedding plans changed, they had to reach out to their guests multiple times. For couples who had to reschedule either all or part of their wedding, 60% communicated the change via their wedding website, 58% via text message, and/or 51% with a printed postponement announcement. The Newlywed Report also found that more than half of couples provided guests with additional COVID-specific information. Keeping guests informed is always a good thing, and this open line of communication is something we'll see more of moving forward.
And yes, safety is still of the utmost importance.
Pre-COVID, safety wasn't necessarily a top-of-mind consideration for most wedding-planning couples. In 2020, however, 83% of couples checked local regulations in the months and weeks leading up to their wedding. While we might see many of the COVID-related restrictions eased in the coming year, we anticipate that couples will still be more safety-conscious when planning their wedding at least in the near-term, from spacing tables to featuring hand-sanitizing stations. Much of this depends on how the COVID situation evolves over the coming months, but balancing a joyful celebration with safety will be a focus of engaged couples and vendors, too.