The COVID-19 Wedding Safety Email You Need to Send Your Guests
This may be one of the toughest emails you'll ever write—but we're here to help craft the perfect pre-wedding safety message to your loved ones.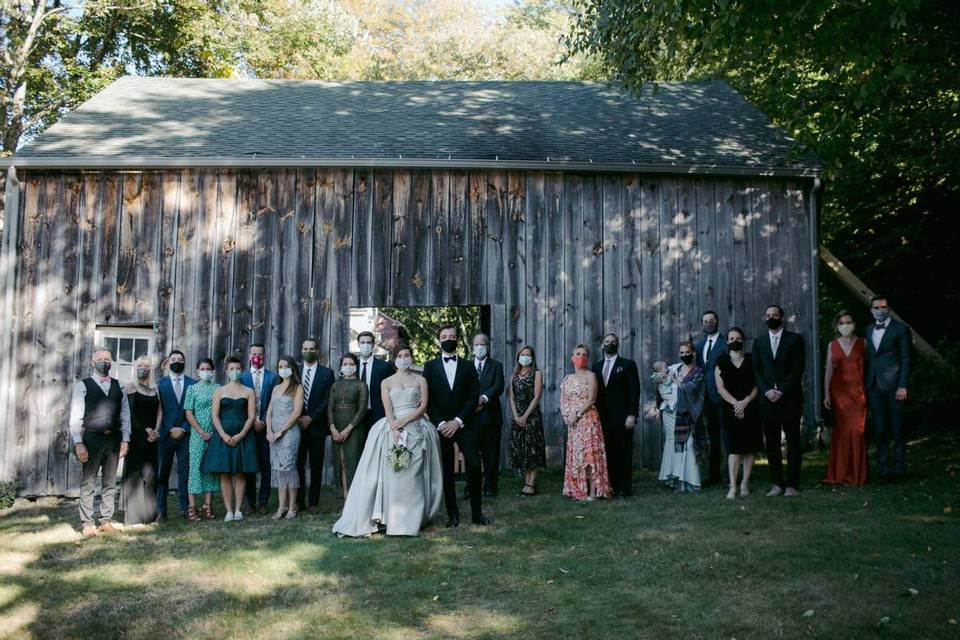 If you're planning a wedding during the COVID-19 pandemic, communicating with your guests is more important than ever. In order to prepare your loved ones for your event, sending a "COVID wedding safety email" in the weeks leading up to your event is essential (we recommend sending this via email and putting the text on your wedding website before RSVPs are due). This email will allow your guests to make informed decisions about attending your wedding, and making any necessary preparations.
In general, this email should be clear and straightforward—your guests' health is top priority. While you can take a friendly tone, this is not the time to make jokes or seem indecisive. Here's a template to help you write a COVID-19 wedding safety email to your loved ones:
COVID-19 Wedding Safety Email Template
Dear Family and Friends,
We are looking forward to celebrating with you at our wedding on [date] at [venue]. Given the times we are living in, we wanted to share important safety protocols we will be following during the event. You and our wedding vendors' health and safety are our #1 priority. If you are unable to follow these protocols, which were created with CDC guidelines and local and state ordinances at the forefront of our minds, we ask that you reconsider attending the in-person event (we will be providing a livestream so you can watch the proceedings virtually). Please take the time to read this email carefully and reach out to us with any questions.
Vaccination/Testing/Quarantine: [If you are requiring all guests to be vaccinated before your event, get COVID tests, and/or quarantine before your event, you'll want to include this at the beginning of your wedding safety email. However, this shouldn't be the first time they're hearing about these requirements—information about vaccination, testing, and/or quarantine should be included on your wedding website and in your save-the-dates and invitations. Explain why these measures are important to you and your family, and provide information on how guests can let you know of their vaccination/testing status (a reply to this email, a form on your website, or an insert in your invitation, for example). And be sure to remind guests that they are not considered "fully vaccinated" until two weeks after their second dose.]
Temperature Checks: If you feel sick or are experiencing any symptoms such as fever, cough, or loss of smell and taste on the day of the wedding, please stay home and enjoy the wedding livestream. We will be taking everyone's temperature as they enter the venue, and anyone with a temperature of 100.4 degrees or higher will unfortunately be denied entry.
Guest Count: We are expecting [number] guests, which aligns with local and state ordinances and our venue's capacity restrictions.
Venue: Our wedding ceremony will take place [indoors or outdoors], the cocktail hour will take place [indoors or outdoors], and the reception will take place [indoors or outdoors]. [If parts of your event are taking place indoors, note any precautions that will be taken such as ventilation, air filters, etc.]
Masks: [Include this section if mask use will be required.] We are requiring mask use for guests when they are not eating or drinking. All of our on-site wedding vendors will be wearing masks as well. [Note if you will be providing masks to your guests or they should bring their own.]
Social Distancing: Please stay at least six feet away from guests who do not live in your household. We will be spacing out ceremony seating and reception tables at least six feet apart and requiring guests to sit with their household only.
Table Assignments: We are sharing reception table assignments in advance of the wedding, to avoid crowding at an escort card table or seating chart. Please find your table assignments below:
Table One: [Names of guests]
Table Two: [Names of guests], etc.
[You might also include a labeled seating chart or map in your safety email, so that guests can easily find their tables when they enter the reception.]
Cards and Gifts: Your presence is present enough! But should you choose to bring a gift to the wedding, there will be a table set up where you can leave your items, rather than handing them to us directly.
Food and Drink Service: [Let guests know how food and drink will be served. It is recommended that pre-plated food and drinks are brought directly to guests, rather than self-service or bar setups.]
Dancing: For safety reasons and to maintain social distancing, we will not be having an open dance floor at our wedding, but there will be music and other entertainment to enjoy!
Hand Sanitizer: We will provide hand sanitizer to each guest and offer sanitizing stations in several areas of the venue. Please practice good hand hygiene after touching surfaces and feel free to bring your own hand sanitizer if desired.
Other Precautions: [Use this section to list other restrictions or precautions—be sure to talk to your venue and vendors to see if there is any additional information your guests will need to know before your event.]
Postponement Information: There is a possibility that due to increased case count and changing local restrictions that we will have to postpone our event. We are making every effort to finalize our plans by [date] and will let you know at this time if things are moving forward as scheduled.
Livestream: Can't make it to the wedding in person? No worries! We will be live-streaming the ceremony for loved ones who cannot attend. [Provide virtual wedding information, such as Zoom link, timing, and other important details here.]
We know this is a lot of information to digest, and we appreciate you taking the time to read through this note. Although our wedding may not look like others you've attended in the past, we still hope that it will be a joyous and celebratory event. Please feel free to reach out to us via email at [your email addresses] or text at [your mobile numbers] with any questions.
Thank you in advance for your cooperation, and we look forward to seeing you (masked up!) on [wedding date].
Love,
[Your Names]