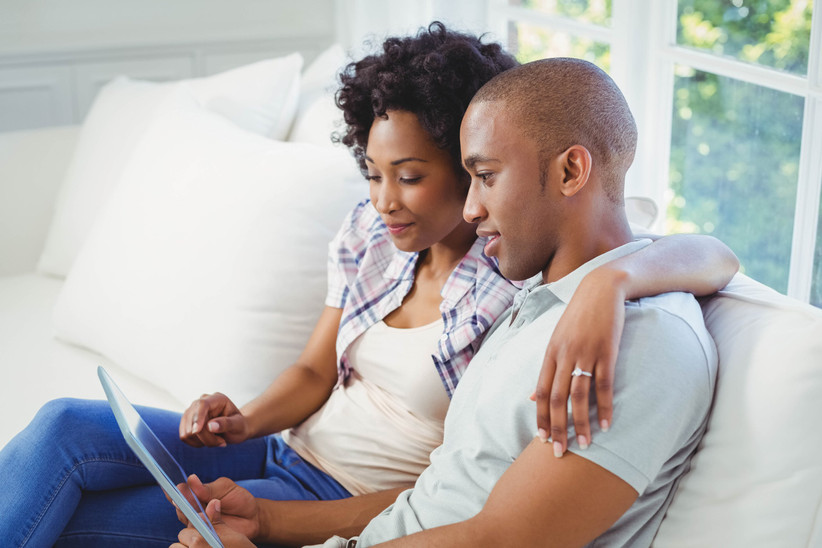 If you're in the early stages of the planning process, it's important to think about what to include on your wedding website. Your site will serve as the hub for all of your wedding details, so your guests won't have to call you if they lose their wedding invitation, can't remember the details of your wedding hotel room block, forgot where you registered, or want more info on your wedding dress code. And for couples marrying during the COVID pandemic, you'll likely have additional important information to share, which can all be hosted on your wedding website.
Here's what to include on your wedding website to ensure that it's as informative, interesting, and personal as possible.
Covid-Related Updates
If your plans have been altered due to COVID, your wedding website is a great place to share updates and information with your guests. Of course, any postponement information should be communicated to your guests directly—via email and/or phone—but can be featured on your website, as well.
For those hosting a wedding during the COVID pandemic, your guests will likely have questions about safety precautions you'll be taking. Will they need to bring masks? Will social distancing be enforced? How will food be served? Create an FAQs section of your wedding website to help your guests know what to expect.
Virtual Wedding Information
For couples who are including a virtual component to their wedding, be sure to include the link to your Zoom or other livestream service on your website for easy reference (and definitely send it out via email, too!). Also, if you have any instructions—like "please mute yourself!"—your wedding website is a good place to include these.
Up-To-Date Details
When considering what to include on your wedding website, remember that this should be an ever-changing project – so make sure you continue to edit it as you gather more details about your big day. The least useful wedding websites are the ones that are missing important information, so be sure to make sure your website is kept up-to-date as you get closer to your wedding.
The Scoop on Your Registry
One of the first questions your guests will ask you (and your mom, your maid of honor…) is "Where are you registered?" Since putting your registry details on printed invitations is a bit of a no-no, include all of the info on your wedding website so it's easy for your guests to find.
How to Get There – in Detail
It's not just about providing driving directions to your venue, especially if you're hosting lots of out-of-town guests. Make sure they know the best method of transportation to get to your wedding city, and note local airports, as well as train or bus stations. On WeddingWire's free wedding websites, you can even add a widget that allows guests to search for flights right from the page!
If many of your guests will be renting cars to get around during your wedding weekend, help them out by providing links to local rental car companies. In particular, Budget offers a special discount code of up to 25 percent off for wedding guests—definitely worth mentioning!
And don't forget about day-of transportation! If you're providing shuttle service from guest hotels to your venue (a generous gesture, to be sure), be sure to share that information on your website – and include it in any welcome bags you provide your out-of-towners, so everyone is where they need to be at the right time.
Room Block Info
Your out-of-town guests will need a place to stay, so use Hotel Blocks from WeddingWire to ensure you've got one or two hotels near your wedding venue, and at your price point, for their convenience. Then, make sure this information is noted on your wedding website – and be sure to include the hotel's name, address, website, and phone number, the rates, any discount code, and if there is a deadline for the reserved room blocks. If a hotel is sold out or the deadline has passed, be sure to update your website accordingly.
Personal Touches
Make sure your guests know that this is your wedding website! Share your "how we met" and proposal stories, include personal details where you can, and add photos to the gallery. You can even make one of your engagement photos the backdrop for your website.
Things to Do
Again, this is important for weddings with out-of-town guests. Your nearest and dearest will likely have a good amount of downtime in between their arrival and your celebration – so give them some ideas of your favorite things to do in your wedding city, plus any additional contacts they might need. Examples include restaurants, museums, historic sites, salons and taxi companies.
Your Wedding Hashtag
There are so many benefits to coming up with a wedding hashtag early in your engagement. Your loved ones can use it to tag photos and social media posts about all of the events leading up to your big day, and of course your wedding itself. But a wedding hashtag is only useful if your guests know about it, so when thinking about what to include on your wedding website, be sure your hashtag is given a prominent place!
Shout-Outs to Your Besties
Include photos and short bios of your wedding party members on your website. Share how you know each person, and any fun stories or details that describe your relationship. They'll be honored to see themselves featured on your site.
Share the Love
Your guests will probably be so excited after browsing your wedding website that they'll want to send their well-wishes right away! They can easily share their love on your website guest book.
Disclosure: This post contains affiliate links, some of which may be sponsored by paying vendors.