How to Write Wedding Party Bios for Your Wedding Website (with Examples!)
Wedding party bios are an important part of a wedding website—here's how to write yours, plus some examples to provide some inspiration.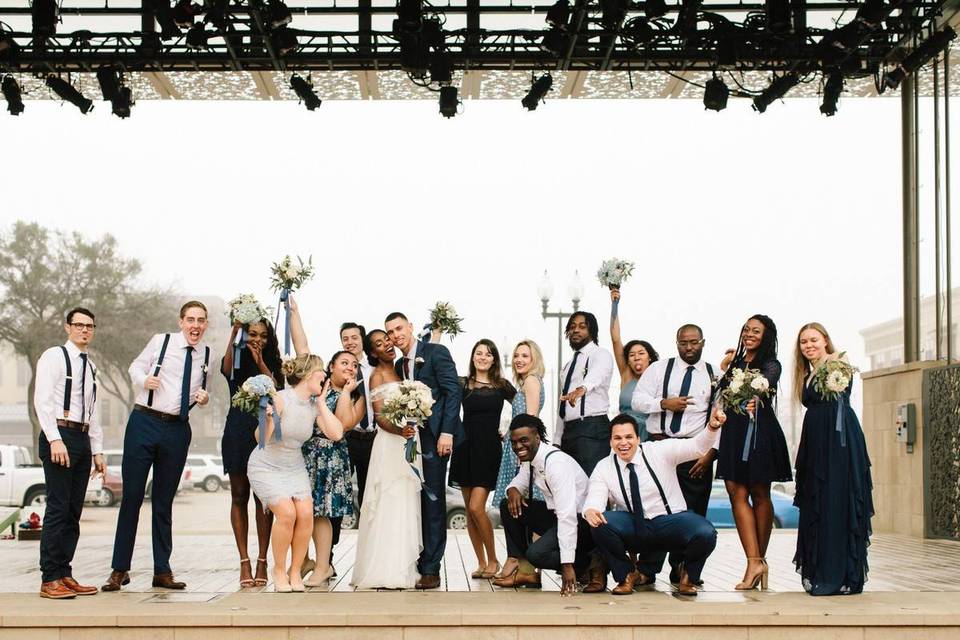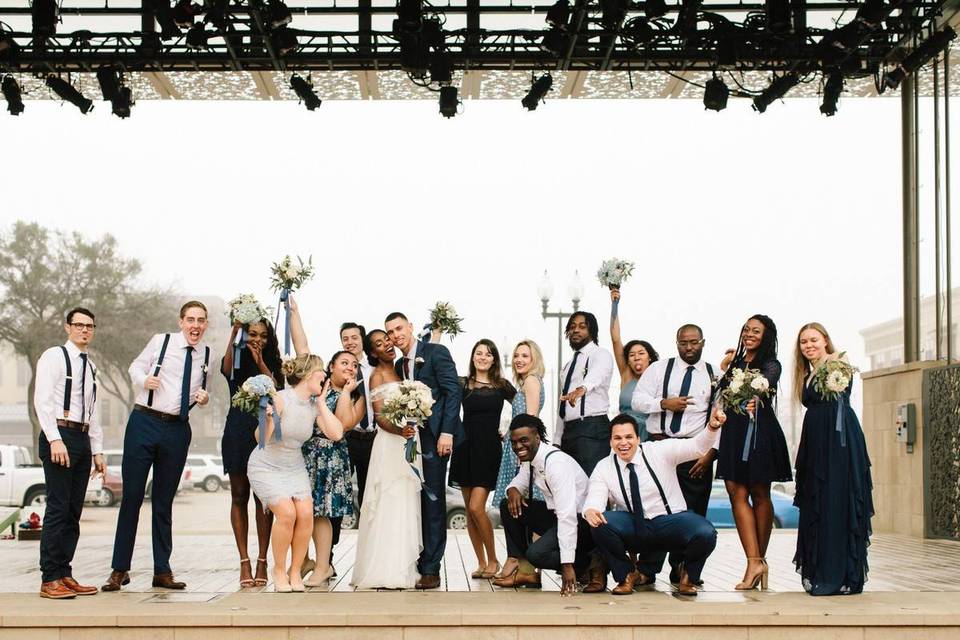 One of the first things people will look for when they hear the news of your engagement these days is your wedding website. What was once something couples might do for fun if they had a few spare seconds (as if!) has now become a universal landing place for all things wedding related—a welcome message, your wedding date and time, gift registry, travel information, and yes, wedding party bios!
As you carefully fill out your own wedding website, don't give in to the temptation to skip the section that invites you to write a bio for each person in your I Do Crew. What's a wedding party bio, you ask? It's a small blurb about each of your groomsmen and bridesmaids (or bridesmen and groomsladies), plus your maid of honor and best man (if you're having them!), that gives your wedding guests a peek into who will be in your wedding party. It's a great way to share why you and your partner chose your attendants, and what type of relationship you have with each. Not only that, it's a sweet way to honor your bridal party with a special mention. Here's everything you need to know about writing wedding party bios—with examples and templates to help inspire you.
What to include in a wedding party bio
While this section on wedding website template your may take a bit more thought than the parts of your website that only pertain to you and your partner (like the about us section and sharing your love story), it's not something you need to overthink. It's your choice whether to make these bios funny or formal, quick and succinct or long-winded. Start with each wedding party member's name—it's safest to just include their first name for privacy reasons, but if your crew is okay with it, you can include both first and last names. Then, include their role in your big day, followed by a few sentences about how you and/or your partner know the person and some details about them. These details could include their job, education, and/or hobbies.
Wedding party bio tips
Below, we've included some helpful wording tips to remember when writing your wedding party bios, along with some examples you can consult if you're stuck. When it comes to writing wedding party bios, keep the following tips in mind:
Keep the bios similar across all attendants. It's not fair for one bridesmaid to have a long-winded account while another barely gets a mention. It's bound to hurt feelings, and the inequality will be apparent to your guests, as well. So if you're struggling for words, at least include something special about the person and perhaps mention a few of his or her best qualities and some fun facts.
Avoid including embarrassing or overly personal details. It's not the time or place to call out your attendant for those crazy things they did in college or to allude to an inside joke. You'll look silly and your loved ones aren't likely to understand, anyway. You can certainly opt to make your bridal party bios funny, just be sure to keep them appropriate and stick to the facts.
Have each member of your wedding party review their own bio prior to submission. You never know what someone might be sensitive about, so it's wise to have each person review his or her bio before you hit publish—open communication is key.
Write the wedding party bios in third person—meaning using your and your wedding party member's names rather than "I".
Make sure you notify those on your guest list about your website as you move through the wedding planning process. You can include the URL on your save the dates and on a wedding invitation insert.
Wedding party bio examples
Need some inspo? Here are some examples of wedding website bio examples you can use:
Funny wedding party bio
Jenny loves dogs, Sara is a cat person. Jenny loves sushi, Sara doesn't eat fish. Jenny is a neat freak, Sara is, well, not. So...why did Jenny ask Sara to be her maid of honor? Well, they've been pretty much inseparable since high school (despite the sushi thing) and Jenny can't imagine anyone else standing by her side on her special day.
Formal wedding party bio
Sara Elizabeth Wilson will be Jenny's maid of honor. Like Jenny, Sara attended the University of Oklahoma, where she majored in veterinary medicine. Sara enjoys volunteering, singing and visiting museums. Jenny looks forward to having Sara stand by her side at her wedding ceremony.
Cute wedding party bio
Jenny + Sara = Friends Forever. That's why Sara will be Jenny's maid of honor. And Jenny wouldn't have it any other way. The two met at the University of Oklahoma and have been best friends ever since; seven years and counting!
Bridesman wedding party bio
Sean Johnson will be Jenny's bridesman at their wedding in July. Jenny and Sean have been best friends since the second grade; no one else could match that, so Jenny asked Sean to stand next to her on her wedding day. Sean attended the University of Florida where he majored in chemistry.
Groomsmaid/groomslady wedding party bio
Janet Mitchell will be Connor's groomsmaid at their wedding in July. Janet grew up on Connor's street when they were in elementary school, and she was his first best friend until her family moved to Colorado. Imagine their surprise to find they were seated next to each other in a freshman literature class in college! Connor is psyched to have Janet standing by his side at his wedding.