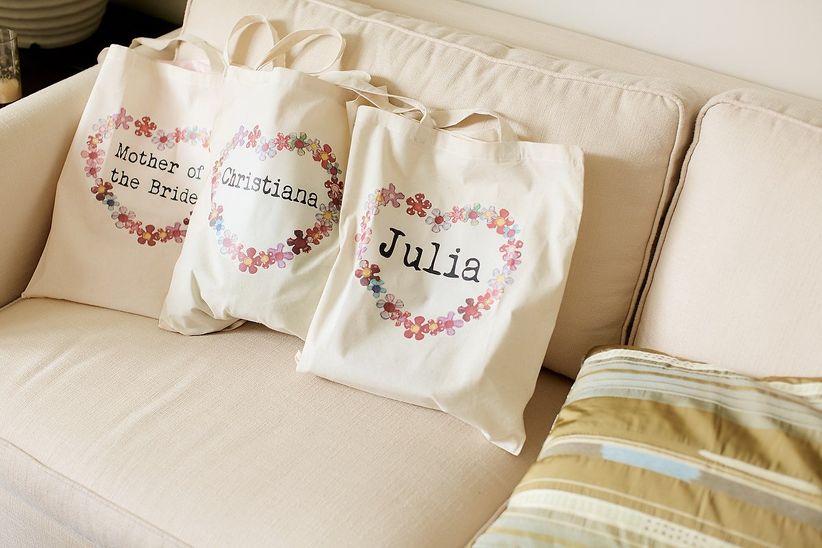 After months of helping you plan your wedding, hosting a shower and bachelor or bachelorette party as well as assisting you on the wedding day, it's appropriate to make coming up with wedding party gift ideas a priority. In fact, a recent WeddingWire survey found that the majority of couples will purchase a wedding party gift, but what should that gift be?
The best type of wedding party gift idea is something personal, and that doesn't mean it has to be personalized. Give a gift to each person that you think he or she would enjoy. You do not have to give the same gift to everyone, but you can if you think it's something they would all love and use, such as a monogrammed bag or bottle of scotch.
If you're not sure what would make a great wedding party gift, a recent WeddingWire survey discovered the most popular types of wedding party gifts for men and women. Alcohol and alcohol-related gifts are the most commonly purchased items for men. For women, jewelry and beauty items are at the top of the list.
Wedding party gifts should be included as a line item in your wedding budget. With an average of nine members in a wedding party, a couple can spend several hundred dollars on their wedding party gifts. The average wedding party gift costs between $25 and $50 each but you can spend more or less depending on your budget and the final gift items you decide to give.
Looking for great wedding party gift ideas for the men, women and children in your crew? Here are 11 presents we think they'll love.
Wedding Party Gift Ideas for the Guys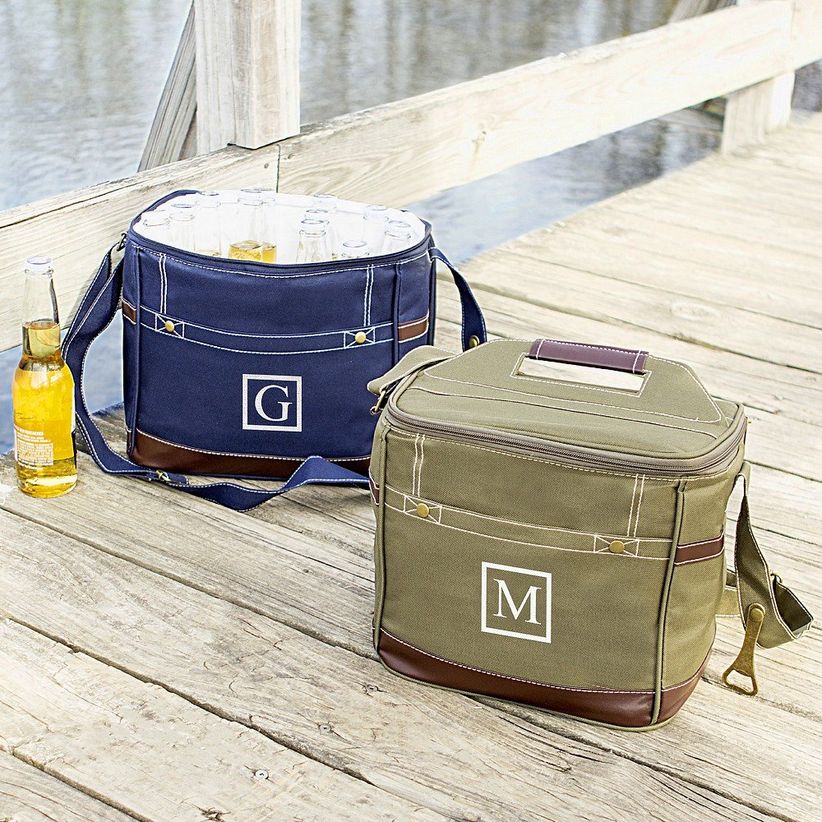 If you know your friends are fans of craft beer, this Personalized Craft Beer 12-pack Bottle Cooler, with or without a case of their favorite craft beer inside is a great wedding party gift idea. The padded handles and adjustable strap make it easy to carry and with room for 12 there's enough for everyone on the next outing! (It will fit 12 bottles or up to 18 cans with ice.) Choose either navy blue or green, and have it monogrammed – at no additional charge – with each guy's initials. $39.95, The Man Registry.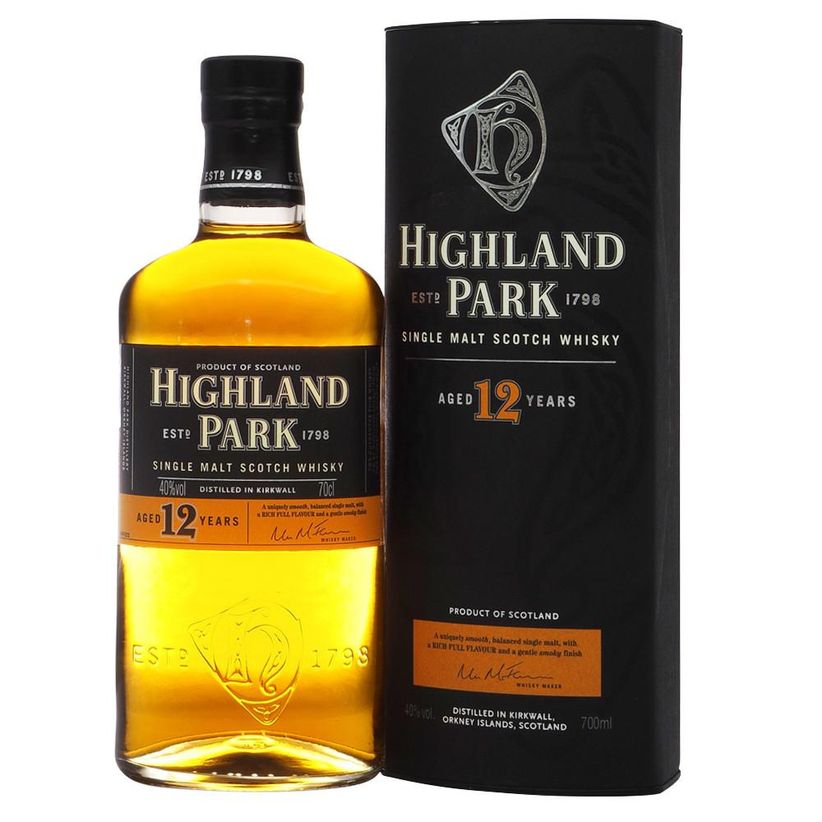 With a third of guys in the wedding party receiving alcohol as their wedding party gift, a bottle of scotch is a great groomsmen gift. There are plenty of options available ranging in price from under $50 to well over $100. Highland Park's 12-Year-Old Scotch has a sweet honey, fruit cake flavor balanced against a smoky aroma. If budget allows, you can add a set of Whiskey Stones to ensure the perfect sip every time. Highland Park Scotch, $55, Highland Park. Whisky Stones, $7.95, Amazon.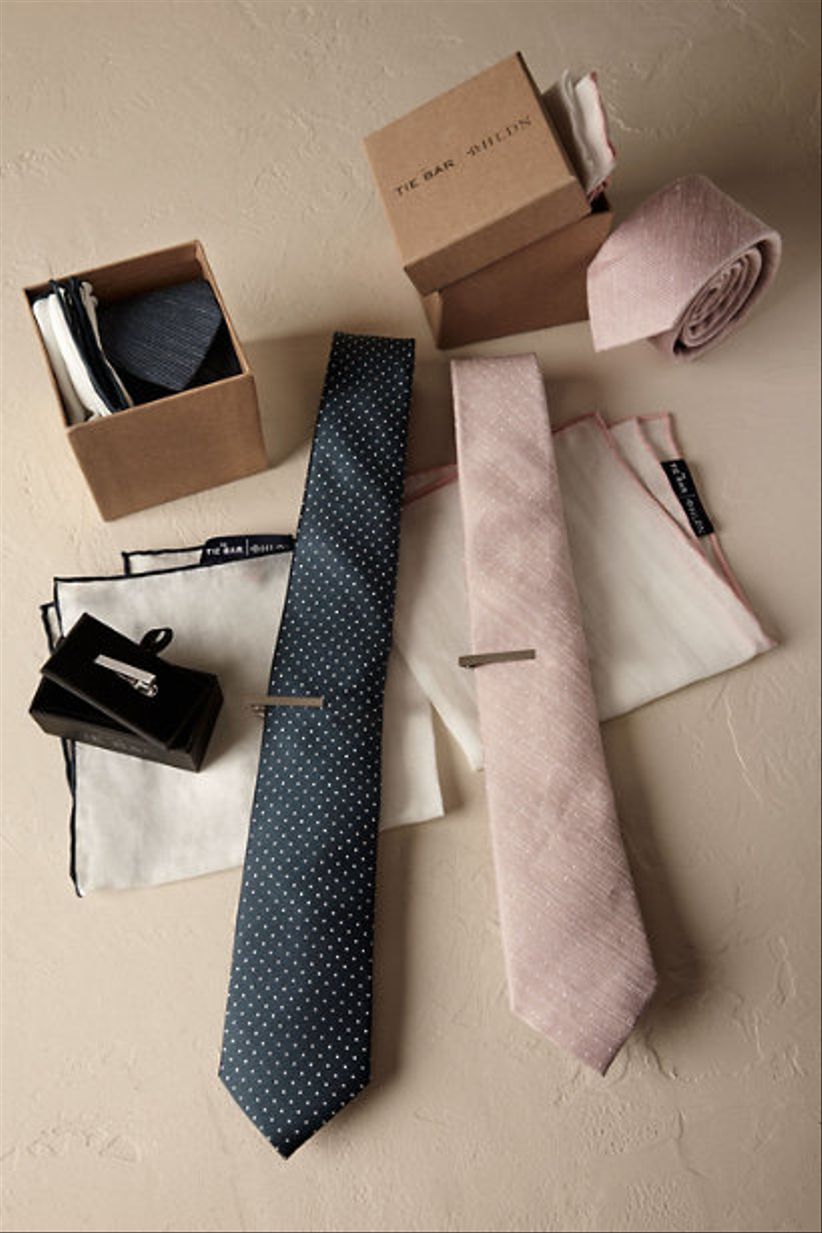 Gift the guys accessories to wear on the wedding day and beyond with a tie and/or pocket square to match their wedding-day look. Through a collaboration with BHLDN, The Tie Bar has coordinating tie and pocket square sets that coordinate with bridesmaid dresses sold at BHLDN.com. You can order a tie, pocket square or a matching set that also comes with a tie bar—such a thoughtful groomsmen gift. Ties starting at $19, pocket squares at $10, and sets at $50, The Tie Bar.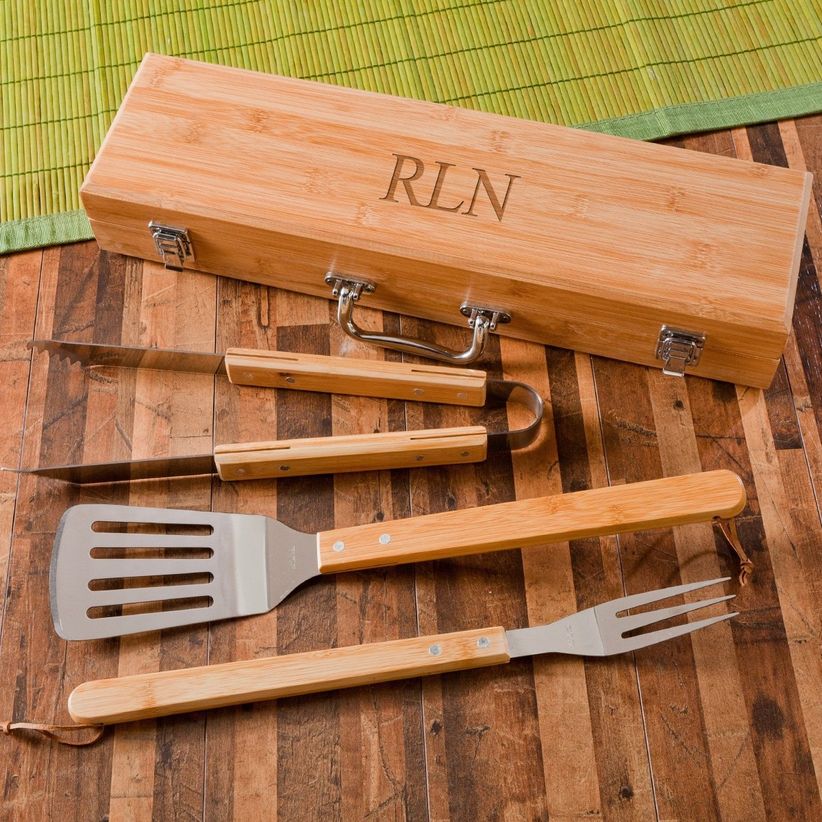 For the guy who likes to spend his time at the grill, a Personalized BBQ Grilling Set will turn him into a grill master in no time! The set includes a spatula, fork and tongs, nestled into a bamboo case. Add a (complimentary) personal touch by engraving his monogram or a note on the lid. $49.95, The Man Registry.
Gift Ideas for the Ladies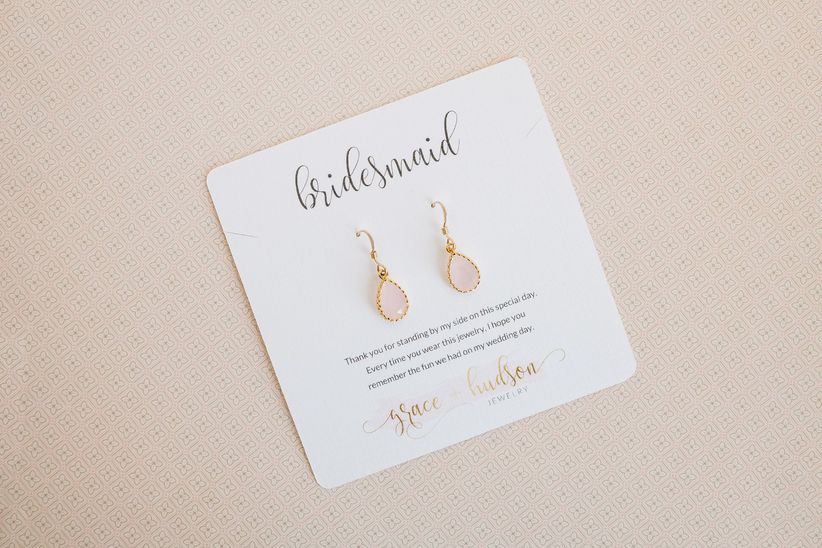 Grace + Hudson Jewelry's beautiful collection lets you pick the right color and setting for every woman in the wedding party. The necklace and earrings in the Sophia Bridesmaid Gift Set can be gifted on their own or as a pair. Choose between a gold or silver setting and the color of the stone: blush pink, crystal, mint green, lavender, charcoal or emerald. Each piece is sent on a card with a message that reads: "Thank you for standing by my side on this special day. Every time you wear this jewelry, I hope you remember the fun we had on my wedding day." $46 to $68, Grace & Hudson.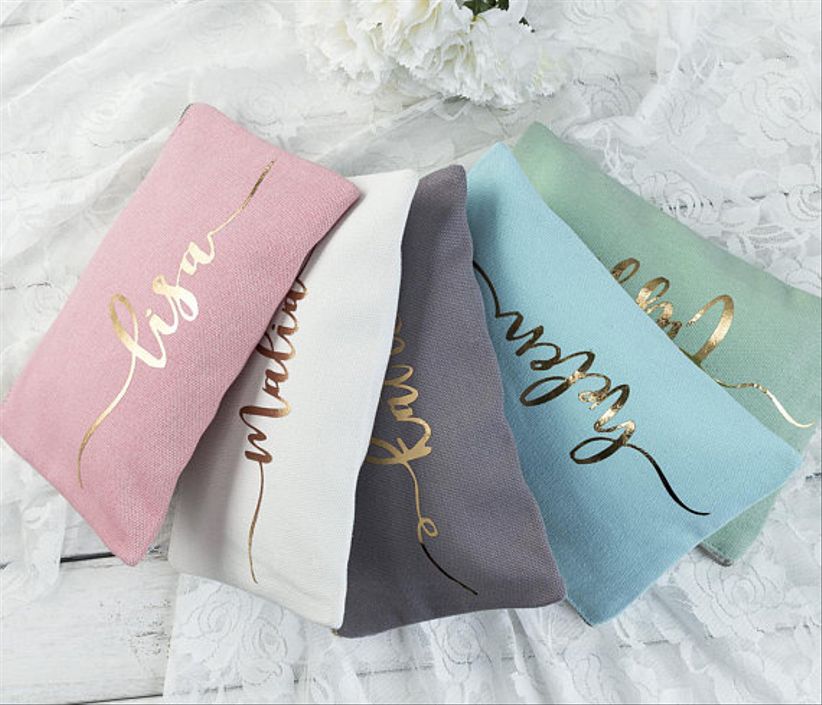 Build your own beauty gift set for the girls starting with these personalized makeup bags from the Beauty and Smile shop on Etsy—one of our favorite wedding party gift ideas. Available in eight colors with five hue options for her name, the zippered pouch can hold an assortment of items that you think your best buds will love. Visit Sephora, Ulta or Amazon to find travel-size products from all of your, and their, favorite brands. $5.99, BeautyAndSmile.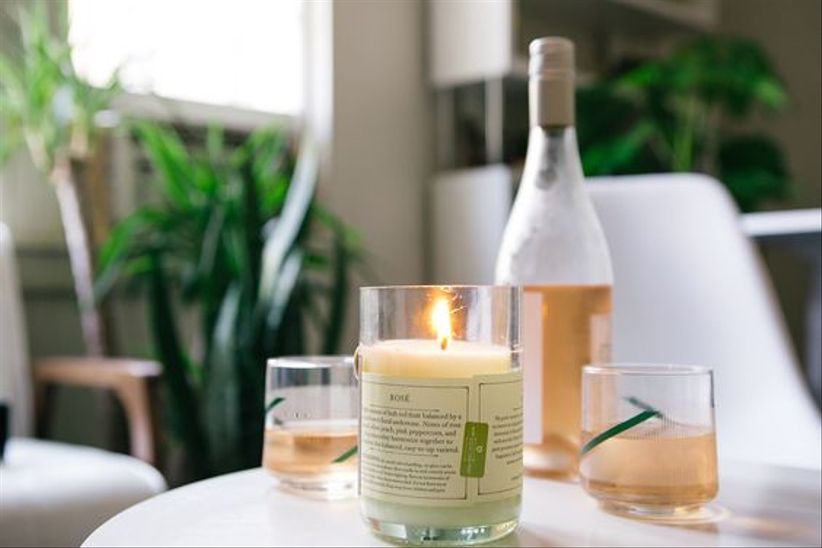 Pair one of Rewind's wine-scented candles with a bottle of wine for your bridesmaid gifts! The Charleston-based company has a selection of candles that include reds, whites, and Champagne aromas for you to choose from. The 50 to 80-hour burn time will ensure that your friends can enjoy this wedding party gift idea again and again. $28-$32, Rewined.
Have your BFFs slip into these monogrammed sandals during your wedding weekend and wear them long after your big day. Available in a range of color combinations and monogram styles, the whipstitch disc can be swapped out with other color combos to make them very versatile. $22, Dixieland Monogram.
Gift Ideas for the Kids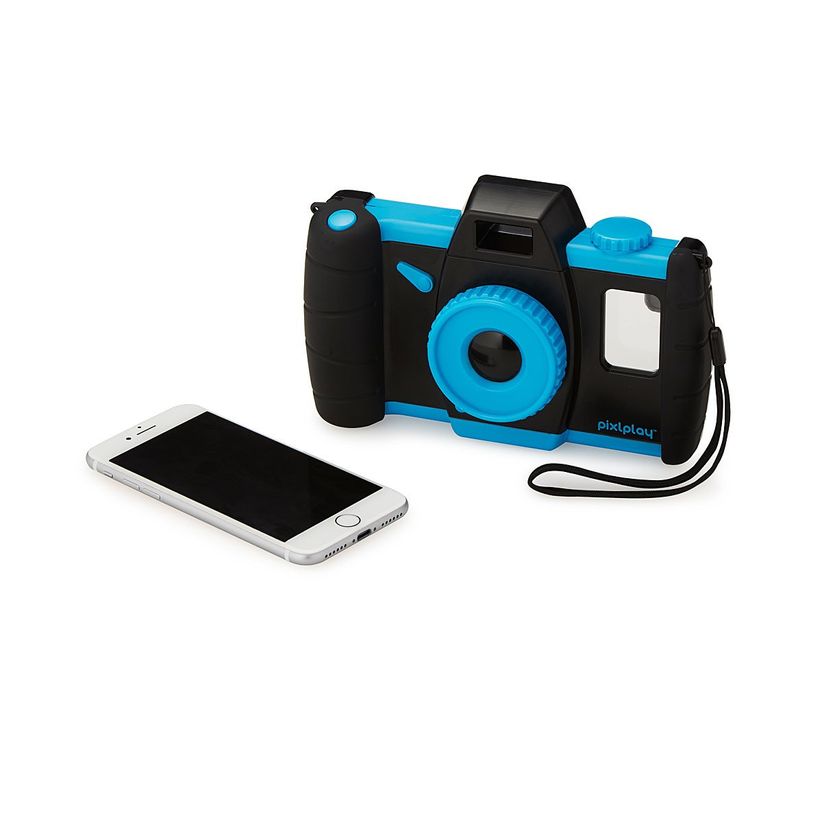 Ask the littlest members in your wedding party to take on some roles at the wedding reception by snapping pics with their new classic-looking but digital camera—a super-cute and useful wedding party gift idea. Pixlplay Smartphone Camera works with an iPhone or Android phone so kids can snap pics of everyone having a great time and then use the Pixlplay app to add fun filters to the photos. $24.95, Pixlplay.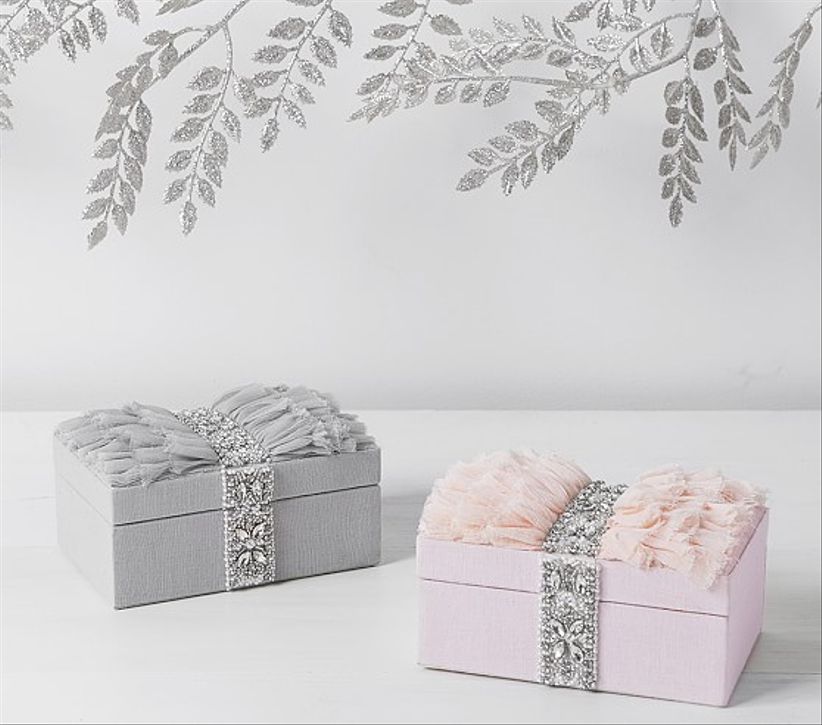 Your flower girl can keep all of her treasures in this Monique Lhuillier for Pottery Barn Kids jewelry box. Available in blush pink, the cover has a ruffle and bead embellished cover that features a mirror on the inside lid. $29, Pottery Barn Kids.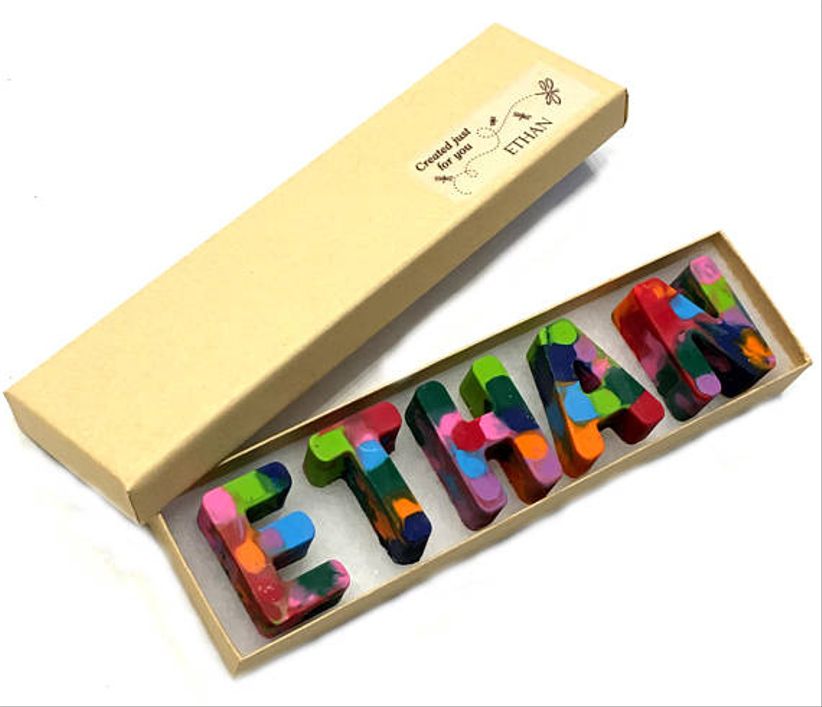 Order a set of crayons from The Crayon House in your ring bearer's and flower girls' names. These rainbow crayons are non-toxic and will also make a great addition to a wedding-day activity bag filled with a coloring book and other fun day-of items to entertain the littlest members of your wedding party. $9.97 to $13.97, The Crayon House.