One of the most surprising parts of the engagement period is the number of pre-wedding parties that will be held in your honor. From engagement parties to the rehearsal dinner, you'll probably want to clear your schedule for the next few months—and buy a few new outfits, as you'll be in the spotlight for all of these celebrations. Looking for more info on these pre-wedding parties? Check out this handy guide to all of the events before the big event.
Engagement Party
What is an engagement party?
Just like the name sounds, an engagement party is held to celebrate your engagement. This is one of the first pre-wedding parties held in a couple's honor.
Why do I need one?
Your loved ones will likely be so excited about your upcoming nuptials that they won't want to wait until your wedding to celebrate. An engagement party is also a way to formally "announce" your impending marriage to your loved ones. You don't have to have an engagement party, but many couples will. In fact, according to recent WeddingWire data, just 26 percent of engaged couples have an engagement party.
Who hosts and who's invited to an engagement party?
Typically, an engagement party is hosted by one of the families—either yours or your future spouse's. This pre-wedding party may also be hosted by other relatives or friends. Sometimes couples end up having two engagement parties—one thrown by each side. Engagement parties are usually not huge (though the guest list can easily creep up there!). You'll likely want to keep it to close family members and friends. Be aware that anyone invited to your engagement party will expect an invitation to the main event.
When does an engagement party take place?
This pre-wedding party usually takes place about three months after the engagement. Invitations should be sent at least a month before the event.
Where is it usually held?
The engagement party can be held at a variety of locations, but is most often held at the host's home. It can also take place at a favorite restaurant, bar or lounge, or even a unique venue, like a historic home or park.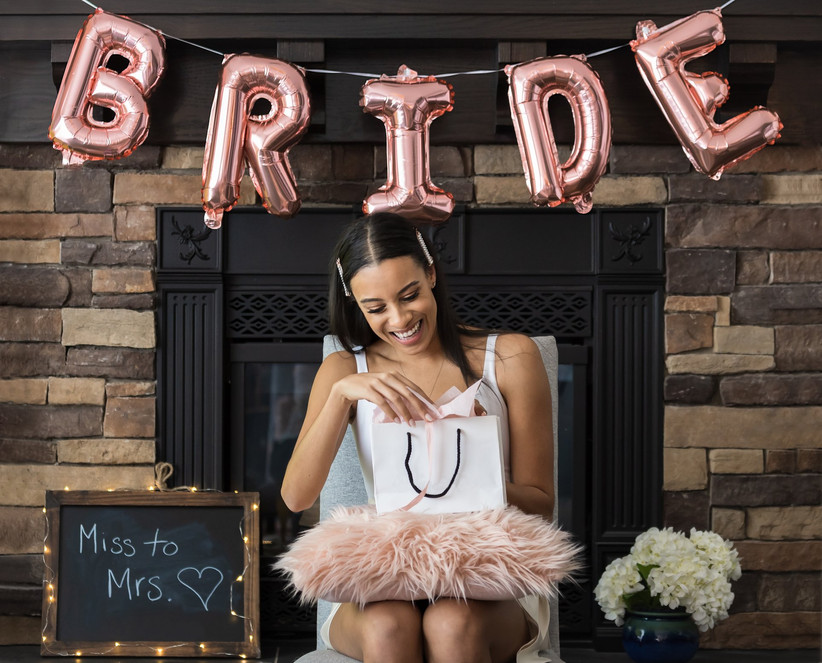 Couple's or Bridal Shower
What is a bridal shower? What's a couple's shower?
Traditionally, a bridal shower is an all-female celebration to honor the bride. Guests enjoy a meal and, often, some games, and the bride then opens her shower gifts in front of everyone. Nowadays, however, some are opting for couple's showers, where both spouses-to-be are fêted in similar fashion by guests of all genders.
Why do I need one?
This pre-wedding party is a nice way to gather with a more intimate group of loved ones as you approach your wedding day. Turns out that 75 percent of couples have either a bridal or couple's shower held in their honor.
Who hosts and who's invited to a couple's or bridal shower?
The shower is frequently hosted by members of the wedding party (the maid of honor and bridesmaids, if it's a bridal shower), though it may also be hosted by parents or other friends or relatives. Sometimes there are two or more showers, hosted by different loved ones. While bridal showers traditionally have a female-only guest list, nowadays, the shower guest list can be comprised of any close friends or family members.
When does it take place?
A shower most often occurs between a few weeks and three months before the wedding. It frequently takes place during the day, over brunch or lunch.
Where is it usually held?
These pre-wedding parties usually take place at the home of one of the hosts, or at a smaller venue, like a restaurant or historic home.
Bachelor and Bachelorette Party
What is a bachelor party? What's a bachelorette party?
A celebratory night or weekend trip where a groom or bride parties with his or her side of the wedding party. Bachelor and bachelorette parties are traditionally wild nights out, but nowadays, they typically reflect the guest of honor's personality and style and can range from relaxing spa visits to cooking classes to outdoor adventures to, yes, clubbing and bar hopping. This is one of the popular pre-wedding parties, with 78 percent of engaged couples having bachelor and bachelorette parties.
Why do I need one?
Bachelor and bachelorette parties are considered a groom or bride's "last chance" to let loose before marriage. This pre-wedding party is also a nice way to bond with friends and take a break amid the stress of wedding planning.
Who hosts and who's invited?
The wedding party members host the bachelorette and bachelor parties, respectively. The maid of honor and best man traditionally heads up the planning. The invite list typically includes the bridesmaids, groomsmen, and other wedding party members plus any other close friends or relatives of similar age to the couple. It goes without saying but anyone who is invited to the bachelor or bachelorette party should also be invited to the wedding.
When does it take place?
Usually about a month or two before the wedding. It may take place over a weekend or for a single night, as schedules allow.
Where is it usually held?
While bachelor and bachelorette parties are often held in the bride or groom's city of residence or hometown, nowadays, many of these pre-wedding parties include trips to destinations near or far. This all depends on the wedding party's schedules and budgets, plus the desires of the bride- or groom-to-be.
Bridesmaid Luncheon
What is a bridesmaid luncheon?
This pre-wedding party is an intimate gathering for members of the bridal party.
Why do I need one?
Depending on where you live, bridesmaid luncheons may or may not be commonplace. These events are a nice way to thank the bridesmaids for assisting during the wedding planning process, and a setting where the bride can present bridesmaid gifts to her crew. It's also a way to enjoy a meal in a relaxing setting before the craziness of the wedding day begins.
Who hosts and who's invited to the bridesmaid luncheon?
The bride traditionally hosts this pre-wedding party and invites all of the bridesmaids, as well as the flower girls, mothers of the bride and/or groom, and potentially any extremely close female relatives who may not be included in the bridal party.
When does the bridesmaid luncheon take place?
The bridesmaid luncheon is usually held the day before the wedding, after all members of the bridal party have arrived and before the rehearsal and rehearsal dinner. If all of the bridesmaids live near the bride, it may occur earlier.
Where is the bridesmaid luncheon usually held?
As this is often a fairly intimate gathering, the bridesmaid luncheon is typically hosted at a restaurant in the same city or town as the wedding venue.
Rehearsal Dinner
What is a rehearsal dinner?
Like its name indicates, the rehearsal dinner is a pre-wedding party held immediately following the wedding rehearsal. It can be an intimate celebration including just close family members and the wedding party, or a larger event for the entire guest list. It's usually a more laid-back event than the actual wedding where speeches may be given in the couple's honor. According to a WeddingWire survey, 78 percent of couples have a rehearsal dinner before the main event.
Why do I need one?
It's hospitable to provide your loved ones with a meal the evening before your wedding, and it's a relaxing way for your guests to meet, mix, and mingle before the big day. Plus, it's an opportunity for close relatives or friends to give speeches that there may not be time for during your reception.
Who hosts and who's invited to the rehearsal dinner?
For an opposite-sex couple, the groom's family traditionally hosts this event. But nowadays, either or both family or the couple themselves may host this pre-wedding party. The guest list may be a little tricky. Depending on your budget, you may choose to host just immediate family members and the wedding party and their spouses or dates. Some couples invite close family members and friends, and out-of-town guests. Others choose to include the whole guest list! You might also enjoy the actual dinner with immediate family members and the wedding party, and then invite the rest of the guest list for after-dinner drinks or dessert.
When does the rehearsal dinner take place?
Shortly after the wedding rehearsal (if you're having one), the evening before the wedding day.
Where is the rehearsal dinner usually held?
Rehearsal dinners are often held in a private space at a restaurant, though dinners with particularly large guest lists may host their event at a traditional wedding venue, like a hotel, ballroom, or even a park or other outdoor location.