"Where should we have our rehearsal dinner?"
Rehearsal dinners come in all shapes and sizes—from big bashes to more intimate shindigs.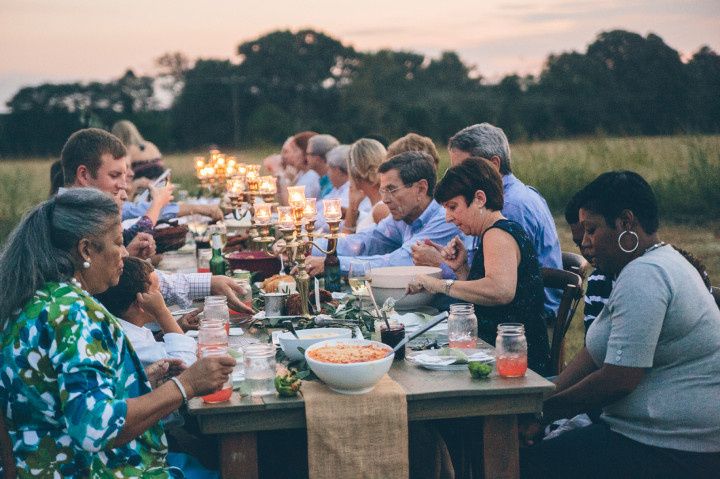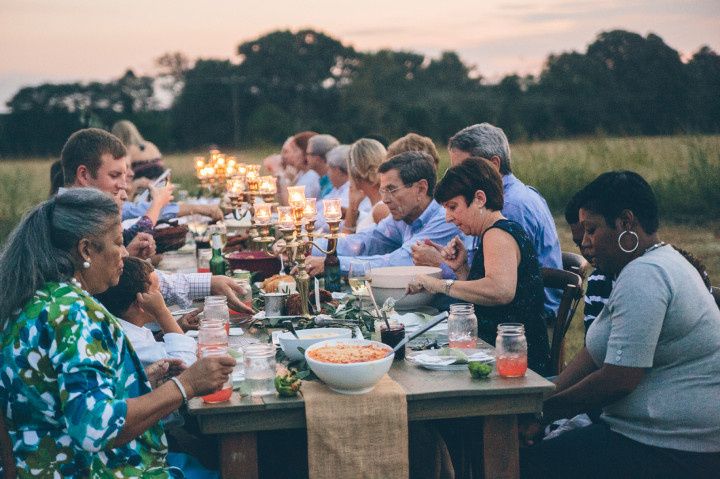 Photo: Brandy Angel Photography
Rehearsal dinners come in all shapes and sizes—from big bashes to more intimate shindigs. After setting a budget, you'll need to find the right venue for your rehearsal dinner.

Check out these tips on how to find the perfect spot for your night-before celebration.

What's my rehearsal dinner style?
You've probably done this exercise for your wedding already, but it's time to think about the type of rehearsal dinner you want. Something cozy and romantic? Raucous and celebratory? Or maybe something in between? Once you have an idea of the feeling you want your event to convey, it's time to think about your…

How many guests are we hosting?
Some couples simply invite immediate family and wedding party members to their rehearsal dinner. Others, particularly those who are hosting destination weddings, invite all of their guests. Many do something in between—only immediate family and out-of-towners, perhaps, or invite only nearest and dearest family and friends for dinner, and then the whole crew for dessert or drinks afterwards. Having an idea of your guest count is essential to find the right venue.

Which location is most convenient for my guests?
When it comes to planning your rehearsal dinner, there are a few issues at play when it comes to choosing a location. You'll probably have guests coming from their hotel, and you and your wedding party will be coming from your ceremony venue (if you're having a rehearsal there beforehand). So you'll need to find a place that's convenient to both of those places. If the two places aren't super-close together, focus more on finding a venue that's convenient for your guests so they won't have to stress too much about transportation.

Which venues are one-stop-shops?
Whether you, your family, or your partner's family is planning the rehearsal dinner, you probably want to make the process as easy and stress-free as possible (planning just the wedding is complicated enough!). Try to find a venue that handles everything (catering, décor, etc.) in-house, like a restaurant, hotel, or catering hall. That way, once you've booked your venue, you're pretty much done (aside from sending out invitations and finalizing menu details and timeline).

Where will everyone sit?
Unless you're having a super-small and intimate rehearsal dinner, you'll need a venue with a dedicated space for your celebration—think a private room at a restaurant, or small ballroom at a hotel or catering hall. This is also important if toasts will be given during the event—you don't need a restaurant full of strangers listening to your bridal party's bawdy speech! Additionally, be sure to ask your venue about audio-visual equipment, if needed.

What's on the menu?
Just like at your wedding, think about cuisine that will appeal to a wide range of palates—and consider more relaxed, casual fare served buffet or family style to encourage mixing and mingling.

Do I want an after-party?
While we don't recommend partying until the wee hours the night before your wedding (hello, wedding day hangover—not pretty!), you may still want to have a celebratory drink with your guests after the rehearsal dinner. Consider the venue's layout—if it's a restaurant or hotel, is there an adjacent bar area where you and your crew can casually hang out after dinner, or are there bars within a (very short) walking distance? You'll have a much better turnout for an after-party if the location is convenient to all.