How to Plan an Unforgettable Rehearsal Dinner
What happens at a wedding rehearsal dinner, and who plans it? Consider this your ultimate guide to planning an epic pre-wedding event.
We have included third party products to help you navigate and enjoy life's biggest moments. Purchases made through links on this page may earn us a commission.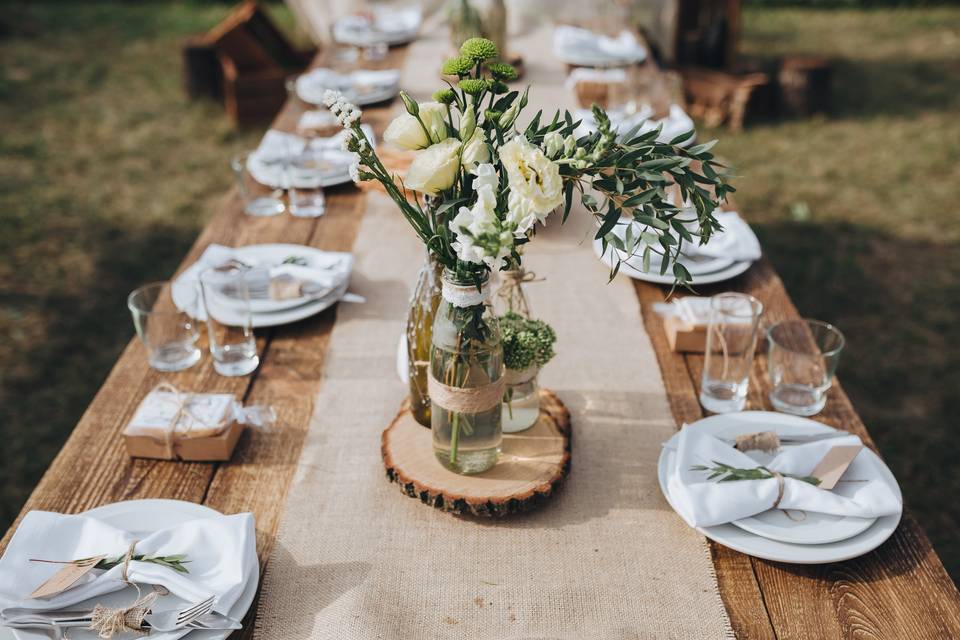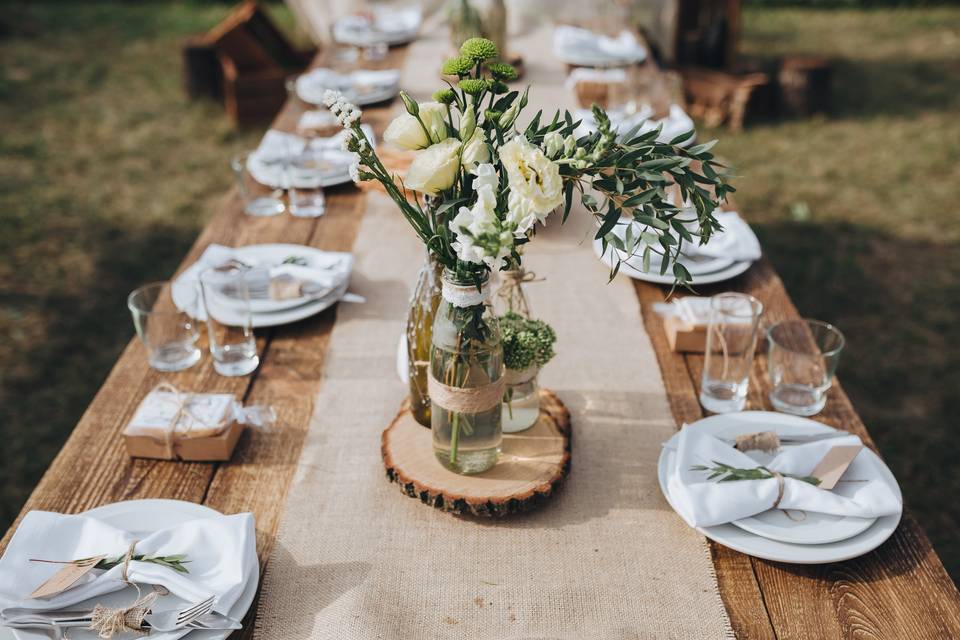 Your wedding is an important day, so you want to make sure it goes smoothly. One way to ensure that it does is by practicing ahead of time at the rehearsal. Once you've run through the ceremony, the couple and their VIP guests head to a fun rehearsal dinner to eat together, exchange gifts and toast to the lovebirds. This event is a fun way for the couple to celebrate with a smaller group of friends and family and kickoff the wedding weekend.
Since there's so much that goes into a rehearsal dinner, we rounded up what you need to know about planning one. From etiquette tips to decor recommendations, we have everything you need to host an unforgettable pre-wedding party.
Here's everything you need to know in order to plan an unforgettable wedding rehearsal dinner.
What is a wedding rehearsal dinner?
A rehearsal dinner is a pre-wedding event that typically happens the night before the wedding. It takes place after the rehearsal (the event where the couple and those in the wedding run through the order of events). It's a celebratory event that involves the couples' VIP guests, great food, and sentimental toasts.
What happens at a wedding rehearsal dinner?
As the name suggests, the couple and their guests eat at the rehearsal dinner. Typically, the host of the rehearsal dinner will start things off with a toast and then others will follow. The couple can also toast to their parents or other loved ones. It's also a great opportunity for the to-be-weds to give gifts to their wedding party and to their parents.
Who hosts the rehearsal dinner?
Old-school etiquette says that the groom's family hosts the rehearsal dinner (as the bride's family hosted the wedding). However, those rules are outdated and don't include many couples exchanging vows, such as if you're an LGBTQ+ couple or your parents aren't paying for the wedding. There aren't any set rules around who hosts the rehearsal dinner. It could be a family member, members of the wedding party, or the couple themselves.
Who to invite to your rehearsal dinner
Since the rehearsal dinner comes after the rehearsal, you'll likely want to invite everyone who is a part of the event: the couple, the wedding party, the parents of the couple, and any other important family members or friends. Sometimes, couples invite the officiant if they feel close to the individual.
You can also open up the rehearsal dinner to out-of-town guests as a way to create more of an experience for them. The guest list is completely up to the couple and should be cleared by them before any rehearsal dinner invitations go out. Once you have a guest list, consult our guide on rehearsal dinner invitation wording and send them out.
What to wear to a rehearsal dinner for an epic photo opp
There are many traditional rules around rehearsal dinner attire (like the bride should wear white or everyone should dress formally). However, the rehearsal dinner dress code is entirely up to you! If you'd rather host a backyard barbecue or a themed party, we encourage you to do so. The rehearsal dinner is yet another opportunity to showcase your personality, so feel free to have fun with it.
Of course, if you're rehearsing in a space that has a suggested dress code (like a religious place of worship or a five-star restaurant), you'll want to respect those guidelines. Otherwise feel free to dress however you'd like for the rehearsal dinner. Check out our roundup of rehearsal dinner dresses for more inspiration.
Create Instagrammable moments with rehearsal dinner decorations
Whether you're using a restaurant, event space or backyard as your rehearsal dinner venue, there are simple ways to make it more special. You can absolutely tap your florist to bring in some lovely floral designs, but we encourage you to pick up some fun rehearsal dinner decorations too. They'll elevate the space and create the perfect Insta opportunity for your guests.
Capture the excitement of the occasion with this simple, sweet banner.
Cake to the Top One Day Away banner, from $16, Etsy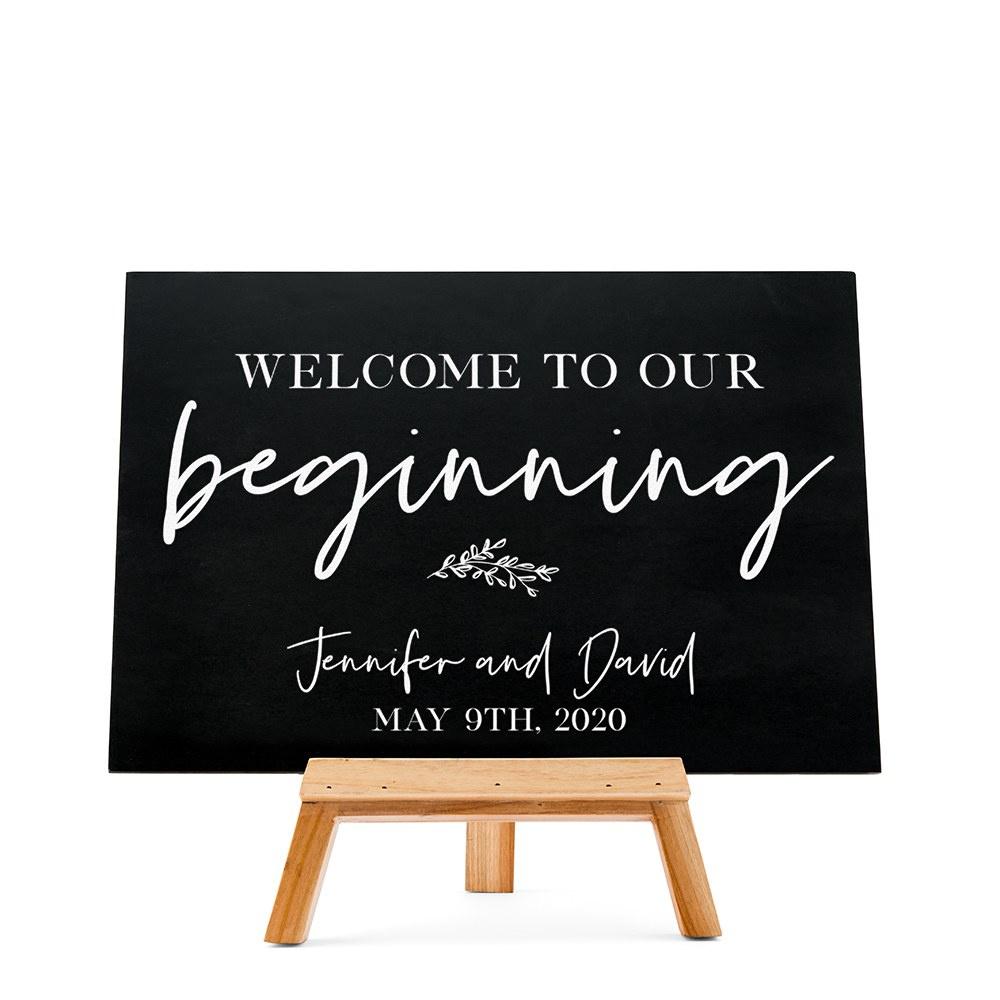 We love this rehearsal dinner sign because you can use it at the wedding too.
WeddingWire Shop custom wedding chalkboard sign in Our Beginning, $22, WeddingWire Shop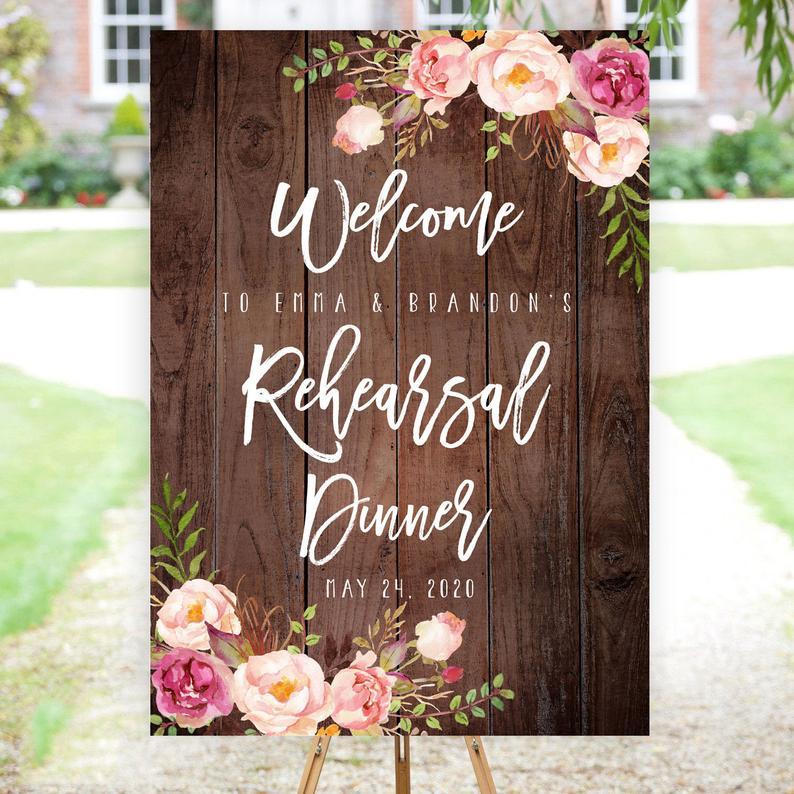 If you don't want to invest in an actual wooden sign for the pre-wedding party, consider this custom template. You can stick it on to any sign or poster board you have laying around the house.
Best Celebrations rehearsal dinner welcome sign, $13 for an editable template, Etsy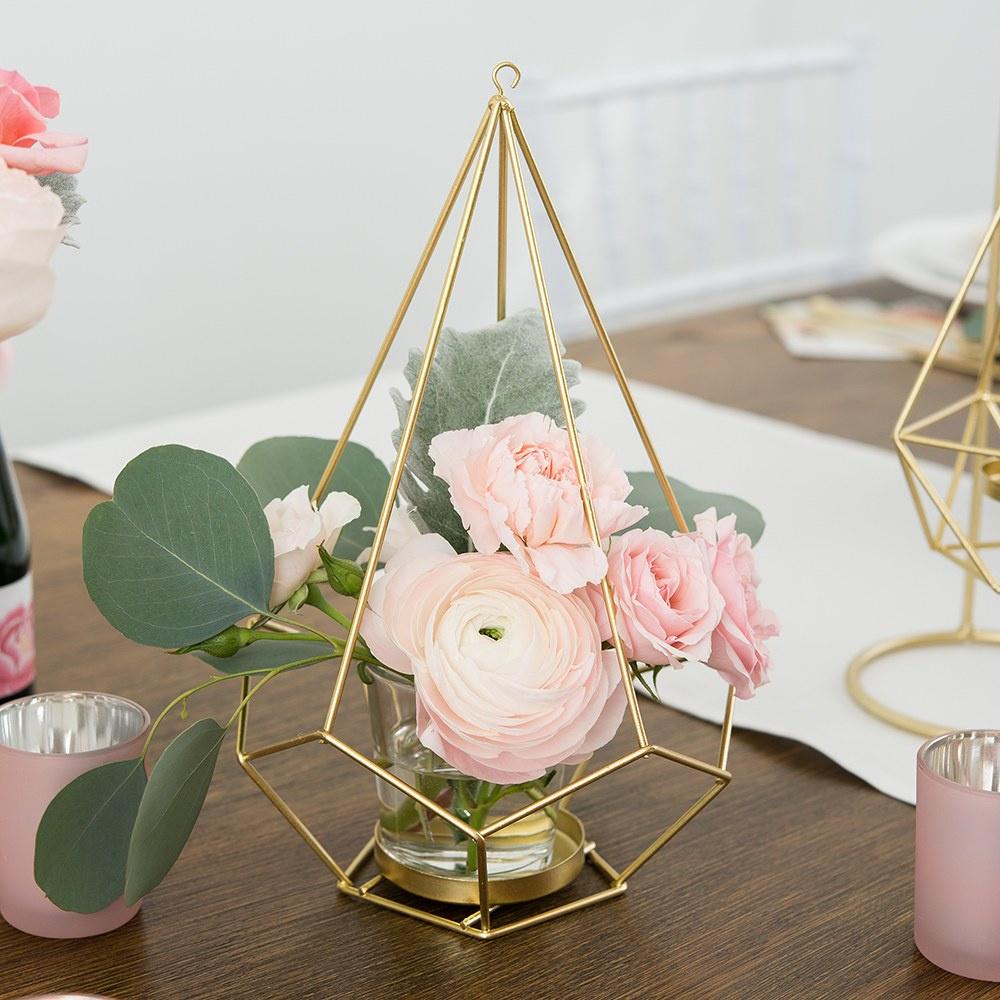 If you're hosting the rehearsal dinner somewhere where there won't be table decor, these chic geometric centerpieces are a small touch that will transform the space.
WeddingWire Shop tall gold geometric centerpiece, $17, WeddingWire Shop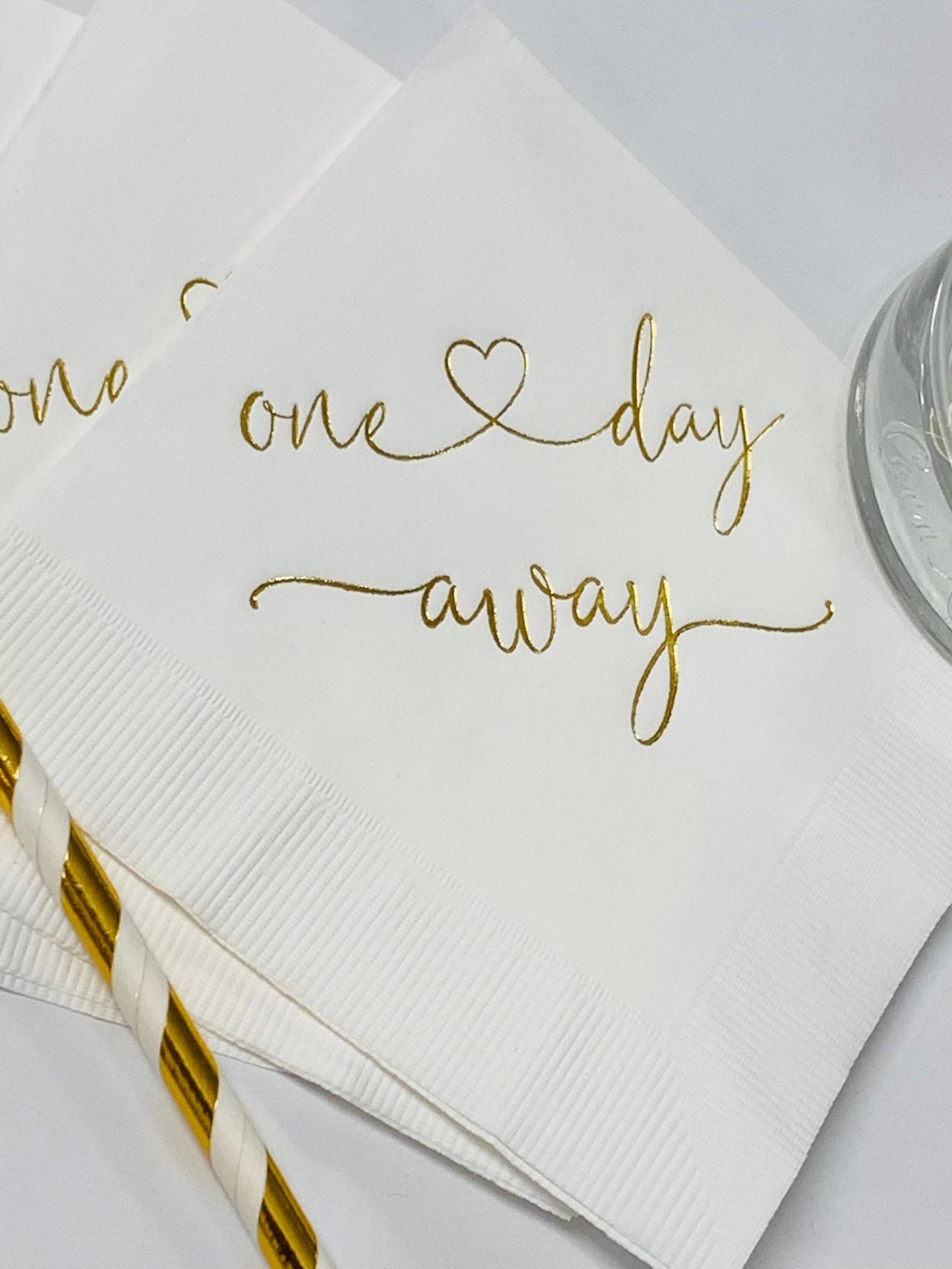 Custom napkins are a small way to make the event even more special.
Memorable Wedding rehearsal dinner napkins, $15 for a set of 25, Etsy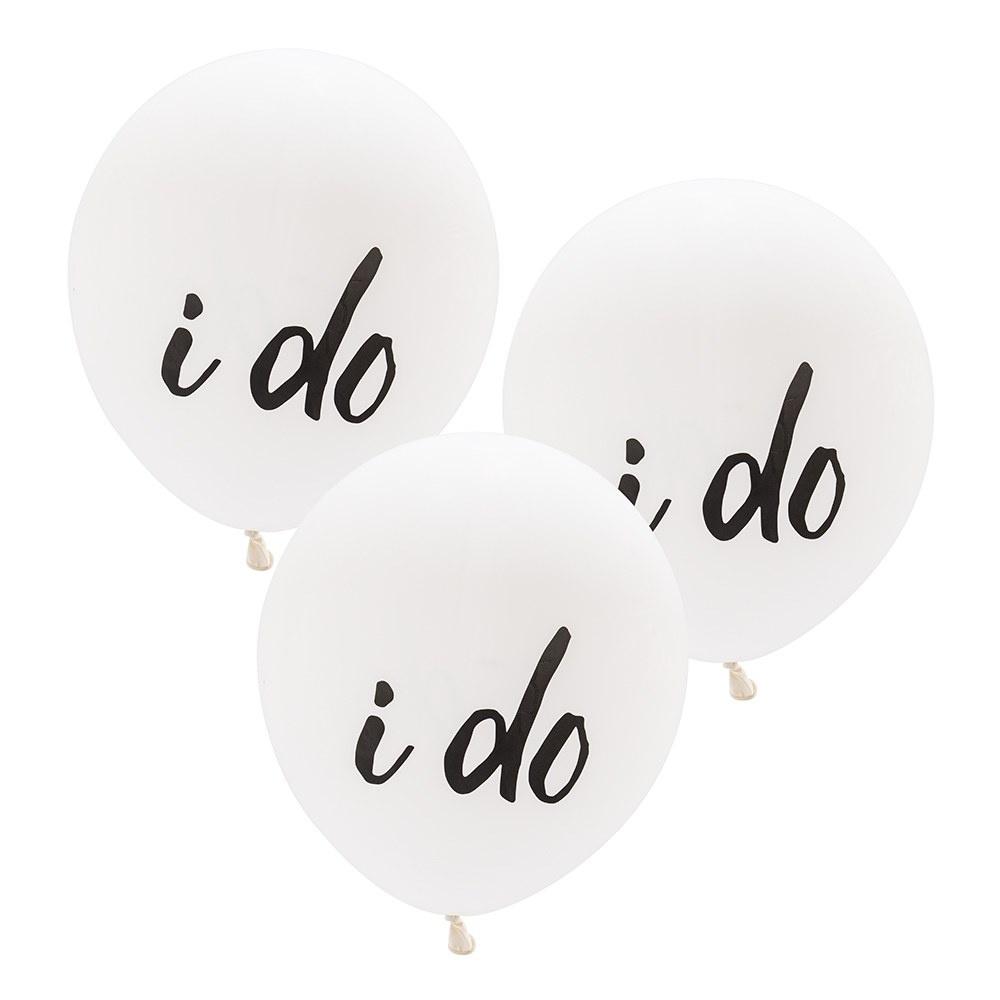 Pose with these oversize balloons for the ultimate rehearsal dinner Instagram.
WeddingWire Shop large 17" white round wedding balloons, $7 for a set of 3, WeddingWire Shop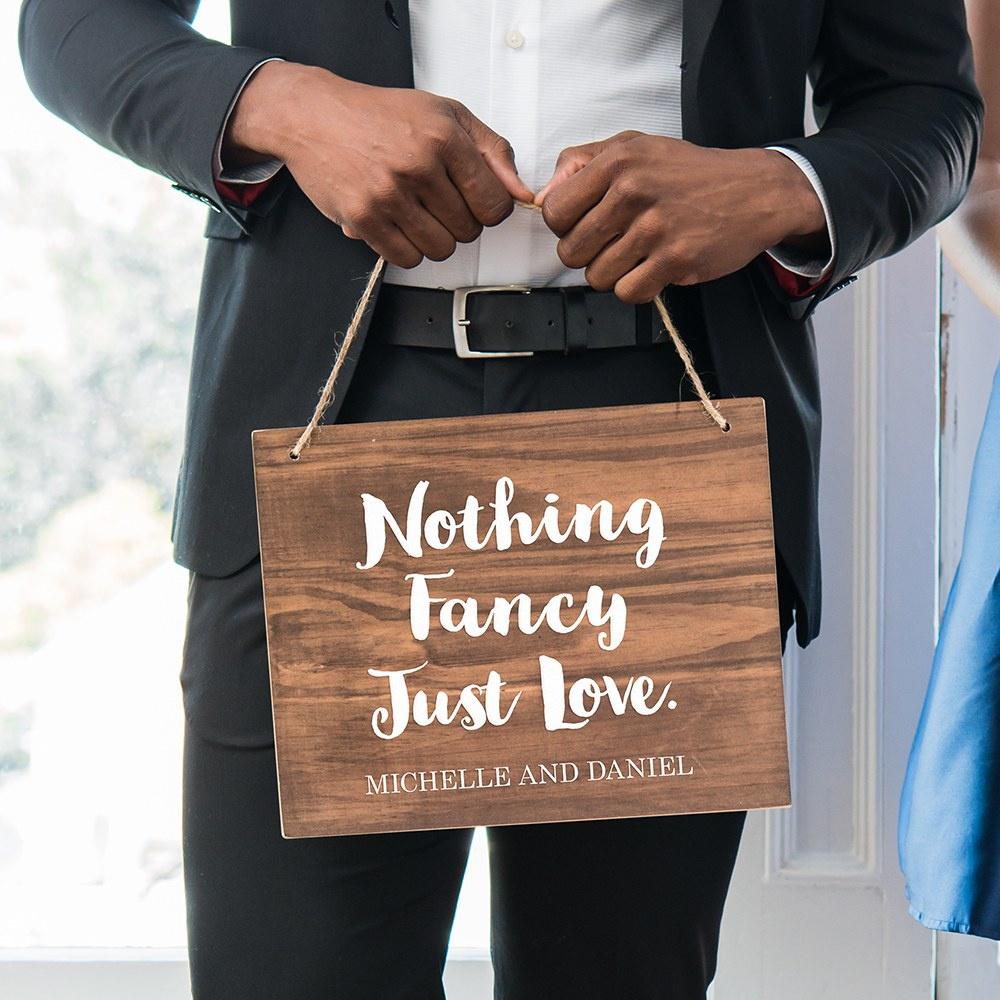 These cute signs can be hung from the backs of the chairs, placed on the tables or used as a prop for photos.
WeddingWire Shop medium personalized wooden wedding sign, $23, WeddingWire Shop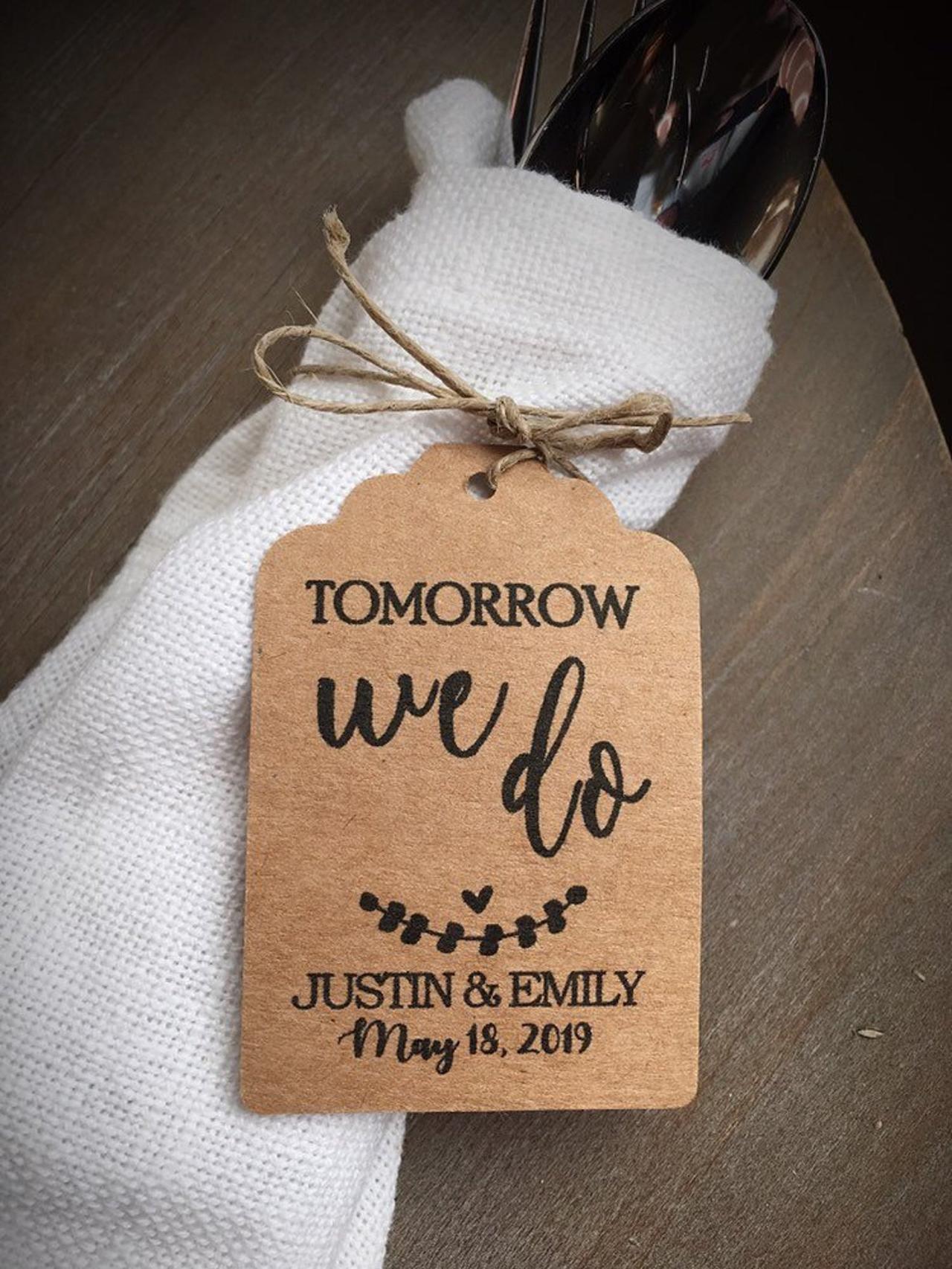 Another idea is to get custom dinner tags. It's a sweet, subtle way to pay tribute to the special occasion.
Anna Lew Designs Tomorrow We Do rehearsal dinner tags, from $7 for a set of 12, Etsy
Get everyone excited about the wedding day with these festive balloons.
WeddingWire Shop silver mylar foil letter balloon decoration in Party, $8, WeddingWire Shop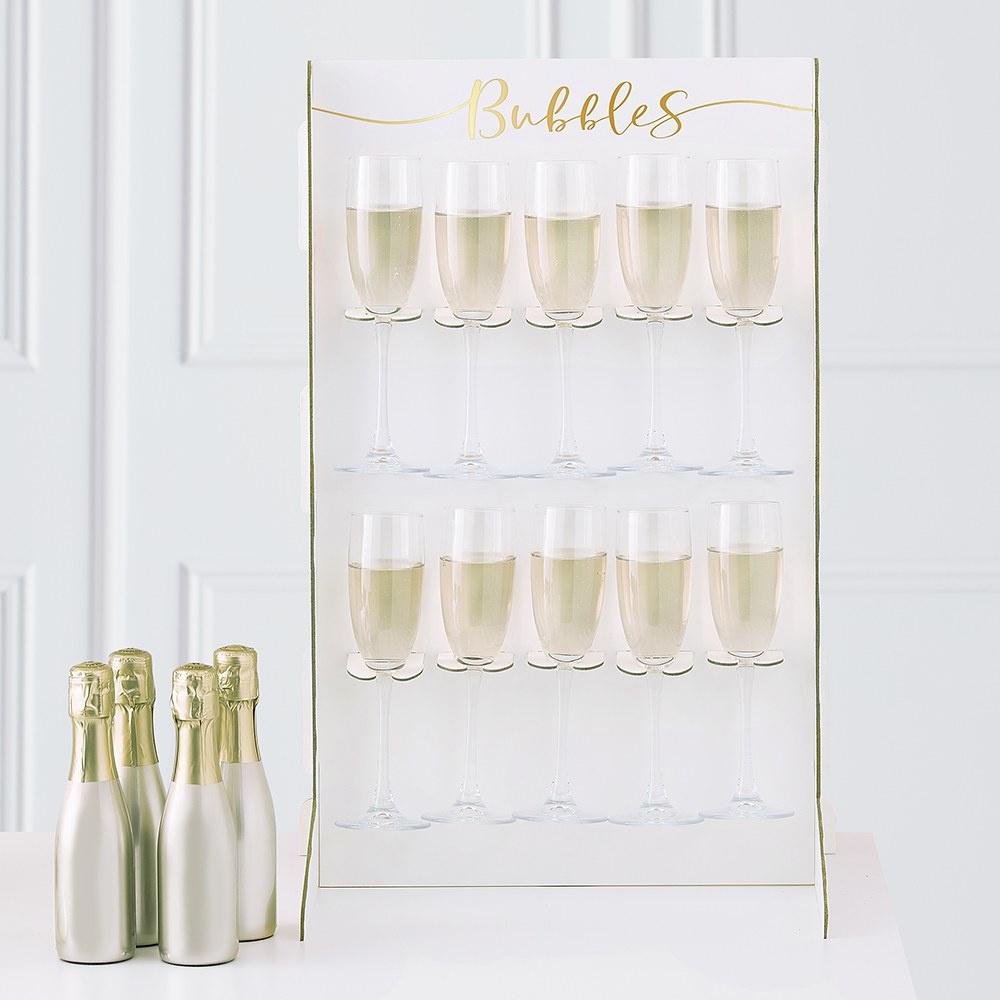 This drink holder is so adorable, everyone will be taking pictures of it. Plus, it'll come in handy when it's time for the toasts.
WeddingWire Shop prosecco bubbly drinks wall holder, $20, WeddingWire Shop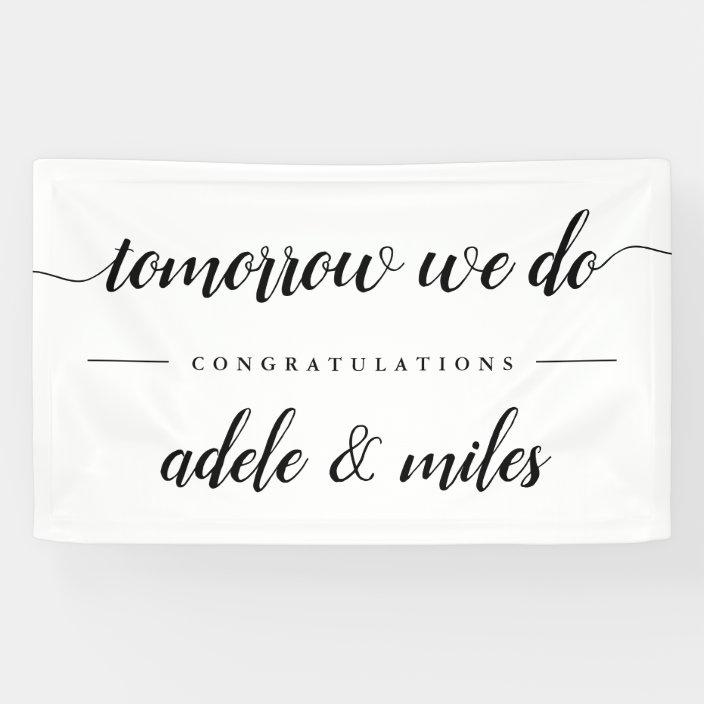 This chic banner will create the perfect photo opp for the happy couple.
Redwood & Vine Tomorrow We Do rehearsal dinner banner, $31, Zazzle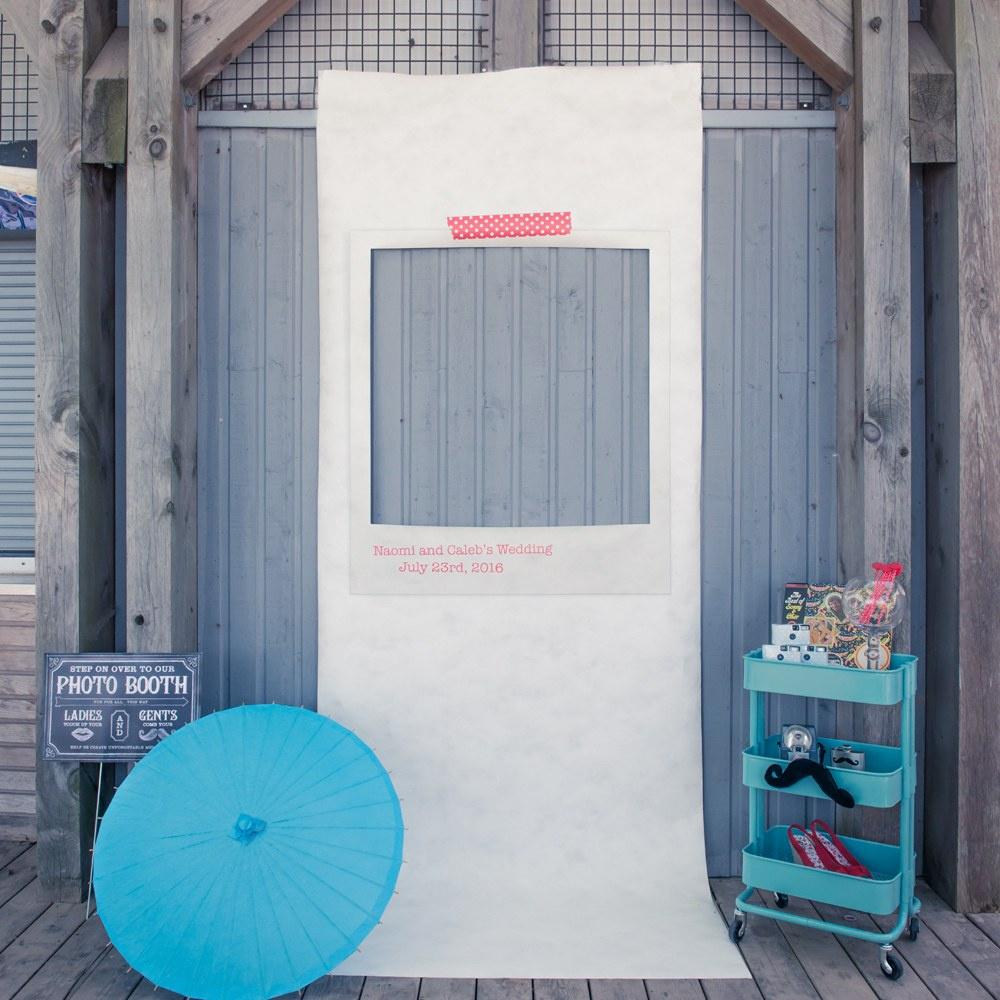 Get pictures of everyone in attendance with this adorable photo backdrop. Bonus: you can use it at the wedding too!
WeddingWire Shop polaroid personalized photo backdrop, $90, WeddingWire Shop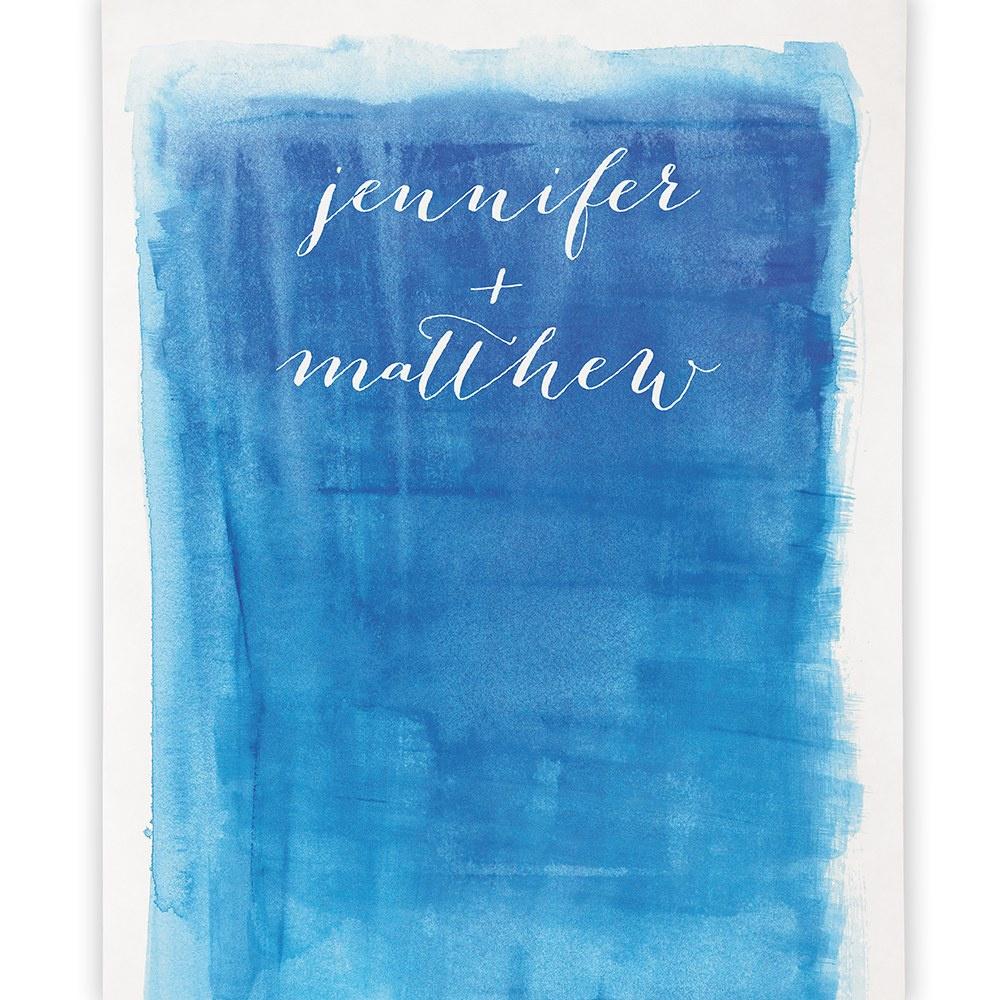 If the polaroid design isn't your vibe, consider this pretty blue backdrop.
WeddingWire Shop aqueous personalized photo backdrop, $90, WeddingWire Shop
Make the rehearsal dinner menu personal
Wondering what to serve at your pre-wedding party? There are no rules around crafting a rehearsal dinner menu. Because it's such a personal event, we recommend tailoring the menu to your relationship. Serve tacos and margs because that's your go-to date night food. Or, recreate the proposal night with some delicious pasta. Cater your favorite takeout or set up a multi-course meal—whatever feels authentic to your love story. Sharing small details about your relationship can help your guests feel closer and more connected to you. Take the rehearsal dinner menu as an opportunity to tell your guests something about yourselves, and enjoy the delicious food together!
Get creative with your rehearsal dinner favors
Rehearsal dinner favors aren't mandatory, but they're a nice touch. Here a few thoughtful, creative ideas that won't break the bank.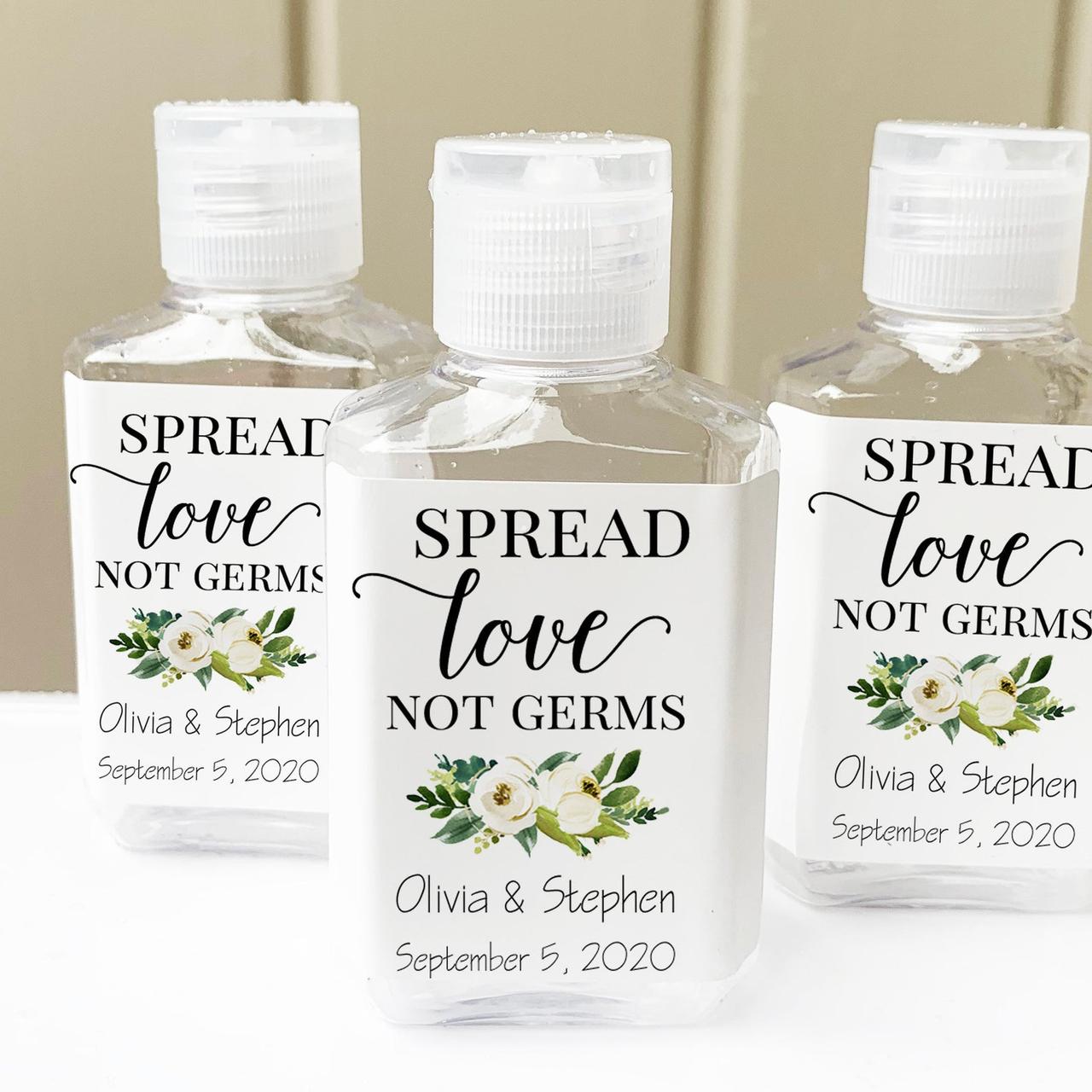 Due to COVID, hand sanitizer is becoming a popular wedding favor. But personalized hand sanitizer is a great way to keep everyone safe at your wedding no matter the circumstances.
The Party Chick hand sanitizer bottles and/or labels, from $30 for 20 stickers, Etsy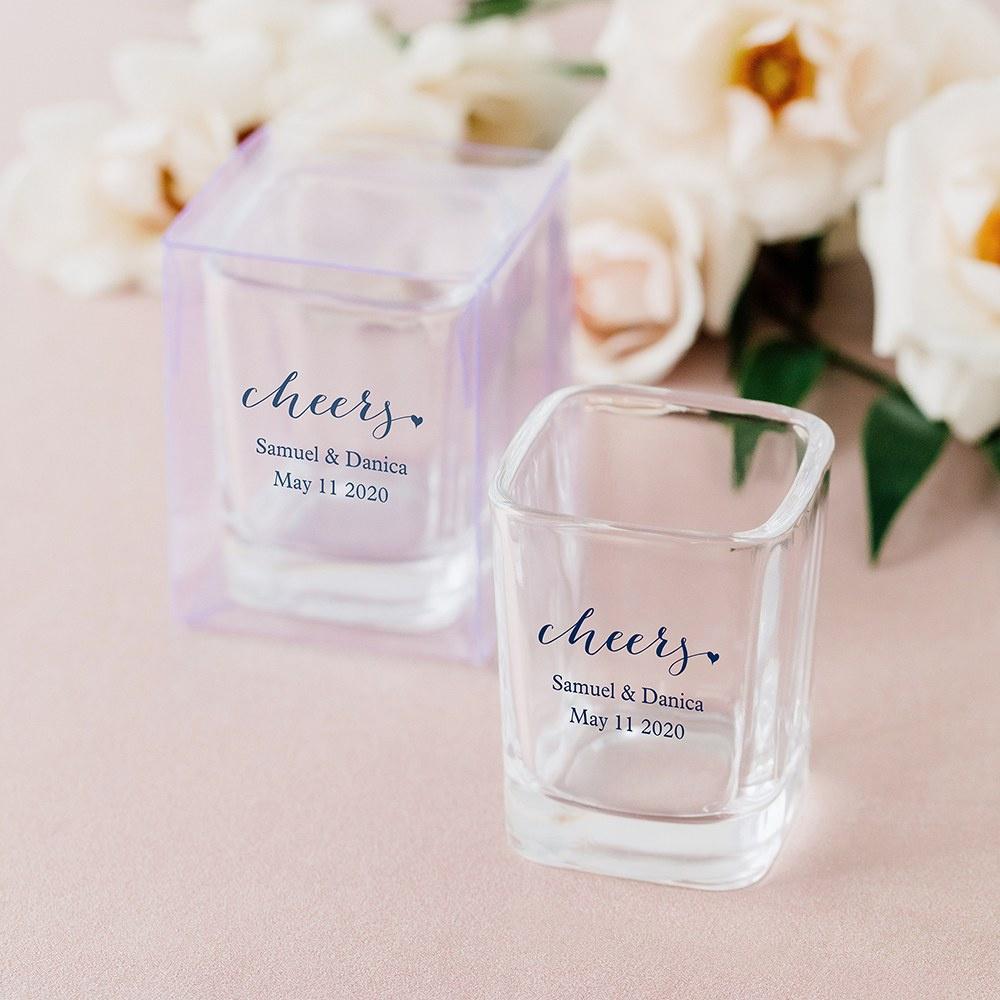 Get the party started with custom shot glasses. It's a rehearsal dinner favor they'll use after the fact.
WeddingWire Shop custom printed square shot glasses, from $1 each, WeddingWire Shop
Mints are always appreciated—especially after dinner. Gift your VIP guests these custom ones.
Baby Essentials By Me! rehearsal dinner personalized mints, $44 for a set of 24, Etsy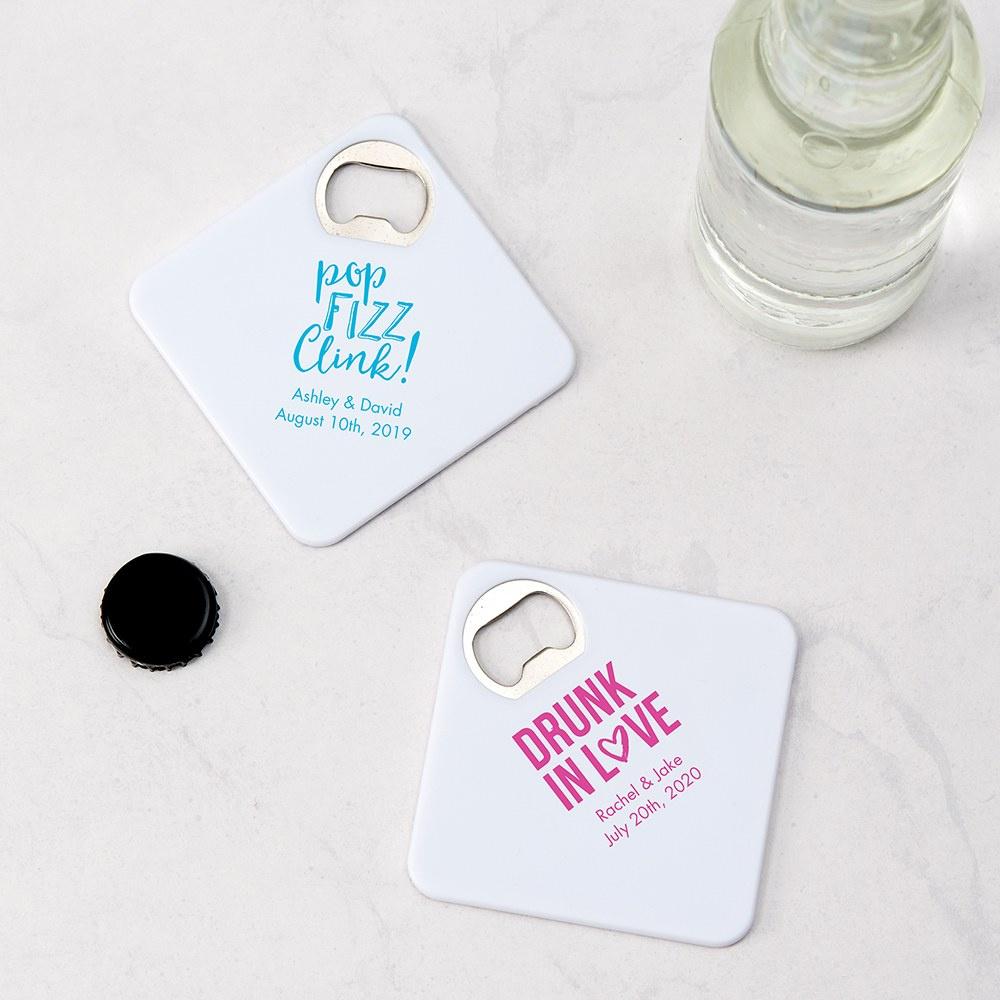 We love this favor because it's so useful. Your guests can use it as a bottle opener and a coaster after the fact.
WeddingWire Shop personalized plastic drink coaster favor with bottle opener, from $2 each, WeddingWire Shop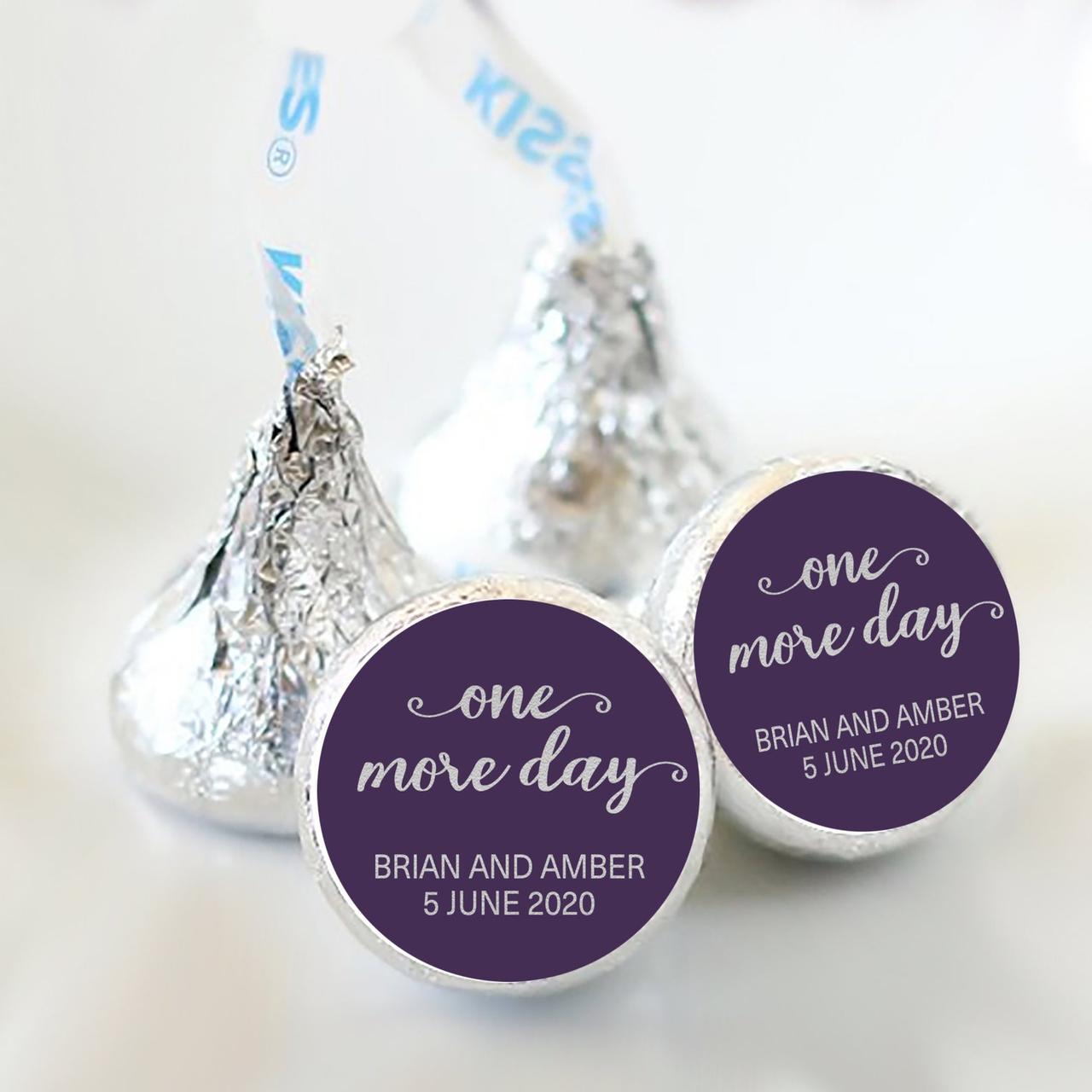 How sweet it is. Send your guests off with a personalized treat.
Great Little Favor Co 108 Hershey's Kiss stickers, from $7, Etsy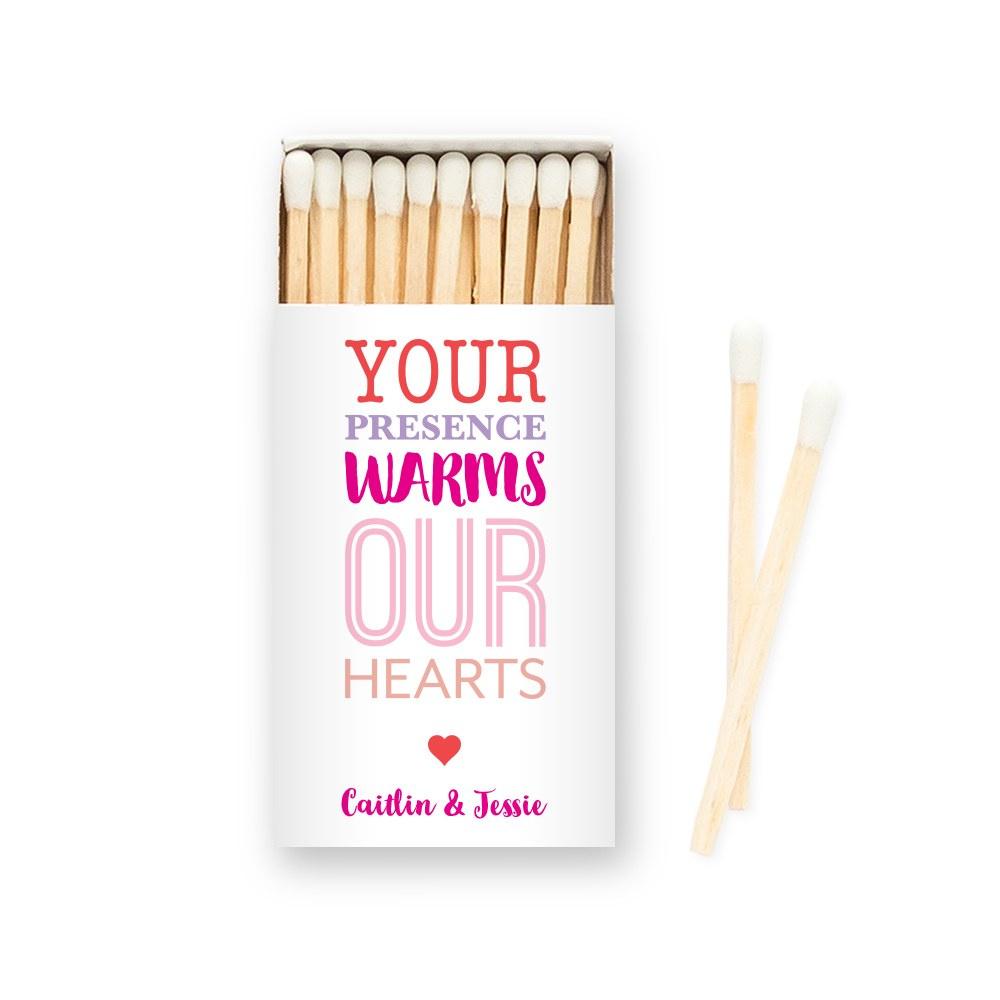 A custom box of matches is a wonderful way to thank guests for attending your rehearsal dinner.
WeddingWire Shop custom matchbox wedding favor, $1 each, WeddingWire Shop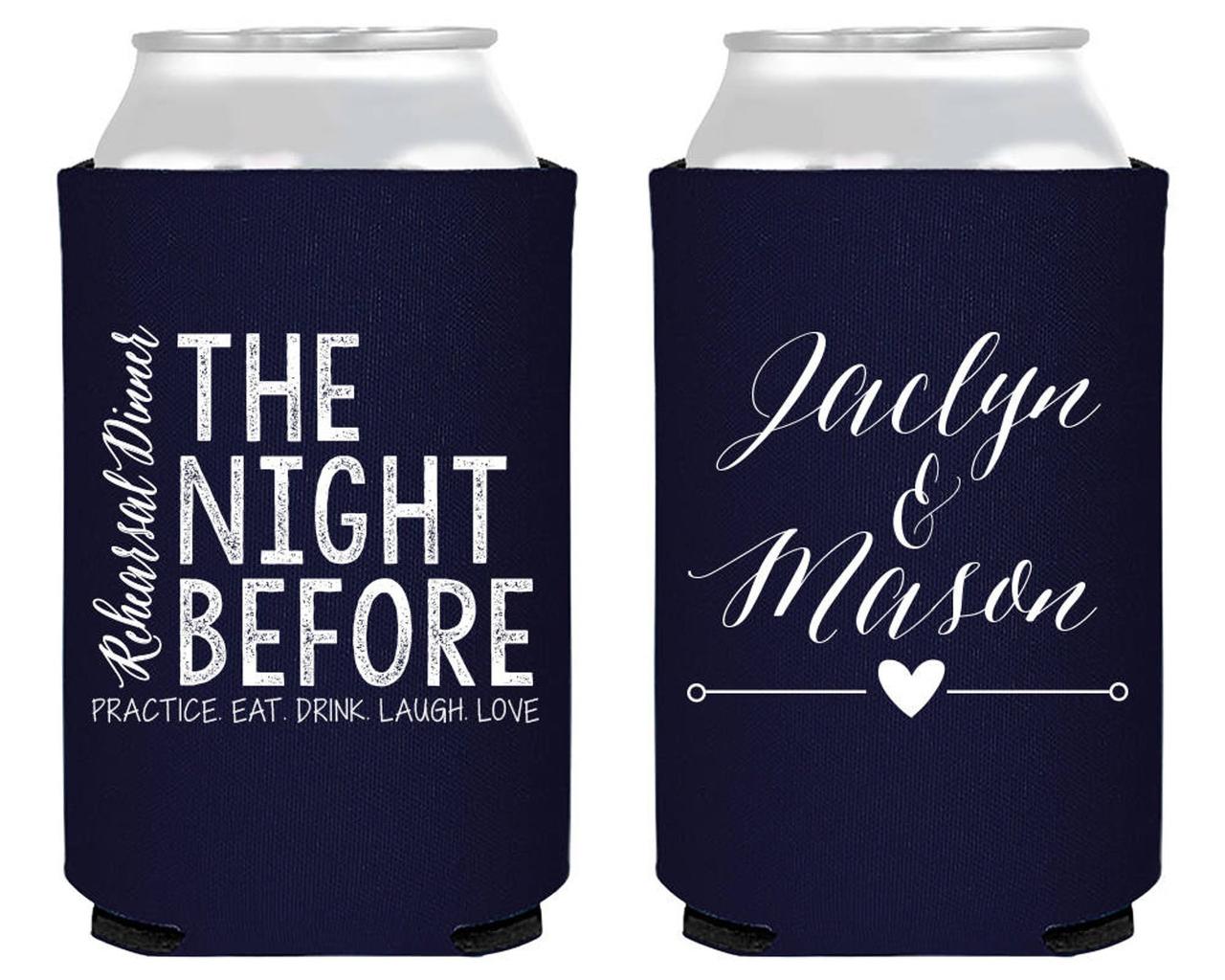 Whether you're having a laid-back rehearsal dinner or you just love brews, gifting these personalized holders is a lovely way to express your gratitude.
Sip Hip Hooray rehearsal dinner can coolers, from $44 for a pack of 10, Etsy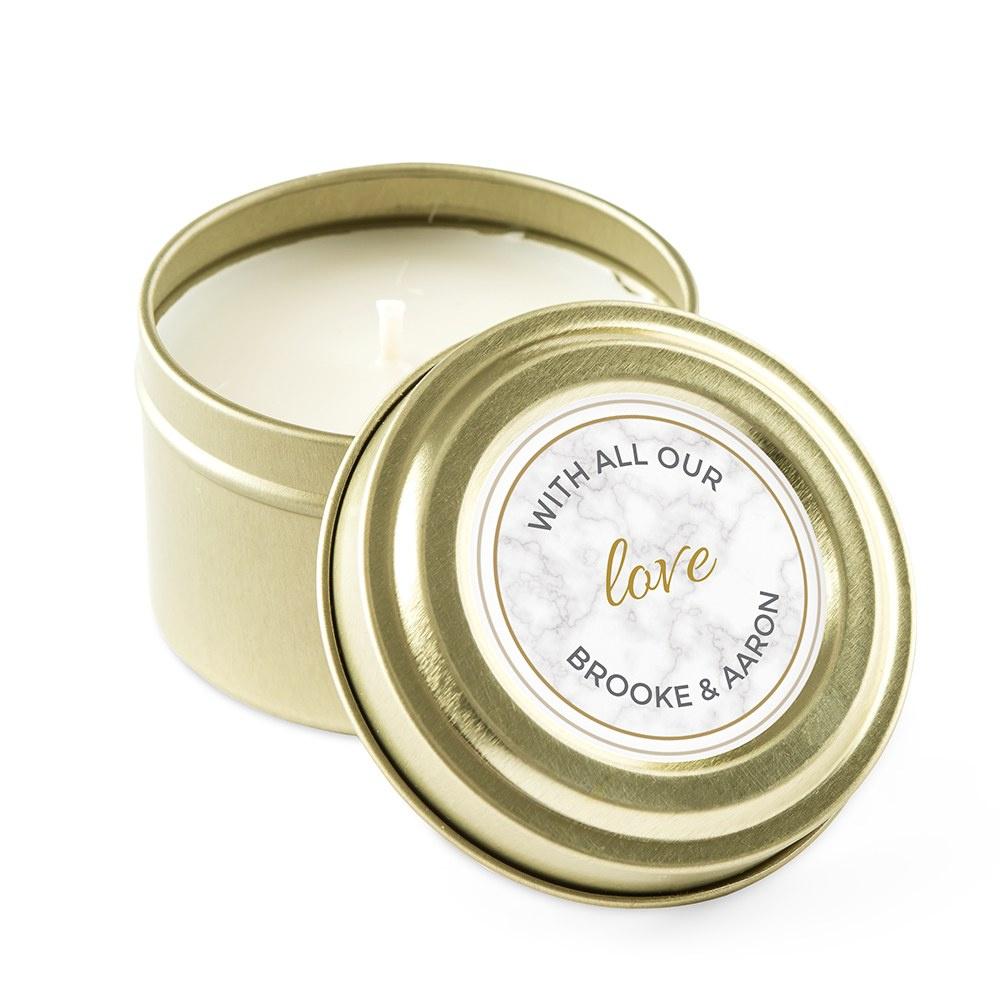 Who doesn't love a candle? Your guests can use it in their own homes and be reminded of the event when they do.
WeddingWire Shop personalized gold tin candle, from $2 each, WeddingWire Shop
Disclosure: This post contains affiliate links, some of which may be sponsored by paying vendors.